Gluten-Free Popovers
Only 6 ingredients, no mixer required!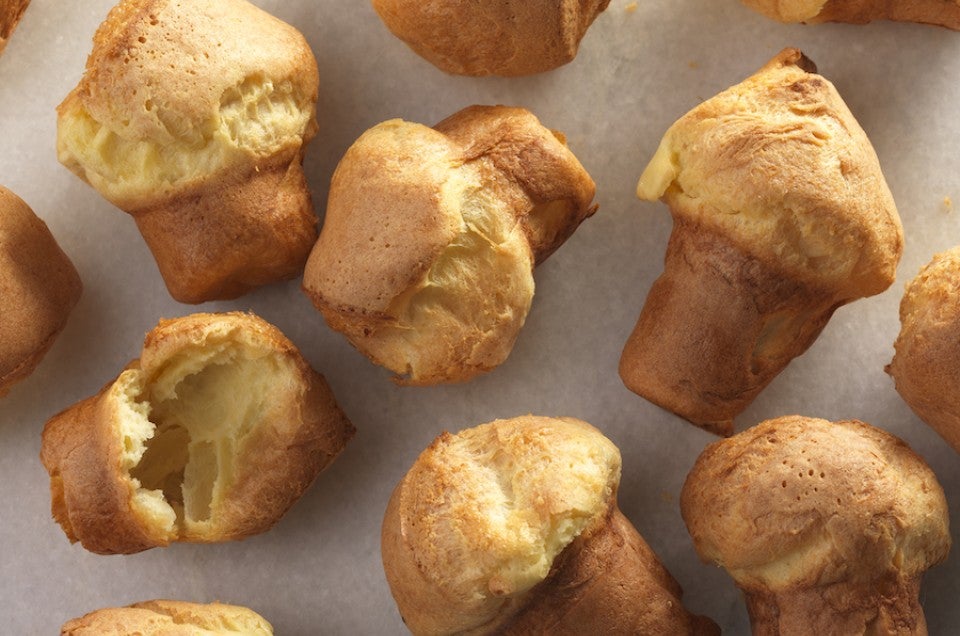 There's something so comforting about the perfect popover, don't you think?
Popovers have always been a personal favorite of mine, but I haven't had one since I started eating gluten-free over seven years ago. Why? Because I never had a recipe that yielded a light and tender popover with a soft inside and crispy outside. Until now, that is.
Enter our amazing gluten-free popover recipe! Just another shining example of how much our bakers here at King Arthur Flour care about giving our gluten-free readers recipes that are equally (and arguably sometimes even better!) than their gluten-filled counterparts.
With their soft, eggy interior and crisp exterior, they're the perfect vehicle for all your favorite spreads.
Now, let's see how to make them!
Gluten-Free Popovers
Preheat the oven to 400°F. Grease a standard popover pan, a mini popover pan, or a standard muffin pan.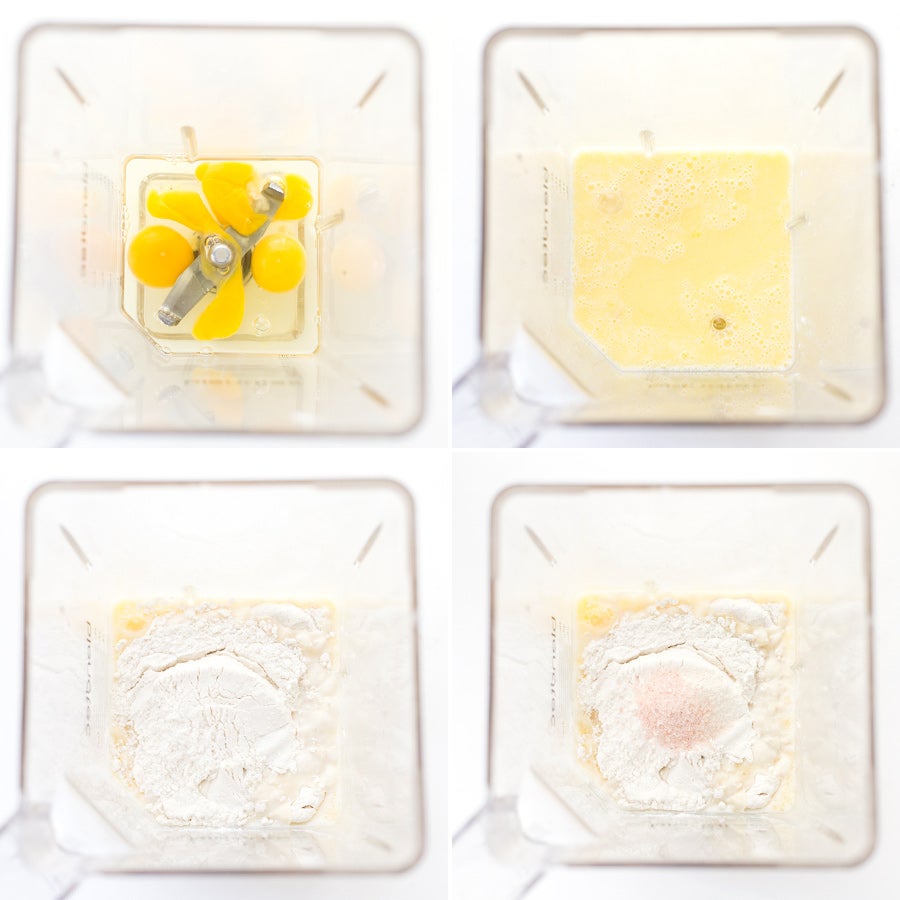 Popover batter is easiest made in a blender. Begin by putting these into your blender jar:
4 large eggs
1 1/4 cups (283g) slightly warmed milk
2 tablespoons (28g) melted butter
Blend on medium speed until the mixture is uniform.
Then whisk together:
1 cup (156g) King Arthur Gluten-Free Multi-Purpose Flour
1/4 teaspoon xanthan gum
1/2 teaspoon salt
Add the dry ingredients to the blender, then blend at medium-high speed until the batter is smooth. A few tiny lumps are OK, but if you have more lumps than that, keep blending until they disappear.
Note: If you don't have a blender, whisk together the eggs, butter, and milk in a large bowl. In a separate bowl, whisk the gluten-free flour with the xanthan gum and salt, then gradually sift and whisk into the liquid ingredients until you have a smooth batter. If, despite your best efforts, there are more than a few tiny lumps, strain them out of your batter with a sieve.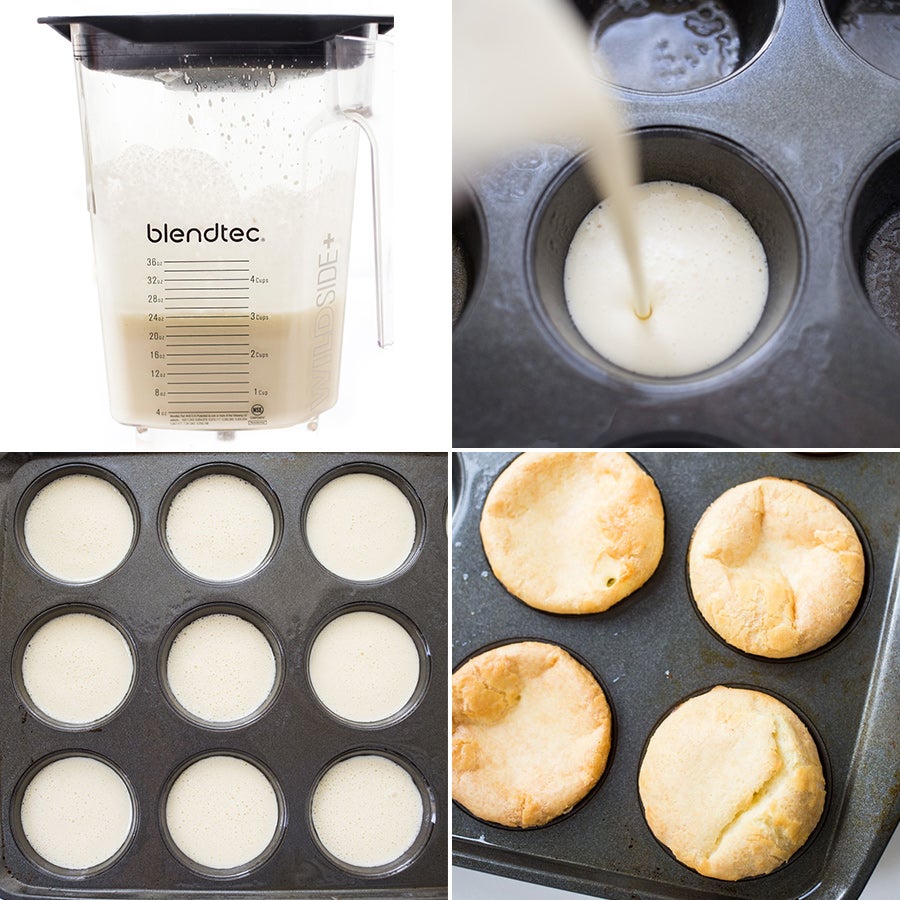 Pour the batter into the prepared pan, filling each cup about 2/3 full.
Bake for 25 minutes, then reduce the oven heat to 350°F and bake for an additional 15 minutes, until the popovers are golden brown.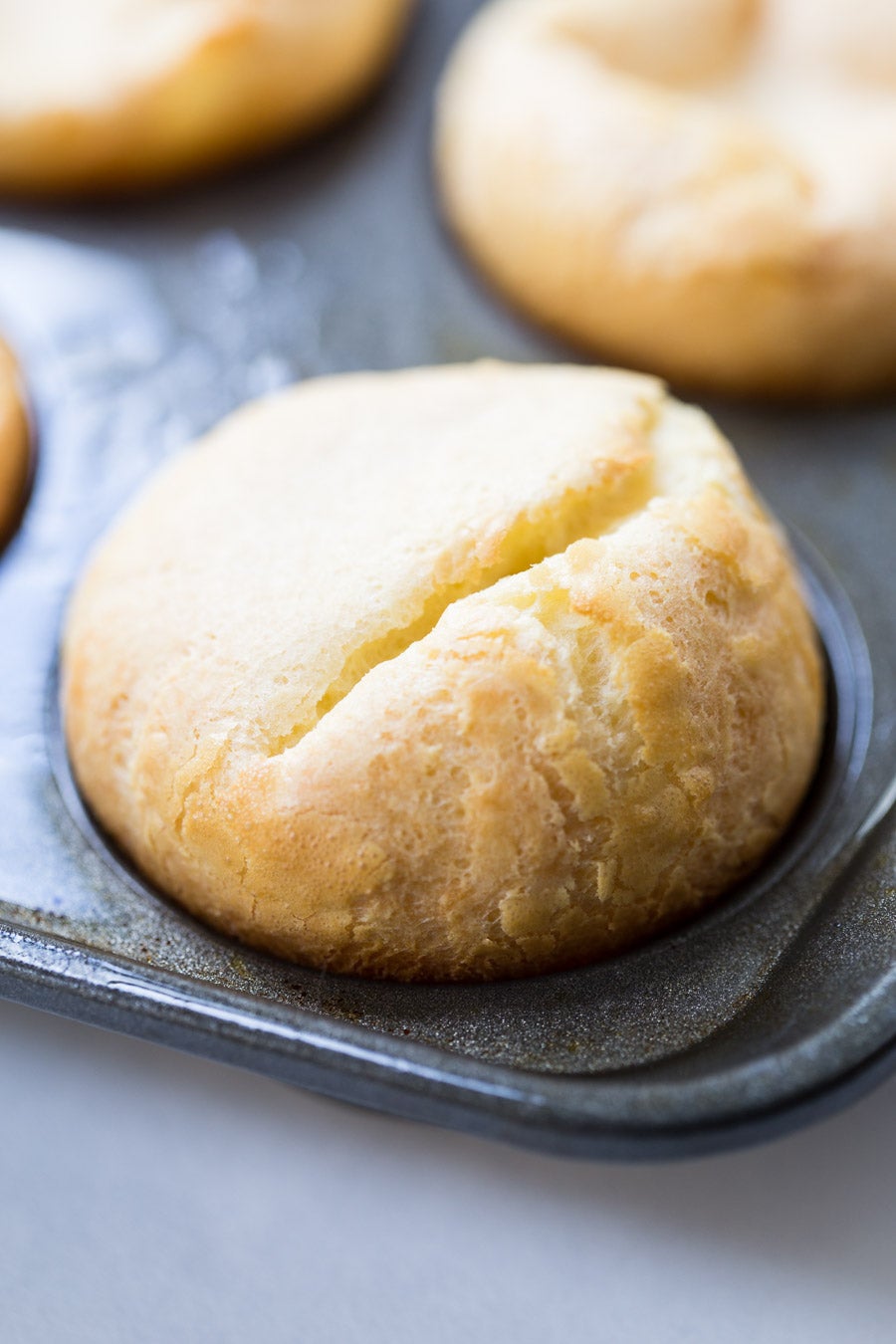 Remove from the oven, prick the side of each popover with a sharp knife to let the steam out, and let popovers rest for 5 minutes to finish setting. (Don't worry if they deflate a little. That's normal.) Remove from the pan, and serve immediately. Or, to keep them crisp longer, allow them to sit in the turned-off oven for 10 to 15 minutes before serving.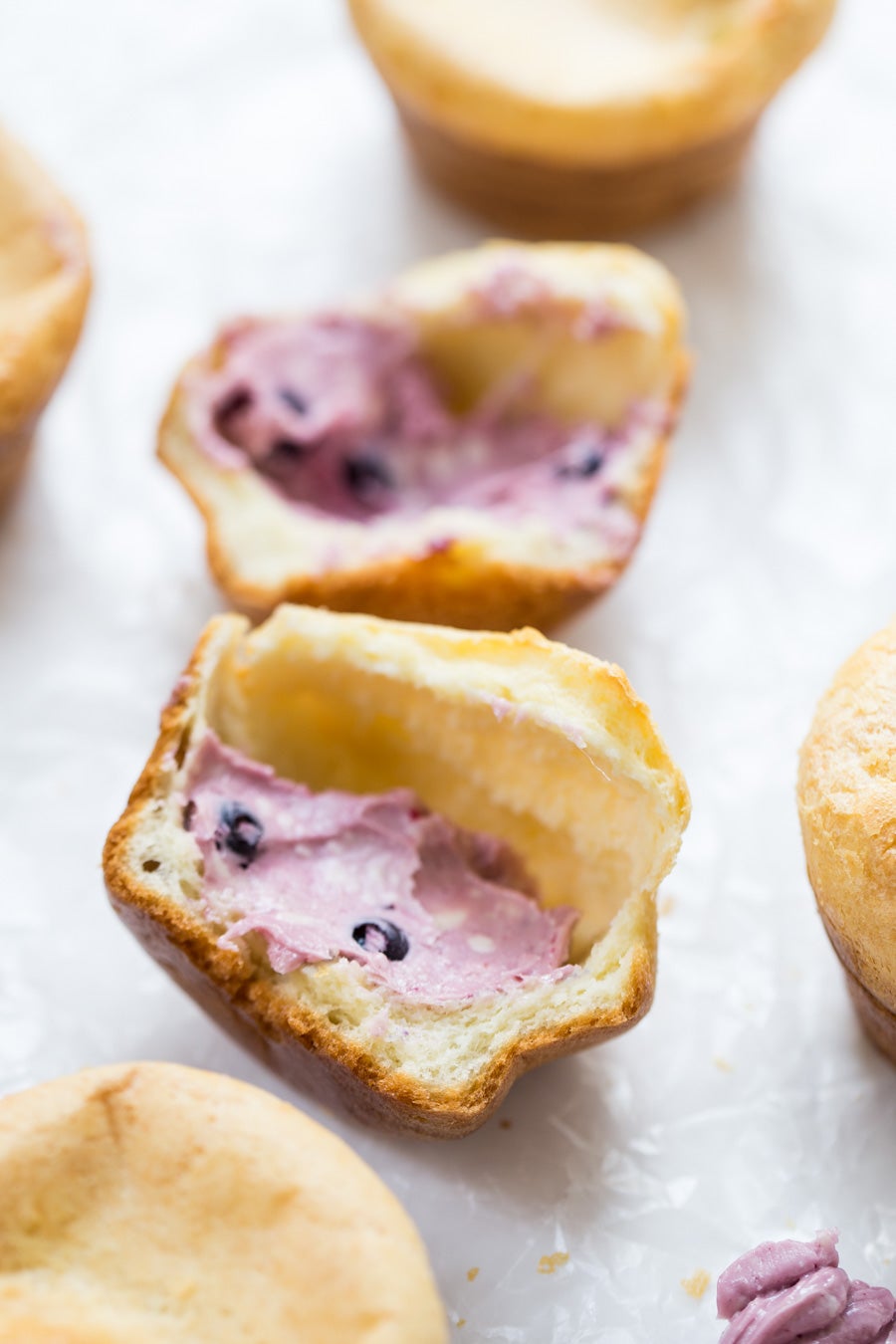 Popovers can really be served with anything!
We love our herbed butter, cranberry butter, or this blueberry butter for which we used the same method as the cranberry butter recipe but used 1/4 cup of blueberry jam instead of the cranberry sauce.
But no matter what you choose, we're positive you'll adore these gluten-free popovers!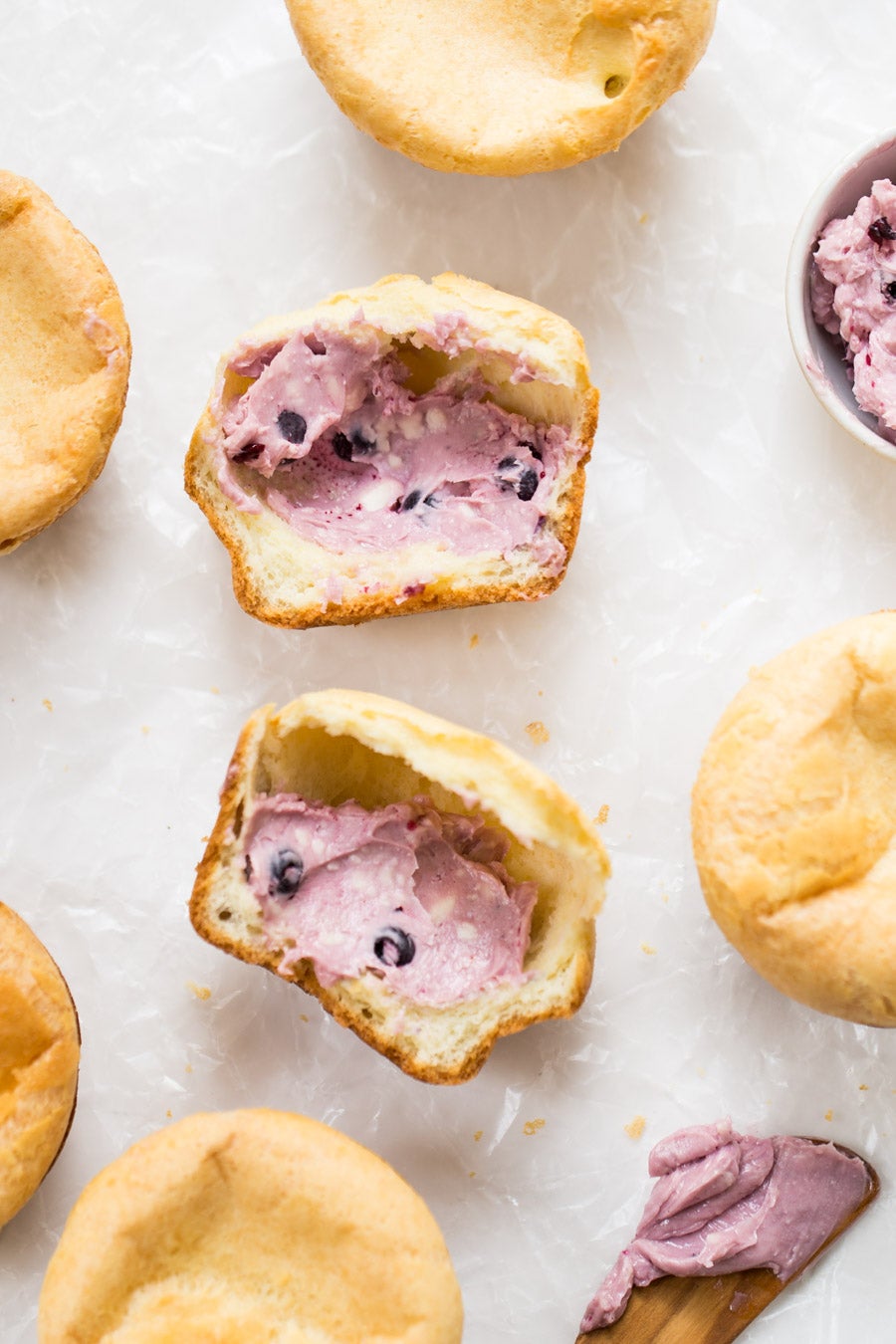 Please bake, taste, and enjoy our recipe for Gluten-Free Popovers.
Jump to Comments