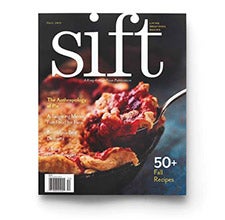 Sift magazine's fall issue features a love story (with recipes) from us to the glories of cast iron cooking. It's our pleasure to share it with you here.
Paired with the right recipe, there's no more salt-of-the-earth cookware than cast iron. From bacon and eggs to the perfect pie crust, it's the right tool for kitchen tasks that call for even, steady heat.
Cast iron cooking gives a perfect sear on a steak or chicken breast. It's simple to bake a no-knead bread in your oven, or preheat a cornbread pan for the ultimate crispy crust.
We know cooks who treasure skillets from their grandparents, and beginning bakers who scour yard sales and flea markets to get their collections started. When it comes to cast iron, there's no better friend in your kitchen or at your campsite.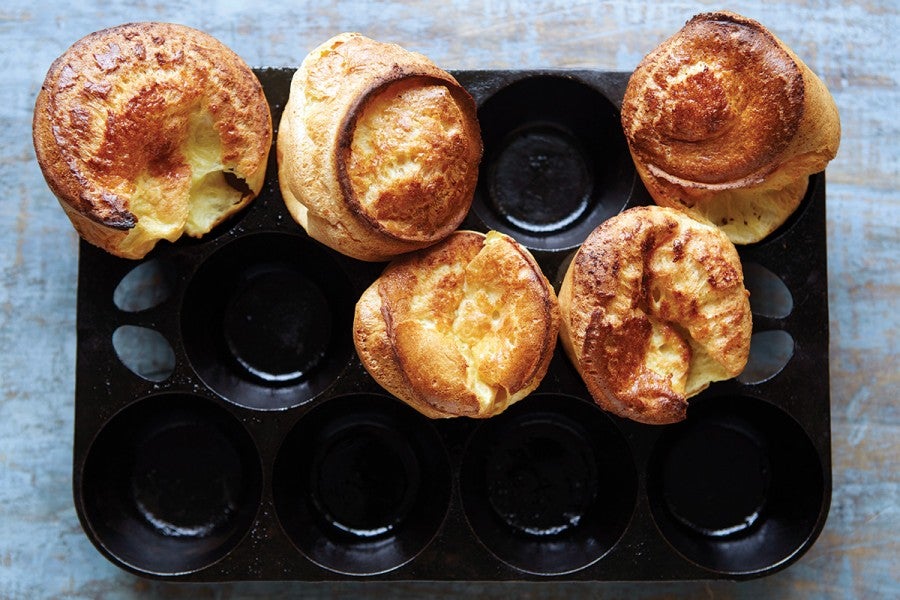 Sourdough Popovers are ideally suited to cast iron. Perfect, steady heat for the pop, and an ideal way to use some of the discard that sourdough bakers are continually generating. Shower them with powdered sugar for breakfast, or add some herbs and spices to the mix for supper.
To every pan, there should be season
Cast iron is porous, and to reach its full cooking and baking potential, it needs to be sealed, or seasoned, with oil. No matter how ratty a pan may look at the bottom of that pile in a barn, cast iron can almost always be brought back to life.
Wash the pan well, scrubbing away rust with fine steel wool. Dry thoroughly, either over low heat on the stove, or in a 300°F oven.
To season your pan, rub it all over with peanut oil or vegetable shortening, until it's completely coated. Bake for 90 minutes in a low oven (300°F), then wipe off any excess oil with absorbent paper. Or, if you happen to have access to a restaurant fryer, just drop it right in and leave it in the 350°F oil for half an hour.
A well-seasoned pan is very non-stick, and can be moved with ease from stove to oven to campfire. After each use, wash with water and a scrubbing pad only (some purists scrub only with a mixture of kosher salt and oil). Be sure to dry the pan thoroughly, wiping it lightly with oil afterward to keep it from rusting.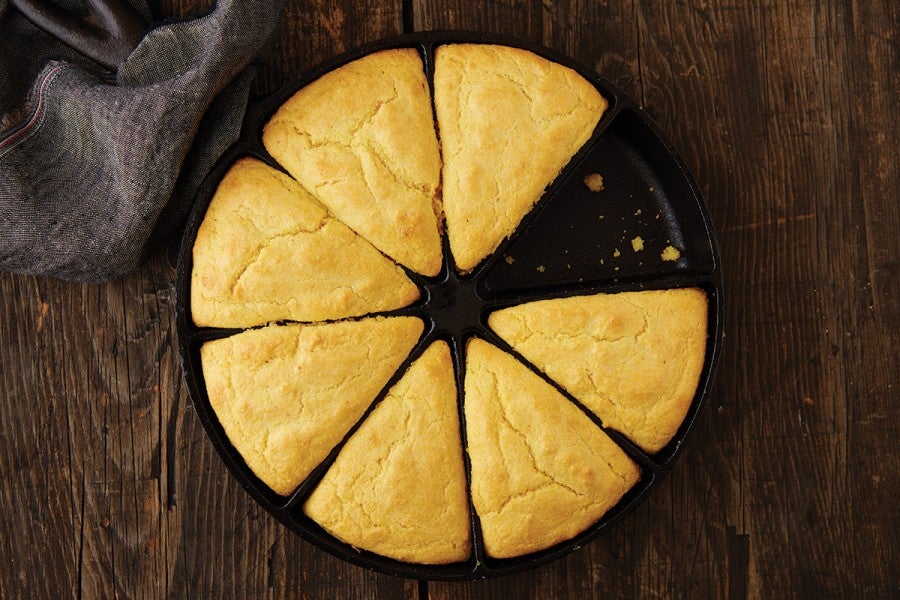 Crisp at the edges, moist and just-so crumbly inside, Maple Cornbread is the perfect motivator for baking beautiful wedges in your trusty cornbread skillet. For ultimate crunch, preheat the skillet as you preheat the oven, butter the wells, and enjoy the sizzle when you drop in your batter.
What to look for on a cast iron hunt
The best cast iron buys are often found in barns, attics, and garages; the rattier it happens to look, often the better the price. Avoid pans that are:
deeply pitted
cracked
chipped
Don't be afraid of:
rust
spider eggs
cobwebs
leaves
No other cookware marries highfalutin' and haute cuisine results like cast iron. For a perfect example, we give you...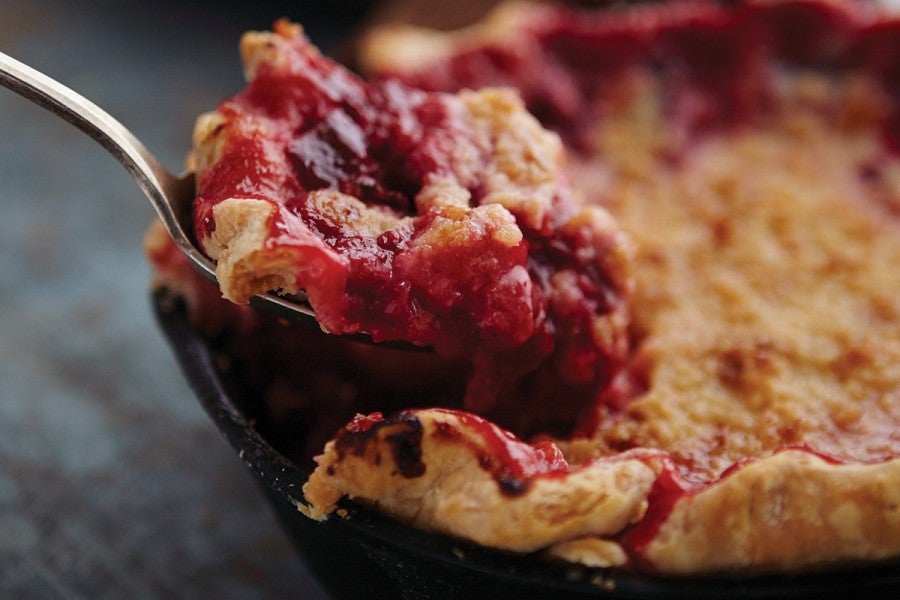 ...this pie. We love it so much, it's on the fall cover of Sift.
Gingered Plum Streusel Pie is as tasty as it is gorgeous, and like most pies, lends itself beautifully to being baked in your trusty skillet.
We hope you'll try these amazing recipes, and keep an eye out for cast iron cooking treasures on your next flea market or antique shop adventures. At our new magazine Sift, we want to share the magnificent, myriad ways to live, breathe, and most especially, bake.
Jump to Comments