Sourdough Popovers
High, wide, and handsome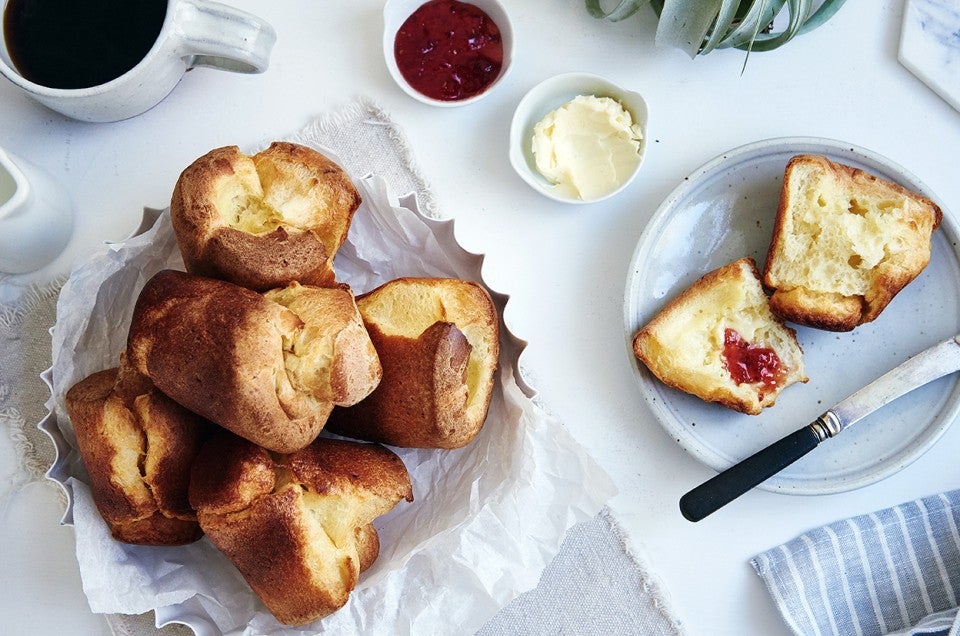 Popovers.
Their name is almost onomatopoetic, isn't it? (Can't believe I spelled THAT one right on the first try!)
I mean, when you put popovers into the oven, they look like calm, cream-colored lakes, serene as a summer sunrise.
But 15 or 20 minutes later - POP! Up they go, the steam created by the very-liquid batter hitting the just-formed flour/egg crust and carrying the whole shebang up, up, and away.
This recipe accomplishes two goals – and very successfully, too.
One, it's a great use for that sourdough starter you'd otherwise discard during the feeding process. You know, that 1 cup you need to get rid of by stirring it into a batch of waffles, or a chocolate cake, or giving it to a neighbor, or – heaven forfend – actually discarding it.
I know how much you dislike throwing away perfectly good starter. Thus, this is a great recipe to whip up when you're feeding your starter for another use, and need to discard some; use 1/2 cup of the discard starter right here.
Second, if you're looking for a quick and easy hot bread to go with breakfast eggs, lunchtime soup, or [fill in your favorite dinner entrée] – you've found it.
Sourdough Popovers – rise and shine!
First, measure out 1/2 cup (113g) of your sourdough starter.
The nice thing is, it doesn't need to be fed; it's being used strictly for flavor in this recipe, not to help the popovers rise, so no need for it to be active.

Whisk the 1/2 cup starter with the following:
1 cup (227g) milk (full-fat, reduced-fat, or skim), warmed to lukewarm
3 large eggs
3/4 teaspoon salt

Add 1 cup (120g) King Arthur Unbleached All-Purpose Flour, whisking to combine.
Don't over-mix; a few small lumps are OK. The batter should be thinner than a pancake batter, about the consistency of heavy cream.

By the way, can you double this recipe to make a dozen popovers?
Sure, go right ahead; simply double all the ingredients.
Oh, and can you make these with whole wheat flour?
Sure. The result will be a very moist and eggy whole wheat muffin, though, not a popover.
Heat a standard muffin pan or standard popover pan in the oven while it's preheating to 450°F.
Carefully remove the hot pan from the oven, and spray it thoroughly with non-stick pan spray, or brush it generously with oil or melted butter.
Quickly pour the batter into the cups, filling them almost to the top. If you're using a muffin tin, fill cups all the way to the top. Space the popovers around the muffin tin so there are empty cups among the full ones; this leaves more room for expansion.
Bake the popovers for 15 minutes, then reduce the oven heat to 375°F and bake for an additional 15 to 20 minutes, until popovers have fully "popped," and are golden brown.
Remove the popovers from the oven and serve immediately.

Now THAT is one towering popover!

These popovers aren't overly sour; but you can definitely taste the tang. They're very nice served plain, with soup or stew; or buttered, and served with breakfast bacon and eggs.
Can you make these ahead? Sure. They may deflate a bit, but will still taste fine. Warm them in a preheated 350°F oven for about 10 minutes, to freshen them up.
Can you freeze the batter? Yes. Keep frozen no longer than a month; defrost overnight in the fridge, and warm to room temperature before using.
Can you freeze baked popovers? Mm-hmm. Cool thoroughly, wrap tightly, and freeze no longer than 3 weeks or so. Once thawed, "freshen" in a 350°F oven before serving.
Can I make these without sourdough starter? Sure – our quick and easy Popovers are perfect for any non-sourdough bakers out there.
OK, did I answer all your questions? Hope so! If not, give our baker's hotline a jingle, (855) 371-2253; we can help. Oh, wait, let me answer one more question I know will bubble up around this recipe:
Can I make these gluten-free? Well, you can make regular (non-sourdough) Gluten-Free Popovers.
And if you've created some gluten-free sourdough starter, try substituting 1/2 cup of it for 1/4 cup of the milk and 1/4 cup of the gluten-free flour blend in the recipe cited above. We haven't tried it, so no guarantees; but it seems as though it should work.
Read, bake, and review (please) our recipe for Sourdough Popovers.
Jump to Comments