December's here, which means you're in full holiday baking mode. 'Tis the season for something extra-special: a traditional family Christmas bread, or a deluxe breakfast dish. But during this hectic time of year, the last thing you need is to spend hours in the kitchen laboring over a single fancy treat. Which brings us to our Butter-Pecan Kringle Bakealong challenge — an elegant yet easy way to salute the holidays.
Back last summer, we were having trouble deciding which of our favorite holiday pastries to feature for our December Bakealong. Light bulb moment! Why not survey our friends on Facebook? We offered several choices, and while panettone and hefekranz had their champions, in the end it was classic American-style kringle that won the day.
What is kringle, anyway? In its simplest American form, it's a large (typically 13"), oval Danish pastry filled with pastry cream or fruit filling, and iced. Scandinavian in origin, it's been adopted by Midwesterners — particularly Wisconsinites. In fact, kringle is Wisconsin's Official State Pastry, and has put Racine, Wisconsin, onto the culinary map — courtesy of its numerous bakeries offering mail-order kringle worldwide.
Making Danish pastry at home can be a bear(claw); think butter-pounding and pastry rolling, folding and turning, cutting and shaping and filling... And all of that's before you even get to baking and icing.
Suffice it to say, I did it once; never again. (Though those of you with a "crafty" bent would probably enjoy the process. It's the journey, not the destination, right?)
Still, who doesn't love Danish pastry?
We've devised a way to make a clone of true Danish pastry dough in an utterly simple, two-step process that takes kringle out of the bakery into your home kitchen — where all baked goods rightfully belong, come the holidays.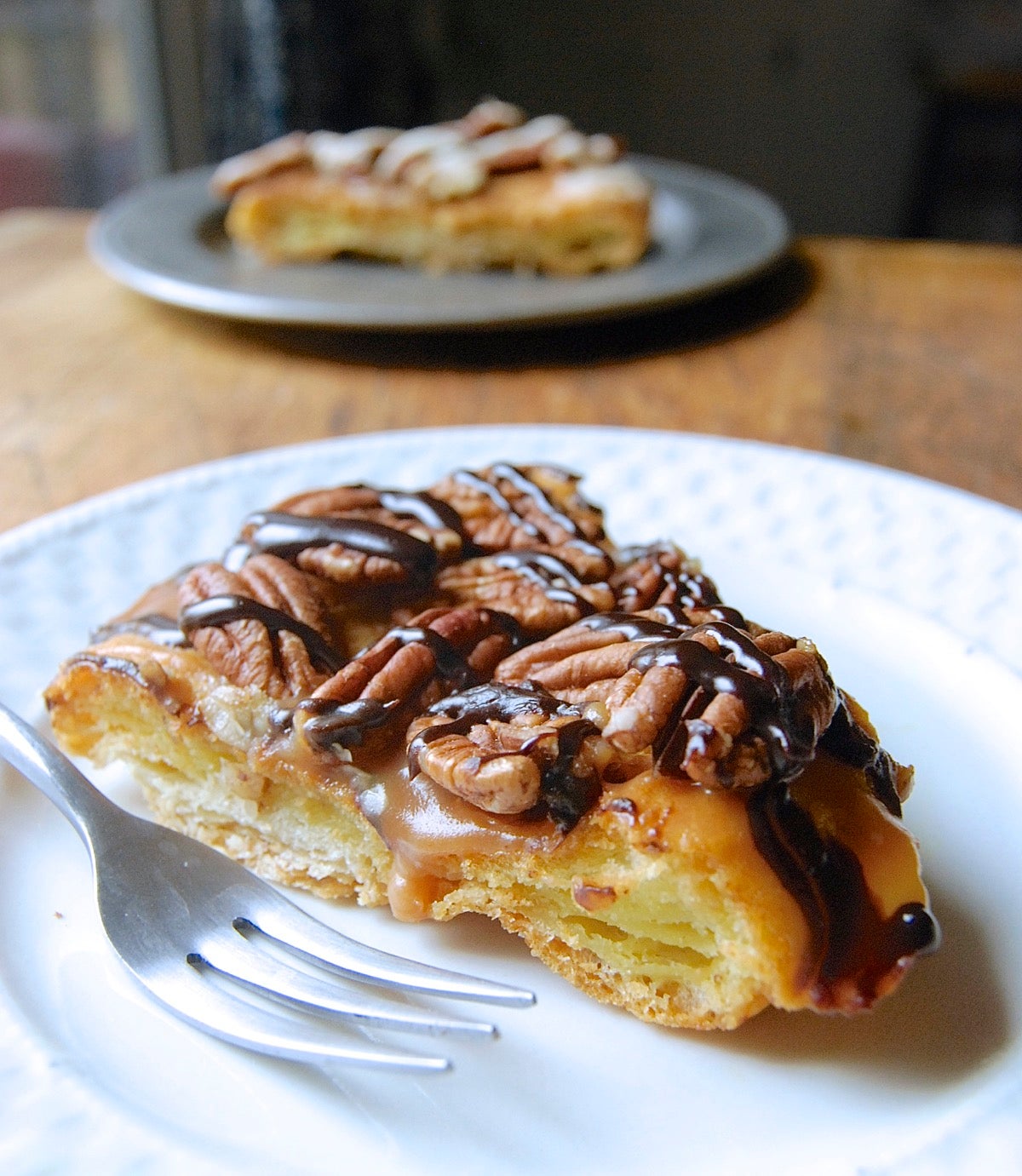 So come along with me on our Butter-Pecan Kringle Bakealong challenge. You won't believe how simple — yet ridiculously delicious — this holiday treat is.
And feel free to personalize it to taste. Butter-pecan is yummy (and our "turtle tweak" is a chocolate-lover's dream come true), but you can top this tender pastry with your favorite jam, a slather of pastry cream, almond filling — be creative!
Let's get started. Preheat the oven to 350°F. Lightly grease (or line with parchment) a baking sheet that's at least 18" x 13"; or a 14" round pizza pan.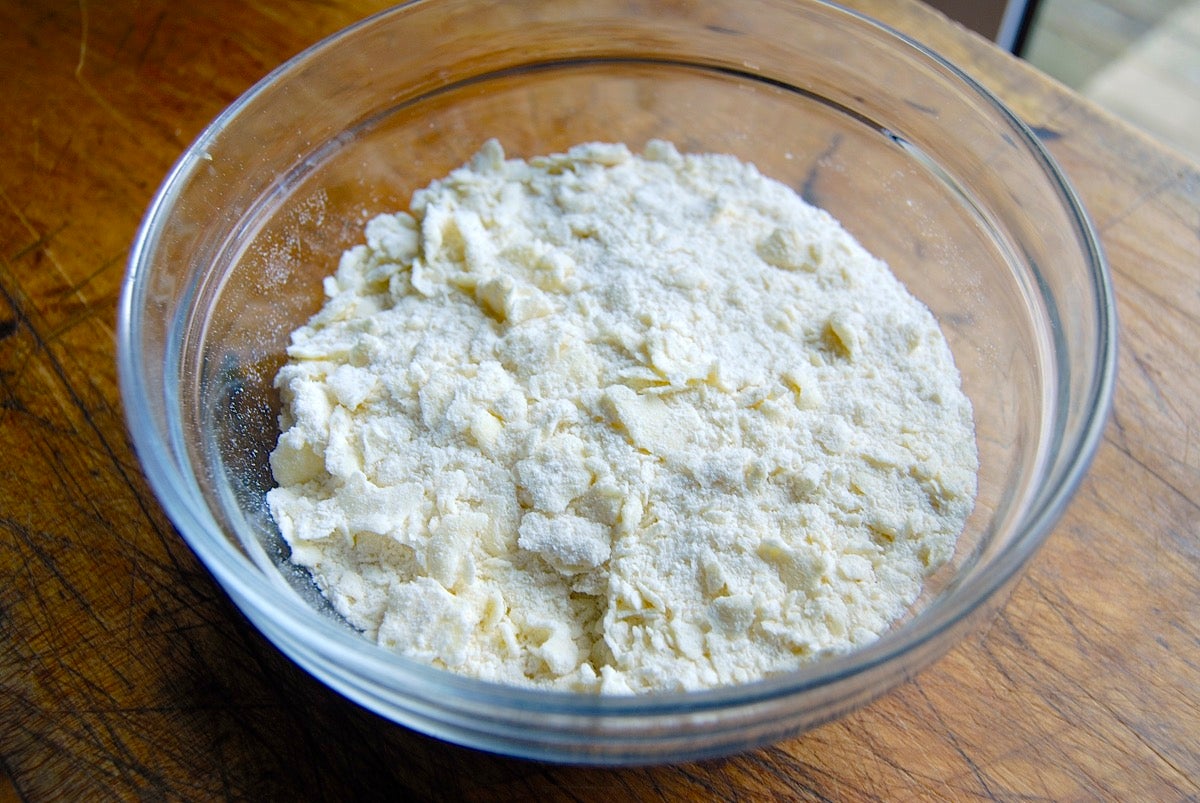 Make the dough
1/2 cup (8 tablespoons) unsalted butter, cut into pats
1 cup (4 1/4 ounces) King Arthur Unbleached All-Purpose Flour*
1/2 teaspoon salt (1/4 teaspoon if you use salted butter)
1/4 cup cold water
*Want to make gluten-free kringle? Substitute our Measure for Measure gluten-free flour for the all-purpose flour in this recipe.
Combine the butter, flour, and salt, mixing until crumbly.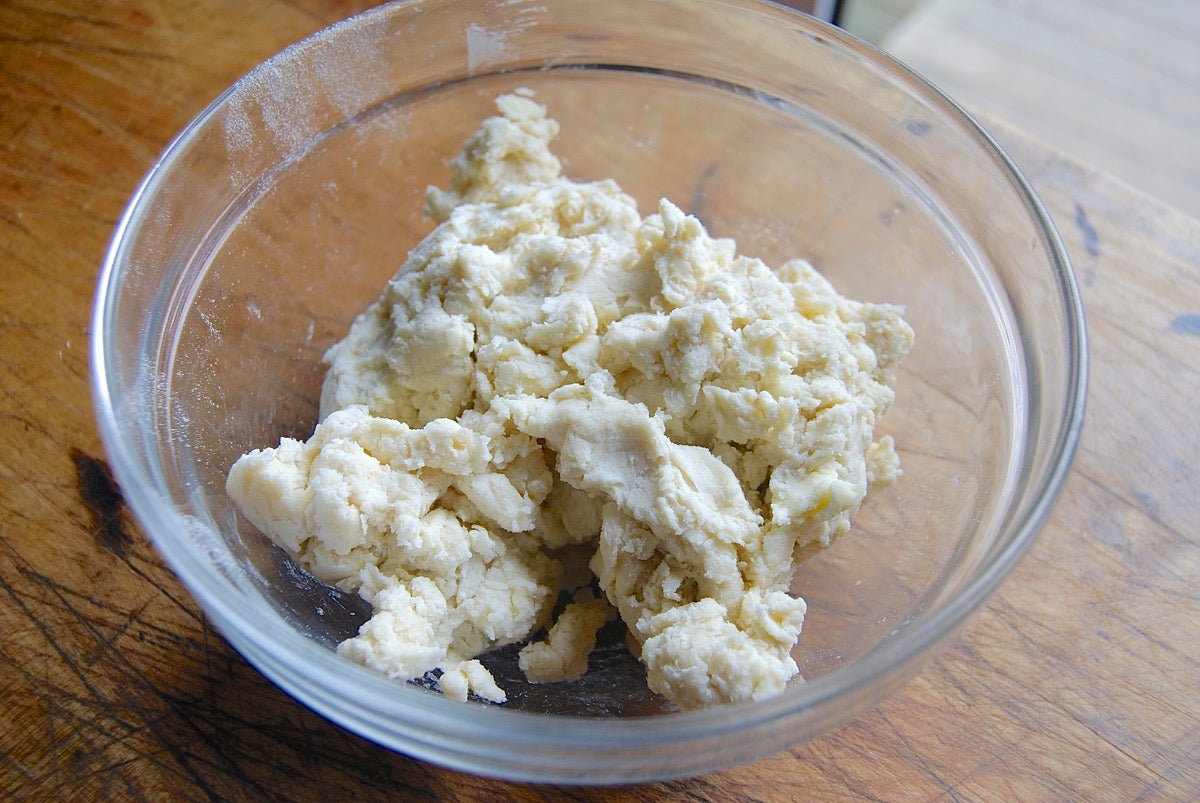 Add the water, and stir to make a soft, sticky dough.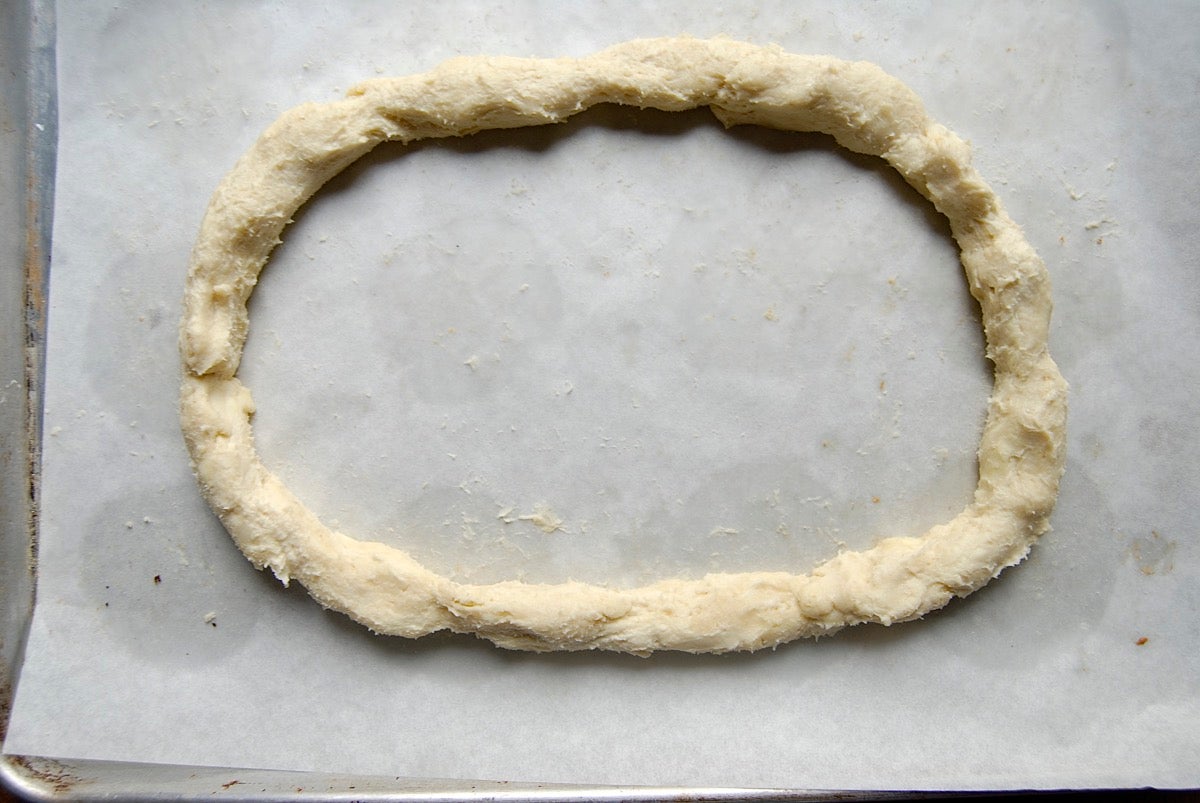 Shape the dough
Wet your hands, pick up the dough, and shape it into a 12" x 8" oval ring on the baking sheet; or a 10" ring on the pizza pan. This will be messy going — the dough is VERY sticky — but just keep wetting your fingers and pushing it into a ring.
Tip: It helps to first divide the dough into four pieces, then roll each into a 9" log. Connect the logs to form an oval ring.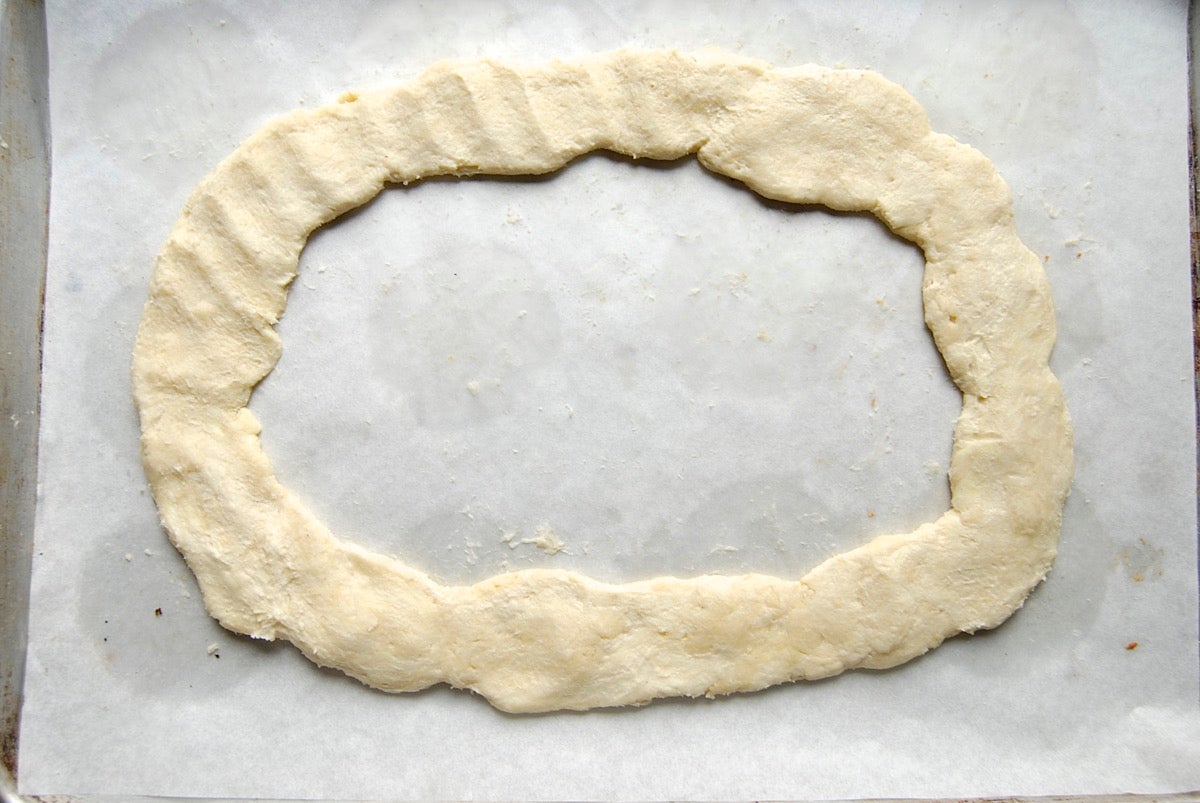 Once you've made the ring, flatten the dough so it's about 1 1/2" wide; basically, it'll look like a NASCAR track.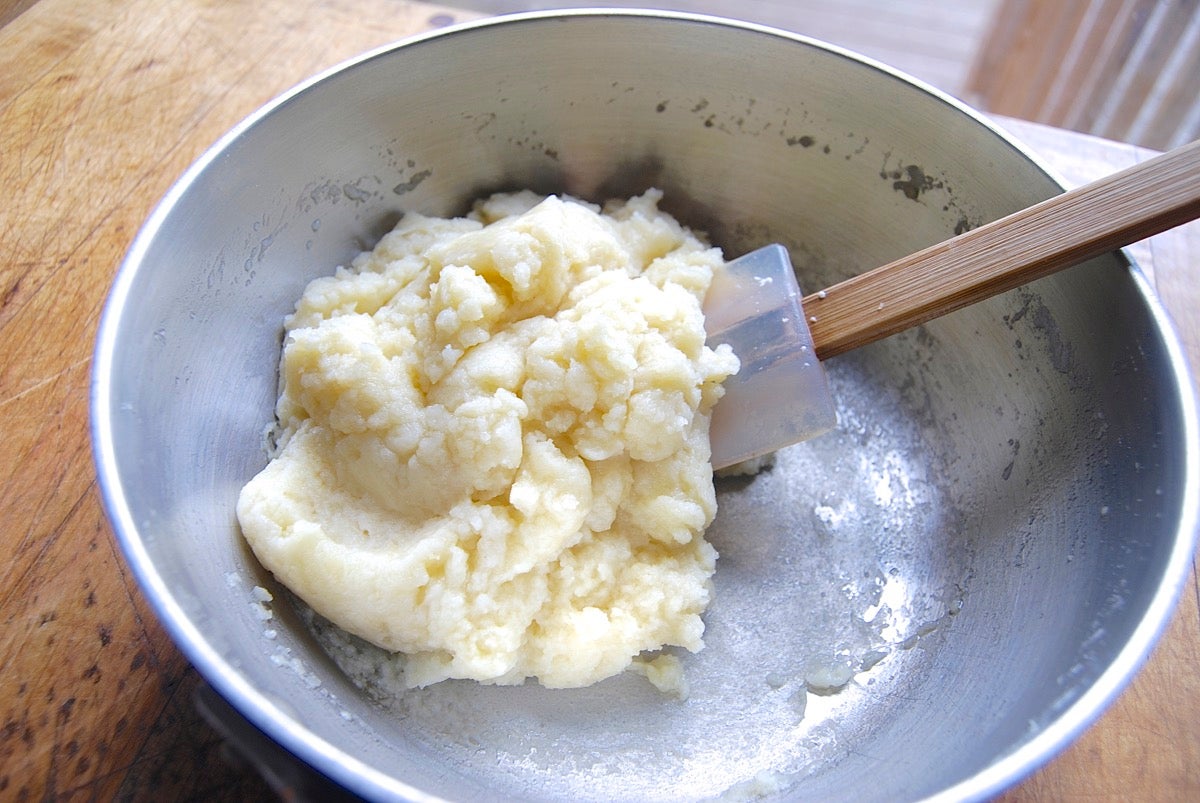 Make the batter
1 cup water
1/2 cup (8 tablespoons) unsalted butter
1/2 teaspoon salt (1/4 teaspoon if you use salted butter)
1 cup (4 1/4 ounces) King Arthur Unbleached All-Purpose Flour
3 large eggs, at room temperature
1/2 teaspoon butter rum, eggnog, or vanilla-butternut flavor, optional but delicious
Place the water, butter, and salt in a saucepan, and heat over medium heat until the butter is melted and the mixture is boiling. Immediately add the flour, stirring with a spatula until the mixture is cohesive and starts to form a ball.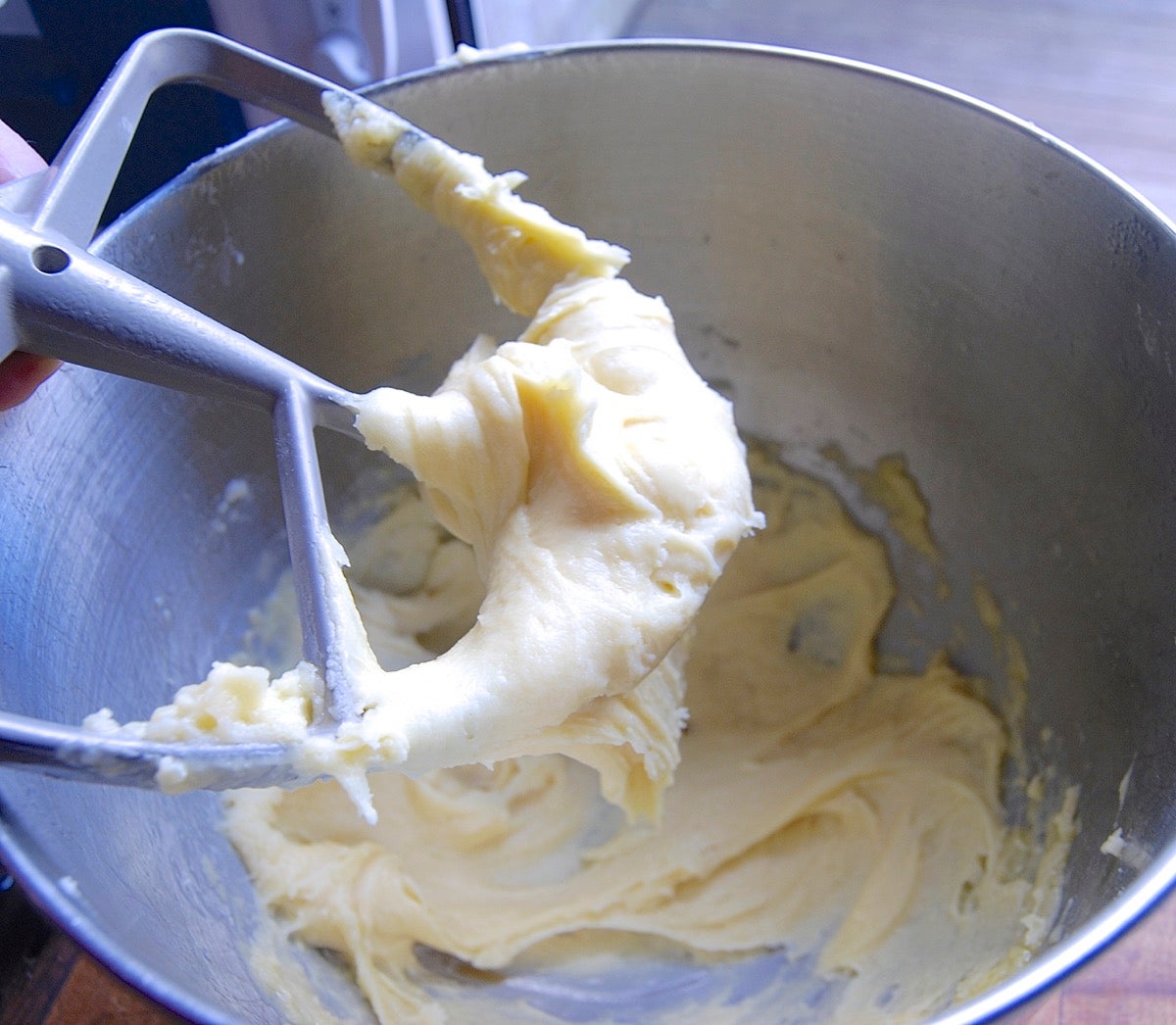 Transfer the batter to a mixing bowl. Beat in the eggs one at a time, making sure each is fully incorporated before adding the next. Add the flavor at the end, if using.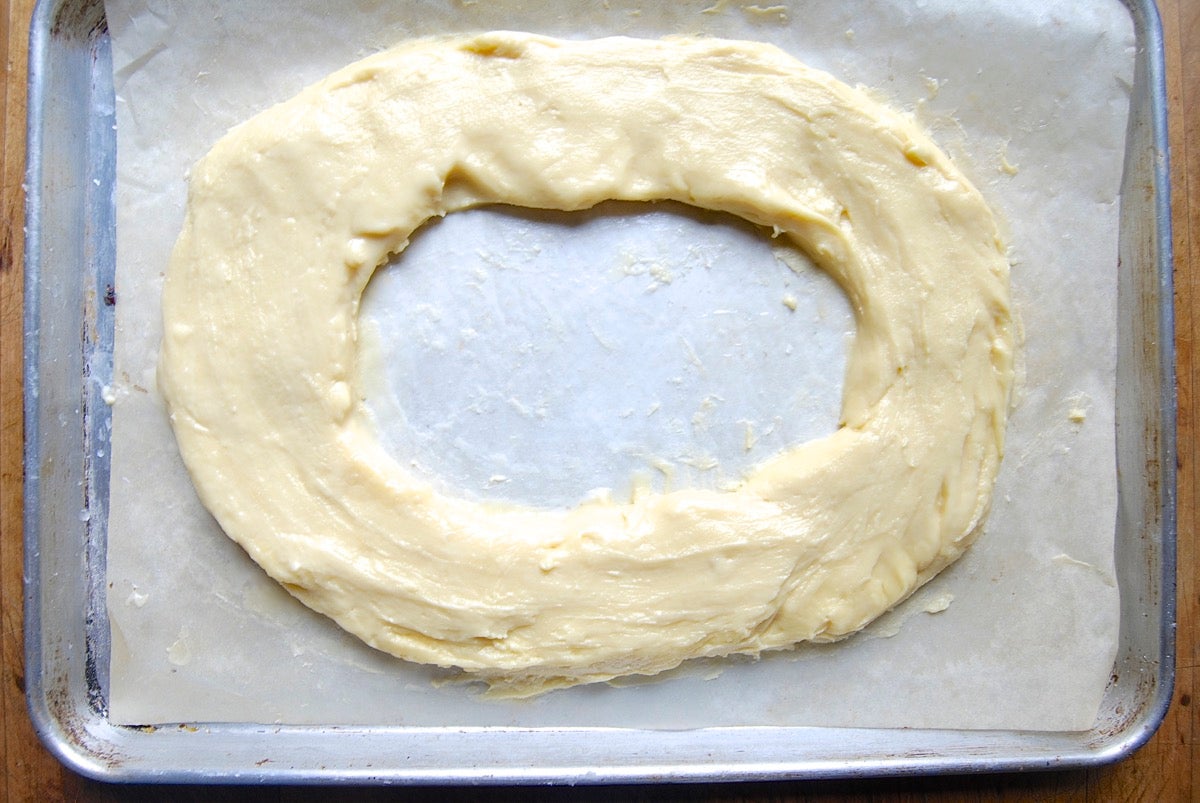 Spread the batter
Spread the batter along the ring, covering it completely. Smooth the batter with a bowl scraper or spatula.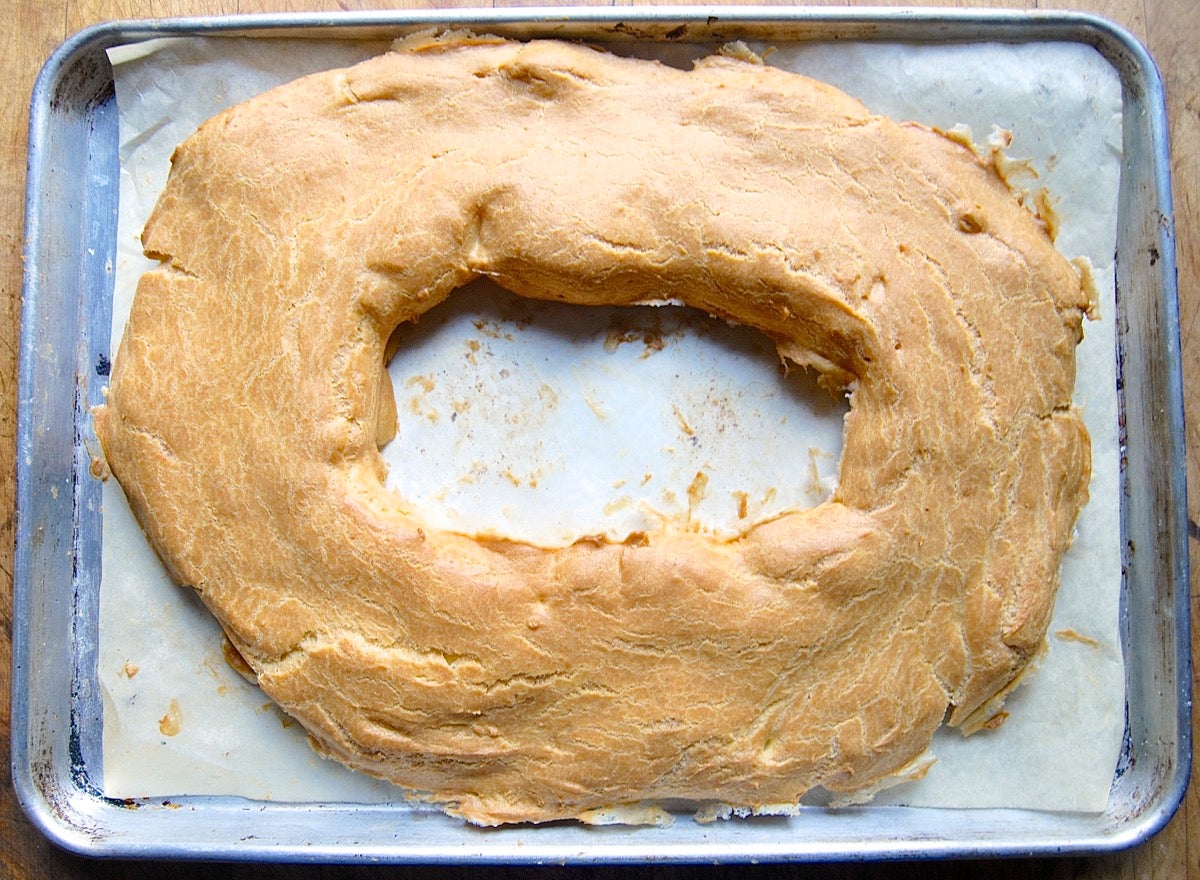 Bake the kringle
It'll take 50 to 60 minutes; when done, it should be a rich, golden brown. If you're baking the gluten-free version using Measure for Measure flour, bake for 60 to 70 minutes.
While the kringle is baking, toast 2 cups pecan halves for the topping. You can stick them right into the oven with the kringle; spread them on a baking sheet and toast for 8 to 10 minutes or so, or until they're starting to turn golden brown and smell nutty.
When the kringle is done, remove it from the oven, and allow it to cool completely on the pan.
Prepare the toppings
We're making two versions of kringle here: butter-pecan, and chocolate butter-pecan ("turtle"). Both start with caramel and pecans.
12 ounces caramel, cut from a block (about 1 cup, packed); or about 3 dozen individual caramel candies, unwrapped
2 cups toasted pecan halves
It helps to use fresh, soft caramel here. If your caramels are the harder, supermarket-type caramels, add a couple of tablespoons milk or cream when melting, to keep them soft on the kringle.
You can also substitute your own caramel sauce. And, boy, do I have a GREAT homemade caramel sauce recipe for you! I keep a jar of this in my fridge full-time, along with homemade chocolate sauce.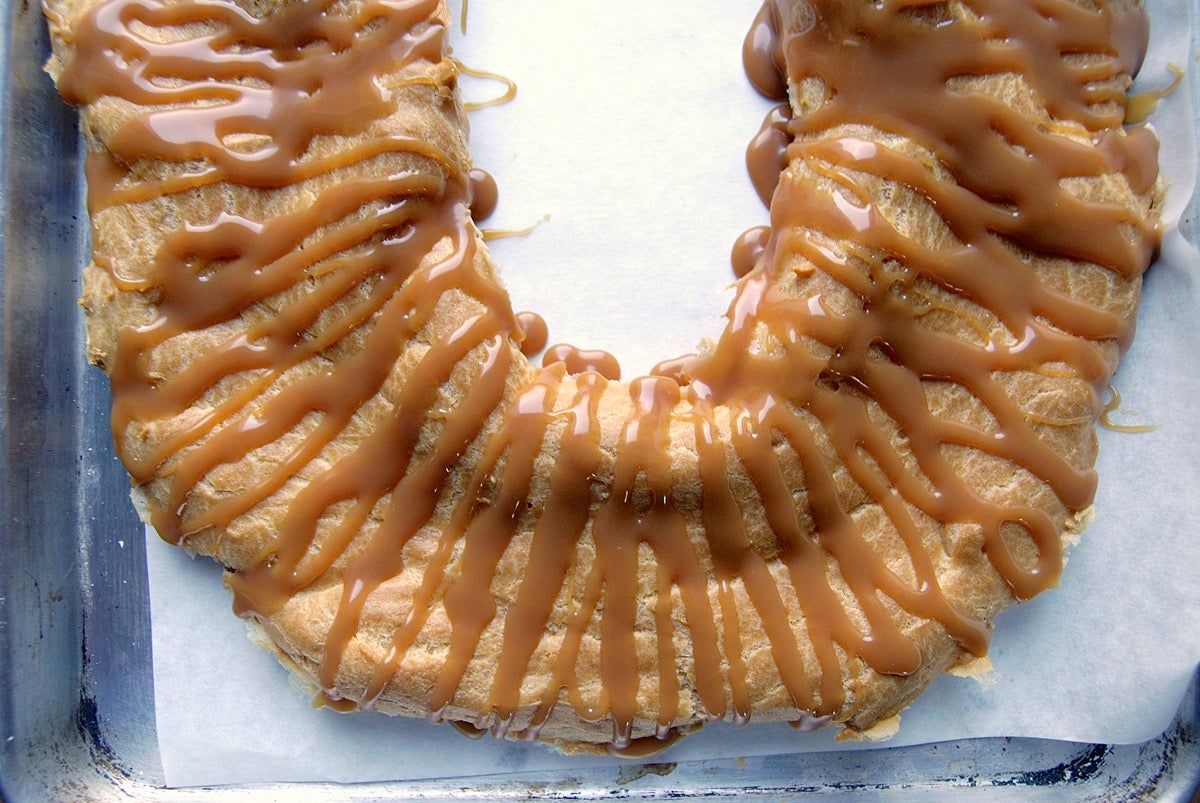 Top and cool
Place the caramel in a microwave-safe spouted cup, if you have one; it's not necessary, but makes it easier to pour. Melt the caramel until it's bubbly, remove it from the microwave, stir a few times to smooth out the bubbles, and immediately drizzle it over the kringle. If it stiffens up, reheat briefly in the microwave.
If you're using caramel sauce, bring it to room temperature to make it pourable, if necessary. Drizzle over the kringle.
Note: Whether you use the melted caramel or caramel sauce, don't feel you have to use all of it. Simply apply artful arcs of caramel to taste.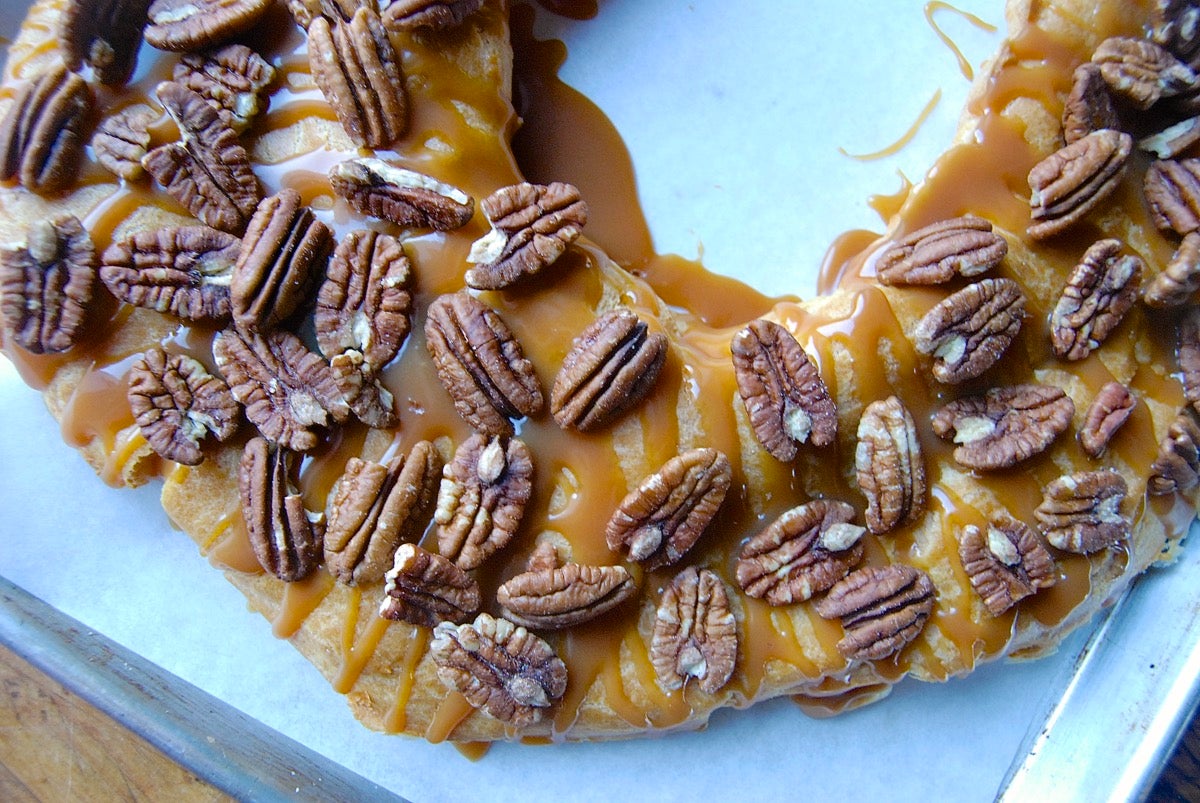 Arrange the toasted pecans atop the caramel, pressing them in gently. Hint: a sprinkle of fine salt over the pecans and caramel at this point is a tasty touch.
Allow the kringle to rest, uncovered, until the caramel has set.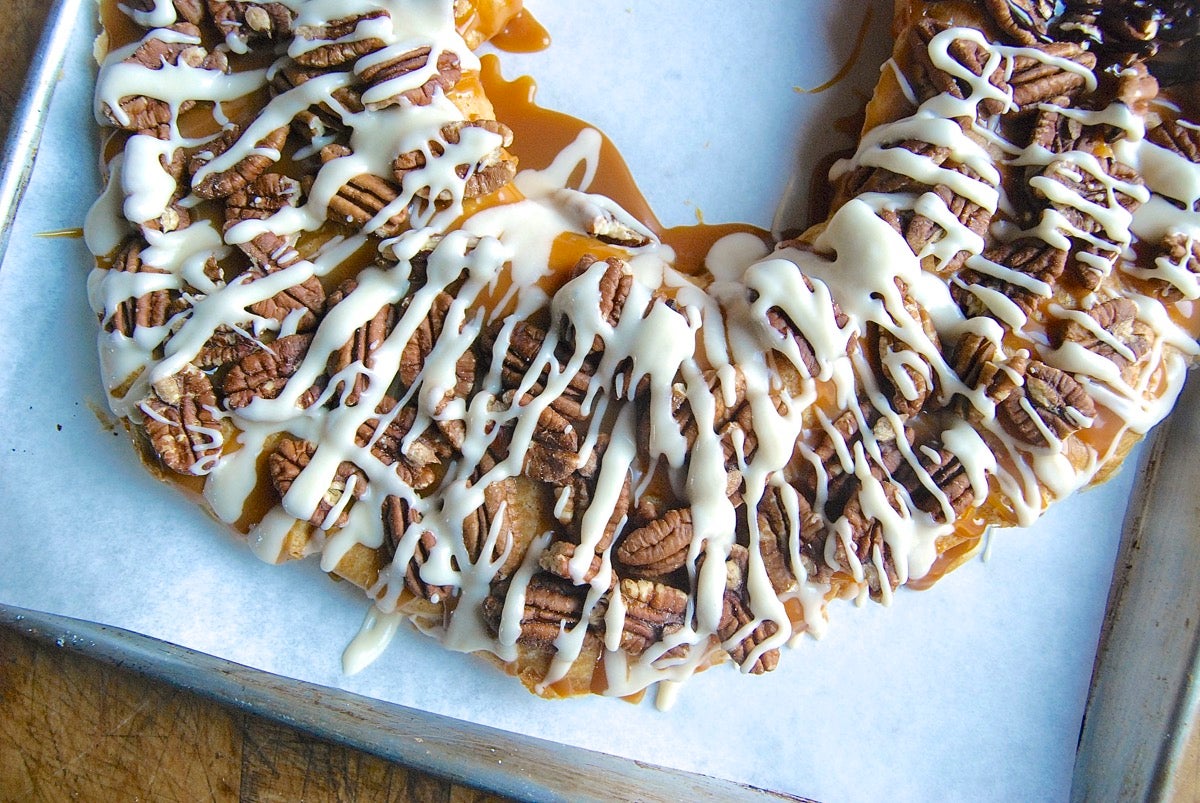 Drizzle with icing
Stir together this simple confectioners' sugar icing:
1 cup confectioners' sugar
2 tablespoons heavy cream, half and half, or milk, enough to make a thick but pourable glaze
1/8 teaspoon butter-rum flavor, eggnog flavor, or vanilla-butternut flavor, optional but good
pinch of salt
Drizzle it over the kringle.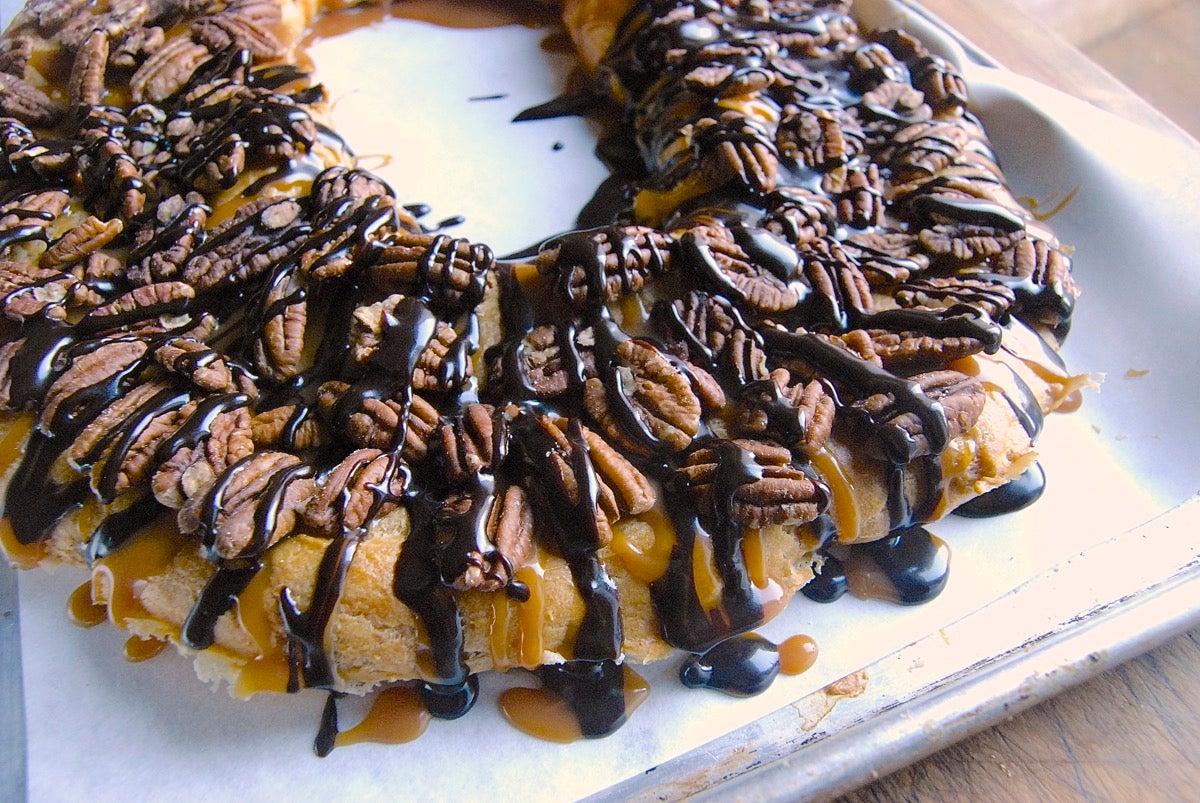 Or forget the white icing, and make "turtle" kringle by drizzling with chocolate ganache or chocolate sauce. Again, use just as much as you want; having leftover chocolate sauce or ganache in the fridge is money in the bank.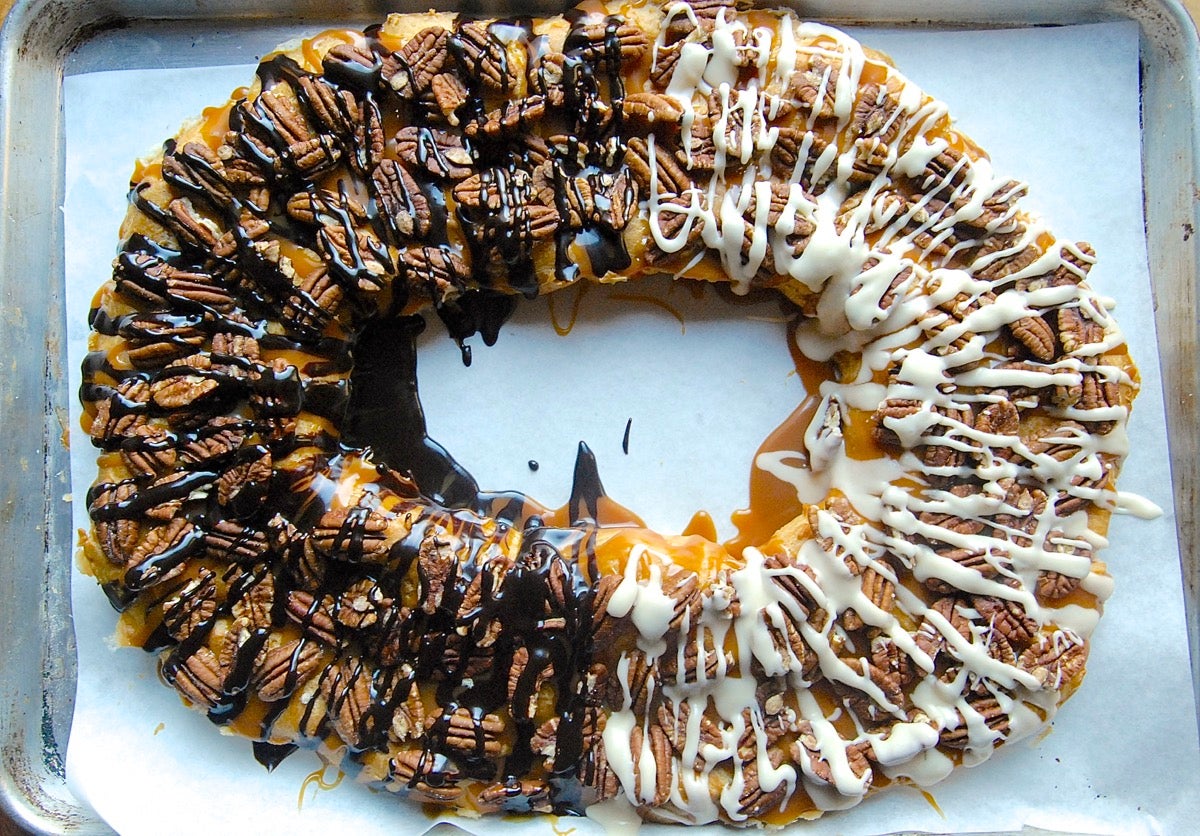 Want to cover all of your fan bases? The kringle is plenty big enough for you to try both simple vanilla and dark chocolate icing.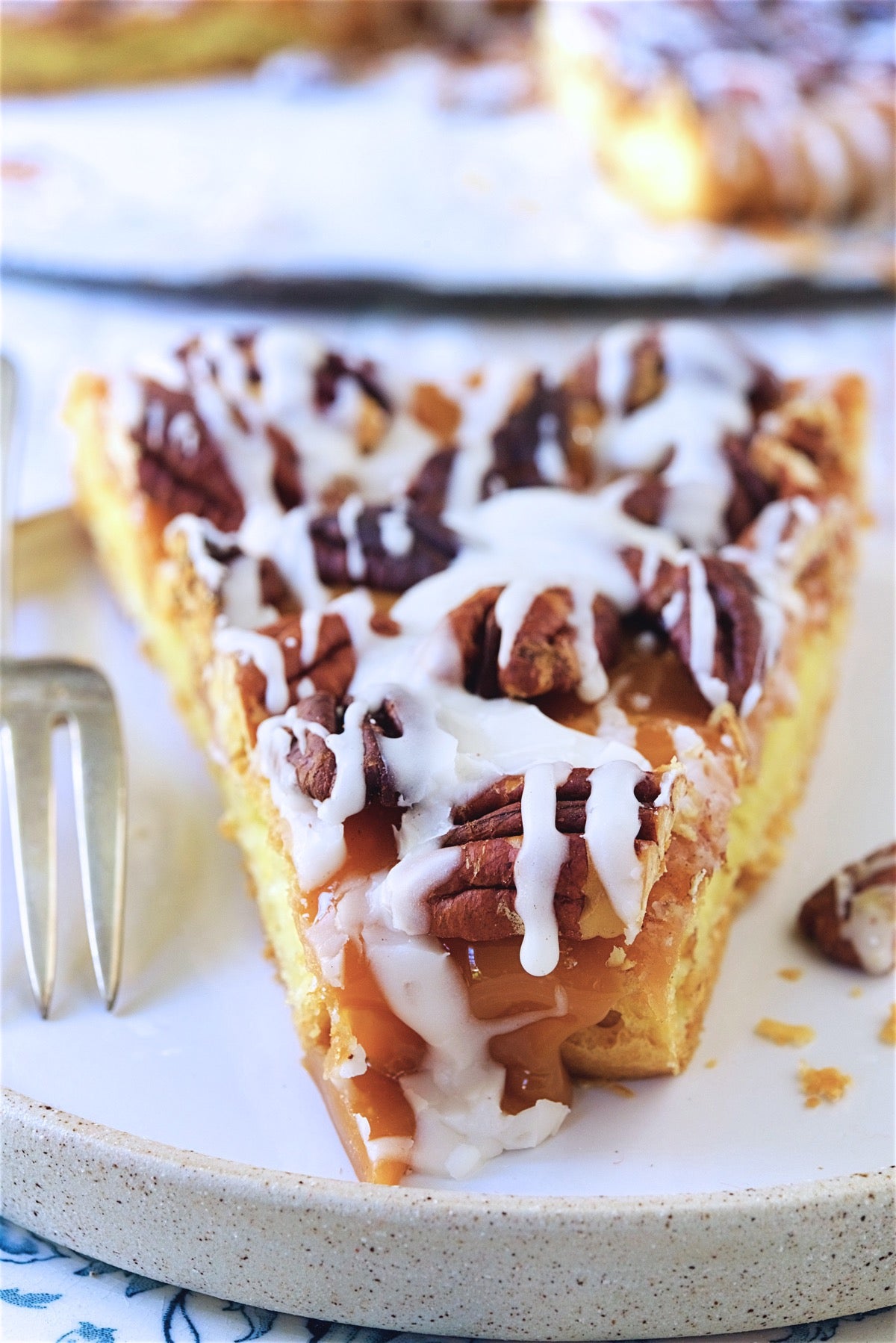 Share the holiday joy
Look at that golden, buttery pastry. The melted caramel and toasted pecans. Imagine family and friends wondering where you ever found the time to create such a masterpiece.
Just tell them you used this easy King Arthur Flour recipe: Butter-Pecan Kringle.
Interested in more? See our complete collection of Bakealong recipes.
Jump to Comments