King Arthur Flour is a wonderful place to visit, as tens of thousands of excited bakers every year can testify. At our flagship campus here in Norwich, Vermont, you can take a class, watch our bakers at work, shop, relax in our café (free WiFi, awesome coffee iterations, taste-tempting treats of all types) – and on Saturdays, enjoy a warm slice of Gael's Saturday Focaccia.
So who's Gael, and why is her focaccia renowned throughout our small corner of the world?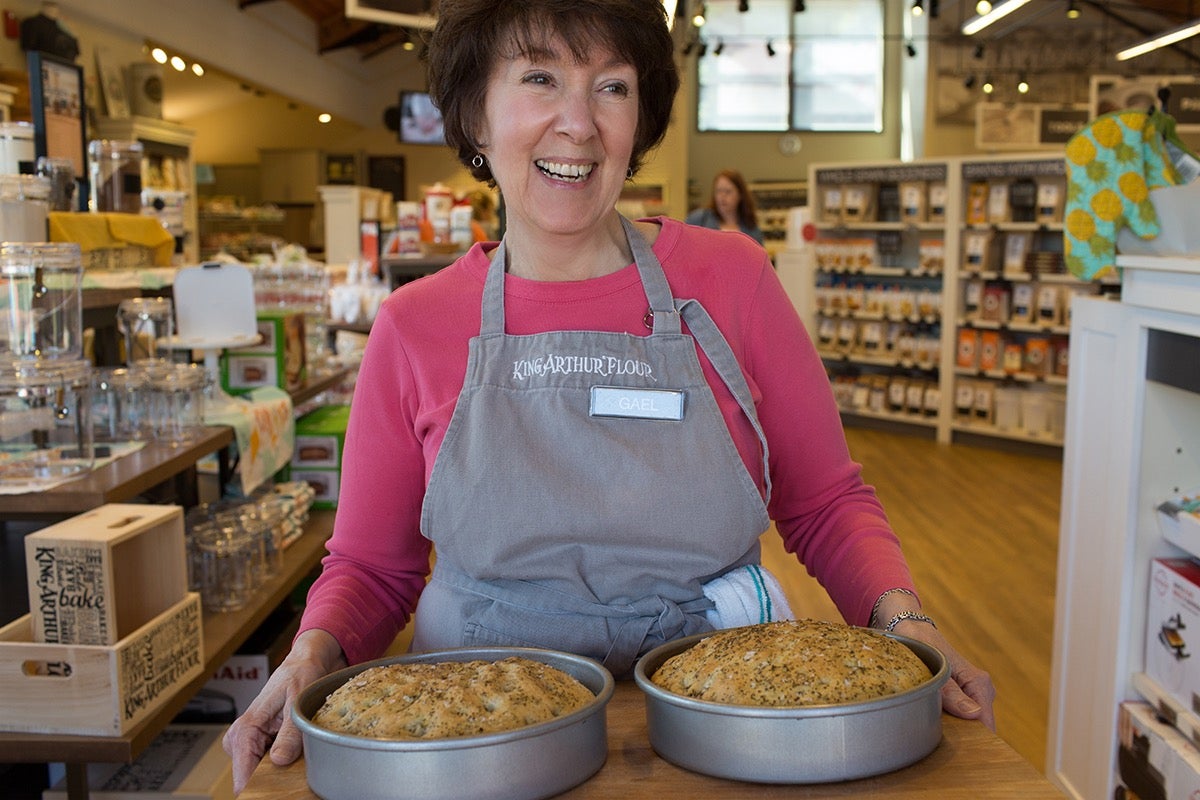 Meet Gael Clauson, a 15-year King Arthur Flour employee. A retired speech and language pathologist turned reading specialist (and caterer), Gael works in our Baker's Store every Saturday – "I hardly ever miss," she says.
And every Saturday for the past 4 years, Gael has turned out big, warm, puffy-soft loaves of aromatic herbed focaccia, a.k.a. Gael's Saturday Focaccia.
Gael works in our store's demo kitchen, where during her day-long shift she'll typically turn out up to 10 different desserts and breads, as well as soup – all for customers to sample. And this focaccia is a beloved favorite. "People always ask, 'Do you sell this?' We could sell 20 of these a week," says Gael.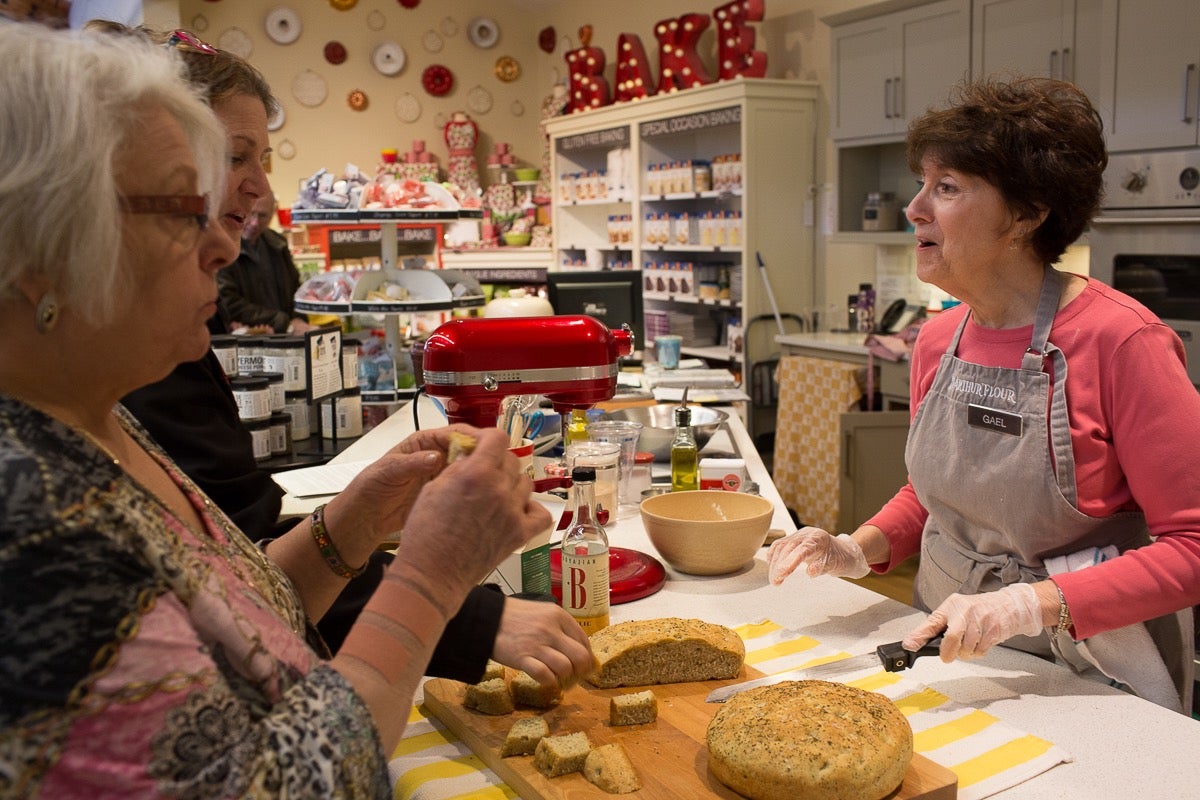 The focaccia's not for sale, though – it's sliced into bite-sized chunks and offered to waiting customers. We simply want to spread the joy of baking: the thrill of pulling a perfect loaf out of the oven, and sharing it, still warm, with family and friends.
"When the soup is ready and the focaccia are out of the oven, I make this loud announcement: 'I've got garlic-herb focaccia plus hot soup ready in the demo kitchen!' " laughs Gael. "That, with the aroma of the garlic oil, is enough to bring everyone running."
We suspect only a small percentage of you will ever visit us here in Vermont. But that doesn't mean you can't enjoy Gael's focaccia. Follow along as Gael shows us how to create this enticing bread.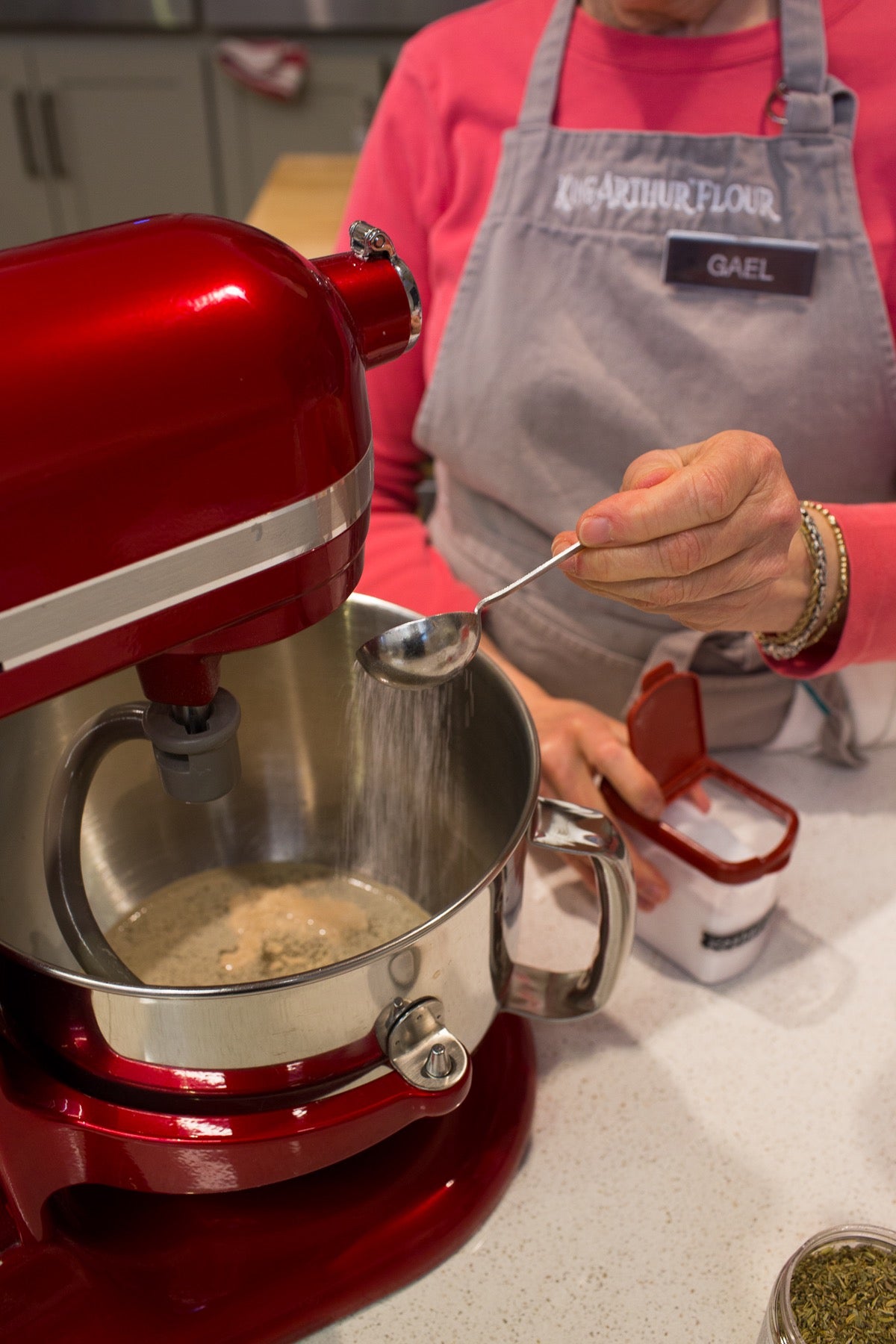 First, combine the following in a mixing bowl (or the bucket of your bread machine set on the dough cycle, or the bowl of your stand mixer):
2 cups (454g) lukewarm water
1 tablespoon (14g) sugar
1 tablespoon instant yeast
1 tablespoon salt
2 tablespoons (25g) olive oil
Stir to dissolve the sugar and yeast.
Stir in 1/2 cup (82g) semolina. This adds a bit of warm color and slight crunch, but substitute unbleached all-purpose flour if you don't have semolina.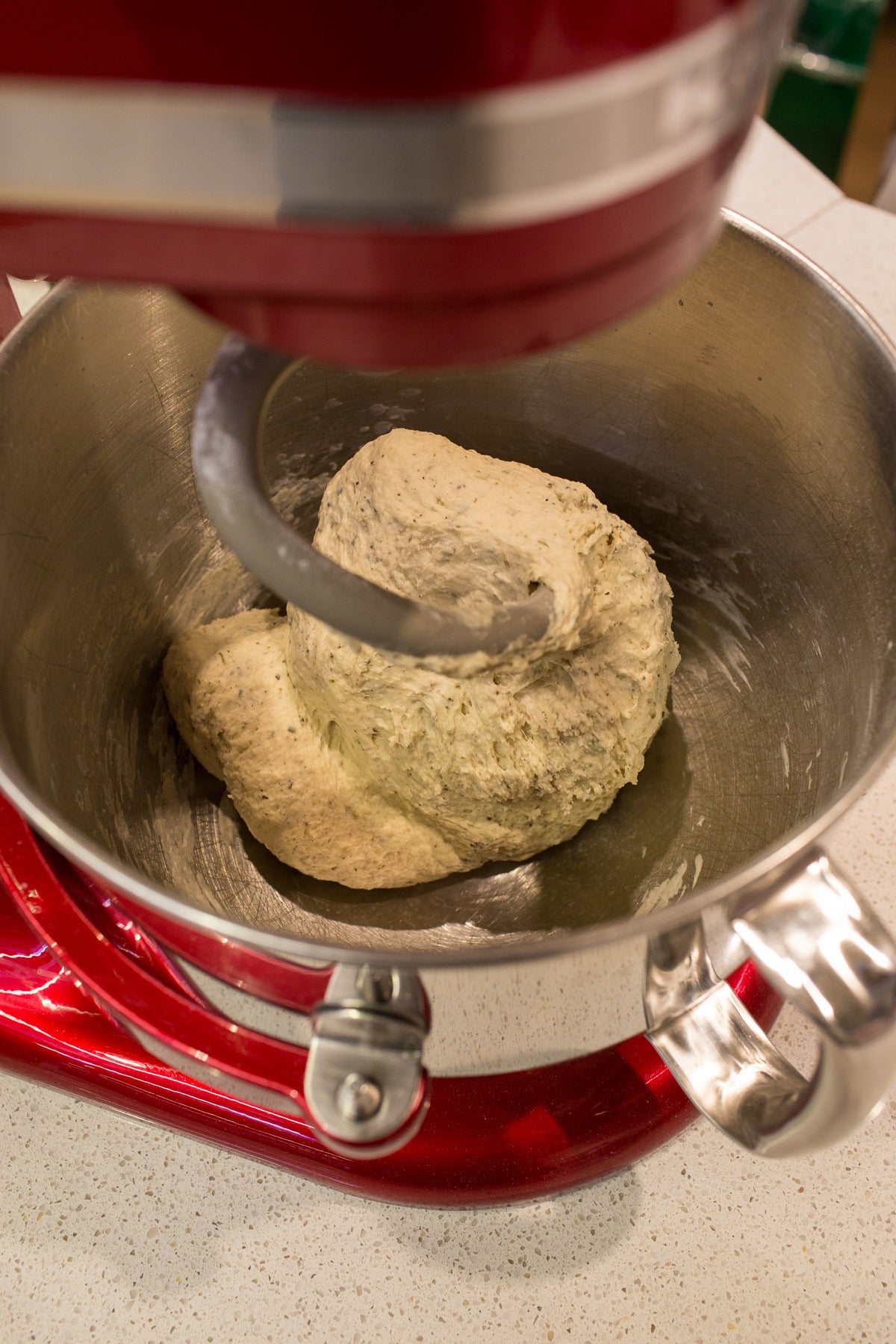 Add 4 1/2 cups (539g) King Arthur Unbleached All-Purpose Flour, 2 tablespoons herbes de Provence and 1/2 teaspoon ground black pepper. Knead the dough — by hand, mixer, or in a bread machine set on the dough cycle — until it's smooth. It'll be quite soft.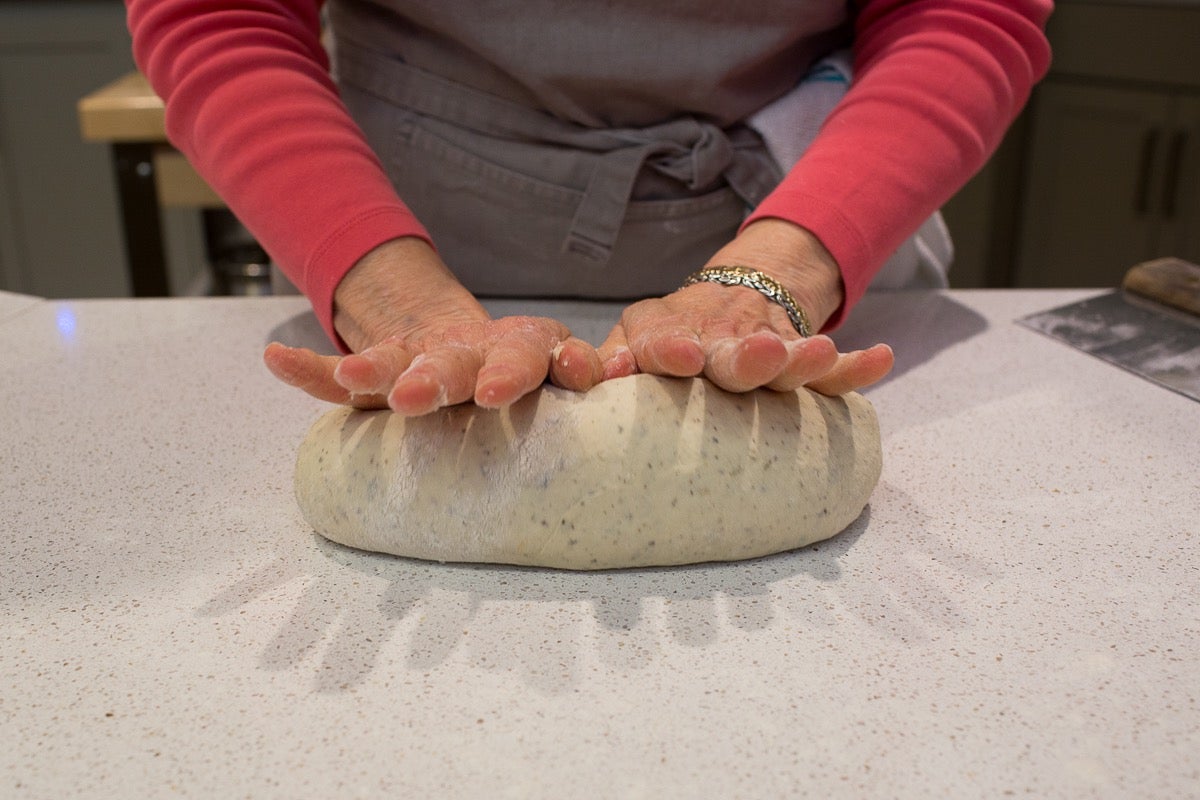 Gael says, "Your finished dough should be like a marshmallow, very easy to knead. It should clean the sides of the bowl, if you're using a mixer. If the dough seems too slack, add more flour a tablespoon at a time until it comes together. It should feel moist and soft; tacky like a sticky note, but not sticky."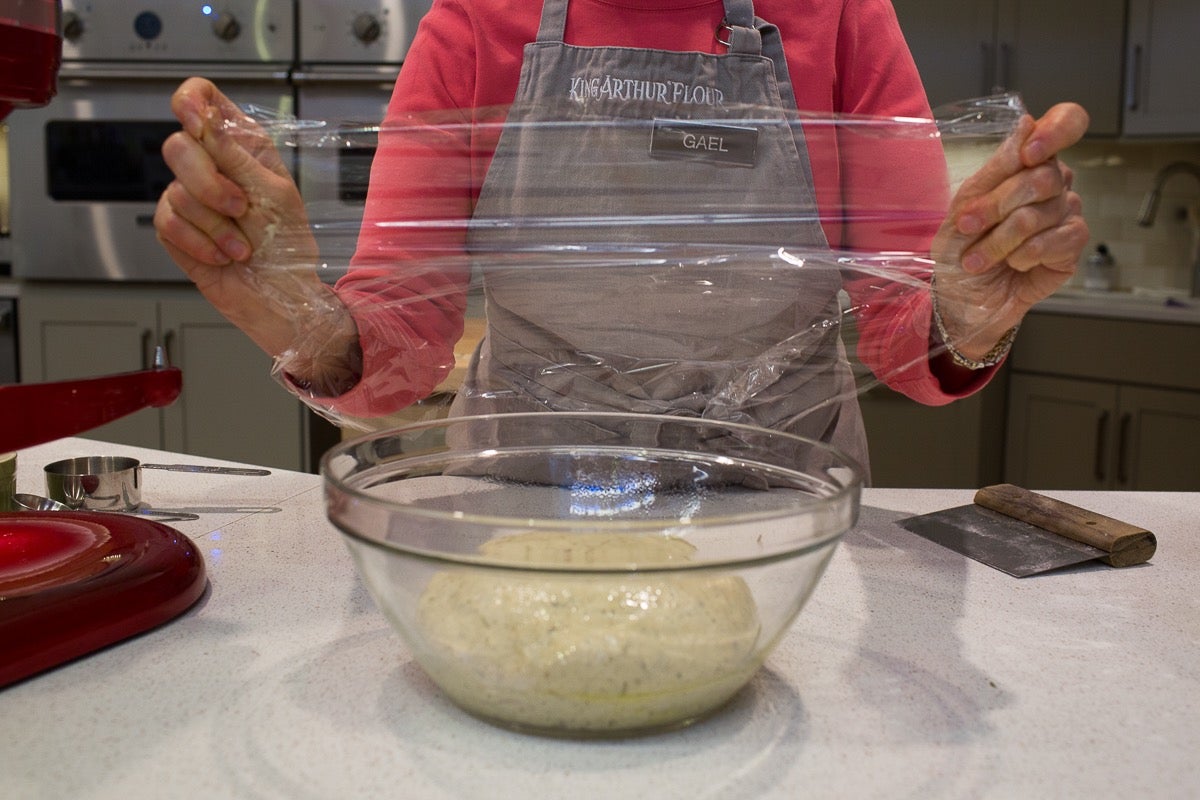 Place the dough in a lightly oiled bowl and turn the dough on all sides to coat with oil. Cover it loosely with plastic wrap.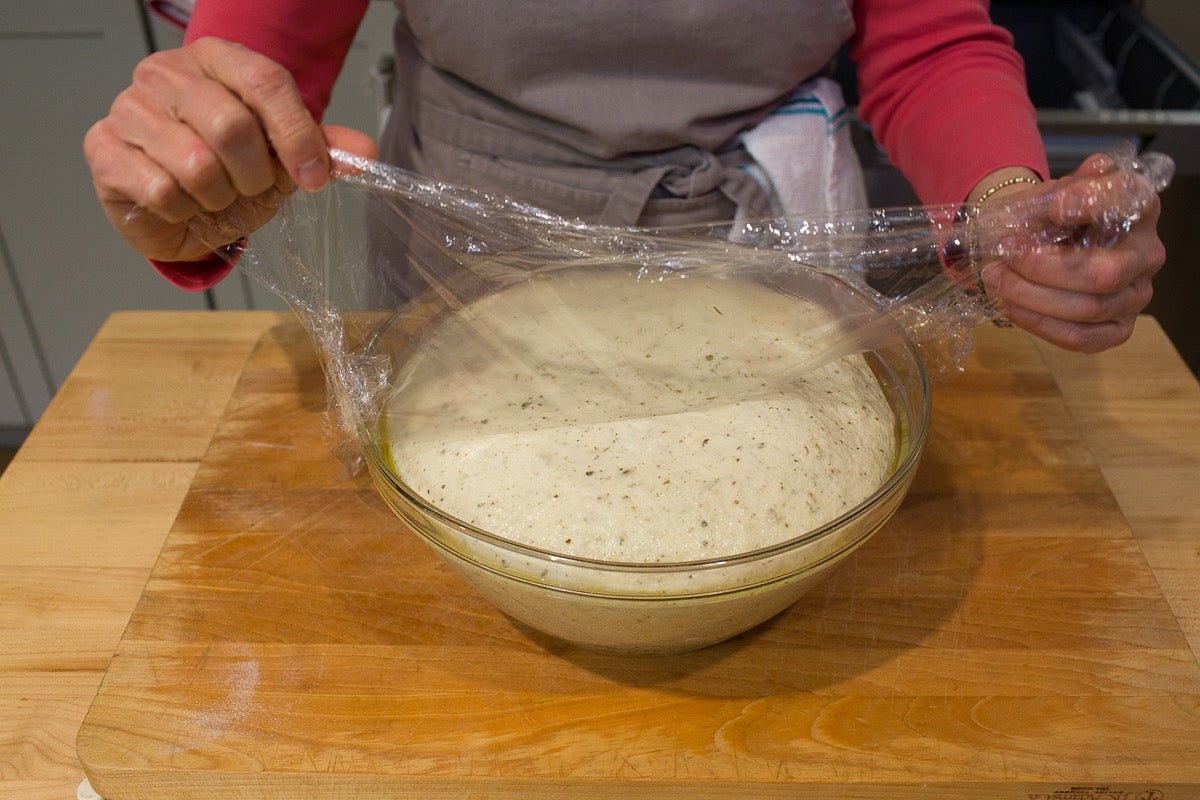 Put the bowl in a warm place, and let the dough rise for 90 minutes, or until doubled in size.
Gently deflate/de-gas the dough by pressing lightly; no need to punch it, says Gael. Turn it out onto a lightly floured counter; it should feel like a big marshmallow, very pliable.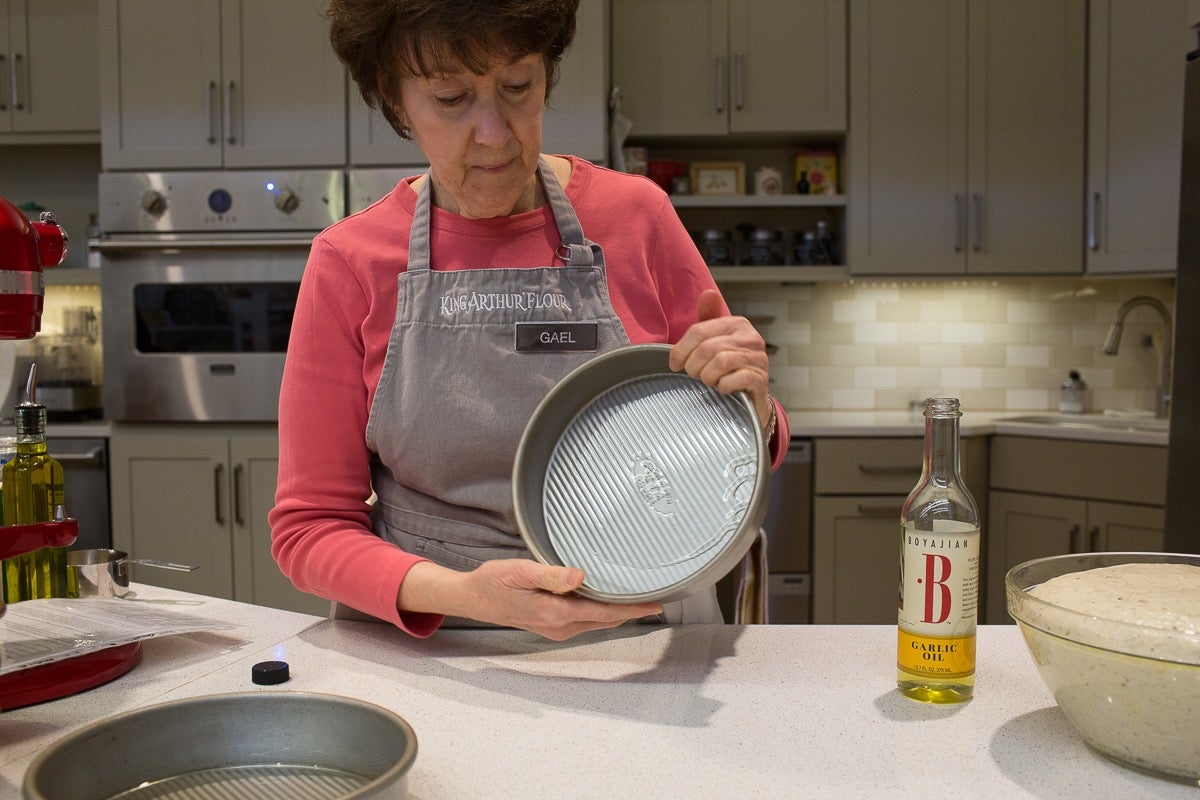 Lightly grease two 8" or 9" round cake pans, and drizzle 1 tablespoon garlic oil or olive oil into each pan, swirling it across the bottom. "The oil will insure that the bottom of the focaccia will be crispy and tasty," says Gael.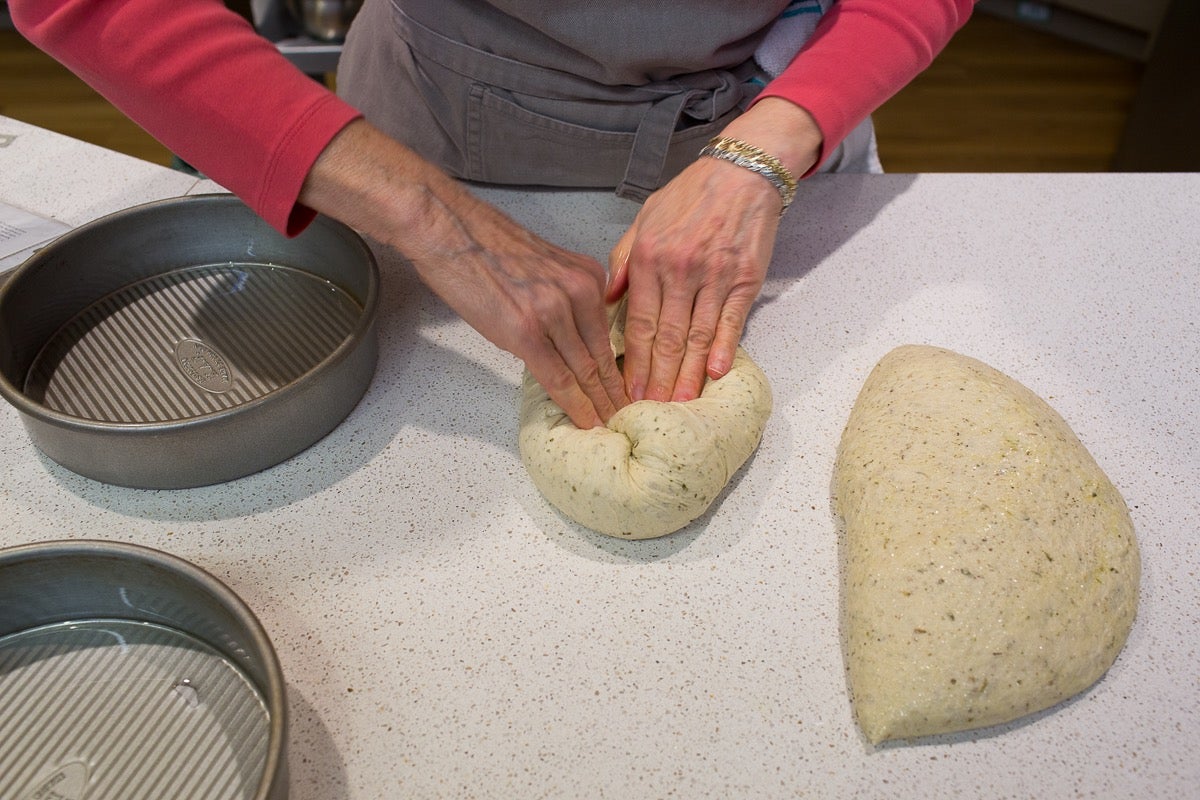 Divide the dough in half and gently shape it into rounds to fit whichever pans you've chosen.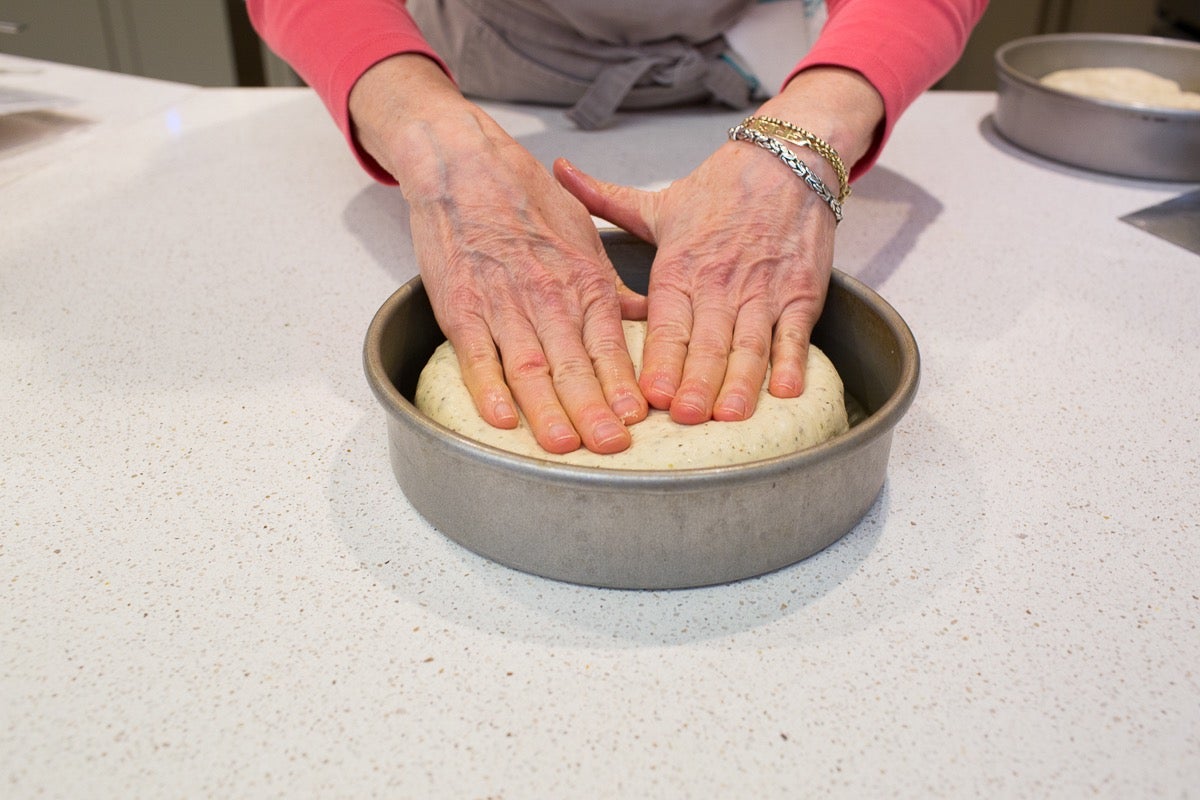 Place the rounds into the prepared pans, cover the pans, and let the dough rise for 45 minutes in a warm place.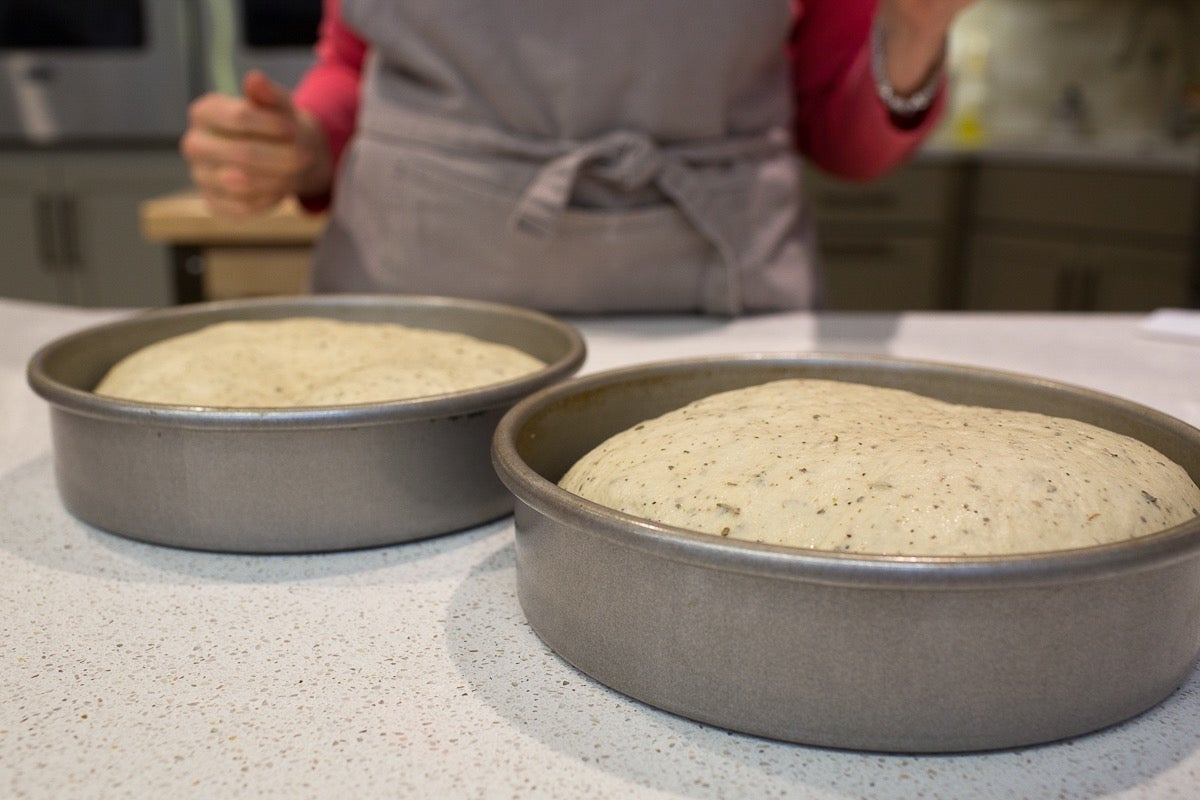 It'll become puffy.
While the dough is rising, preheat your oven to 425°F.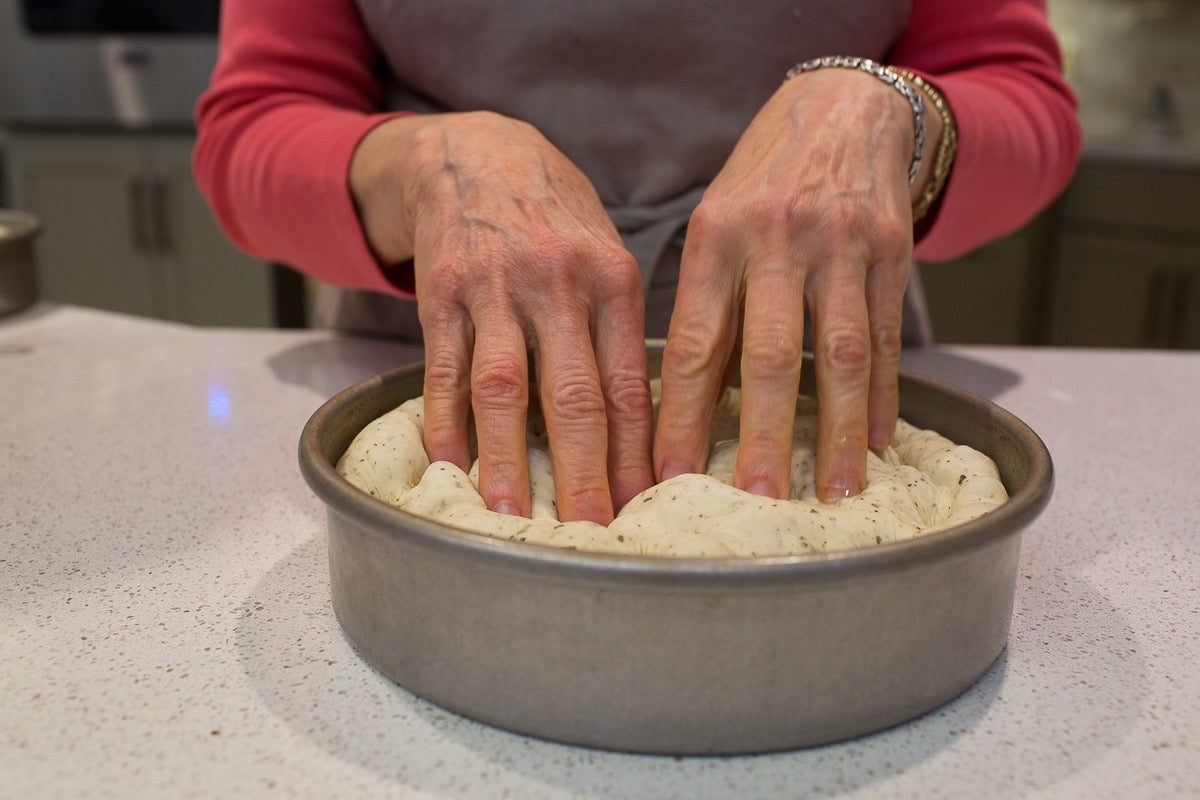 Use your fingers to gently but firmly dimple the dough, making focaccia's signature little hills and valleys.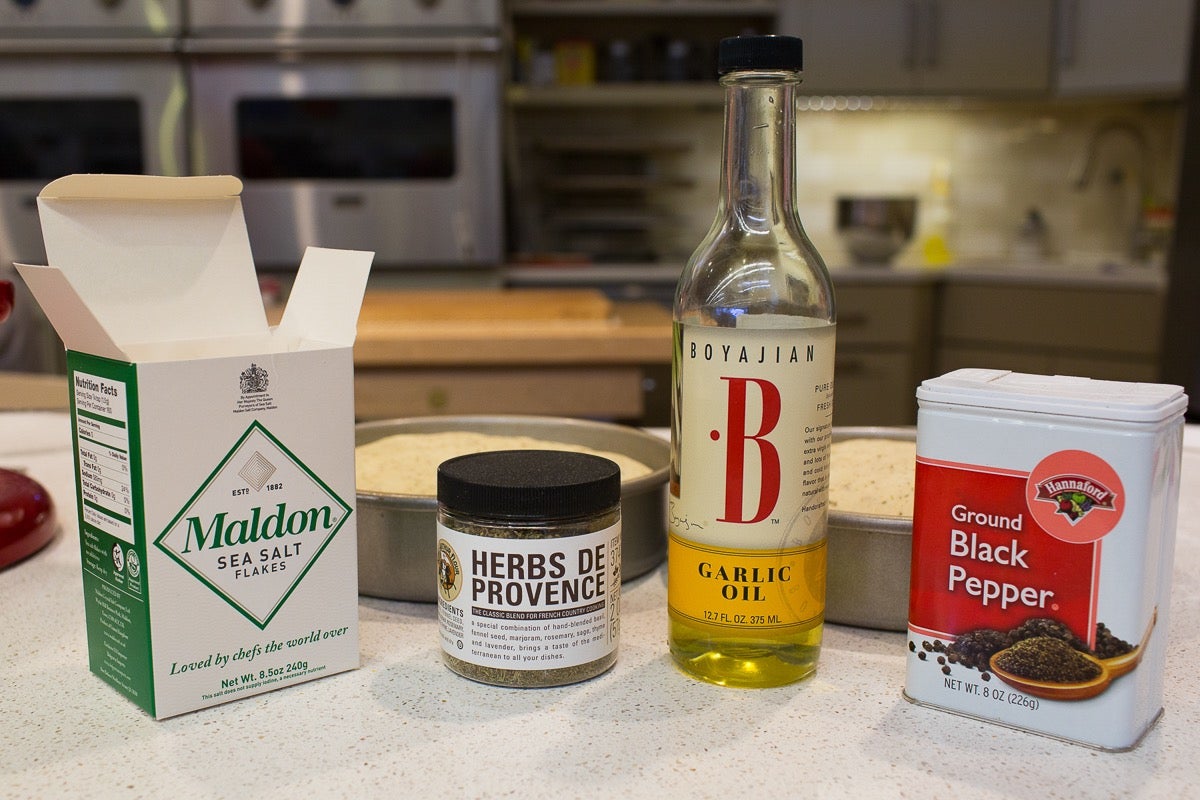 Sprinkle the top with herbes de Provence, a bit of coarse sea salt for crunch and flavor, and ground black pepper (if desired). Drizzle with garlic oil or olive oil.
Gael notes, "I use Maldon sea salt, garlic oil, semolina, our all-purpose flour, and herbes de Provence. I tell people if you don't have those same ingredients, your focaccia won't turn out like mine. And if customers buy the garlic oil and herbes de provence, they get our 'Gael's discount' at checkout!"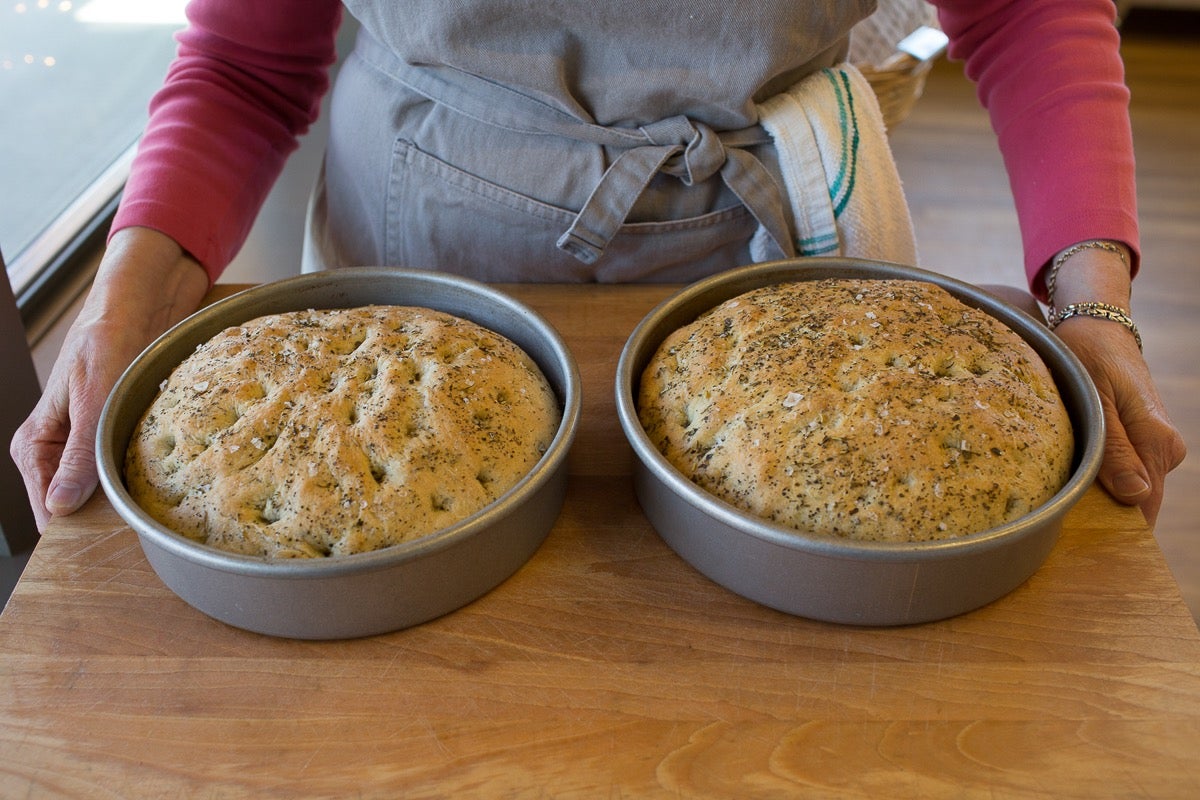 Bake the focaccia in the middle of the oven for about 30 minutes, or until it's lightly browned and baked through. It should be brown and crispy on the bottom.
Remove the focaccia from the oven, and turn it out of the pans onto a rack to cool just slightly before serving.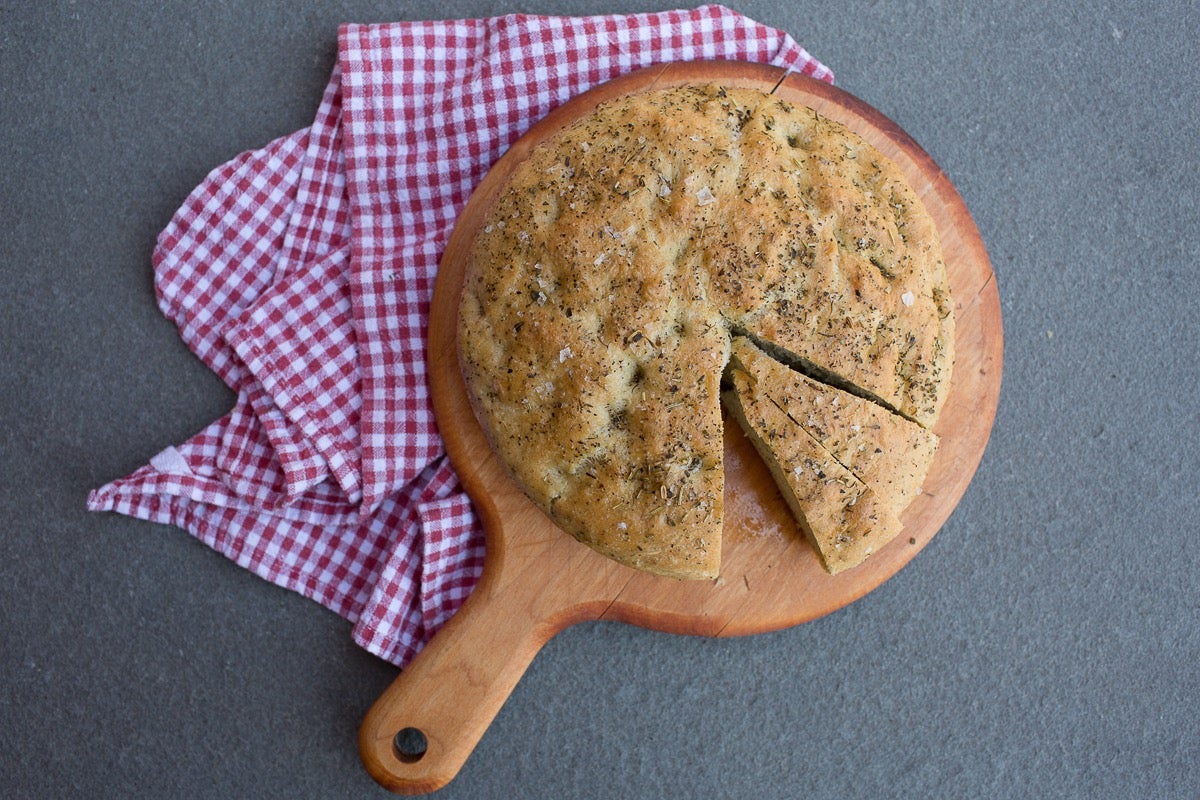 Serve with warmed marinara sauce as a dip, or just as is with soup or salad.
Gael says that although customers constantly suggest variations, most decide this original simple loaf is their favorite. Still, if you want a heartier, pizza-like bread, choose any of the following toppings (or whatever strikes your fancy): chopped fresh rosemary, grated Parmesan cheese, chopped Kalamata olives, shredded Asiago cheese, crumbled feta cheese, mozzarella cheese, anchovies, oil-packed sun-dried tomatoes, caramelized onions, sautéed mushrooms, or diced red peppers.
Please read, bake, and review Gael's Saturday Focaccia.
Planning a visit to Vermont or New Hampshire? King Arthur Flour is on the border of those two states, just a stone's throw from Interstate 91, about 2 hours north of Boston, 2 1/2 hours north of Hartford, CT, or 2 1/2 hours west of Portland, ME. Get directions.
My thanks to co-blogger Julia Reed for the photos illustrating this post.
Jump to Comments