It's hard to beat a very good muffin.
Tender and just slightly moist, an excellent muffin should boast a fine but sturdy crumb. It should have a high, lofty dome and a crackly cap that spills over the muffin liner. When you break off a piece of the muffin top, it should pull away in craggy chunks.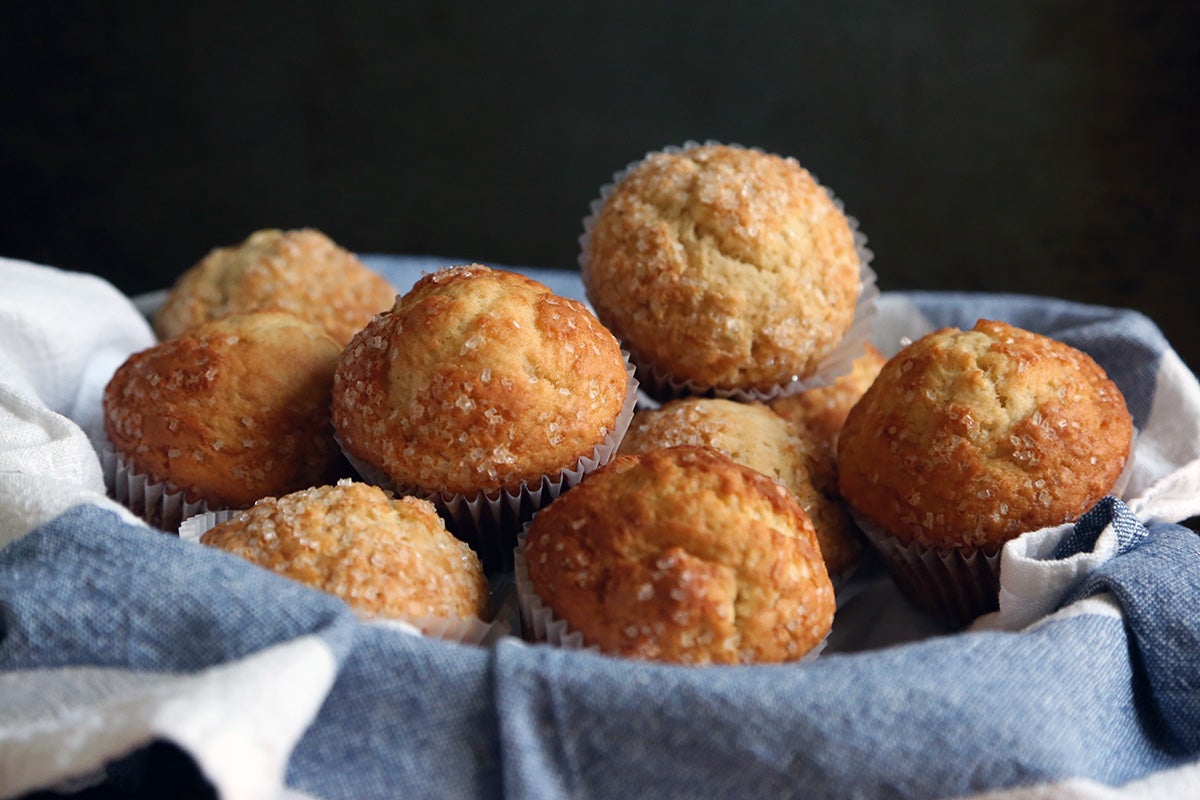 But how to create such a perfect muffin?
Often, recipes yield an overly sweet, rich muffin that's really just cake masquerading as a breakfast food. Or dense muffins with flat tops.
Here's where we can help. Our basic muffin recipe is exactly what you need. The method is simple. The formula yields a basic, plain muffin that you can easily dress up with any manner of ingredients, from spices to fresh fruit.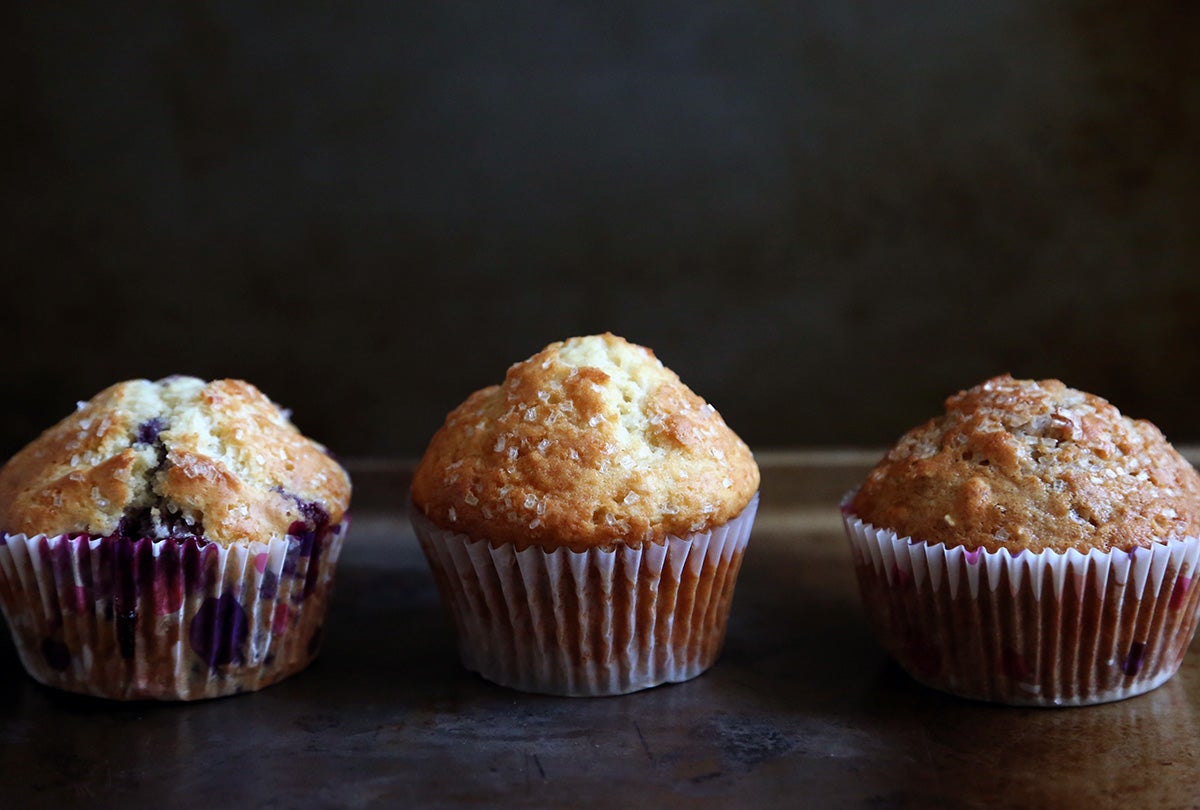 Left to right: basic blueberry muffins, basic muffins, basic oatmeal muffins
We'll show you how to make it, along with two classic variations: oatmeal and berry.
You'll need:
2 cups (240g) King Arthur Unbleached All-Purpose Flour
1/2 cup (100g) sugar
1 tablespoon baking powder
½ teaspoon salt
1 cup (227g) milk
1 teaspoon vanilla extract
1/4 cup (50g) vegetable oil or 4 tablespoons (57g) butter, melted
2 large eggs
First, preheat your oven to 425°F and lightly grease the cups of a 12-cup standard muffin pan. Or, line the pan with paper liners and grease the liners.
Whisk together the flour with the sugar, baking powder, and salt. You can use either all-purpose flour or pastry flour; all-purpose flour gives you a sturdier muffin while a pastry flour muffin will be lighter and more delicate.
In a separate bowl, whisk together the milk, vanilla, vegetable oil or butter, and eggs. Make sure to blend them thoroughly! You don't want to over-mix once you add the dry ingredients, so it's important to really whisk the liquid ingredients well.
Add the dry ingredients to the wet ingredients and stir lightly with a fork, or fold together with a spatula. The trick to keeping your muffins light and lofty is to mix just until the batter comes together.
Fill the cups of the muffin pan about three-quarters of the way full. I find our scone and muffin scoop very useful here. Using a scoop ensures that the cups are filled evenly, so your muffins look nice and uniform. And we're all about good-looking muffins!
If you want a little glitz (and who doesn't?), sprinkle the tops of the muffins with coarse sparkling sugar. Be sure to use this type of sugar, as it doesn't melt during baking unlike regular sugars.
Bake the muffins for 15 to 20 minutes. Start checking on them after 15 minutes, and take them out as soon as they're golden brown on the top.
Remove them from the oven, and as soon as you can handle them, transfer them to a rack to cool. Make sure you don't leave them in the pan, or the residual heat of the pan can steam the muffins and make them tough instead of delicate. I recommend eating at least one warm, because carpe diem and all that.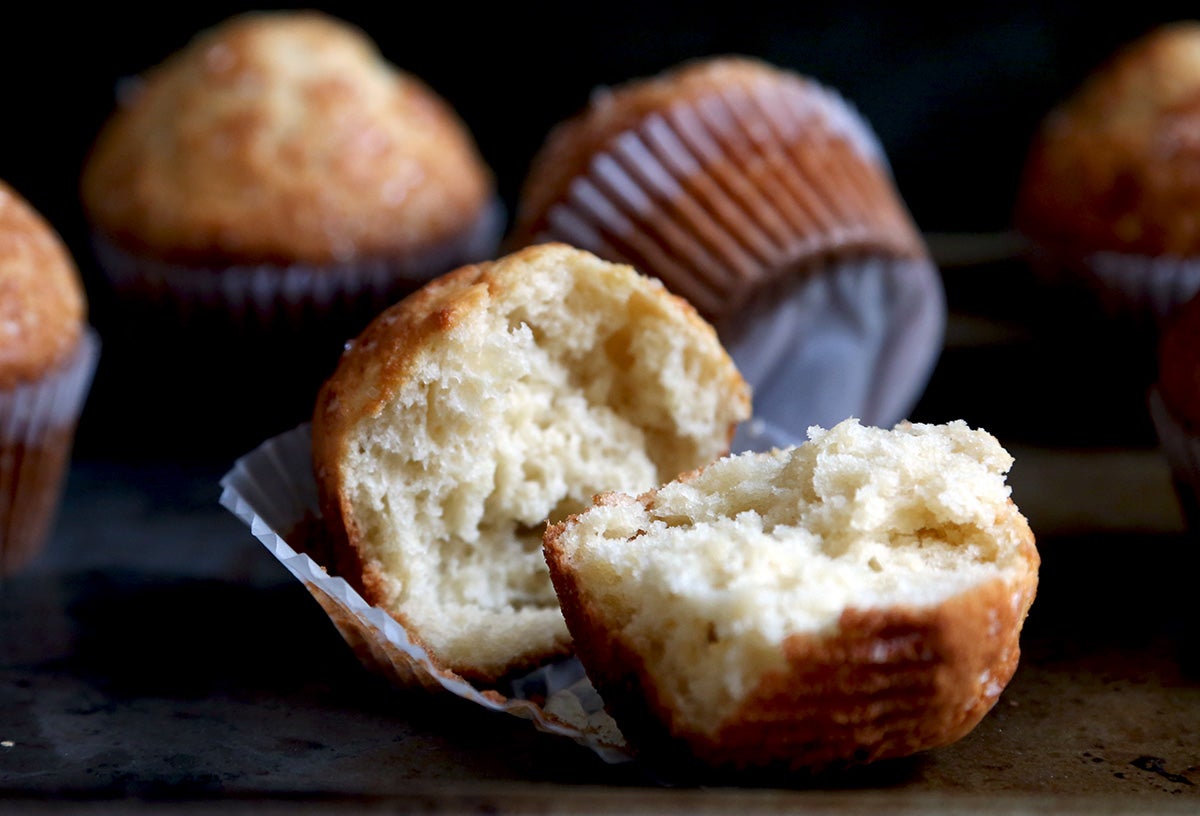 OK, so you've mastered the recipe. Your muffins are perfect! You're a domestic god(dess)! What next?
You're now ready to experiment with variations.

Basic muffin recipe variation: berry
To make berry muffins, add 11/2 cups of fresh berries to the dry ingredients.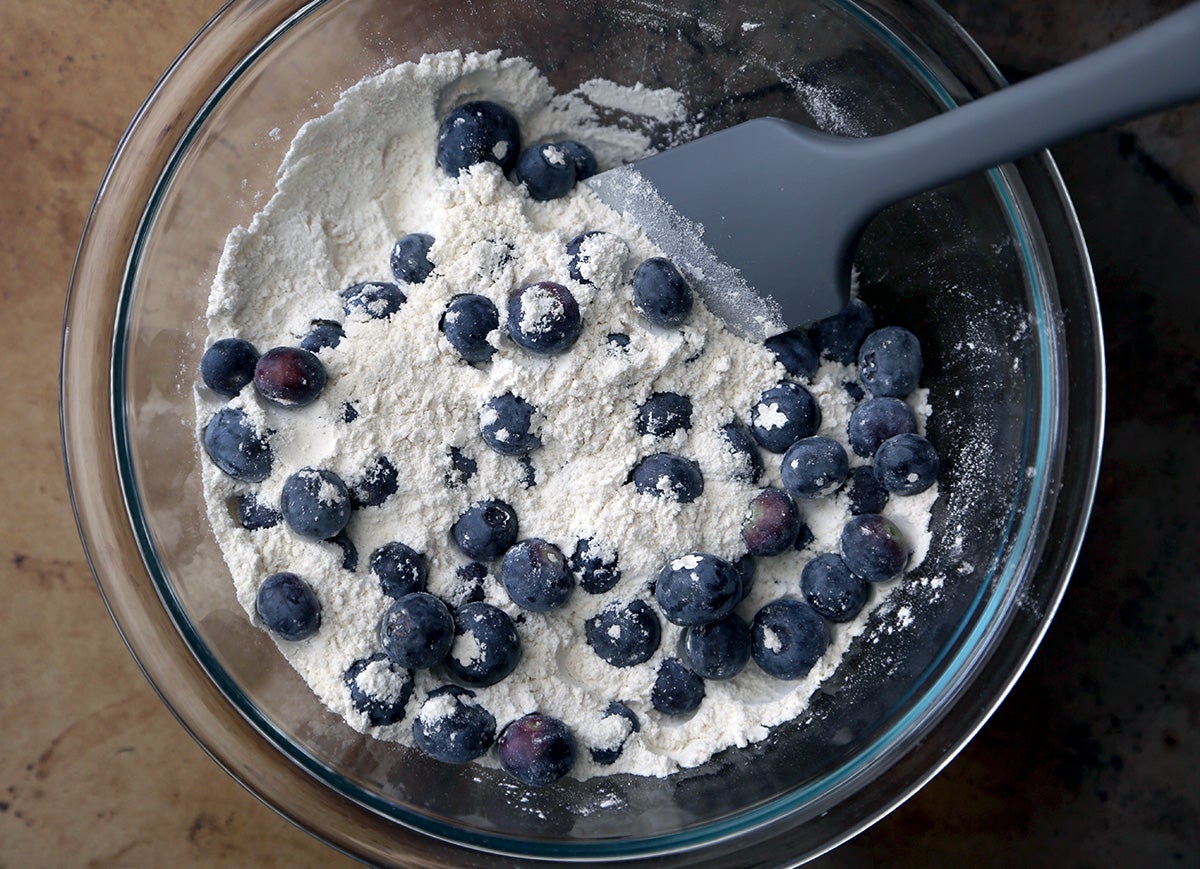 Stir well to coat the berries with the flour mixture; coating the berries in flour helps to suspend them in the batter and keeps them from sinking to the bottom. Proceed with the rest of the recipe as usual.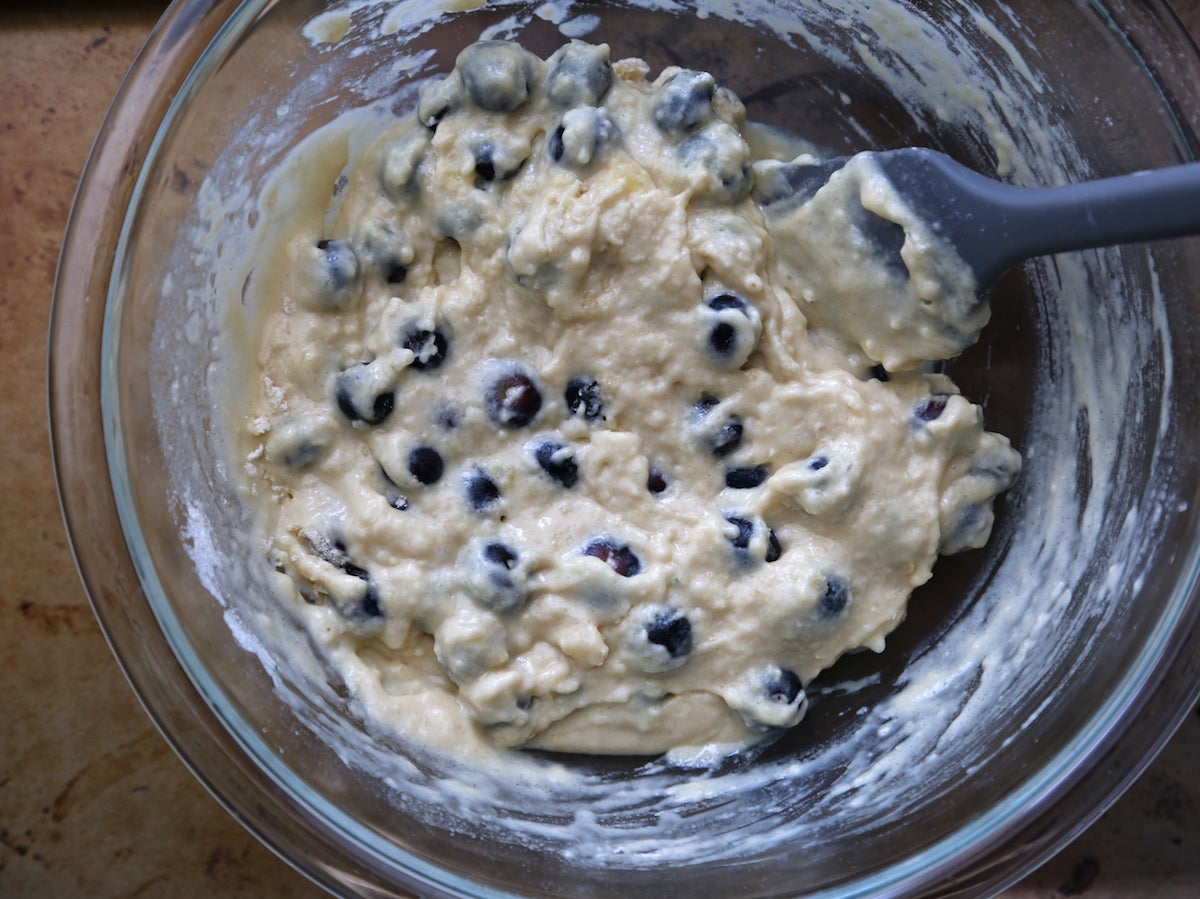 You can use frozen fruit (read more here on how), but keep in mind that it will likely streak your batter with color. That's fine! But don't be alarmed if it does.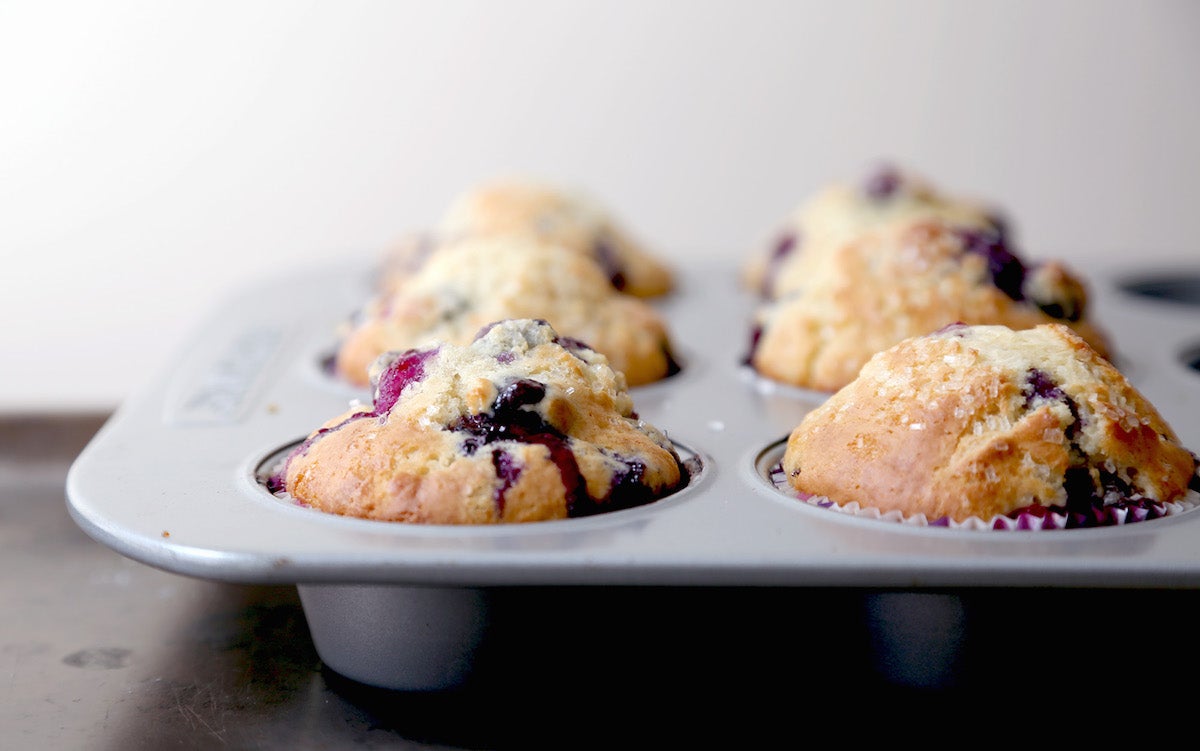 Feel free to substitute other fruits here, too. Chopped peaches, pears, apples, and nectarines are fantastic. Consider adding some spices to the dry ingredients to complement your fruit of choice: Cinnamon with apple, cardamom with pear, and so on.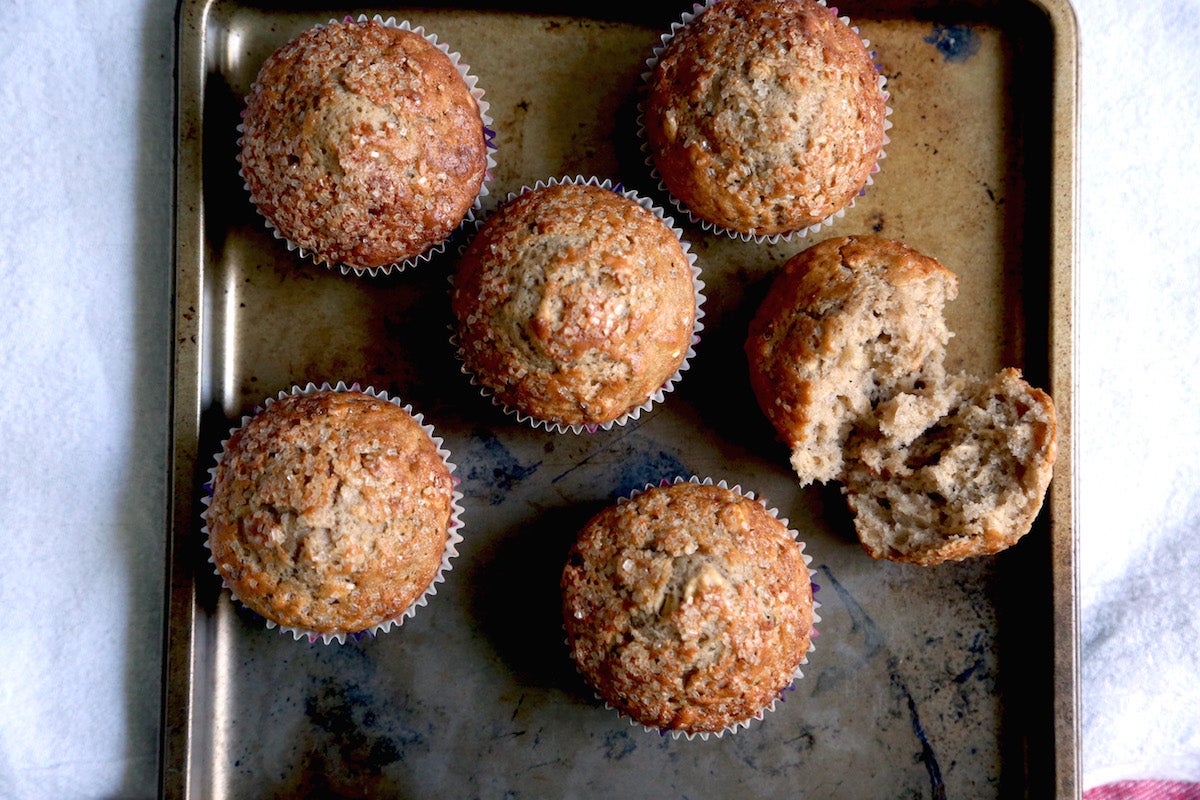 Basic muffin recipe variation: oatmeal
Make a heartier muffin with the addition of rolled oats. Instead of using 2 cups of flour, use 1 cup of rolled oats and 1 1/4 cups of flour. You can stick with regular granulated sugar, or substitute brown sugar for an earthier, more caramelized sweetness. The oatmeal muffins won't be quite as lofty as the others, but they still look gorgeous and taste delicious.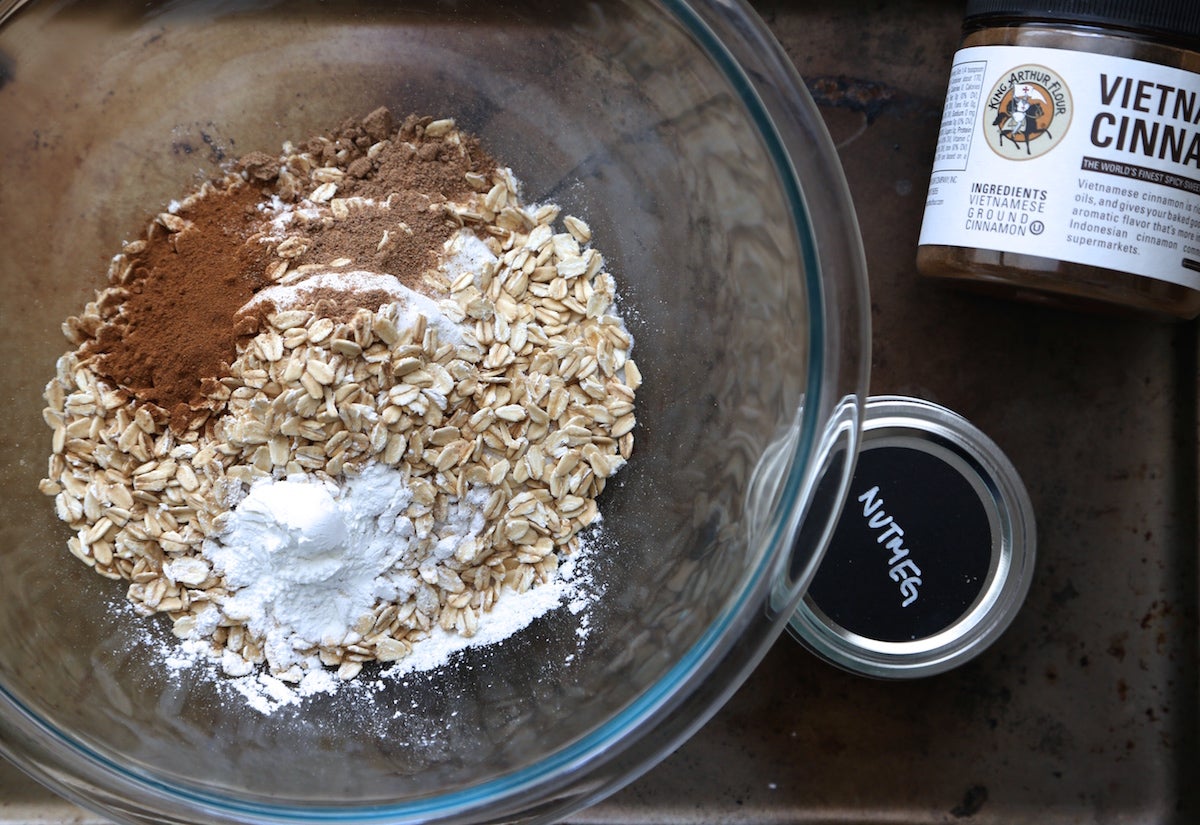 Spice is nice with oatmeal muffins, too. Cinnamon, allspice, cloves, ginger, and other "warm" spices are excellent additions to the oatmeal batter. Just add them in with your dry ingredients. Stick to about 1 ½ total teaspoons of spice.

More basic muffin recipe tips!
Height:
The trick to getting those gorgeous high domes to your muffins is twofold: the high heat of the oven and the baking powder.
Make sure your oven is preheated to 425°F before you put in your muffins, and resist the urge to open the door and peek at them! The dome will start to appear after about 10 minutes.
Check your baking powder for freshness! It's important that you aren't using old baking powder, or you won't get the rise to your muffins. To test yours, measure out ½ cup of hot tap water. Add ¼ teaspoon of baking powder. It should fizz vigorously. If it doesn't, toss it and buy a new can.
Storage:
In case you have superhuman willpower, and don't devour your muffins within a day, store them. Muffins freeze beautifully. Seal them in a bag and freeze them for up to 3 months. When ready to enjoy, just pop them in a preheated 350°F oven for a few minutes until warm.
If you're using double-acting baking powder, you can refrigerate the batter for up to a week, and then bake.
Get creative:
If you forgot to freeze your muffins and they're going stale, don't fret! You can still enjoy them.
Split a stale muffin in half, spread it with melted butter, and toast it in the oven until golden brown. Eat it as is, or cut it up and serve it over vanilla ice cream as a muffin "crouton."
Turn it into bread pudding! Cut up your stale muffins (about 2 cups' worth of 1" cubed muffin) and place them in a bowl. Whisk together 2 large eggs, 3 cups of of milk, ½ cup of sugar, and any spices you want. Pour the custard over the muffins and let sit for 20 minutes. Transfer it all to a greased baking dish and bake for about 1 hour at 325°F.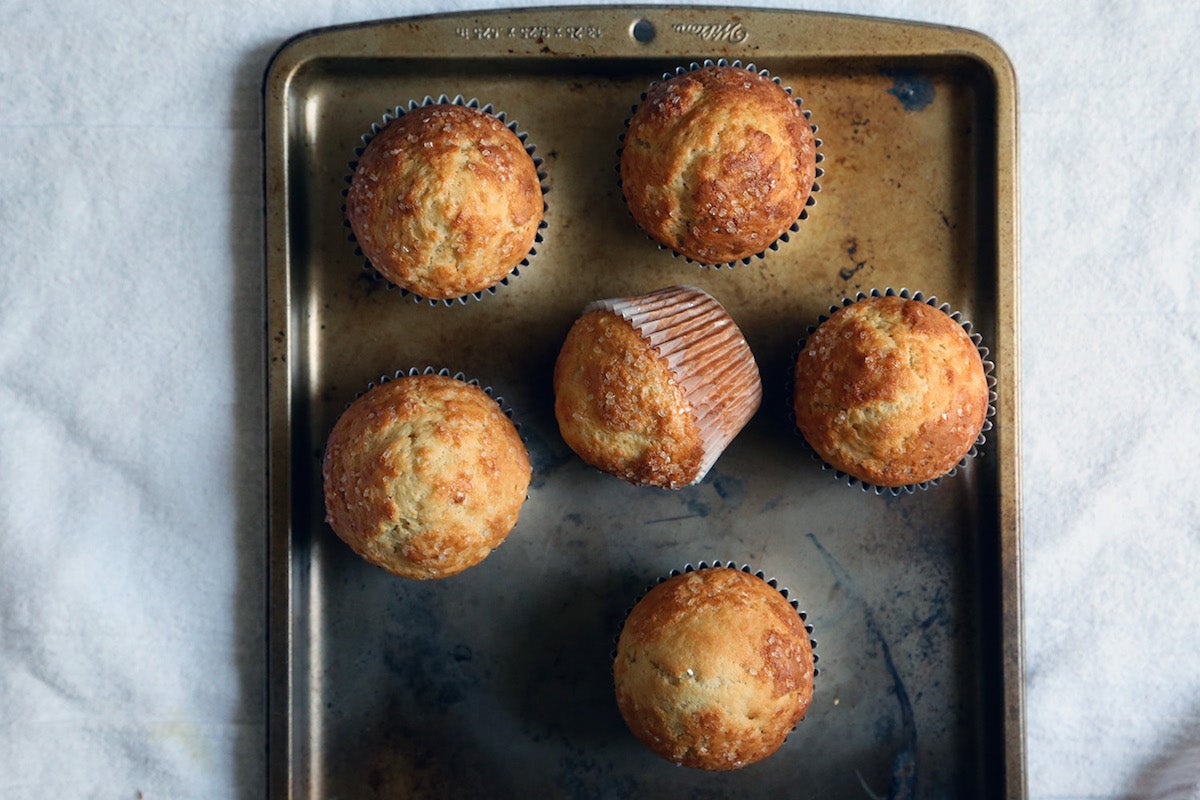 Your turn! Bake, review, and enjoy our recipe for Basic Muffins.
Do you have a favorite muffin mix-in? Let us know in the comments below! 
Jump to Comments