OK, let's get straight to the point here: Easter > dinner > ham > leftovers > sandwiches!
And when you're talking ham sandwiches, surely the word "cheese" can't be far behind. Yes, there are undoubtedly those who enjoy plain... ham... sandwiches.
But for the vast majority of us, it's ham and Swiss. Or ham and Cheddar. Or perhaps even ham and Kraft American Singles (don't worry, we'll never tell!).
What if (my favorite two words in the test kitchen) I enhance the bun itself with a generous shot of cheese, as well as layering a few slices atop the ham in the sandwich?
"What if," indeed. Hello, Cheese Brioche Buns!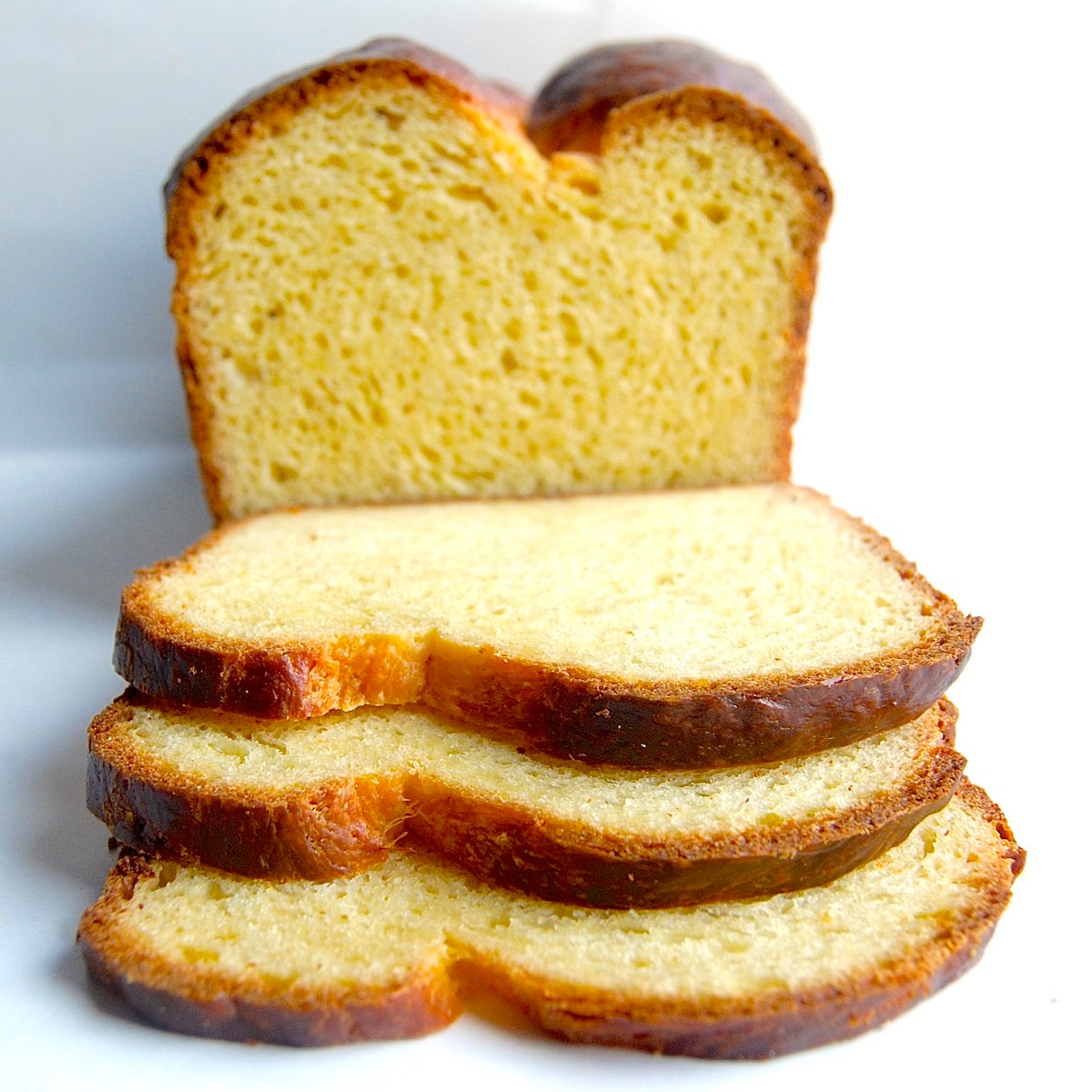 Brioche, in case you've never experienced it, is a classic French bread. Unlike France's signature baguette, brioche is loaded with eggs and butter, giving it rich texture and a bright-gold interior. So adding one more dairy note – cheese – to this sumptuous bread is a natural.
Let's see how it's done.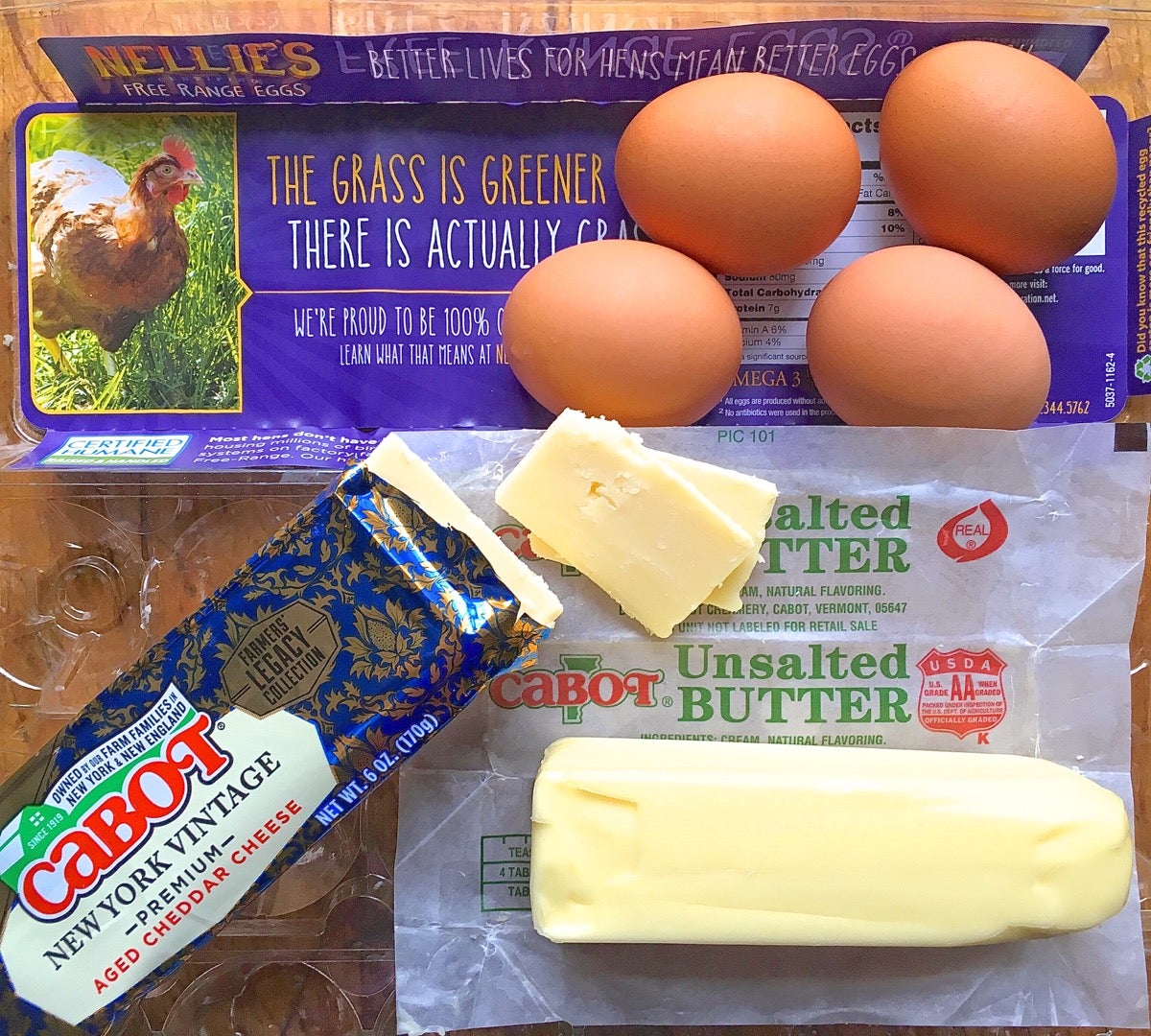 First of all, if you choose to make these rich buns, you might as well choose top-notch ingredients. Nellie's Eggs are part of Pete and Gerry's Organics. They're local; cage-free; and we like the company very much.
Ditto Cabot, a neighbor of ours here in Vermont. Their new line, the Farmers' Legacy Collection, includes some outstanding cheddars. And their butter is reliably fresh and good; it's all we use here in our King Arthur Flour test kitchen.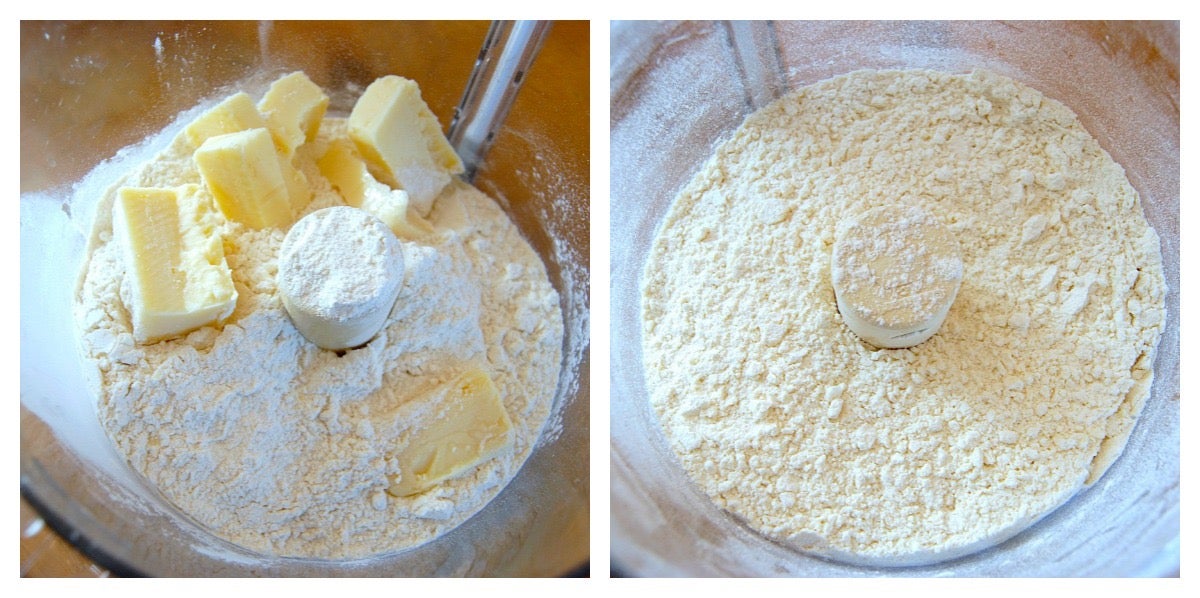 Our first step is probably a change from how you usually make cheese bread – we're going to process the flour and cheese together.
Why? Oftentimes grated cheese gives yeast bread or rolls a speckled appearance — but not in the case of these buns. Blending the recipe's flour and cheese in a food processor grinds the cheese super-fine, allowing it to disperse throughout the buns completely rather than make "freckles" on their crust.
So, put 2 3/4 cups (326g) King Arthur Unbleached All-Purpose Flour and 6 ounces (170g) sharp cheddar cheese, cut into chunks, in the work bowl of your food processor. Process until quite smooth, with no significant chunks remaining.
Don't have a food processor? You might be able to do this in a blender. No blender? You'll have to resort to grated cheese; understand that your buns probably won't look quite like ones made with finely ground cheese.
Want to use cheese powder instead? Go right ahead. Use 1/3 cup cheese powder, and increase the amount of butter in the recipe by 2 tablespoons.
Combine the flour/cheese with the following:

1/4 cup (28g) Baker's Special Dry Milk or nonfat dry milk
1 1/4 teaspoons salt
1 tablespoon instant yeast
3 large eggs + 1 large egg yolk, cold from the refrigerator, white reserved for wash (below)
1/4 cup (57g) cool water
8 tablespoons (113g) unsalted butter, at cool room temperature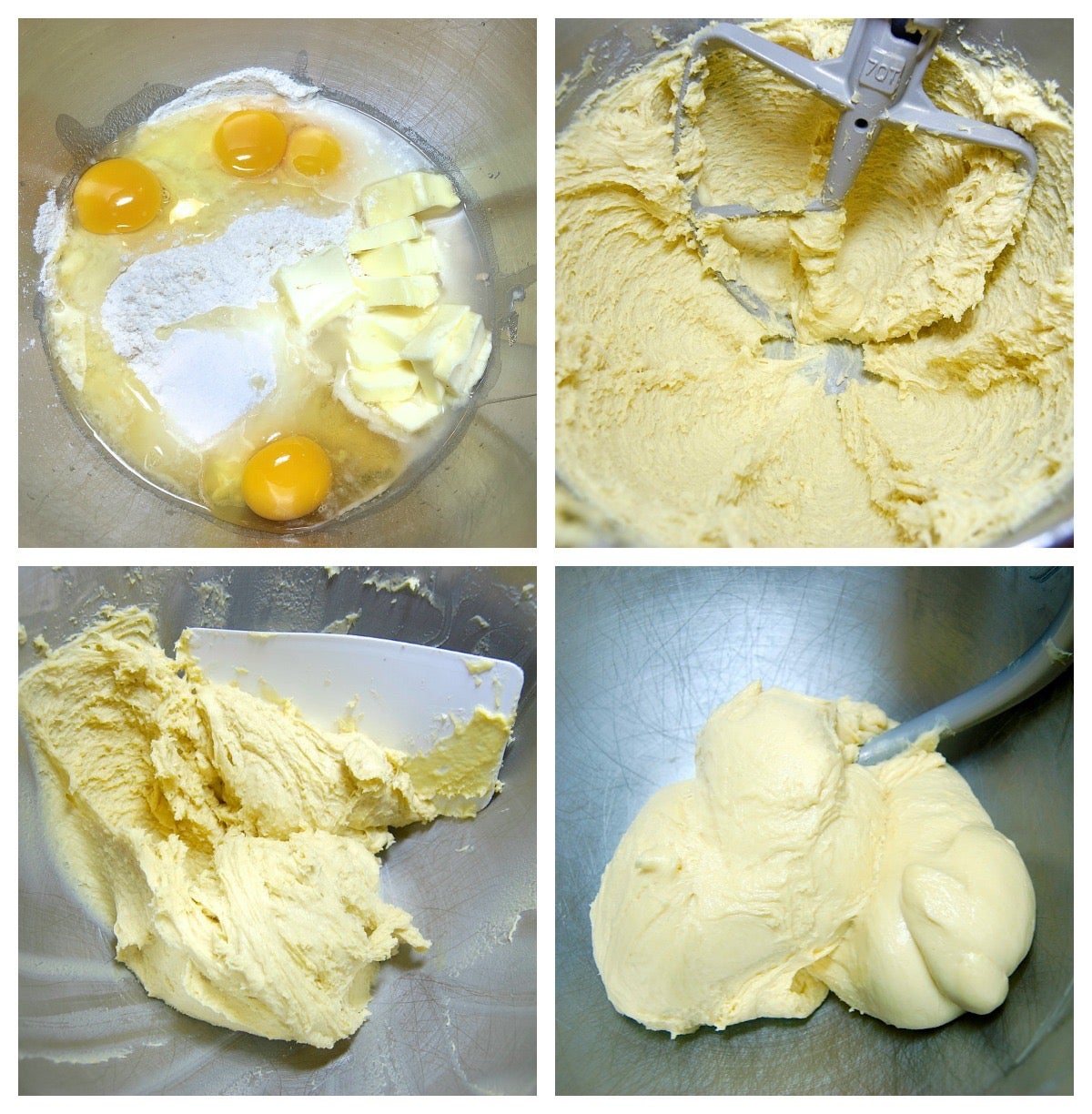 Mix everything together to make a rough, sticky dough. Knead the dough — using a mixer or bread machine — until it's smooth and starting to become shiny.
We don't recommend kneading this dough by hand; it's too sticky, and because of the fat it takes a long time for the gluten to develop.
Here's the best method I came up with for kneading with a stand mixer (we use KitchenAid stand mixers in our test kitchen):
1. Beat with the beater attachment for 2 minutes at medium-high speed (KitchenAid speed 6).
2. Scrape the sides and bottom of the bowl and repeat, beating for 2 minutes. By this time, the dough should have begun leaving the sides of the bowl; if it hasn't, scrape and repeat once more.
3. Switch to the dough hook, and knead for 4 to 6 minutes at "kneading speed" (KitchenAid speed 4), until the dough is smooth and shiny.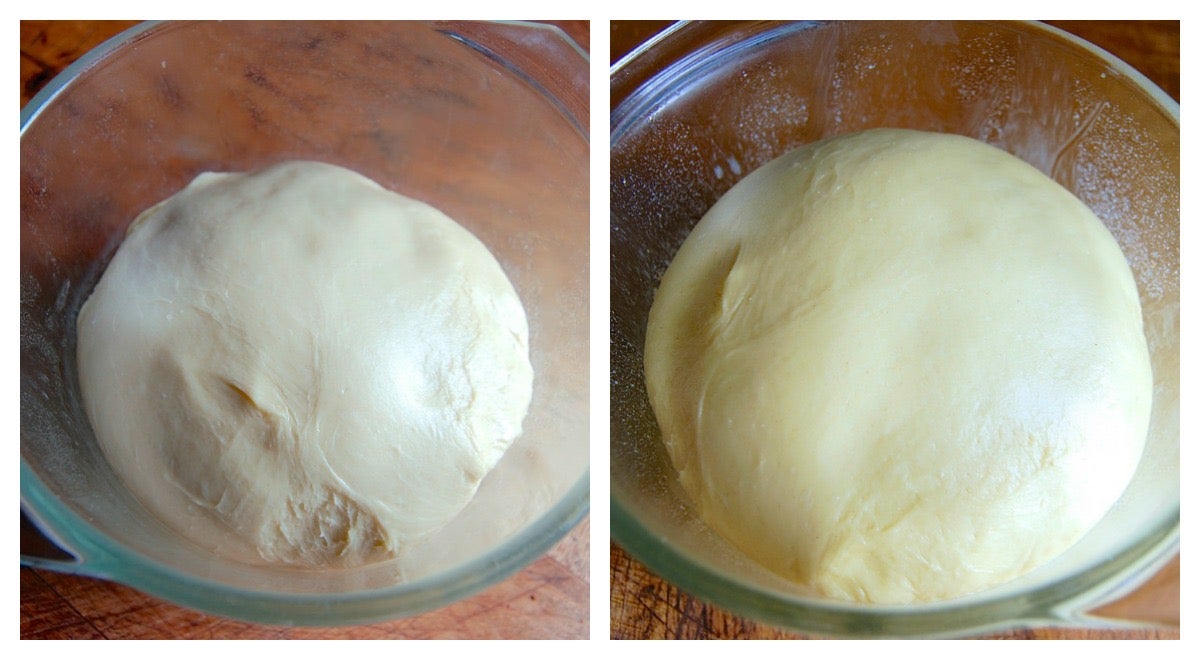 Form the dough into a ball, place it in a greased bowl, cover, and let it rise for 1 hour. It won't grow out of control, but will definitely expand a bit.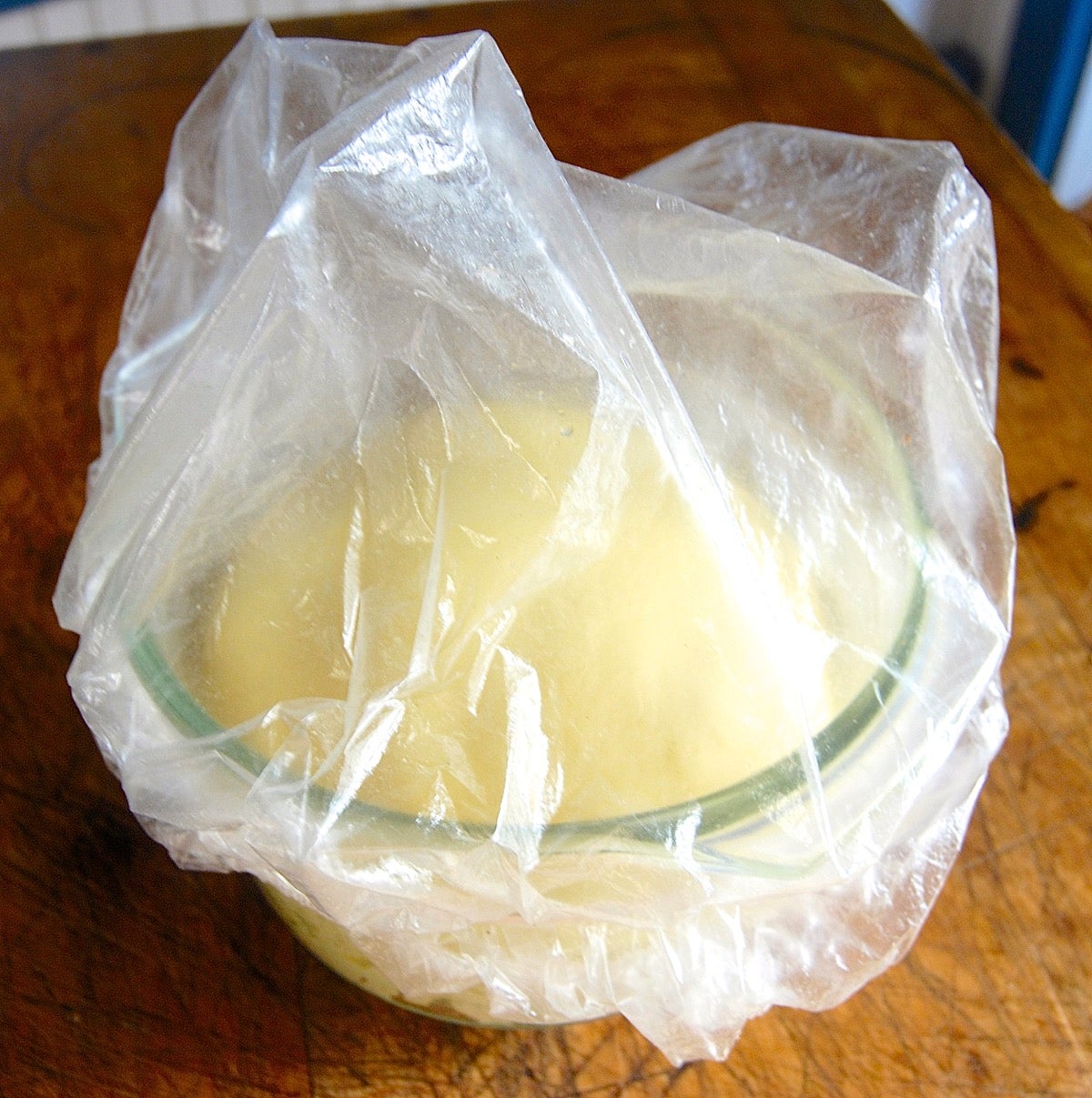 Cover the bowl again – I keep a good supply of clear shower caps handy for just this purpose – and refrigerate the dough overnight. This will make it easier to shape, and yield smoother buns.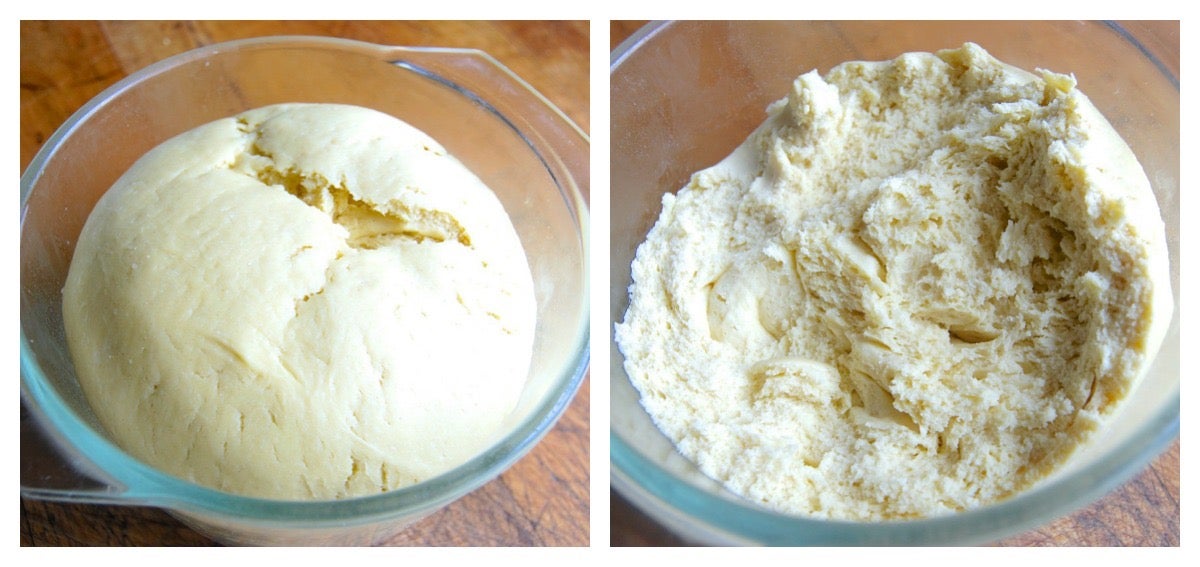 Next day, remove the dough from the refrigerator about an hour before you want to shape the buns.
Notice its texture; this is unlike the typical yeast dough you might work with. Instead of being smooth and silky, it feels like modeling clay. Rather than stretch when you grab it, it breaks. Don't worry; this is fine.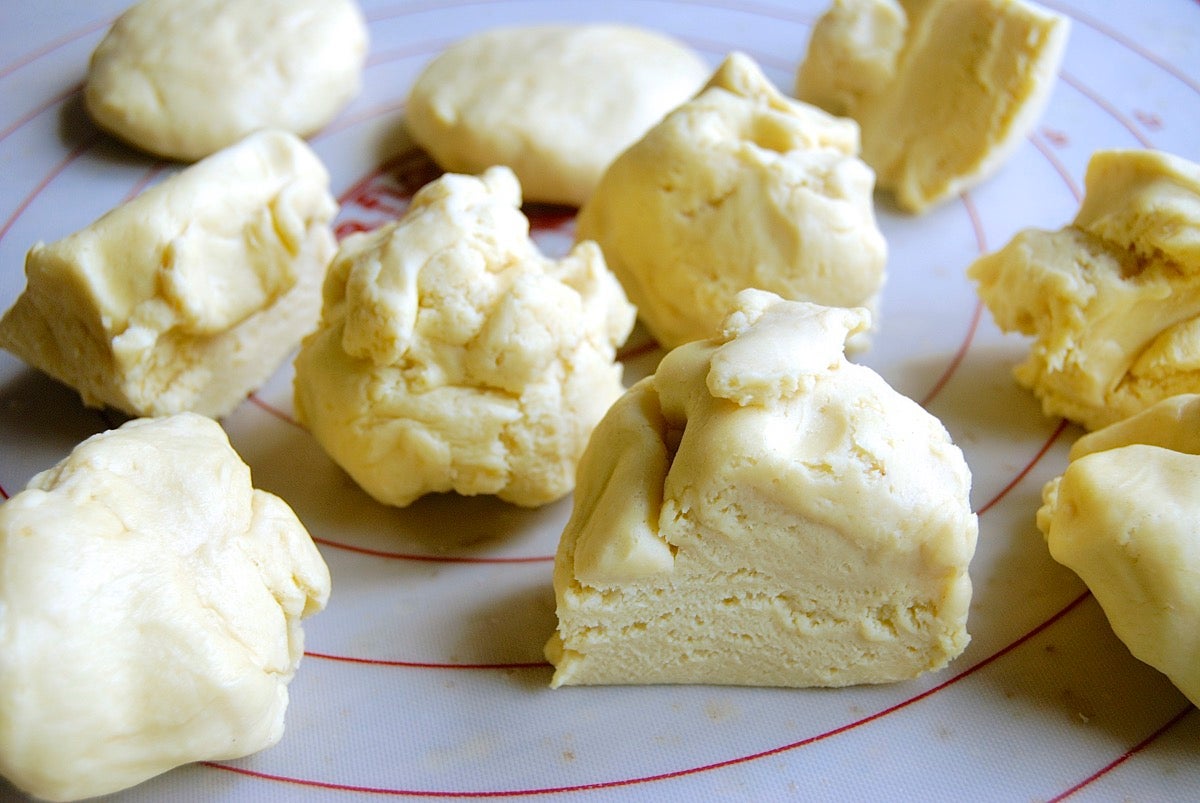 Divide the dough into 10 equal pieces; each will be about 85g.
What's the easiest way to divide dough into 10 perfectly equal pieces? First, weigh it (in grams, preferably), and divide by 10; this gives you the target weight of each bun.
Next, break off two pieces of dough, each weighing the target weight (about 85g). You now have two buns, and one larger piece of dough.
Divide the larger piece of dough into eight pieces simply by dividing in half; then in half again, then in half again.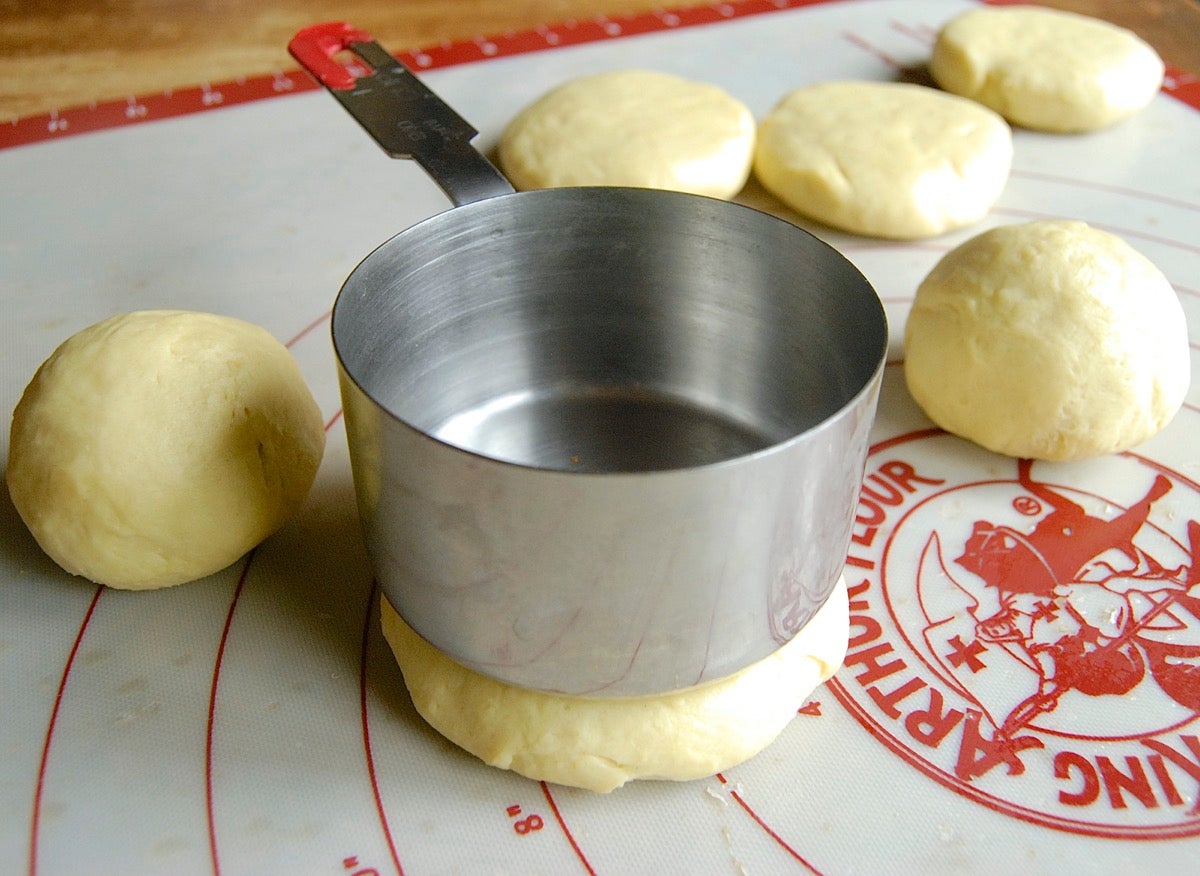 Shape each piece into a ball; working with the chilled dough is exactly like working with clay or Play-Doh, so it's easy to shape.
Position the balls on a parchment-lined baking sheet, leaving space between them. Using the bottom of a measuring cup or other flat surface, flatten the balls to about 3 1/2" diameter.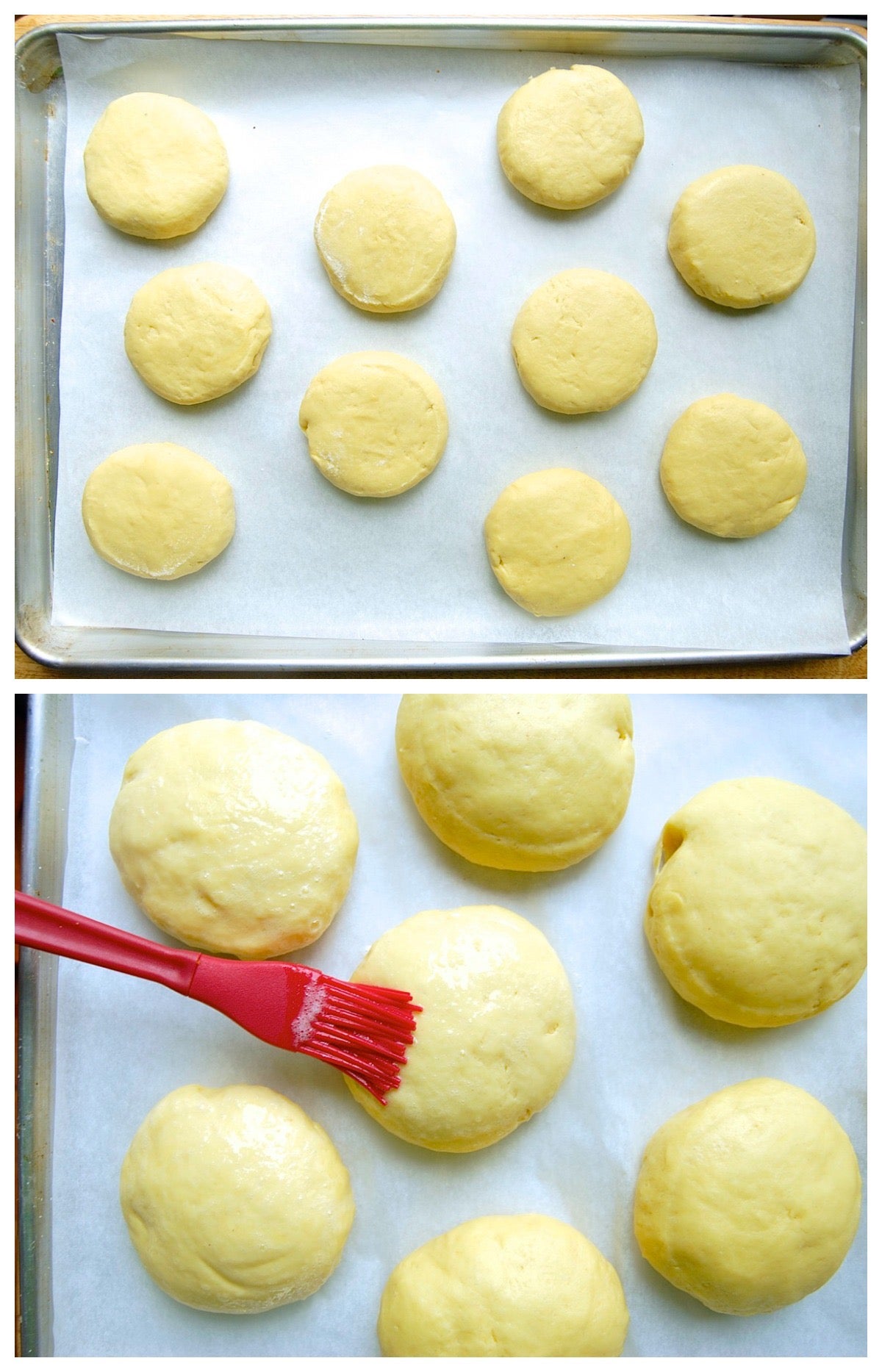 Cover the buns, and let them rise until they're quite puffy. This may take up to 3 to 4 hours, depending on how warm your rising environment, and how cold the dough.
Towards the end of the rising time, preheat the oven to 350°F.
Make an egg white wash by mixing the reserved egg white with 1 tablespoon cold water. Brush it over the buns.
Bake the buns for 20 minutes; tent loosely with aluminum foil. Bake for an additional 7 to 10 minutes, until the buns are golden brown, and a digital thermometer inserted into the center of one reads about 190°F.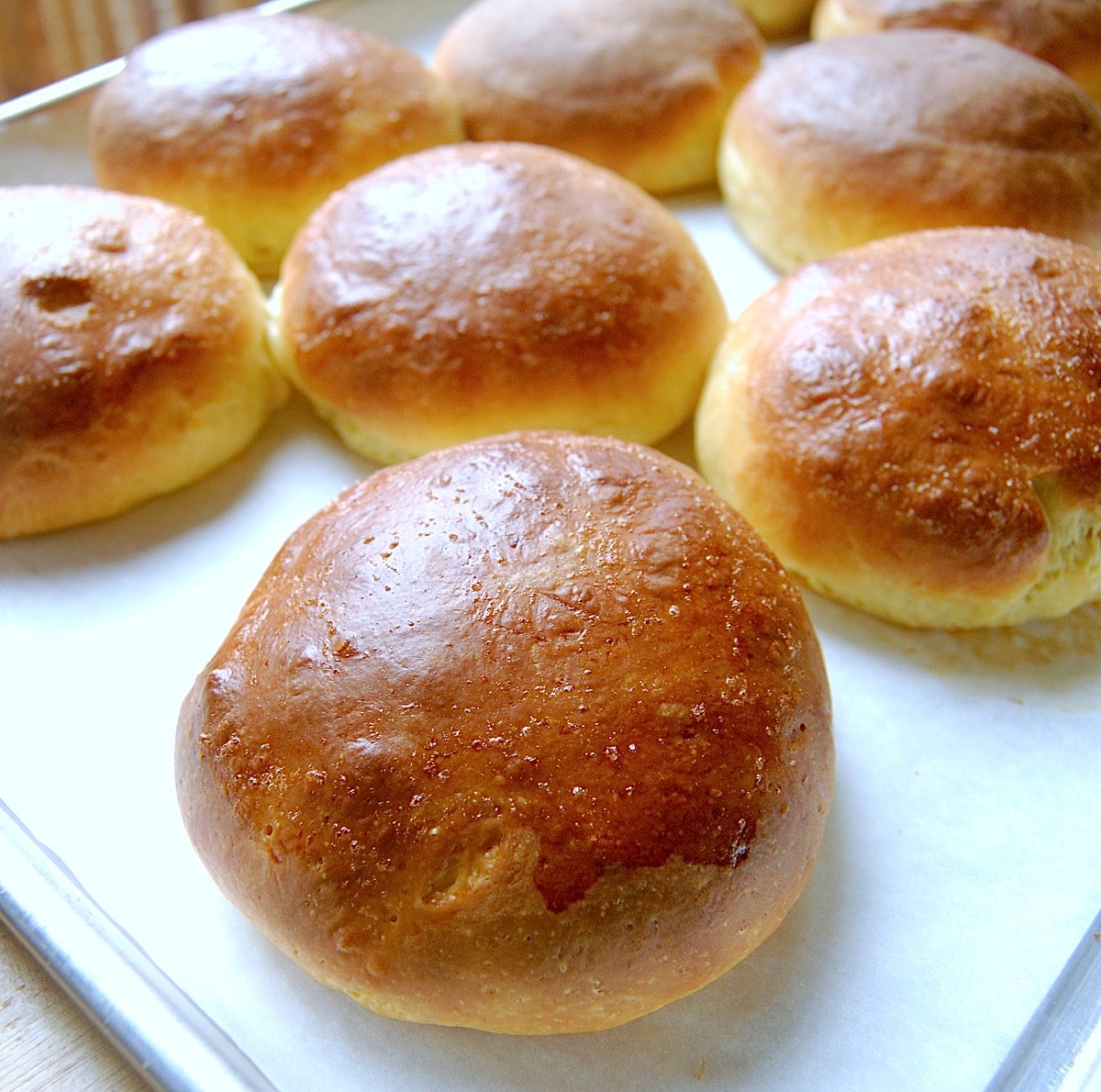 Remove the buns from the oven, and cool them right on the pan, or on a rack.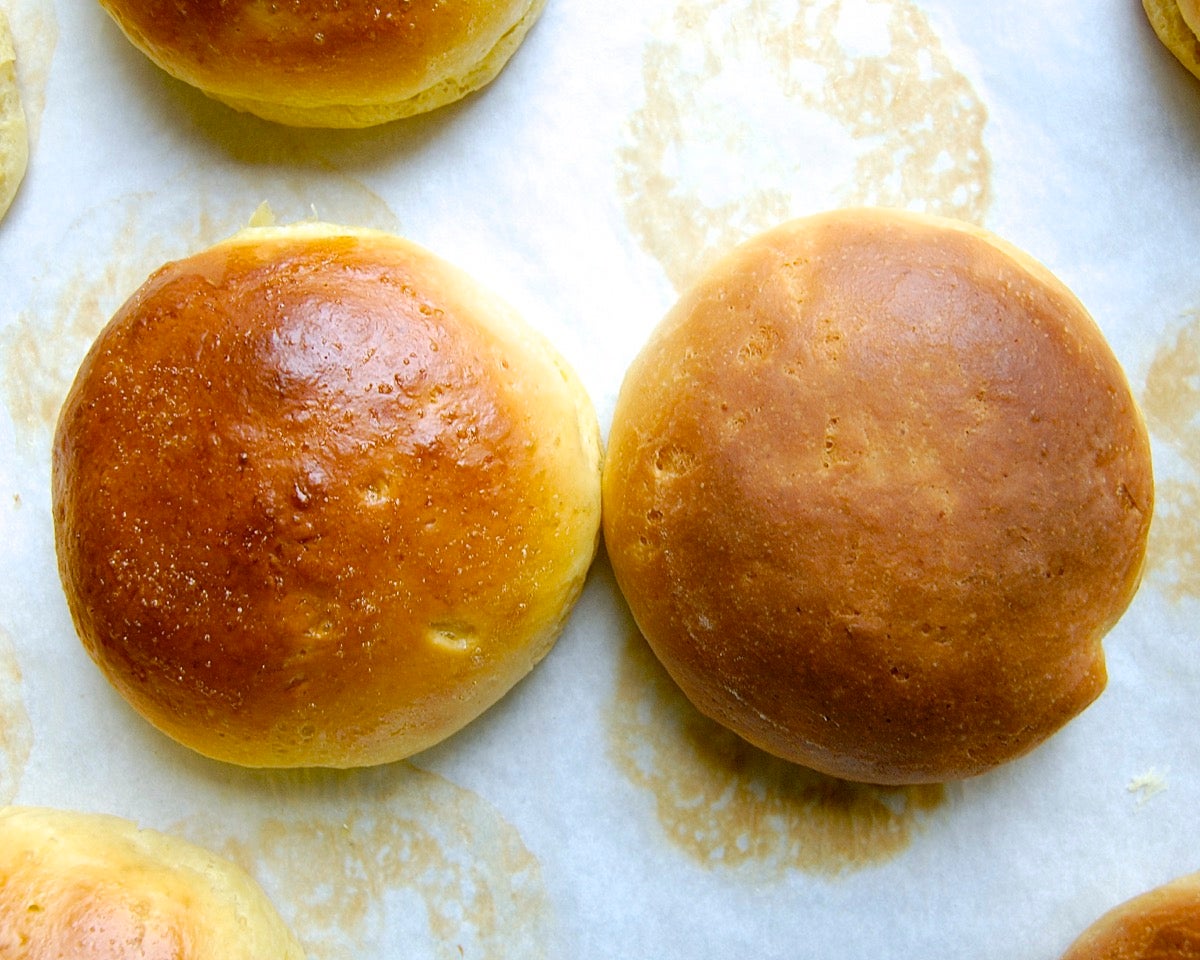 Here's the difference between brushing the buns with an egg white wash (left), and leaving them plain (right). Shine on!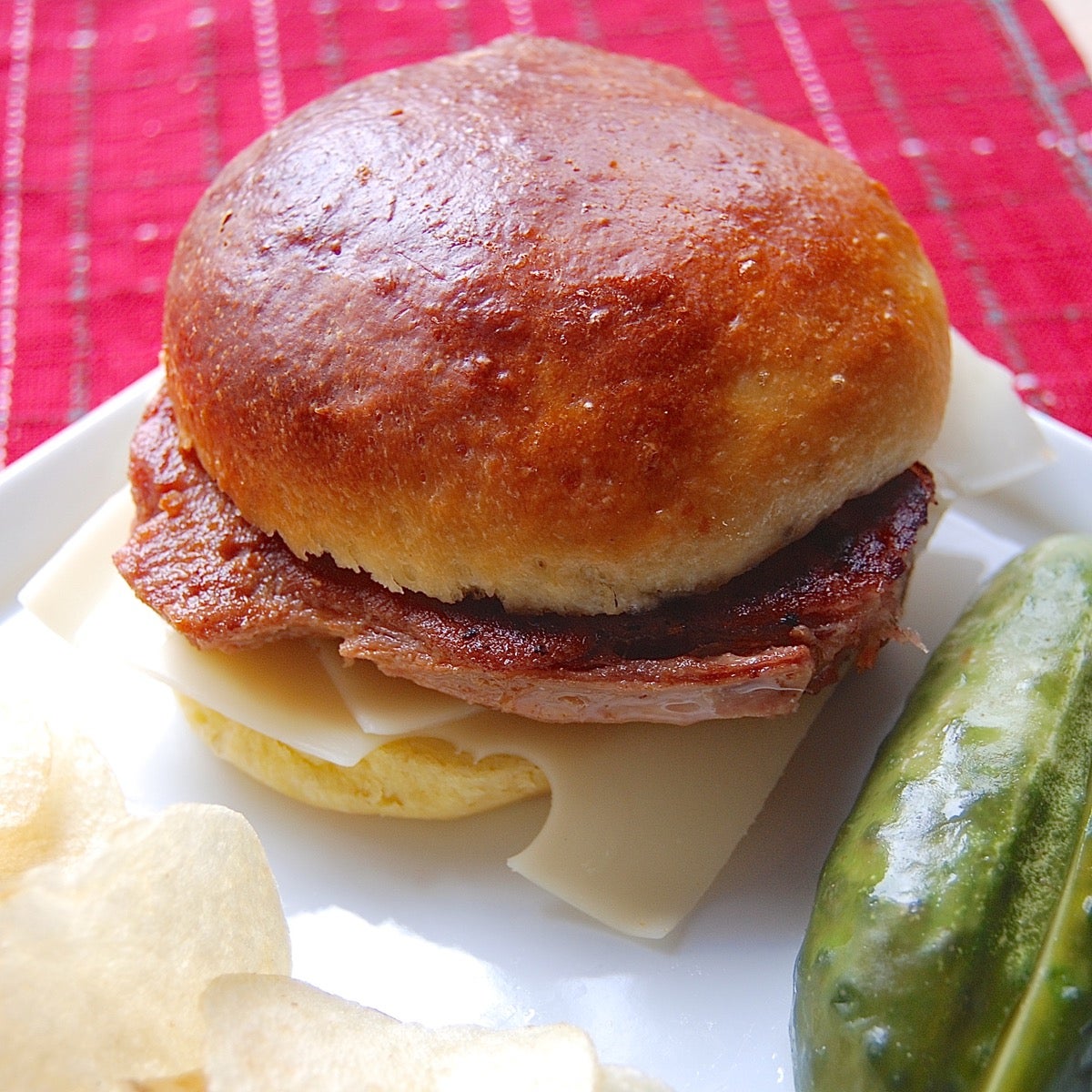 At last! Ham sandwich. With chips and half-sour pickle spears, of course.
Note: As these buns cool, they stiffen up considerably, the result of the butter and cheese both solidifying back to their natural firm state. I like to reheat the buns just before serving, either with or without their sandwich filling.
Try filling a bun with ham, mustard, and sliced cheese, then wrapping it in foil, and heating in a toaster oven for 10 minutes or so. The bun softens, the ham warms, the cheese melts, and all in all you're in for one sigh-inducing sandwich.
Now, there are other ways to go with brioche dough – none of them classic French, but hey, let's not hog-tie ourselves to tradition, right?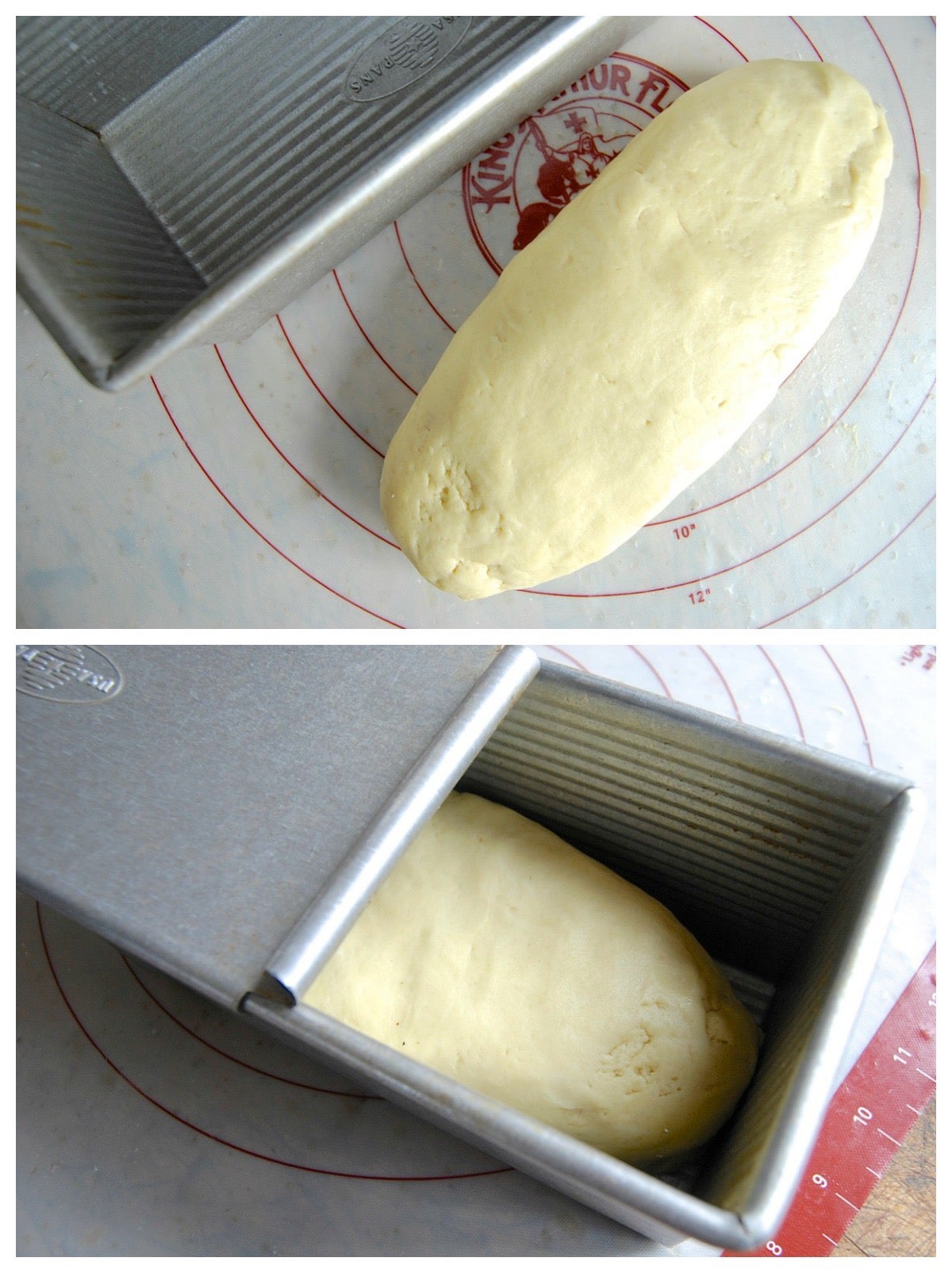 The dough for these Cheese Brioche Buns fits very nicely in a 9" x 4" pain de mie pan.
By the way, classic pain de mie is France's take on England's fine-grained sandwich bread; so we're actually mixing traditions, not straying from them.
Cover the pan; using the lid as a cover is fine, so long as you remember pull back the lid to check the loaf every now and then. Let the loaf rise for 3 to 4 hours, or until it's nearly reached the top rim of the pan. Add the lid, and place the pan on a middle to lower rack in a preheated 350°F oven.
Bake the bread for about 45 minutes, or until a digital thermometer inserted into the loaf's center registers at least 190°F. Remove the lid for the final 5 minutes or so of baking, tenting it with aluminum foil if it's already as brown as you like.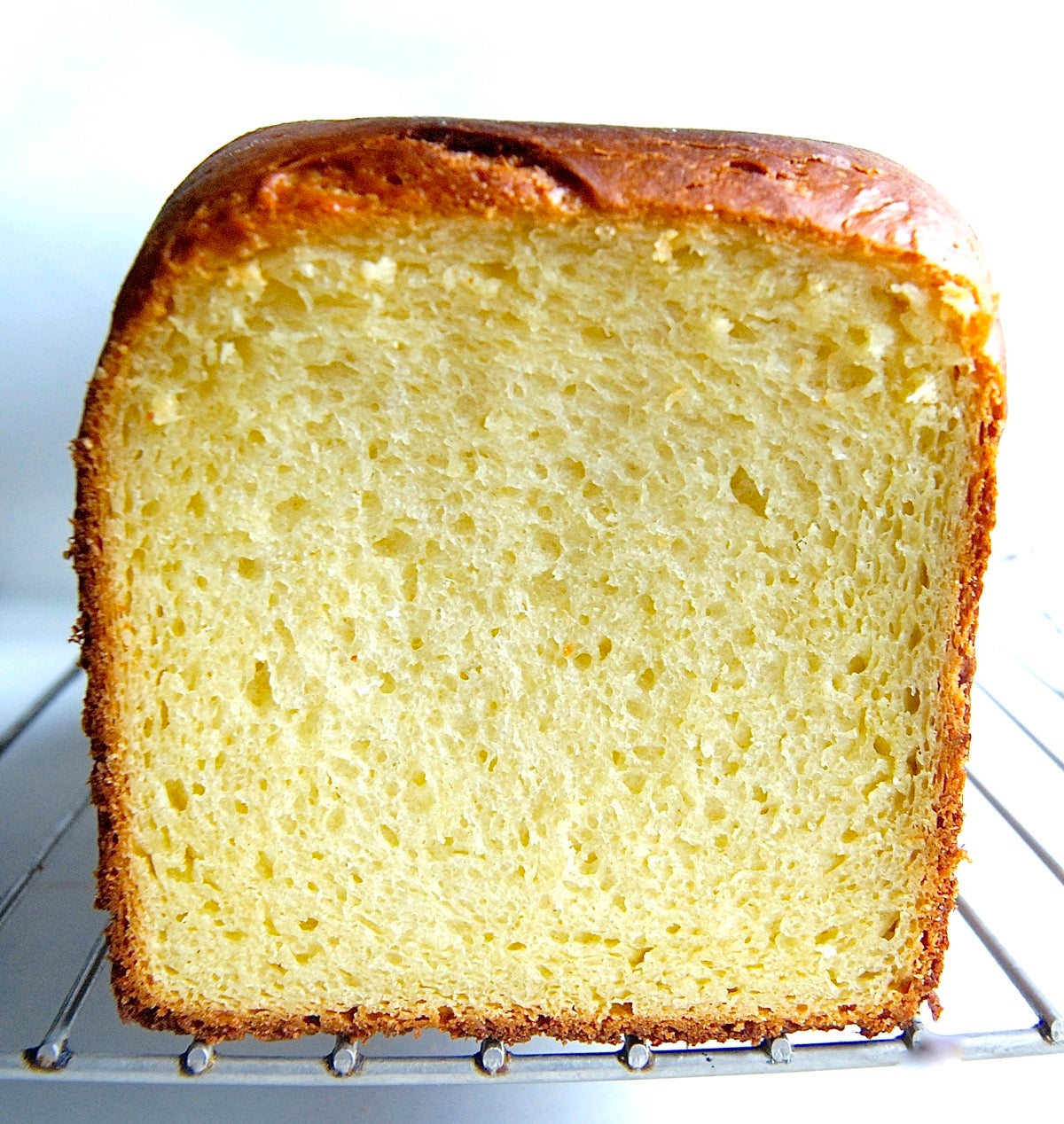 Toast, French toast, grilled sandwiches – here we come!
For a little fancier presentation, try a brioche braid: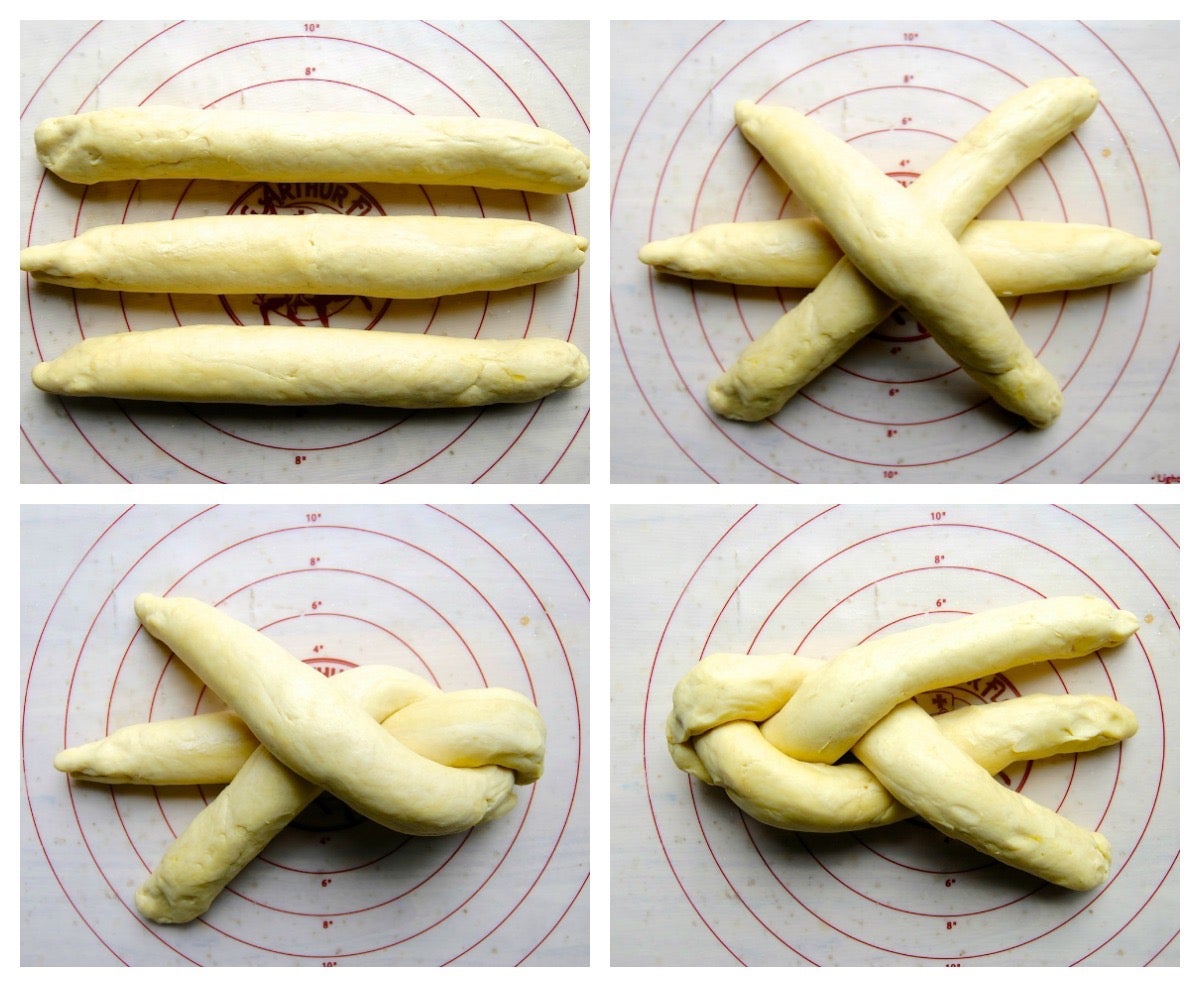 Divide the dough into three pieces, and shape each piece into a 12" log. Braid the logs.
I like to start in the middle, rather than at one end; you tend to get a more even braid doing it this way. Position the three logs as shown at top right; braid to one end (bottom left); flip the loaf over on its back (bottom right), and braid to the other end.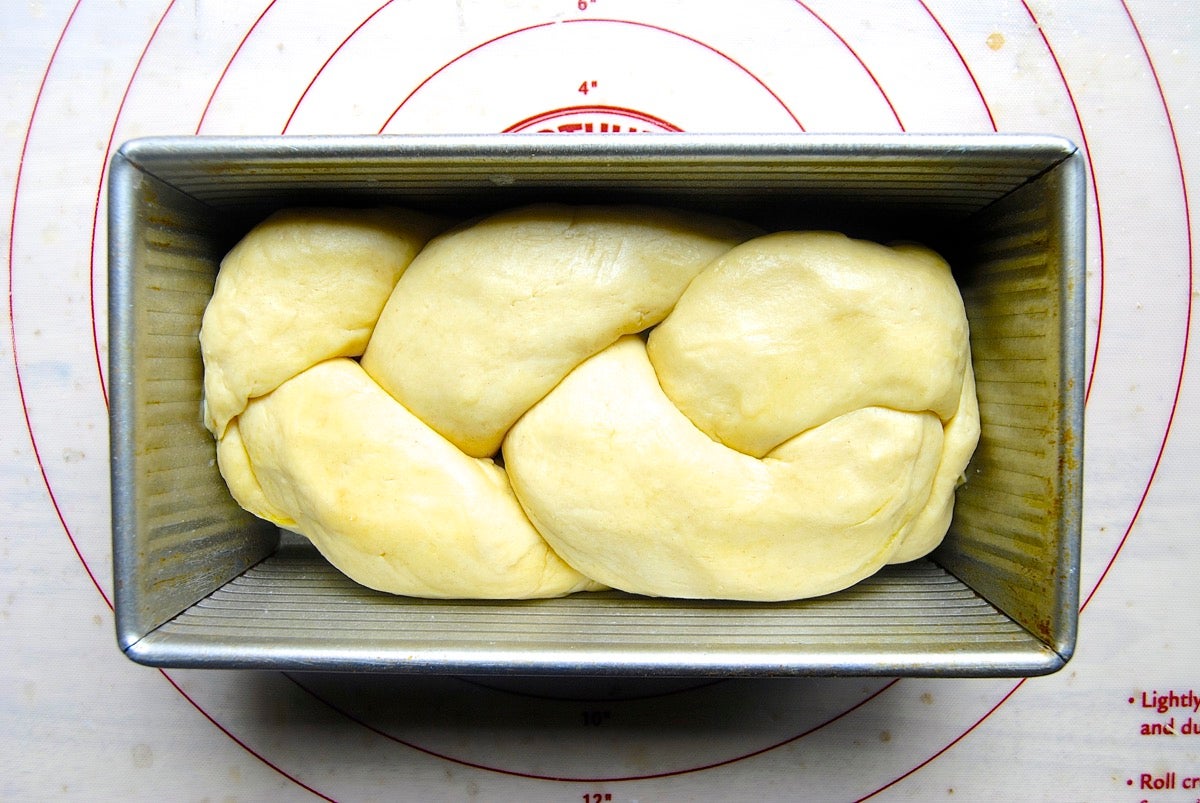 Place the braid in a lightly greased 8 1/2" x 4 1/2" loaf pan. Let it rise, covered, until it's just about even with the top of the pan. Again, this may take up to 3 to 4 hours, depending on how warm your rising environment, and how cold the dough.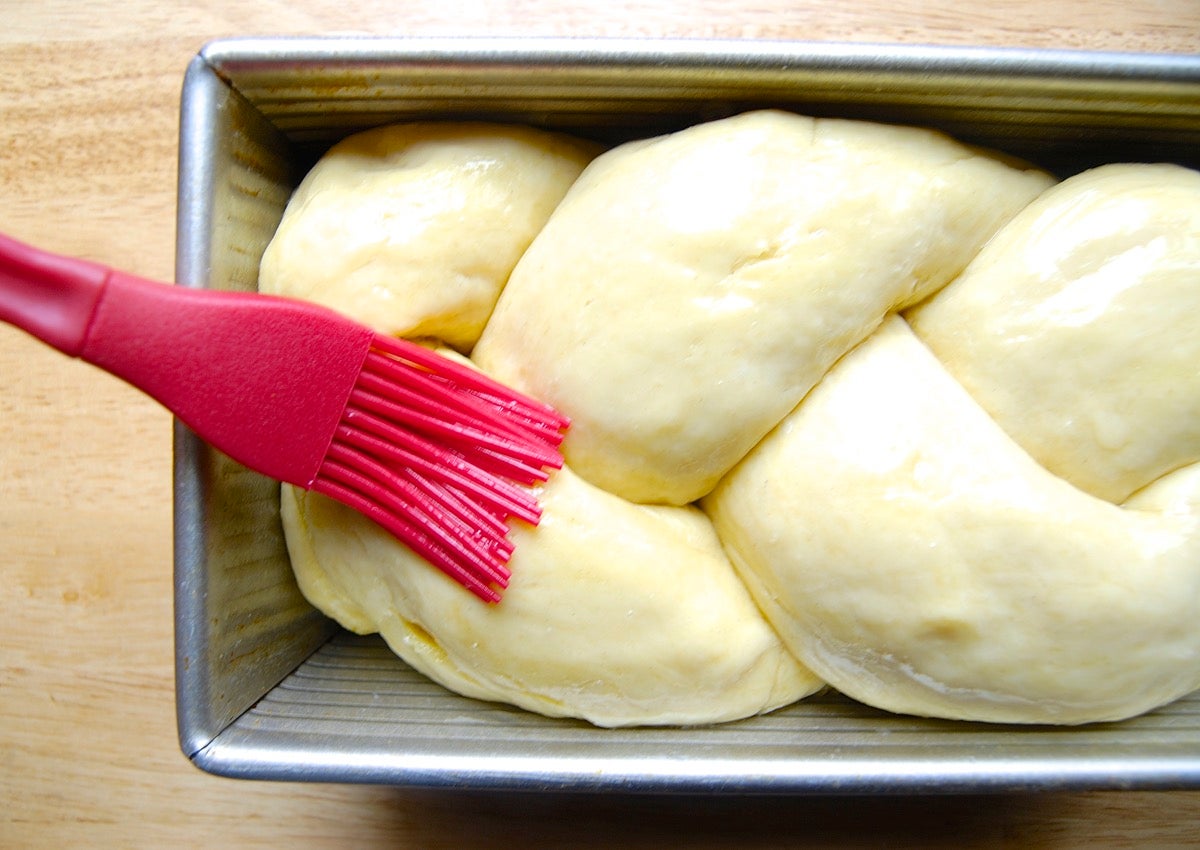 Brush the risen loaf with egg white wash...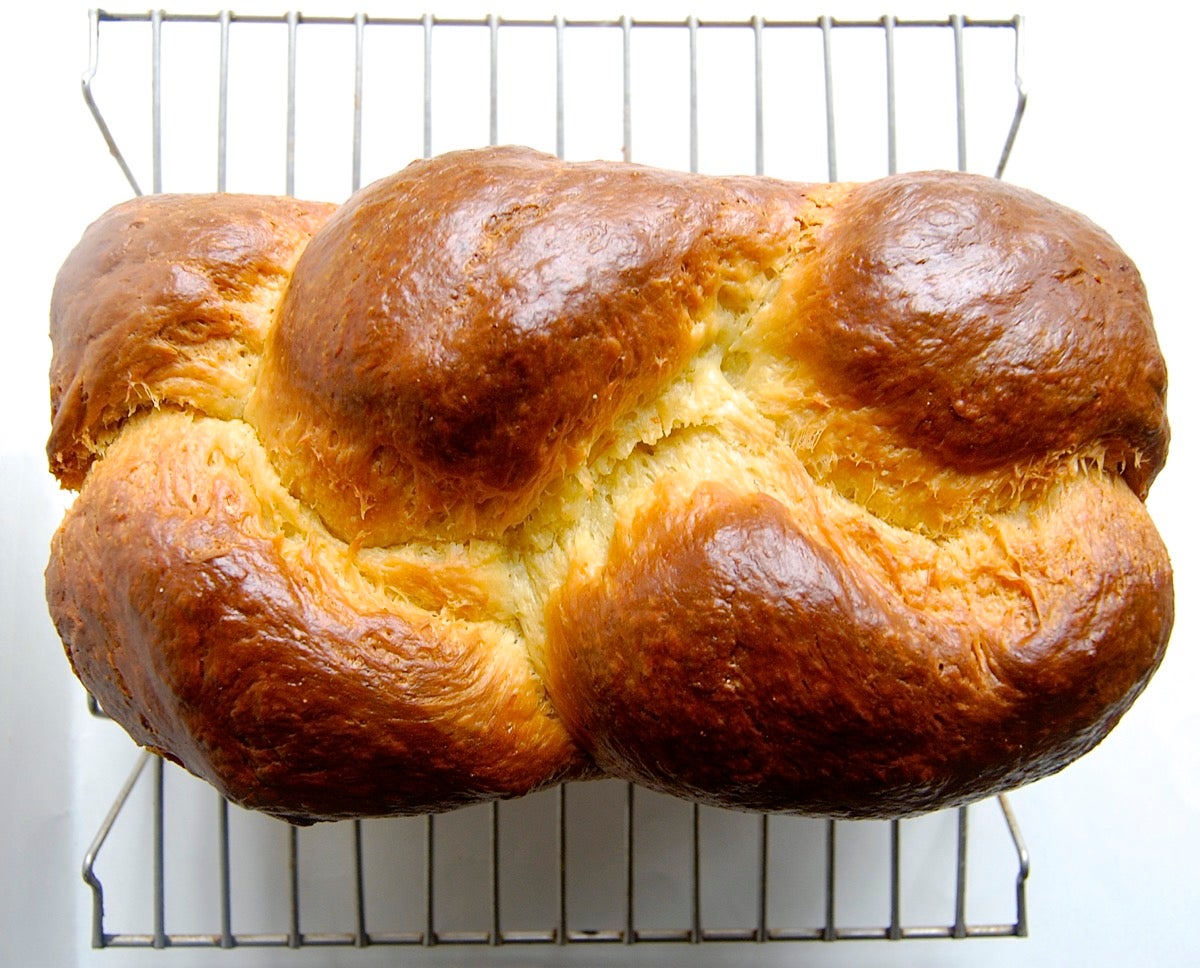 ...and bake for about 45 to 50 minutes in a preheated 350°F oven, tenting the loaf lightly with aluminum foil after about 25 minutes to prevent over-browning.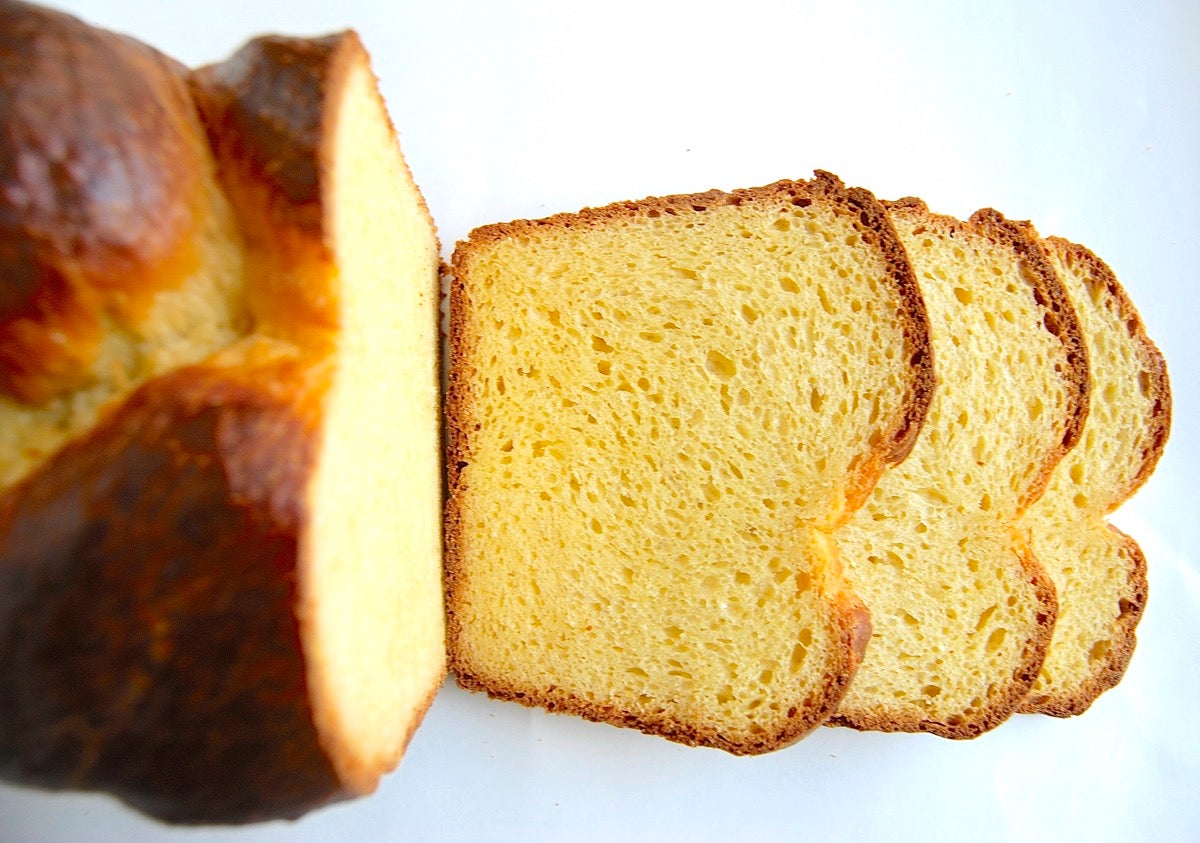 We're golden!
Please read, bake, and review our recipe for Cheese Brioche Buns.
Jump to Comments