Most of us have a waffle iron somewhere in our kitchen. It's likely stashed in the back of a cabinet with your other single-use appliances. It sits there gathering dust, until someone requests waffles one lazy Sunday and you drag it out. Then you promptly forget about it for the next eight months (or year, or two years).
Or maybe you're a waffle aficionado, and you do use your waffle iron often, and you can't imagine breakfast without a crisp, golden stack doused in maple syrup.
Whichever camp you fall into, I'm here to change the way you think about a waffle iron.
Full disclosure: I used to live in a world in which waffle irons were strictly for waffles. But then I discovered a brilliant, life-altering truth: a waffle iron is just a teeny, tiny oven!
Your waffle iron can do everything from toast to bake to griddle. It's like a much cooler version of a panini press. I'm not the only one to realize this glorious fact; there are entire blogs out there dedicated to the art of waffling.
A waffle iron not only heats and cooks your food, but it gives you those lovely little indentations, which create extra crispiness and crunch on the exterior of waffled foods, and serve to soak up sauces, butter, maple syrup, and more (just like the nooks and crannies of an English muffin).
Today I'll show you a few of my favorite things to waffle, but please, consider this an open invitation to experiment. I can't think of very many things that won't waffle. I'd love you to try it for yourself and tell me what worked and what didn't!
Some of my past successes include waffled falafel, waffled calzones, waffled French toast, waffled zucchini fritters, and waffled omelets.
You can waffle chocolate chip cookie dough or even cake batter. I regularly use a waffle iron to make quesadillas and even simple buttered toast.
A few notes before we dive in. First, a good waffle iron is essential. A double waffle iron like this Belgian machine is useful for making deep-dish waffled foods, but you can always go for something a little more simple. 
Next, be sure to spray your waffle iron very well. Cleaning a waffle iron is no fun, and this ensures your foods won't stick.
Another way to prevent mess is to be careful not to overfill. Always start with less batter or dough than you think you need.
When baking anything that would traditionally be baked in an oven (brownies, cookies, and so on), don't peek! These foods tend to stick more and need to be fully baked before you lift the lid.
Fire up your waffle iron, and let's begin!
Classic Buttermilk Waffles in a Waffle Iron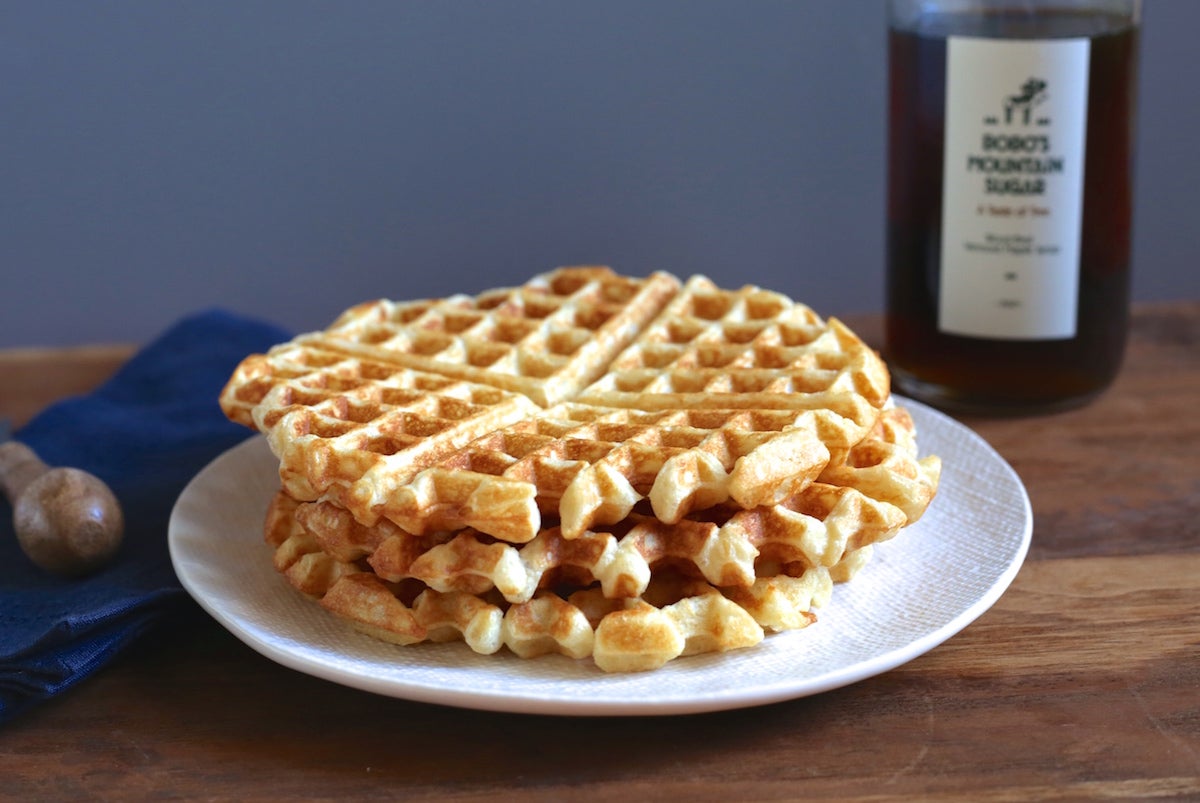 Let's start with the obvious: waffles! My favorite quick and easy recipe is our Classic Buttermilk Waffle recipe. It yields a light, delicate, and crisp waffle that's easy to turn savory (just omit the sugar). The recipe calls for an optional 1/4 cup of almond flour, which I recommend. The almond flour adds a bit of nuttiness and texture.
Other fantastic recipes include our Best Waffles Ever, Belgian-Style Yeast Waffles, and Classic Sourdough Waffles.
Hash Browns in a Waffle Iron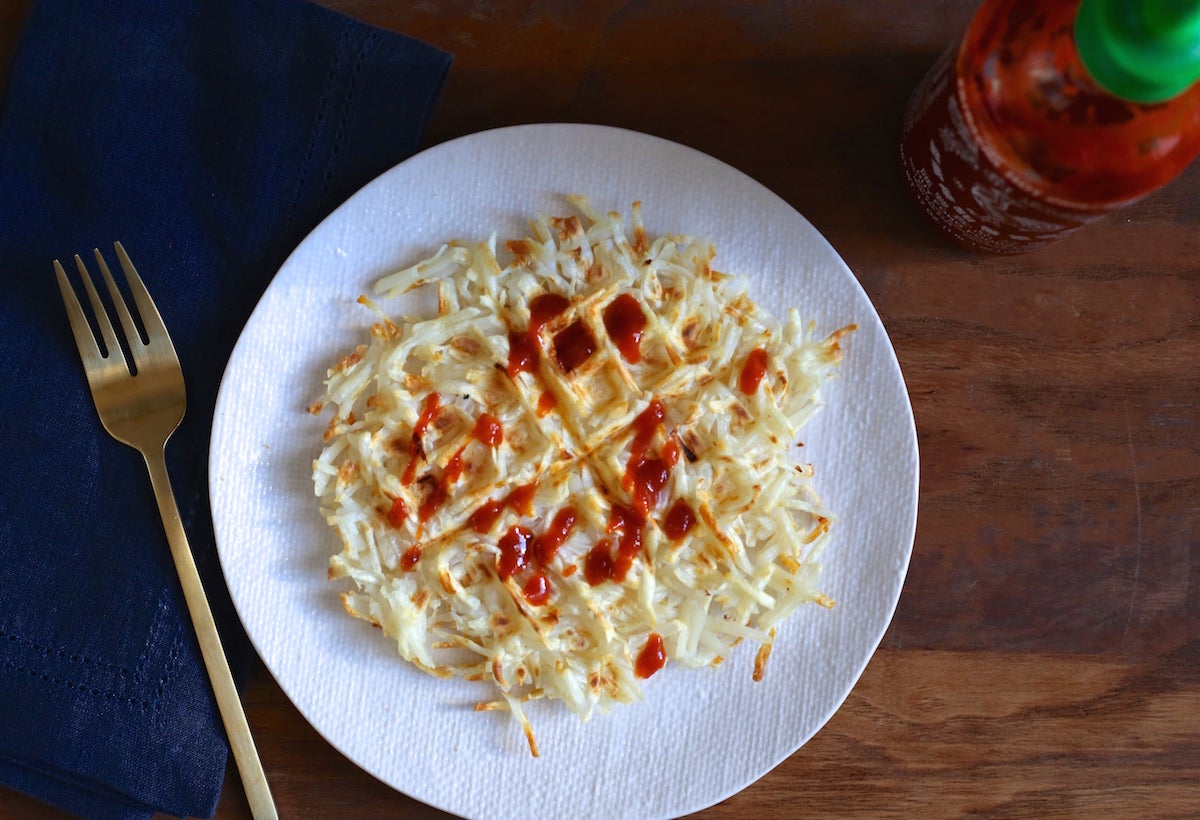 Next up, let's transform another breakfast classic: hash browns. If you're already making waffles for breakfast, you should definitely add hash browns to the menu.
I often waffle my hash browns for a quick dinner (top them with a fried or poached egg and some wilted greens for a heartier meal). Just grate your potatoes, wring out as much liquid as possible, and season them with salt and pepper. Press them into your waffle iron in a thick layer and cook until crisp and brown.
Hot sauce optional, but recommended.
Doughnuts in a Waffle Iron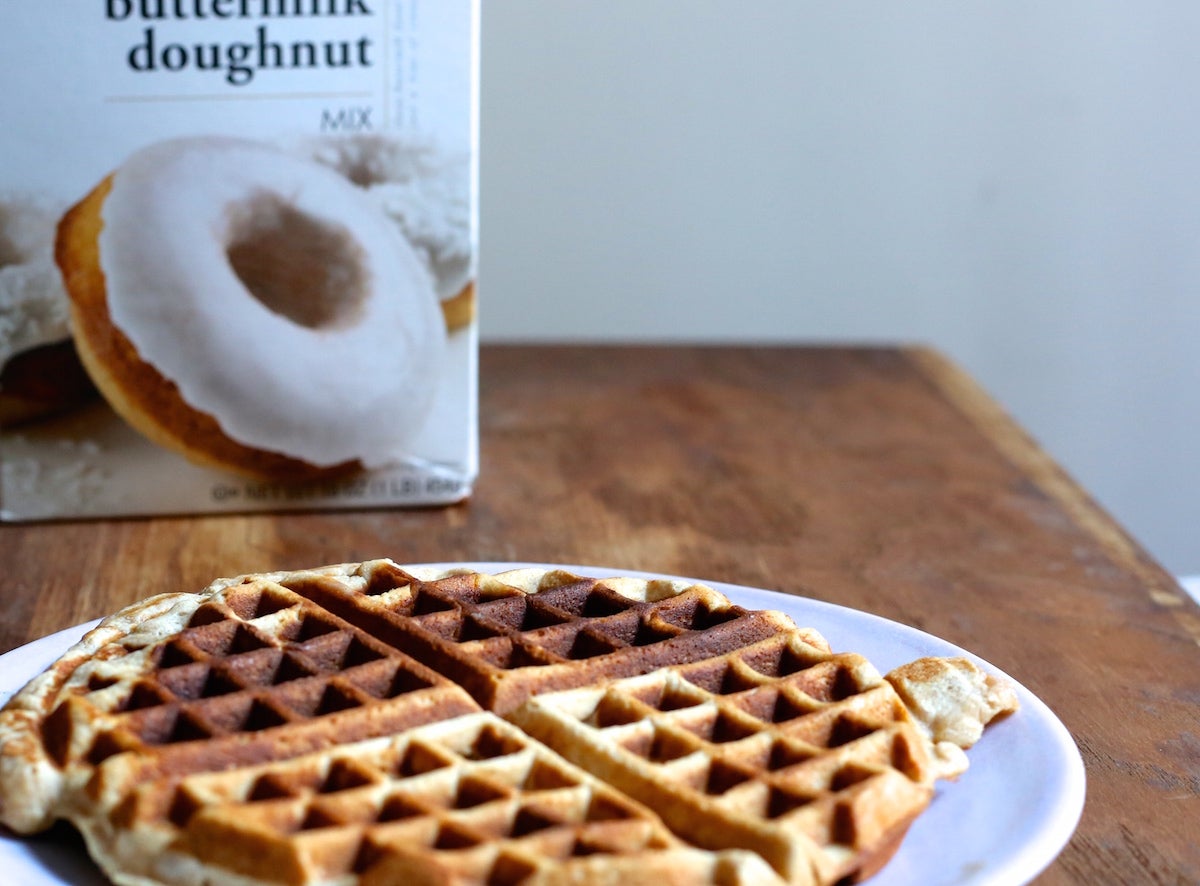 If you love doughnuts, but don't feel like messing about with a doughnut pan or fryer, pull out your waffle iron.
Doughnut batter performs surprisingly well in a waffle iron. It bakes up into a puffy, light disc with a wonderfully crunchy top. I used our Buttermilk Doughnut Mix, which worked like a charm. Sure, it's not shaped in a circle, but it tastes just the same.
For the full doughnut experience, drizzle glaze on top (this Boiled Cider Glaze recipe is fantastic) or dip your doughnut waffle into chocolate ganache and sprinkles.
Grilled Cheese in a Waffle Iron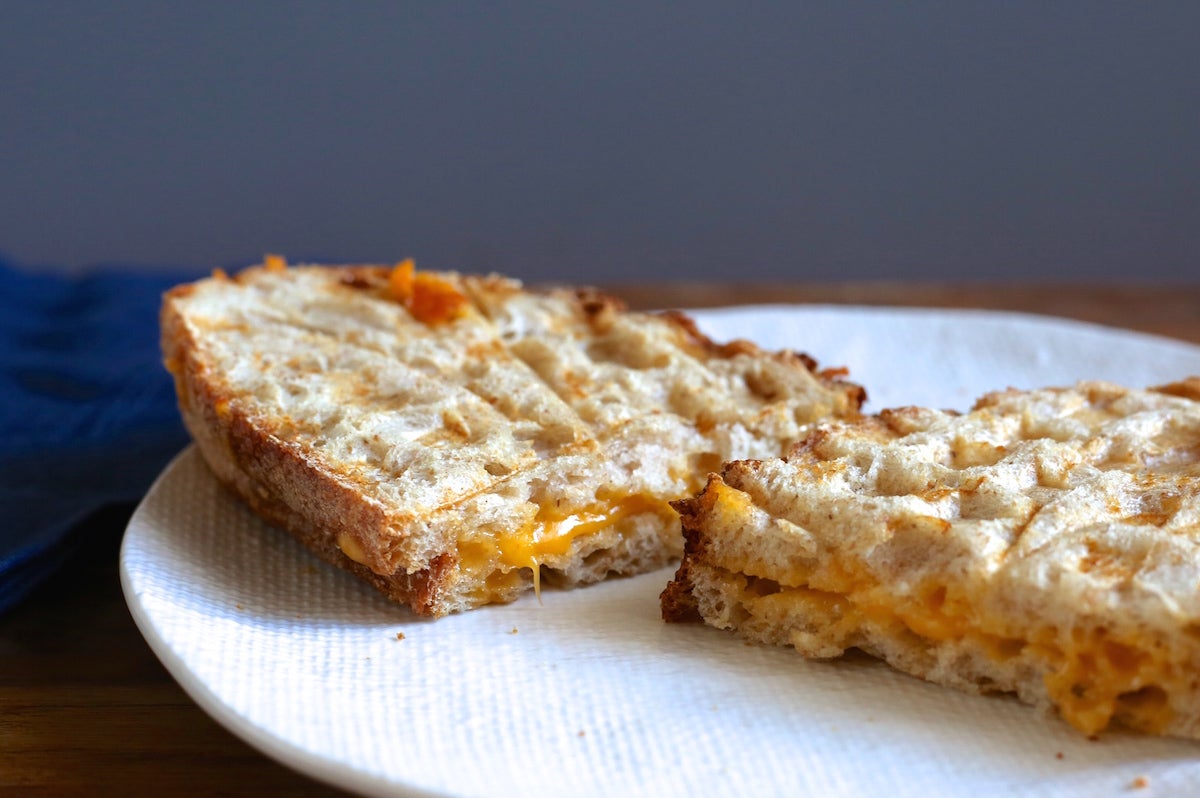 As I mentioned, you can think of a waffle iron as really just a textured (read: more awesome) panini press. Thus, it should come as no surprise that your waffle iron is ideal for grilled cheese sandwiches.
Just spray your waffle iron, place one slice of bread down, and top with your favorite cheeses. Place the second slice of bread on top, close the iron, and cook until the cheese is melted.
To take your grilled cheese to the next level, spread some mayonnaise on the outside of each slice of bread. It'll get extra crisp and golden.
Brownies in a Waffle Iron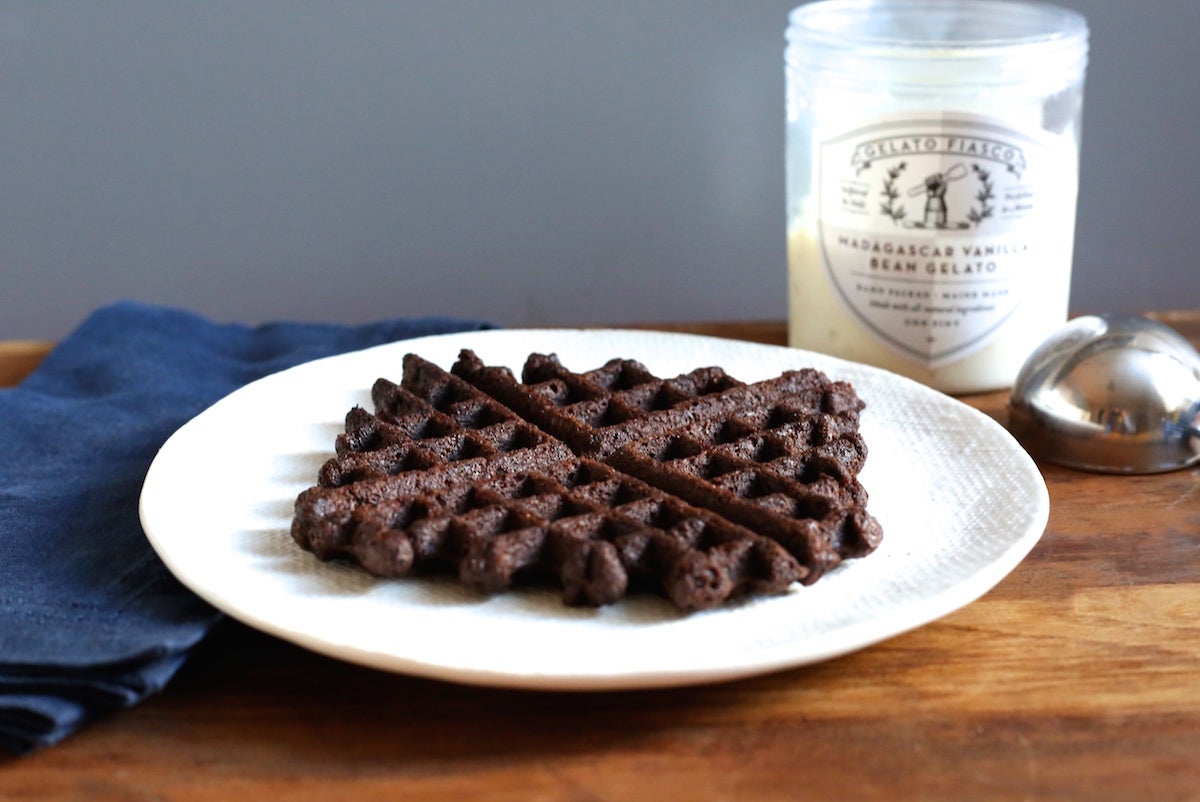 I saved the best for last: brownies. One of the nicest things about a waffle iron is how much time it saves you, especially when you're baking a single serving. Sometimes you just want a brownie, and you want it right away!
Brownies are easy to make in a waffle iron: Just ladle in your batter, close the lid, and cook until baked through.
You don't need to turn the oven on, or dirty a baking pan, or even make an entire batch.
Any brownie recipe works, and the waffle iron gives you lots of deliciously crunchy brownie edges, which is the best part. NB: The same secret holds for muffin recipes; the waffle iron basically yields one giant crisp muffin top.
If you're prone to sweets craving, I suggest making a batch of your favorite cookie dough and portioning it out into individual scoops. Freeze the scoops, and when you want a warm cookie, just heat up your waffle iron and bake off one scoop!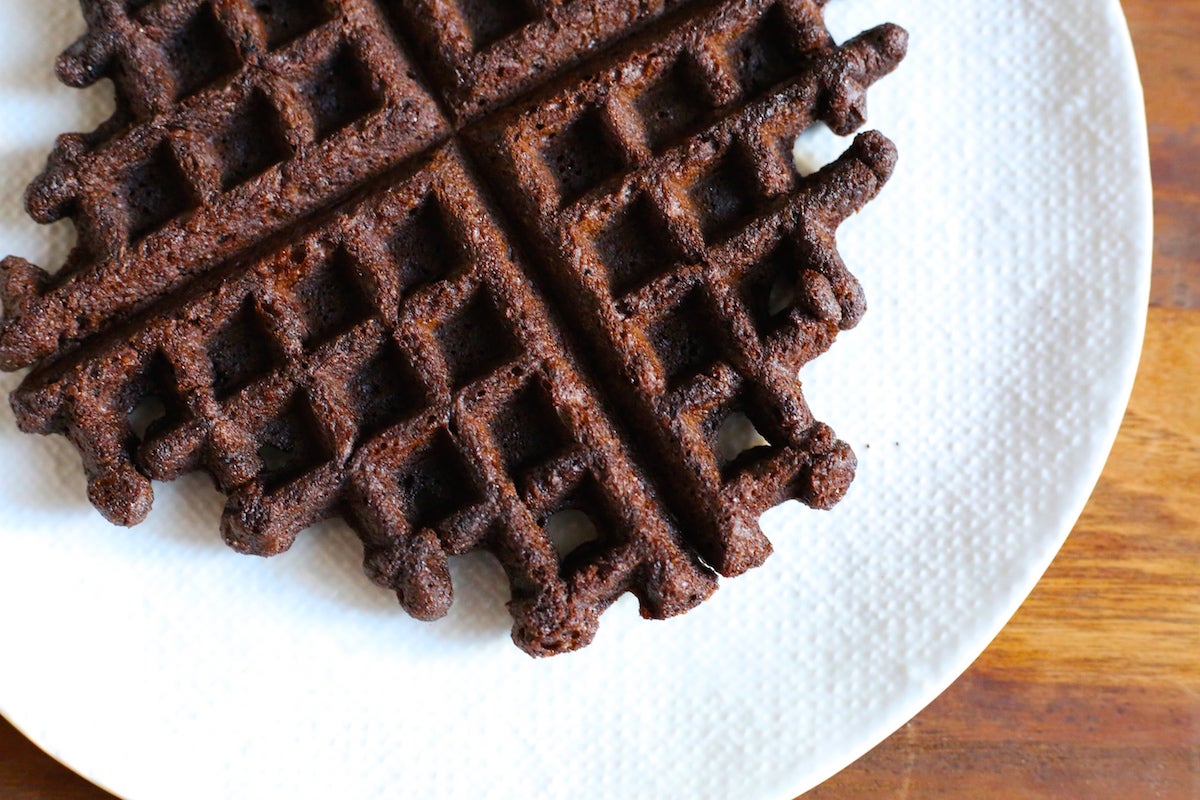 Now dust off your waffle iron and restore it to a place of pride in your kitchen. Let the waffling commence!
Do you have any unusual goodies you like to bake up in your waffle iron? We'd love to here your ideas in the comments below! 
Jump to Comments