The King Arthur Flour Company marks its 225th anniversary this year. And we're celebrating by exploring some of America's favorite recipes, decade by decade. Join us on this fascinating stroll through American food history.
First there were bagels. Then, scones. And suddenly, about 10 years ago – there were cupcakes.
Lots and LOTS of cupcakes.
As a hungry (and apparently egocentric) society, we tend to embrace personal-size, single-serve treats. Remember when bagels moved out of the hot ovens of New York City and suddenly appeared on breakfast tables all over America?
Or when scones became more than a somewhat dry and boring (to American tastes) British treat, and began appearing in bistro bakery cases from Boston to Berkeley?
In the late '90s, a small bakery in New York City's West Village began using leftover cake batter to create cupcakes that quickly caught the city by storm. Mirroring the company's devotion to classic American baked goods, Magnolia's treats are miniature versions of cherished American cakes: red velvet, hummingbird, German chocolate.
An episode of Sex in the City back in 2000 featured Magnolia's cupcakes – and suddenly, the NYC cupcake craze was in everyone's face, coast to coast.
A California couple, Candace and Charles Nelson, happened to sample some Magnolia's cupcakes in 2002. Candace, with a background in both pastry and investment banking, decided a West coast cupcake bakery would be a wise business move. In 2005, the Nelsons chose Beverly Hills for their first bakery: Sprinkles.
And the rest is cupcake history: Sprinkles sold 2,000 cupcakes the first week, and soon became a household – well, kitchen – word among cupcake aficionados.
Cupcake bakeries began appearing nationwide. Existing bakeries turned their skill and imagination to cupcakes.
Even the Food Network got into it: Candace Nelson is currently a judge on Cupcake Wars.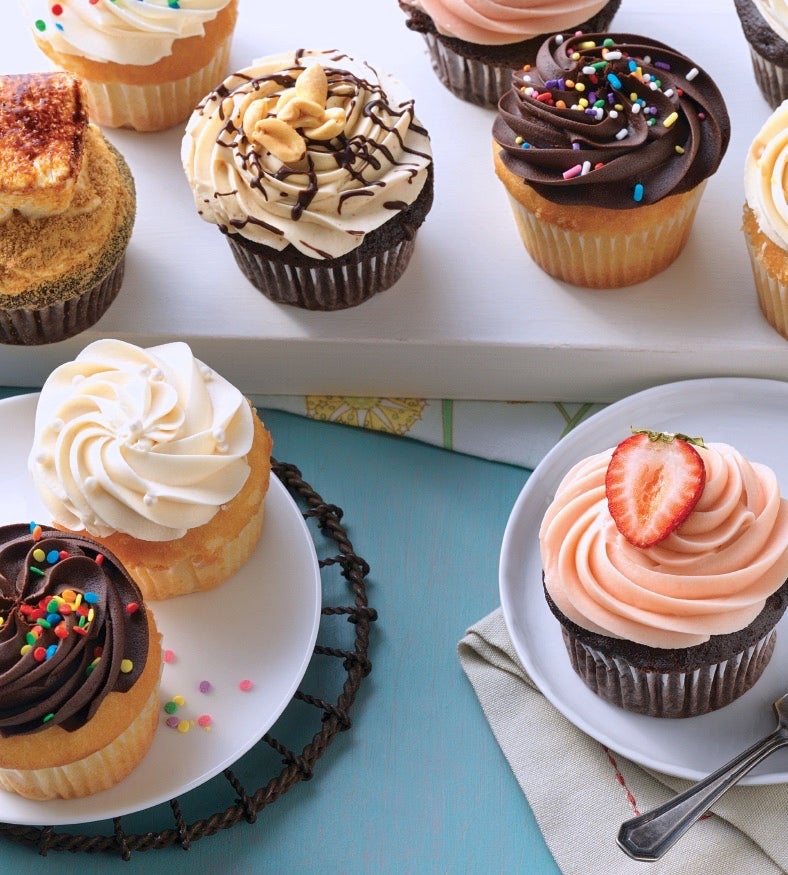 What does this mean to all of us plebeian Hostess and Little Debbie fans? Not much; the nation's largest cupcake chain, Gigi's, has a mere 65 American locations (compared to McDonald's 35,000 worldwide). Clearly, burgers trump cupcakes as far as ubiquity and popularity.
But there's something so tantalizing about a miniature cake crowned with flavorful icing; it makes the bakers among us want to create our own versions of this long-time American classic.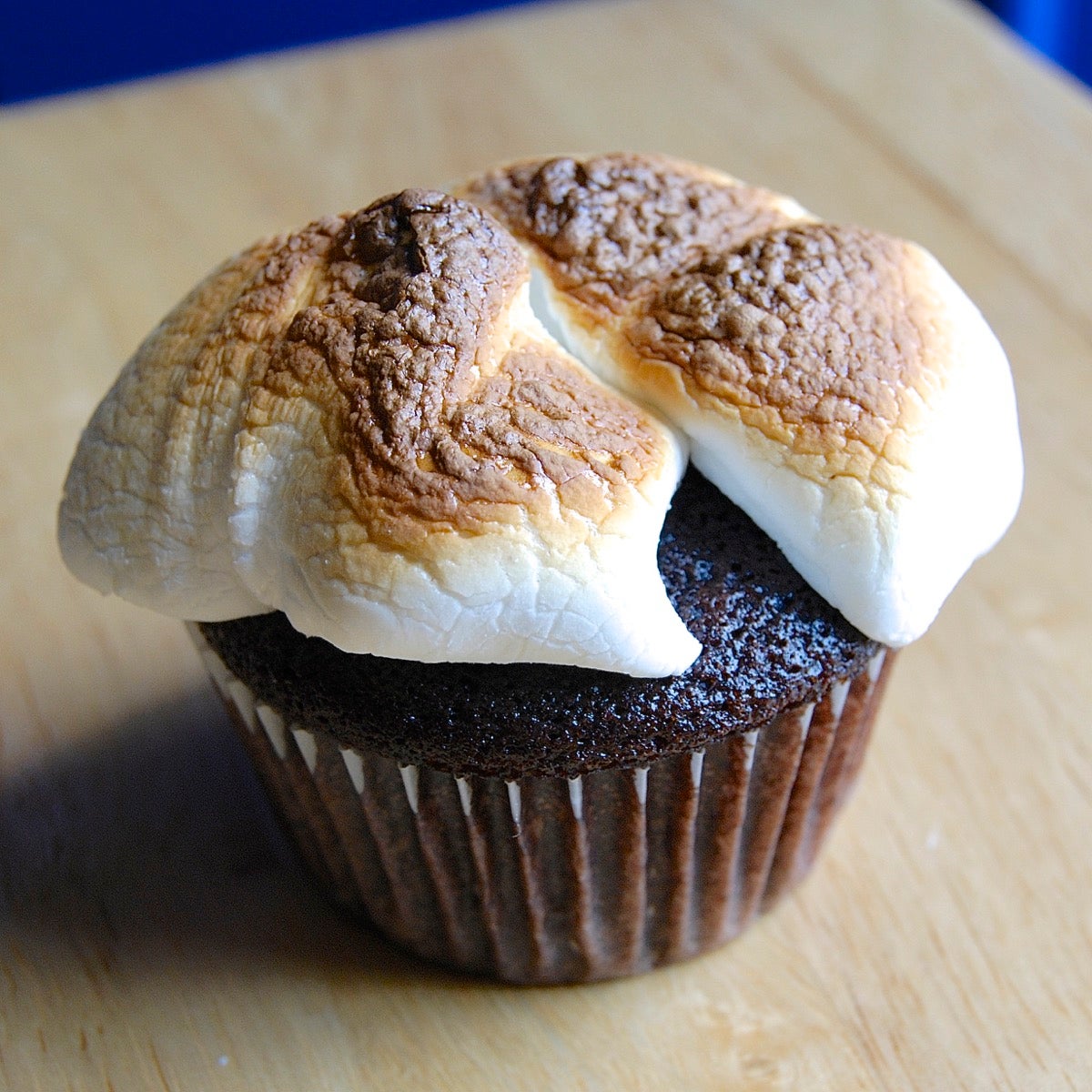 Like the S'more Cupcake.
I'd been wanting to make a s'more cupcake forever, and recently started mulling the possibilities. A graham-cracker flavored cupcake with chocolate icing and marshmallow filling? Or how about chocolate filling and toasted marshmallow on top?
I finally decided to try a combination of chocolate (cake), marshmallow (topping), and graham cracker (filling). But how to make that filling? Crushed crackers with butter and a touch of honey to hold everything together, or...?
Then it occurred to me: Biscoff spread, e.g. cookie butter, that peanut butter-like concoction that tastes remarkably like graham crackers (or speculoos cookies, which is what it's actually modeled after). Drop balls of spread into the center of chocolate cupcake batter, bake, and top with toasted marshmallow.
Sounds like a s'more to me! Let's give it a try, shall we?
I'm not sure how the spread will hold up under baking, so I decide to freeze it first, in balls. I'll then drop them into the center of the cupcakes – not at the beginning, but midway through their bake. The batter should be set enough to hold the filling in place, but not so set that the filling won't settle nicely into the center of the cake.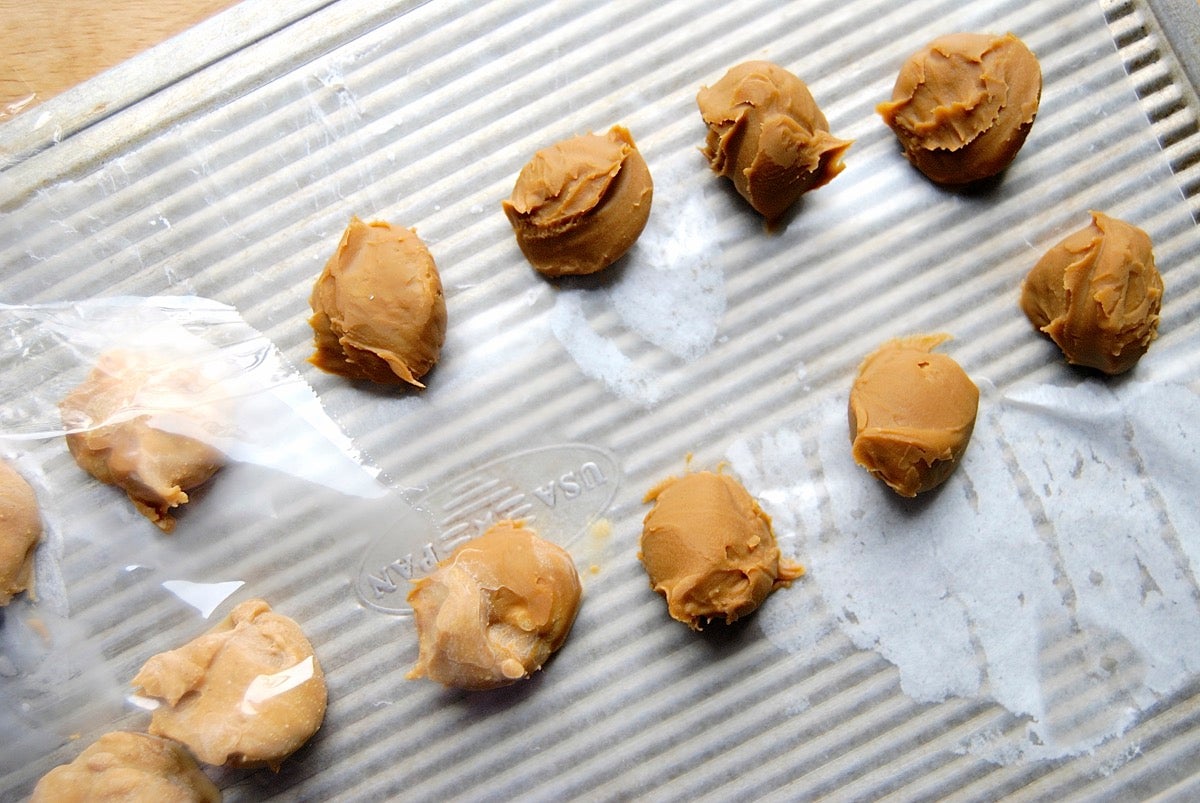 1. Scoop out 1 1/4" balls of Biscoff spread or cookie butter.
A teaspoon cookie scoop, gently heaped, works well here. You'll need a generous 1/2 cup of spread. Place the balls on a piece of parchment or waxed paper, tent lightly with plastic wrap, and freeze until solid; this will take a few hours.
When you're ready to make the cupcakes, preheat the oven to 350°F.
2. Make the cupcake batter.
Mix together the following, beating to thoroughly combine:
1 1/2 cups (177g) King Arthur Unbleached All-Purpose Flour
1 cup (198g) sugar
1/4 cup (21g) Dutch-process cocoa or natural cocoa
1/2 teaspoon salt
1/2 teaspoon espresso powder, optional
1 teaspoon baking soda
1 teaspoon vanilla extract
1 tablespoon (14g) vinegar, cider or white
1/3 cup (67g) vegetable oil
1 cup (227g) cold water
You may wind up with a scattering of lumps in the batter; that's fine.
Line a muffin pan with cupcake papers, and grease the papers with pan spray.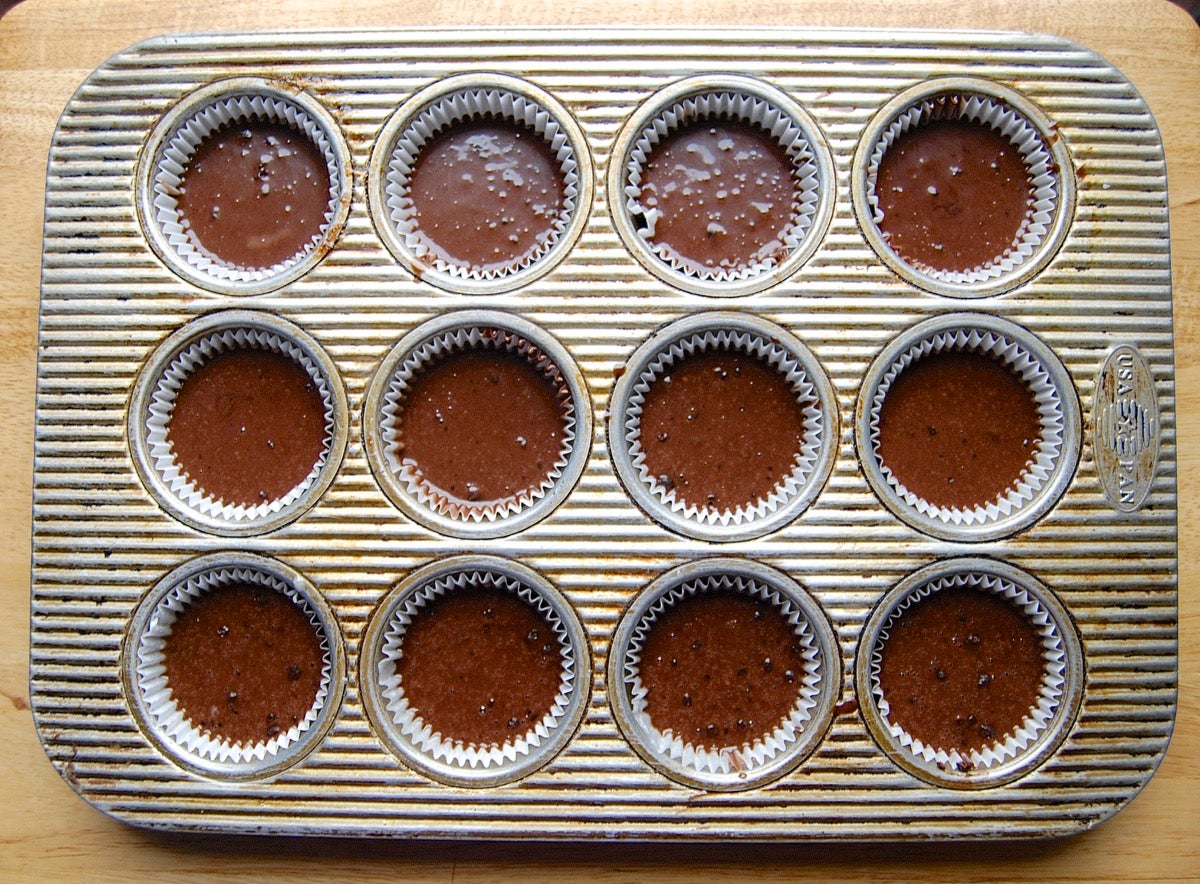 Divide the batter evenly among the cups of the pan.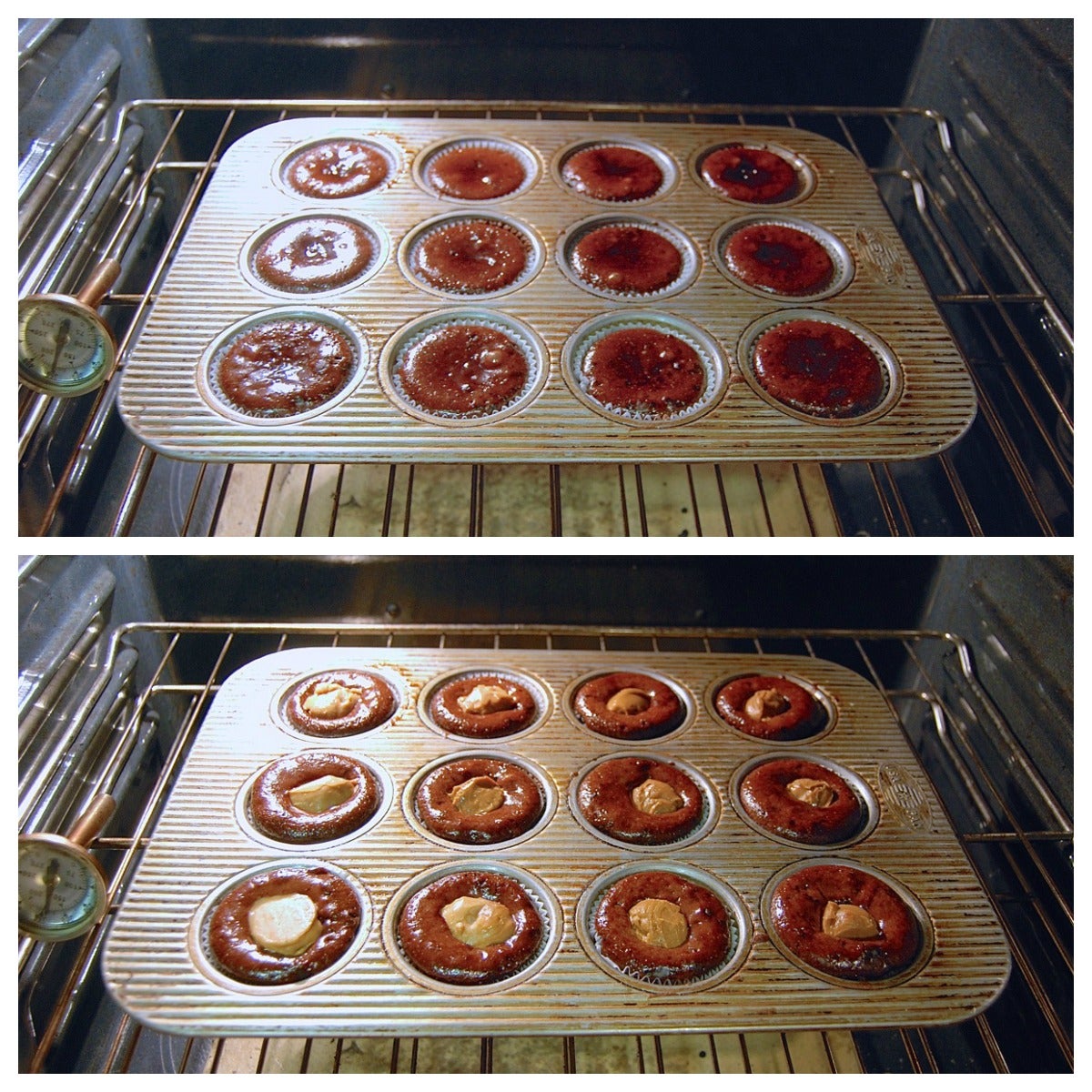 3. Bake the cupcakes.
Bake the cupcakes for 12 minutes, or until the edges are beginning to set and the middles are still liquid.
Open the oven door, and quickly plop a ball of frozen spread into the center of each cupcake. It's best to do this without taking the pan out of the oven; moving the cupcakes at this point may cause them to fall.
Continue baking the cupcakes for 12 to 13 minutes, or until their tops feel completely set, and a toothpick inserted near the center (avoiding the filling) comes out clean.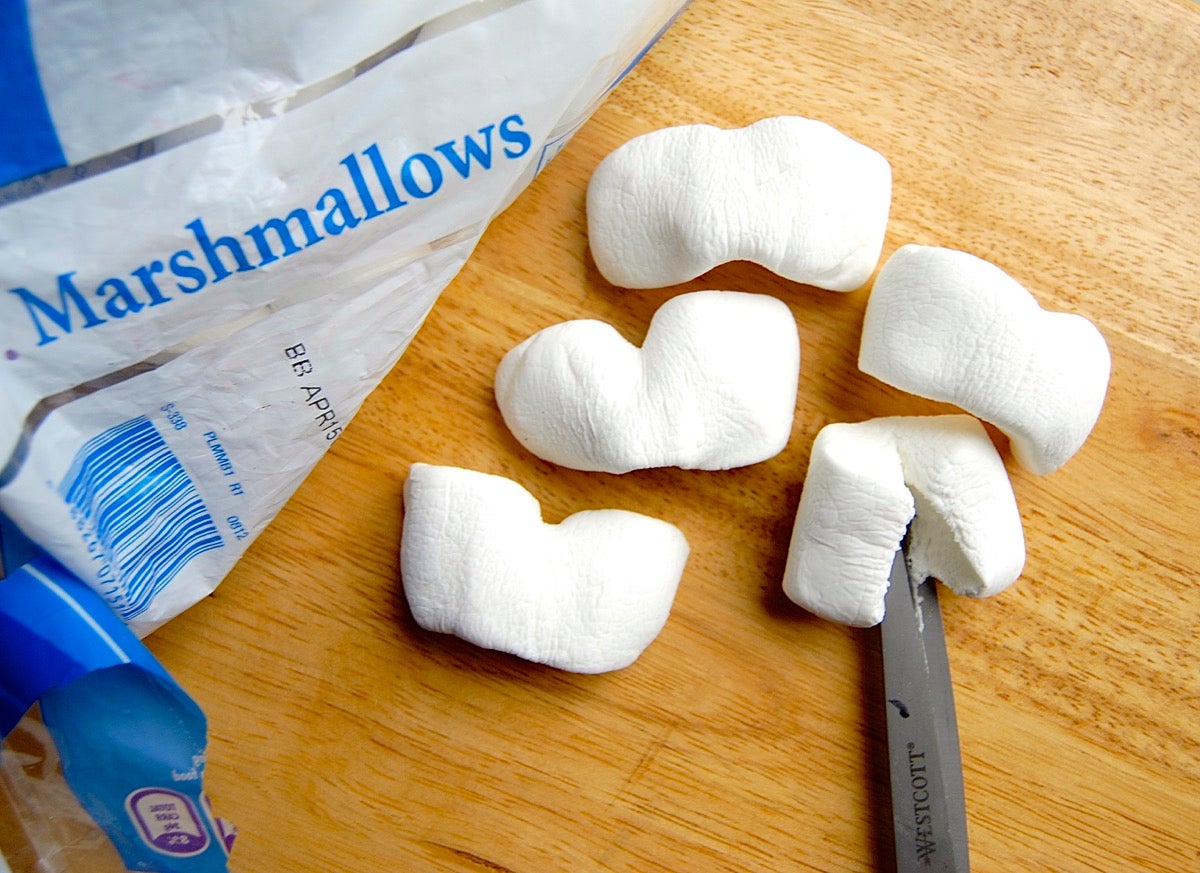 4. Make the marshmallow topping.
While the cupcakes are baking, take 24 marshmallows and cut most of the way through each one longitudinally, leaving a "hinge" on one side. Spread the marshmallows open while you're waiting for the cupcakes to be done.
When the cupcakes test done, remove them from the oven. Set your oven to broil.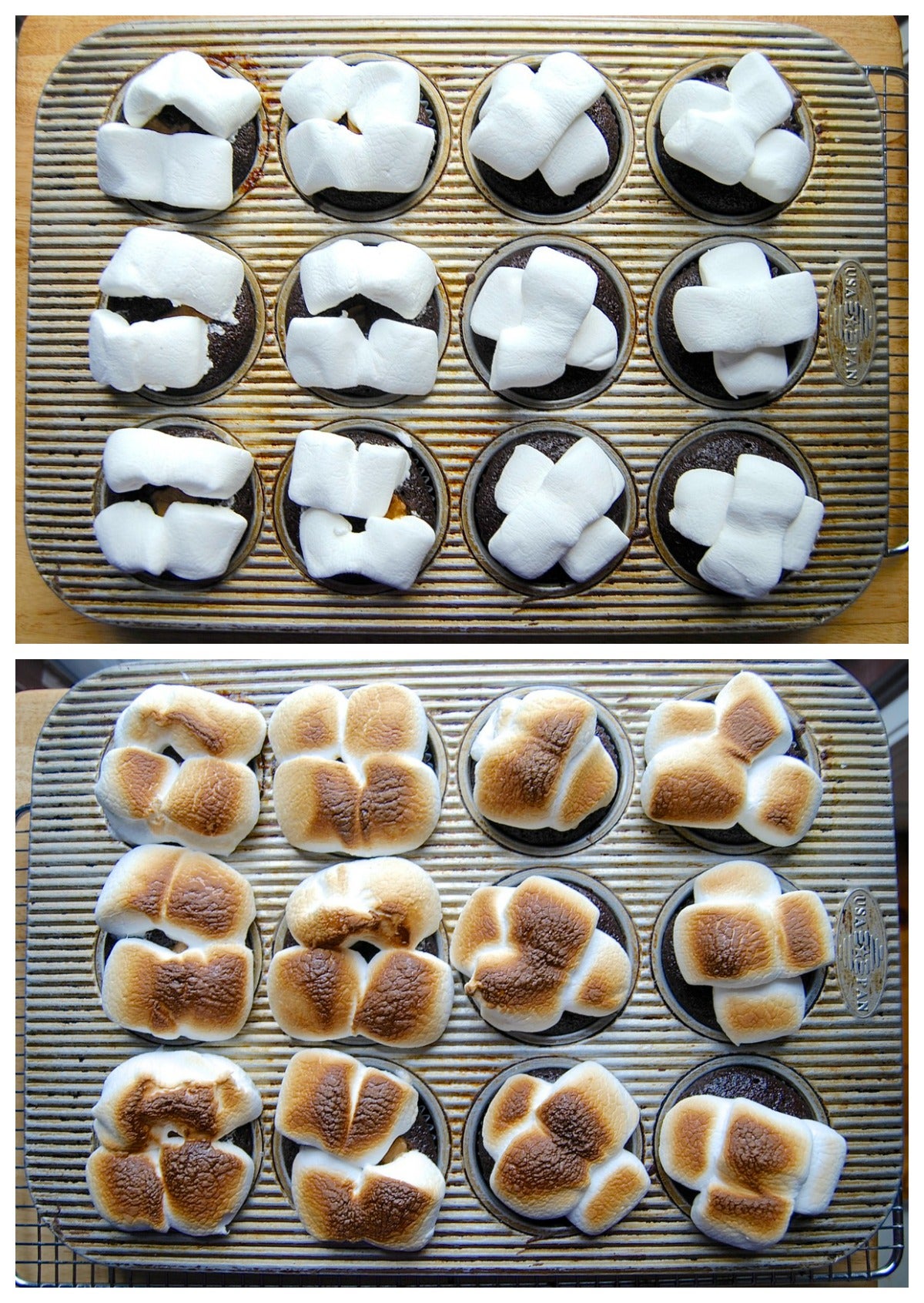 5. Place the marshmallows on the hot cupcakes.
Working quickly, criss-cross two strips of marshmallow atop each cupcake, centering them as best you can.
You'll notice that the marshmallows on the left side of the pan aren't criss-crossed. This is a test: does criss-crossing the marshmallow strips work better than simply laying them side by side?
Yes, and I'll tell you why: the side-by-side marshmallows tend to slide to the side of the cakes, while the criss-crossed ones anchor one another to the center.
And that, friends, is what the King Arthur Flour test kitchen is for: We make mistakes so you don't have to!
6. Broil the marshmallows until toasty.
Place the pan back into the oven, and broil the cupcakes until the marshmallows are toasted; this could take less than a minute, so keep your eye on them.
Remove the cupcakes from the oven, and re-center any marshmallows that may have slipped. Let the cakes cool to lukewarm, then carefully remove them from the pan and place them on a rack to cool.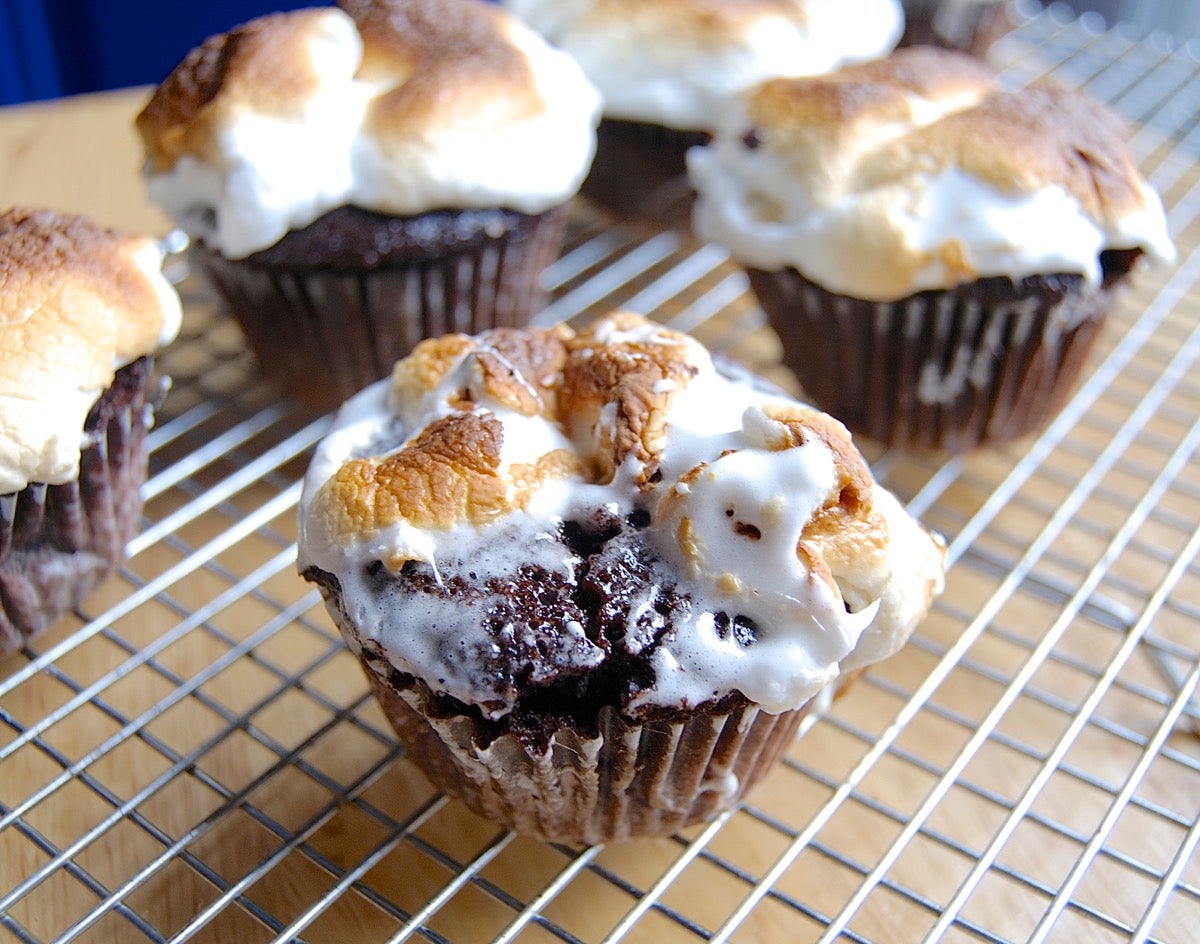 This is what happens when you try to grab a cupcake out of the pan while it's still hot. I just couldn't wait, could I? Do as I say, not as I did.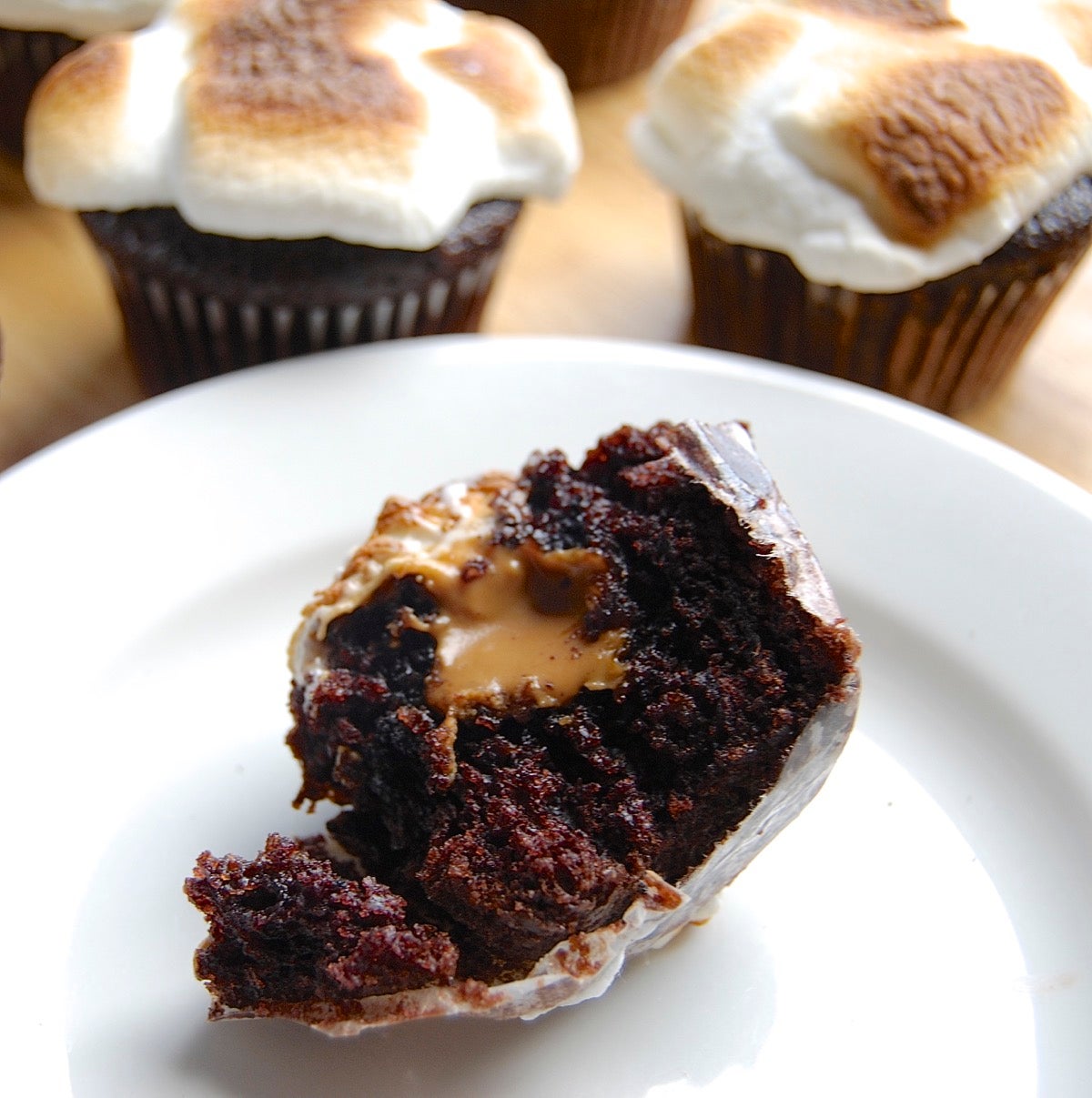 And here's what you see when you take a bite: a graham cracker-clone center that's melty when warm, but solidifies into soft spread consistency when completely cooled.
So did my s'more cupcake experiment work? Yes indeedy, it sure did. I can cross that off my "to bake someday" list – and add it to my folder of favorites.
Have you made your own foray into the cupcake revolution? After all, it's still going strong. Tell us what favorite "revolutionary" cupcake flavors you've come up with (or enjoy) in comments, below.
And if you want to bake these S'more Cupcakes – here's the recipe.
See all of our American baking down the decades posts, covering 1900-2015.
Jump to Comments