Almond Flour Berry Cobbler
A double-duty dessert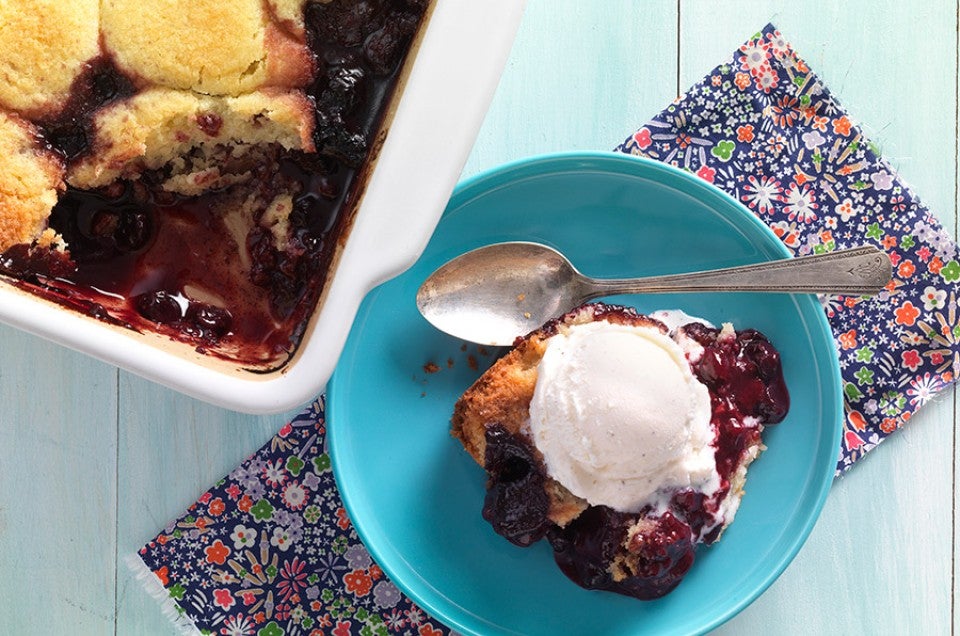 It's nice to have a few flexible recipes in your baking arsenal. Ones that can swap over from gluten-full to gluten-free with ease. This Almond Flour Berry Cobbler recipe is one of those.
In fact, everything about this cobbler is ultra easy. From assembly, to baking, to eating, it's all smooth sailing. And you know, it's summertime. Shouldn't everything come easy when the weather is this fine?!
Almond flour is one of my favorite new products. Milled from whole almonds, our fine-textured almond flour is full of protein, fiber, and good fats. It's also certified gluten-free, which makes it a perfect flour to use for this summery cobbler. It has a subtle almond flavor, which makes it great for use in sweet or savory baking.
Almond flour can be blended with either King Arthur Unbleached All-Purpose Flour or King Arthur Gluten-Free Multi-Purpose Flour to make the cobbler's topping. Read on to find out how to swap them out with ease!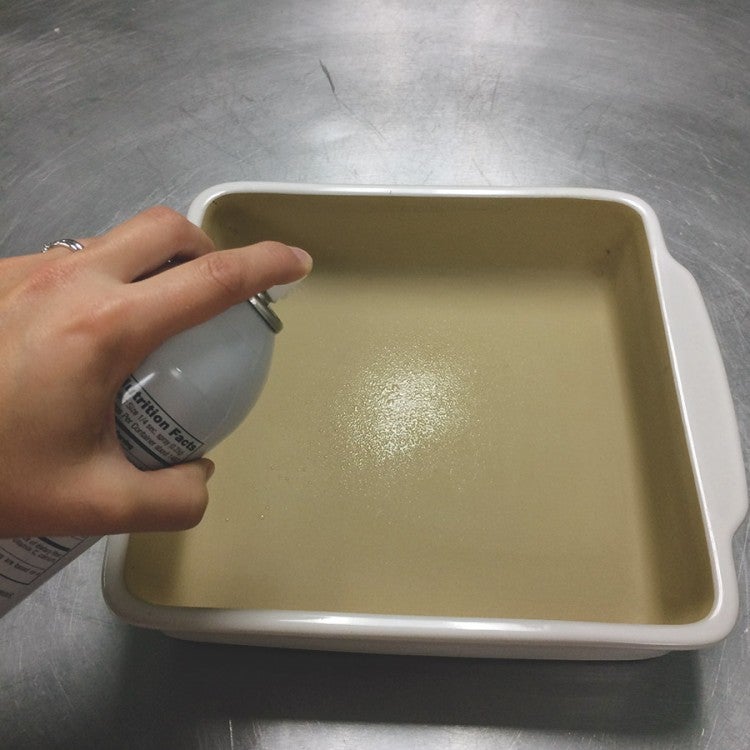 Preheat the oven to 375°F. Butter or grease a 2-quart casserole dish or 9" square baking pan.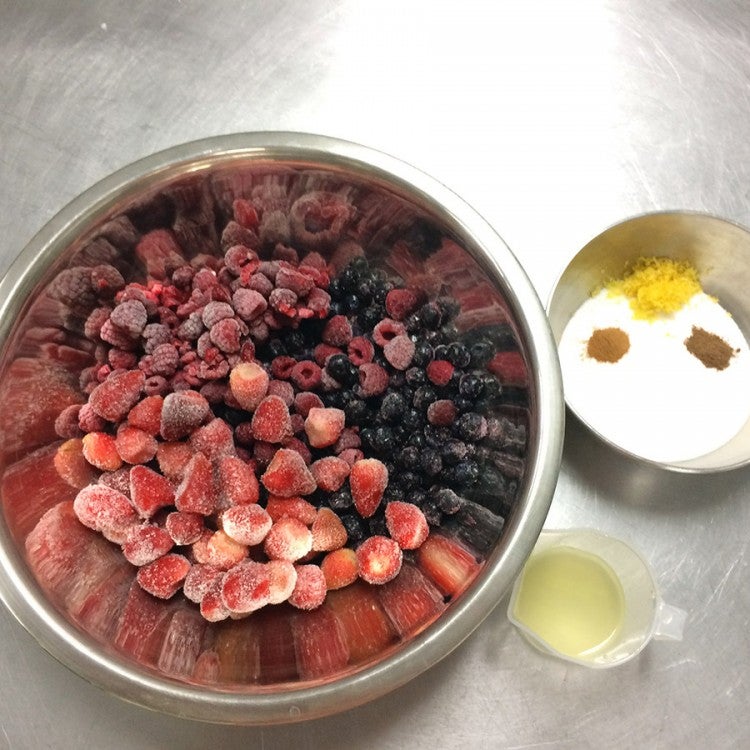 Place 6 cups (723g) of mixed berries (strawberries, blueberries, raspberries, blackberries...) in a large bowl. You can use fresh or frozen for this recipe.
In a smaller bowl whisk together:
1/2 cup (99g) sugar
2 tablespoons (14g) Instant ClearJel
1/4 teaspoon cinnamon
1/4 teaspoon nutmeg
zest (grated rind) of 1 lemon
pinch of salt
Pour the dry mixture and 2 tablespoons (28g) of lemon juice over the berries and stir to combine.
Transfer the fruit to the prepared baking dish.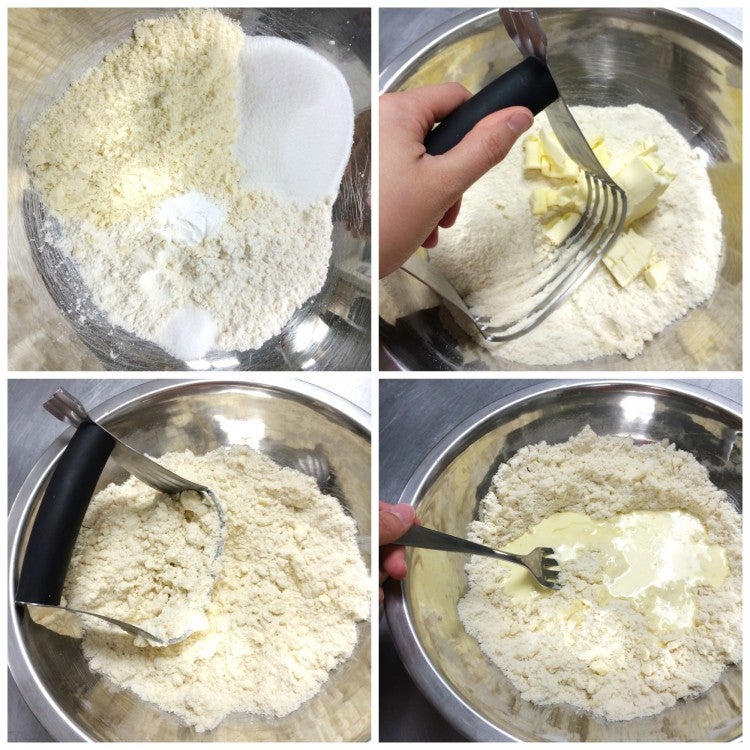 Whisk together:
1 cup (120g) King Arthur Unbleached All-Purpose Flour
3/4 cup (72g) almond flour
1/2 cup (99g) sugar
1 teaspoon baking powder
1/2 teaspoon salt
Using a pastry blender, cut in 6 tablespoons (85g) of cold, sliced unsalted butter. Cut it in until it resembles coarsely ground cornmeal.
Whisk together:
1 egg
1/2 cup (113g) heavy cream
1 teaspoon almond extract
Pour into the flour mixture and stir quickly and gently to combine. It will have a soft, wet consistency.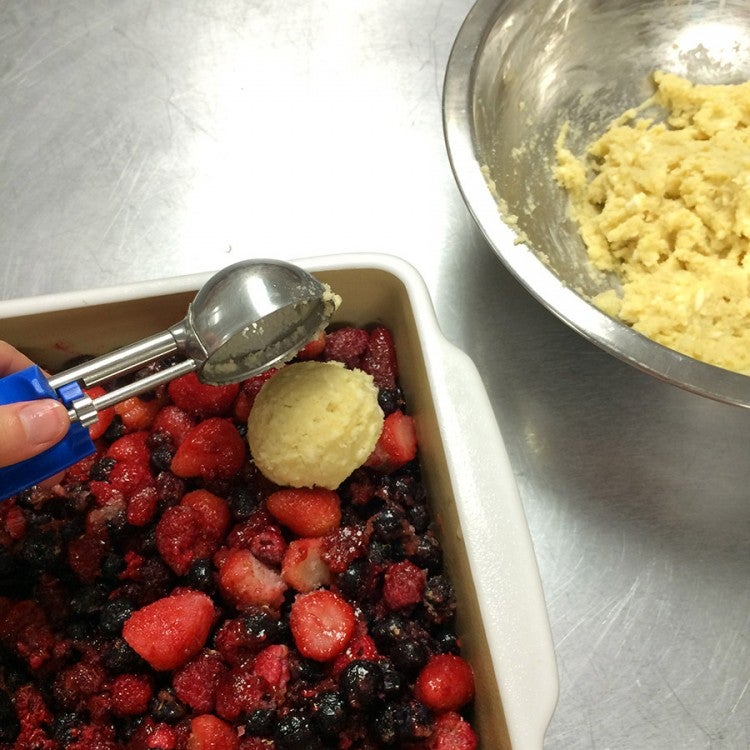 Scoop or spoon the dough over the fruit in the baking dish.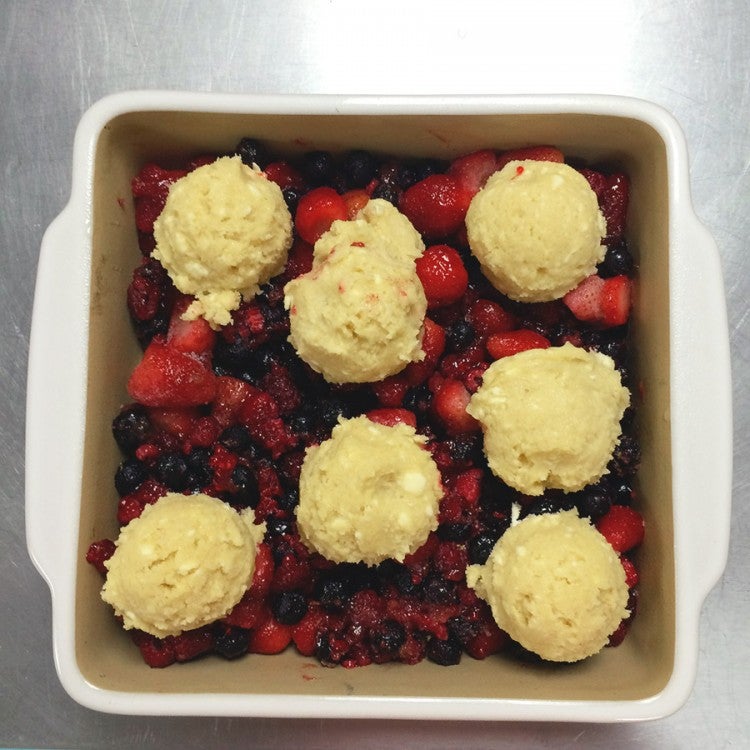 Space the balls of dough fairly far apart; they'll expand.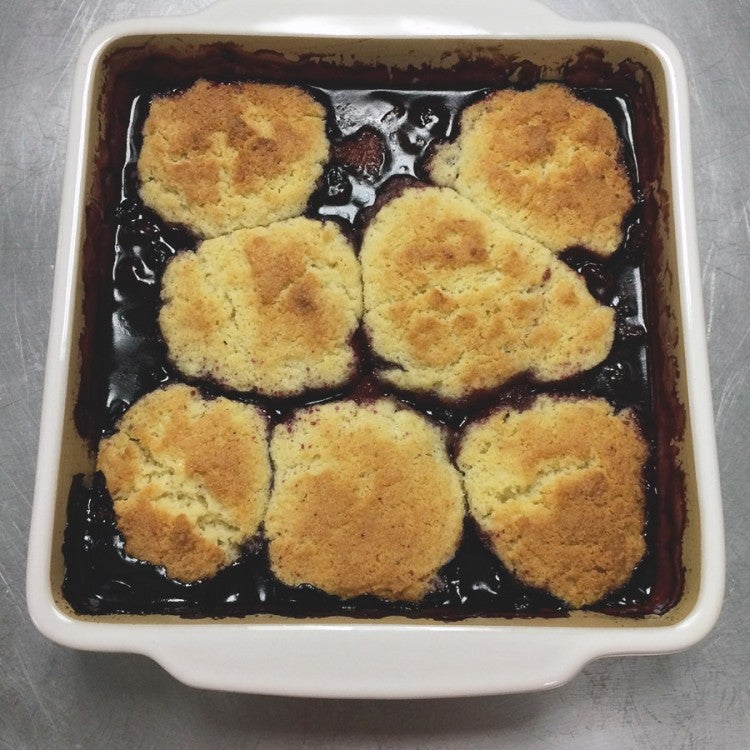 Bake for about 60 minutes. You'll want to see the berries bubbling all the way to the middle of the dish, and the dough should look baked all the way through.
Remove from the oven and serve this cobbler warm. We like it with a huge scoop of vanilla ice cream, but whipped cream would be a great option as well!
Changing this recipe to gluten-free is ultra easy.
1) Substitute 3/4 cup King Arthur Gluten-Free All-Purpose Flour for the King Arthur Unbleached All-Purpose Flour in the topping.
Why 1/4 cup less? Our gluten-free flour weighs more. One cup weighs 5 3/8 ounces, compared to the 4 1/4 our all-purpose weighs. Taking out the 1/4 cup brings it down to just over 4 ounces, which will keep your cakes from being dry.
2) While Instant ClearJel's ingredients does not contain gluten, it is packaged in a facility where gluten is present. It can be replaced by 3 tablespoons of gluten-free cornstarch.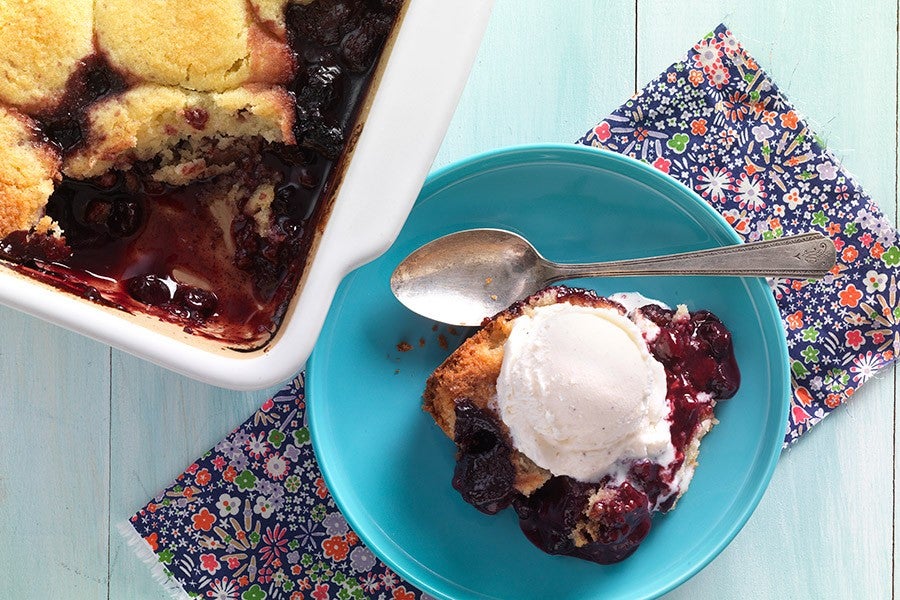 That's it. Just those two simple swaps make this dessert one that you can enjoy with your gluten-free friends and family. You won't even notice a difference in taste or appearance, which makes this a perfect summer dessert!
Please bake, rate, and review our recipe for Almond Flour Berry Cobbler. Happy baking!
Jump to Comments