How to make a Mardi Gras King Cake
A true feel-good dessert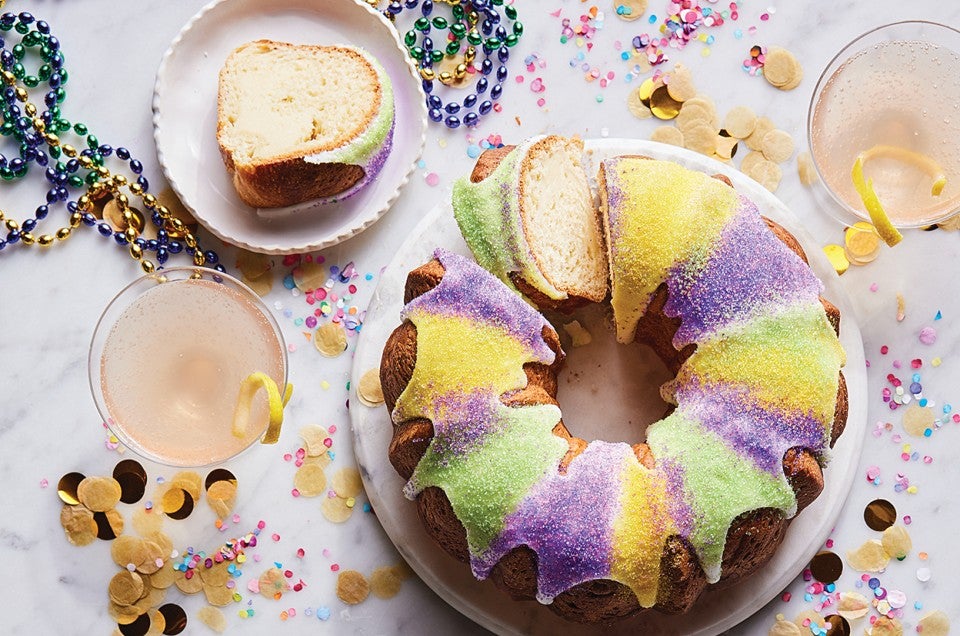 Ah, Mardi Gras, that most kaleidoscopic of celebrations. A festival of color, music, and revelry, a pageant of joyful and often outrageous goodwill towards your fellow man. What is it about this particular event that brings people together?
There are few other originally regional celebrations that have become so universally embraced as Mardi Gras. In previous blog posts we've talked about the history and origins of the festival, and its more family-oriented aspects as well. But today I've been thinking about why so many of us choose to don bright shirts and dresses and festoon ourselves in beads, even though we're miles away both in distance and background. And I think I have an answer...
I think it's smiling, laughter, and abandon. Sure, for some folks it may be the copious free-flowing libations; and for others, the wardrobe (or lack of same) associated with parts of the festival, but I really think the biggest reason this day grabs us and urges us on is the sheer joy it evokes.
Mardi Gras says, "Come dance with me!" Mardi Gras says, "Laugh, whoop, and holler! See the color, feel the music, catch the gold, LIVE! Tomorrow we shall be pious, but today we embrace life."
Yes, that, my friends, is why I think we love Mardi Gras; why we seize it, and why we make King Cake in the cold gray of February. To be happy, to feel alive.
Come, bake a Mardi Gras King Cake with me. Laissez le flux de vie coloré douce!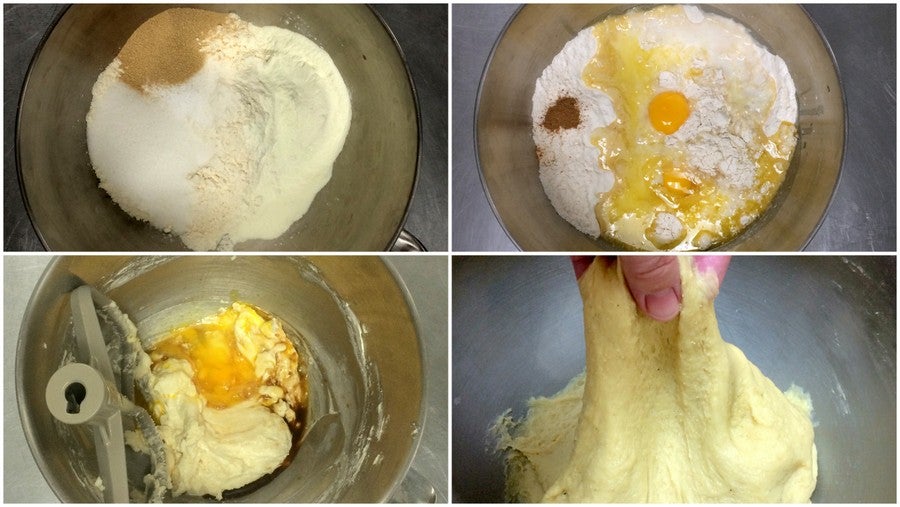 This rich, sweet dough is best mixed up by machine, so put the following into your mixer bowl or bread machine bucket:
Mix with the paddle until your dough begins to come together (bottom left photo). Switch to the dough hook and knead for 4 to 5 minutes, until you have a very soft, smooth, and pliable dough.
Cover and allow the dough to rise for about an hour. Rich doughs tend to get full and puffy, but don't always double in size.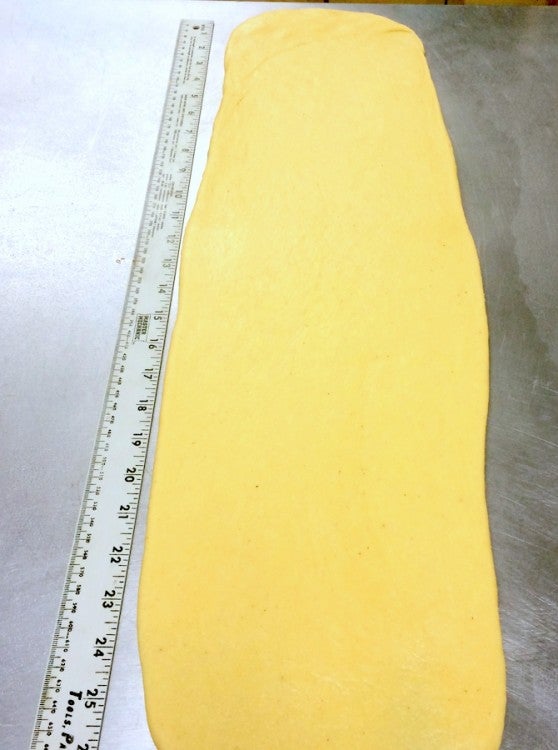 Turn the risen dough out onto a large, lightly greased work surface. Pat and roll it out to about 6" x 24". If you do happen to roll your rectangle a bit too large, don't worry about trying to shrink it back down. An inch or so over won't ruin your final cake.
Give your mixing bowl a quick swipe to clean it, and mix together the following:
one 8-ounce package (227g) cream cheese, softened
1/2 cup (99g) granulated sugar
3 tablespoons (25g) King Arthur Unbleached All-Purpose Flour
1 large egg, at room temperature, lightly beaten
2 teaspoons vanilla extract or 1/8 teaspoon Fiori di Sicilia or lemon oil
Blend on medium-high speed until smooth and creamy.
Spread the filling over the rolled dough, leaving about 1/2" border all around.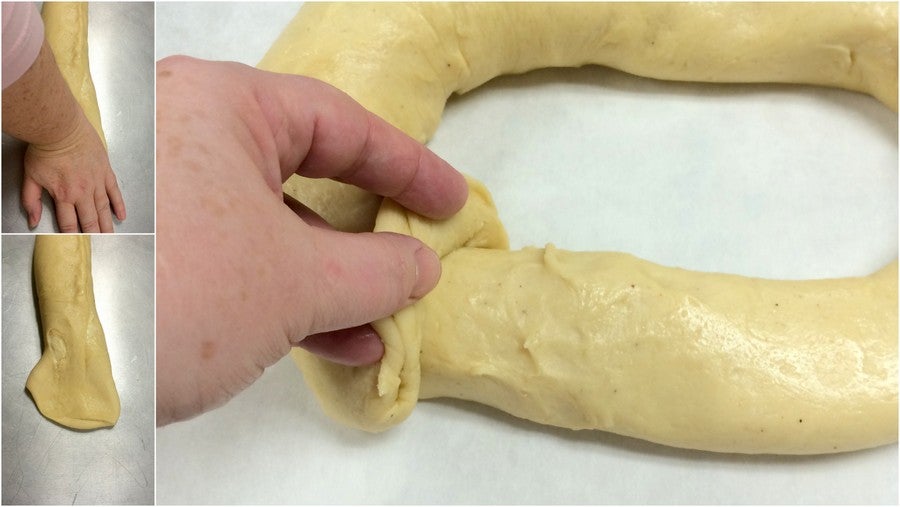 Roll as you would for cinnamon buns, beginning with a long side. Pinch the seam to prevent your filling leaking out.
Now you're going to form this long log into a ring. To help seal the ring together, press one end flat with the heel of your hand. This thinner flap can be laid over the other end of the ring, closing the gap without much bulk.
Don't fret about small holes or rips in the dough. They don't tend to create gaping holes, as the dough is very supple. Just try to position them on the underside of the ring, if you can.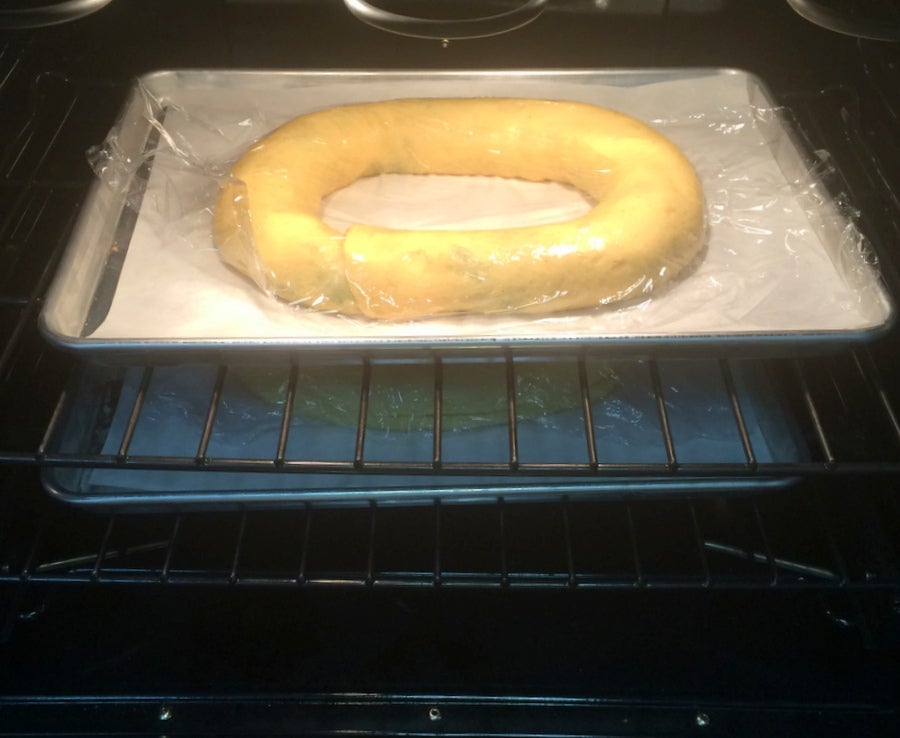 Place the ring on a parchment-lined baking sheet, cover it with lightly greased plastic, and set it aside to rise for 1 hour.
If your house is chilly, try placing the tray in the oven with just the light on. The bulb will provide warmth, and the oven's insulation will keep the heat in. DON'T turn the oven on; that will be too much heat, and your yeast will begin to die.
Be sure to take the pans out of the oven while you preheat the oven to 350°F (about 40 minutes into the rise time). Remove the plastic wrap before baking.
Whisk the reserved egg white with 1 tablespoon water, and brush it over the risen cake.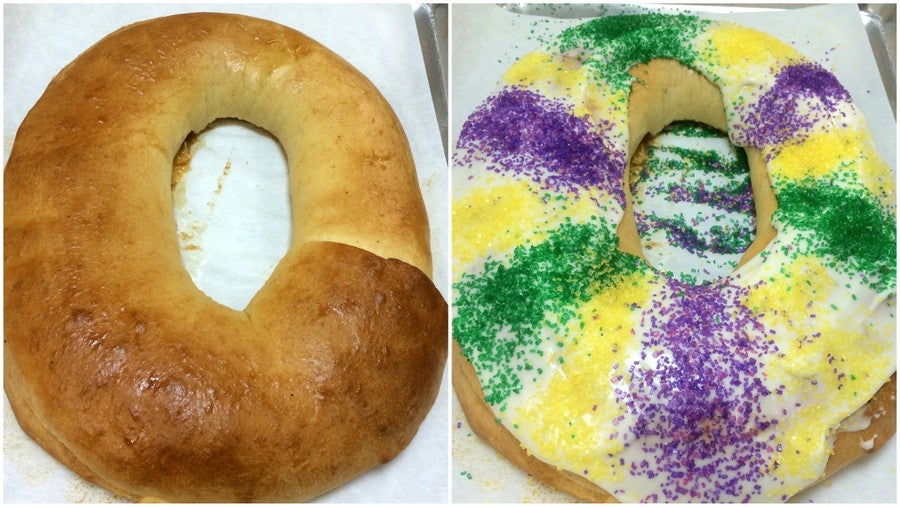 Bake the cake for 20 minutes. Gently tent a sheet of foil over the cake, and bake for another 30 minutes, or until it's very golden brown.
You can see a small seam where the flattened end of the dough was placed. Have no fear, though; the sweet icing will cover it, and no one will be the wiser.
Allow the baked cake to cool for about 20 to 30 minutes before icing.
To make the icing, blend together the following:
2 cups (227g) confectioners' sugar
pinch of salt
1 teaspoon vanilla extract
2 to 3 tablespoons milk, enough to make a thick but pourable glaze
I like to get hands-on, scooping and spreading the thick icing with my fingers. I saw this once on TV and found it fascinating. You can use a spreader or spatula, if you prefer.
Top the still-wet icing with sparkling sugars in purple, green, and gold, standing for justice, faith, and power.
If you're inserting a prize into the cake, such as a plastic baby or coins, do that before you start spreading glaze, lest you end up with a sticky mess. Be sure to tell your guests before someone dives in and eats your tokens! Tradition says whoever finds the prize must provide the King Cake for the next year's party.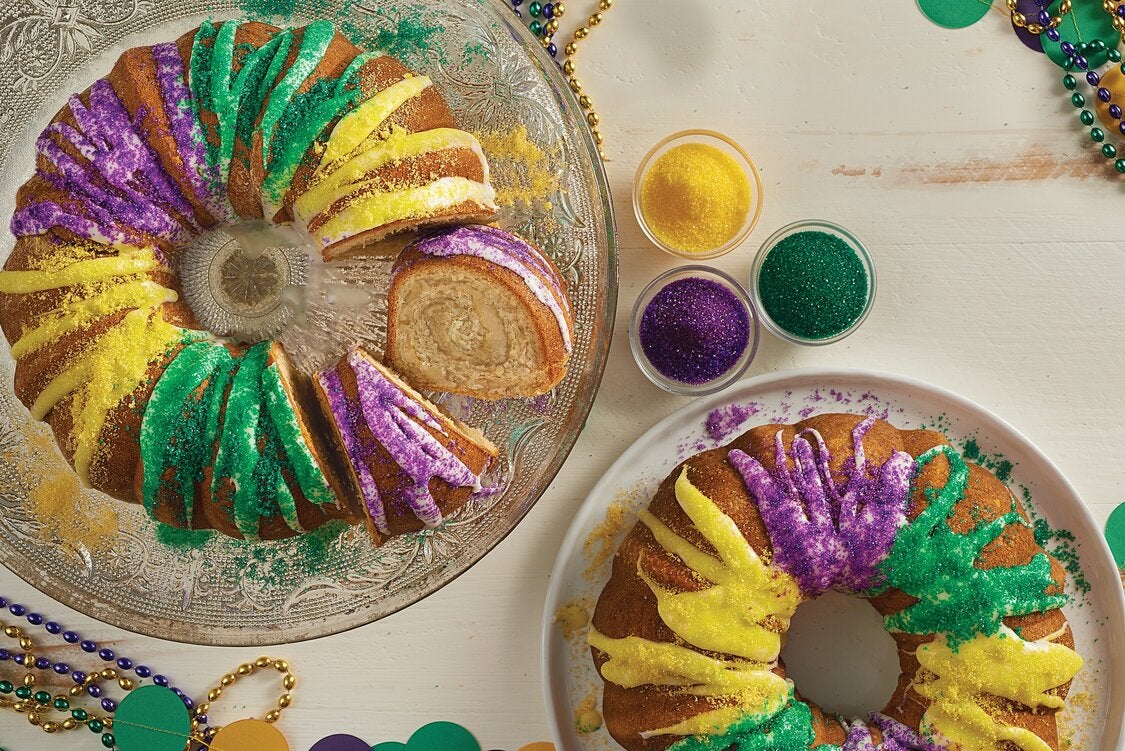 Is this the magical slice that holds my prize? The sugar seems to sparkle like the twinkle in a jester's eye. It reminds us to seek out the sparkle and shine in life at least one day out of the year. Happy Mardi Gras!
Please bake, rate, and review our recipe for Mardi Gras King Cake.
Jump to Comments