What happens when you type "best chocolate chip cookie recipe" into your Google search box?
Well, for one, you get "about 10,800,000 results (0.75 seconds)," as Google is proud to let you know.
And proud they should be – remember looking for recipes pre-Internet?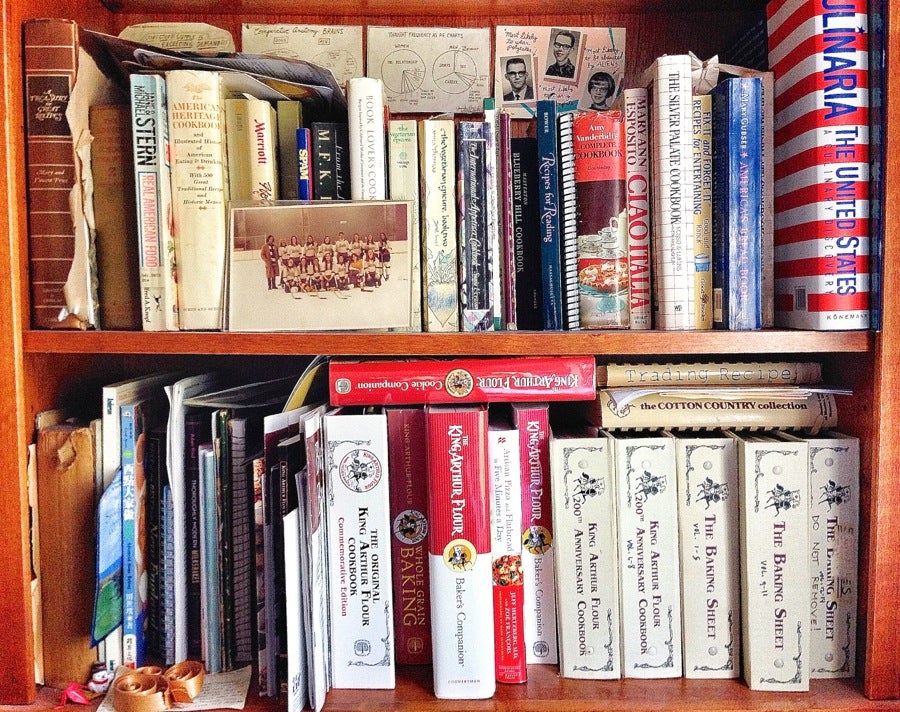 The bookshelves... (These are only two of the eight-and-a-half shelves I have dedicated to my cookbooks.)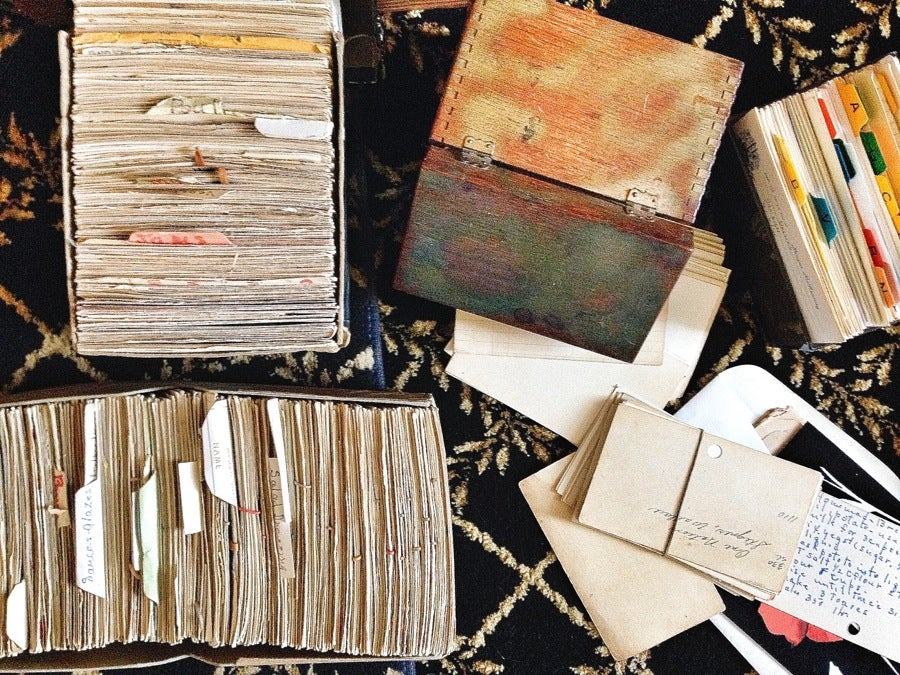 The recipe boxes... (And yes, I did knock one of the boxes on the floor while reaching for another, and its contents splayed out on the carpet like a deck of cards. Some things just can't be staged.)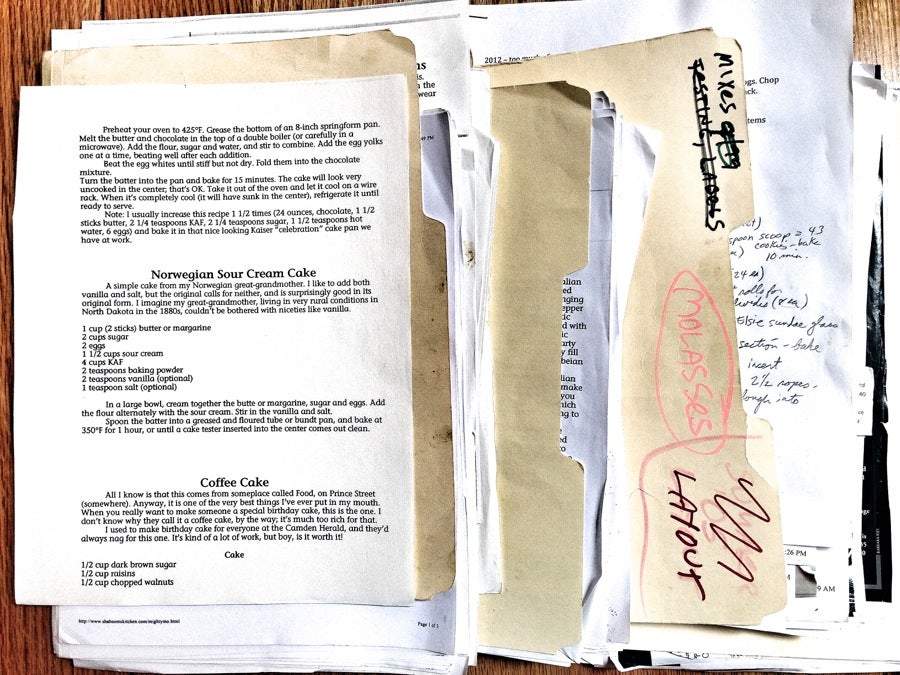 And, of course, the manila folders stuffed with printouts and tear-outs and hand-scribbled notes on newspaper clippings. If you're over a certain age (like, maybe, 40?), I guarantee you have at least one overstuffed manila folder holding recipes you thought you'd make... someday.
These days, though, when you're looking for "the best chocolate chip cookie recipe," all the options are right at your fingertips via Google. 
All 10,800,000 of them (about).
So, where did I find the newest addition to my ever-growing collection of "the best chocolate chip cookie" recipes?
From a friend, of course.
Oh sure, the Internet was still involved. After all, how do friends exchange a new favorite recipe these days? By writing it out, slipping it into an envelope, applying a stamp, and driving to the nearest mailbox to send it on its way?
As my son might say, "Mom, that is SO OLD."
No - we simply email one another.
Subject line: You HAVE to make these!
I recently got such an email from a work colleague. Aime was blown away by some chocolate chip cookies she'd just baked.
"BEST EVER," she wrote.
Well, who can resist the siren song of "BEST EVER" anything, right? I emailed right back for details.
Turns out the recipe came from Joy Wilson – she of "Joy the Baker," a "BEST EVER" food blog.
Joy is a former West Coast professional baker and author, recently self-transplanted to New Orleans, where she continues to blog from her new (and very exciting, food-wise) surroundings. We've had the pleasure of hosting her at our King Arthur Flour Baking Education Center in Vermont, where she taught an awesome pie class. And she'll be back for another visit this fall.
But in the meantime, she's given us permission to share this cookie recipe from her first book. Joy's Brown Butter Chocolate Chip Cookies with Pecans are, indeed, some of the best cookies I've ever tasted, in any genre.
Are they the BEST EVER chocolate chip cookies?
Well... my lips are sealed. (So that I don't devour yet another of these flavorful cookies, aromatic from brown butter, crunchy on the edges, soft/bendable in the center, a good 3" in diameter, and absolutely heaven-scent. Er, sent.)
You tell me: are these chocolate chip cookies the BEST EVER? Give 'em a try, and share your opinion at the bottom of this post.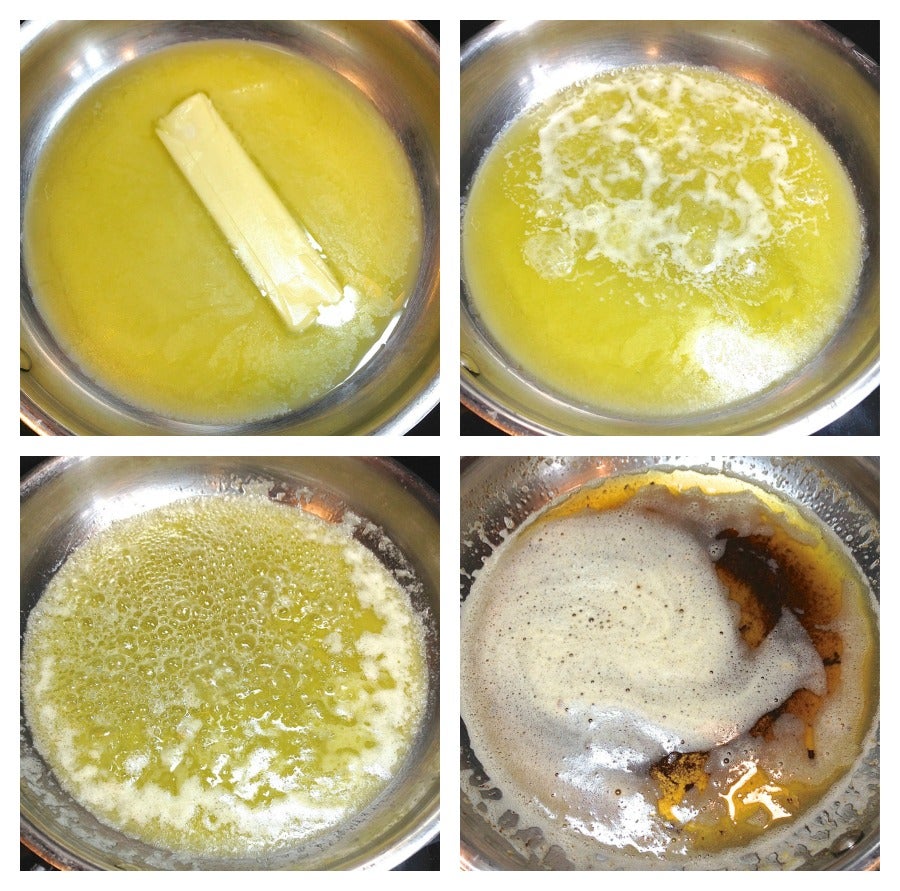 Let's start by making the brown butter.
Place 8 tablespoons butter (113g) in a medium skillet. Melt the butter over medium heat, swirling it in the pan occasionally. It'll foam and froth as it cooks, and start to crackle and pop.
Once the crackling stops, keep a close eye on the melted butter, continuing to swirl the pan at intervals. The butter will become fragrant, and brown bits will form in the bottom.
Once the bits are amber brown (about 2 1/2 to 3 minutes or so after the sizzling stops), remove the butter from the burner and pour it into a small bowl, bits and all.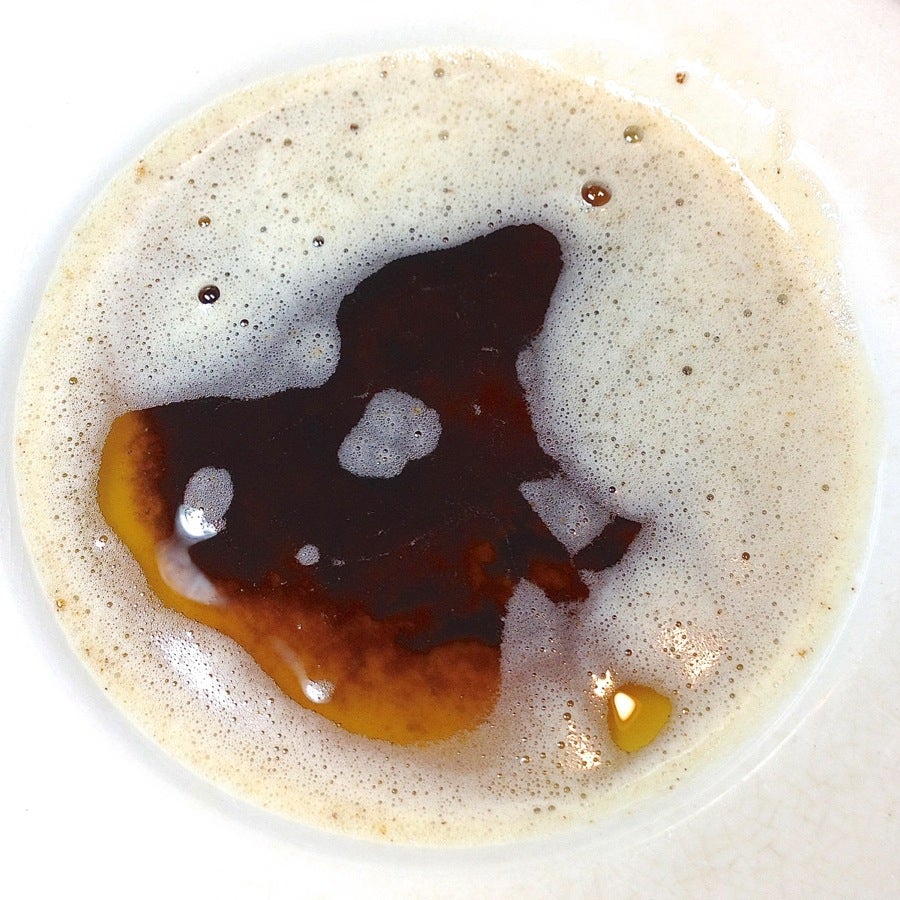 Allow the brown butter to cool for 20 minutes.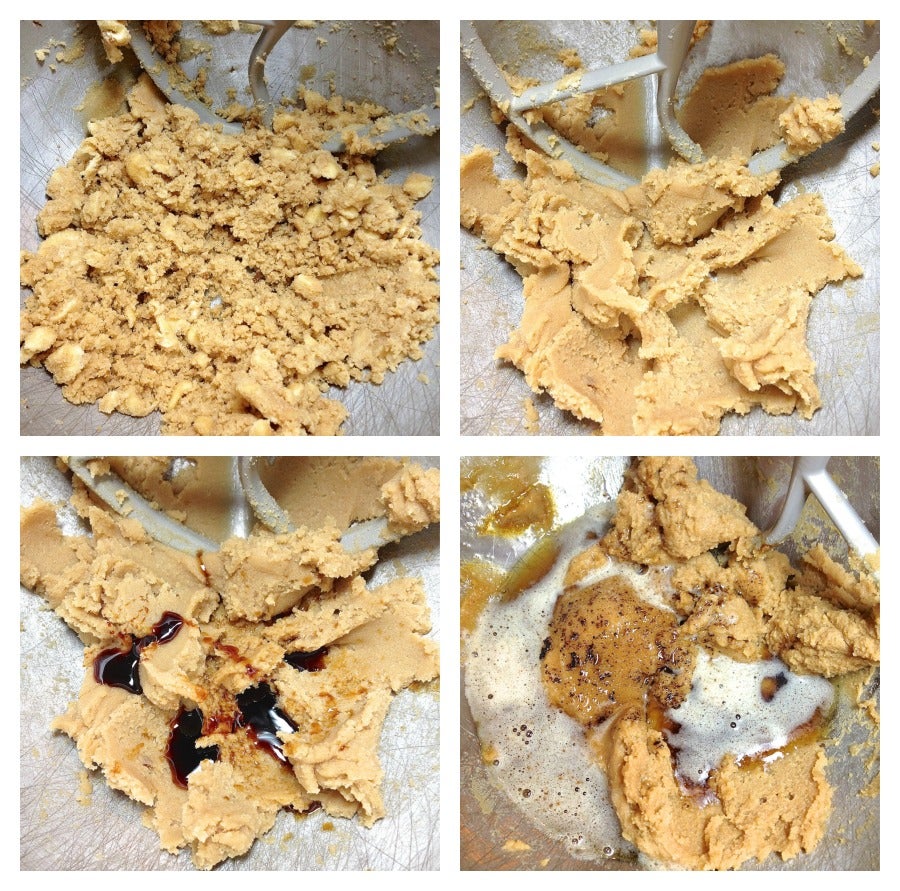 Beat 8 tablespoons (113g) room-temperature butter with 1 cup (213g) light brown sugar for 3 to 5 minutes, until the mixture is very smooth. Top picture at left: not smooth. Top picture at right: smooth.
Beat in 2 teaspoons vanilla extract and 1 teaspoon molasses.
Pour the cooled brown butter into the bowl, along with 1/2 cup (99g) granulated sugar (which I added after the picture was taken, if you're following along visually). Beat for 2 minutes, until smooth. The batter will lighten in color and become fluffy.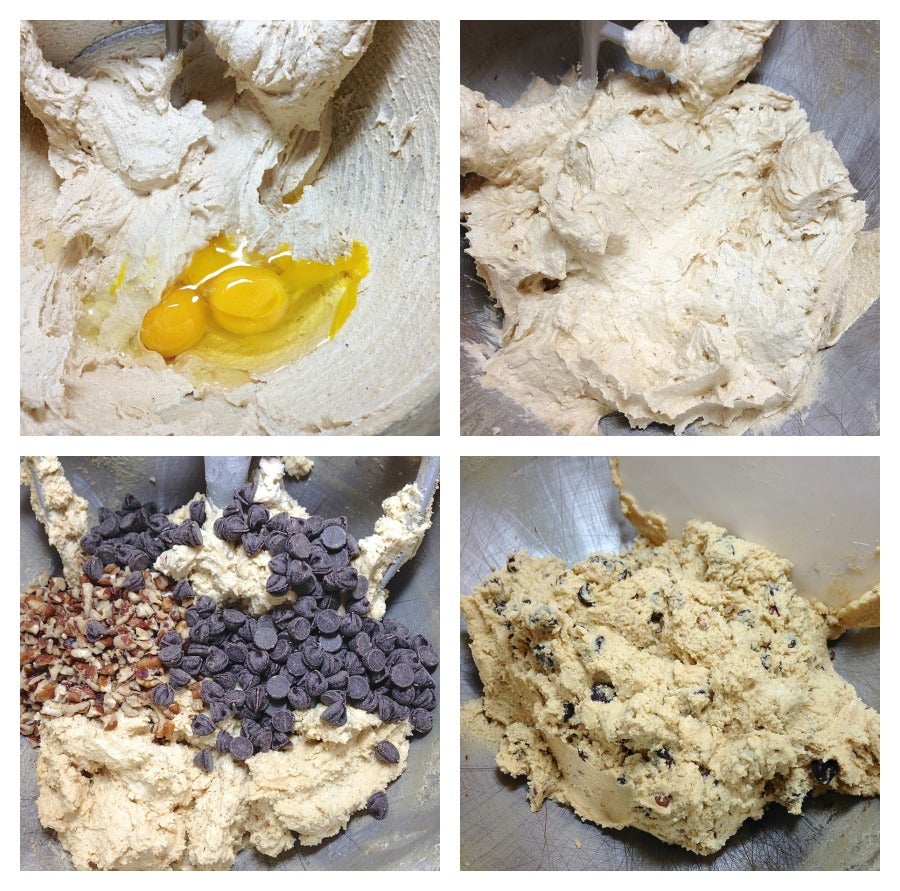 See how much lighter the batter is (upper left)?
Add 1 large egg, and 1 large egg yolk, beating for 1 minute.
Add 2 1/4 cups (269g) King Arthur Unbleached All-Purpose Flour, 1 teaspoon salt, and 1 teaspoon baking soda, beating on low speed just until everything is incorporated.
Use a spatula to fold in 1 cup (170g) bittersweet chocolate chips and 1/2 cup (57g) coarsely chopped pecans. Make sure to scrape the bottom and sides of the bowl, and incorporate any sticky stuff into the dough.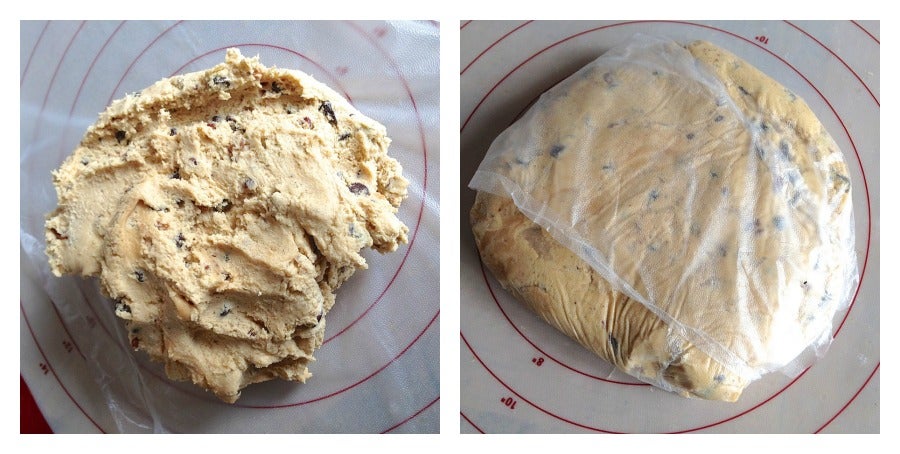 Scoop the dough onto a piece of parchment paper, waxed paper, or plastic wrap. Flatten it slightly into a thick disk, and refrigerate for at least 30 minutes.
About 15 minutes before you're ready to begin baking, preheat your oven to 350°F, with the racks in the center/upper third.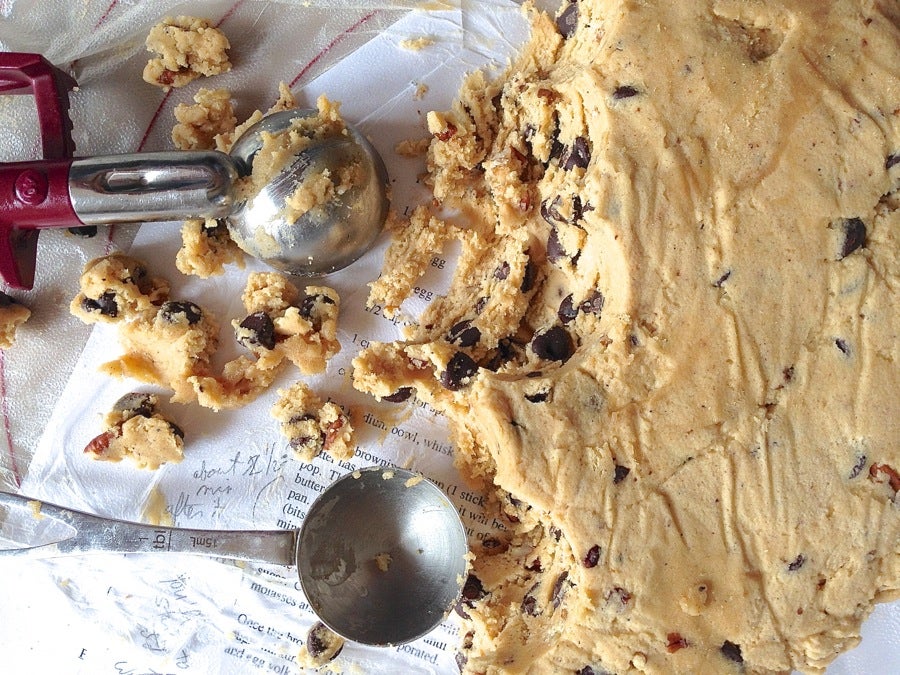 Scoop the dough in 2 tablespoon-sized balls onto the prepared baking sheets. A tablespoon cookie scoop, slightly heaped, is your tool of choice here. If you have a scale, each cookie will weigh about 1 ounce (28g).
Leave about 2" between the cookies; they'll spread as they bake.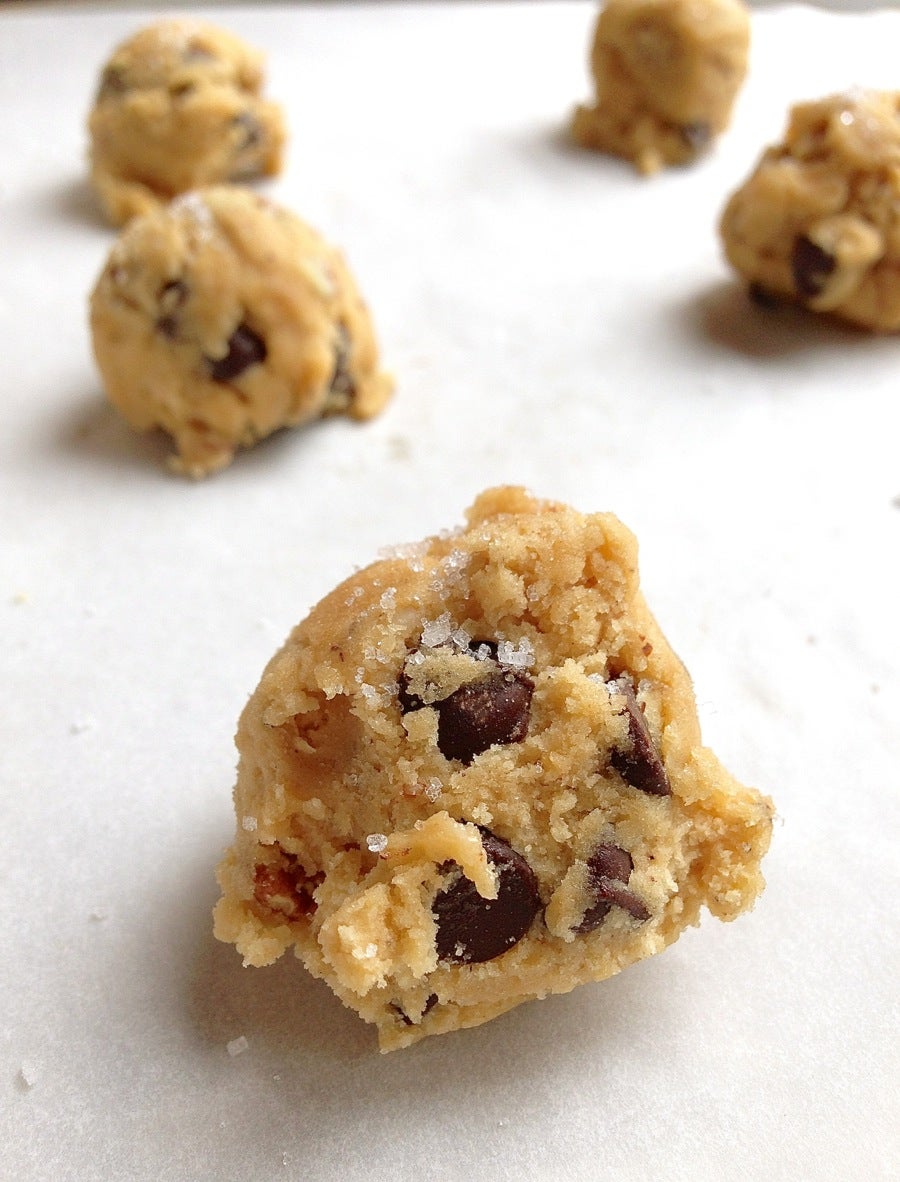 Sprinkle the cookies with coarse sea salt, to taste — as much or as little as you like.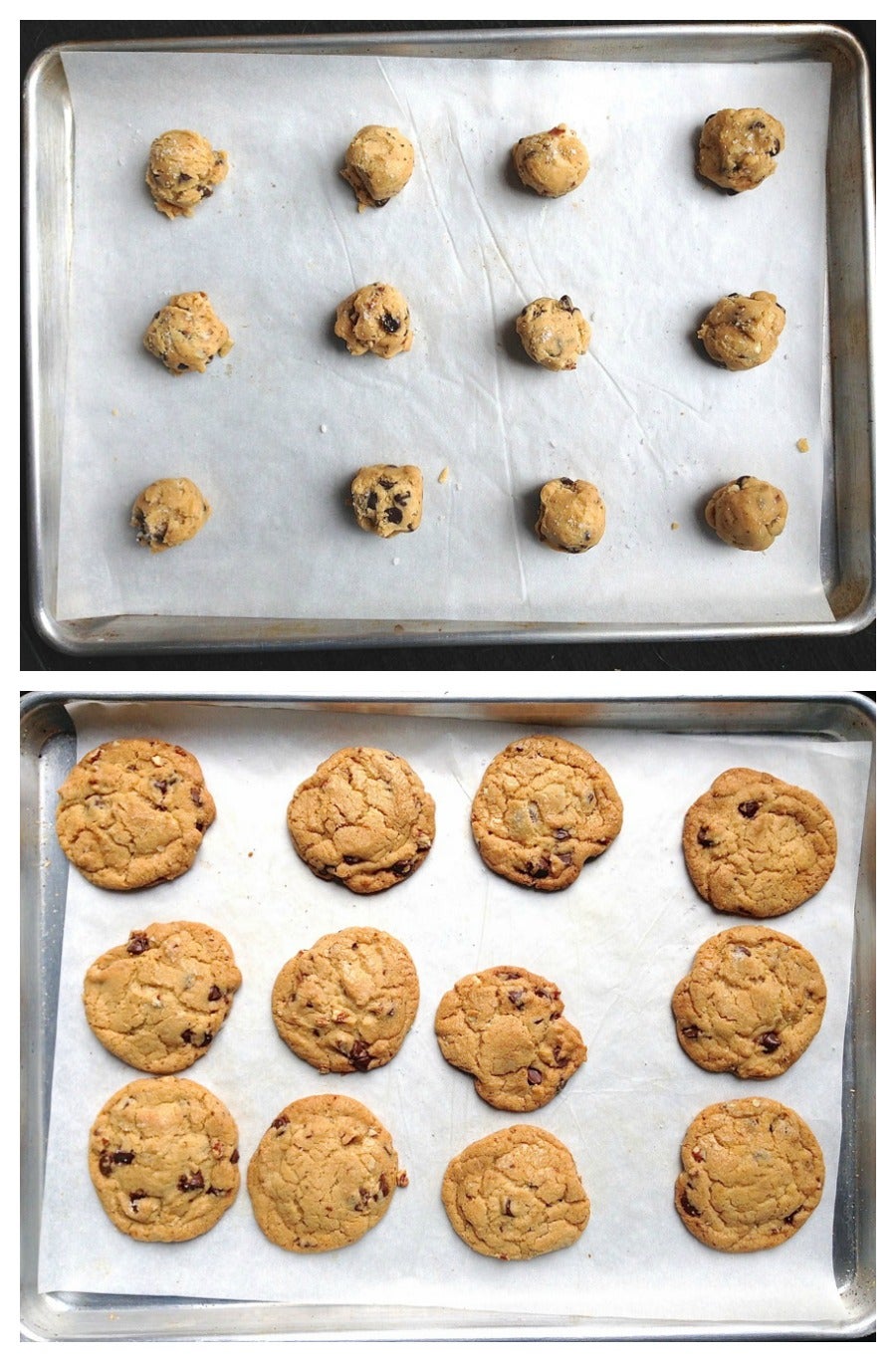 Bake the cookies for 12 to 15 minutes, until they're golden brown. The longer you bake them, the crunchier they'll be.
For the cookies to attain your own personal idea of textural perfection, bake a couple of cookies first, remove them from the oven, and let them cool. If they're the exact texture you like, bake the others the same way.
Yeah, it seems like a waste of time and oven heat. But how much better to end up with 2 dozen perfectly baked cookies, compared to 2 dozen cookies that are over- or under-baked, right?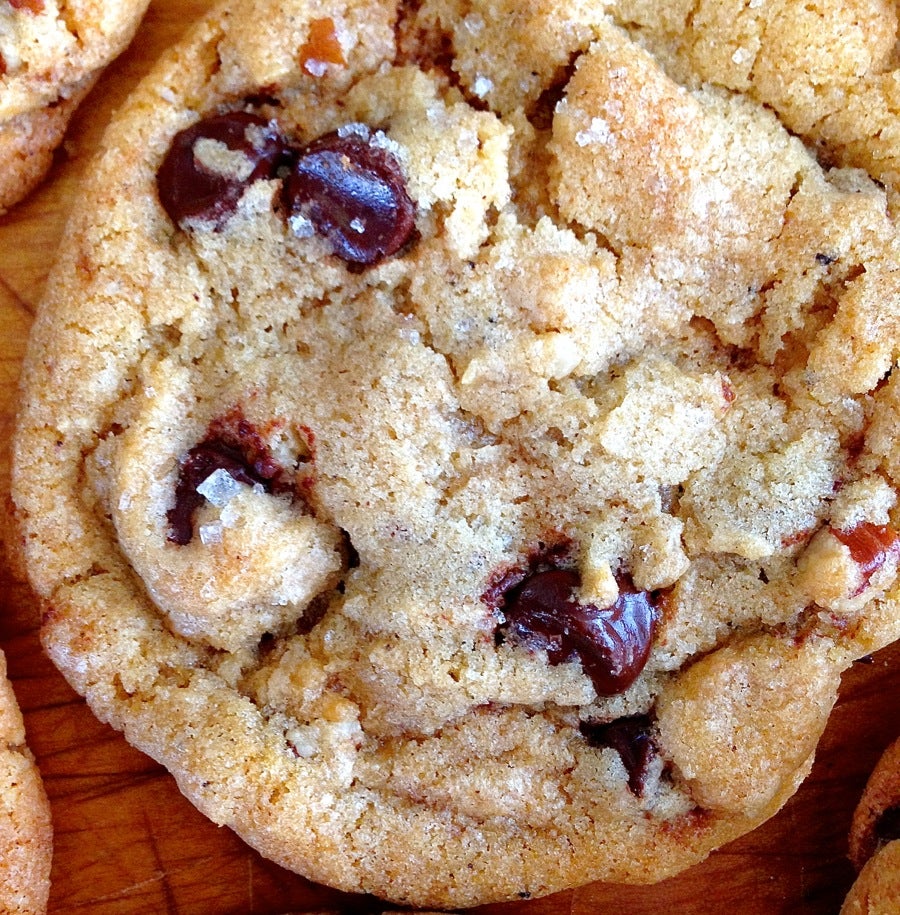 Remove the cookies from the oven. Go ahead, enjoy one warm.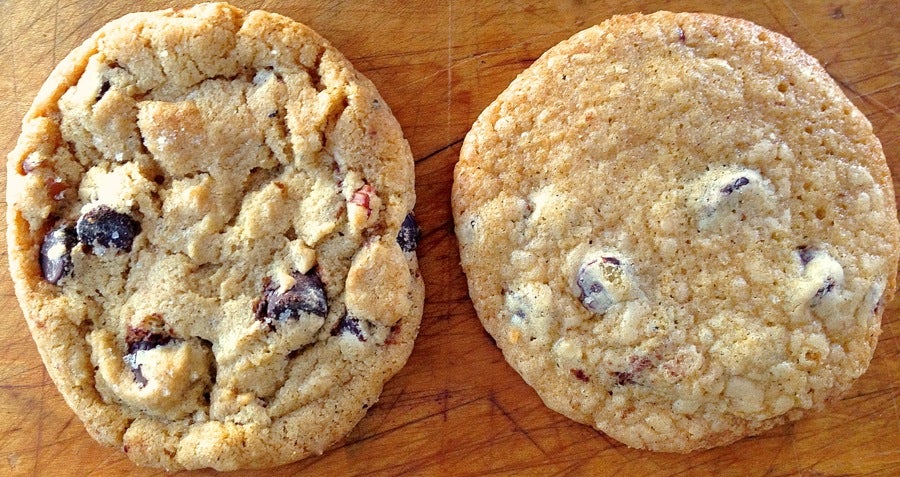 Just for fun, I made Joy's cookies side by side with one of the other recipes that came up on the first page of my "best chocolate chip cookie recipe" Google search.
That's Joy's cookie on the left. NO comparison – texture, flavor, appearance, or any other measure of goodness. Joy's cookie is the winner.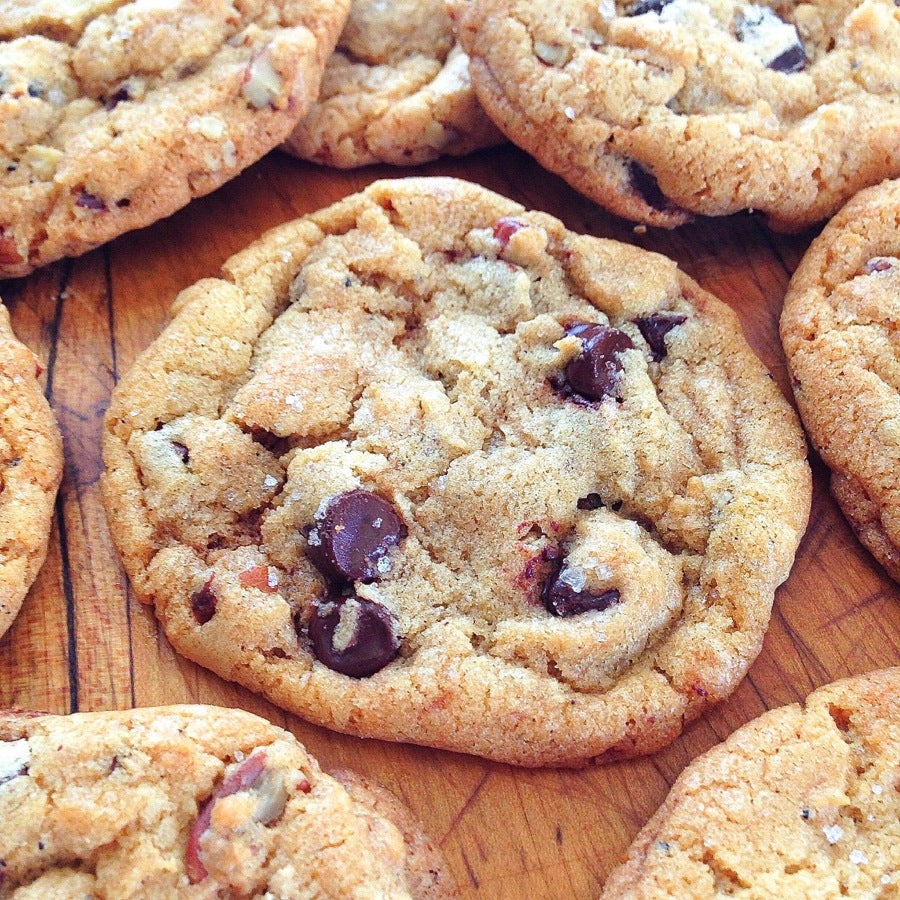 Talk about standing out in the crowd (of 10,800,000 - about).
Read, bake, and review Joy's recipe for Brown Butter Chocolate Chip Cookies with Pecans.
Jump to Comments