You like dense, chewy bagels, right?
How about bread stuffed and topped with melted cheese?
Ahhhhhhhsiago bagels! Wouldn't you just love to pop one of these babies in your toaster oven sometime soon?
You can – and it's easier than you think.
Back in the day, bagels were plain, poppy seed, onion, or sesame seed – with maybe a marble rye thrown in for special occasions.
Today, we have blueberry, chocolate chip, cranberry-walnut, "everything"... as you well know if you're an habitué of Panera Bread, the now-ubiquitous bakery/sandwich chain that offers all of the aforementioned flavors, and more – including what might be Panera's most popular bagel, Asiago cheese.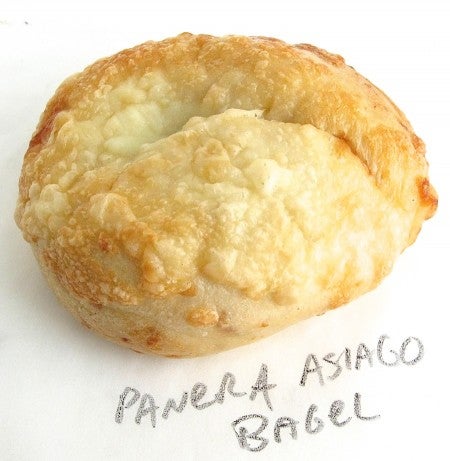 With chunks of Asiago inside and shreds of the cheese on top, this particular bagel is totally cheesy – in the best of ways.
Yes, due diligence forced me to eat a Panera Asiago bagel, and boy, was it good!
As any self-respecting baker would do, I said to myself, "Self, I can make this at home."
I visited Panera's Web site to check the ingredients, as I often do when trying to mimic a restaurant recipe. And here's what I found:
Unbleached enriched wheat flour (flour, malted barley flour, niacin, reduced iron, thiamine mononitrate, riboflavin, folic acid), water, Asiago cheese (pasteurized milk, cheese culture, salt, enzymes), bagel base (sugar, salt, malted barley flour, calcium sulfate, calcium carbonate, molasses powder [molasses, wheat starch], yeast, soybean oil, ascorbic acid, enzymes [wheat]), brown sugar, yeast, Asiago cheese (pasteurized milk, cheese culture, salt, enzymes).
If you can get past all the parentheses, it's really not a bad ingredient list. Still, we can do without the "bagel base" and added enzymes; in fact, I know I can make a wonderfully chewy Asiago cheese bagel, packed with flavor, using just five ingredients: flour, water, salt, yeast, and Asiago cheese.
And if I can do it, so can you. After all, that's what we at King Arthur Flour are here for – to take you by the hand, and to show you, in detail, how to create something wonderful from simple, pure ingredients.
And to be there for you whenever you have a question – (855) 371-2253 is our Baker's Hotline number; keep it handy.
Want to make bagels? Let's do it.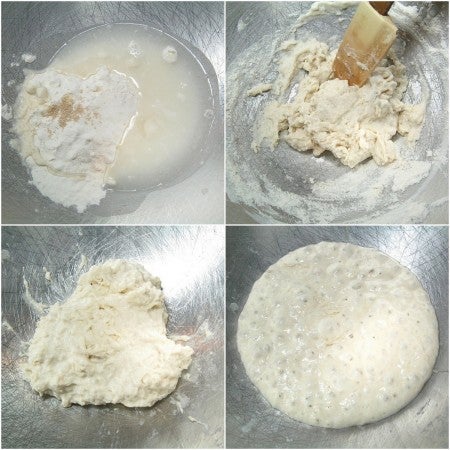 To make the starter: Measure the following ingredients into a medium-sized bowl –
1/2 cup (57g) King Arthur Unbleached Bread Flour
1/4 cup (57g) cool water
pinch of instant yeast (about 1/16 teaspoon)
Stir thoroughly, making sure any dry flour in the bottom of the bowl is integrated (photo, upper right).
Cover the bowl, and let the starter rest at room temperature overnight.
Want to use all-purpose instead of bread flour in this recipe? You can do that. Your bagels won't be as chewy or have that distinctive bagel texture (which comes from bread flour's higher protein), but they'll still taste good. Cut the water in the dough (below) back by 2 to 3 tablespoons.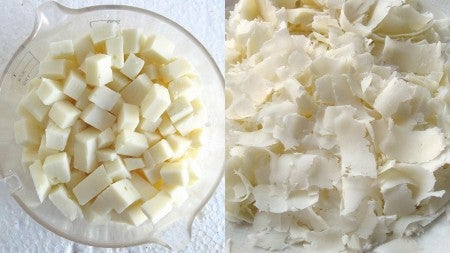 Next day, ready your Asiago cheese. You'll need 3/4 cup (113g) diced Asiago (about 1/2" chunks are a good size), and 3/4 cup (85g) shredded.
I've used a vegetable peeler to get these nice, wide shreds. About 7 to 8 ounces of cheese will do it.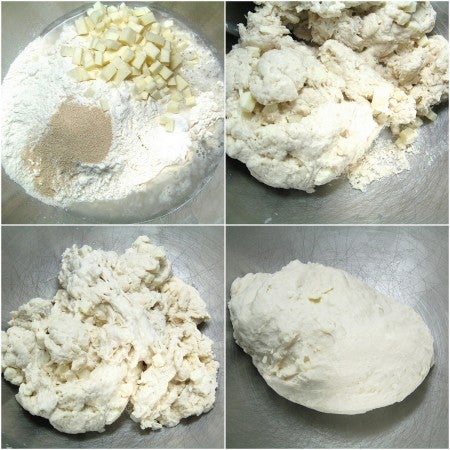 To make the dough: Mix together the following in a large bowl (or the bucket of your bread machine) –
all of the starter
4 cups (482g) King Arthur Unbleached Bread Flour
1 1/4 cups (283g) cool water
1 3/4 teaspoons salt
1 1/2 teaspoons instant yeast
3/4 cup diced Asiago cheese
Knead — by hand, electric mixer, or bread machine — to form a stiff but not dry dough. Since we're using a high-protein bread flour here, you might notice it takes a bit more effort and time to develop the gluten.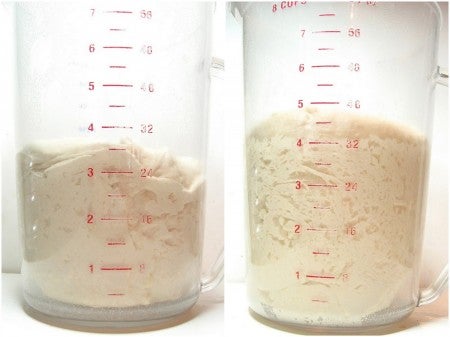 Place the dough in a lightly greased bowl or large (at least 8-cup) measuring cup, cover, and set it aside to rise for 1 hour.
Gently deflate the dough, and let it rise for another 30 minutes.
While the dough is rising, prepare a water bath by heating the following:
5 cups water (approximately)
1 tablespoon baking soda
1 tablespoon non-diastatic malt powder or brown sugar
Pour the water into a wide-diameter (about 10") pan; a 10" electric frying pan works well here. The water should be at least 1" deep; add more if necessary.
Bring the mixture to a very gentle boil. Simmer, stirring frequently, until the baking soda has dissolved, then turn off the heat.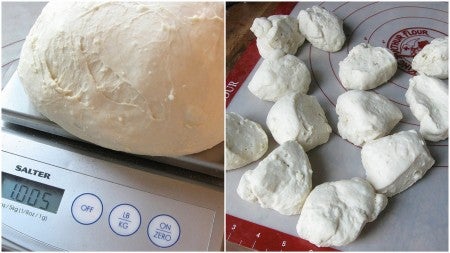 Gently deflate the risen dough, transfer it to a work surface, and divide it into 12 pieces. A scale makes it easy to divide the dough evenly.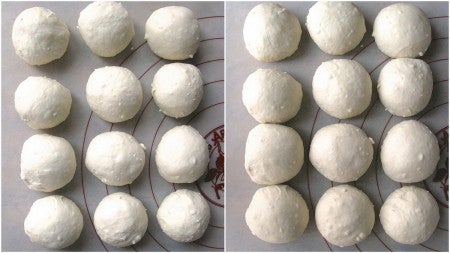 Roll each piece into a smooth, round ball. Cover the balls with plastic wrap, and let them rest for 30 minutes. They'll puff up very slightly.
Preheat your oven to 425°F. Bring the water in the pan back to a simmer/slow boil.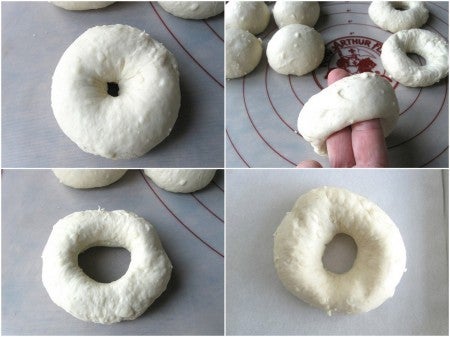 Use your index finger to poke a hole through the center of each ball, then twirl the dough on your finger to stretch the hole until it's about 2" in diameter (the entire bagel will be about 3 1/2" across).
Place each bagel on a lightly greased or parchment-lined baking sheet, and repeat with the remaining pieces of dough.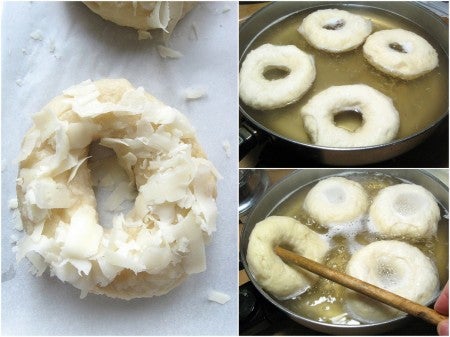 Transfer the bagels, four at a time if possible, to the simmering water. Increase the heat under the pan to bring the water back up to a gently simmering boil, if necessary. Cook the bagels for 2 minutes, flip them over, and cook 1 minute more.
Using a skimmer or strainer, or the end of a wooden spoon, remove the bagels from the water and place them back on the baking sheet. Top each wet bagel with some of the shredded cheese. Repeat with the remaining bagels.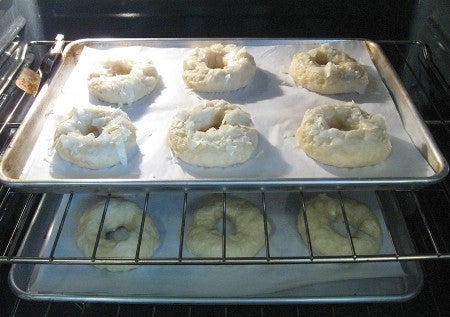 Bake the bagels for about 25 minutes, or until they're as deep brown as you like.
Notice the bagels on the bottom rack don't yet have their cheese topping; I was experimenting to see if it was better to add the cheese right at the beginning, or midway through the bake. Cheese at the beginning won, producing a nicer-looking bagel.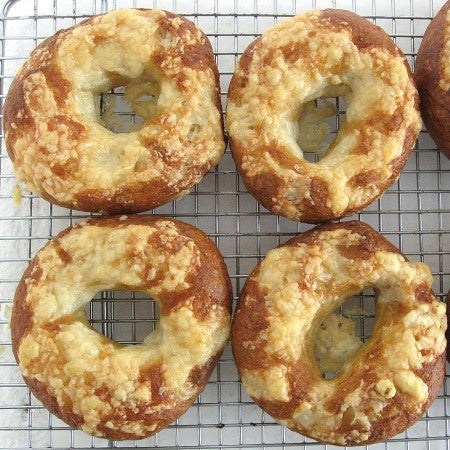 Remove the bagels from the oven, and cool completely on a rack.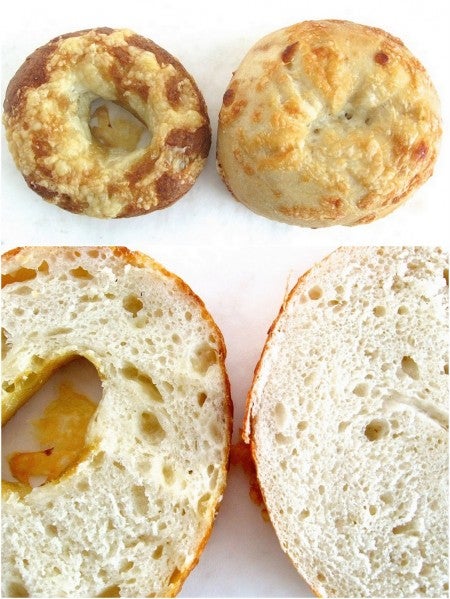 So, here's the final result: our Asiago bagels on the left, Panera's on the right.
Panera's is fatter, with a smaller hole in the center; if that's the look you like, simply let your bagels rise for awhile after you've poked their holes, rather than simmering them right away.
One caveat: don't let them rise too much; they'll become fragile, and might deflate during boiling.
As for the interior – I prefer ours. Those nooks and crannies, just as with English muffins, are awesome for holding melted butter or soft cream cheese...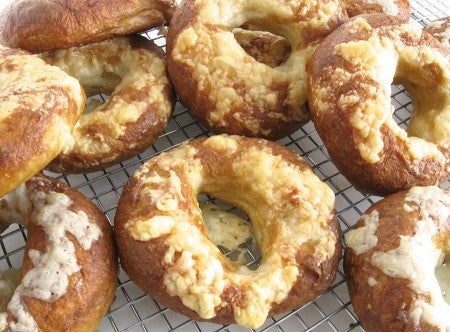 ... or smoked salmon, or capers and chopped onion, or... what's your pleasure?
Read, bake, and review (please) our recipe for Asiago bagels.
Jump to Comments