Une baguette integrale?
Mais non - c'est incroyable!
Such might be the reaction of any self-respecting Parisian, who'd no doubt scoff at a whole-wheat version of France's beloved baguette.
But as a new year dawns, and you vow – AGAIN – to eat healthier, get a little sauvage et fou: try this baguette.
I mean, if Panera can pull it off, why not you?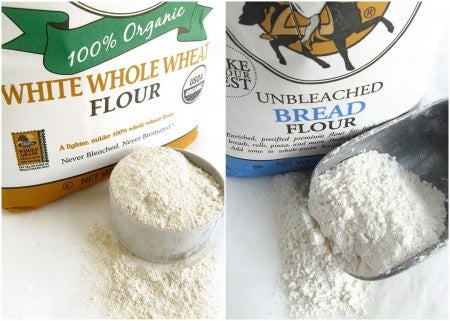 Since a baguette is nothing more than flour, water, salt, and yeast, the two ingredients that will do more to ensure your whole-grain baguette success than any other are whole wheat flour, and bread flour.
I happen to love our white whole wheat flour, a lighter-colored, milder-flavored 100% whole wheat. I especially like the organic version for bread; it seems to provide extra oomph in the rise.
In order to get anything approaching the light texture and large holes of a classic baguette, we're going to combine our whole wheat flour with some unbleached bread flour, whose extra gluten will help the loaves rise.
If you don't have bread flour, and don't want to add another flour to your pantry, substitute unbleached all-purpose flour. You'll want to reduce the water by 1 to 2 tablespoons, to account for all-purpose flour's lower protein level.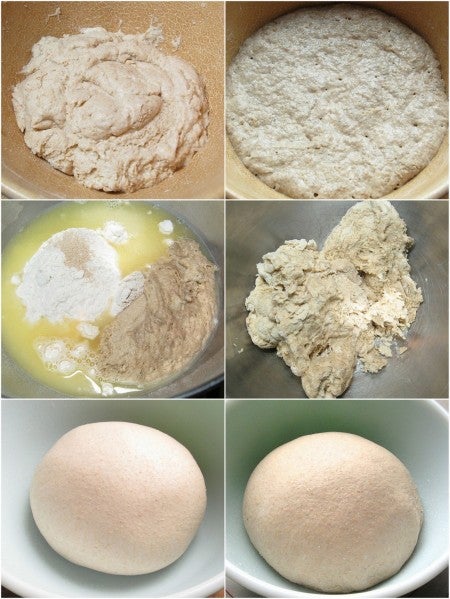 OK, let's get started – with a starter.
Mix the following ingredients in a small (2- to 3-cup) bowl:
1 cup (4 ounces) King Arthur White Whole Wheat Flour or Premium Whole Wheat Flour
1/2 cup cool water
pinch (about 1/16 teaspoon) instant yeast
Cover the bowl, and let the starter rest overnight at room temperature.
If your house is very cold at night, try to find the starter a somewhat cozy place to rest. You don't want it really warm, but about 65°F-70°F will keep it happy. Near (not on) the wood stove or another heat source, or atop the water heater, would be good choices.
Next day, you'll see that the starter has expanded and become bubbly. In a large mixing bowl or the bucket of your bread machine, combine this risen starter with the following ingredients:
3/4 cup + 2 tablespoons lukewarm water
1/4 cup room-temperature orange juice*
1 1/4 cups (5 ounces) King Arthur White Whole Wheat Flour or Premium Whole Wheat Flour
2 1/4 cups (10 1/2 ounces) King Arthur Unbleached Bread Flour
1 1/2 teaspoons salt
1/4 teaspoon instant yeast
*Orange juice tempers the flavor of whole wheat, without adding any orange flavor of its own; substitute water, if desired.
Mix and knead — by hand, mixer, or bread machine set on the dough cycle — to make a dough that's cohesive, but whose surface may still be a tiny bit rough. If you're using a bread machine, cancel the machine after about 7 minutes of kneading.
Cover the dough, and let it rise for 3 to 4 hours, gently deflating it and turning it over once each hour; this helps oxygenate the dough (for the sake of the yeast), and redistributes the yeast.
You'll find this dough isn't an exuberant riser; whole wheat's sharp bran particles shred gluten, which means the dough is constantly releasing a bit of its CO2, like a tire with a slow leak.
Also, you may have noticed we're not using a whole lot of yeast. Why not? Because we're giving this bread a couple of long, slow, cool rises, to increase its rich flavor; and slow, cool rises prefer less (rather than more) yeast.
Note the bottom two pictures in the series above; the one on the left is the dough before its first rise, while the shot on the right is that same dough, 2 hours later (with a deflation at 1 hour). See what I mean? Though you can see that it's expanded a bit, it's not exactly filling the bowl.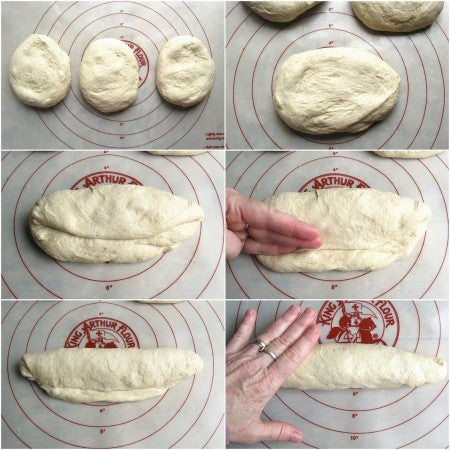 Turn the dough out onto a lightly greased or floured work surface, and divide it into three pieces.
Shape each piece into a rough, slightly flattened oval, cover with greased plastic wrap or the cover of your choice, and let rest for 15 minutes.
Working with one piece of dough at a time, fold the dough in half lengthwise, and seal the edges, as pictured. Flatten the dough slightly, and fold and seal again.
With the seam side down, gently roll the dough into a 16" to 17" log.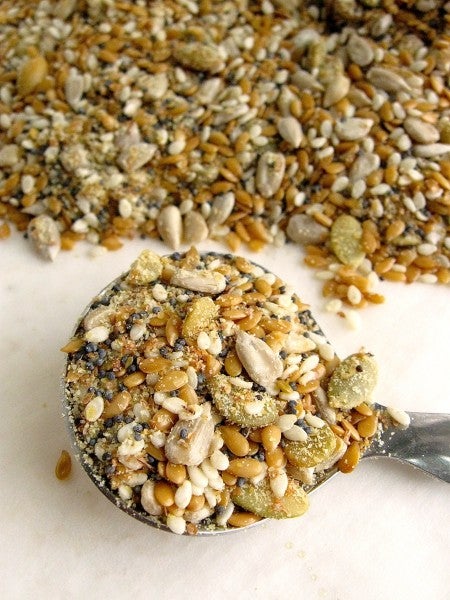 Now, you can leave your baguettes plain and simple, but I happen to love the nutty flavor of seeded bread. This seed mixture isn't something we sell here at King Arthur, nor is it mentioned in the recipe for these whole wheat baguettes. But since you're inquisitive enough to be reading this blog, here's a formula for a tasty bread topping, courtesy of Modern Baking magazine.
Mix the following:
2 ½ ounces brown flax seeds
2 ½ ounces golden flax seeds
2 ½ ounces sunflower seeds
2 ½ ounces sesame seeds
2 ½ ounces pumpkin seeds
1 ounce poppy seeds
1 ounce coarse yellow cornmeal or semolina
1 ounce wheat germ
If you don't have a scale, simply mix equal parts, by volume, of the first five seeds; and about half as much of each of the final three ingredients. Store in an airtight container, preferably in the refrigerator.
I only had golden flax seeds, so used 5 ounces of them, instead of 2 1/2 ounces each brown and golden.
Want to make up your own mixture? Go for it! I'm thinking some fennel seeds would be a nice addition next time...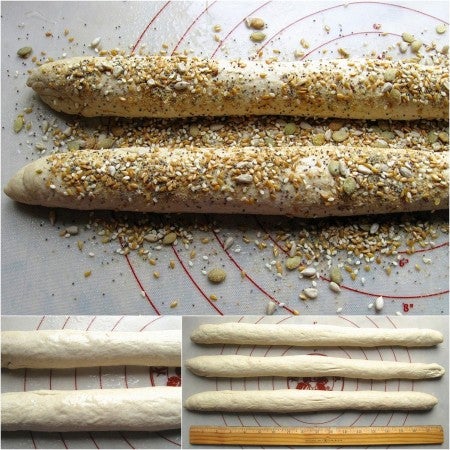 To add seeds, spritz the loaf with warm water, and sprinkle heavily with seeds. For complete coverage, top and bottom, sprinkle some seeds on your work surface, and roll the baguette back and forth through the seeds.
Lightly grease (or line with parchment) a large (13" x 18") baking sheet. Place the shaped baguette on the prepared baking sheet.
Repeat with the remaining pieces of dough, spacing them evenly lengthwise on the pan.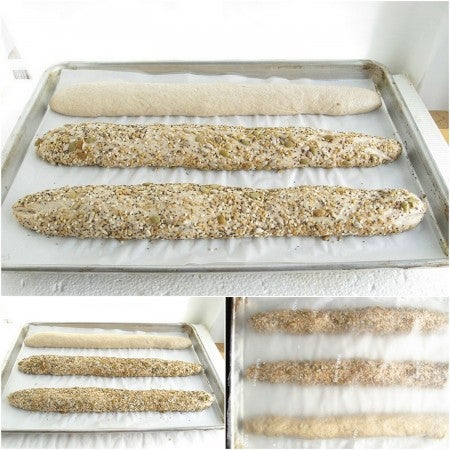 Cover the loaves with heavily greased plastic wrap, tenting it over them gently. Allow them to rest for 30 minutes.
After 30 minutes gently remove the plastic wrap, grease it again, and re-cover the loaves. Again, drape the plastic gently; you don't want to anchor it to the sides of the pan.
Refrigerate the loaves overnight.
Next day, let the loaves rest at room temperature, covered, for about 1 1/2 hours. Towards the end of their rising time, preheat your oven to 425°F.
Notice the loaves have indeed risen a bit (top picture), though again, the rise is nothing like that you'd get with a standard white-flour baguette.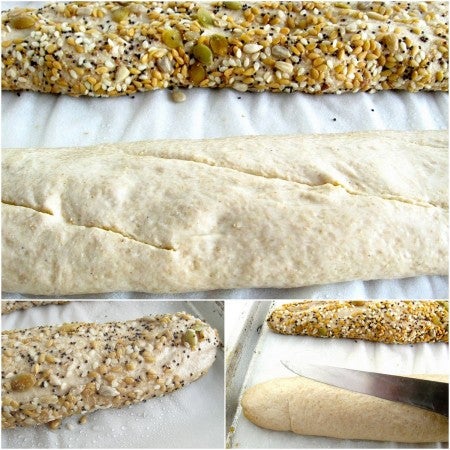 Uncover the loaves. Spritz them with warm water, and make 3 or 4 diagonal slashes in each.
This slashing guides how and where the baguettes will expand as they bake, and will help them attain an even, regular shape; but if you're afraid of slashing, that's OK.
Also, if you do slash, the loaves may start to deflate alarmingly; they'll be fine if you get them into the oven ASAP, so don't dawdle.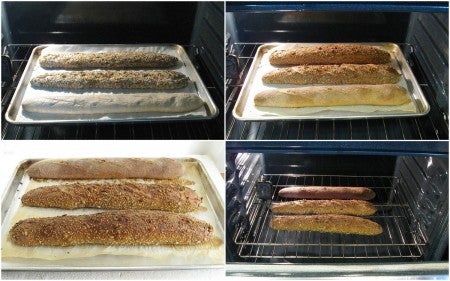 Place the pan on a middle oven rack, and bake the baguettes for 18 minutes. Notice how the loaf in front was sagging (from its slashing) going into the oven; but within 15 minutes or so, it was standing tall again.
Tent lightly with foil, and bake for an additional 5 to 10 minutes, until they're a deep, golden brown, and their sides and bottom are hard/crisp, not soft/spongy.
Remove the baguettes from the oven. Turn the oven off, crack it open a couple of inches, and place the baguettes on the oven rack (without the pan) to cool; this will increase their crisp crustiness.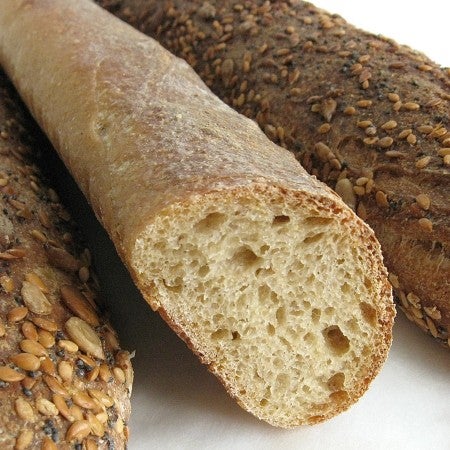 Pretty nice texture, eh? And the flavor, thanks to those long, cool rises, is good, too.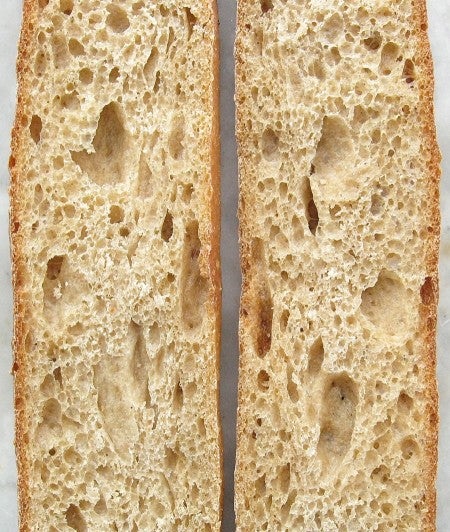 AWESOME holes! (Or, as our bakers would say, "nice crumb.")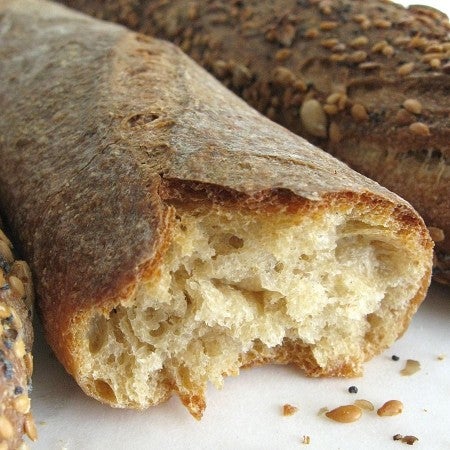 Serve baguettes the same day they're made, if possible. If not, store loosely wrapped (not sealed) in plastic; just before serving, heat in a preheated 350°F oven, tented with foil, until warmed through, about 10 minutes.
Question: Can you freeze the dough?
Well, for greatest stability and best results, I'd rather parbake any loaf you don't want to enjoy immediately, then freeze. Simply bake for 12 to 15 minutes, until the bread is completely set, but not totally browned. Remove from the oven, cool completely, wrap airtight, and freeze.
When you want to serve the bread, thaw it in the fridge overnight, still wrapped; then bake in a 425°F oven until it's a deep-dark brown.
Any other questions? Call our baker's hotline, (802) 649-3717.
Please read, bake, and review our recipe for Whole Wheat Baguettes.
Jump to Comments