Cranberry-Pumpkin Rolls
We're golden
No, this isn't trick photography. It's not Photoshop, or Instagram, or even iPhoto "warmed" to the ultimate.
These Cranberry-Pumpkin Rolls are really, really ORANGE. And they're going to look absolutely stunning in your Thanksgiving bread basket.
Think about it. How many foods in your diet are truly orange?
Well, there are oranges, of course. Carrots. Sweet potatoes and acorn squash.
Persimmons, and pumpkins, and papayas – once you open them up, that is.
Orange Jell-O. Cheetos.
And, in the bread aisle at your supermarket right now – Hostess Halloween Sno Balls (a.k.a. "Glo Balls").
But orange-hued baked goods? Beyond orange frosting on the Thanksgiving cupcakes, it's just not happening. Unless (make that until) you bake these Cranberry-Pumpkin Rolls.
Which are (did I mention?) really, really orange. And truly, truly tasty.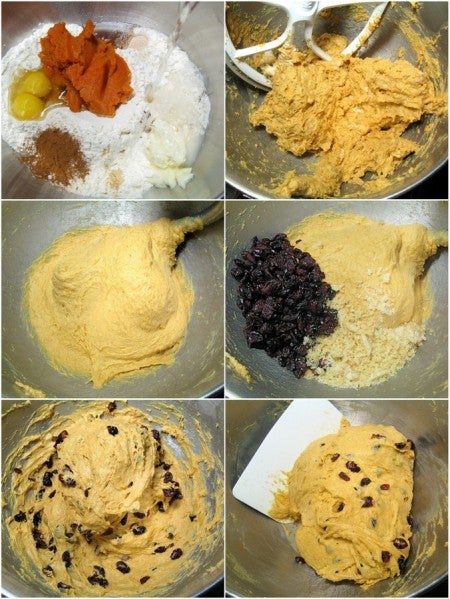 Place the following ingredients in a mixing bowl:
4 3/4 cups (567g) King Arthur Unbleached All-Purpose Flour
1 teaspoon cinnamon
1/4 teaspoon ginger
1/4 teaspoon cloves, optional
1/4 cup (50g) brown sugar, packed
1 1/2 teaspoons salt
1 tablespoon (10g) instant yeast
3/4 cup (170g) pumpkin purée or squash purée
2 large eggs
3/4 cup (170g) water
4 tablespoons (57g) butter, softened
Mix and knead until you've made a soft, fairly smooth dough. Pumpkin varies in water content, so add extra water  or flour if needed.
When the dough is almost fully kneaded, add 3/4 cup (128g) dried cranberries or golden raisins, and 1/4 cup (46g)diced crystallized ginger. Knead until evenly distributed throughout the dough.
If you don't have crystallized ginger (or don't like it), simply leave it out – or substitute additional cranberries/raisins.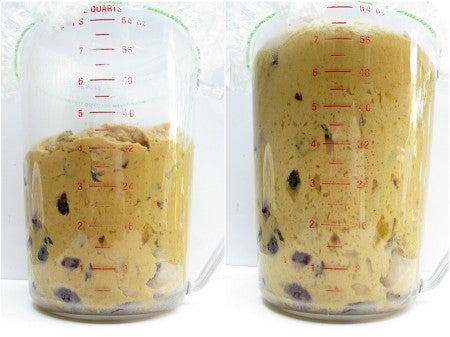 Place the dough in a lightly greased bowl (or 8-cup measure, as I've done here). Cover, and allow the dough to rise for 1 1/2 hours, until it's almost doubled in bulk.
If you bake a lot of bread, you might consider using a large measuring cup for raising your dough; it really does make it easy to track how far it's risen.
Turn the dough out onto a lightly greased surface, and gently deflate it.
For fairly large rolls, divide the dough into 16 pieces. A scale makes easy work of this task; the pieces will be roughly 2 3/4 ounces each.
Roll each piece into a ball. Place the rolls in the lightly greased cups of a couple of standard muffin pans (which will help them maintain their round shape); or onto a greased or parchment-lined baking sheet.
Or, my favorite method –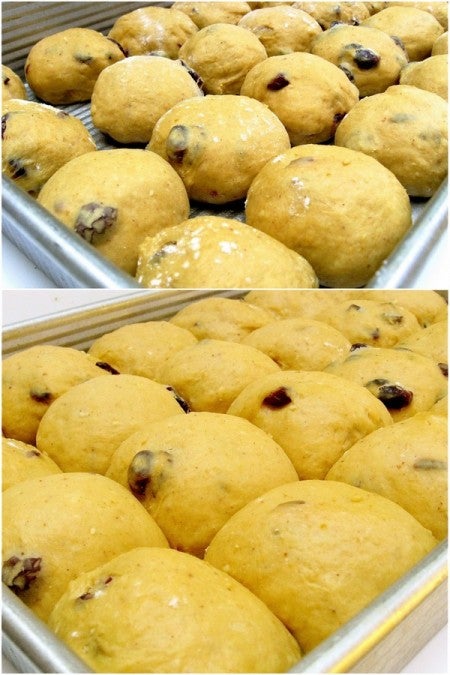 Divide the dough into 24 pieces, and place them in a 9" x 13" pan. I love these rolls' slightly smaller size, and the fact that they nestle close together in the pan and become pull-apart, soft-sided rolls.
Whatever size rolls and pan you choose, cover the pan lightly, and set the rolls aside to rise for 1 hour, or until they look puffy.
As you can see, they've snuggled together nicely in the 9" x 13" pan.
Towards the end of the rising time, preheat the oven to 350°F.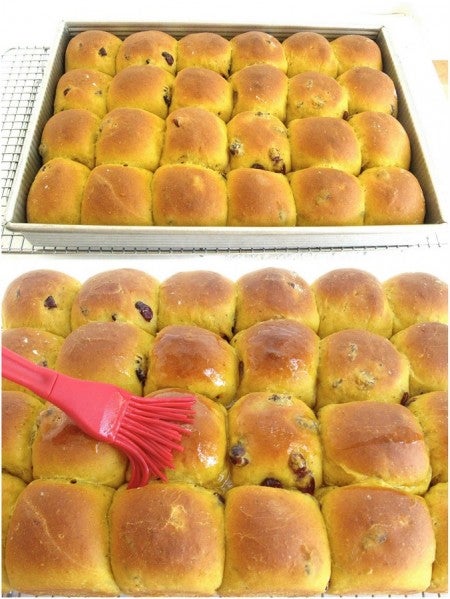 Bake the rolls for 25 to 30 minutes, until they're lightly browned and the center of one reads 190⁰F on an instant-read thermometer.
Remove the pan(s) from the oven and turn the rolls out onto a rack to cool. Brush them with melted butter, for a soft, satiny crust with extra-good flavor.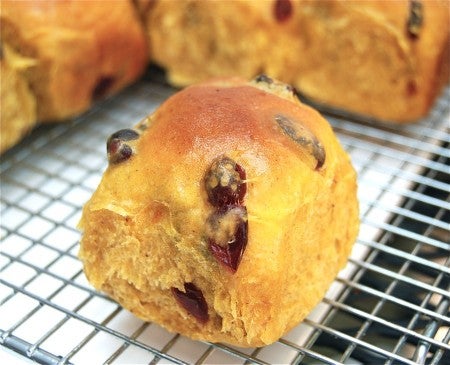 Good as gold!
Read, bake, and review (please) our recipe for Cranberry-Pumpkin Rolls.
Jump to Comments