You all know how the old rhyme goes...
"Peter, Peter, pumpkin eater, had a wife and couldn't keep her. He put her in a pumpkin shell and there he kept her very well."
Curious minds want to know though, what did Mrs. Peter do in there, anyway? Well...
I'm pretty sure she rolled up her sleeves, got out the kitchen tools, and set about making the first batches of pumpkin bread, pumpkin pie, pumpkin cookies, pumpkin rolls, and pumpkin cheesecake. She has the reputation of being a feisty kind of gal, so I'm thinking she wasn't going to sit about on a tuffet like some others in her time.
No cold porridge here; this lady was a great baker, I say, and we have her to thank for all our favorite pumpkin goodies.
Let's just be thankful he wasn't Peter, Peter, lima bean eater.*
To get started, make your favorite homemade pasta dough, or our basic pasta. For the filling, go to Savory Pumpkin Ravioli.
*Just kiddin'. I loves me my lima beans!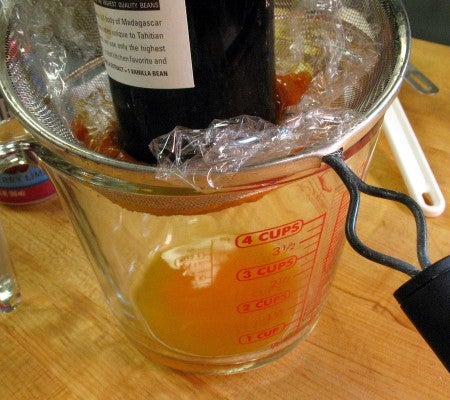 Have your fresh pasta dough prepared and ready to go if you're making the ravioli today. You can also make the filling up to 3 days ahead of time, and store it in your fridge until needed.
Place 1 cup (269g) pumpkin purée into a fine sieve over a catch-all cup. Cover with a layer of plastic wrap, and weigh the pumpkin down with a jar or can. You're looking to squeeze out liquid, but not squeeze the pumpkin through the sieve; so experiment with different weights if you need to. Leave the pumpkin to drain for about 15 to 20 minutes.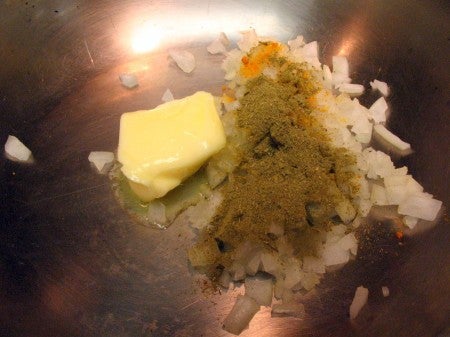 In a medium-sized skillet, sauté:
2 tablespoons (28g) butter
1/3 cup (34g) finely diced onion
1/8 teaspoon turmeric
1/2 teaspoon poultry seasoning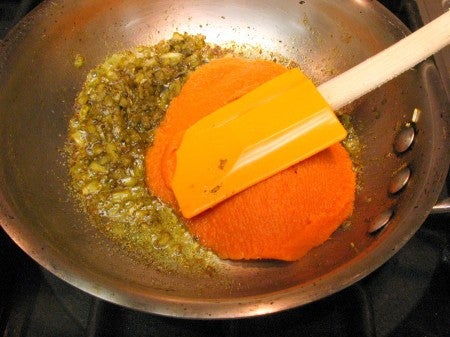 The onion will turn translucent, and the spices will get very fragrant.
Add the drained pumpkin. See how thick it is now? You'll notice, too, there's no liquid pooled around it in the pan. Just right!
Cook for another minute or two to heat the pumpkin well.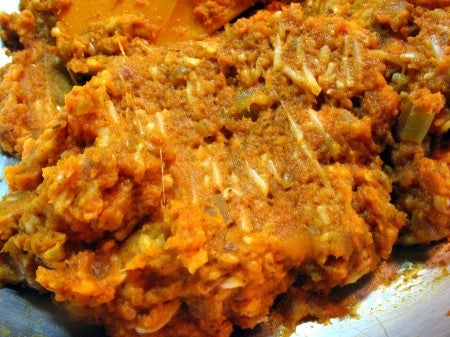 Add 1/2 cup (50g) shredded Parmesan cheese (the good kind, no powdered goo). Cook for a few minutes more, until the cheese has begun to melt and the flavors are well married.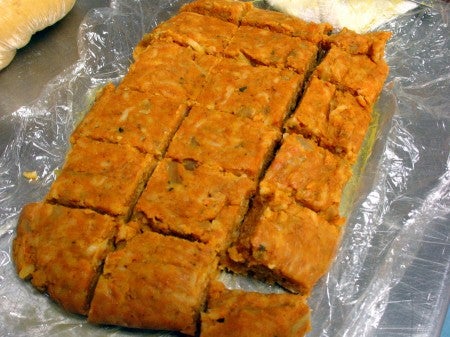 Cool the filling to room temperature, then shape into a rough rectangle and wrap well in plastic wrap if you're chilling to use at a later date.
If making ravioli right away, roughly divide the filling, keeping each piece more or less the same size for even cooking.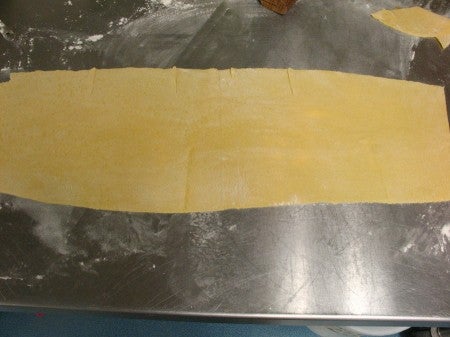 Roll out sheets of pasta on the next to thinnest setting of your pasta machine. Remember, a ravioli is made of two layers of pasta, and if they're too thick you'll end up with heavy, chunky ravioli.
Gently fold one sheet of pasta in half, and crease it. Unfold. You'll use the crease to help you space out the filling so that you can fold the top half of the sheet over the bottom.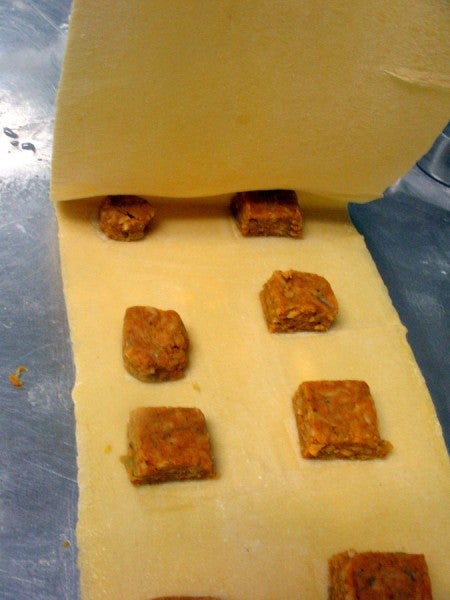 Like this. Easier to see than to explain.
Brush around the filling mounds with water or an egg wash (1 egg beaten with a splash of water) to help seal the two sheets together. Fold the top half over the bottom half, and press down with your fingers to seal.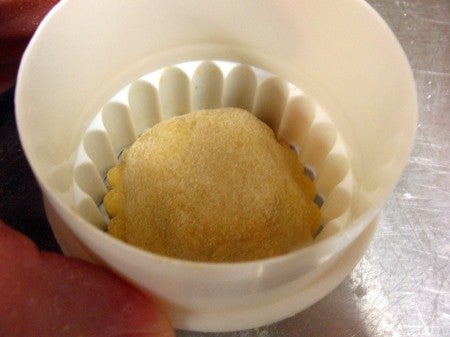 Use a sharp biscuit cutter or knife to cut out each individual ravioli. I'm going fancy here and using a 2" scalloped cutter.
At this point, you can place the cut-out ravioli on a lightly floured baking sheet and place them in the fridge until you're ready to cook them – but no more than an hour or so, or your pasta will begin to dry out. Dry pasta = cracked and leaky ravioli.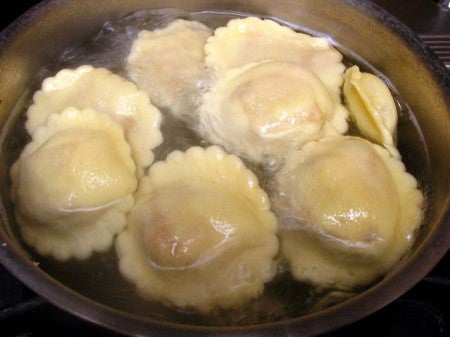 Cook the fresh pasta in salted, gently boiling water for about 4 to 5 minutes, or until they float. Once they float, cook for another minute or two. Feel free to taste one as you go along; it's really the only way to know exactly when the pasta is done.
According to Rosemary, my pasta instructor, the water that you cook pasta in should taste like the ocean. It doesn't make your pasta taste overly salty, but it's much, much better tasting than pasta cooked in plain water.
You can serve the ravioli as is, with a touch of butter or drizzle of light olive oil. I like to sizzle a little butter in a pan with some sage leaves and sauté the cooked pasta in it for a minute before serving.
These ravioli would be excellent with a light cream sauce, too, topped with a few pine nuts. Hmmm, being locked away in a pumpkin with a plateful of these ravioli wouldn't exactly be a punishment, now would it?
Please make, rate, and review our recipe for Savory Pumpkin Ravioli.
See other great fresh pasta recipes by searching "pasta" on our recipe site. 
Jump to Comments