PLOP!
The sound of cranberry sauce being dropped from its can onto a serving plate.
"Ahhhhh...." The sound of an appreciative dessert-lover enjoying a bite of buttery, tender, tart-sweet cranberry cake.
PLOP is OK. But "Ahhhh..." So much more satisfying, when you're a DIY-type person.
Read: home baker.
Being a Massachusetts gal, I admit to a certain nostalgic fondness for cranberries. Along with Wisconsin, southeastern Massachusetts provides America with most of its cranberry crop; I grew up across from a cranberry bog, and regularly drove past the headquarters of Ocean Spray, an agricultural cooperative with over 600 member farms.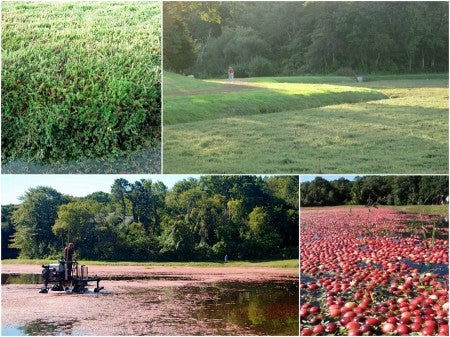 From a distance, the typical summer cranberry bog looks like a simple green field. But get closer, and you'll see a mass of tangled bushes set into a declivity in that field.
Around the edges of the field runs a water-filled trough – a portent of things to come.
When the berries are bright red and ready to harvest, one of two things will happen.
If the bog produces "consumer" cranberries, the kind you see in the produce section of your supermarket come November, the bushes are winnowed by machine, and the berries harvested much like wheat (only more gently).
If the cranberries are bound for cranberry juice or canned cranberry sauce, however, the bog is flooded. A machine sweeps up and down, churning the water and bushes and shaking loose the cranberries, which float to the surface of this temporary cranberry pond – where they're easily gathered in.
Most of them, anyway - there are always some berries left floating around the edges, fair game for anyone passing by with a strainer and basket.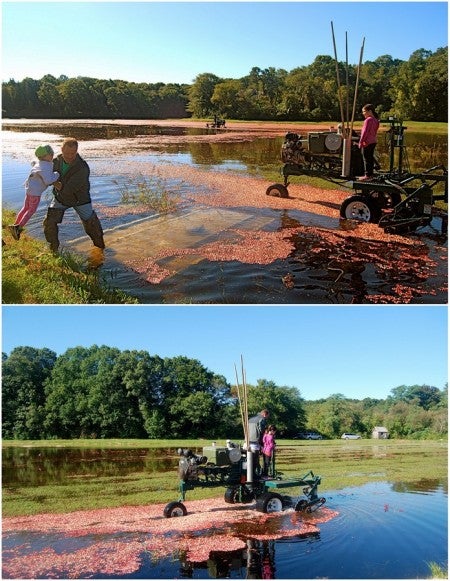 The cranberry harvest on Cape Cod is eagerly anticipated each fall by the locals.
Not only do they get to enjoy seeing a brilliant red floating carpet where formerly only green bushes showed; sometimes they get to help drive the machine, as well – as these two youngsters did on a recent sunny Sunday morning.
The end result?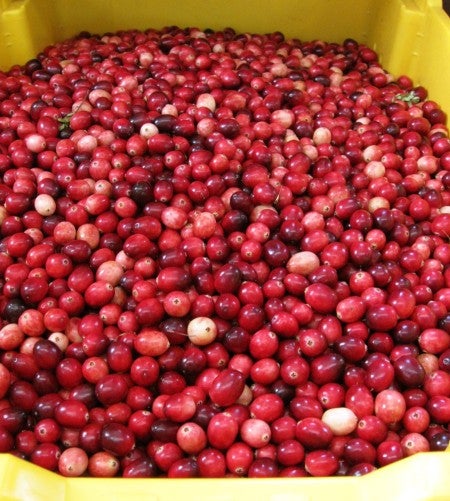 Cranberries. Lots and lots of cranberries, ready to freeze, cook, or turn into a pie or cake.
While our site lists over 100 cranberry recipes, only 30 call for fresh cranberries: a testament, perhaps, to the short seasonality of this bright red, wonderfully tart fruit.
And to its relative scarcity – only about 5% of the total cranberry crop is sold fresh, the rest being dried and sweetened, or processed into juice, sauce, and jam.
Our most popular fresh cranberry recipe? Cranberry Fudge Pie, a graham cracker crust holding a thick layer of dark chocolate topped with fresh whole-cranberry sauce.
One of my favorites? Cranberry sauce made in a Zo bread machine, a quick and easy way to serve warm, homemade sauce with your Thanksgiving bird.
And, my mom's favorite? Nantucket Cranberry Cake, a layer of sweetened fresh cranberries and walnuts topped with tender, moist yellow cake.
Hey, mother knows best, right?
Preheat the oven to 350°F. Lightly grease a 10" pie plate or 9" square cake pan.
Melt 1 tablespoon butter, and drizzle it into the bottom of the pan.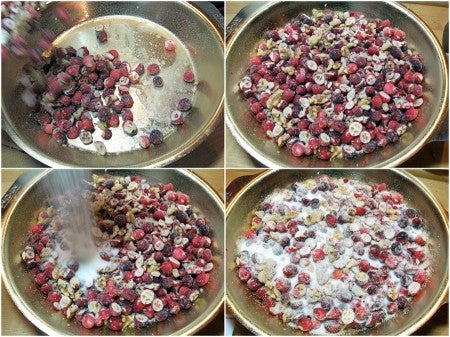 Spread 2 cups (about 8 ounces) fresh or frozen chopped cranberries and 1/2 cup chopped walnuts over the butter in the pan.
Sprinkle with 1/2 cup granulated sugar.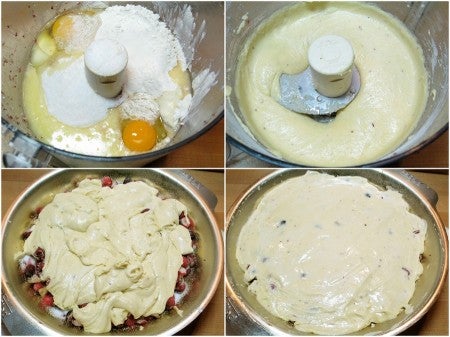 In a mixing bowl, or the work bowl of a food processor, combine the following to make a smooth batter:
2 large eggs
3/4 cup (12 tablespoons) butter, melted and cooled slightly
1 cup granulated sugar
1 cup (4 1/4 ounces) King Arthur Unbleached All-Purpose Flour
1/2 teaspoon salt*
1 teaspoon vanilla extract
1/4 teaspoon almond extract
*Reduce the salt to 1/4 teaspoon if you use salted butter.
No baking powder, no baking soda? Yes, that's right. This isn't a typo. Trust me; it works.
Spread the thick batter over the cranberries and nuts in the pan, using a spatula or your wet fingers. Sprinkle coarse white sparkling sugar atop the batter, if desired; it adds pleasant crunch.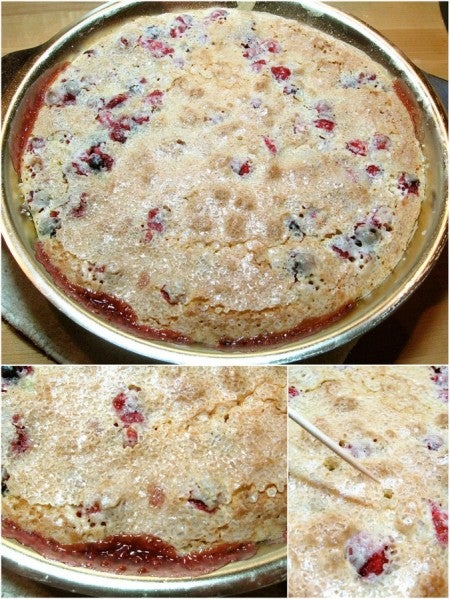 Bake the cake for 40 to 45 minutes, until the cranberries are bubbly, and a cake tester inserted into the center comes out clean of batter or crumbs.
Remove the cake from the oven.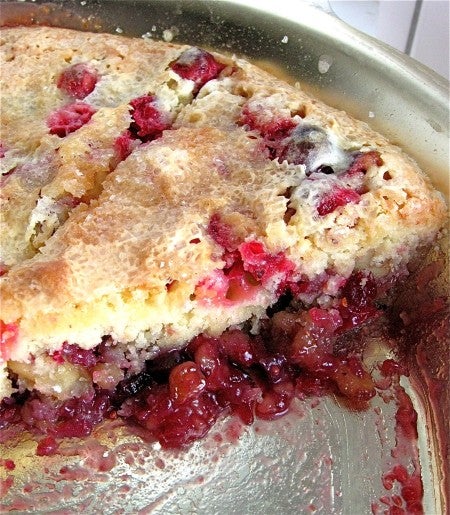 Serve warm, or at room temperature.
Yes, it looks messy. But believe me, you won't be able to resist taking surreptitious swipes of that wonderfully tart-sweet cranberry-nut filling.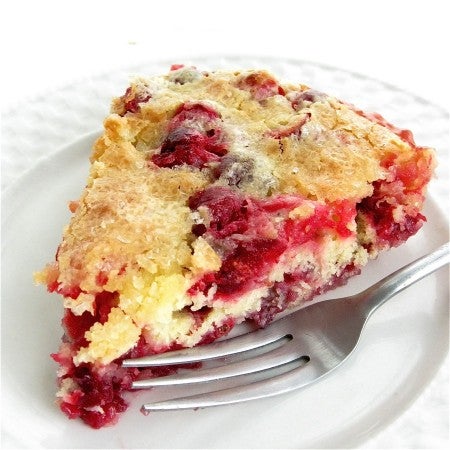 Serving this cake unadorned is fine – though a rich dollop of whipped cream or scoop of vanilla ice cream certainly wouldn't be amiss...
Read, bake, and review (please) our recipe for Nantucket Cranberry Cake.
Jump to Comments