Cinnamon-Apple Raisin Challah
Sweet circle of life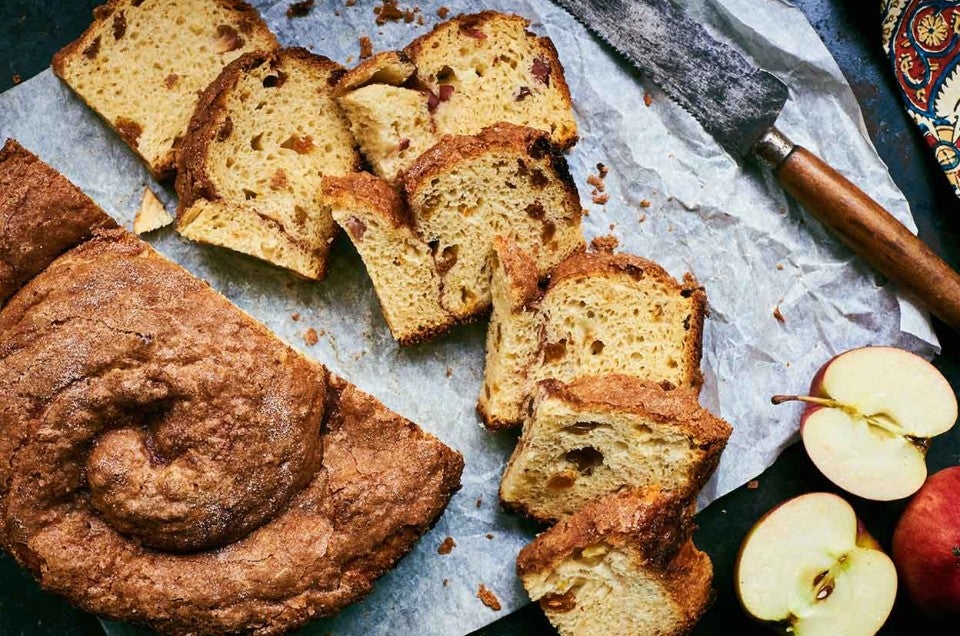 Happy Rosh Hashanah! Have you made your challah yet?
Challah is typically made as a long, braided loaf, its crust a shiny golden brown from a glaze of beaten egg applied before baking.
But Rosh Hashanah challah, which celebrates the Jewish new year, often appears in a spiral — signifying the circle of life.
This particular challah is studded with fresh apple and raisins, and rolled in an aromatic coating of cinnamon-sugar — autumn flavors to complement the September Rosh Hashanah holiday.
Don't observe Rosh Hashanah? Try this challah anyway. You can never go wrong with apples, cinnamon, and raisins, right?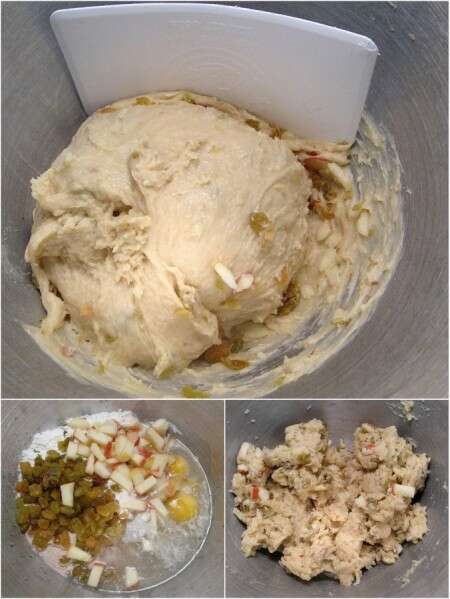 Place the following in a mixing bowl:
1/2 cup (113g) lukewarm water
6 tablespoons (74g) vegetable oil
2 large eggs
2 tablespoons (43g) honey
4 cups (482g) King Arthur Unbleached All-Purpose Flour
1 3/4 teaspoons salt
4 teaspoons instant yeast, SAF Gold instant yeast preferred*
3/4 cup (128g) raisins, regular, golden, or a mixture
3/4 cup (78g) diced apple (1/2" cubes); leave the skin on, if you like
*If you use regular (SAF Red) instant yeast, you'll see an increase in your rising times.
Combine all of the dough ingredients and mix and knead them, by hand, mixer, or bread machine, until you have a soft, smooth dough (as pictured at top, above).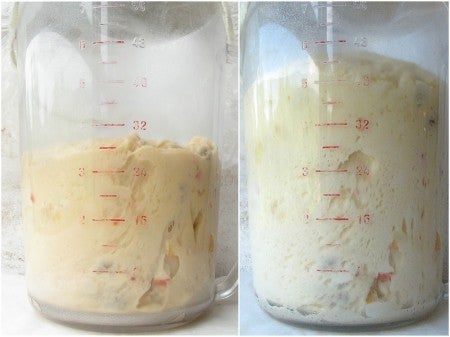 Allow the dough to rise, covered, for about 1 to 2 hours (or more, if you don't use SAF Gold yeast), or until it's puffy, though not necessarily doubled in bulk. An 8-cup measure is a handy tool for tracking the dough's rise.
Gently deflate the dough, and transfer it to a lightly greased work surface.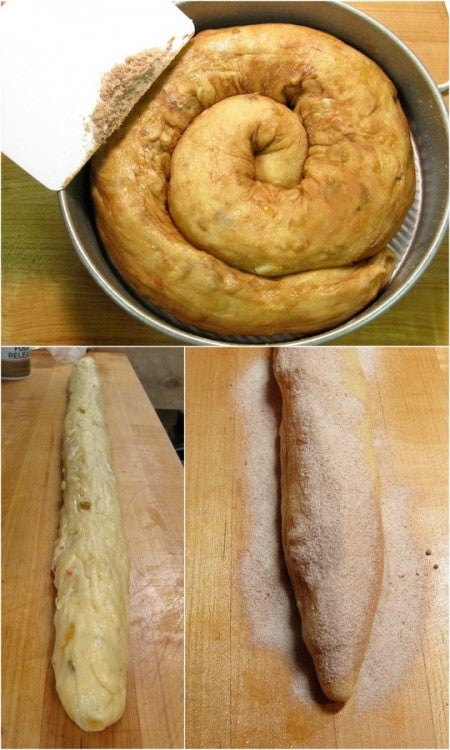 Pat and roll the dough into a 36" rope, tapering one end. Poke any raisins or apple bits sticking out of the dough back underneath the dough's surface; this will help prevent them from burning in the oven.
Sprinkle the dough with cinnamon-sugar, rolling it around to coat as completely as possible.
Starting with the tapered end, coil the rope loosely into a lightly greased 9" round cake pan, starting at the center and working outwards. Scrape any extra cinnamon-sugar off the counter, and sprinkle it atop the coiled dough.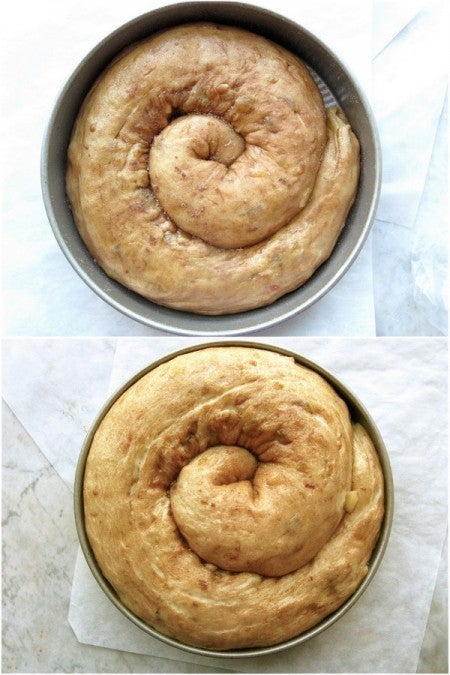 Cover the loaf with lightly greased plastic wrap (or place it in a proof box), and let it rise until it's very puffy, 60 to 90 minutes.
Towards the end of the rising time, preheat the oven to 375°F.
Whisk together 1 large egg white and 1 tablespoon water, and brush this glaze over the risen loaf.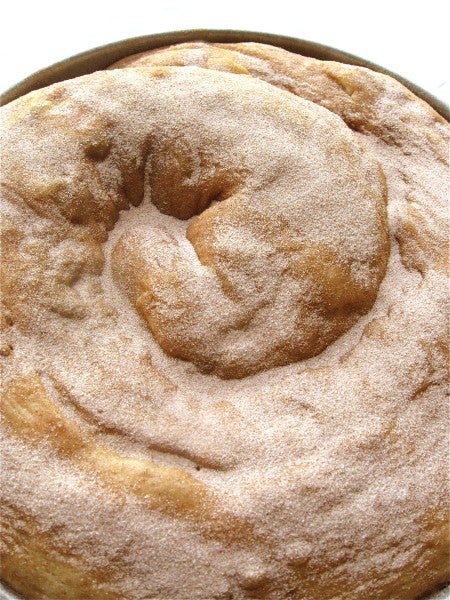 Sprinkle with additional cinnamon-sugar, if desired.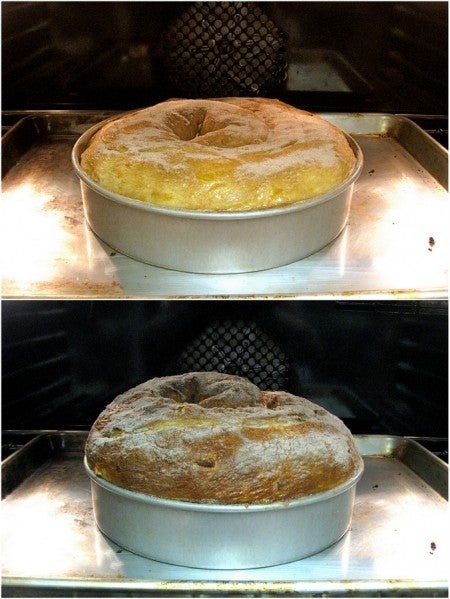 Place the cake pan atop a baking sheet; this will insulate the bread's bottom crust, and keep it from browning too much.
Put the challah in the lower third of the oven, and bake it for 20 minutes.
Tent the challah loosely with aluminum foil, and bake for an additional 18 to 22 minutes, until the loaf is golden brown.
An instant-read thermometer inserted into the center will register 200°F or above.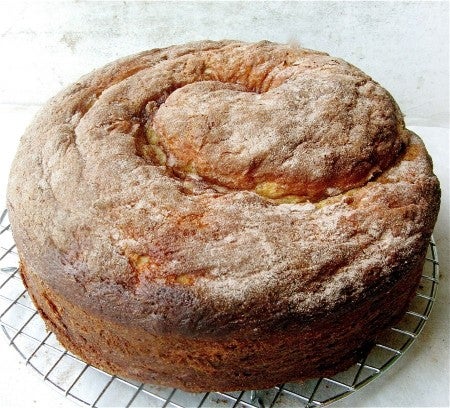 Remove the bread from the oven, carefully turn it out of the pan, and place it on a rack to cool.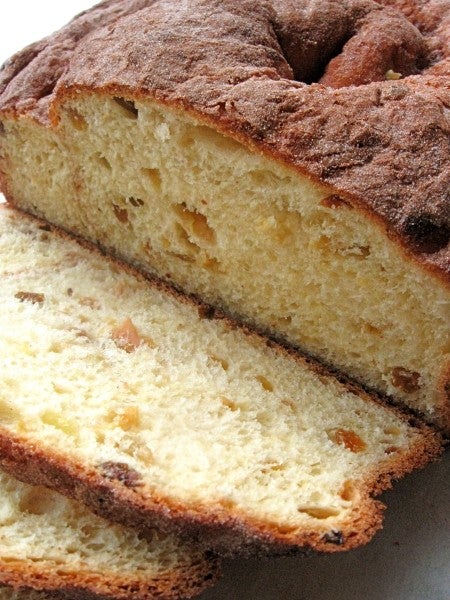 For best results, wait until the bread is completely cool before slicing.
Oh, and if there are any leftovers, consider apple-cinnamon raisin French toast; nothing could be finer.
Read, bake, and review (please) our recipe for Cinnamon-Apple Raisin Challah.
Jump to Comments