Make braided babkallah
A babka + challah mashup from Claire Saffitz
When it comes to bread-baking, few loaves are as enticing as the twisted, intricate braid of challah — like a warm pair of slippers on a cold night, ready to envelop you in pillowy comfort.
Except there's also the decadent spirals of babka, threaded with bites of rich chocolate or sweet cinnamon, which can be equally as captivating.  
These two beloved yeast breads — staples of Jewish-American baking — are each standout loaves on their own. But why stop there when you can combine them into one beautifully braided bread that has it all?
That's what star baker Claire Saffitz had the brilliant idea to do, resulting in the babkallah — a babka + challah mashup featured in her new cookbook, Dessert Person. (The bread's catchy name comes from her friend and colleague Julia Kramer.) 
A bread that does it all 
"I love a recipe that works as a breakfast treat, an afternoon snack, or a dessert, and babkallah definitely fits the bill," says Claire. "The babkallah is a beloved recipe because it gives you the best of both worlds — the beautiful, burnished braid of a challah with the rich chocolatey-ness of a good babka."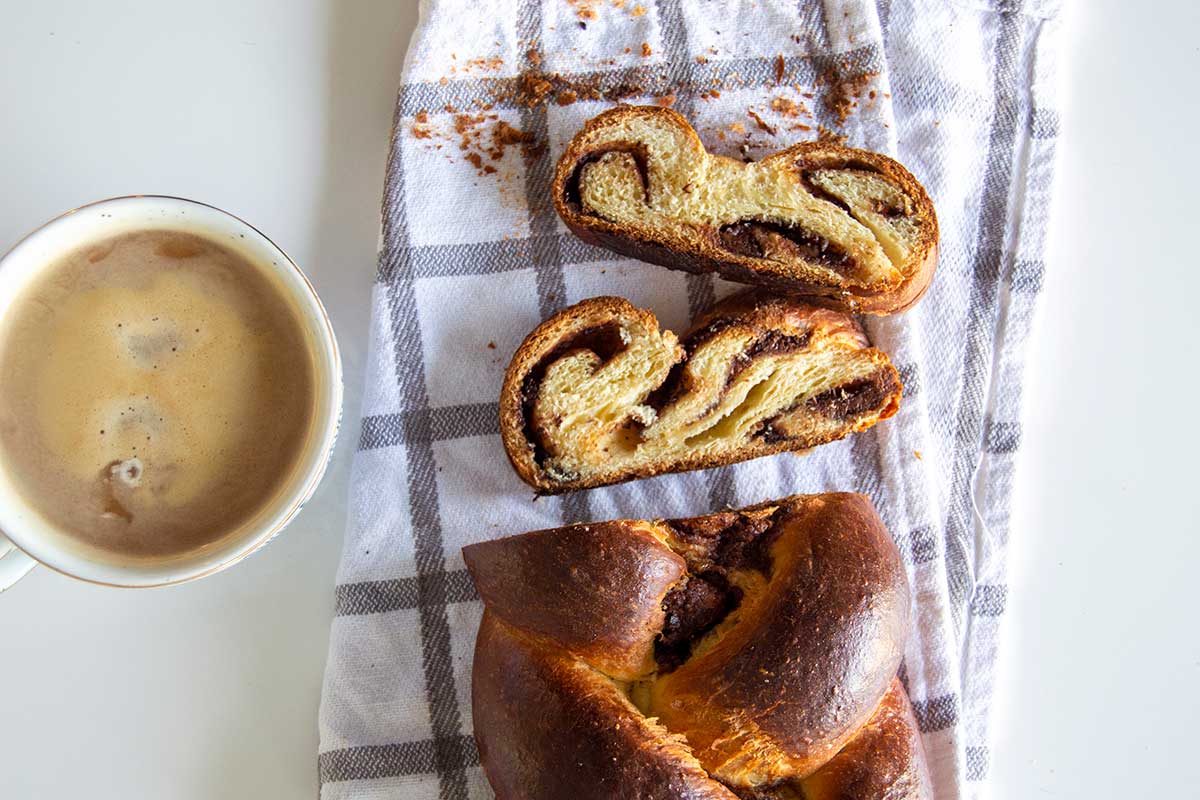 To develop the recipe, Claire zeroed in on a few key aspects in both the dough and the filling. "A traditional challah is made with oil rather than butter, but I use butter here," she explains in her book. Though challah isn't made with any dairy, she also adds milk, resulting in something "closer to a sweet yeast dough." 
While her loaf recipe combines chocolate and cinnamon — "the two most common flavors of babka" — she emphasizes that you can use other flavors that strike your fancy, like jam, chocolate-hazelnut spread, and more. 
A beginner-friendly bread (really!) 
If you're feeling a touch intimidated, rest assured that the babkallah is not nearly as intricate to bake as its appearance might suggest. According to Claire, "Even though the swirl and braid looks like it might be hard to achieve, you might be surprised at how manageable the process is, even for beginners."
So if your yeast-baking experience is limited to basic breads, don't be afraid to give babkallah a whirl. If you have one available, a stand mixer helps the supple, dreamy dough come together even more easily, but the whole thing can be made with just your two hands if that's the only firepower you have in your kitchen. 
For the dough: 
1/2 cup (113g) whole milk, lukewarm (105°F)
2 1/4 teaspoons instant or active dry yeast
1/3 cup (66g) granulated sugar
4 large egg yolks
1 teaspoon vanilla extract
3 1/4 cups (390g) King Arthur Unbleached All-Purpose Flour, plus more for kneading
1 1/2 teaspoons salt
8 tablespoons (113g) unsalted butter, at room temperature, cut into 1/2" pieces, plus more for the bowl
For the filling: 
1 cup (170g) finely chopped semisweet chocolate (if all you have on hand are chocolate chips, feel free to use!)
1/3 cup (71g) light brown sugar, packed
1 1/2 teaspoons cinnamon
1/8 teaspoon salt
2 tablespoons (28g) unsalted butter, melted and cooled
For topping: 
1 large egg, beaten
Demerara sugar or sparkling sugar, for sprinkling on top
Make the dough
Begin by stirring together the milk, yeast, sugar, egg yolks, and vanilla in a large bowl or the bowl of a stand mixer. Add the flour, salt, and butter and mix with a sturdy spoon or your hands to form a shaggy dough. 
If you're going to be kneading by hand, turn the dough out onto a lightly floured surface and knead until the dough is smooth, supple, and no longer shiny, which should take about 8 to 10 minutes. You'll want to add a bit more flour as necessary to prevent sticking. You can also knead the dough using your stand mixer fitted with the dough hook attachment, mixing on medium speed for 5 to 8 minutes. And if you want to use your bread machine, go right ahead and make it on the Dough cycle. 
Prepare for proofing by lightly buttering the inside of a large clean bowl, then gather the dough into a ball and place it in the bowl. Cover the bowl and let the dough rise in a warm place until it's puffy, 1 1/2 to 2 1/2 hours. How long it takes to rise will depend on the temperature of your kitchen — the cooler it is, the longer the dough will need.  
Prepare the filling 
Prepping the cinnamon-chocolate filling couldn't be simpler: mix together the chocolate, brown sugar, cinnamon, and salt in a small bowl. That's it! Set aside while you prepare the dough for rolling and braiding. 
Assemble the babkallah 
This is the fun part! 
Turn the dough onto a clean work surface and divide it into three equal portions. If you want to be exact, you can use a scale to measure — they should be about 250g each. Gently roll each portion into a 12" rope. As you shape and later flatten the dough, you shouldn't need any flour to prevent sticking. (If it does stick a little, use pan spray on the work surface instead of flour.)
Using the heel of your hand, flatten each rope, then use a rolling pin to roll each piece into a 12" × 6" rectangle.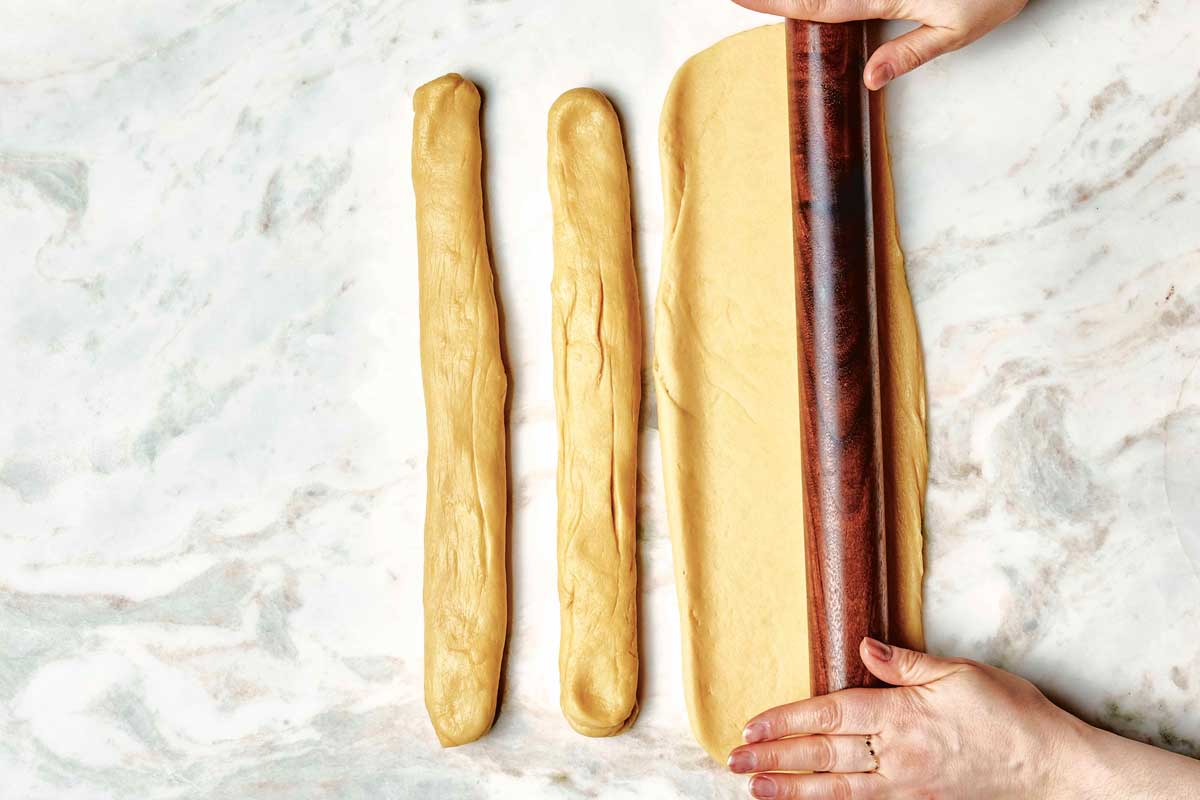 Brush the surface of each rectangle with the melted butter and sprinkle with the chocolate-cinnamon mixture, dividing it evenly among the three pieces. Make sure to leave at least a 1/2" border uncovered along one long edge of each piece of dough — you'll use this to pinch the dough closed once you roll it up.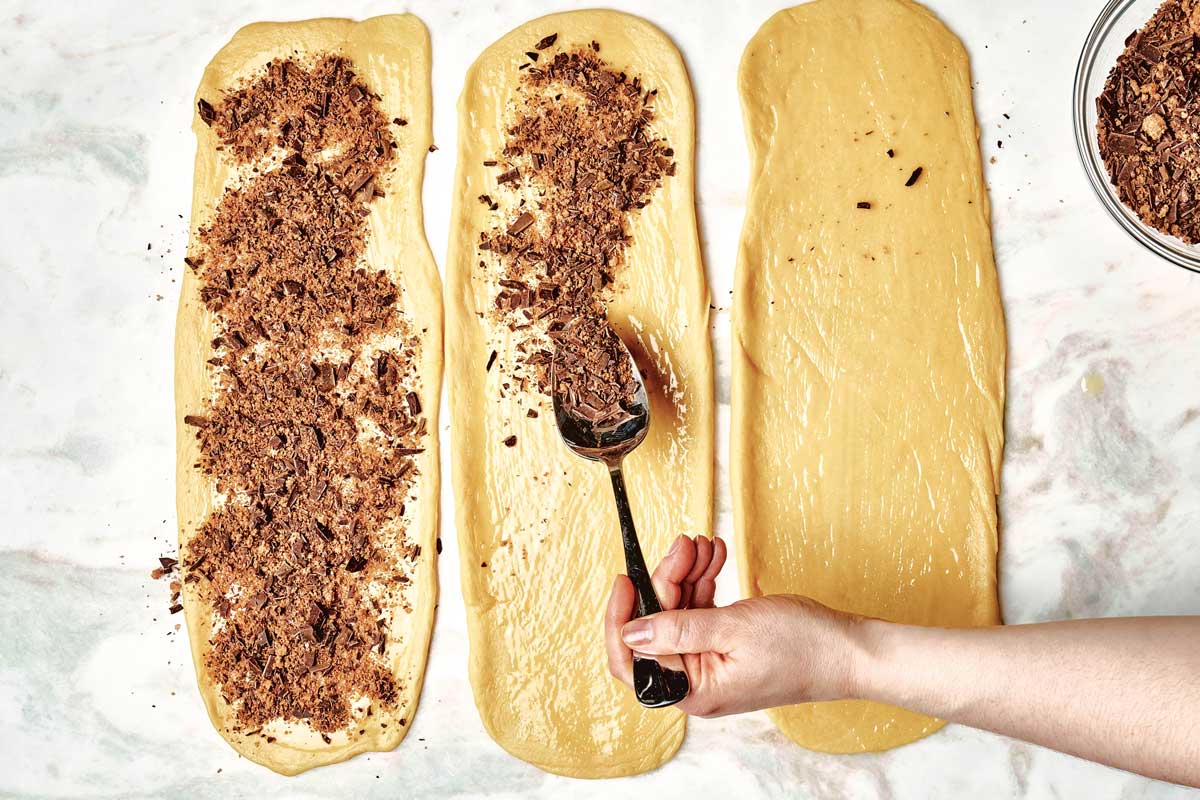 Starting on the filling-covered long side, roll each rectangle into a log. Then pinch along the length of the seams to seal up the dough; it's important to seal the logs very well here so they don't unravel as you braid, which could compromise the spiral of filling in the finished babkallah. You want to make sure you keep that gorgeous spiral pattern!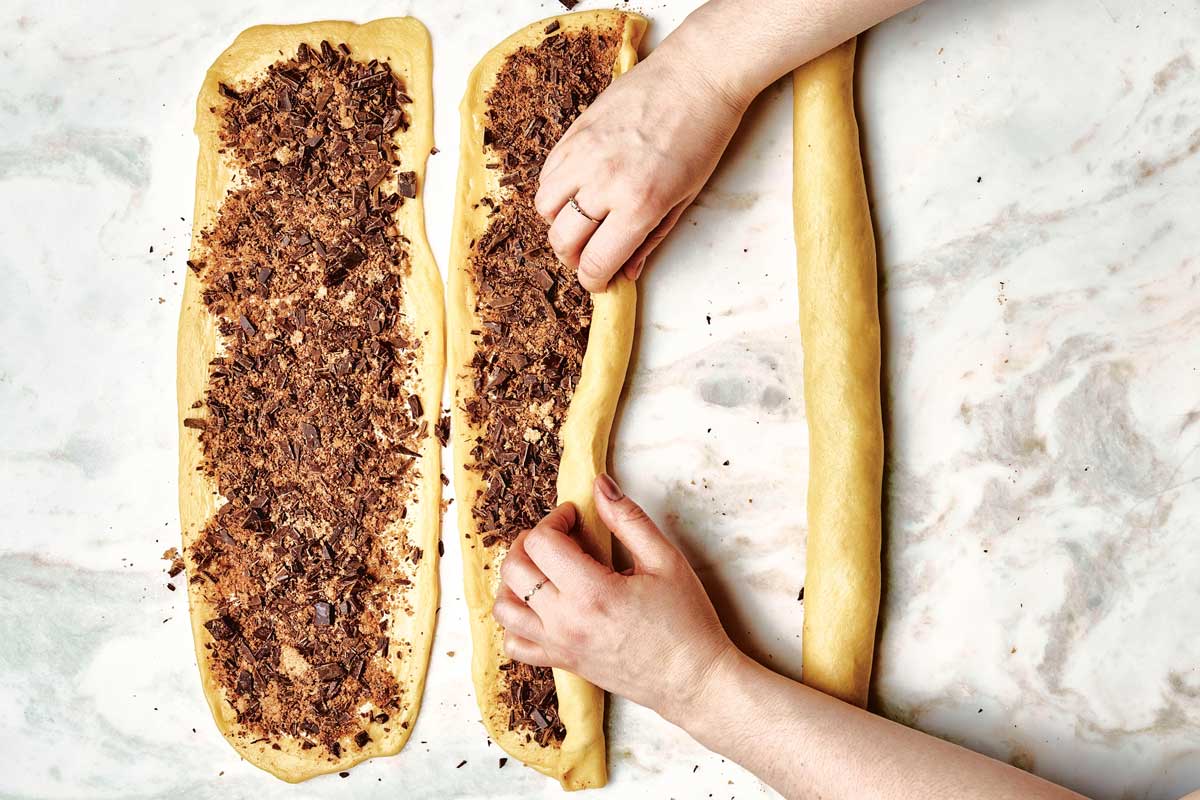 Ready to braid everything together? Place the logs seam-side down and side by side on a parchment-lined baking sheet. Pinch the logs together at one end and braid them, leaving a little slack in the braid as you go. This slack will help keep the logs from splitting open from too much tension as they expand, though no worries if this happens — they're still stunning (and more importantly, delicious).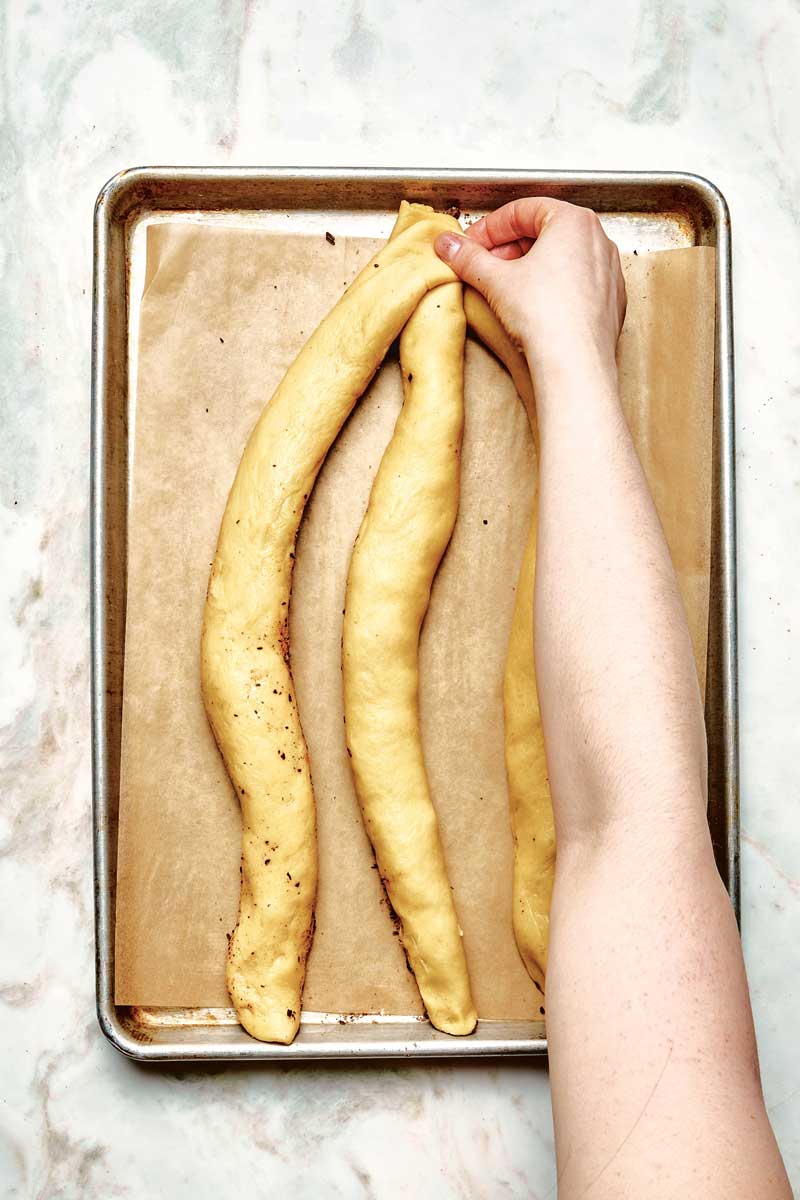 Once you've braided the length of the bread, pinch the opposite ends of the braid together and tuck both ends neatly underneath the braid.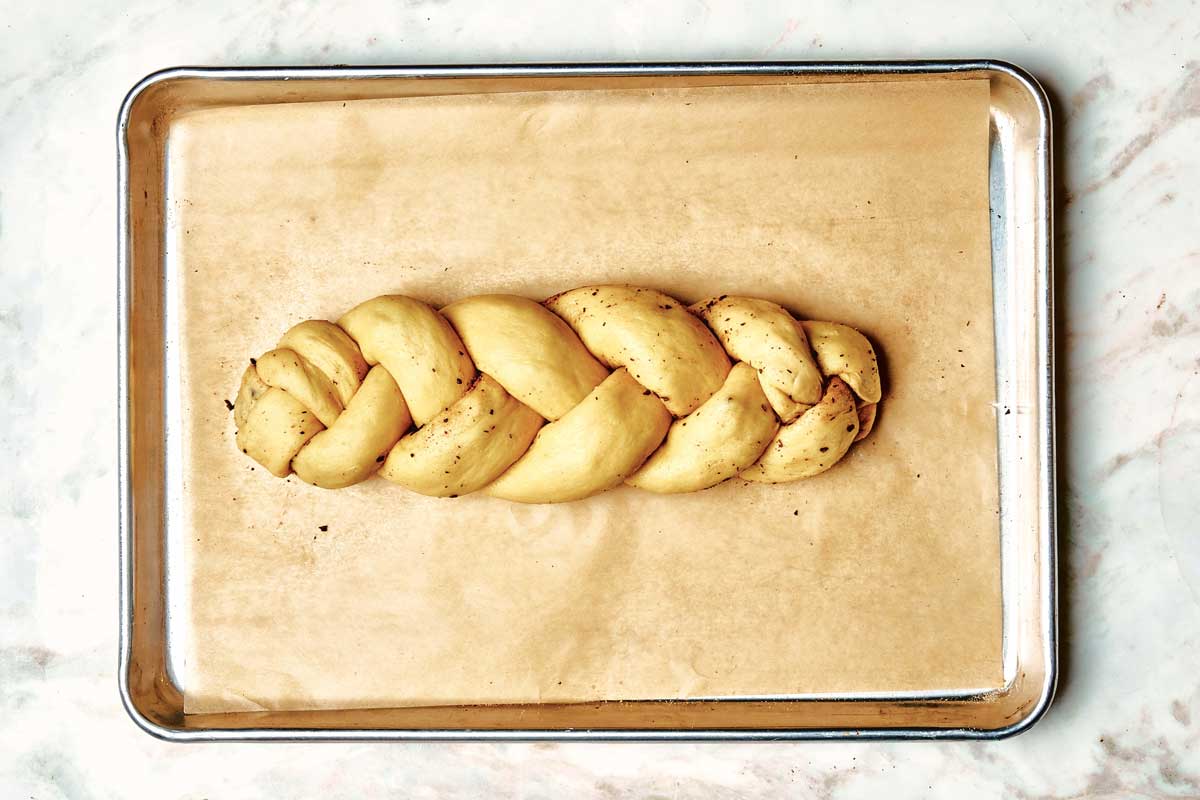 Cover the babkallah loosely and set it aside in a warm place until it's expanded to about 1 1/2 times its original size, which should take 1 to 2 hours depending on your kitchen's temperature. 
Toward the end of the rise time, place an oven rack in the center of the oven and preheat the oven to 350°F.  
Brush the babkallah with the beaten egg, then sprinkle generously with Demerara sugar. 
Time to bake 
Bake the babkallah until the crust is deeply browned, 35 to 45 minutes. If you want to be exact, a digital thermometer inserted into the center will read 190°F. Remove it from the oven and use the parchment to slide the loaf onto a rack to cool.
The babkallah, well wrapped and stored at room temperature, will keep up to four days, but it's best served on the first or second day (if there's still any left after a day!).
Babka + challah = utter delight 
Mashups don't always succeed, but there's no denying that babka and challah are a dream combination. This spiced, chocolatey loaf not only looks fantastic on the table, but a buttery slice is welcome at any time of day. Even if you haven't made many decorative breads before, challenge yourself to give babkallah a try — you won't be disappointed.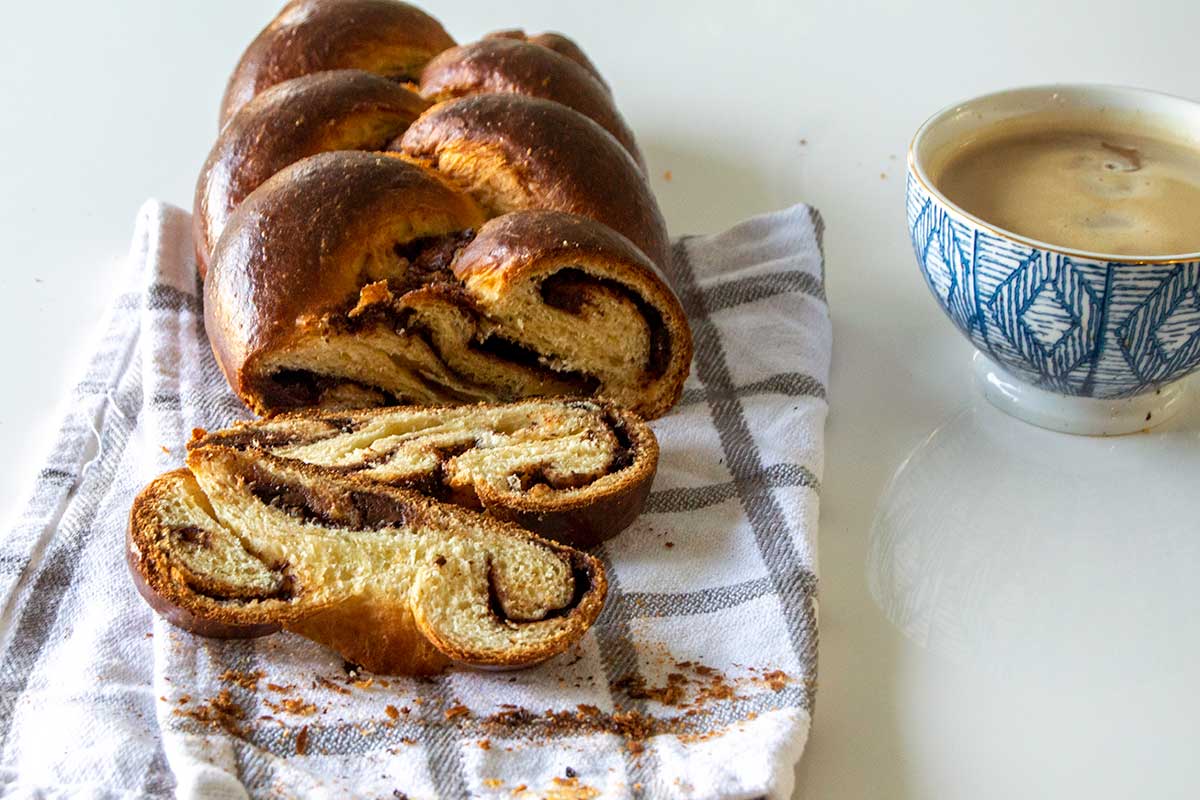 For more creative recipes like this, pick up a copy of Claire's new book, Dessert Person. We also have a full collection of Show Stopper Recipes for additional baked goods that look stunning and taste even better. 
Jump to Comments