Guaranteed Oatmeal Cookies
Still tasty, after all these years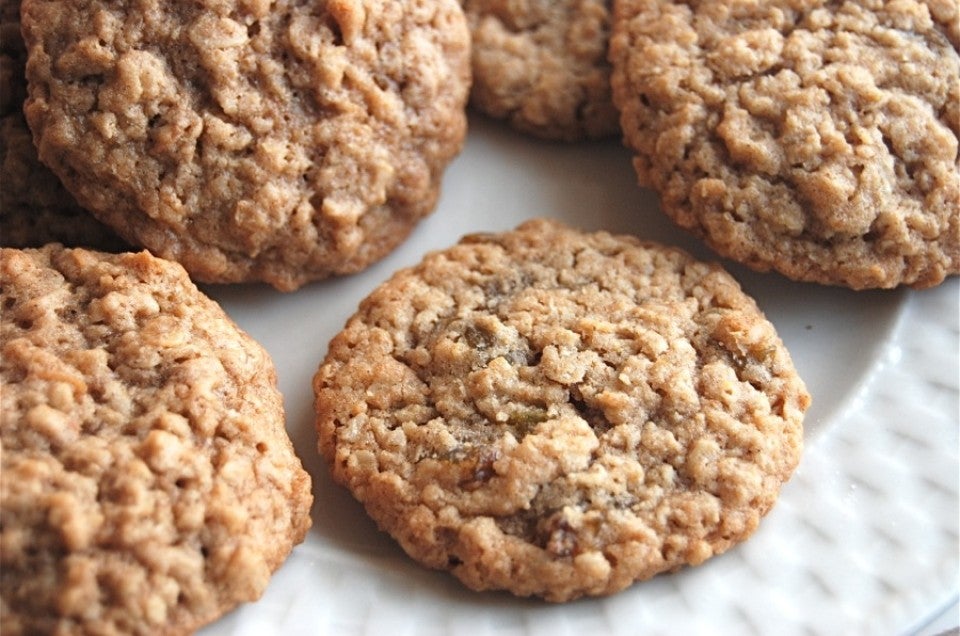 There's nothing – NOTHING – like a warm cookie and a cold glass of milk.
Back in the day, this meant Mom's homemade cookies: oatmeal, peanut butter, sugar, or chocolate chip – period.
Things like chai shortbread, lavender tuiles, and green tea macarons were not yet even a glimmer in a progressive baker's eye.
And the milk back then? Regular full-fat milk. Not soy, almond, or rice; just plain cow.
So far as I remember, no one had ever heard of skim or 2% milk – let alone drunk it. In fact, if those milks were even available, I'd guess they were considered watered-down "fakes;" considered unsuitable for growing children in the nutritionally naive, happy age that was America in the '50s.
Well, a lot has changed in 50 years. (If you're a Boomer like me, just think of yourself in 1962; point taken!)
While Oreos, 'Nilla Wafers, and Fig Newtons still occupy prime shelf space in the cookie aisle, other beloved cookies have sadly faded away. Golden Raisin Biscuits, for one. Fudgetowns. Zwieback.
And Hydrox, which disappeared in 1999, reappeared in 2008, then crumbled for good a year later. There are those who, to this day, miss this Oreo competitor terribly.
Thankfully, the homemade cookie landscape has seen trends come and go; but the classics, the favorites we grew up with, still shine brightly.
Chocolate chip cookies, for instance. Born in 1930 at the Toll House Inn in Whitman, MA, these cookies are still Top Dog in American home kitchens today.
You'd think, with so many parents terrified of peanuts these days, that the popularity of this old chestnut (er, peanut), would have waned.
Well, not if the reception these cookies get here at King Arthur Flour is any indication: every time I make them, they disappear from the kitchen sampling area in about 2 minutes flat – not even a nutty crumb remains.
And then there are oatmeal cookies. How do you like 'em? Soft and chewy? Crisp and crunchy? Somewhere in between?
Our Cookie Companion book includes an entire chapter on oatmeal cookies – 17 recipes, to be exact. Testament, indeed, to the many tasty variations this simple combination of flour, butter, sugar, and oats can take.
The following recipe, for our guaranteed Oatmeal Cookies, yields an Everyman oatmeal cookie: crunchy around the edges, softer in the center, and ready to be tweaked to taste.
Change the spices; add your favorite dried fruits, chips, or nuts. Bake longer for drier cookies, shorter for soft and moist. But however you choose to serve them –
Don't forget the milk!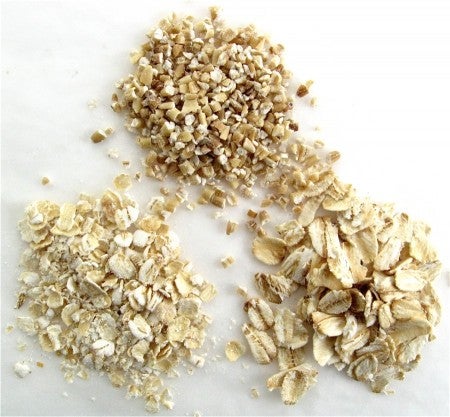 First, what's the difference between quick-cooking rolled oats (l); old-fashioned rolled oats (r); and steel-cut or Irish oats (top)?
Just their cut. Rolled oats are oat kernels (berries) that're rolled flat, then steamed and lightly toasted; in the case of quick-cooking oats, old-fashioned oats are chopped into finer pieces, to cook more quickly.
You can use rolled oats in any recipe calling for them; usually, if not specified, the recipe will have been made using old-fashioned rolled oats.
Steel-cut oats are oat kernels that are simply chopped into smaller pieces. In order to bake with them, they should be cooked first; they're too hard to use as is. They do, however, make delicious breakfast cereal, oatmeal with more body than that made with rolled oats.
So, let's bake cookies.
First, preheat your oven to 350°F. Lightly grease (or line with parchment) two baking sheets, light-colored preferred.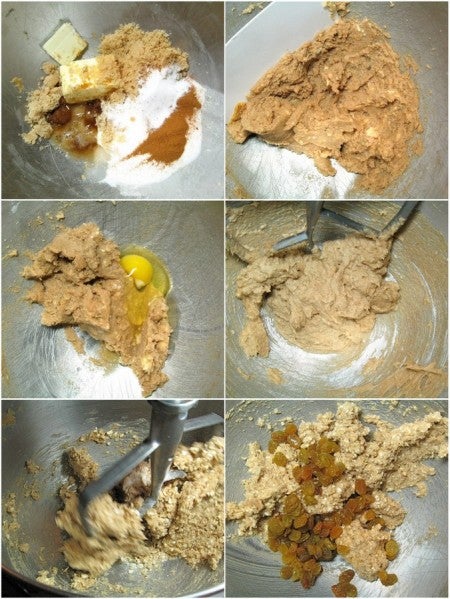 Place the following in a mixing bowl:
1/4 cup (1/2 stick) unsalted butter
1/4 cup vegetable shortening
1/2 cup light brown sugar
1/4 cup granulated sugar
1 teaspoon vanilla extract
1 1/4 teaspoons ground cinnamon
1/8 teaspoon ground nutmeg
1/2 teaspoon salt
1 teaspoon cider or white vinegar
Beat until fairly smooth; a few tiny bits of butter may still show.
Scrape the sides and bottom of the bowl, then beat in 1 large egg.
Stir in 1/2 teaspoon baking soda, 3/4 cup (3 ounces) King Arthur Unbleached All-Purpose Flour, and 1 1/2 cups rolled oats, either quick cooking or old-fashioned.
Add 1 cup golden raisins; or a combination of raisins and chopped walnuts and pecans, if desired.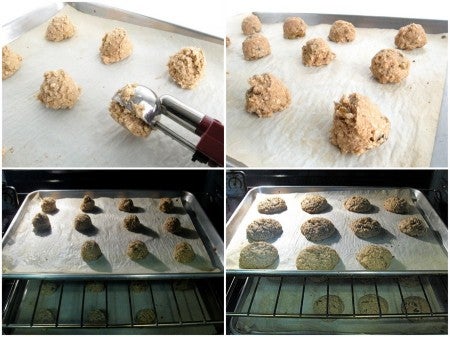 Drop the dough in 1 1/4" balls onto the prepared baking sheets; a tablespoon cookie scoop works well here.
Space the cookies 2" apart; they'll spread.
Bake the cookies for 12 to 16 minutes, reversing the pans halfway through (top rack to bottom, bottom to top). For softer cookies, bake the lesser amount of time; for crunchier, the longer amount.
At 12 minutes (on a darker colored pan; 13 to 14 minutes on a parchment-lined pan), a few of the cookies around the perimeter of the pan should just barely be showing a pale brown around their edges. At 14 to 16 minutes, they should be starting to color all over.
Remove the cookies from the oven, and let them cool right on the pan.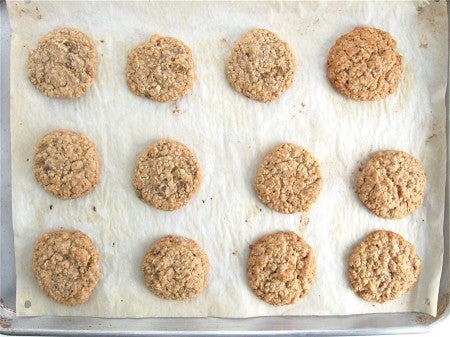 These cookies look a bit underdone, don't they? That's because I prefer softer oatmeal cookies. If you let them actually start to take on some significant color they'll be hard, so watch closely as you get to the 12-minute mark, if you're a soft cookie aficionado.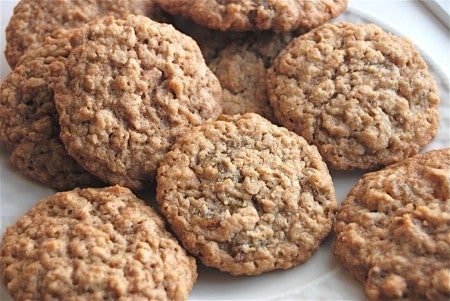 Get out the ice-cold milk. Imagine yourself back in third grade – before a mortgage, a job, and tax returns.
Bite into a warm cookie; follow up with a swallow of cold milk. Ahh.....
Read, bake, and review (please) our recipe for Oatmeal Cookies.
Jump to Comments