Baking with whey
Beyond Greek yogurt – a baker's secret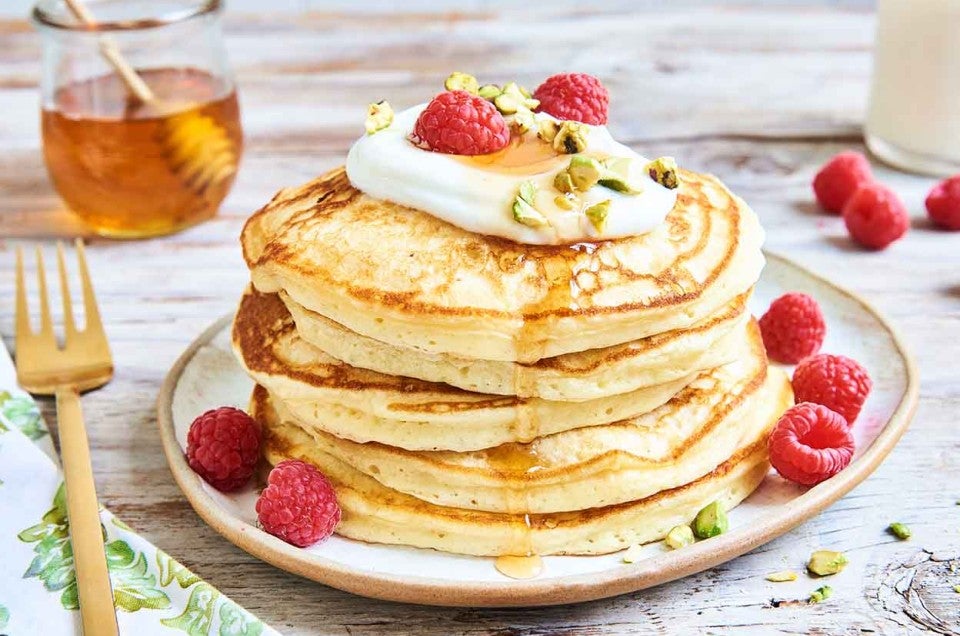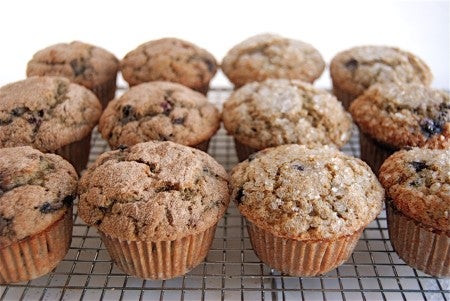 High-rising, whole wheat blueberry muffins...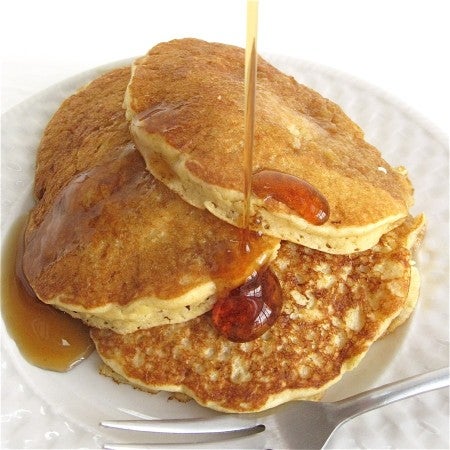 Light, tender whole-grain pancakes...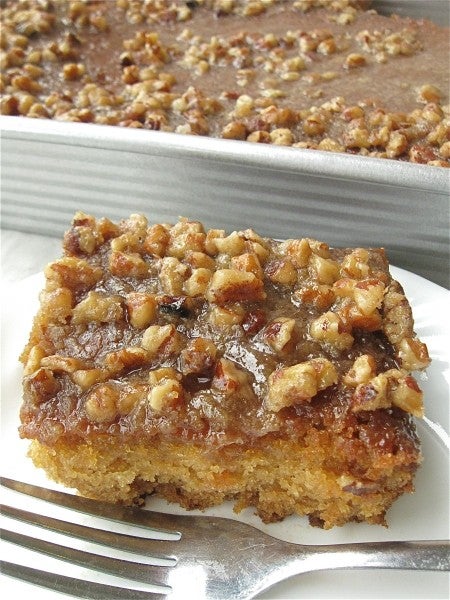 Ooey-gooey buttermilk cake...
What do all of these treats have in common?
Give up?
I'll give you a hint: it's also in these whey pancakes.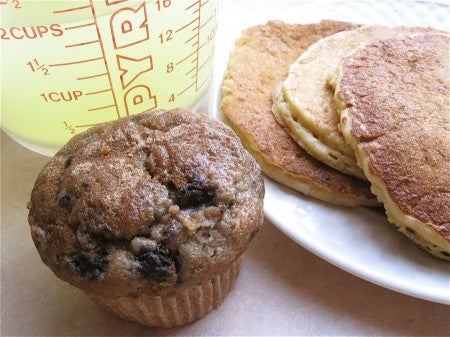 That's right ... liquid whey.
See that liquid in the measuring cup? That's liquid whey.
And where do you get it?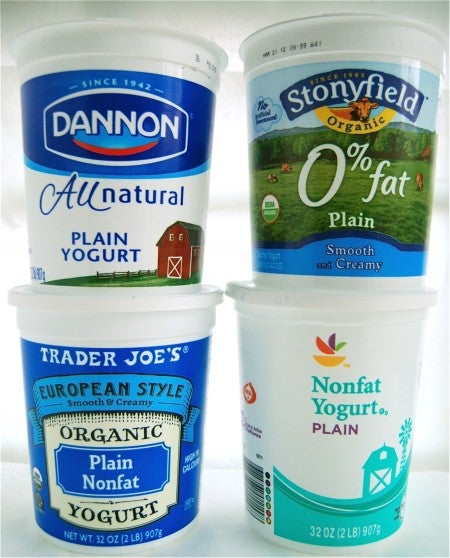 From yogurt.
Have you become gotten hooked on Greek-style yogurt? Do you know how easy it is to make your own?
Simply drain a quart of yogurt for 24 hours, and it'll turn into two things:
A pint of ultra-thick, flavorful Greek-style yogurt.
And 2 cups of liquid whey.
Many of you are probably just pouring that whey down the drain.
But whey is actually a great ingredient on its own: it steps in for buttermilk in all kinds of yummy recipes.
Want to know more? Let's make some whey.
You can drain yogurt in a sieve with coffee filters; or through cheesecloth, tied in a bag and set over a draining bowl in the fridge.
Or take the easy way out, with a yogurt strainer.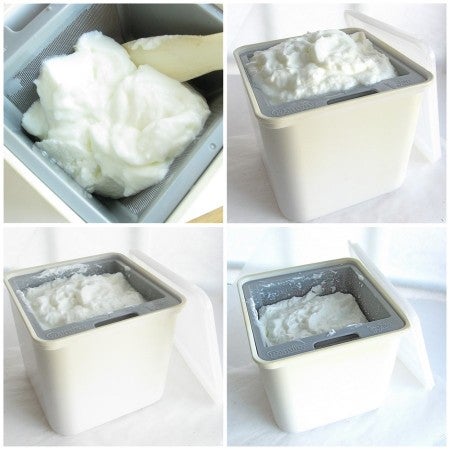 Simply spoon 32 ounces of plain nonfat yogurt into the strainer, which is set inside a draining bucket.
At first, the yogurt is heaped in the strainer; but after an hour, it settles below the rim, at which time you snap on the cap, and put it into the fridge. Next day, the yogurt has become thick and rich-tasting – yes, even nonfat yogurt.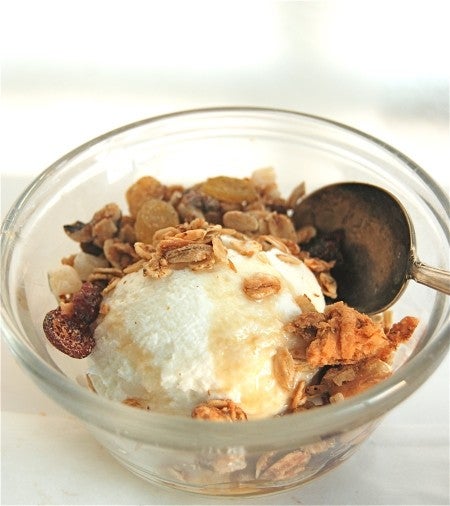 It's the perfect consistency for scooping into a bowl and sprinkling with granola. I've added a splash of vanilla extract, for flavor.
One caveat – not all yogurts drain nicely. Of the four brands I've tried, three are fine; but the Trader Joe's yogurt is thin enough that a lot of the milk solids leak through the sieve, yielding much less Greek-style yogurt.
My favorite is our local Stop & Shop supermarket brand, which yields thick yogurt with very mild tang and lovely flavor. So, don't think good Greek-style yogurt requires spending money on fancy yogurt to begin with.
Now, besides the yogurt, you've captured the drained liquid–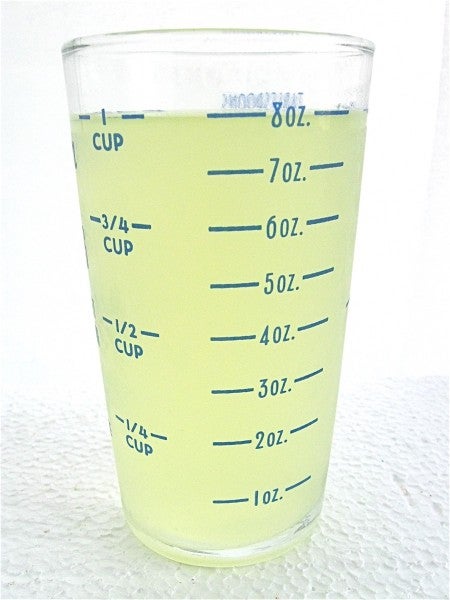 Liquid whey. Eight ounces if you've drained a pint of yogurt; a full 16 ounces, if you've drained a quart.
You can use it in recipes that specifically call for it, like these Whey Pancakes, or substitute it into other recipes. 
I often use whey in place of water in my yeast bread recipes; yeast loves its mild acidity. Plus, I love its protein and calcium.
And I've found it's a great substitute for buttermilk in all kinds of treats, like these 100% Whole Wheat Blueberry Muffins.
These muffins are SO tender and SO moist, they've quickly become my family's favorite breakfast treat. Give 'em a try – I'm betting your family will agree.
And from now on – save the whey!
First, preheat the oven to 400°F. Lightly grease the cups of a standard muffin pan; or line with paper baking cups, and grease the paper cups.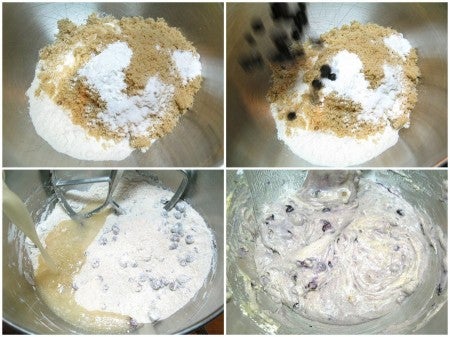 Place the following in a mixing bowl:
2 1/2 cups (283g) King Arthur White Whole Wheat Flour or Premium Whole Wheat Flour
1 cup (213g) brown sugar
3/4 teaspoon salt
1 teaspoon baking powder
1/2 teaspoon baking soda
1/2 teaspoon ground cinnamon, optional
1 cup (128g) blueberries, fresh or frozen
Whisk everything together. Don't spend a lot of time at this; if the berries are frozen, you don't want them to thaw.
Why not? The softer the berries, the more likely they are to leach juice into the batter, turning your muffins blue-green.
In a separate bowl, whisk together the following:
1 teaspoon vanilla extract
1/3 cup (67g) vegetable oil
1 1/4 cups (284g) liquid whey OR 1 1/2 cups (340g) buttermilk
Pour the liquid ingredients into the dry ingredients, stirring just to combine.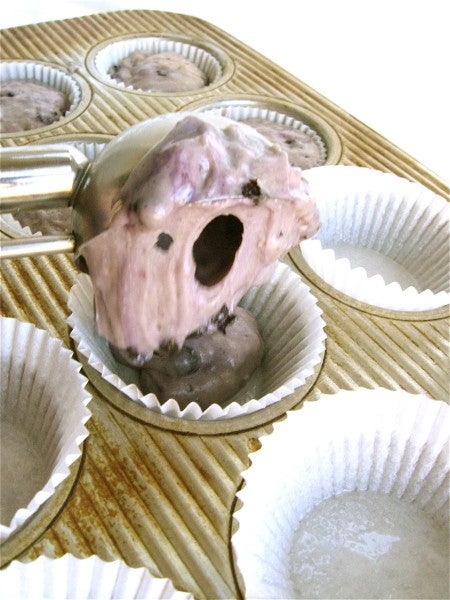 Spoon the batter into the prepared muffin cups, filling them nearly full. A slightly heaped muffin scoop of batter is the right amount.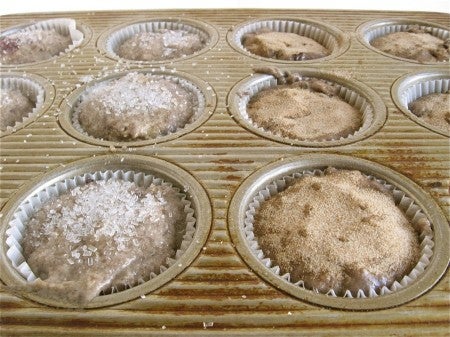 Sprinkle the tops of the muffins with coarse sparkling sugar or cinnamon sugar, if desired.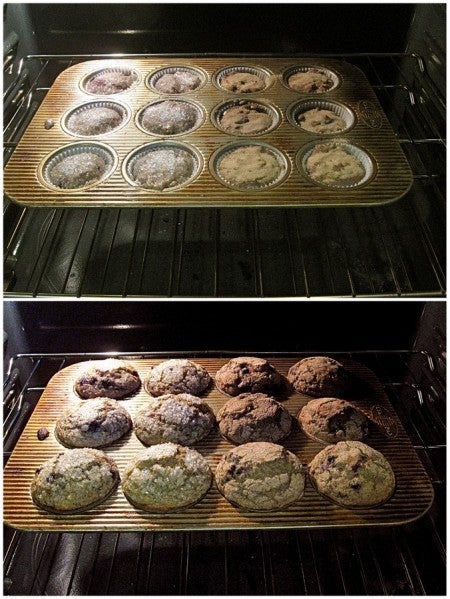 Bake the muffins for 18 to 20 minutes; they should dome nicely.
When they're done, a toothpick inserted into the middle of one of the center muffins should come out clean.
Remove the muffins from the oven, and after 5 minutes (or when they're cool enough to handle) transfer them to a rack to cool.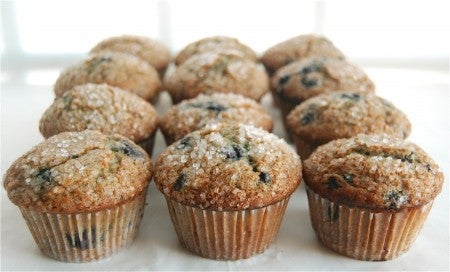 Serve warm, or at room temperature. Store leftovers loosely wrapped at room temperature.
See what I mean about blue/green batter? It's nearly inevitable with frozen berries; and it absolutely doesn't affect the muffins' wonderful taste, so no worries.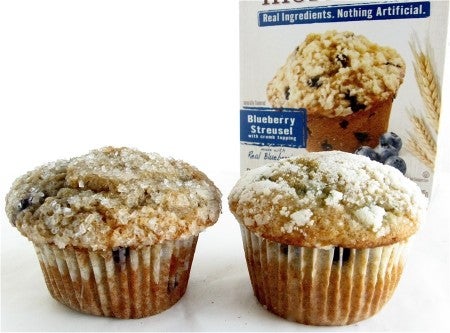 I just happened to see a new national brand muffin mix in the supermarket the other day – blueberry muffins made (partially) with whole wheat flour.
Well, how could I resist putting our King Arthur 100% whole wheat blueberry muffins up against these?
Here's our muffin on the left; store mix muffin on the right.
Similar in the looks department. Better, fiber-wise. And I may be prejudiced (well, OK, I AM prejudiced), but I preferred the flavor and texture of our muffins.
Chalk one up for home baking!
Read, bake, and review (please) our recipe for 100% Whole Wheat Blueberry Muffins.
Note: Since whey is thinner than buttermilk, I reduce the amount I use by about 20% to 25%, compared to the buttermilk called for in any particular recipe. In a recipe calling for 1 1/2 cups buttermilk, for instance, I'd use 1 1/4 cups whey.
This isn't a hard-and-fast rule; for recipes using 1/2 cup of buttermilk or less, I use the same amount of whey.
You'll just want to play it by ear – or eye. Make the batter or dough as thick as you think it should be – e.g., pancakes; you know what pancake batter looks like. Or scones; you know scone dough should be thick enough to shape and cut. Always start with a smaller amount of whey. Then, if necessary, add more – since it's impossible to add less!
Jump to Comments