Mushroom-Cheddar Quiche
Not all pies are sweet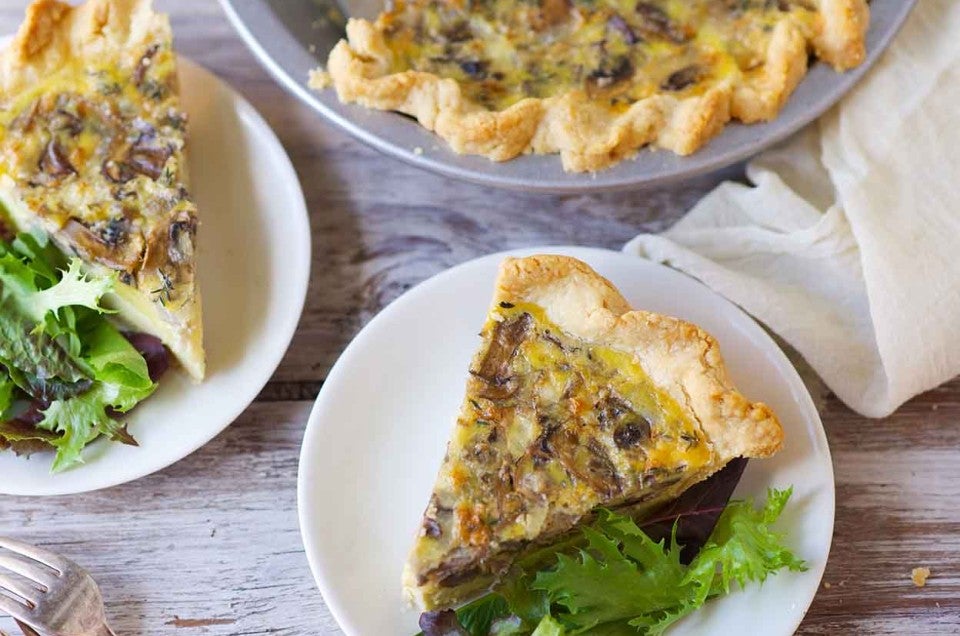 Remember Real Men Don't Eat Quiche, that 1982 fun-poking paean to masculinity?
Well, thankfully, that statement was never true.
I mean, think of the King, with his "four and twenty blackbirds, baked in a pie" – surely that savory (to say nothing of copious) filling qualifies the King's pie as quiche.
Pie doesn't have to be sweet. And when it's not, it's often called – you guessed it – quiche.
In fact, many of the first pies on record were savory, not sweet. In ancient Greece, a basic flour/water pastry was used to encase meat, sealing in its juices as it cooked.
Still, sweet pies weren't far behind: the Romans enjoyed libum, cheese filling in a pastry crust equivalent to our modern-day cheesecake.
So, pie's been known and enjoyed throughout history. And for good reason – who doesn't love a slice of great pie, with its flaky pastry and tasty filling?
Yet, how many of us bake pie as often as we do bread, muffins, or cookies?
It's kind of a production, right? And that's mostly because of the crust. Making filling is usually no more complicated than stirring together ingredients. But oh, that crust...
Raise your hand if you've resorted to store-bought, freezer-case pie crust. I see quite a few hands out there...
Yes, the ease of store-bought crust is enticing. But the flavor?
Meh. Not so good.
I've always said, if you can read, you can bake. And that goes for pie crust as much as yeast bread, cake, biscuits, and anything else that includes a bit of technique.
Pie crust anxiety? Just take it step by step. Check out Frozen Supermarket Pie Crust: Puh-LEEZE! for a thorough deconstruction of pie crust.
Secrets for making the perfect pie crust is a faster, simpler lesson.
Or, just keep reading this post.
I'm here to tell you, real men CAN make quiche. As can real women.
It's easy as... well, as pie.
Let's tackle the crust first.
Whisk together the following:
3/4 cup (85g) King Arthur Unbleached All-Purpose Flour
1/4 cup (32g) Hi-maize Fiber; or substitute 1/4 cup (30g) all-purpose flour
1/4 cup (28g) Vermont cheese powder, for flavor; optional
1/4 teaspoon dry mustard, for flavor; optional
1/2 teaspoon salt
Using your fingers, a fork, a pastry blender, or mixer, work in 6 tablespoons (85g) cold unsalted butter (cut in 1/2" cubes). The mixture will be crumbly, but unevenly crumbly; some pieces of butter should remain in bigger chunks.
Toss in 1/4 cup (28g) shredded Parmesan cheese. Then drizzle in 2 to 3 tablespoons cold water, tossing the mixture around and stirring until it becomes cohesive. Note: If you use flour instead of Hi-maize, you'll probably need up to 4 tablespoons water.
Once you can squeeze the dough and it holds together, shape it into a rough disk. Wrap in plastic, and refrigerate for 30 minutes, while you make the filling.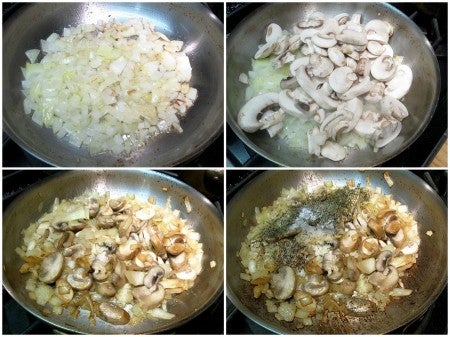 Heat 2 tablespoons (28g) unsalted butter over medium heat in a large pan until foaming. Add 1 cup (156g) chopped onion (about 1 medium onion), and cook for 5 minutes.
Add 8 ounces white mushrooms, sliced; cook until the mushrooms start to lose their juices, about 10 minutes.
Mix in 3 large cloves garlic, peeled and finely chopped; 1 teaspoon dried thyme (or 1 tablespoon fresh); 1/2 teaspoon salt, and 1/4 teaspoon ground black pepper. Stir to combine; remove from the heat.
Preheat the oven to 375°F.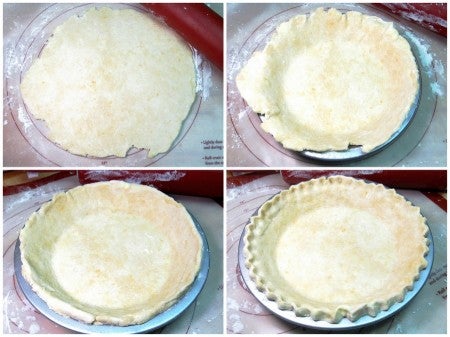 Transfer the dough to a floured surface. If it's been refrigerated longer than 30 minutes, give it 5 to 10 minutes to soften up a bit.
Roll the crust into a 1/4" thick disk, about 12" to 12 1/2" in diameter.
Next, gently settle the crust into a 9" pie pan. Notice my crust wasn't quite 12", so it's a little scanty around the edges of the pan. It pays to roll the crust to the suggested size. DOH.
Squeeze the edges of the crust between your fingers so they're not raggedy, then crimp.
You want to make a tall crimp, rather than simply flattening the edges of the crust with a fork; a taller crust helps contain a liquid filling, which quiches always have.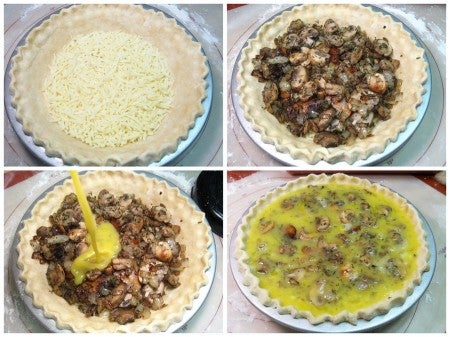 Line the bottom of the crust with 1 cup (113g) shredded sharp cheddar cheese. Spoon the mushroom mixture on top.
Whisk together 8 large eggs, 1/2 cup (113g) milk, and 1/2 teaspoon salt. Pour this mixture into the crust.
Set the pie pan on a parchment-lined baking sheet. If there are any leaks, the parchment/pan will save you some cleanup. Plus, the baking sheet makes it easier to transport the quiche into the oven without spills.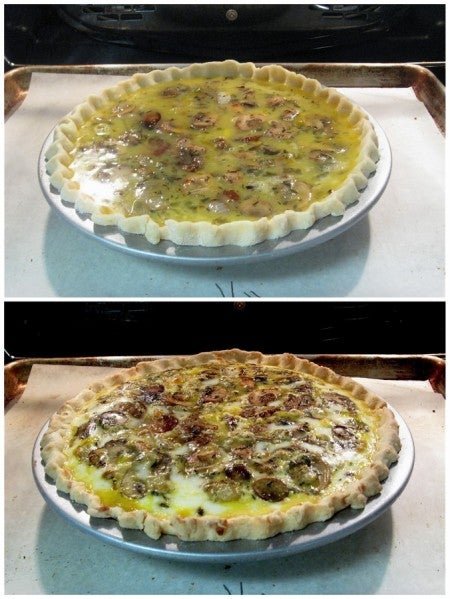 Bake the quiche for 35 to 40 minutes, until the edge of the crust is brown, and the filling appears set.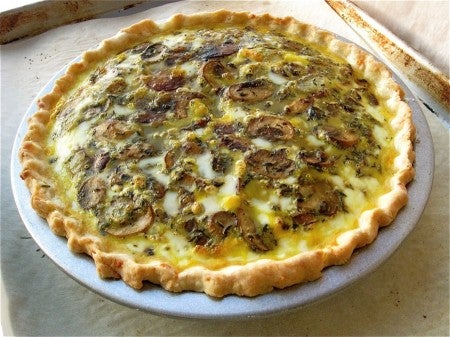 It may not look completely set in the center...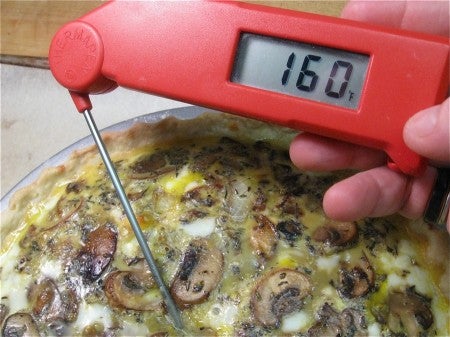 ...but if the center reads at least 160°F on an instant-read thermometer, you're all set. It's all set. We're ALL set.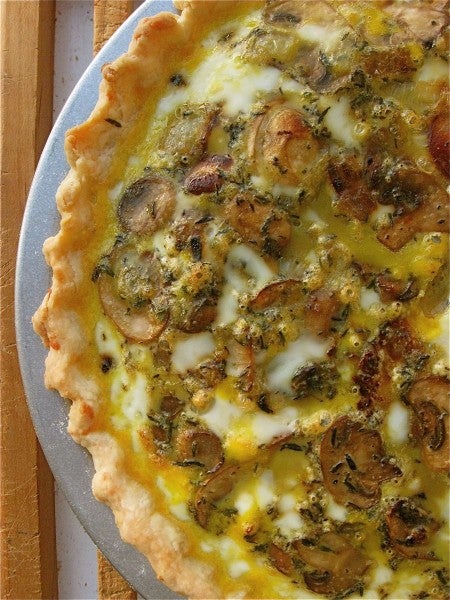 I love how the mushrooms brown on top; little bits of yolk add extra color, too.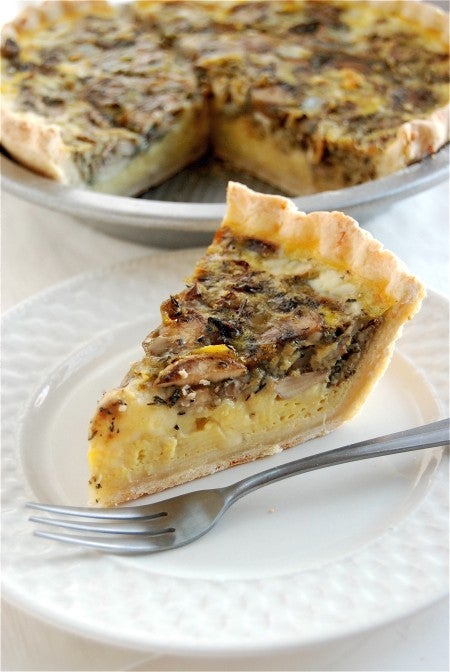 Let the quiche cool for 10 minutes or so, then slice.
For prettier, cleaner slices, let it cool a bit longer.
If you cool the quiche completely, refrigerate, slice, then warm individual pieces very briefly in the microwave, you get this kind of very clean cut. Pretty, huh?
But remember: beauty is only crust deep; it's the taste that counts!
Please read, bake, and review our recipe for Mushroom-Cheddar Quiche.
Jump to Comments