Honey Wheat Rolls
Not your mother's whole wheat bread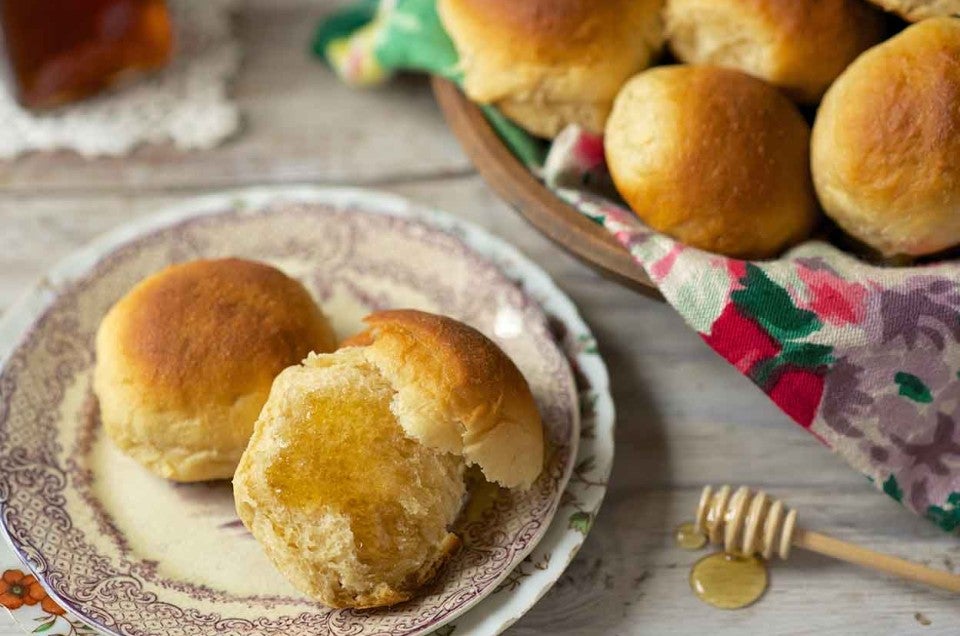 Imagine if this page were scratch & sniff...
Soft, warm, golden rolls, fresh from the oven, awaiting only a pat of melting butter, your appetite... and your belief in the following statement:
Whole grains CAN taste great.
Now, for those of you grimacing and remembering that one loaf of whole wheat bread you baked in 1976, guess what? It's time to update your culinary landscape.
Twenty or 30 years ago, whole-grain baking wasn't so hot, frankly - in more ways than one. It wasn't a hot trend; not many people did it. And if you DID try baking a loaf of whole-grain bread... it probably wasn't so hot, was it?
Well, two important things have happened since then.
First, more people are baking with whole grains, which means the whole grains you purchase at the store - chiefly, whole wheat flour - are much more likely to be fresh. Since old age is the chief reason whole wheat can sometimes taste bitter, that's one big hurdle eliminated.
And second, white whole wheat – which has gradually made its way into the marketplace over the past 20 years or so – is a "sweeter," milder tasting wheat than traditional red whole wheat.
Our white whole wheat flour is nutritionally identical to red wheat: same amount of fiber, same amount of protein. (If you check our flour bags right now, they won't show the same information on the nutrition panel; but we're in the process of fixing that.)
White whole wheat flour isn't bleached; and it isn't white flour. It's simply whole wheat flour whose outer bran layer is missing a certain compound – phenolic acid – that both makes wheat darker in color, and gives it a stronger whole-wheat taste.
So if you bake with white whole wheat, you're not shortchanging yourself nutritionally; you're simply using a 100% whole wheat flour that's much less likely to elicit the dreaded "EWWWWW" reaction from the kids.
Yeast bread is probably the toughest place to "disguise" whole wheat flour, if that's what you're trying to do. But these Honey Wheat Rolls, though warm tan rather than creamy white in color, have the light texture and wonderful, buttery sweetness of the quintessential soft white dinner roll.
Are you willing to put aside old prejudices, and give whole wheat a try? Step right up to the (dinner) plate...
Put the following in a mixing bowl (or your bread machine bucket, set on the dough cycle):
2 1/4 teaspoons instant yeast*
1 cup (227g) lukewarm water
1/4 cup (57g) orange juice**
4 tablespoons (57g) unsalted butter, cut into 6 pieces
3 tablespoons (64g) honey
1 cup (120g) King Arthur Unbleached All-Purpose Flour
2 cups (227g) King Arthur Premium Whole Wheat Flour or King Arthur White Whole Wheat Flour
1 1/4 teaspoons salt
2/3 cup (43g) instant mashed potato flakes or 1/4 cup (43g) potato flour
1/4 cup (21g) nonfat dry milk
*Want to use active dry yeast instead of instant? Go for it; use the same amount. Also, there's no longer any need to "proof" it (dissolve it in warm water) first, unless you're unsure of its quality and want to see if it's alive. If you know your active dry yeast is good, you can mix it right in with the rest of the ingredients.
**Don't bother heating the orange juice to lukewarm; you can use it straight out of the fridge. The orange juice won't add its own flavor to the rolls, but will mellow any potential bitterness in the whole wheat. Don't want to use orange juice? Substitute lukewarm water.
Mix everything together to make a rough dough.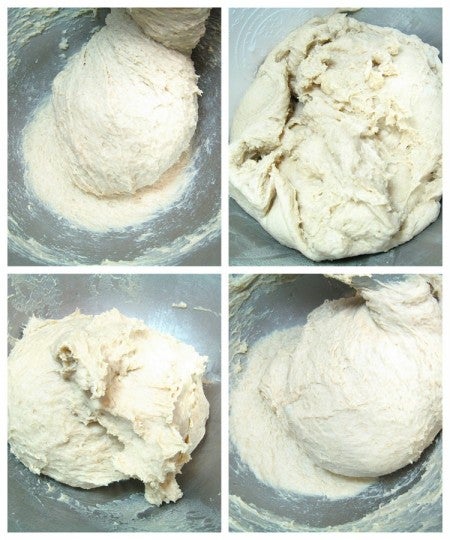 Next, knead until you've made a smooth dough.
If you're kneading in a stand mixer, you may notice the dough sticking to the sides and bottom of the bowl; simply take a bowl scraper, scrape it into the center, and continue to knead.
Remember, the less flour you add during kneading, the lighter and softer your rolls will be. If the dough is still sticking a bit to the bowl when you're done kneading (about 7 minutes of kneading at medium speed in a stand mixer will do it), that's fine. Again, better a dough that's a bit sticky than one that's dry.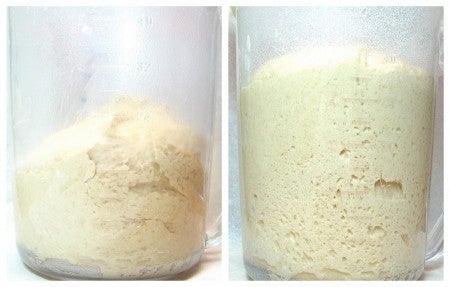 Place the dough in a lightly greased bowl, or in an 8-cup measure. I like to use a measuring cup for rising bread dough; it lets me track how it's doing.
Cover the bowl or cup, and allow the dough to rise, at room temperature, until it's quite puffy but not necessarily doubled in bulk, about 90 minutes to 2 hours. Rising may take longer, especially if you've kneaded by hand. Give it enough time to become quite puffy.
While the dough is rising, lightly grease a 9" x 13" pan, or two 8" round or 9" round cake pans.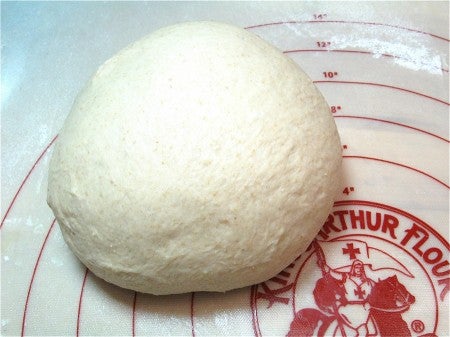 Gently deflate the dough, and transfer it to a lightly greased work surface; a silicone rolling mat works well here.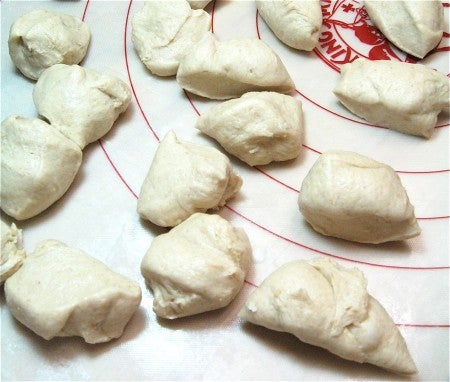 Divide the dough into 16 pieces (for the round pans), or 24 pieces (for the 9" x 13" pan).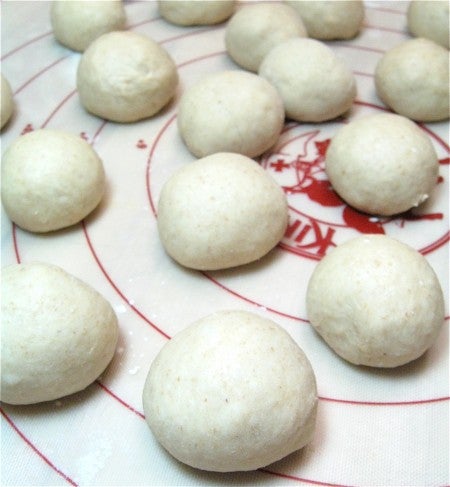 Shape each piece into a rough ball by pulling the dough into a very small knot at the bottom (think of a balloon with its opening knotted). Then roll the balls under the palm of your hand until they're smooth.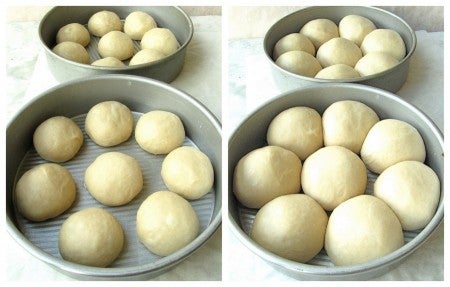 Place eight rolls into each of the round cake pans, spacing them evenly; they won't touch one another.
If you're using a 9" x 13" pan, make four rows of six, spacing the rolls evenly in the pan.
Cover the pans with lightly greased plastic wrap, and allow the rolls to rise for 1 1/2 to 2 hours. They'll become very puffy, and will reach out and touch one another.
While the rolls are rising, preheat the oven to 350°F.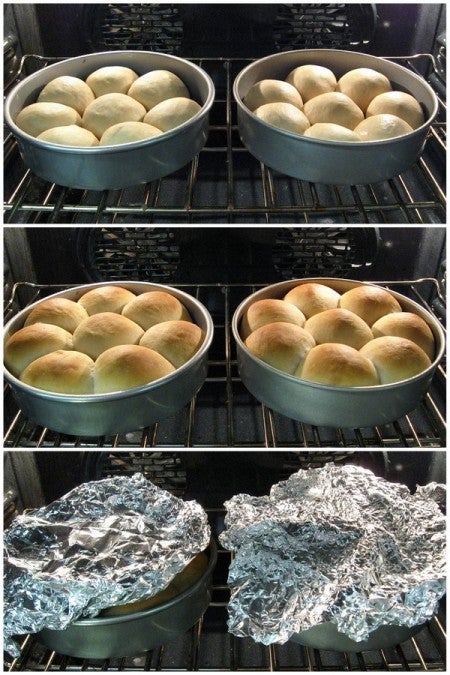 Bake the rolls for 15 minutes, and tent them loosely with aluminum foil; they'll be light brown.
Continue to bake until they're mahogany-brown on top, but lighter colored on the sides, an additional 10 to 13 minutes.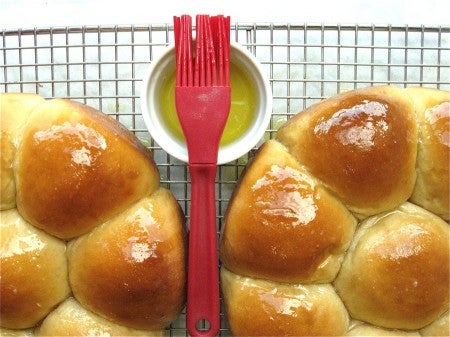 Remove the rolls from the oven, and after 2 or 3 minutes, carefully transfer them to a rack. They'll be hot and delicate, so be careful. Brush hot-from-the-oven rolls with melted butter, if desired, for a soft, buttery crust.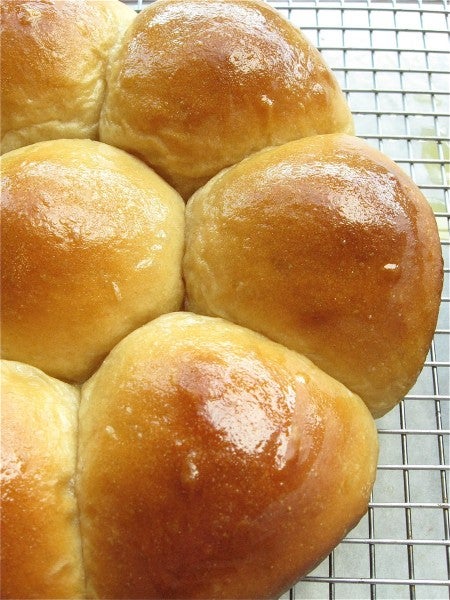 Remember what I said about scratch & sniff?
How about lick & taste?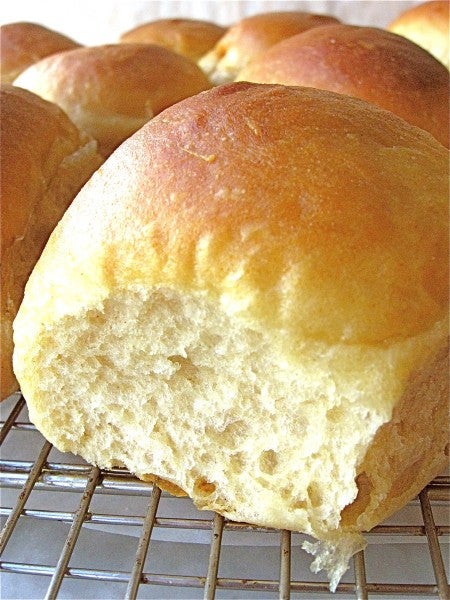 Serve rolls warm, or at room temperature.
Now I ask you – does this look like a whole wheat roll?
Your kids will LOVE these... and so will you (notwithstanding any unfortunate previous experiences with whole wheat bread...)
Read, bake, and review (please) our recipe for Honey Wheat Rolls.
Jump to Comments