Soft and Chewy Vanilla-Orange Cranberry Cookies
Home(run) for the holidays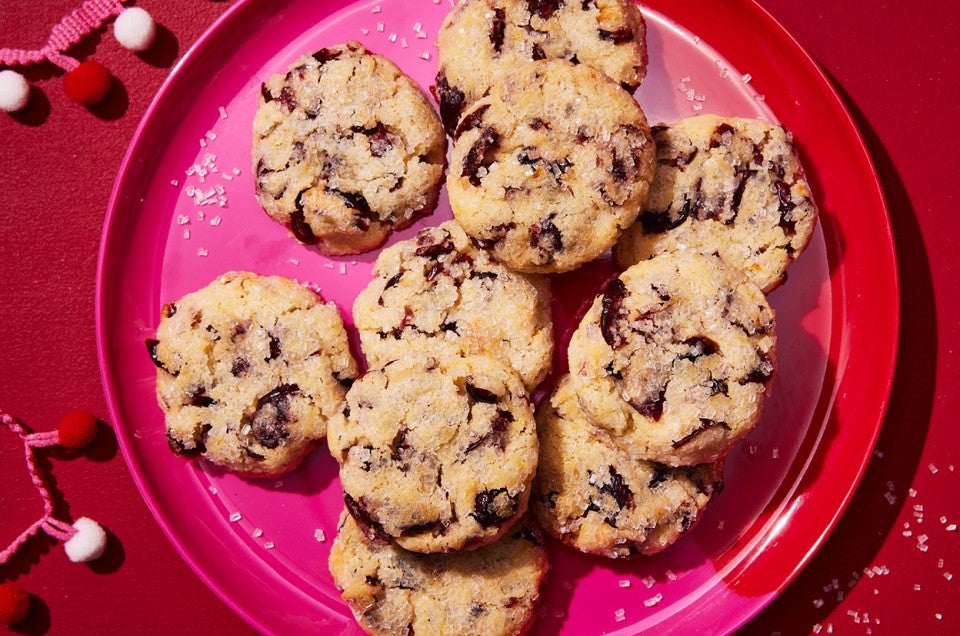 There's just something about orange and cranberry that tastes like Thanksgiving, isn't there?
Cranberry-orange muffins. Cranberry-orange bread.
And my favorite: Tart-sweet, uncooked cranberry sauce: just ground cranberries, an orange (peel and all), walnuts if you like, and sugar to taste.
Now THAT says Thanksgiving!
As do these soft, moist sugar cookies, laced with grated orange peel, studded with cranberries, and flavored with a hint of vanilla – for that Creamsicle® effect.
Speaking of, did you know August 14 is National Creamsicle Day? Mark your calendar now.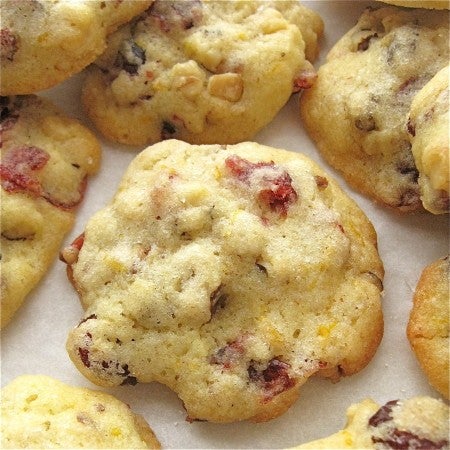 And in the meantime, rustle together the ingredients for these cookies. They're super easy to put together; you can have warm cookies on the table in just about 25 minutes; and they're a delicious way to begin the countdown to Thanksgiving.
Preheat the oven to 425°F. Lightly grease two baking sheets, or line them with parchment.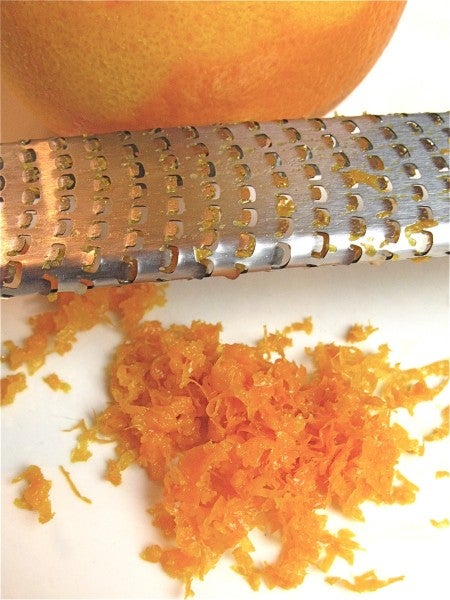 Next, grate the peel from a medium to large orange. A microplane zester works very well here.
How large should the orange be? Well, how much orange flavor do you want in your cookies? Up to you.
Usually, I'd suggest orange oil as an alternative here. But I really like the added moistness the peel lends the cookies. Substitute 1/8 to 1/4 teaspoon orange oil if you like, but the cookies' texture will be slightly different.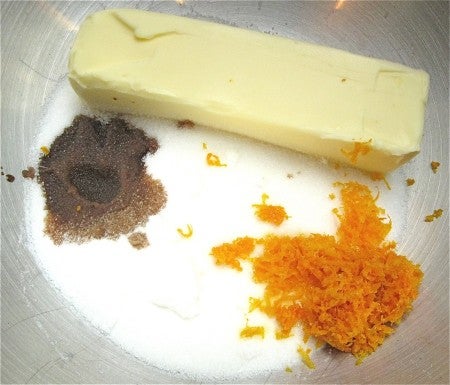 Place the following in a mixing bowl:
8 tablespoons (113g) butter, room temperature
3/4 cup (149g) sugar
grated peel of 1 medium to large orange
1 teaspoon vanilla extract
1/4 teaspoon baking powder
1/2 teaspoon salt
Beat to combine.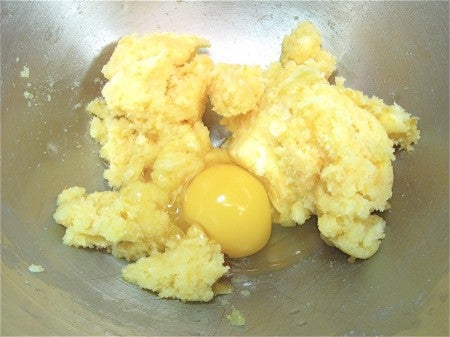 Add 1 large egg. Beat to combine again. The mixture may look slightly curdled; that's OK.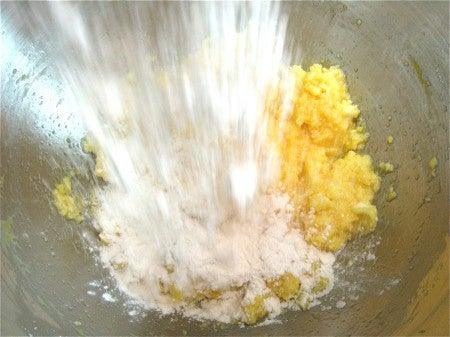 Stir in 1 1/2 cups (177g) King Arthur Unbleached All-Purpose Flour.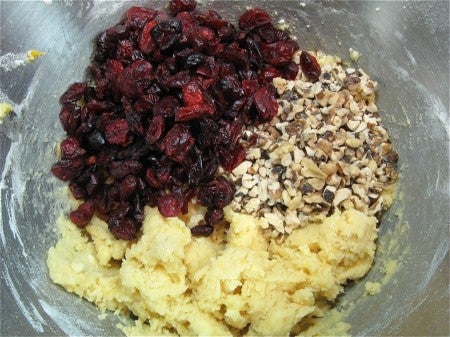 Finally, add 2 cups (340g) dried cranberries; or a mixture of dried cranberries and toasted chopped walnuts or pecans.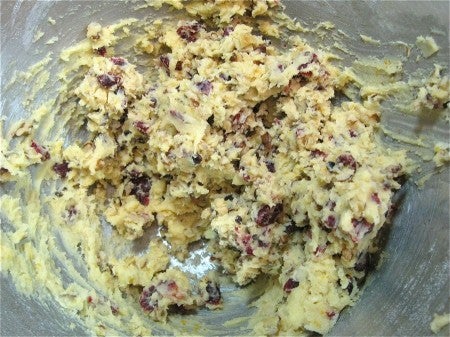 Stir to combine.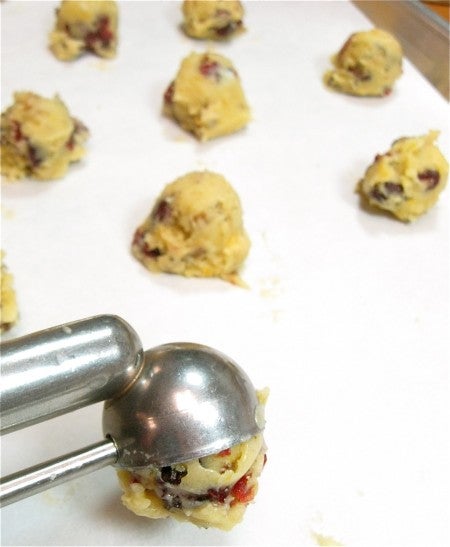 Drop the dough by heaping teaspoonfuls onto the baking sheets, leaving about 1 1/2" between them. A teaspoon cookie scoop works very well here.
Using the flat bottom of a glass dipped in sugar, flatten the dough balls slightly, to a scant 1/2" thick.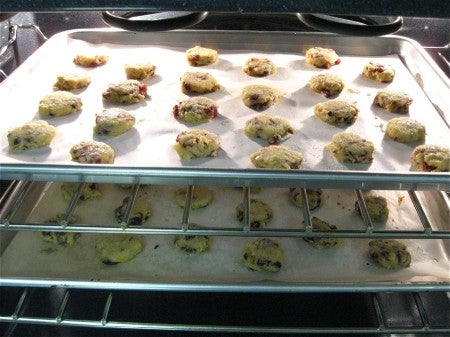 Bake the cookies for 8 to 9 minutes, until they're barely set, and a light golden brown around the edges. Don't over-bake; if you do, the cookies will be hard, not soft and chewy.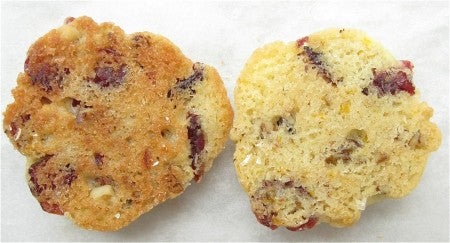 To keep cookies soft and chewy, they shouldn't brown on the bottom. The cookie pictured on the left will harden as it cools, rather than stay soft.
Remove the cookies from the oven, and cool them right on the pan. If you need a pan to bake the remainder of the cookies, give the cookies about 5 minutes to set before transferring them to a rack to cool completely.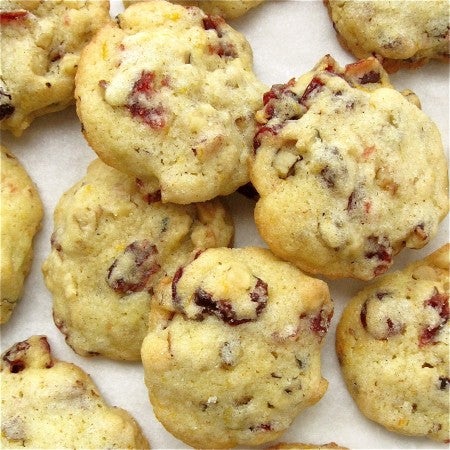 Light gold and bright red: the colors of the season. Enjoy!
Read, bake, and review (please) our recipe for Soft and Chewy Vanilla-Orange Cranberry Cookies.
Jump to Comments