Yeasted Banana Sandwich Bread
A new recipe with a-peel.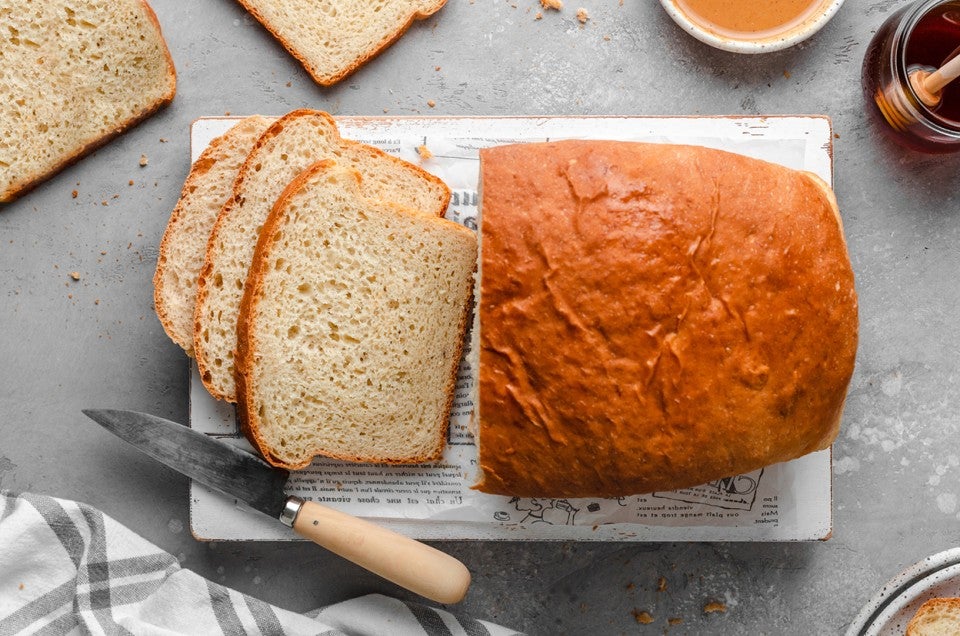 It all started with an orange. That's right, an orange...
My dear husband had been on an orange kick and our fruit bowl had been overflowing with them for weeks. Finally we were down to one lonely orb, and the fruit fiend had moved on to apples.  I didn't really feel like eating an orange myself, but didn't want it to go to waste.
Looking through my cookbooks, I can across a recipe for sandwich bread that called for one peeled, seeded and chopped orange to be added to the dough before mixing and kneading. The author said that the orange just broke up and dissolved into the dough and flavored the bread without adding any chunks, making it great for sandwiches. I tried it out and it was a winner for sure.
Fast forward a few weeks and our big bowl of apples had given way to a mountain of yellow skinned bananas that were starting to show signs of over-ripening. "Hey!" said I. "If an orange will work, why not a banana?"
I wasn't sure at first how much banana to use so I tossed in one whole small banana. I had to add more milk to the dough, so I knew the bread could handle a whole medium banana, and that is what I've used ever since. In my mind I was just picturing a bread that would make a nice slice to eat with butter, but you'll be amazed at the different ways our taste tested thought to use this bread. More on this later.
I know you probably have bananas in your fruit bowl and inspiration in your heart, so let's get going on our Yeasted Banana Sandwich Bread.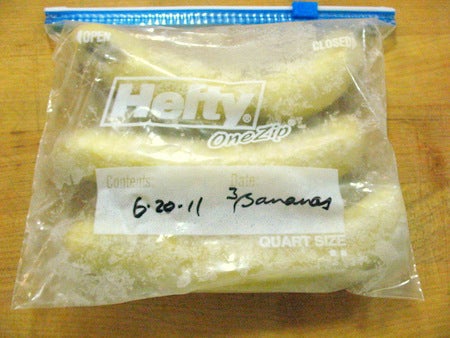 Grab some very ripe bananas from the counter or the freezer. The freezer?! Yes, the freezer. Bananas freeze very well in or out of their peels, so toss 'em in the chiller instead of the trash next time they start to ripen before you can use them all.  You'll need one of medium size, or about 3/4 cup total banana.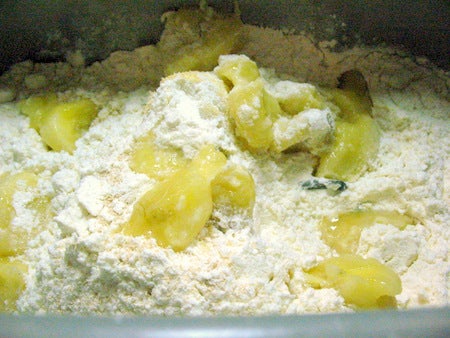 Place in the bucket of your bread machine, or the bowl of your stand mixer the following:
1 cup (227g) lukewarm milk
3 1/4 to 3 1/3 cups (390g to 400g) King Arthur Unbleached Bread Flour*
2 tablespoon (28g) butter, room temperature
2 1/4 teaspoons instant yeast
1 teaspoon (6g) salt
2 tablespoons (43g) honey
1 medium-sized bananas, cut into chunks, about 3/4 cup (142g)
*if you choose to use All-Purpose flour, adding a tablespoon of vital wheat gluten is recommended for better structure.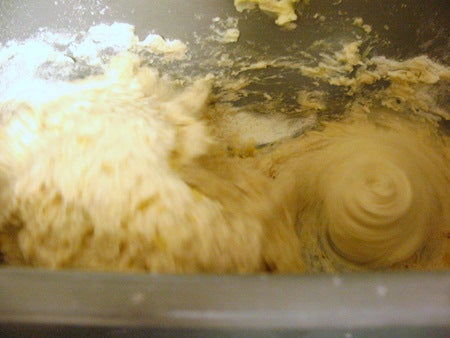 Program for the dough cycle and let the machine do the work. If you are using a stand mixer, knead on second speed for about 4 to 5 minutes.
Regardless of mixing and kneading method, be sure to check the consistency of the dough and adjust with additional flour and liquid as needed. You're looking for a soft, smooth dough with a little bit of tackiness to it.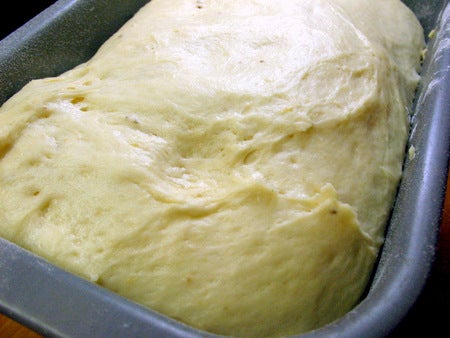 At the end of the dough cycle/first rise, the dough will be doubled in size and very fragrant with banana-y goodness. You'll see small flecks of banana throughout the dough, but shouldn't really have any big chunks at this point.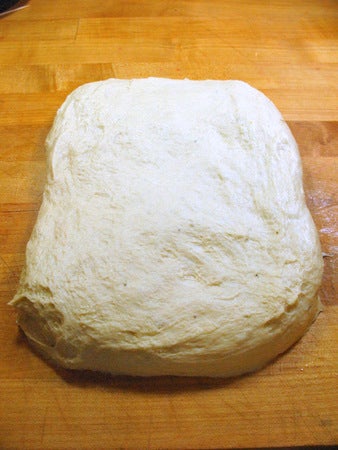 Spritz a 8 1/2" x 4 1/2"  loaf pan with cooking spray and set aside.
Turn the dough out onto a lightly floured surface and pat it into a rough rectangle slightly narrower than your loaf pan, and about twice as long.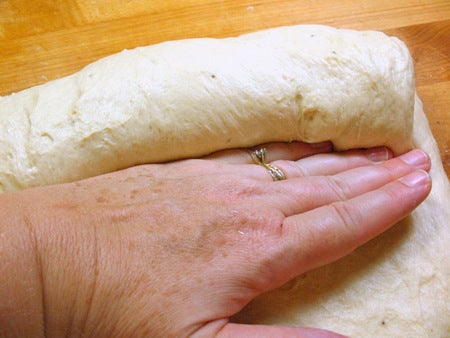 Fold the top third of the dough to the center of the rectangle and press the seam firmly with the flat of your hand.  Tuck and push the roll of dough slightly away from you to tighten it somewhat.  This folding process builds internal structure into your loaf and helps ensure a good strong rise.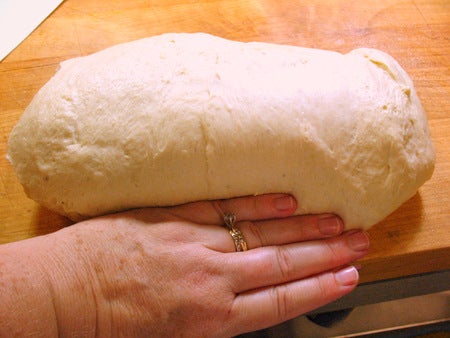 Repeat by folding the dough over once again until it meets the counter top. Seal that seam well and give the dough a tuck and push again. You'll see the stretch across the top of the loaf, and that's a good thing.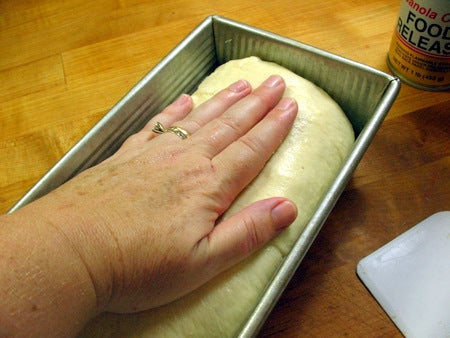 Place the dough log seam-side down in the pan and press it firmly with your hand. You need to dough to fill the corners of the pan now, as it rises it tends to go up, not out.
Cover with greased plastic wrap or a shower cap and let rise for 45 to 60 minutes.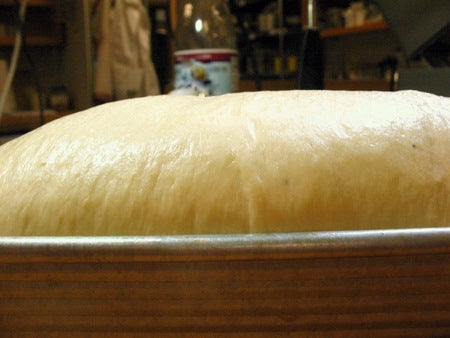 Check it out. When viewed from the side, the dome of the bread has crested the edge of the pan by about 1 inch, so this bread is ready for the oven.
Bake at 350°F for 35 to 45 minutes, until the crust is golden brown and an instant read thermometer inserted into the center of the bread registers 190°F.
Turn the bread out onto a rack to cool completely before slicing.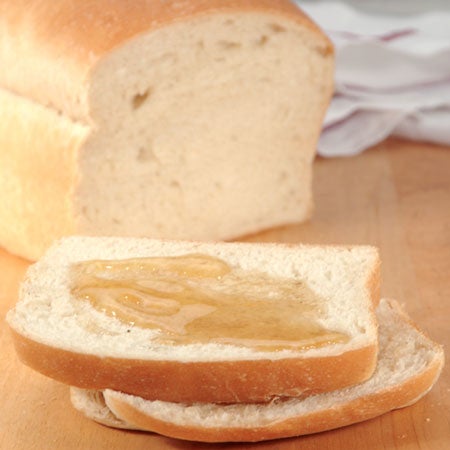 The banana in the bread makes for a moist, tender loaf with just enough hint of sweetness. When I served this for taste testing, there were ideas flying around the room faster than rumors at an Oscar party... "OH, this would be great with honey  and peanut butter".  "Mmmm, I'd use this for ham sandwiches". "How about French toast?" (that one had me craving, and yes, it makes amazing French toast.)
On the second test, I served the bread with salted molasses butter that I found on Tastespotting.com. I doubled the molasses and it was simply spectacular with this bread. Charlotte, our new recipe developer had a small bite and walked away, proclaiming it "far too irresistible" for her to stay nearby.  I'll take that as a home run  any day of the week.
Please bake, rate and review our recipe for Yeasted Banana Sandwich Bread.
Jump to Comments