Wheat-Oat-Flax Buns
Countdown to the Canada Day cookout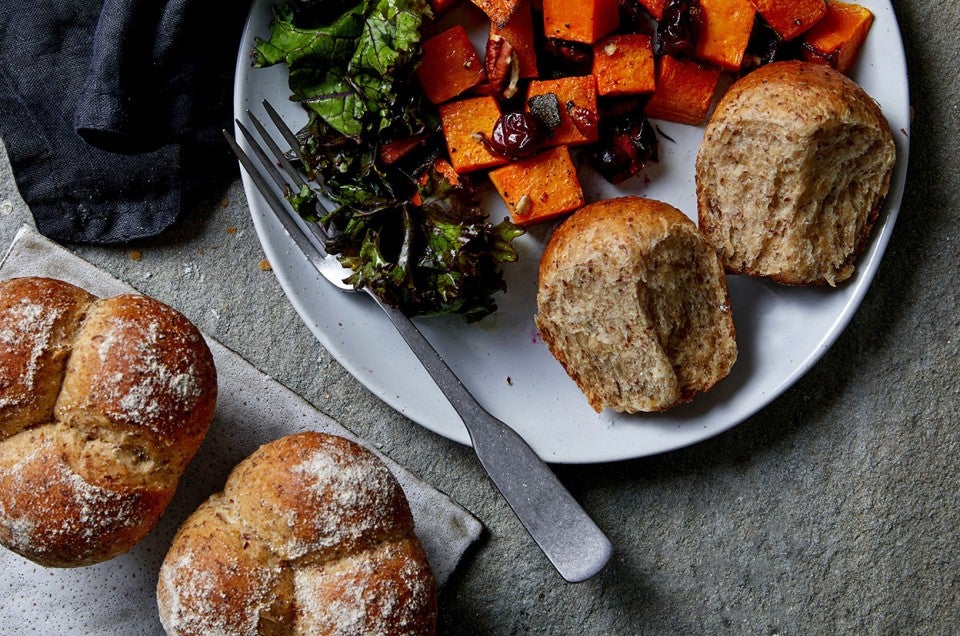 "O Canada! Our home and native land
True patriot love in all thy sons command.
With glowing hearts we see thee rise
The true north, strong and free
From far and wide, O Canada
We stand on guard for thee.
God keep our land glorious and free
O Canada! We stand on guard for thee
O Canada! We stand on guard for thee."
And there you have it, hockey fans - the words to Canada's national anthem, which you're always too preoccupied to REALLY listen to while waiting for the ref to drop the puck.
Today, July 1, is Canada Day, formerly known as Dominion Day - and a.k.a. Canada's Birthday.
And I'll bet you thought, all these years, that the U.S. was the only North American country with a July birthday, right?
Our neighbors to the north are just as willing and eager as we are to shake off winter and celebrate their national birthday. And, in the case of King Arthur Flour here in Norwich, Vermont, we can almost hear the fireworks and smell the barbecue: the border's only about 2 hours north of us.
Speaking of barbecue, these soft, tender buns are perfect for Canada Day burgers: they feature some of Canada's most important grain crops – wheat, oats, and flax.
The addition of canola oil adds another touch of the North: canola oil, made from rapeseed, was originally developed in Canada as a special, lower-acid vegetable oil. In fact, its name is an acronym: CANadian Oil, Low Acid.
But you don't have to be Canadian to enjoy these tasty buns. They're a perfect whole-grain alternative to the squishy white rolls usually offered at cookouts.
Looking to increase your fiber and vitamin intake in a tasty way? This recipe's for you.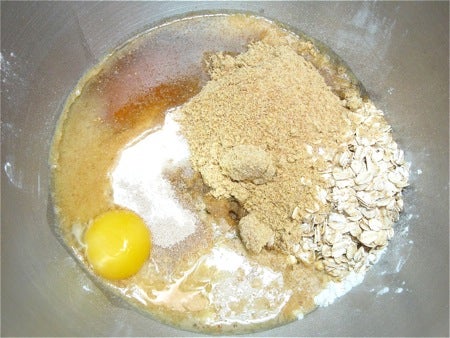 Place the following in a bowl:
2 cups (241g) King Arthur Unbleached All-Purpose Flour or King Arthur Unbleached Bread Flour
1 cup (113g) King Arthur White Whole Wheat Flour
1/2 cup (45g) old-fashioned rolled oats
1/2 cup (43g) whole flax meal
2 1/2 teaspoons instant yeast
1 1/2 teaspoons (9g) salt
1/4 cup (50g) canola oil or 4 tablespoons (57g) butter, melted
1 large egg yolk, white reserved for topping
3 tablespoons (64g) honey
1/4 cup (57g) orange juice
Note: Some people don't like the taste of canola oil in baked goods. If that's you, simply substitute any vegetable oil for the canola oil.
And, what's with the OJ? Orange juice won't add its own flavor to the rolls, but will mellow the potentially strong taste of the whole wheat.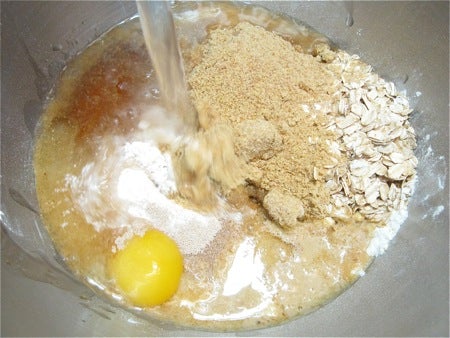 Add 3/4 to 7/8 cup (170g to 198g) lukewarm water.
Use the greater amount of liquid in winter or in drier climates; the lesser amount in summer, or in a humid environment. This time of year, I suggest starting with 3/4 cup water.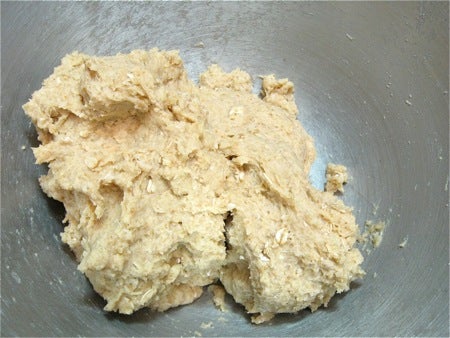 Combine all of the ingredients, mixing to bring them together.
Cover the bowl, and let the dough rest for 20 minutes, to give the whole grains a chance to absorb some of the liquid.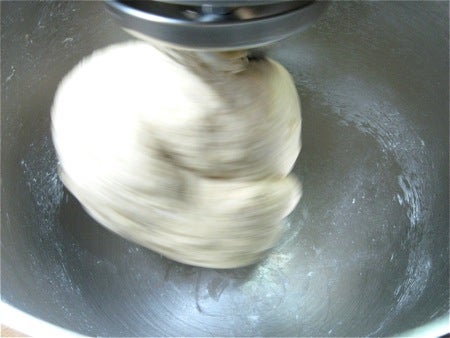 Then knead – by hand, stand mixer, or bread machine – to make a smooth, soft, elastic dough.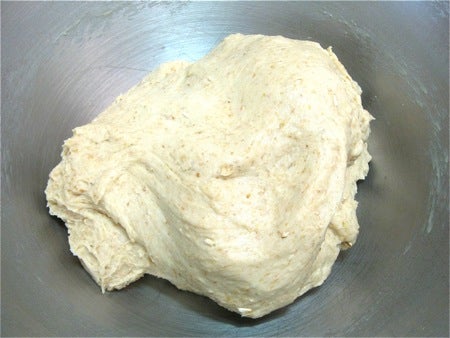 Like this. Not too sticky; not too dry.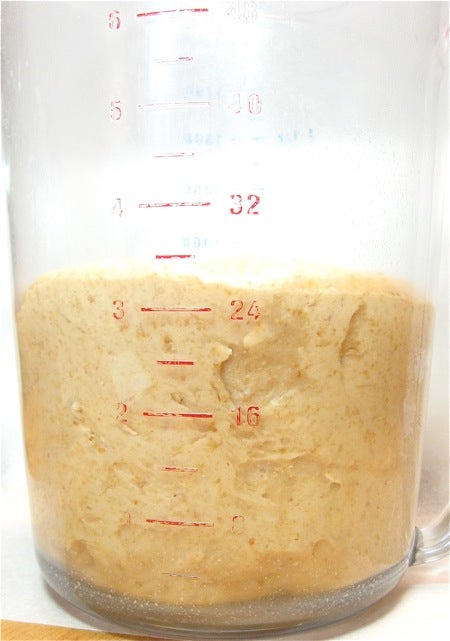 Place the dough in a lightly greased bowl, or in an 8-cup measure (so you can track its progress as it rises), and let it rise for 1 to 1 1/2 hours, until it's risen noticeably.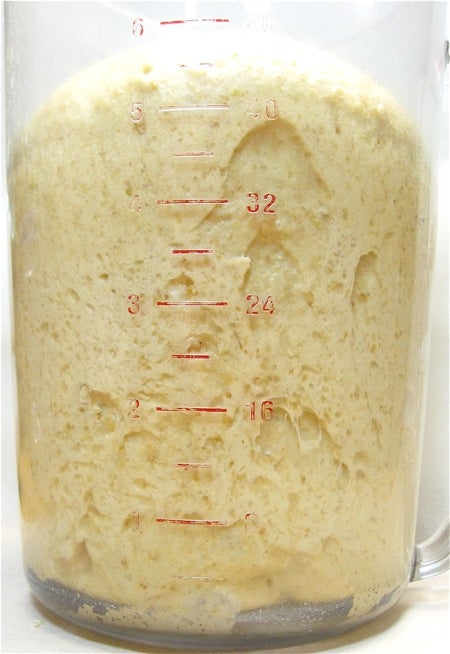 It won't necessarily double in bulk, but it'll probably get pretty close.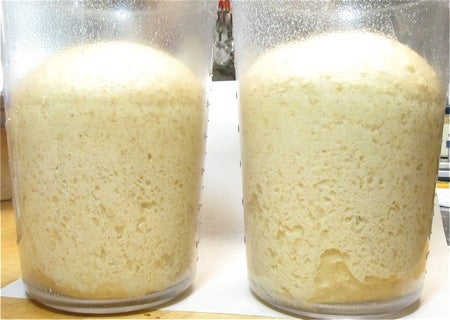 Note the difference between bread flour (on the right), and all-purpose. Bread flour, with its additional gluten, produces a higher rise.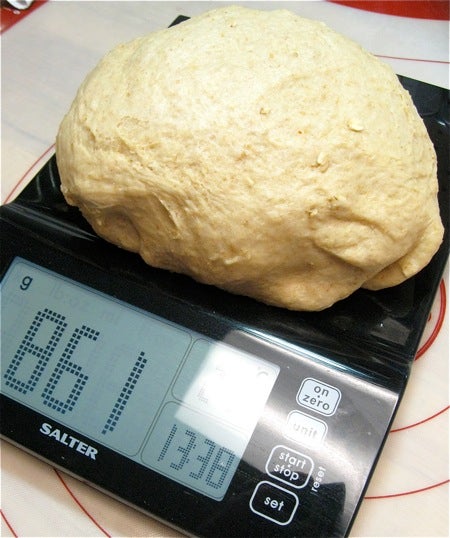 Gently deflate the dough, and divide it into 12 pieces (about 72g each).
A scale is a major help here, if you're going for buns that are all the same size.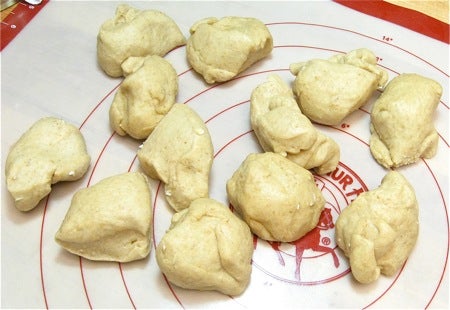 Take those 12 pieces of dough...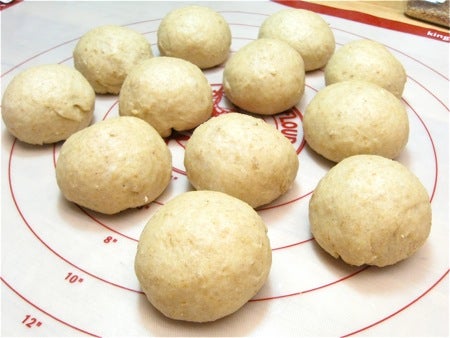 ...and shape each one into a round ball.
Use your fingers to pull and flatten each ball into a circle about 3" across.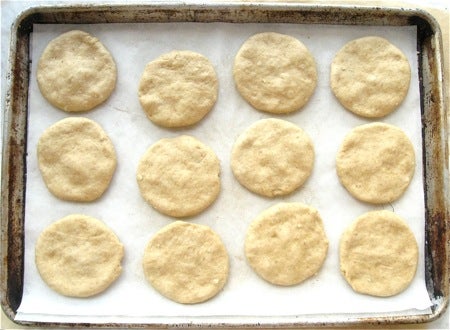 Place the buns on a lightly greased or parchment-lined baking sheet.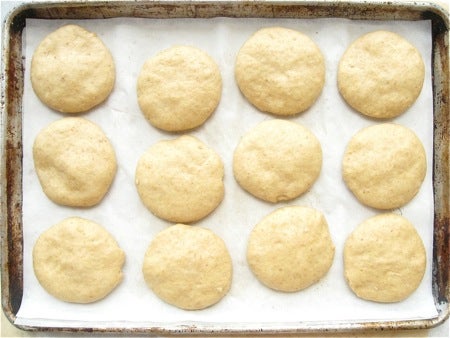 Cover the pan, and let the buns rise for about 90 minutes, until noticeably puffy.
Towards the end of the rising time, preheat the oven to 350°F.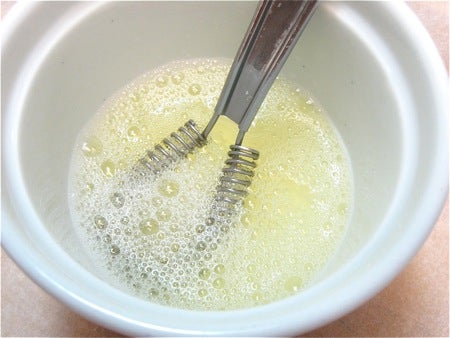 Next, take the egg white you reserved while making the dough, and whisk it with 2 tablespoons cold water.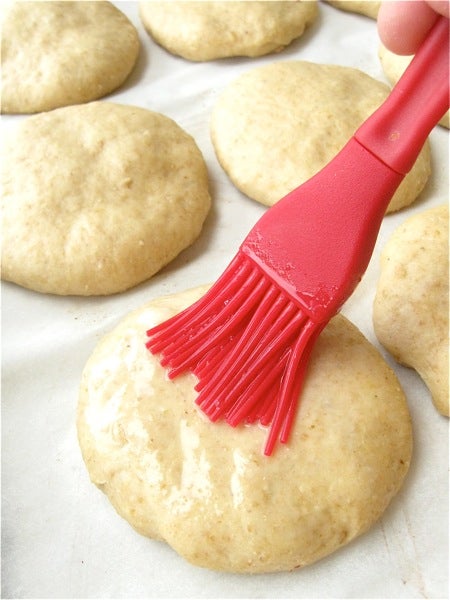 Brush the buns with the egg white/water mixture.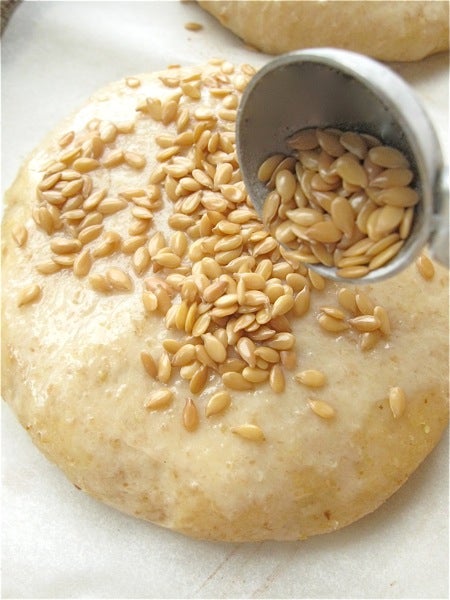 Sprinkle with whole golden flax seeds...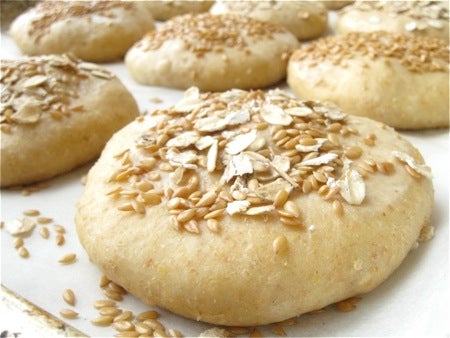 ...and/or rolled oats.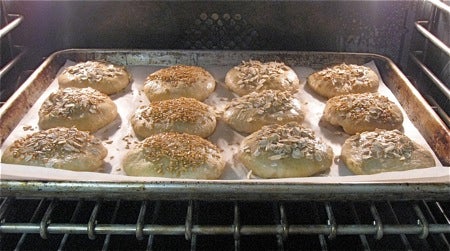 Bake the buns for 21 to 25 minutes.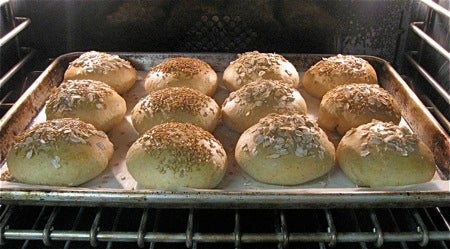 They'll rise nicely, and turn golden brown.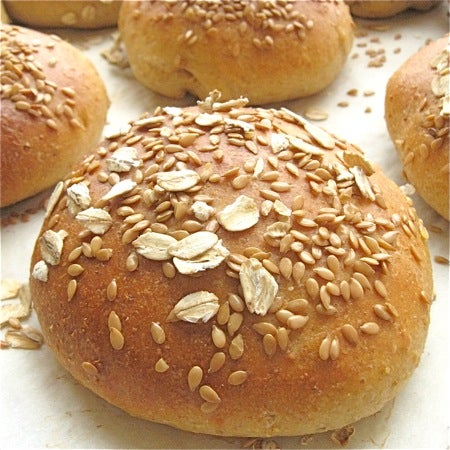 Remove the buns from the oven.
To keep their bottoms crisp, transfer them to a rack to cool.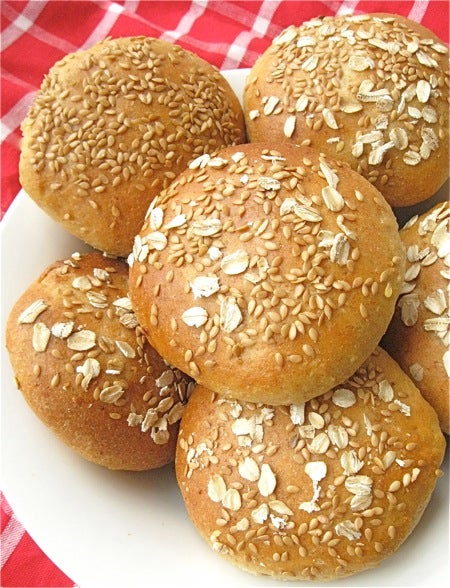 Serve at your next cookout!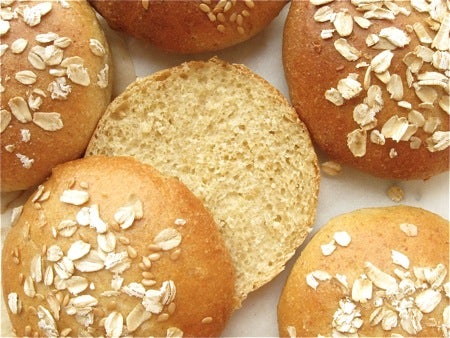 Just wanted you to see their beautiful light-tan interior. Soft (but strong enough to hold an overloaded burger), moist, and flavorful, these are my new whole-grain buns of choice.
Wrap completely cooled buns airtight, and store at room temperature for several days; freeze for longer storage.
Read, bake, and review (please) our recipe for Wheat-Oat-Flax Buns.
Jump to Comments