Shhh, come closer. I have a secret to share...
I don't like (hangs head)... coffee. Java lovers everywhere may swarm to swat me with stirrers, or grind me into gourmet grounds, but I can't help it. I just don't like coffee.
Believe me, coming from a household where my father's brew method included one scoop for every two cups and one more for the Corps (Marine Corps, that is) coffee has been in my life for a long time.  My folks still polish off about 3 pots a day.
I started in my teens trying to drink coffee. Everyone said to start with milk, add a little coffee and work your way up to more coffee and less milk, maybe a little sugar. No matter how much milk I used and how little coffee, I just couldn't enjoy the flavor. Feeling like I was missing some rite of passage, I gave up trying for several years.
I tried again when I moved in with my husband, who is not fit to live with until he has had his first cup of joe in the morning. More milk, more sugar, no dice. Secretly, I still felt like I had failed some kind of grown-up test.
Fast forward to the present. I still don't drink coffee and I rarely use PJ's beloved espresso powder in my baked goods. The world of mocha baked goods just doesn't send me.
So, imagine my joy when I tried this Tiramisu Layer Cake which has coffee syrup soaked cake layers, and I loved it. I mean I LOVED it! I'm a sucker for cake and cream and this take on classic Italian dessert just hits the spot. The coffee enhances and tempers the sweetness of the cream and the hint of marsala makes me feel like I really am a grown-up after all!
So imagine, if a non-coffee drinkin' gal like myself enjoys this cake that much, you folks who thrive on espresso and cappuccino are going to beat feet to the kitchen for this one.
For the Tiramisu Layer Cake you will need a single 9" round cake layer, chocolate or vanilla, split in half horizontally.  I used our Golden Vanilla Cake mix, it's a real favorite of mine. Just freeze the second layer for another day or double the filling and give one to someone who needs a pick-me-up.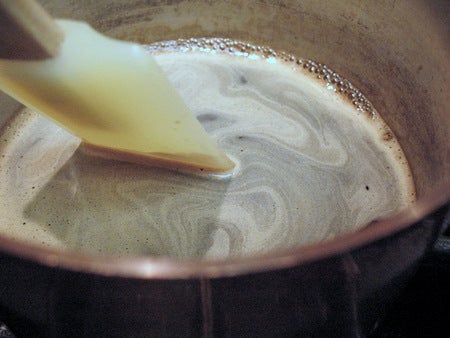 To make the coffee syrup, add to a  small saucepan:
1/2 cup (113g) water
2 teaspoons espresso powder
1/4 cup (50g) sugar
Stir over medium heat until the sugar is fully dissolved.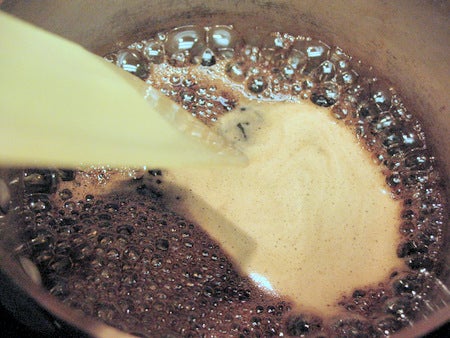 Bring to a full rolling boil, remove from the heat and add in 1/4 cup (57g) Kahlua or amaretto liqueur. Set aside to cool to lukewarm.
For the filling, you'll need: 
1 cup (227g) mascarpone cheese
1 cup (227g) heavy cream
1 tablespoon (14g) vanilla extract
1/3 cup (35g) confectioners' sugar
2 teaspoons Instant ClearJel
Combine the mascarpone and heavy cream in a large bowl and whisk at low speed until the mixture is smooth. Mix in the vanilla extract. Whisk together the confectioners' sugar and ClearJel, and slowly add to the mixture. Increase speed to medium-high and whisk until medium peaks form.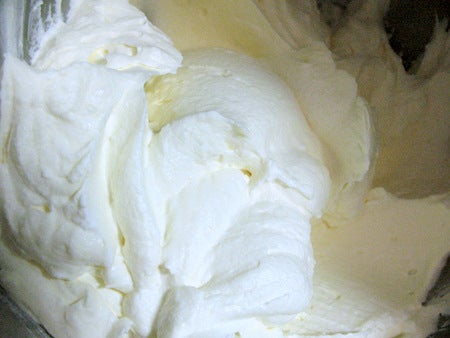 Now for the assembly. Remove the top browned layer of your cake to expose the soft absorbent cake inside. I'm sure someone will nibble up those crumbs, eh?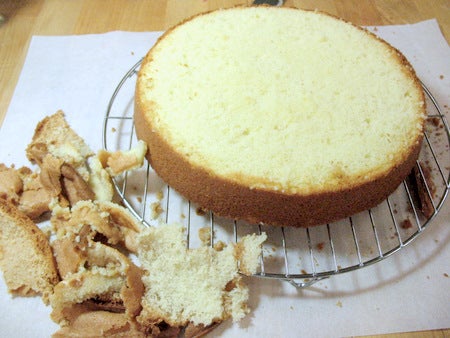 Place half of the cake in a parchment lined 9" springform pan.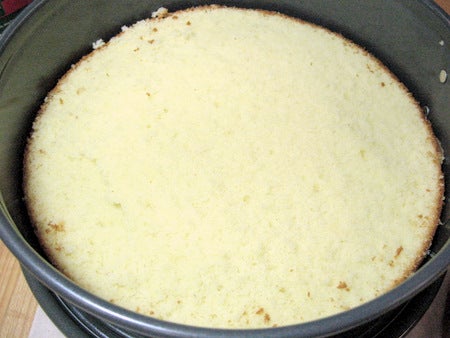 Sprinkle 3 tablespoons of the coffee syrup evenly over the cake, then spread 2 cups of the tiramisu cream filling over this layer of cake.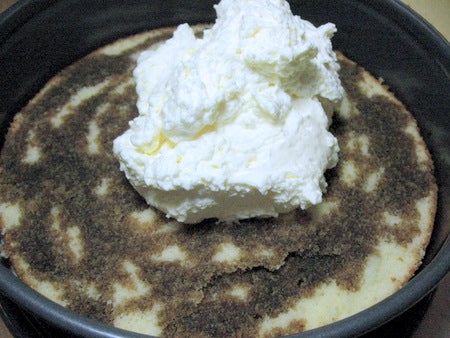 Top with the second half of your cake.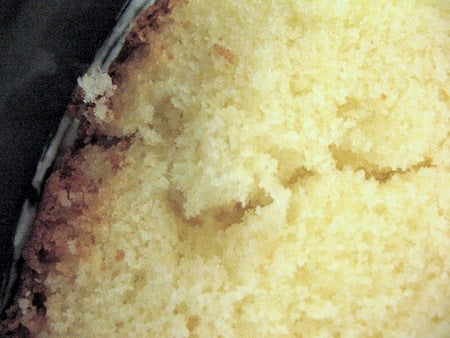 See that big split? Dinna fash yourself, (Gaelic for don't worry about it) it's all going to be covered in cream soon.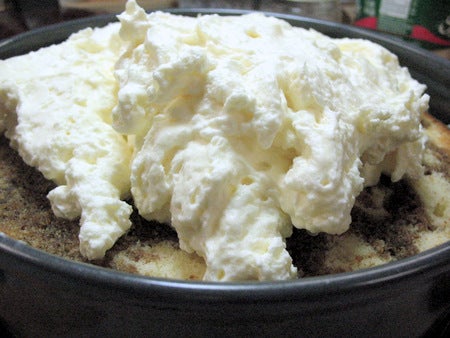 Sprinkle the cake with another 2 tablespoons of the syrup, let it soak in for a few minutes, then top with the remaining tiramisu cream.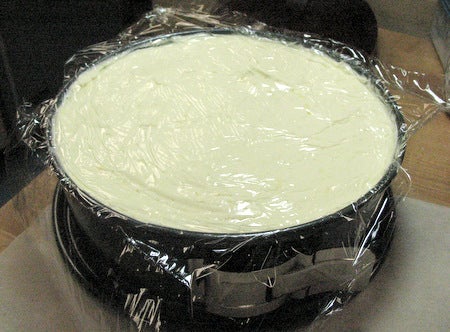 Cover with plastic wrap and refrigerate for several hours or overnight.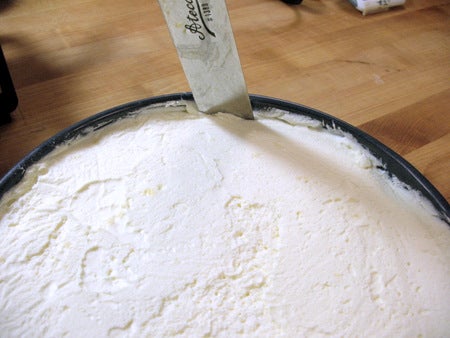 When you're ready to serve, remove the plastic wrap and run a thin, flexible spatula around the edge of the cake.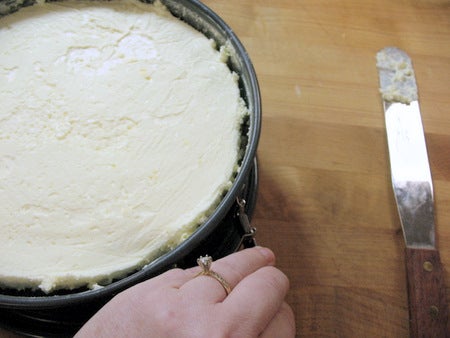 Unlatch and remove the springform ring. The cream should be well set and stand tall all on its own.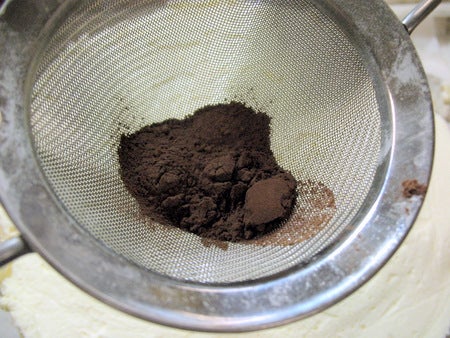 If you'd like, sift a fine layer of cocoa over the top of the cake.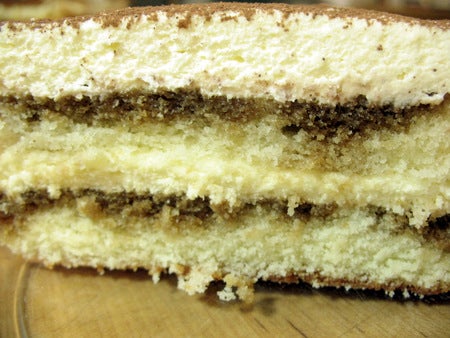 All that's left is to slice, serve and enjoy. I must say I've had tiramisu in the past that overwhelmed you with strong coffee flavor, never letting you taste the other flavors involved.
This cake does have the coffee flavor, but in a much more subtle way. You know there is coffee, but you also taste the sweetness of the cream, the vanilla in the cake, even the hint of marsala-like essence in the filling. Truly, a dessert to lift you up at any time of day.
Please bake, rate and review our recipe for Tiramisu Layer Cake.
Jump to Comments