American Irish Soda Bread
Sláinte! A just-sweet-enough American-Irish soda bread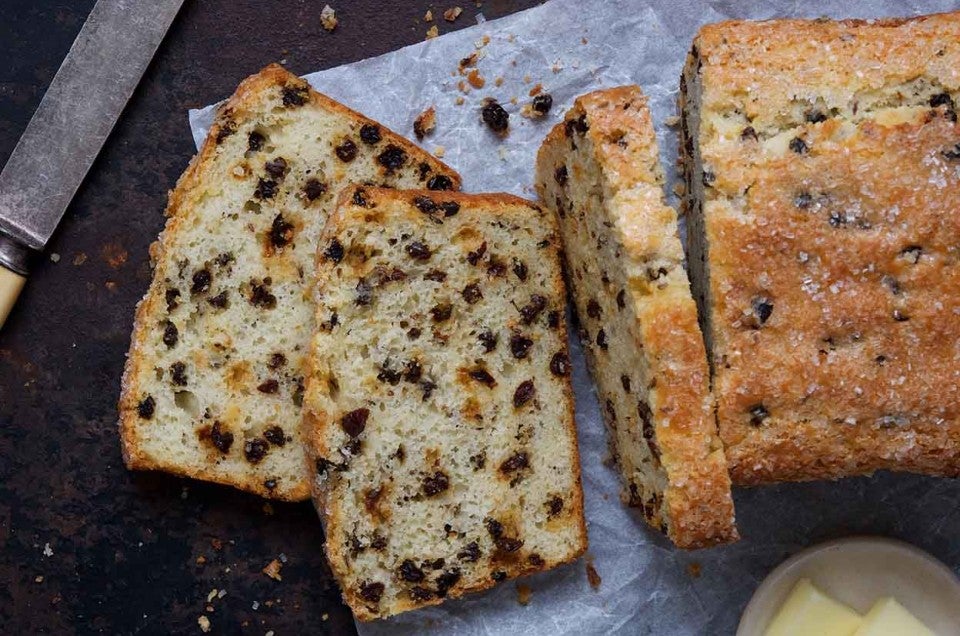 Ah, St. Patrick's Day!
Green clothes. Green cabbage. Green cookies.
Green beer.
Sorry... I just couldn't bear to make green bread.
After all, why ruin the creamy-gold good looks of this traditional American-Irish soda bread? Studded with currants, laced with caraway seeds (or not), it's chewy and light – more bread than cake, unlike many American soda breads.
Plus most of its sweetness comes from the currants, and a crunchy sugar crust. I can see this spread with butter; or toasted, and served with orange marmalade. And lime marmalade.
Green... AND orange.
Now there's the perfectly PC way to celebrate St. Patrick's Day!
Preheat your oven to 375°F. Lightly grease a 9" x 5" loaf pan.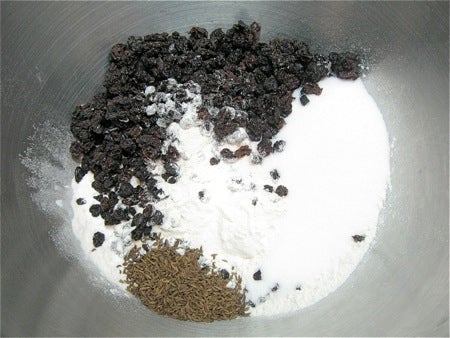 Put the following in a mixing bowl:
3 cups (340g) Perfect Pastry Blend or 3 cups (361g) King Arthur Unbleached All-Purpose Flour
1 tablespoon baking powder
1/4 teaspoon baking soda
3/4 teaspoon salt
heaping 1/2 cup (120g) granulated sugar
1 cup (128g) currants or raisins
1 tablespoon caraway seeds, optional
Whisk until thoroughly combined.
Can you use white whole wheat flour? Yes; substitute 1 cup white whole wheat for 1 cup of the all-purpose flour.
Can you up the percentage of whole wheat? Yes; just be aware, the more whole wheat you add, the denser your bread will be.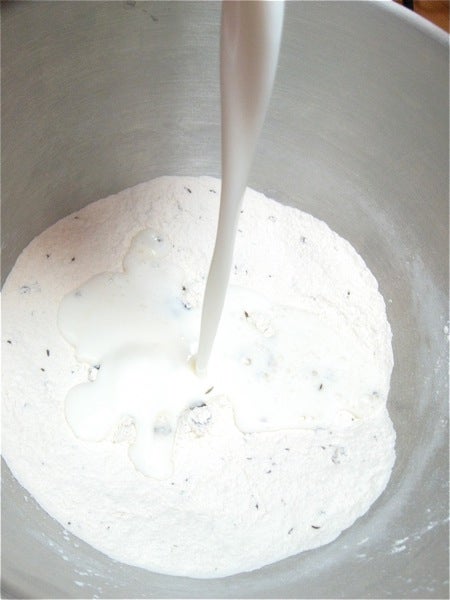 Stir together 1 large egg, and 1 3/4 cups (397g) buttermilk.
No buttermilk? Use one 6-ounce container plain yogurt and 1 cup milk in place of the buttermilk.
Can you use low-fat dairy? Yes, the bread will be less tender. Can you use nonfat dairy? Yes, the bread will be tough. Let your conscience be your guide.
Whisk the liquid ingredients into the dry ingredients.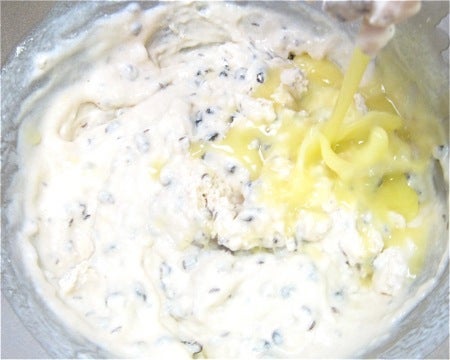 Add 4 tablespoons (57g) melted butter...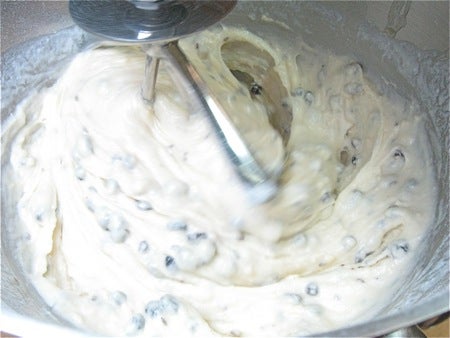 ...and mix briefly, just to combine.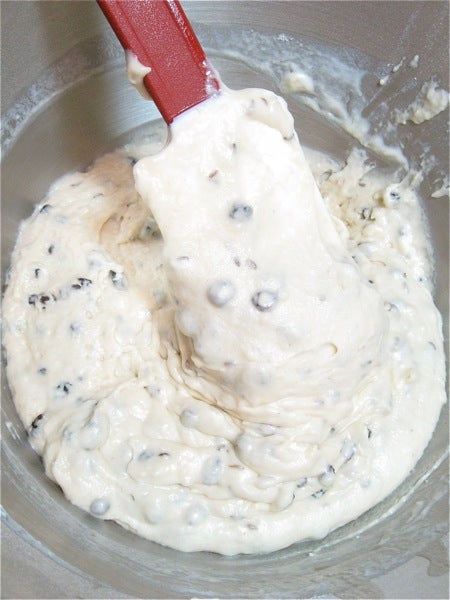 The batter will be quite thick.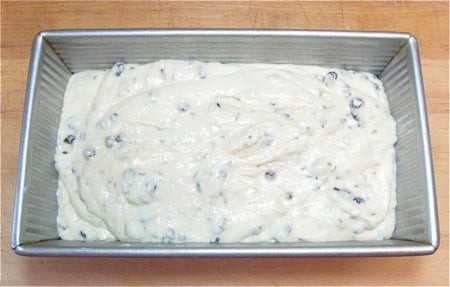 Spoon it into the prepared loaf pan.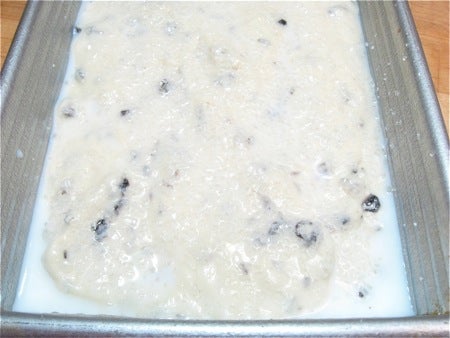 Drizzle with 1 tablespoon milk; then sprinkle with 1 tablespoon coarse white sugar.
Note how the milk is pooling around the edges of the pan. Next time, I'd take a spoon or my finger and make a little moat right around the edge of the batter, to force the milk more towards the center. You'll see why later.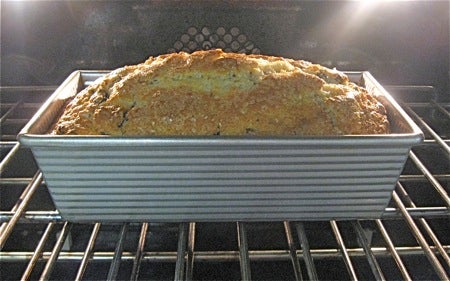 Bake the bread for about 50 minutes, until a toothpick inserted into the center comes out clean.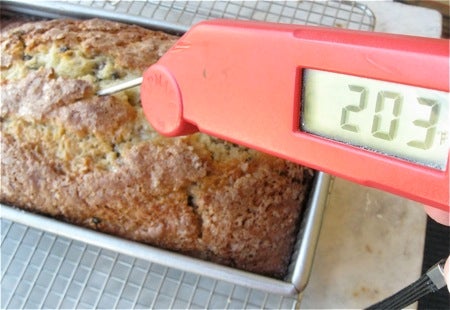 When it's finished, the temperature of the bread at its center will range between 200°F and 210°F, as measured with an instant-read thermometer.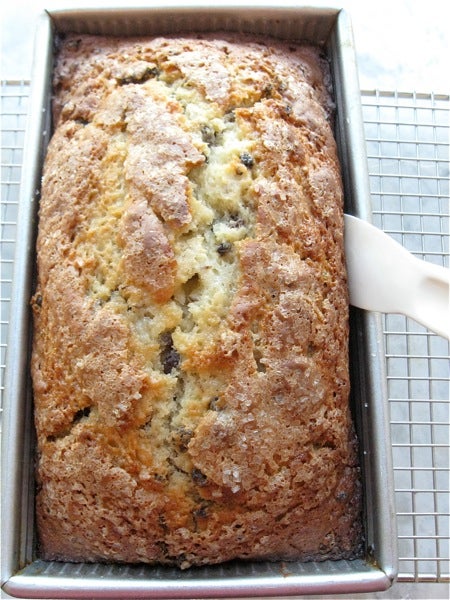 Remove the bread from the oven, and loosen its sides with a heatproof spatula or table knife. After 5 minutes, turn it out of the pan onto a rack to cool.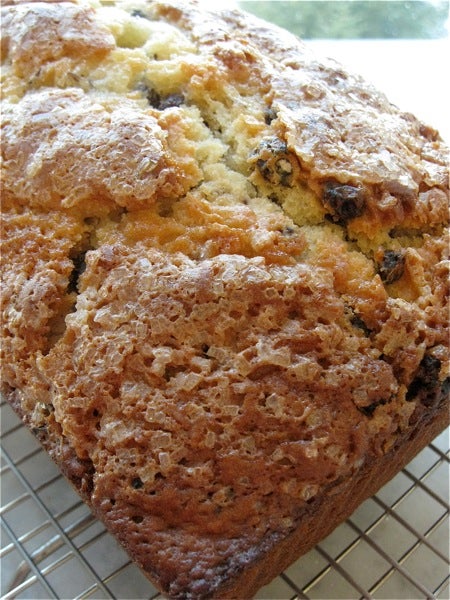 Nice crackly-crunchy crust, eh?
But see the darkened corner? That's from milk running down the inside of the pan and burning; thus the "batter moat" suggested earlier.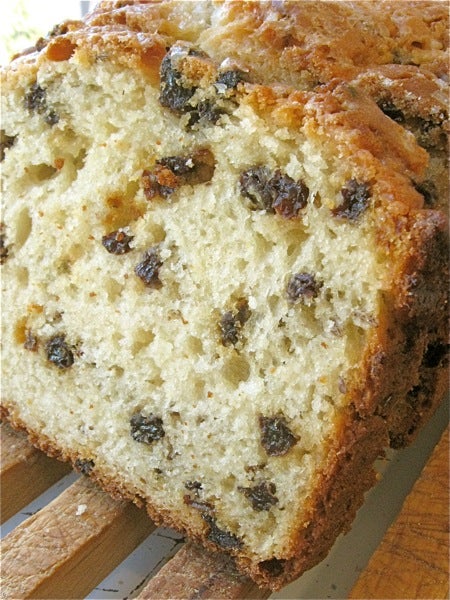 Slice when completely cool.
Enjoy as is; or with butter. Or toasted, with the aforementioned orange and lime marmalades.
Sigh... OK, have it your way. Yes, you CAN color this bread with green food coloring. But don't ask me how much, I'm just not going there!
Read, rate, and review (please) our recipe for American Irish Soda Bread.
Jump to Comments