Making classic Parker House Rolls
Let the good times roll...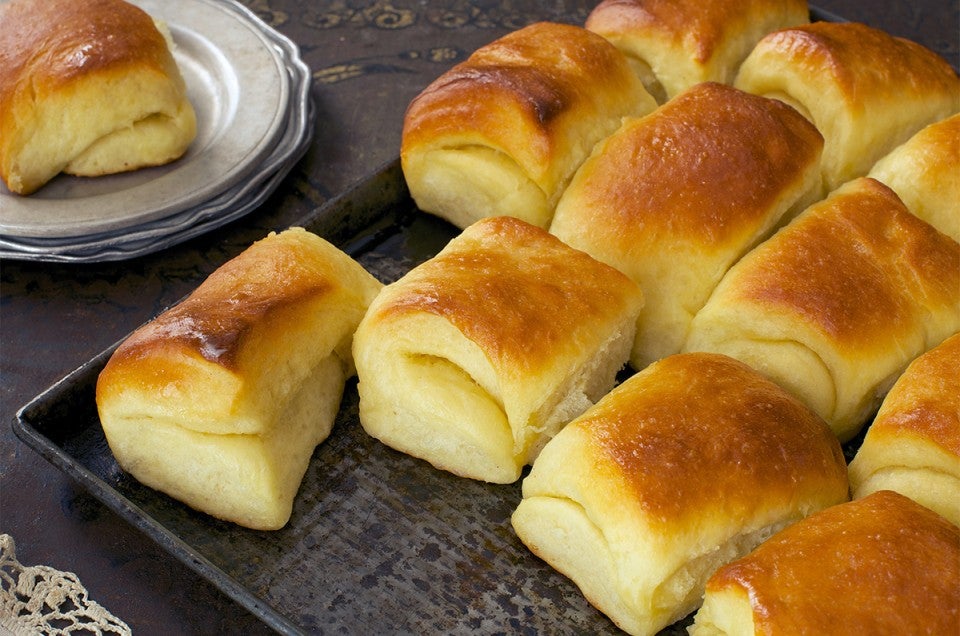 I've always loved Parker House rolls.
I mean, what's not to like about these soft white rolls? Mild, very slightly sweet flavor. Tender, melt-in-your mouth texture.
And butter. Lots and lots of butter.
The one thing I've never liked: how you make them.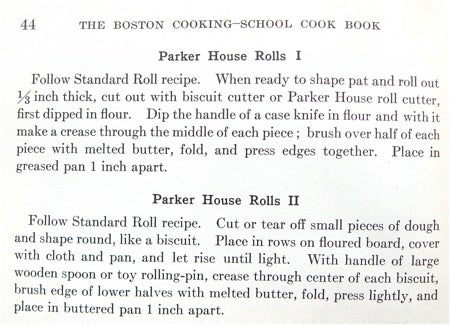 Here's what Fannie Farmer says, in the 1933 printing of her The Boston Cooking-School Cook Book. You figure, Fannie should know, right?
I was fine with cutting the dough in circles, but it was the buttery fold that got me. Not because it was difficult; but because the darned rolls refused to hold their shape.
Looking like a pair of sealed lips (SSHHH!) going into the oven, by the time 10 minutes had passed those rolls had opened wide, like a diva singing her dying aria – think Mimi in La Bohème.
Try as I might, I couldn't replicate the Parker House rolls' authentic folded-oval shape.
Wondering if others had the same problem, I searched Google images for pictures. My real goal was a shot of the rolls served at the Omni Parker House hotel, the current incarnation of Boston's venerable Parker House (est. 1855), creator of both these rolls, and Boston Cream Pie. (Check out the "original" recipe from the Omni Parker House Web site.)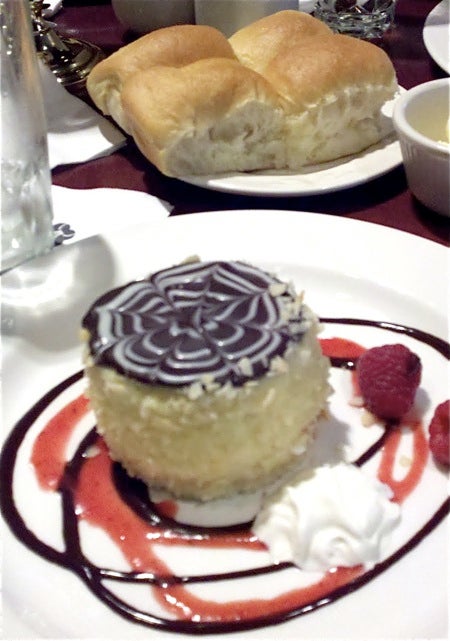 Bingo! Not only did I find a picture of rolls from the Omni Parker House, but a rather grand version of Boston Cream Pie as well, thanks to a post on Plain and Simple, a blog written by "Libby, a wife, mother, dog lover and quilter trying to find balance between modern convenience and the simple things in life." Thanks for your permission to use this shot, Libby.
Take a look at those rolls: Do they look like ovals? Don't think so. To me, they look more like little rectangles.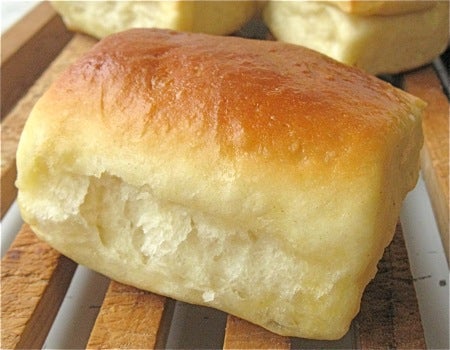 Little mini-loaves. Like this.
Let's figure it out.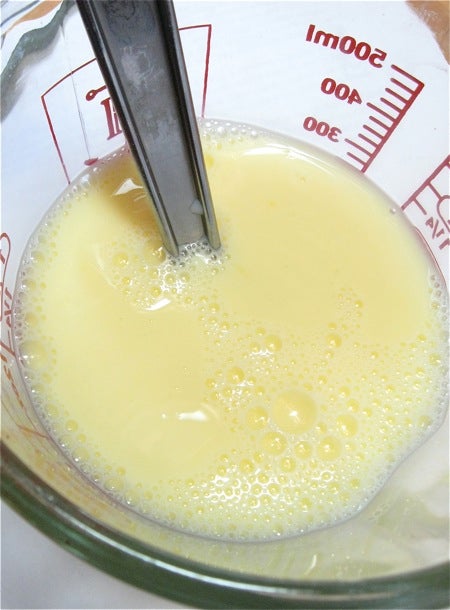 Whisk together 1 cup (227g) milk and 1 large egg. GENTLY heat in the microwave (or on the stovetop) just to lukewarm; about 100°F. Really, all you want to do is take the refrigerator chill off.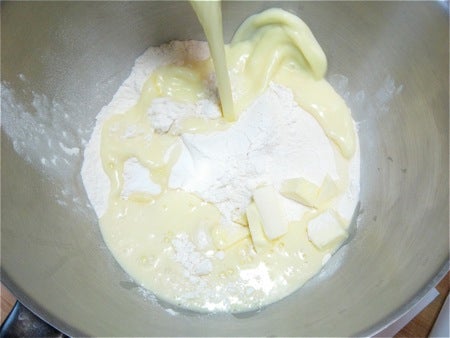 Put the following in a mixing bowl:
3 cups (361g) King Arthur Unbleached All-Purpose Flour
2 1/2 teaspoons instant yeast
3 tablespoons (39g) sugar
1 1/4 teaspoons salt
1/4 cup (50g) potato flour or 3/4 cup (50g) dried potato flakes
3 tablespoons (43g) butter
Add the milk/egg mixture.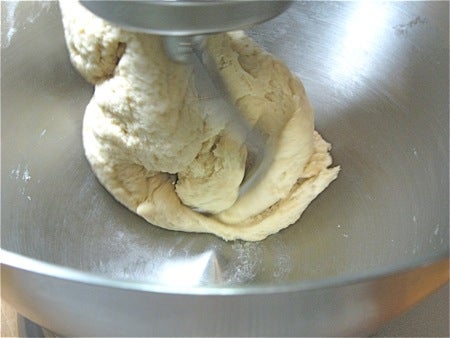 Stir to combine, then knead. At first, the dough will seem clay-like, and appear rough.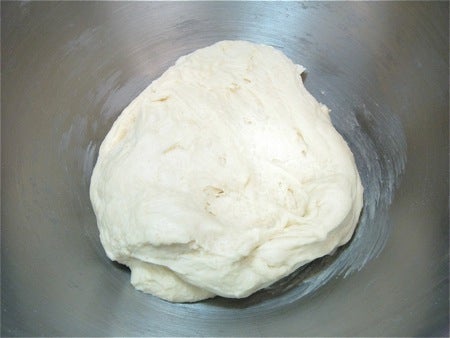 After 7 or 8 minutes, though, the dough should be nice and smooth.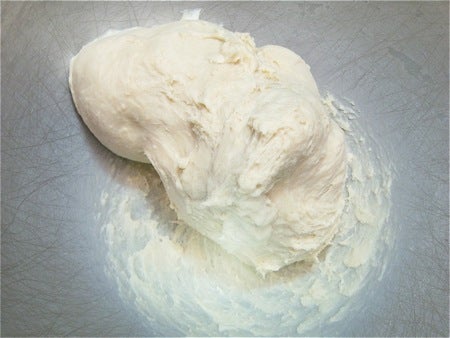 It may stick to the bowl a bit; that's OK. Just scrape it into a ball...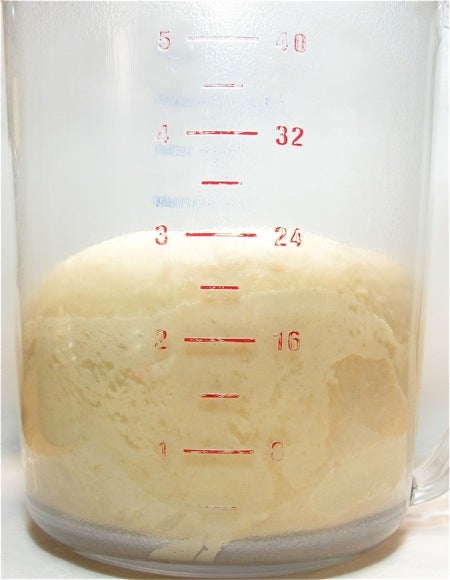 ...and place it in a lightly greased bowl or 8-cup measure (so you can track its rising progress).
Allow it to rise for 90 minutes; it'll become quite puffy, though it probably won't double in bulk.
Note that the dough takes quite awhile to get going; after 1 hour, it may seem like it's barely expanded at all. But during the last half hour, it rises more quickly.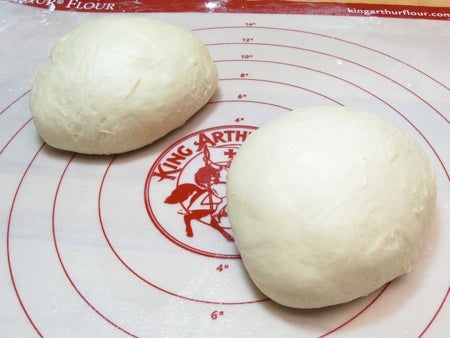 Transfer the dough to a lightly greased work surface. Divide it in half.
Melt 3 to 4 tablespoons of butter, to brush on the dough; 3 tablespoons is barely sufficient, 4 is generous. Let your conscience be your guide.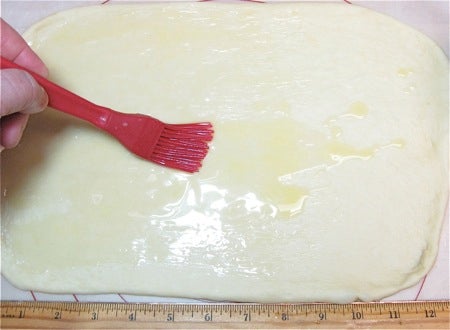 Working with one half at a time, roll or pat the dough into an 8" x 12" rectangle.
Brush the dough all over with a light coating of the melted butter. You'll have melted butter left over; save it to brush on the other piece of dough, and atop the baked rolls.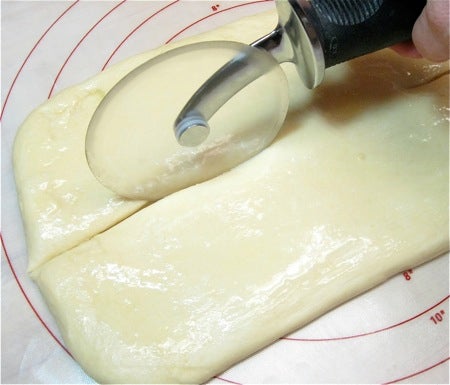 Cut the dough in half lengthwise, to make two 4" x 12" rectangles. Whatever cutting tool you use, be gentle if you're working on a silicone mat; you don't want to score it.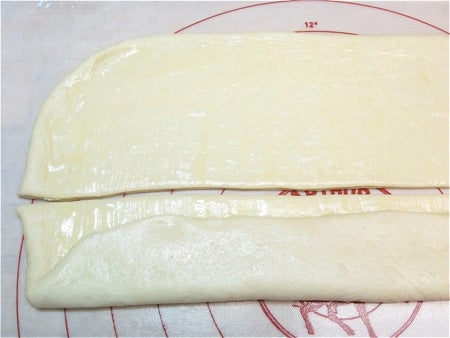 Working with one rectangle at a time, fold it lengthwise to about 1/2" of the other edge, so the bottom edge sticks out about 1/2" beyond the top edge. You'll now have a rectangle that's about 2 1/4" x 12".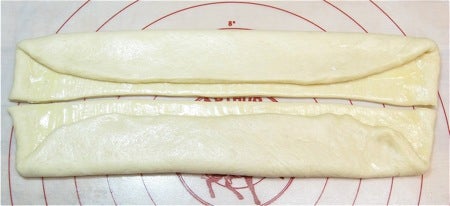 Repeat with the other rectangle.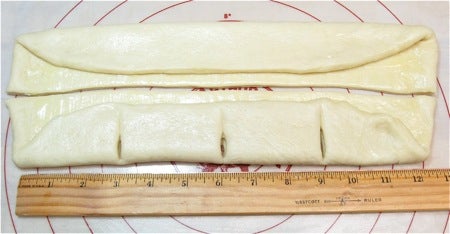 Cut each of the rectangles crosswise into four 3" pieces, making a total of 8 rolls, each about 2 1/4" x 3". To make the rolls as similar-sized as possible, measure and notch the dough first.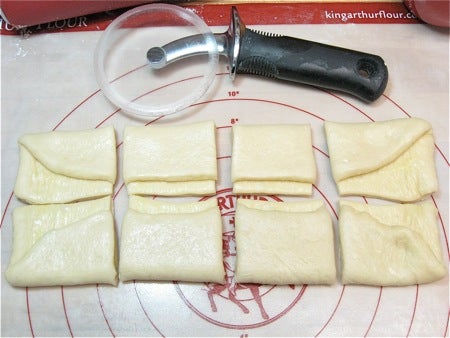 Notice the rolls on the ends don't look exactly like those in the center. No worries; as they rise and bake, any differences will disappear.
Place the rolls, smooth side up, in a lightly greased 9" x 13" pan. Repeat with the remaining piece of dough, making 16 rolls in all.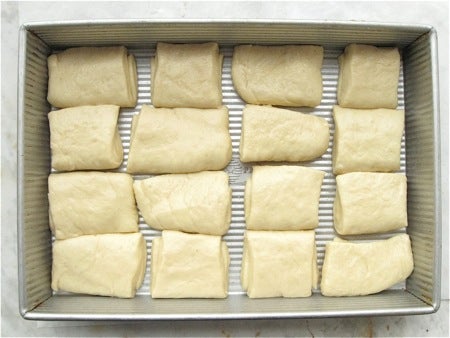 You'll arrange 4 rows of 4 in the pan, with the longer side of the rolls going down the longer side of the pan. Gently flatten the rolls to pretty much cover the bottom of the pan.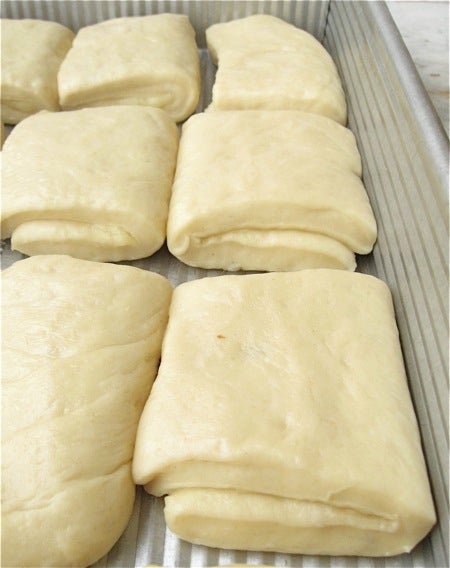 Not exactly a folded oval, but good enough, eh?
Cover the pan, and let the rolls rise for about 45 minutes to 1 hour, until they're puffy but definitely not doubled. You don't want them to rise too much; they'll rise some more in the oven, and too long a rise before baking encourages "popping" – the fold opening up.
Towards the end of the rising time, preheat the oven to 350°F.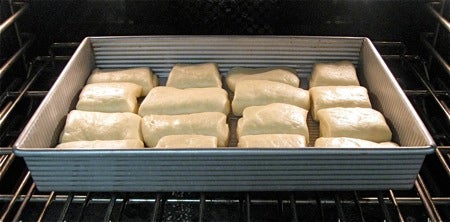 Bake the rolls for 20 to 25 minutes...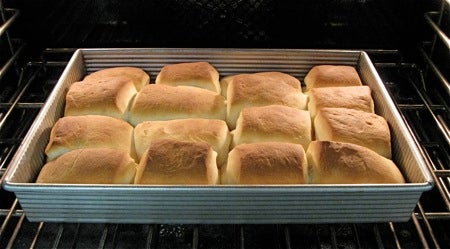 ...until they're golden brown and feel set.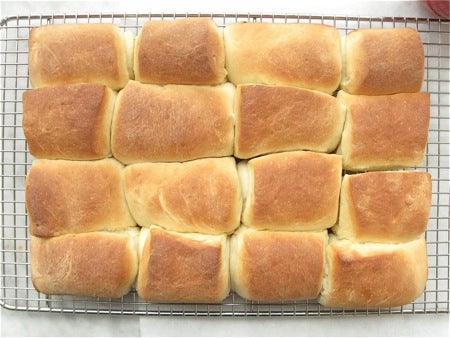 Remove the rolls from the oven, and turn out onto a rack. Set the rack over a piece of parchment, if you have it; you're going to be brushing them with butter, and it's handy for cleanup.
Brush the rolls with the remaining melted butter.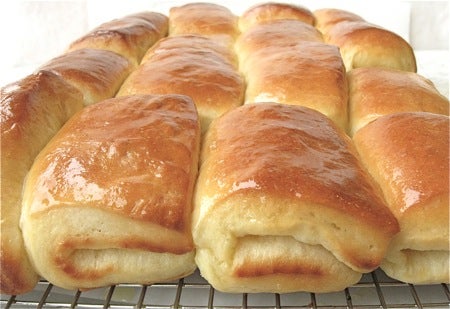 Folds intact – nice!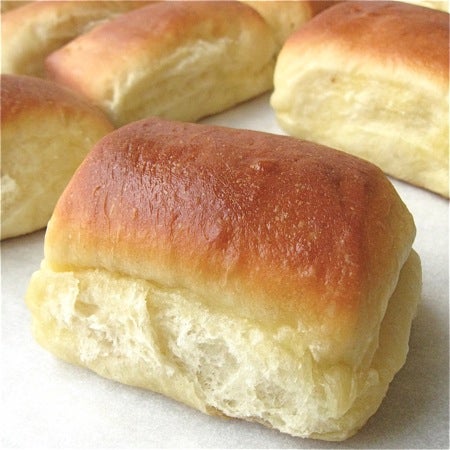 Pull rolls apart to serve, in all their glorious, buttery goodness.
Now, that wasn't so hard, was it? And I guarantee, these rolls will FLY out of the bread basket. Just like they did here at King Arthur, when I put the warm rolls in the kitchen for taste-testing. In fact, they disappeared so quickly I had to make another batch for those who didn't get a taste.
That on top of the three batches I'd already made trying to figure out the easiest, most effective shaping method.
Alas, it's a TOUGH job... and I'm lucky enough to do it!
Read, rate, and review (please) our recipe for Parker House Rolls.
Jump to Comments