Taste testing our Best of Breed Dog Biscuits
Puppy love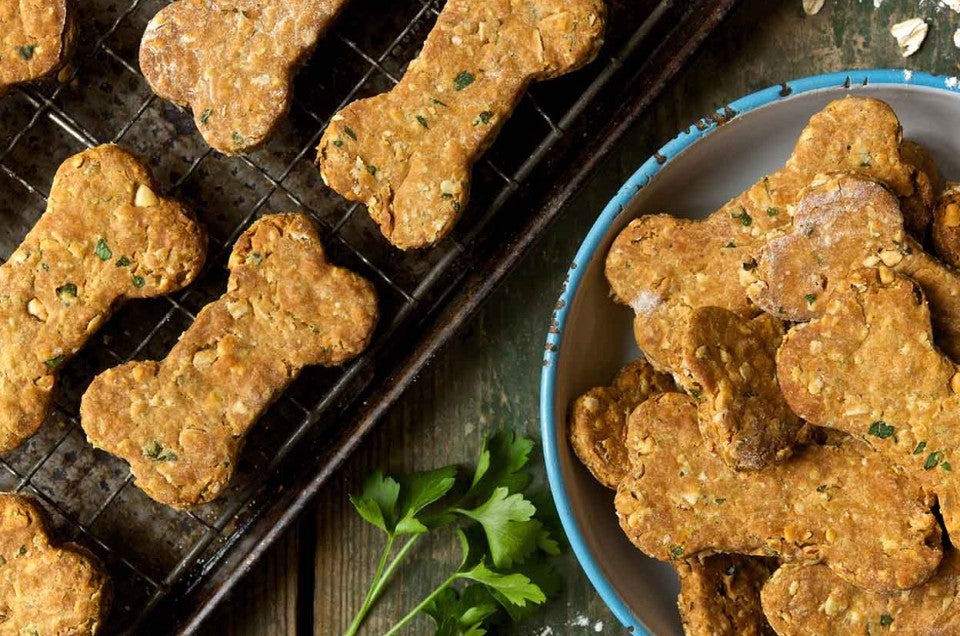 Thank you so much for testing our BEST OF BREED DOG BISCUITS recipe today.
Please rate this recipe on a scale of 1 to 5  stars, with 1 being the lowest, and 5 the highest. Be sure to include feedback on taste, texture, presentation, and distastefulness to cats.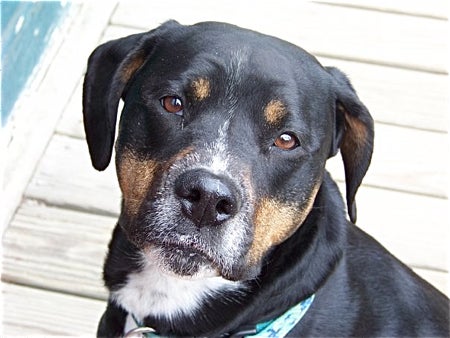 JESSE, Beagle mix: Perfect size for catching in mid-air; one of my many talents. Tastes good, too!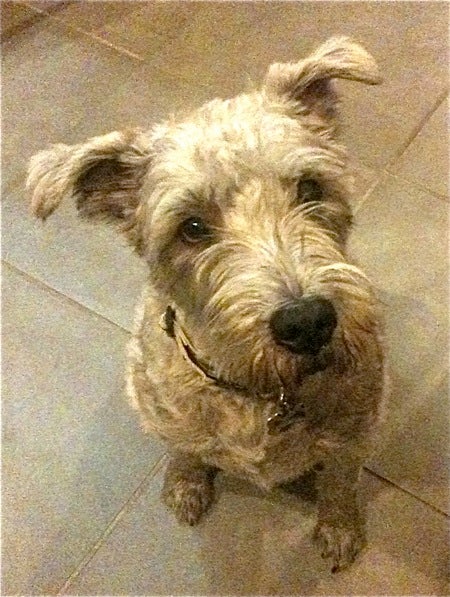 DIGBY, Glen of Imaal terrier (and proud of it!) I turn my nose up at inferior biscuits. A gentleman with my breeding demands the best – and these are top-notch. Love the parsley; definitely adds that gourmet touch.
COOPER, Weimaraner: 5 stars, definitely; a big paws up. Good taste, very crunchy, and too big for the cats to handle. Though they were sniffing around my bed for crumbs...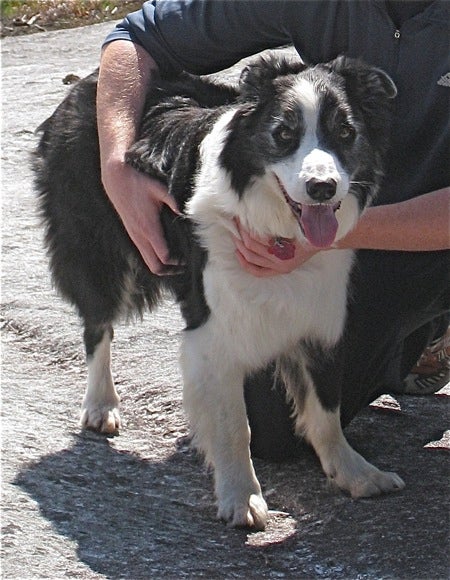 TUCKER, border collie: Can't rate; had to gulp it down, too much competition from that pesky Lab next door...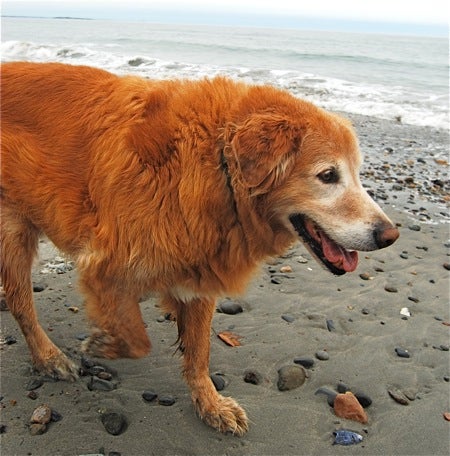 SILVIO, Golden retriever/? mix, senior citizen: Mild but good flavor; and not too hard for my old teeth. I shared with Lenny and Obi, my cool cat pals; I like to stay in their good graces.
What's all this puppy love about?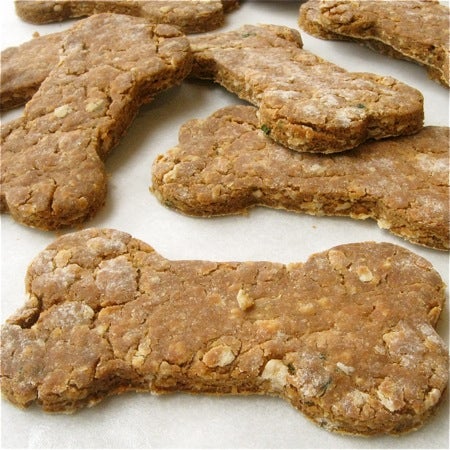 Preheat the oven to 300°F. Lightly grease a couple of baking sheets, or line them with parchment.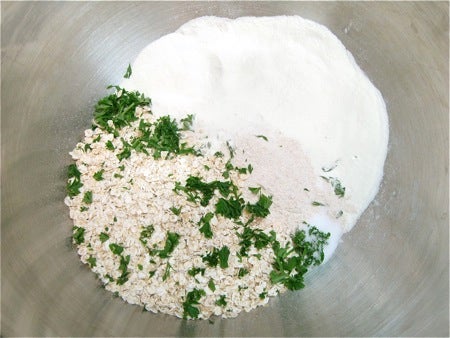 Put the following in a mixing bowl:
2 cups (227g) King Arthur White Whole Wheat Flour or Premium Whole Wheat Flour
1 cup (85g) rolled oats, regular or quick
1 tablespoon dried parsley or 2 tablespoons chopped fresh parsley
1/2 cup (56g) Baker's Special Dry Milk or nonfat dry milk
1/2 teaspoon salt
Stir to combine.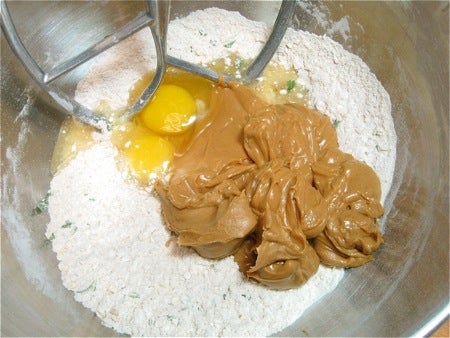 Add 2 large eggs and 1 cup (269g) peanut butter, crunchy or plain.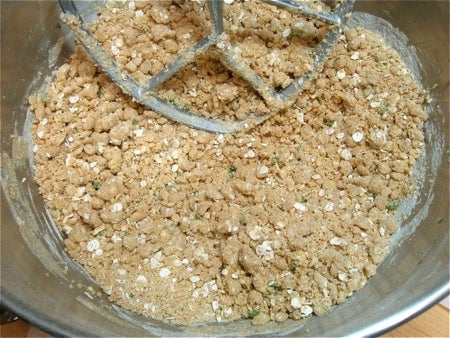 Stir to combine; the mixture will be crumbly.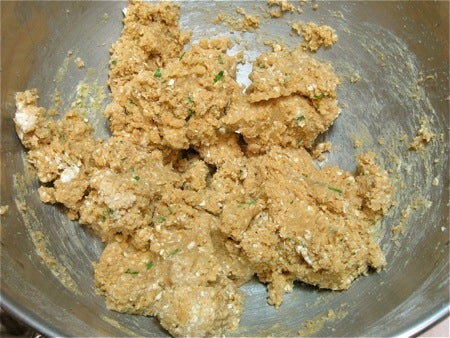 Add 1/2 cup + 1 tablespoon (128g) cold water, or enough to make a cohesive dough. Depending on the season, you may need to add a bit more (winter), or a bit less (summer).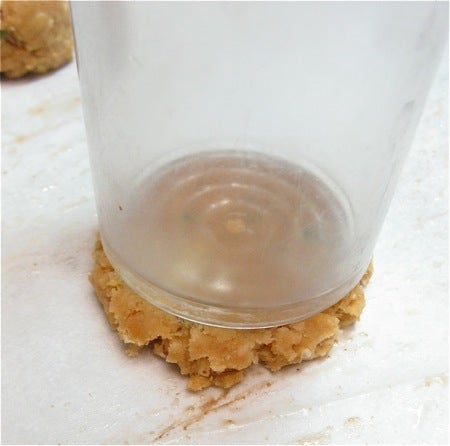 To make dog cookies, drop the dough in walnut-sized balls onto a lightly greased or parchment-lined baking sheet. Flatten to about 1/4" thick.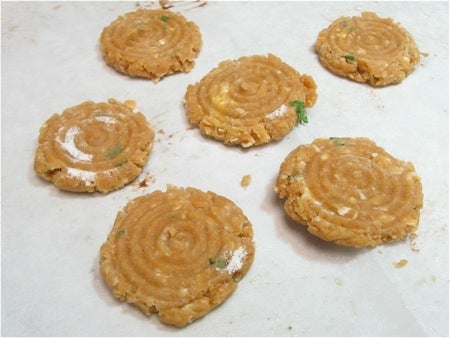 I've used the pusher tool from a Cuisinart food processor, which makes a nice imprint on top.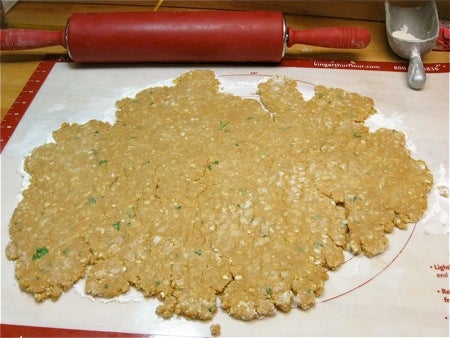 To cut out dog bone biscuits, roll the dough about 1/4" thick. No, it's not pretty; it'll develop cracks all over, and very ragged edges. No worries; trust me, your dog won't care about looks.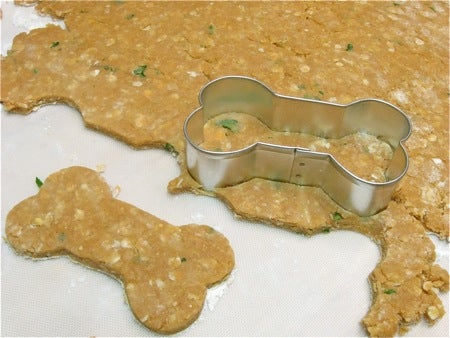 Cut with a 3 1/2" cutter (or the size of your choice). Gather and re-roll the scraps, and continue to cut biscuits until you've used all the dough.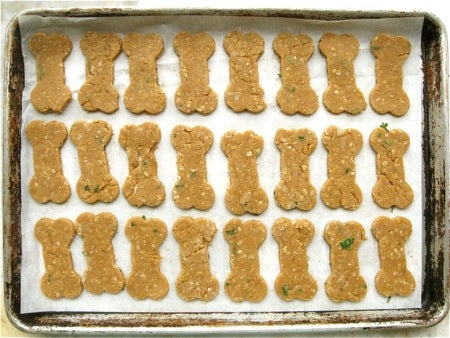 Lay the biscuits close together on the prepared baking sheets. Since the biscuits don't include any leavening (baking powder, yeast, etc.), they won't spread much.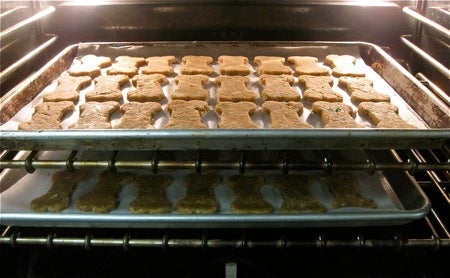 Bake the biscuits for about 40 to 60 minutes, baking the smaller cookies for the shorter amount of time, the larger biscuits for the longer amount of time.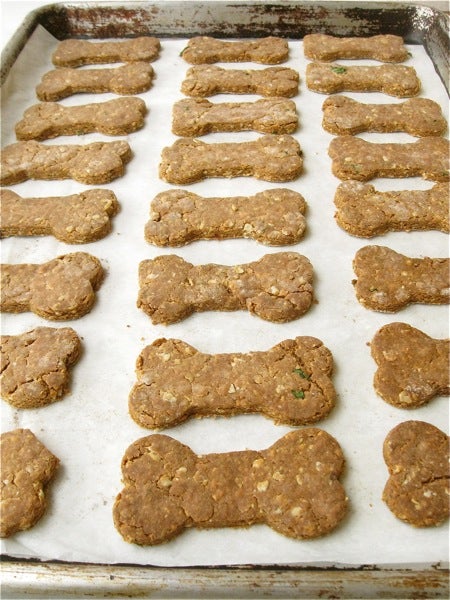 When finished, the biscuits will be dark golden brown, and will be dry and crisp all the way through.
And yes, it's OK to break one open and taste it. If it's good enough for Man's Best Friend, it's good enough for you!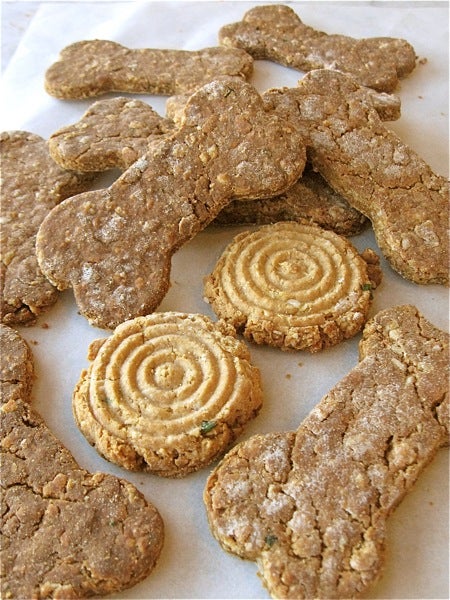 I only baked the round cookies in the center for about 25 minutes; they should have baked longer. They were somewhat soft inside. No worries; if you find your biscuits are soft, just store them in the fridge, and use them up sooner.
My dog, Rags, thought both the biscuits and cookies were perfectly fine:
RAGS, German shorthair: I give this recipe 5 stars! After a long day at work in the field, there's nothing like curling up in bed with a couple of homemade biscuitzzzzzzzzzzzzz...
Recipe also tested and approved by Lucy (beagle mix); Abby (Pomeranian mix); and Cassie (Shih Tzu). Thanks, ladies!
Attention, humans: Read, rate, and encourage your dog(s) to review (please) our recipe for Best of Breed Dog Biscuits.
Jump to Comments