Ah, the age-old baker's Christmas morning dilemma: how to serve fresh, hot cinnamon buns without getting up at 2 a.m. to start the long process...
...or popping open a canister of refrigerated buns, ready to bake and frost.
Yummmm... Did you ever wonder what it is that enables those canned buns to sit in your fridge for so long before baking?
"Enriched Flour Bleached (Wheat Flour, Niacin, Ferrous Sulfate, Thiamin Mononitrate, Riboflavin, Folic Acid), Water, Sugar, Partially Hydrogenated Soybean and Cottonseed Oils, Dextrose, Wheat Starch, Baking Powder (Sodium Acid Pyrophosphate, Baking Soda), Whey, Salt, Cinnamon, Corn Starch, Corn Syrup Solids, Mono and Diglycerides, Cellulose Gum, Potassium Sorbate (Preservative), Polysorbate 60, Artificial Flavor, Colored with Yellow 5 and Red 40."
Yummmm...
If you'd rather serve your own fresh cinnamon buns, yeasty and cinnamon-y and dripping with icing – in just 20 minutes – read on.
First, start WAY ahead of time. Like, weeks before you want to serve them. This method is good for making buns up to about a month ahead.
Make your favorite cinnamon bun recipe up to the point where the buns are risen and ready to go into the oven.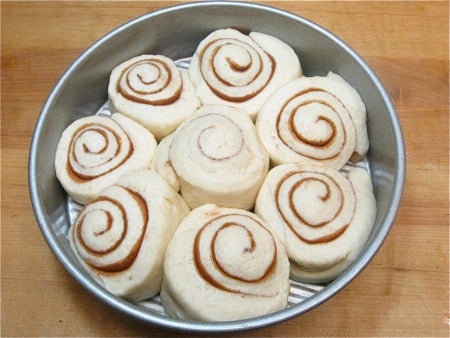 Like this.
One of our favorite recipes is Now or Later Cinnamon Buns. But far be it from me to choose your favorite buns for you!
Bake the buns in a preheated 325°F oven for 15 minutes.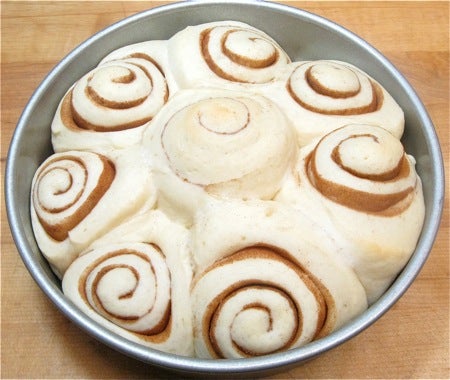 The buns will feel set, but they won't be brown. You might see the slightest touch of brown (center and right, in the photo above); but they should definitely look pale and wan.
Let the buns cool right in the pan.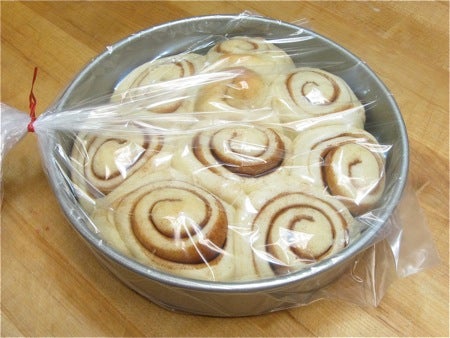 When they're completely cool, bag them up, and freeze.
If you need your pan, remove them from the pan once they're frozen, re-bag, and put back in the freezer. For best results, freeze no longer than 4 weeks or so.
When you're planning to serve buns, remove them from the freezer the night before. Let them thaw slowly, still wrapped, in the fridge.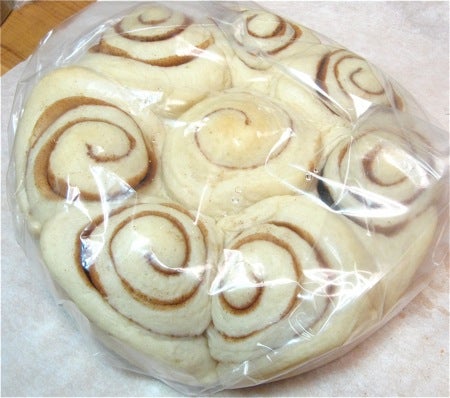 Here they are, thawed and ready to go.
Preheat your oven to 350°F.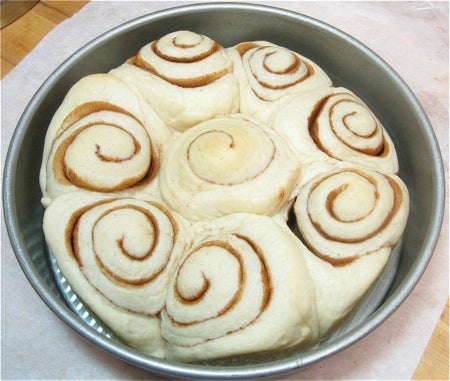 Take the buns out of the bag and put them in a lightly greased pan. You'll see they've settled and shrunk a bit; that's OK.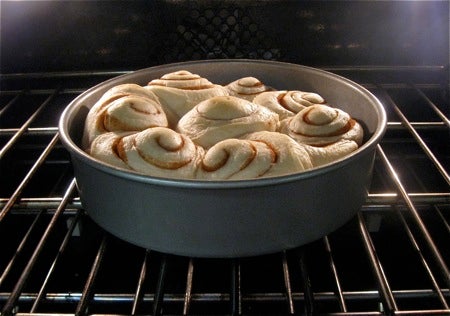 Place the buns in the upper part of the oven, and bake them until they're very lightly browned, about 15 minutes.
Like this.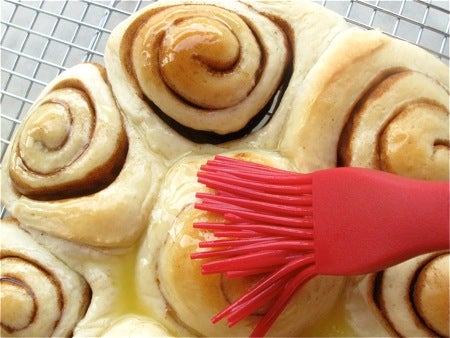 Turn them out of the pan, and brush with melted butter; this helps keep them soft.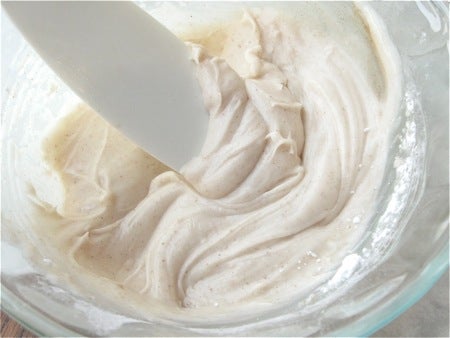 Have your icing ready, if you want to ice the buns while they're warm.
Spread the buns with icing. It'll seep down into the cinnamon swirls and the spaces between the buns.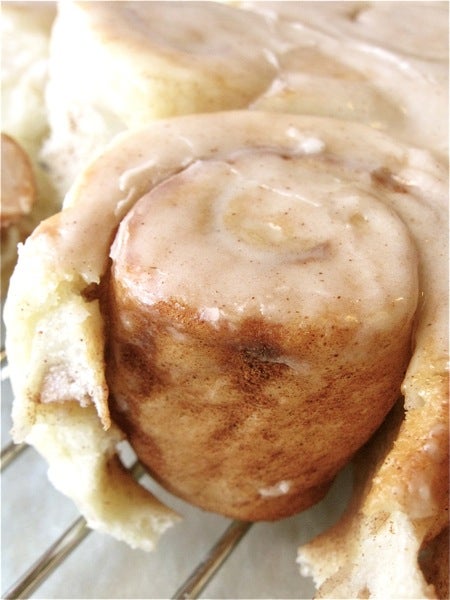 Cinnamon in the icing, as well as the filling, gives these buns vibrant flavor.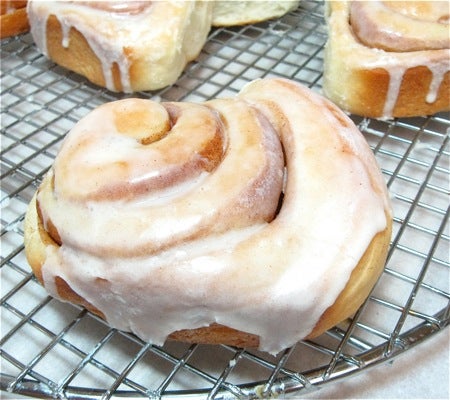 How's that for instant – well, 20-minute – gratification?
To make these particular buns, check out our recipe for Now or Later Cinnamon Buns.
Want to read more about how to prepare and freeze just-in-time holiday treats?
•Read about drop cookies, sticky buns, scones, and flaky cheese twists.
•Read about fruit pie.
•Read about rollout cookies.
Jump to Comments