What's the first food you think of when you hear the word "Passover?"
Matzo, for sure. Charoset. Horseradish. Parsley. Eggs. Matzo ball soup. And for me, popovers.
Doesn't everyone associate popovers with Passover?  Well, apparently not.  But at the Silver family seders, popovers were always the star, thanks to my grandmother.
.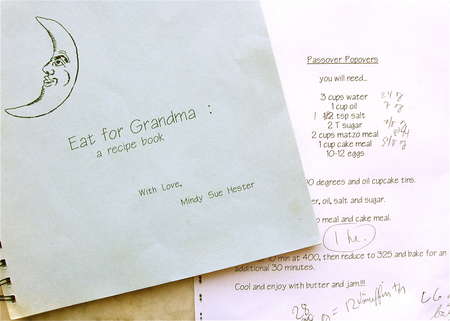 My grandmother passed away many years ago, and for my cousin's bridal shower, her sister put together a book of her recipes. I've had the book sitting on my shelf for years, and admittedly have never once tried a recipe.
My grandmother wasn't the "warm, bake in the kitchen with kids" type.  She was all business; her kitchen was so immaculate I feared dropping a single crumb, and meals at her house consisted of the exact same menu every time.  So most of her recipes are not ones I'm eager to share with my family (sorry, Gram).
But Gram did cook a few things really well, and Passover popovers is definitely one recipe that should be shared. Depending on how you observe Passover, these popovers can make a great addition to your Seder.
The recipe looked easy enough, but as you see by the scribbles, I did need to spend some time deciphering the vague instructions and clarifying parts in order to make it "publishable." 10-12 eggs? Well, I assume she always bought extra-large eggs, so even if she used 10, that would probably mean 12 large eggs. And then there's the "oil cupcake tins..." line. Cupcake tins? I'll use a standard muffin pan, just to be safe.
So, I decided to do a trial run to start. First, preheat the oven to 400°F, and oil the "tins."
I take out the can of Everbake Spray, and to my delight, it's kosher!
Wait, does kosher mean kosher for Passover? Oy vay... Apparently, the OU symbol means kosher, but soybeans aren't kosher for Passover, and Everbake contains both soybean and canola oils.
Well, I love Everbake Spray - it's one of those items that once I tried, I've never been able to switch back to the "other spray." So I'm bending the rules here, and using the Everbake. If you'd like to keep it kosher for Passover, use canola oil.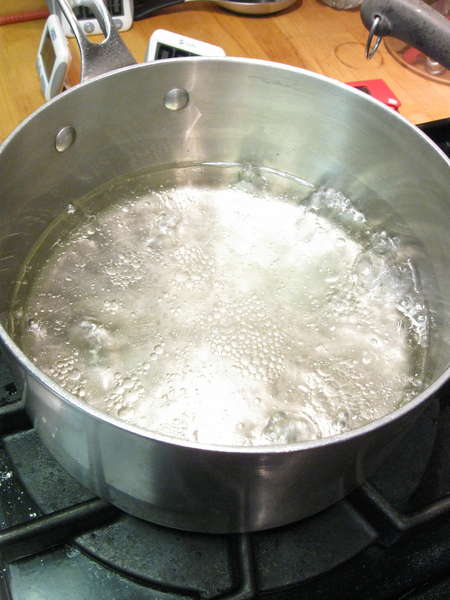 Next, boil 3 cups (680g) water, 1 cup (198g) oil (canola, to keep it safe), 1 to 1 1/4 teaspoons salt, and 2 tablespoons (25g) sugar. The liquid will look a bit thicker as it comes to a boil.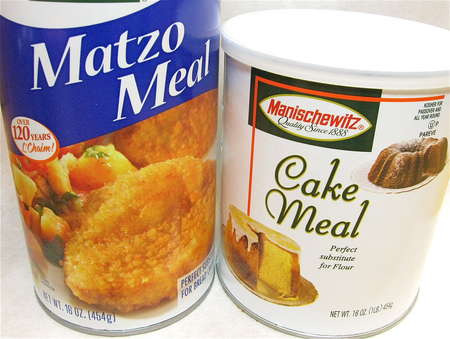 Two key Passover popover ingredients – matzo meal, and cake meal (which is also made from matzo).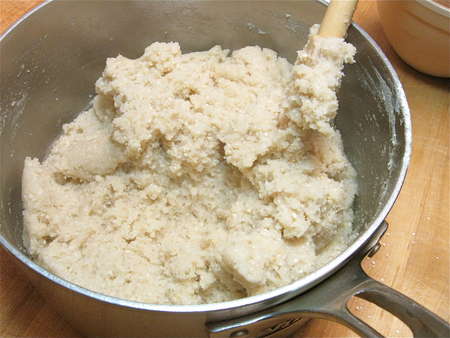 After boiling, add 2 cups (248g) matzo meal and 1 cup (145g) cake meal. The mixture will be quite stiff. I tried using a whisk at first, but quickly switched to a wooden spoon.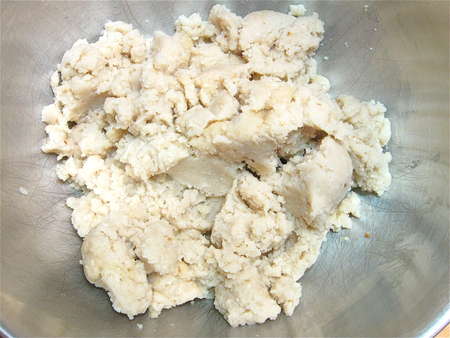 Let the mixture cool for about 1 hour. It should be quite thick and solid.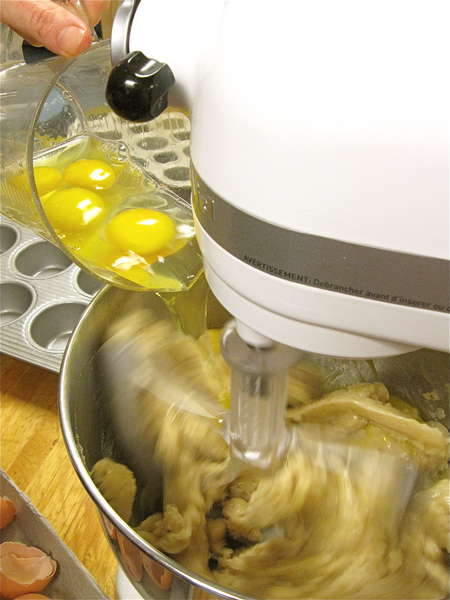 Add 12 large eggs, and beat. Since the mixture is so thick, a stand mixer is a big help here.
Scoop the stiff batter into the prepared pan, filling the cups about 3/4 full.  For a standard muffin pan, our muffin scoop is perfect for the job. This is another one of those tools that once I tried using it, I had to go buy one in every size. Even though I don't consider myself a "baker," I use them for everything. Cookies, cupcakes, muffins, ice cream, fillings, toppings...
In any case, if using a muffin pan, the recipe will make about 28 muffin-size popovers.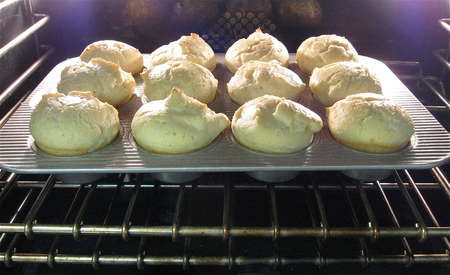 Bake for 10 minutes at 400°, then reduce to 325° and bake for an additional 30 minutes, or until golden brown.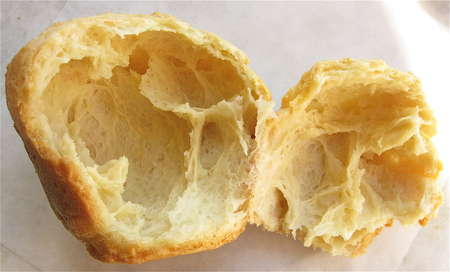 To check if they're done, pull one out of the pan and break it open; the interior should be mildly moist, but not soggy.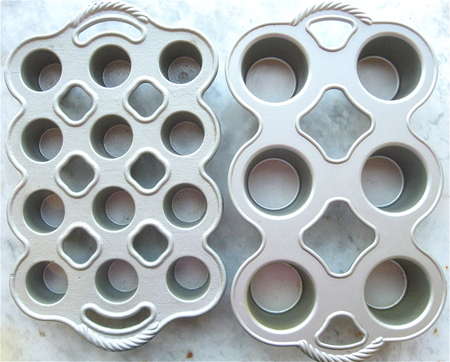 For fun, I also tried  our standard popover pan and our mini-popover pan.  The recipe will make 15 standard popovers; or 30 adorable little mini-popovers. For the standard popover pan, I baked a few minutes longer; for the minis, a few minutes less.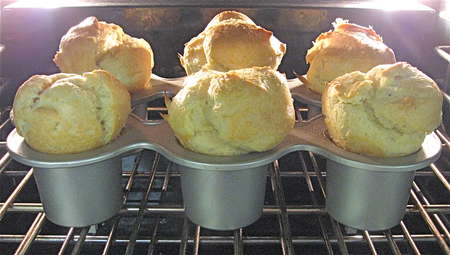 Now I didn't have "high hopes" for this recipe, but I was shocked at how perfect the popovers turned out. And not only did they rise beautifully, they smelled and tasted just as delicious as my grandmother's.
This trial run was definitely a home run, and Gram's popovers will now make a comeback to the annual seder menu at my house.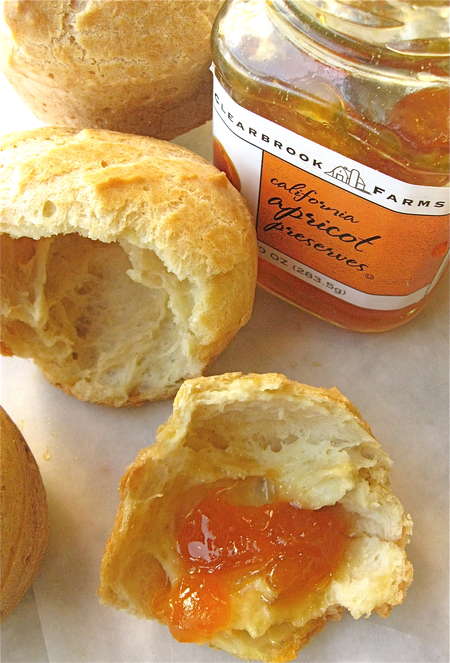 I put these out in the break room for my coworkers to enjoy. Nobody could believe they were made out of matzo meal, and we all enjoyed with butter and apricot preserves (kosher too, of course!).
Read, rate, and review (please) our recipe for Passover Popovers.
And of course, good Pesach!
Jump to Comments