Chocolate lovers rejoice – this one is SO for you.
Feast your eyes on these cookies. See the chunks underneath that thin skin of satiny chocolate cookie? Break one of these babies open, and you're met with pure chocolate bliss.
Chocolate chips. Or chocolate chunks.
Cookie in structure, brownie in texture and taste, these moist, tender gems get rave reviews every time I bake them; which has been often, lately.
At first, I had to test them out – a number of times, "just to be sure."
Next, I had to send a batch to my mom. Priority mail package to Florida: $9.80. Imagining Mom enjoying my homemade chocolate cookies: priceless.
Then, I wanted to test them on one of my favorite new pans, our cookie sheet. Result of the test? Slick pan.... great cookies.
I thought I'd finally run out of reasons to "test" these cookies, but then discovered I was missing one picture in the step-by-step photos. DRAT! Gotta make 'em AGAIN.
Now, I'm really, REALLY done baking these cookies. Really.
Till Thanksgiving, at least.
Hey, do me a favor, would you? Test-bake these Espresso Brownie Cookies (formerly known as Double-Shot Mocha Chunks,) and tell me what you think, below. If enough of you feel they need improvement, I may just have to test them again... and again.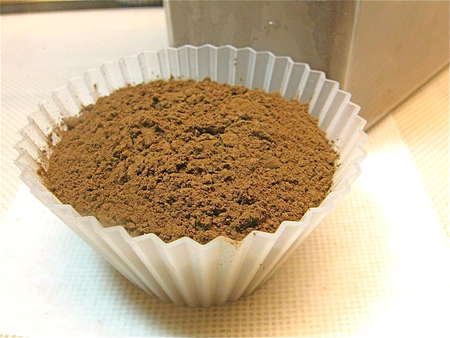 While our Double-Dutch Dark Cocoa blend doesn't look particularly dark on its own, it yields a lovely, deep-dark cookie. It's been "dutched" to reduce its acidic content, which lets the chocolate flavor shine through – AND makes baked goods darker in color. Plus, we add black cocoa (a "super roast" cocoa) to the blend, which deepens the chocolate color even more.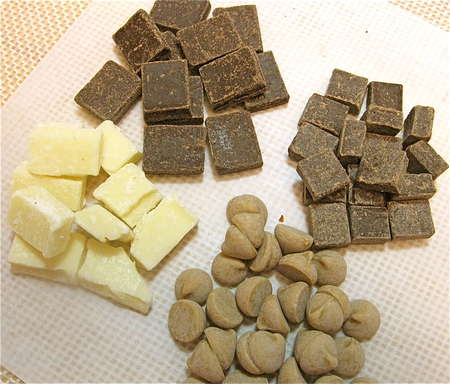 I'm one lucky baker to be able to hang out in the King Arthur test kitchen. Look at the goodies I get to play with: chocolate chunks, white chunks, and even cappuccino chips.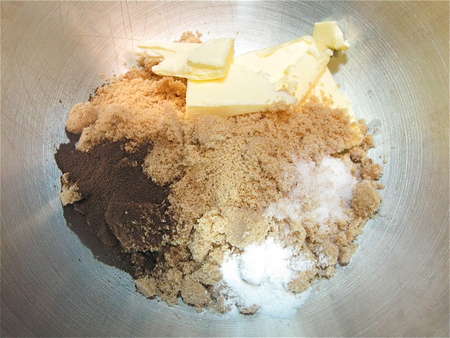 Now, let's put all these great ingredients together.
First, preheat the oven to 350°F.
Next, place the following in a mixing bowl:
8 tablespoons (113g) butter
1 cup (213g) brown sugar
3/4 teaspoon baking powder
1 teaspoon espresso powder, optional but VERY tasty
1/2 teaspoon salt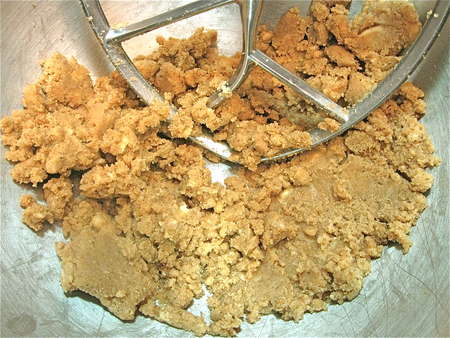 Beat till well combined.
Some of you have mentioned that you've found this a very stiff dough to mix up. Melting the butter first definitely makes it easier, so go ahead and do that if you want; the finished cookies will be the same.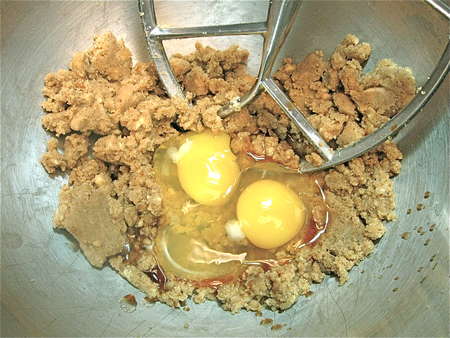 Add 2 large eggs and 2 teaspoons vanilla extract. Beat till smooth, then add 2/3 cup (57g) Dutch-process cocoa and 1 3/4 cups (206g) King Arthur Unbleached All-Purpose Flour.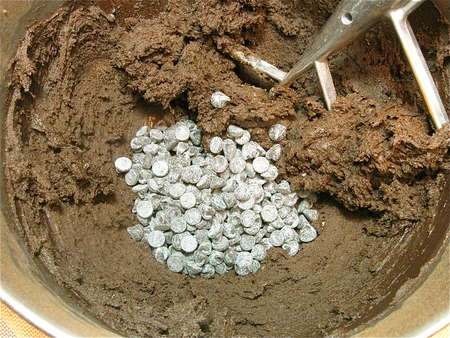 Beat again till smooth. The batter will be stiff and sticky. Add 1 cup (170g) semisweet or bittersweet chocolate chips, and...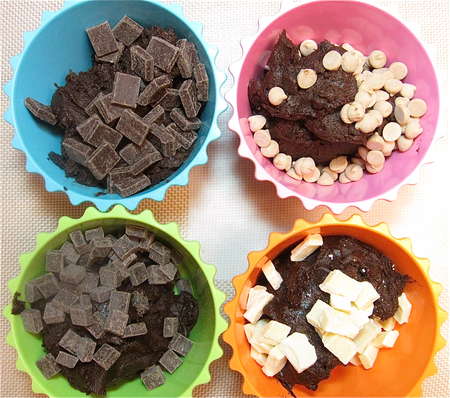 ...1 cup (170g) of chocolate chunks, or flavored chips, or...
I decided to do an experiment, using the various chunks and chips mentioned previously. I divided the batter in four parts, mixing 1/4 cup of each kind of chip/chunk into each little bowl of batter. I figured those who like white chocolate will be happy; as will those who CAN'T STAND white chocolate (in which camp I reside).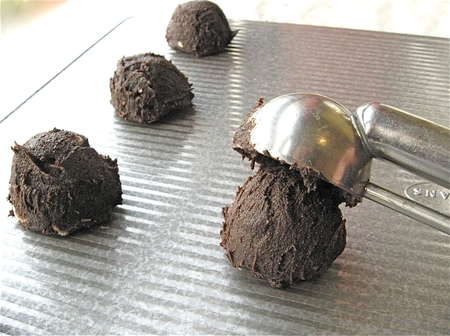 Drop the cookies by tablespoonfuls (about 1 1/2" balls) onto the prepared baking sheets, leaving about 1 1/2" between them. A tablespoon cookie scoop works well here.
And now, a word from our sponsor: King Arthur Flour – a.k.a. me, since we're all employee-owners here. I want to tell you about my favorite new cookie sheet. You heard about my favorite new USA Pans pie pan last week. Here's their 14" x 18" cookie sheet. You can read all about it – made in the USA, recycled steel and aluminum, non-stick, etc. – by clicking on the link. But here are some highlights: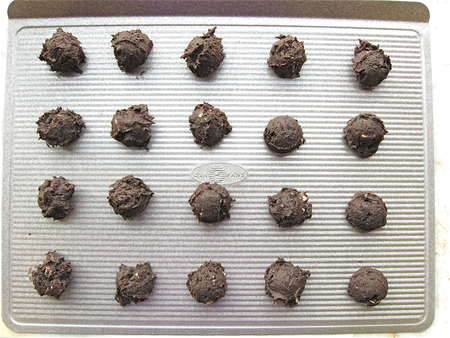 It's a great size and shape – 20 balls of cookie dough fit beautifully, without crowding. And notice the rim along one side – very grippable, and you can easily sliiiiide the cookies off the sheet onto a rack via any of the other three sides.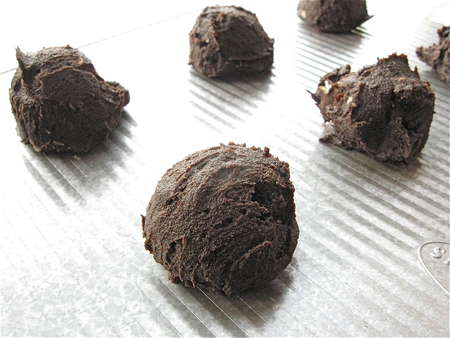 And what I really like is this "corrugated" surface. The little ridges allow air to circulate underneath the cookies as they bake, meaning their bottoms brown beautifully, without burning. And, since the cookies have less contact with the pan...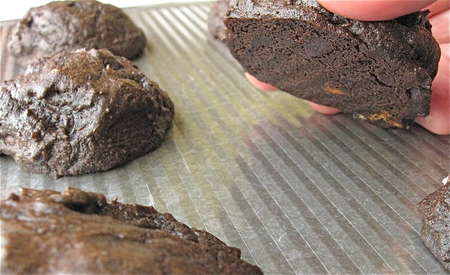 ...they don't stick. Here I am lifting a hot cookie off the sheet. (Yes, it was hot; and yes, it hurt! Ah, the sacrifices we make...)
Notice there's absolutely nothing stuck to the cookie sheet - no melted chocolate, no crumbs. Not only do the cookies come off the sheet intact; a few swipes with a dish towel, and the pan's ready to go back into the cupboard. Wash it if you must, but it's really effort-free, as far as cleaning goes.
Bottom line: if you're in the market for a new cookie sheet – just in time for the avalanche of holiday cookies you're about to bake – this one is slicker 'n a smelt, as they say in Maine. Both literally, and figuratively.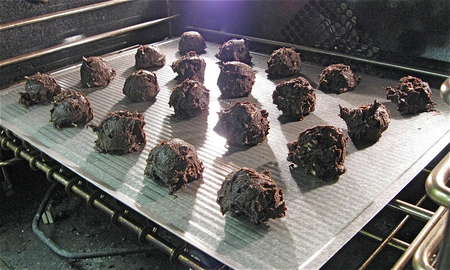 Bake the cookies for 8 to 10 minutes.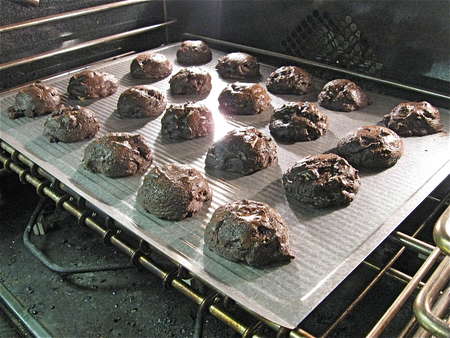 They'll puff up, and spread a bit. Poke one to see what it feels like: it should give a bit, but it shouldn't feel sticky or wet. These cookies are supposed to be soft, so don't over-bake. If you have any question at all about your oven or baking times, bake just a couple of cookies first, to nail the time. Yeah, it takes a few minutes longer, but better that than over-baking a whole recipe of cookies, right?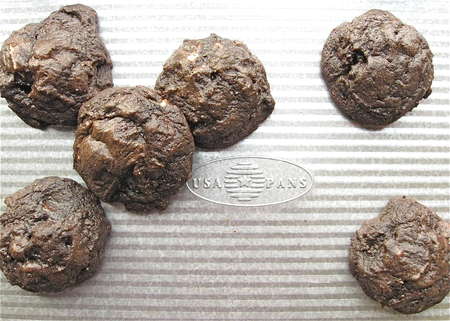 Here they are, ready to slide off the pan onto a cooling rack. Or let them cool right on the pan, if you don't need the pan for your next batch. If you're transferring them to a rack, wait about 5 minutes, as they're fairly fragile right out of the oven.
Again, notice the pan – no crumbs, no stuck-on chocolate.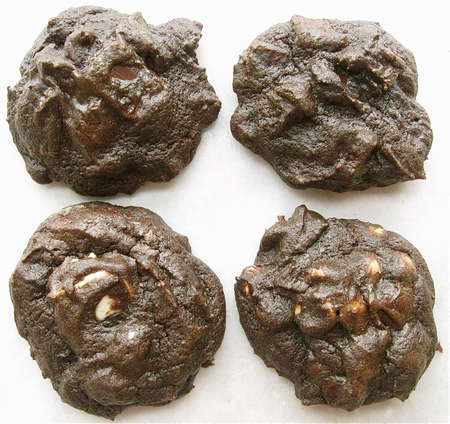 And here are my four incarnations (clockwise, from top left): with Burgundy chunks; with chocolate-coffee chunks; with cappuccino chips, and with white chunks.
Remember, I don't like white chocolate; but even to me, this looks pretty darned tempting!
Read, rate, and review (please!) our recipe for Espresso Brownie Cookies.
Jump to Comments