Ah! on Thanksgiving day, when from East and from West,
From North and from South, come the pilgrim and guest,
When the gray-haired New Englander sees round his board
The old broken links of affection restored,
When the care-wearied man seeks his mother once more,
And the worn matron smiles where the girl smiled before.
What moistens the lip and what brightens the eye?
What calls back the past, like the rich pumpkin pie?
- John Greenleaf Whittier
You know, I just HAD to print that 19th-century poem here, even though Thanksgiving is weeks away. And the recipe we're making today isn't pumpkin pie. Because, if you think you don't like poetry, the verse above might make you think again.
Indeed, what DOES call back the past, like the rich pumpkin... sweet roll?
While you may be a dyed-in-the-wool pumpkin pie aficionado, there's so much more to this humble gourd than a once-a-year Thanksgiving pie. Think pumpkin soup. And pumpkin muffins. And how about harvest pumpkin scones? To say nothing of a pumpkin "jelly roll," filled with a rich cream cheese filling...
Never knew pumpkin was such a versatile baking ingredient, did you?
Not only does pumpkin add great texture and flavor to all kinds of treats; it adds deep-gold color, as well. Beauty may be only crust-deep, but it doesn't hurt to put something delicious AND pretty on the table. And what easier way to add color to what can often be a pretty beige-brown-tan affair: the holiday bread basket?
The following pumpkin rolls feature a swirl of cinnamon, plus cranberries and bits of crystallized ginger scattered throughout.
That's a combination that certainly brightens my eye. How about you?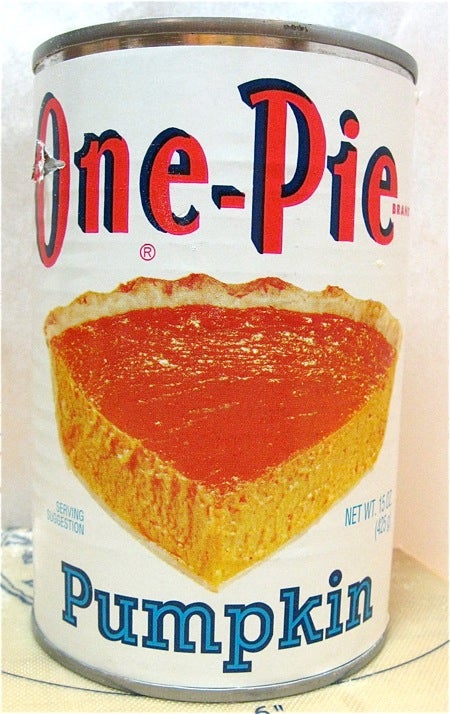 Here's the ingredient that'll give your rolls their distinctive flavor and lovely golden color: canned pumpkin. NOT pumpkin pie filling; just plain ol' pumpkin.
Can you use your own homemade puréed pumpkin? Sure. You may need to adjust the amount of liquid in the recipe to balance the amount of liquid in your purée.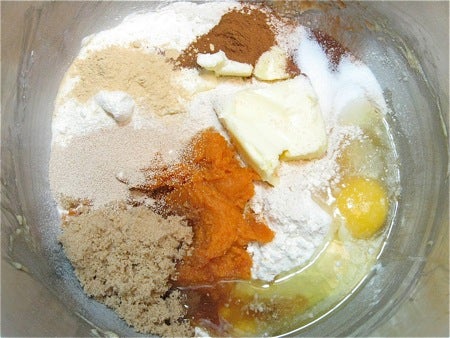 This is one of those easy "put everything into a bowl" recipes:
1 cup (227g) pumpkin purée or squash purée
2 large eggs
2 tablespoons to 1/4 cup (28g to 57g) lukewarm water*
4 tablespoons (57g) butter, softened
2 1/2 cups (300g) King Arthur Unbleached All-Purpose Flour
1 3/4 cups (198g) King Arthur White Whole Wheat Flour
1/4 cup (28g) Baker's Special Dry Milk or nonfat dry milk
1 teaspoon cinnamon
1/2 teaspoon ginger
1/4 teaspoon cloves, optional
3 tablespoons (43g) brown sugar, packed
1 1/2 teaspoons (9g) salt
2 teaspoons instant yeast
*Adjust the amount of water by the time of year or your climate. For summer, or in a humid environment, use the lesser amount of water. In winter, or in a dry climate, use the greater amount. It's always best to start with the lesser amount; you can always add more, but it's pretty hard to go back and add less!
Mix to combine...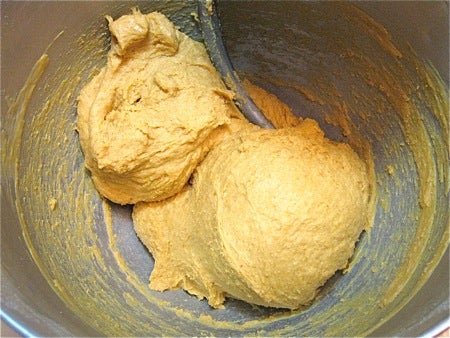 ...then knead till smooth. The dough may be fairly sticky; that's OK. So long as it holds its shape, you're good.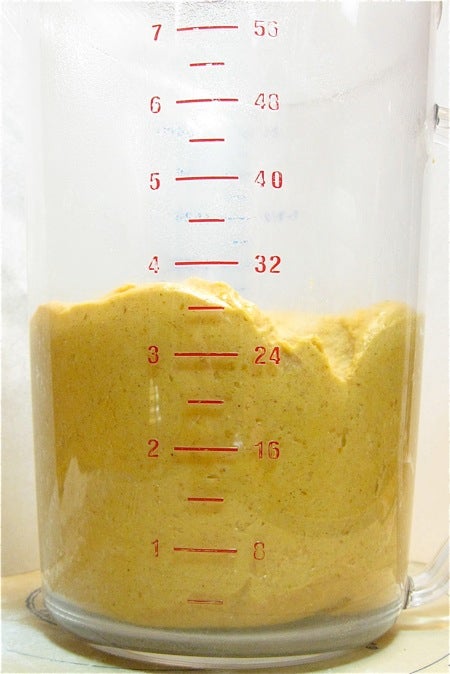 Place the dough in a lightly greased bowl or other container; I'm using an 8-cup measure here, so I can track how much it's risen.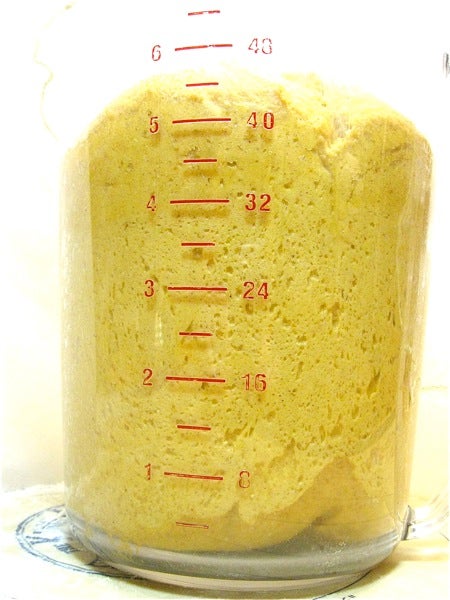 Cover, and let rise for 1 1/2 hours, until it's puffy, though not necessarily doubled in bulk.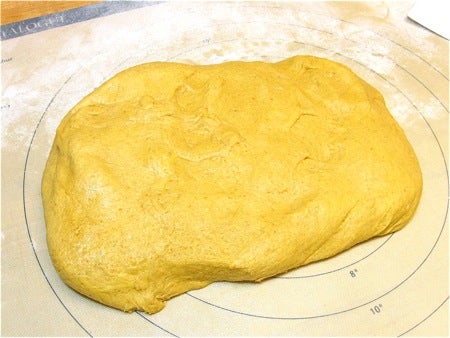 Gently deflate the dough, and transfer it to a lightly greased work surface.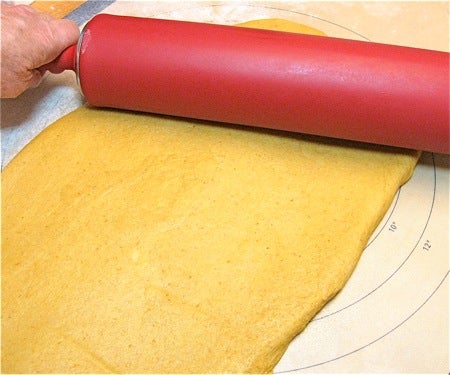 Roll the dough into a 14" x 22" rectangle.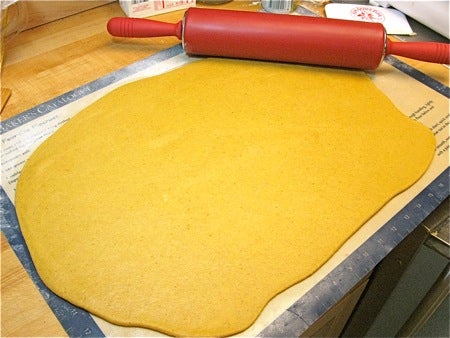 It'll be very thin. Don't stress if you can't make it exactly 14" x 22".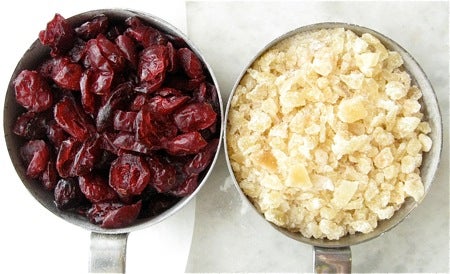 Next up: the flavors of fall. Here we have 1/4 cup of dried cranberries on the left, 1/4 cup of diced crystallized ginger on the right. These will be sprinkled on the rolled dough...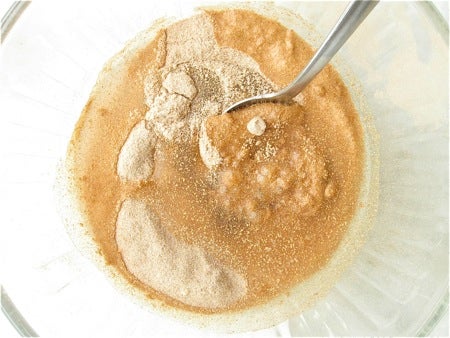 ...after we've spread it with the filling.
Combine the following:
3/4 cup (113g) Baker's Cinnamon Filling*
3 tablespoons (43g) water
*Substitute 3/4 cup granulated sugar and 1 tablespoon ground cinnamon for the Baker's Cinnamon Filling and water, if desired. If you use sugar and cinnamon, DO NOT ADD THE WATER.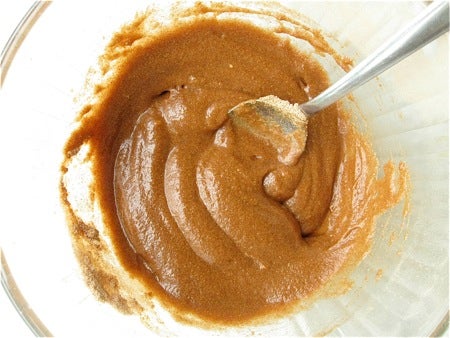 Doesn't that filling look GOOOOOOD!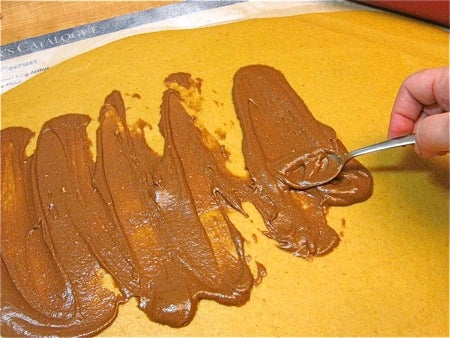 Spread it over the dough. If you use sugar and cinnamon, brush the dough with water, then sprinkle with the cinnamon and sugar.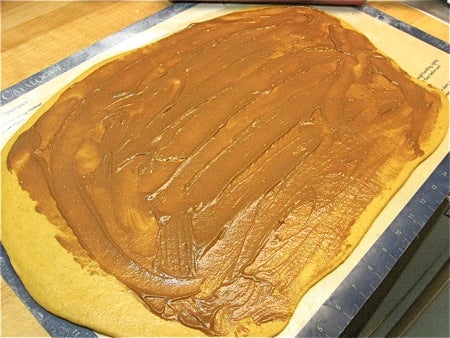 Leave one short edge free of filling.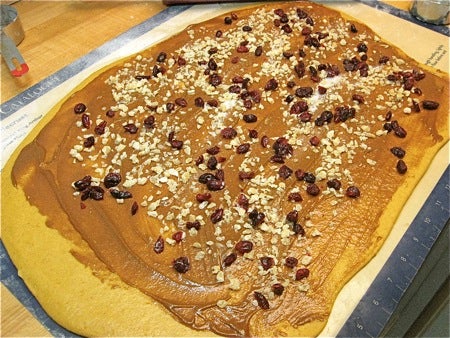 Sprinkle the cranberries and ginger atop the filling. Don't like cranberries? Leave 'em out. Don't like crystallized ginger? Leave it out. Don't like cinnamon filling? Try another recipe!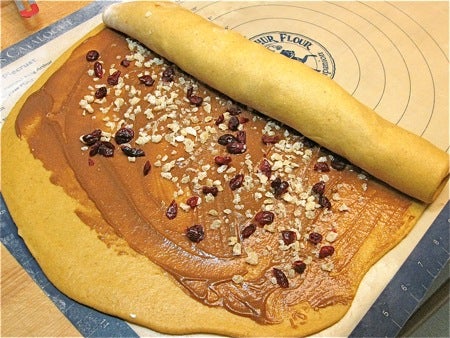 Starting with the end with filling, roll the dough into a log.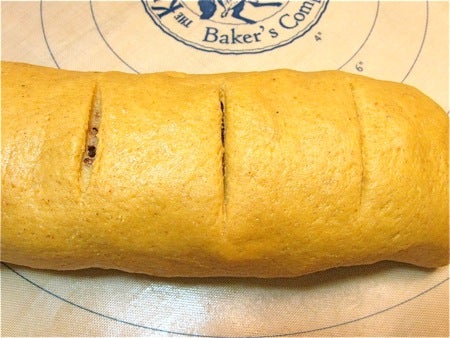 Seal it closed. Next, you're going to cut it into 9 rolls. It helps to use a ruler and measure the entire log, divide by 9, then actually make slight cuts, as a guide.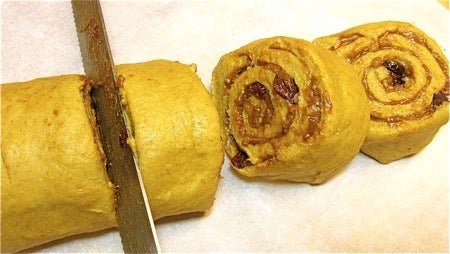 A serrated knife is the easiest way to cut this dough. If things start getting too sticky, rinse the knife in hot water (don't dry it), and continue.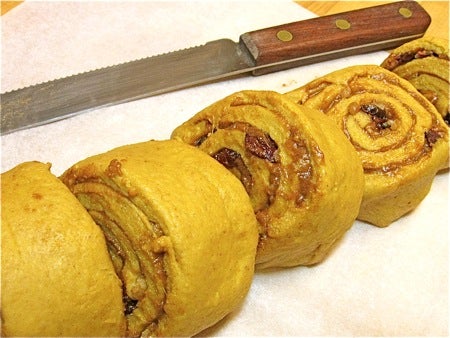 There you have it: 9 fat rolls.
Lay the rolls in a  lightly greased 9" square pan; the pan needs to be at least 2" deep.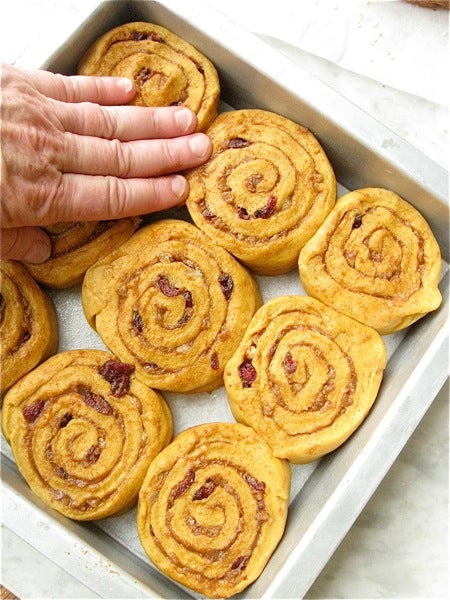 Flatten them with your fingers, so they're fairly tightly packed.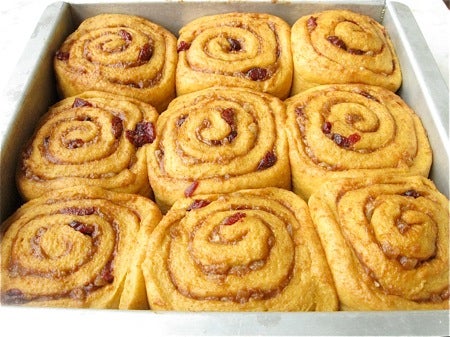 Then cover, and let them rise for 1 hour, or until they look puffy – like this. Towards the end of the rising time, preheat the oven to 375°F.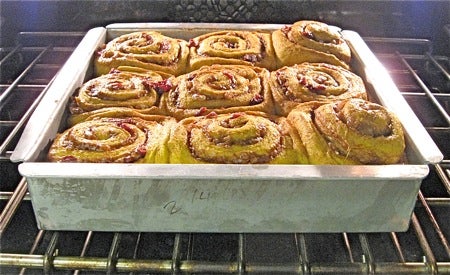 Bake the rolls for 25 to 30 minutes, until they're lightly browned and feel set.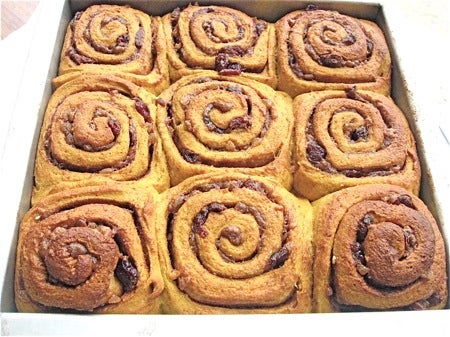 Remove them from the oven, and set them on a rack.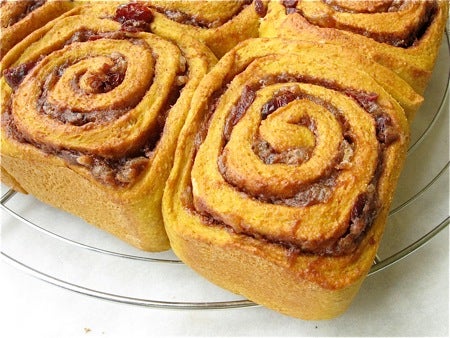 Turn them out of the pan, and allow them to cool for about 15 minutes. Towards the end of the cooling time, make the glaze.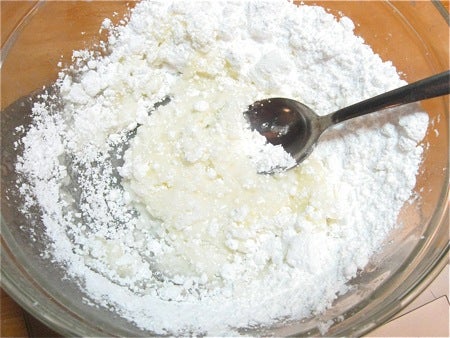 Combine the following:
1 cup (113g) confectioners' sugar
1 tablespoon (14g) butter, room temperature
1 1/2 tablespoons (21g) milk, or enough to make a pourable glaze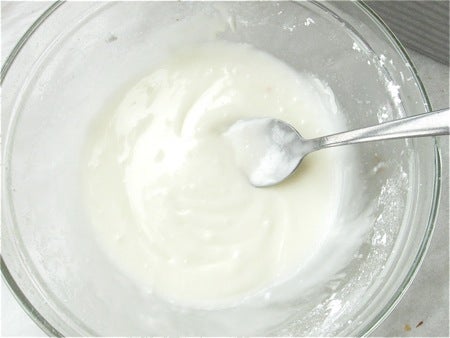 Stir till smooth.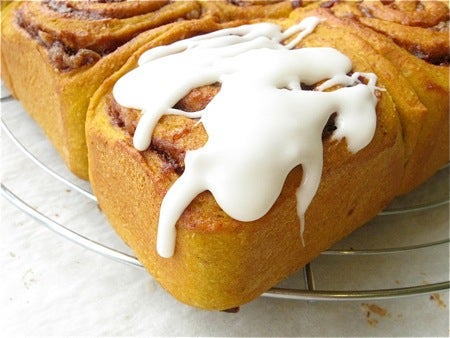 Drizzle atop the warm buns.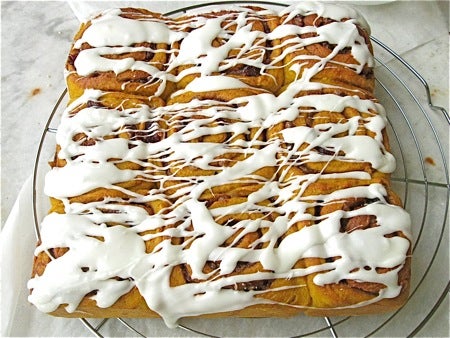 Like this.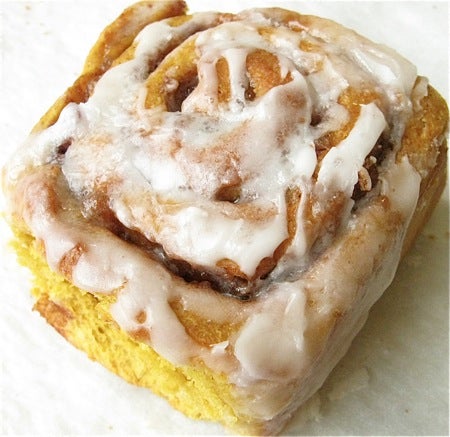 Plan B: If you like a glaze that seeps down into the buns, leaving a translucent (rather than bright white) layer on top, apply the glaze while the buns are HOT.
Read, rate, and review (please!) our recipe for Cinnamon Swirl Pumpkin Rolls.
Jump to Comments