WARNING: Crumby cake. Not suitable for consumption while driving to work, walking around the house, or sitting at your computer. Post-consumption use of vacuum cleaner highly recommended.
Luckily, the food police have not yet, in their wisdom, chosen to add this warning to every bakery box of crumb cake. Though it would be appropriate, if not entirely welcome.
There's no doubt about it: Crumb cakes are crumby. Not crummy; crumby, as in rife with crumbs. And we're not talking simple cake crumbs here; your lap, the kitchen counter, and (if consumed on the go) your car seat are liable to be showered with sugar-dusted nuggets of soft/crunchy streusel whenever you enjoy this cake.
So, caveat eater.
Eating crumb cake is kind of like eating watermelon or a mango: best done over the sink, or outdoors. But this tidiness challenge isn't necessarily a negative. Entenmann's is famous for its boxed crumb cake; and one of the best parts of an Entenmann's Ultimate Crumb Cake is being the person who opens the box, because you get to dump out and eat all the crumbs that have fallen off the cake in transit.
Yes, this is a plain vanilla cake. Yes, it's old-fashioned. But just as certain things never go out of style—black as a fashion statement, Winnie the Pooh, popcorn—crumb cake has maintained its place as a minor deity in the dessert pantheon.
Never baked your own crumb cake? Now's your chance. But remember: napkins are mandatory.
Your car upholstery, navy slacks, and dining room rug will thank you.
Read our Classic Crumb Cake recipe as you look at the pictures below.
Want to give all kinds of baked goods outstanding flavor? Here are two of my favorite baking enhancements.
You've probably heard me wax poetic about Vanilla "Crush" before, a blend of Madagascar and Tahitian vanillas. It's simply the most aromatic, flavorful vanilla I've ever used; AND it's flecked with vanilla bean seeds and tiny shreds of vanilla bean, to take it to a new level of richness.
Lemon oil is simply the essential oil of lemon peel. It adds true, pure lemon flavor without having to zest a lemon (and cleaning the grater, and possibly grating your knuckles).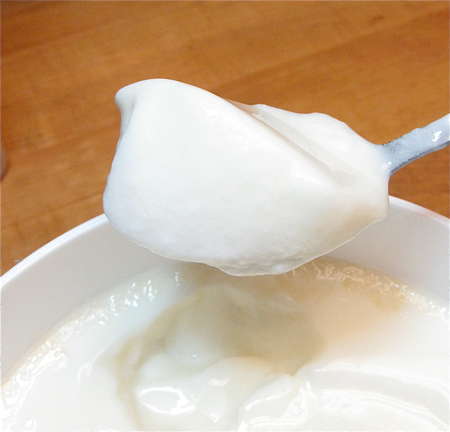 Yogurt is a wonderful cake ingredient, as it tempers gluten, yielding a more tender cake. This is nonfat yogurt I made in my yogurt maker. I added nonfat dry milk to make it nice and thick. It's very tasty, not as acidic as store-bought.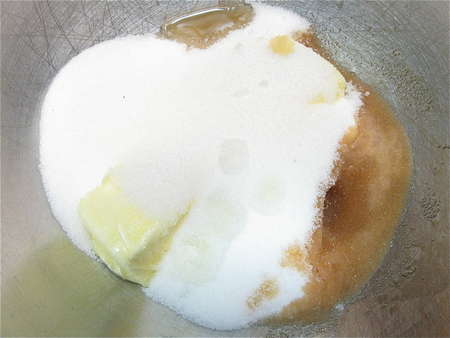 So, enough with the preliminaries—let's get down to business. Start with butter, sugar, salt, and the aforementioned flavors: vanilla and lemon oil.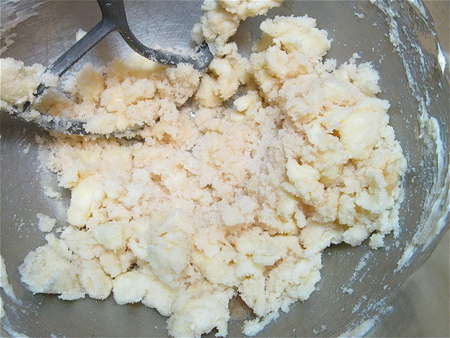 Beat until smooth. This is chunky, not smooth; keep beating.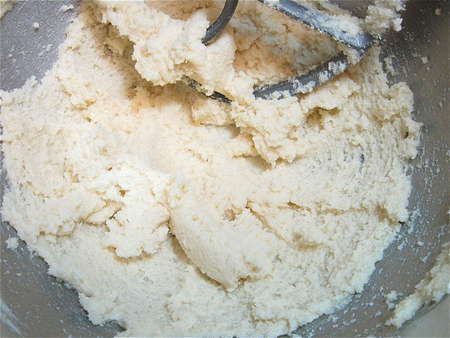 Ah, yes. THIS is smooth.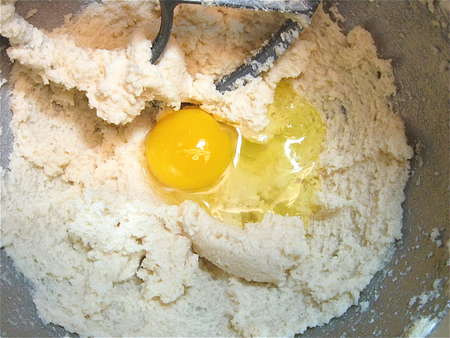 Add 1 egg.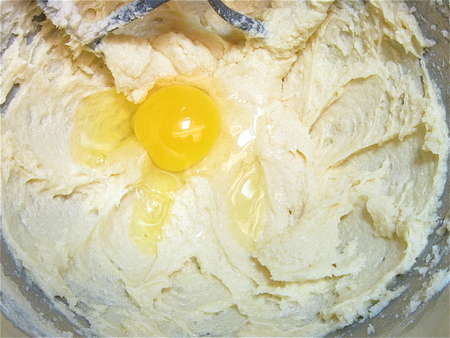 Beat till smooth, then add another egg.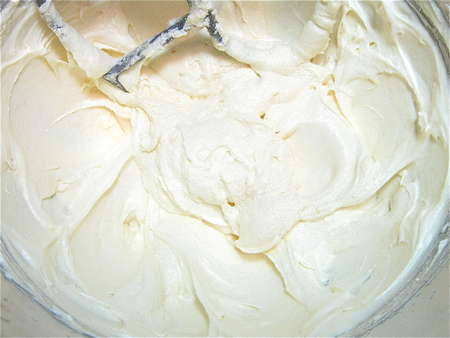 Beat till smooth, then add the final egg, again beating till smooth.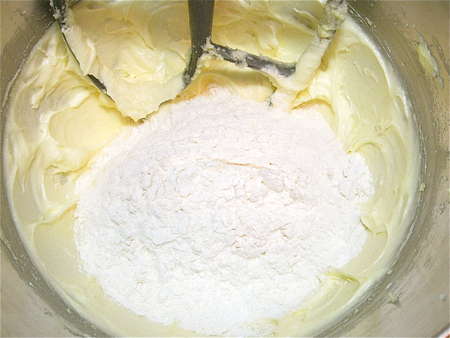 Quickly and gently beat in the flour and baking soda.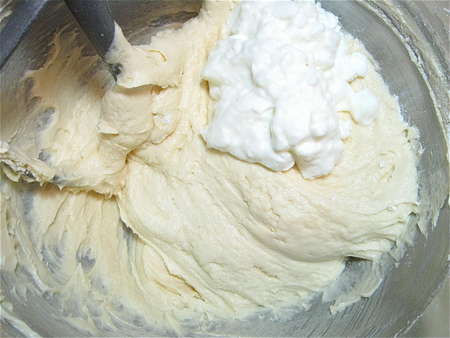 Next, the yogurt.
Stir to thoroughly combine. At this point, it's best not to beat the batter, as that will toughen the gluten in the flour.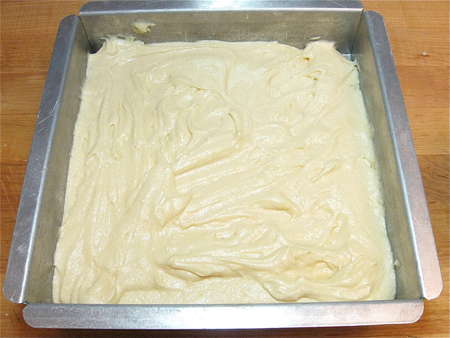 Spread the batter in a lightly greased 9" x 9" pan.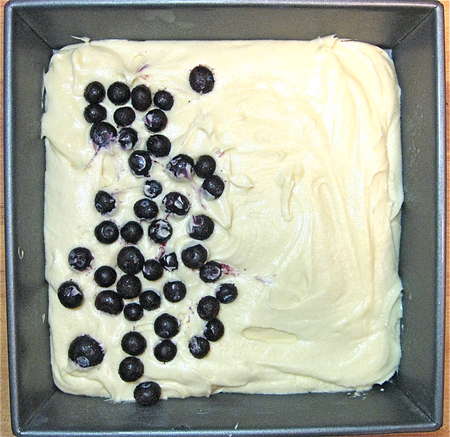 If you like, scatter blueberries (fresh or frozen) on top. (I was experimenting here, so only put the berries on half the cake.)  Put the cake in a preheated 325°F oven, and let it begin baking as you make the crumb topping.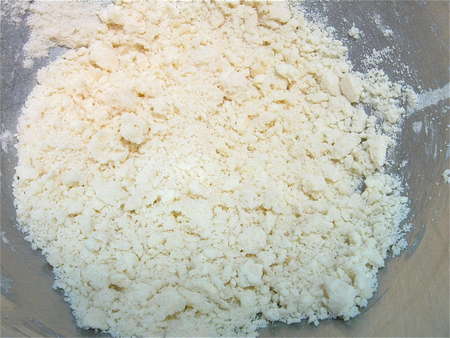 Combine melted butter, flour, confectioners' sugar, salt, and vanilla. Mix till uneven crumbs form. Pay close attention: if you mix too long, instead of crumbs you'll have a solid mass.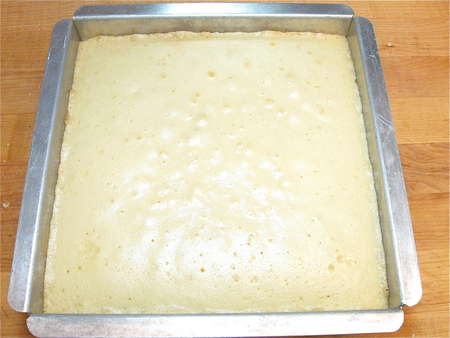 When the cake has baked for 30 minutes, remove it from the oven. You'll see that it's barely set; handle it carefully. Note that this isn't the cake with the blueberries; it's a later version. You'd be surprised how many times we might bake a recipe for these blog posts; we always seem to have some new experiment we want to try.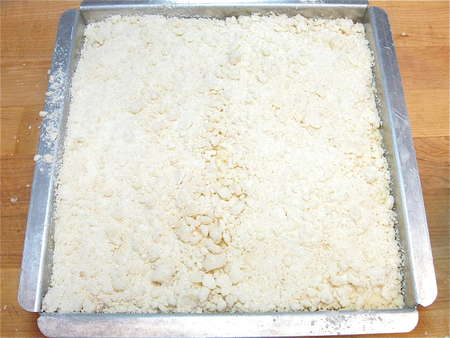 Sprinkle the crumb topping over the surface of the cake. (See that faint vertical line down the center? I was doing another experiment, to see if melting the butter for the topping was a good idea. I decided it was.)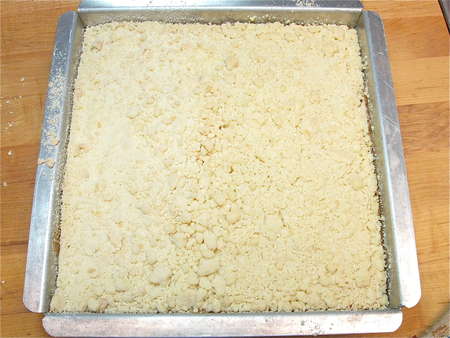 Bake for an additional 15 minutes, till a tester inserted in the center of the cake comes out clean. The crumbs may have become a slightly darker shade of gold, but definitely won't have browned.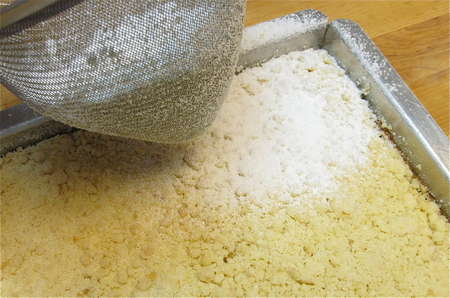 When the cake is completely cool, sprinkle heavily with confectioners' sugar. I'm running it through a sieve here, which makes a nice, even layer of sugar.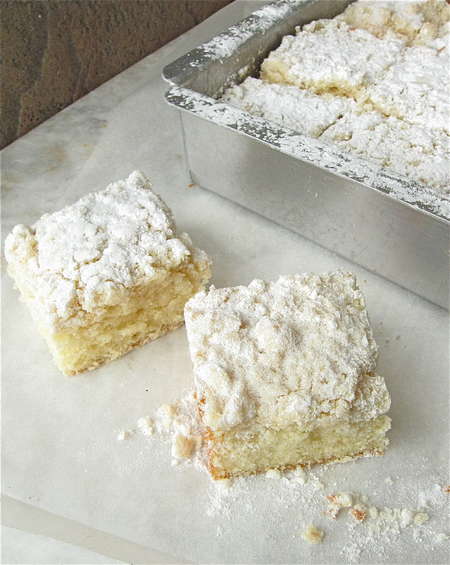 Here it is, your classic crumb cake. Notice it's living up to its name. Be sure to serve this cake either on a plate, or with a napkin, or outdoors, unless you want a crumb trail on your dining room floor.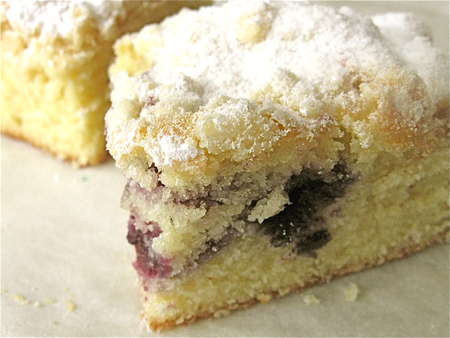 And here's the blueberry version. Very tasty indeed.
Read, rate, and review (please) our recipe for Classic Crumb Cake.
Jump to Comments