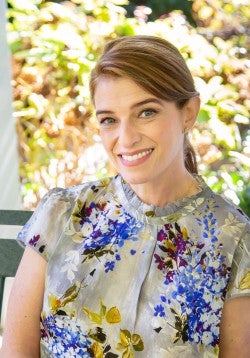 About Pati Jinich
Contributor
Born and raised in Mexico City, Pati Jinich is the host of the 3x James Beard Award-winning and 4x Emmy-nominated PBS television series "Pati's Mexican Table" and the Gracie Award-winning PBS primetime docuseries "La Frontera with Pati Jinich."
Pati is a New York Times bestselling cookbook author. Her most recent book, Treasures of the Mexican Table, released November 2021, was named one of the best cookbooks of the year by The New York Times, The Washington Post, The San Francisco Chronicle, Glamour, Food & Wine, and others. Her previous two cookbooks are Pati's Mexican Table: The Secrets of Real Mexican Home Cooking and Mexican Today: New and Rediscovered Recipes for the Contemporary Kitchen. Additionally, she is the resident chef at the Mexican Cultural Institute in Washington, D.C.
A former political analyst focused on Mexican political institutions and US-Mexico relations, Pati holds a master's degree in Latin American Studies from Georgetown University. She switched policy papers for cooking pots to make exploring and sharing Mexico's cuisine her life's work.
Pati has been named one of the "Top 5 Border Ambassadors" bringing the US and Mexico closer together by the Council of the Americas and one of the "Keepers of the American Dream" by the National Immigration Forum. In 2017, Bon Appetit and Epicurious named her one of the  "100 Greatest Cooks of All Time."
Pati is a regular guest on NBC's Today Show, CBS's The Talk, ABC's Good Morning America, The Food Network, NPR's All Things Considered and The Splendid Table, and Univision's Despierta America. She has been featured in The Washington Post, Chicago Tribune, and other national and regional press. In addition, she contributes to a wide array of print and online publications including The Washington Post and The New York Times.