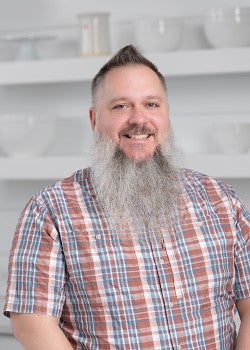 About David Turner
Employee-owner since 2020
David Turner is a native Virginian who took a rather circuitous route that eventually landed him in King Arthur's Test Kitchen. He studied Spanish and linguistics and earned a master's degree in foreign language education at the University of Virginia before determining he didn't want to be a Spanish teacher after all. Instead, he opted to spend over a decade working in higher education administration in both Georgia and Maryland before switching careers to pursue his passion for food and food media in 2014. David studied culinary arts at L'Academie de Cuisine in Gaithersburg, Maryland before becoming a savory line cook at The Inn at Little Washington in Rappahannock County, Virginia.
With his undeniable sweet tooth and interest in baking always at the fore, David soon found his way to Praline Bakery in Bethesda, Maryland, where he specialized in laminated pastry and production baking. Since then, he has taught recreational baking classes at Milk Bar in Washington, DC, interned at America's Test Kitchen in Boston, Massachusetts, and represented America's Test Kitchen at sea as an onboard culinary host and presenter with Holland America Line cruises.
David began his time at King Arthur on the Baker's Hotline at the peak of the COVID-19 pandemic, where he joined the front lines supporting America's obsession with sourdough baking. He leveraged his eye for detail and interest in helping home bakers achieve success in their kitchens to become a Recipe Developer in the King Arthur Test Kitchen in 2022.
When David is not baking or writing a recipe, he is probably pet-sitting somewhere in the Upper Valley region of Vermont and New Hampshire or planning his next weekend getaway in beautiful New England.