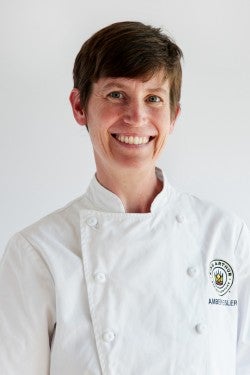 About Amber Eisler
Employee-owner since 2003
Amber began working at King Arthur Baking in 2003 as a bread baker in our Norwich, VT bakery. Amber is now the Baking School Director, overseeing locations in Vermont, Washington State, and online. You'll still find her teaching classes on a wide range of baking topics in addition to her administrative role.  
Amber has been baking since a young age. She credits her mother's patience to always include her in baking projects as a young kid and even as a toddler. Her dad's enthusiasm for baking massive loaves of bread (usually out of the oven well past midnight) is something that has stayed with her throughout the years.
Amber graduated from the Culinary Institute of America and is a Certified Bread Baker and Certified Viennoiserie Baker through the Bread Bakers Guild of America. She enjoys encouraging bakers of all levels and building community around a shared excitement for baking. Amber lives in Vermont, with her husband and three children.