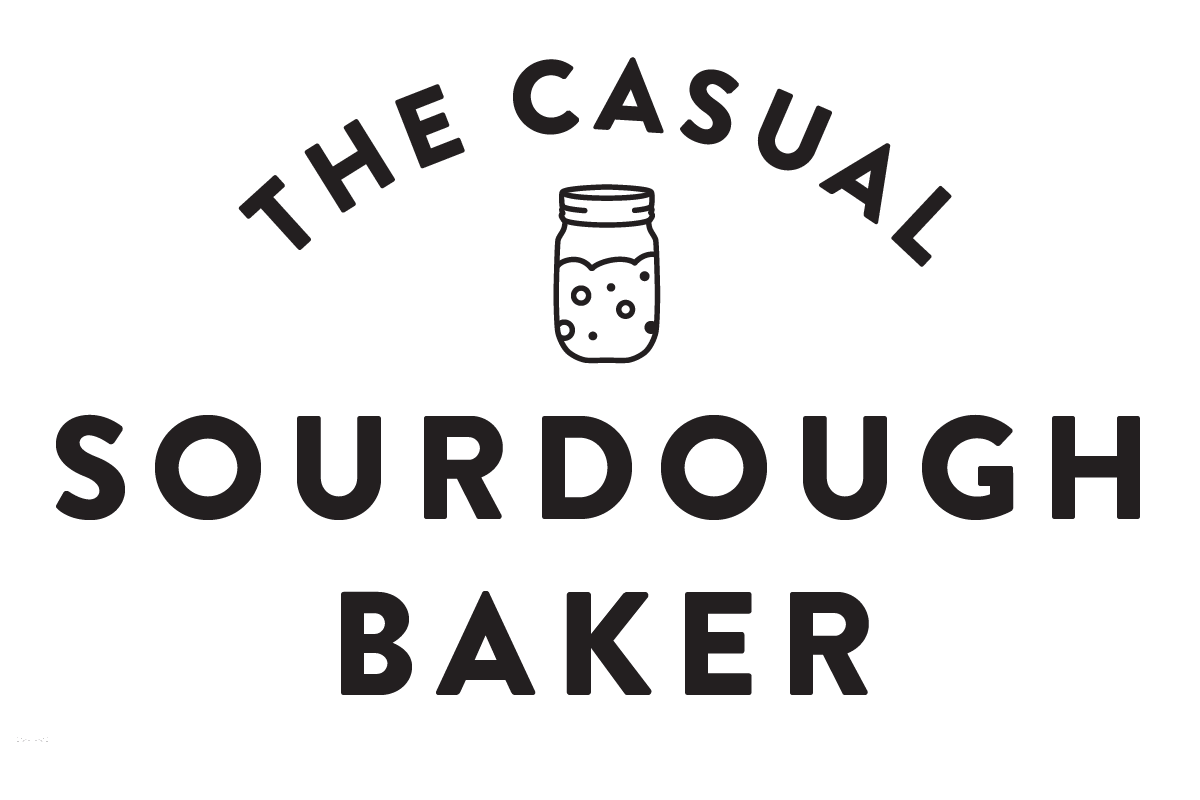 Love sourdough, but don't enjoy all the strict (and seemingly endless) rules around baking with it? In The Casual Sourdough Baker, PJ shows you just how wonderfully stress-free sourdough baking can be, from simple but richly flavored loaves to countless easy ways to use your discard.
* * *
Picture this: You've got dinner planned (for a change!), prepped and ready to go: salad, main dish, starch. Mentally going over the details (when to start the rice, when to warm the curry), you open the bread drawer to select the requisite go-with bread: unfortunately, no homemade naan; but maybe some soft wraps, or thick slices of sourdough?
But wait. What? Who ate all the bread?  The drawer is completely bare. A couple of empty bags. Some crumbs. But NO BREAD for supper? At least in my family, unheard of. The clock's ticking; supper's in under an hour. What's a baker to do?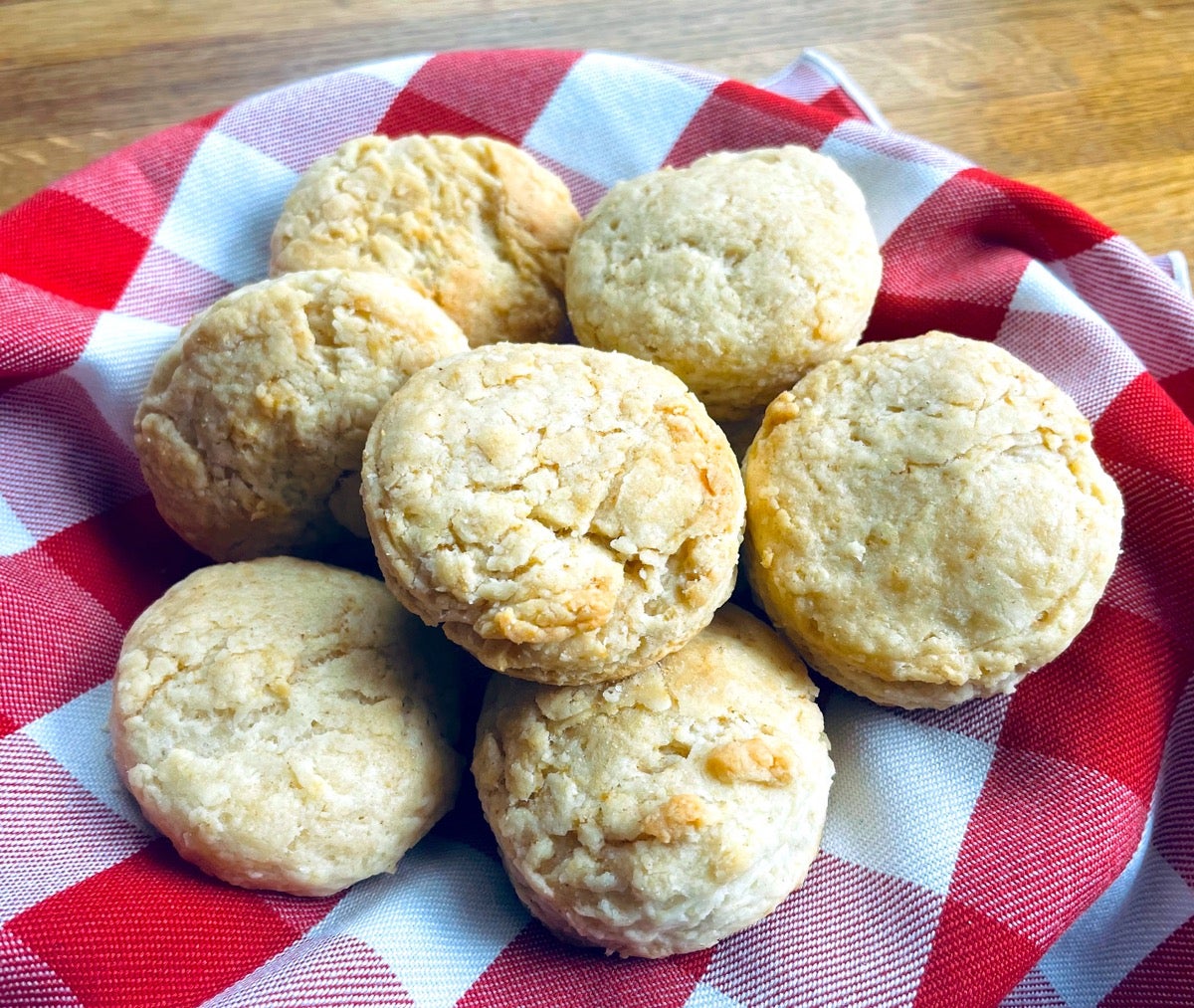 Make biscuits
But not just any biscuits. You need a recipe you can snatch right out of your head and throw together in a flash: no phone, no laptop, no printed recipe needed.  
And here it is: 1-2-3-4 Sourdough Biscuits, based on one part (by weight) milk, two parts butter, three parts discard sourdough starter, and four parts all-purpose flour. I still need to remember the amounts of baking powder and salt. But keeping just two things in my head instead of six? Yes, please.
What makes these biscuits special?
Well, beyond their "unforgettable" recipe:
You use your extra unfed starter instead of discarding it, plus it adds tangy flavor — win-win!
No pastry blender or potentially difficult hand mixing is necessary; you can whip up the dough in a stand mixer or food processor.
Leave your rolling pin on the shelf; few quick folds and pats are all it takes to shape the dough.
You don't need biscuit cutters; a knife does just fine (though sure, go ahead and use your round cutters if you love them).
The biscuits bake in just 15 minutes.
They're the perfect vehicle for added flavors and toppings, like cheese powder, curry-type spices, or seeds.
Let's dive in, shall we? First, though, I want to talk just a little bit about baker's percentages, a.k.a. baker's math. You can get the complete lowdown in this article, Baker's percentage. But simply put, everything you use in your recipe is measured as a percentage of the flour, by weight. So put away your measuring cup and haul out your scale; we're doing this all in grams (though I'll provide approximate volume measurements for those more comfortable in that mode).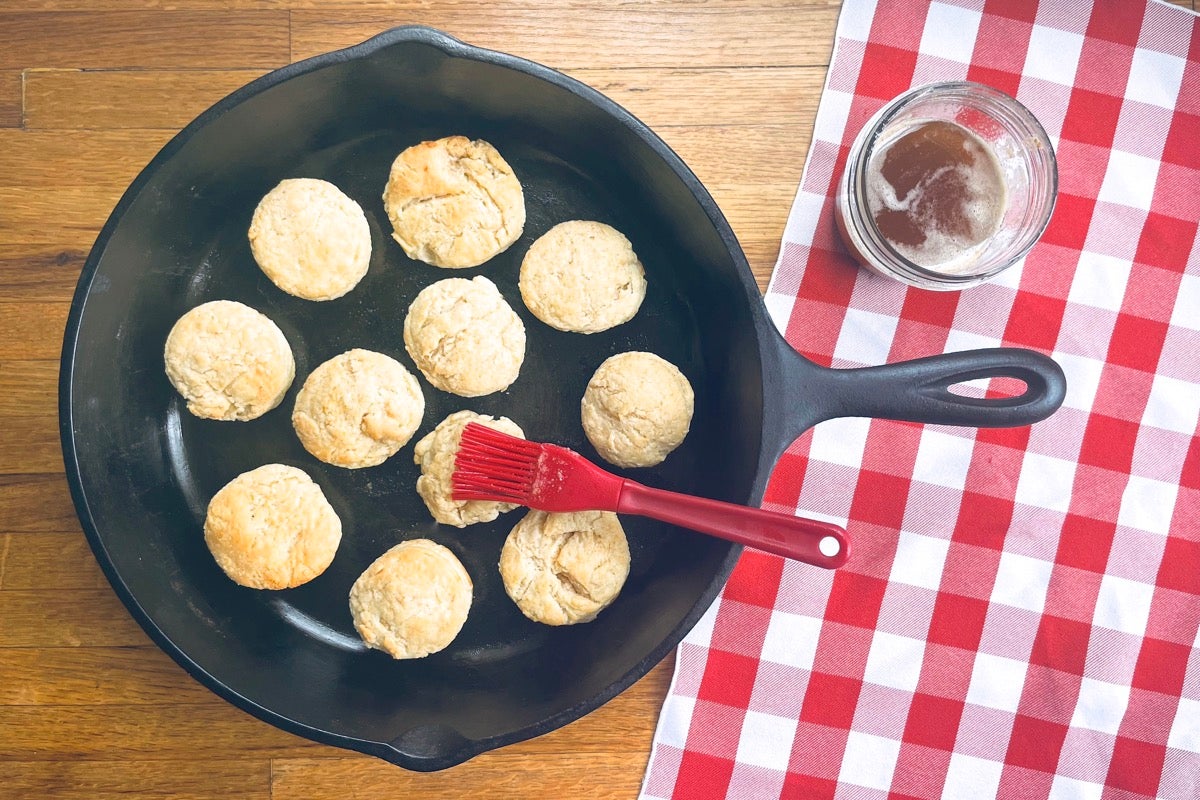 1-2-3-4 Sourdough Biscuits
Look at the recipe below. We're using 120g all-purpose flour (100% baker's percentage), 90g starter (75%), 60g butter (50%), and 30g milk or cream (25%). See that lovely progression?  Serendipitously, we're also using 12g of baking powder (10% of 120), so it's easy to remember that, as well. The only measuring tool you'll need is your 1/4 teaspoon, for the salt. (I don't bother to figure out its percentage, since I often vary the salt depending on other seasonings I add.)
You may be thinking, wait, what's so casual about all this, Ms. Casual Sourdough Baker? Trust me; once you absorb baking in weight and percentages, you'll think, "Why didn't someone tell me about this sooner?" And this recipe, with its main ingredients falling into a simple 1-2-3-4 ratio, is the perfect place to start.  
Gather these ingredients:
First, start preheating your oven to 450°F.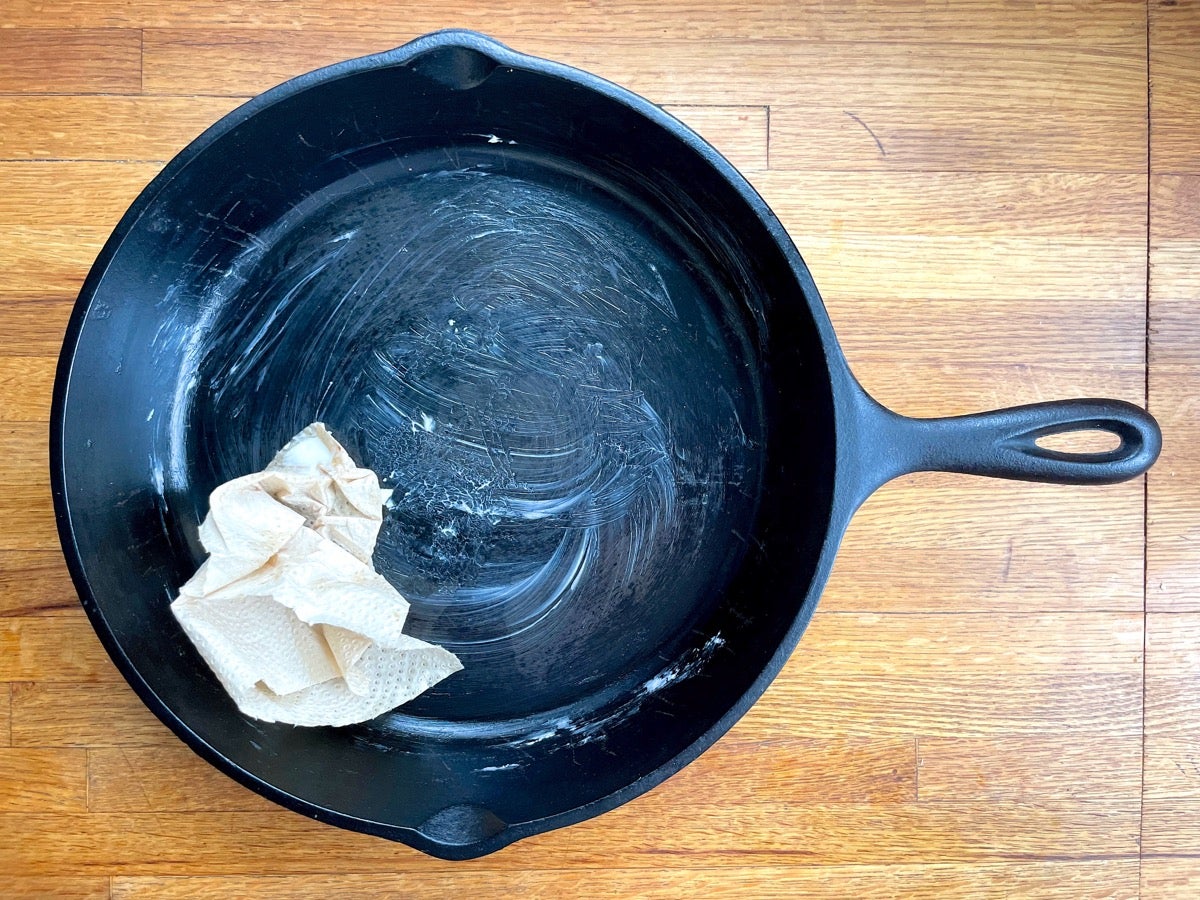 If you have a 9" or larger cast iron skillet, rub it with a bit of vegetable shortening or oil and place it in the top third of your oven. (If you're using vegan butter and plant-based milk, place the rack on your oven's top rack; positioning the biscuits close to the top heating element will help with browning, since biscuits missing dairy milk's natural sugars don't brown as well.)  
While baking the biscuits in a hot skillet gives them golden brown, crispy bottoms, it's not the end of the world if you don't have a skillet: A baking sheet will work just fine.
To make the biscuits by hand or using a mixer
In a medium bowl, whisk together the flour, baking powder, and salt. Work in the cold butter, mixing until fairly well combined but with some small chunks of butter remaining intact. Stir in the starter, then the milk or cream, adding enough to make a cohesive but firm dough.
To make the biscuits using a food processor
In your processor's work bowl, use the dough blade to pulse together the flour, baking powder, and salt. Add the cold butter and pulse briefly and repeatedly until fairly well combined but with some small chunks of butter remaining; this happens pretty quickly, so don't go overboard.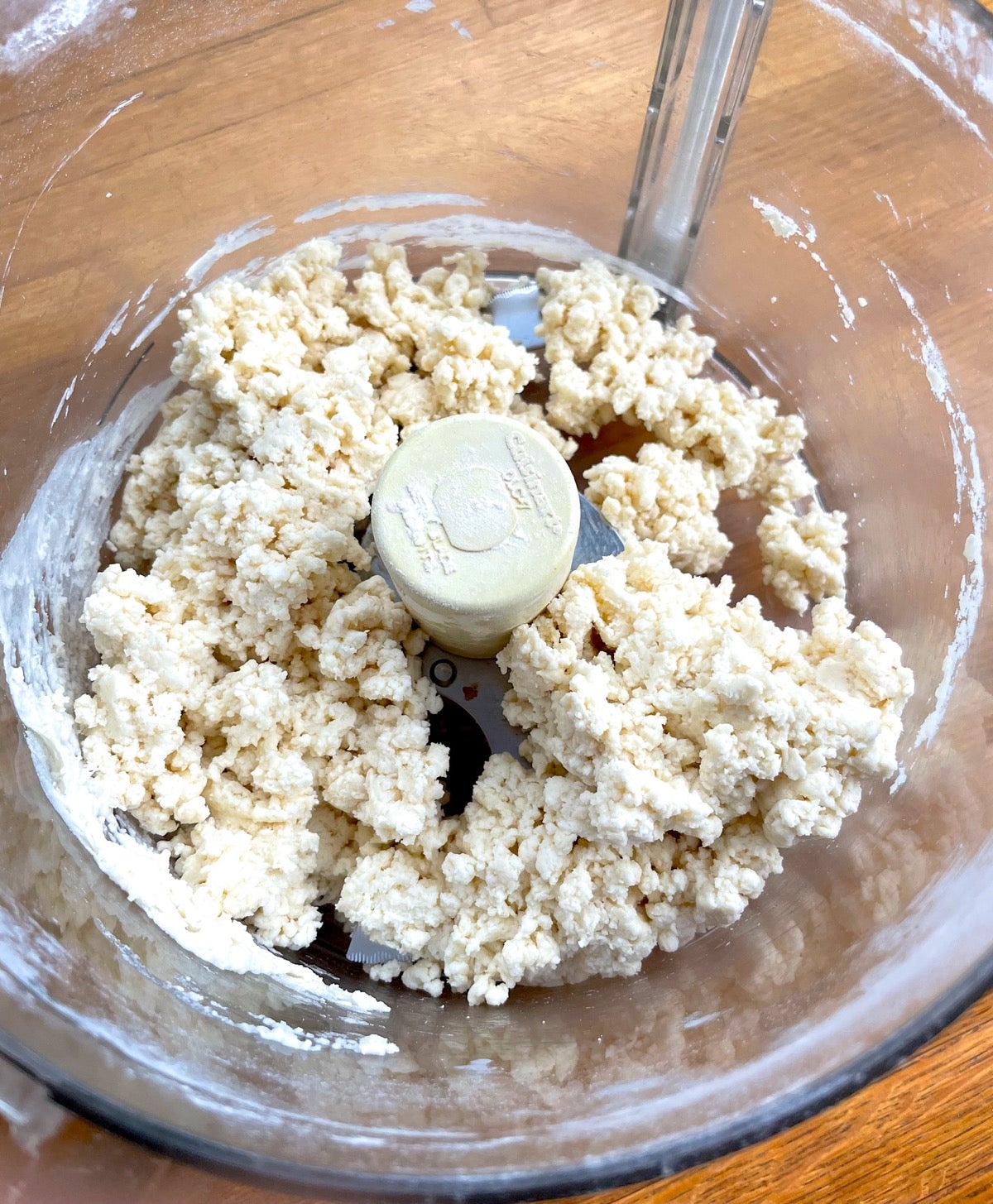 Add the starter and milk or cream. Using short bursts, pulse repeatedly just until the dough starts to come together.
Shape the biscuits
Transfer the dough to a greased piece of parchment or waxed paper, or other greased work surface. Knead it gently several times to smooth it out. Fold it over on itself like a letter and pat it into a 4 1/2" x 8 1/2" rectangle a scant 3/4" thick.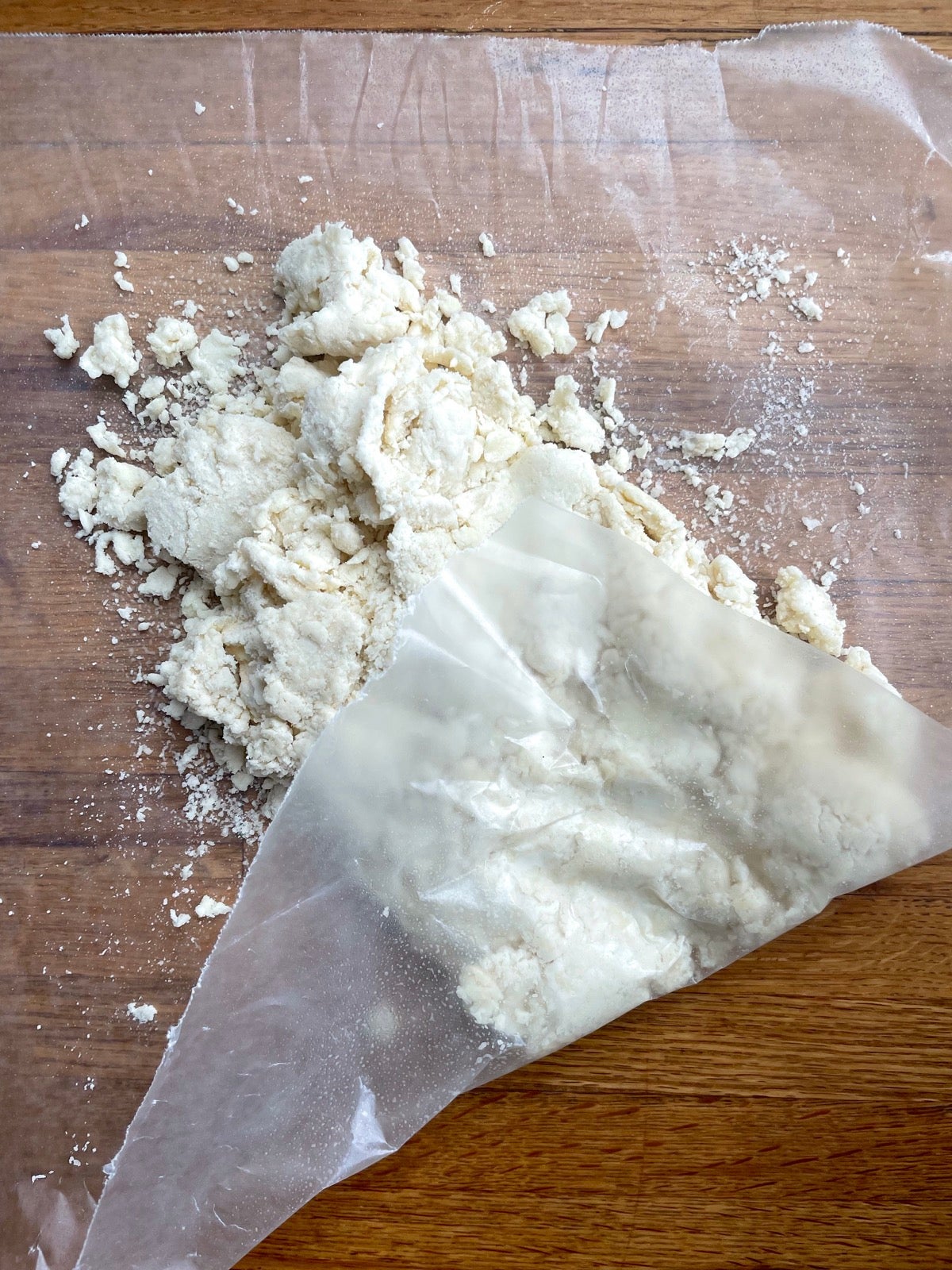 Flip the rectangle over so the smoother side is on top. Now decide if you want to simply cut square biscuits, or if you want to dig out your cutters and cut 2" rounds.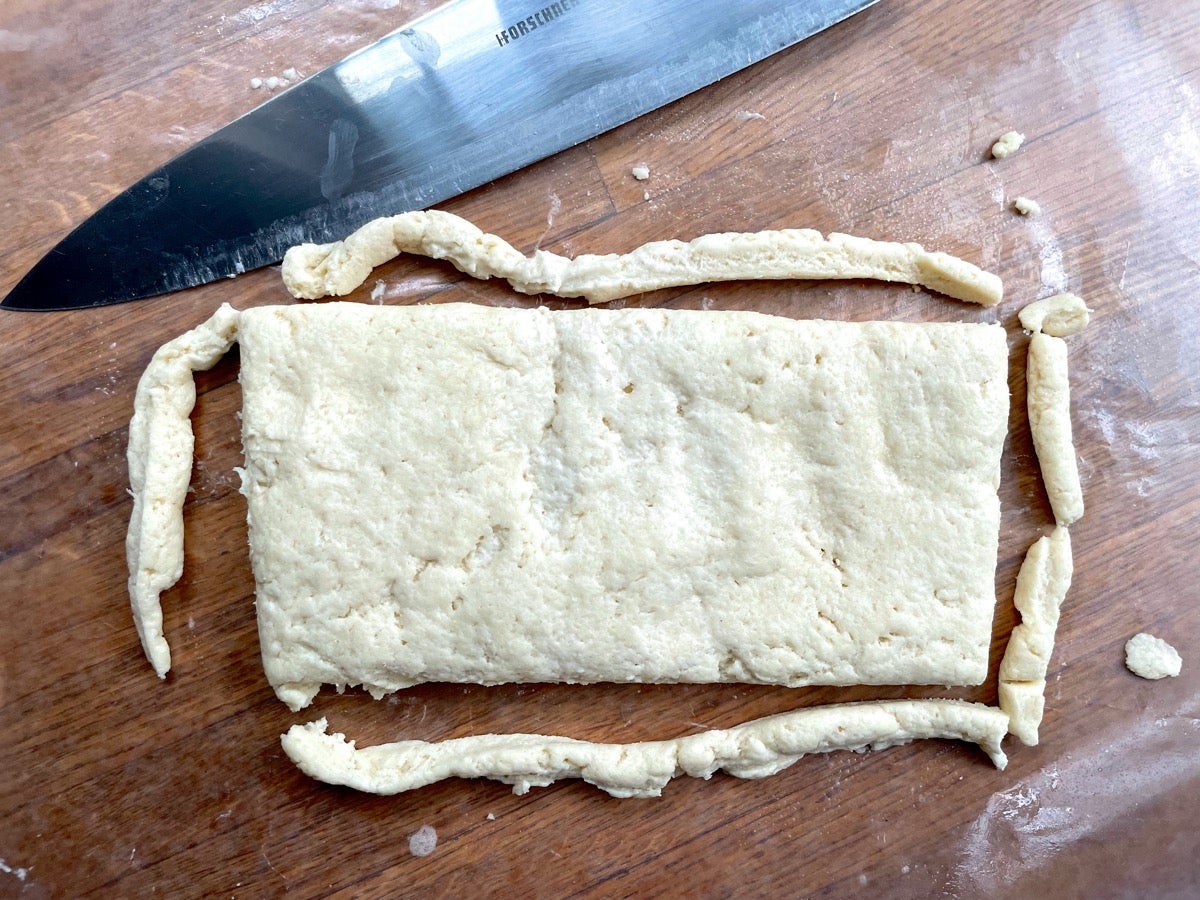 If you're making square biscuits, use a sharp knife to trim off about 1/4" of dough all around the edge of the rectangle. This will ensure that the biscuits rise evenly. Gather the trimmings and gently pat them into one more biscuit. If you're making round biscuits, there's no need to trim the dough's edges.
Cut the rectangle into eight 2" squares, or use your biscuit cutter to cut eight 2" rounds. If you've cut rounds, gently pat the remaining dough scraps into a small rectangle, and cut two or three more biscuits.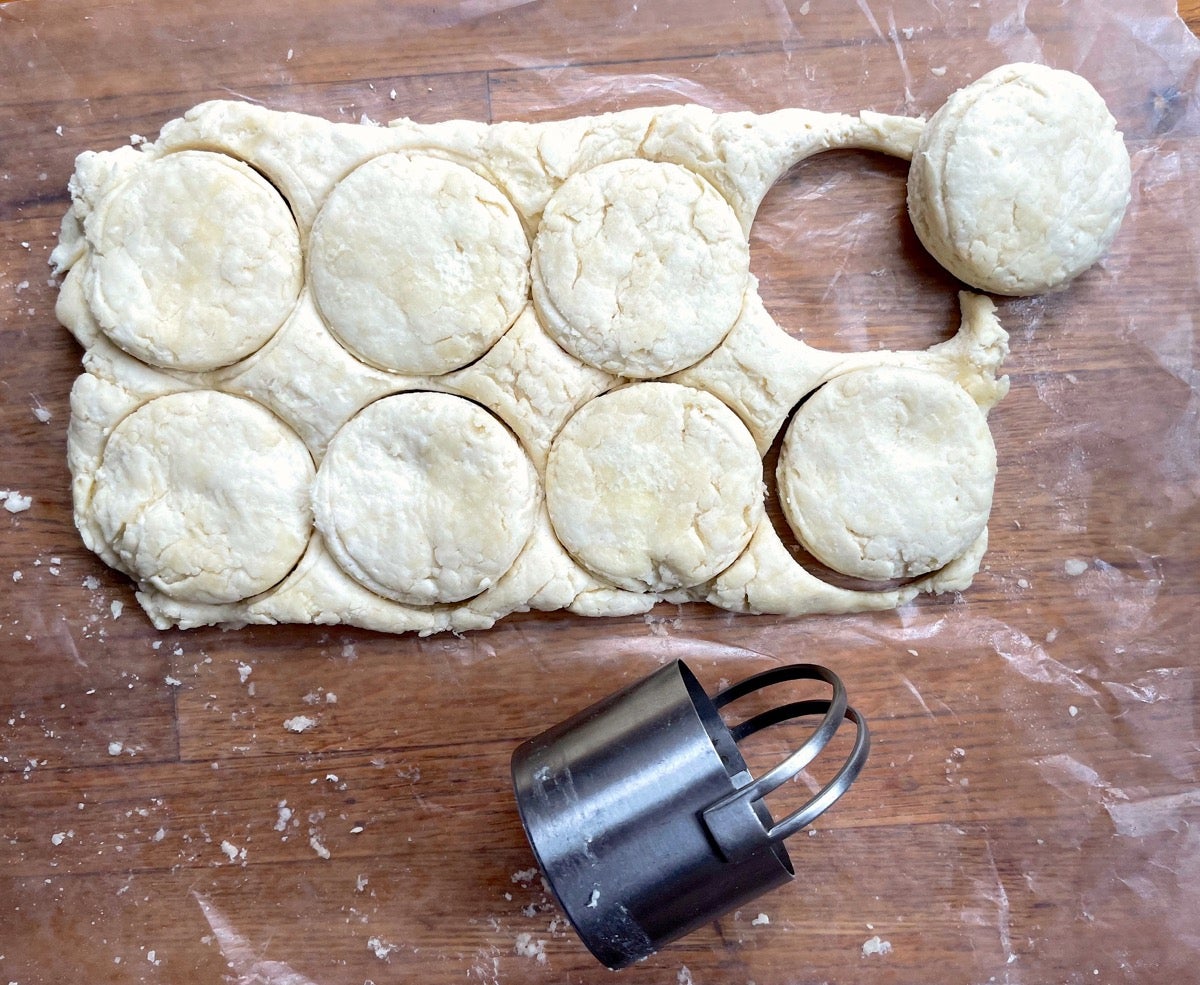 Wrap the biscuits in the parchment or waxed paper and place them in the freezer while the oven finishes preheating, about 20 minutes or so. This step chills the butter and relaxes the gluten in the dough, ultimately creating higher-rising, more tender biscuits.
Bake, butter, and enjoy
Carefully remove the hot skillet from the oven. Unwrap the chilled biscuits and arrange them in the skillet or on the pan. Place the skillet (or pan) and biscuits on the oven's upper rack and bake for about 15 to 17 minutes, until the biscuits are very lightly browned.
Remove the biscuits from the oven and brush them with melted butter, if desired; brown butter is especially yummy. Like all biscuits, these are best served warm.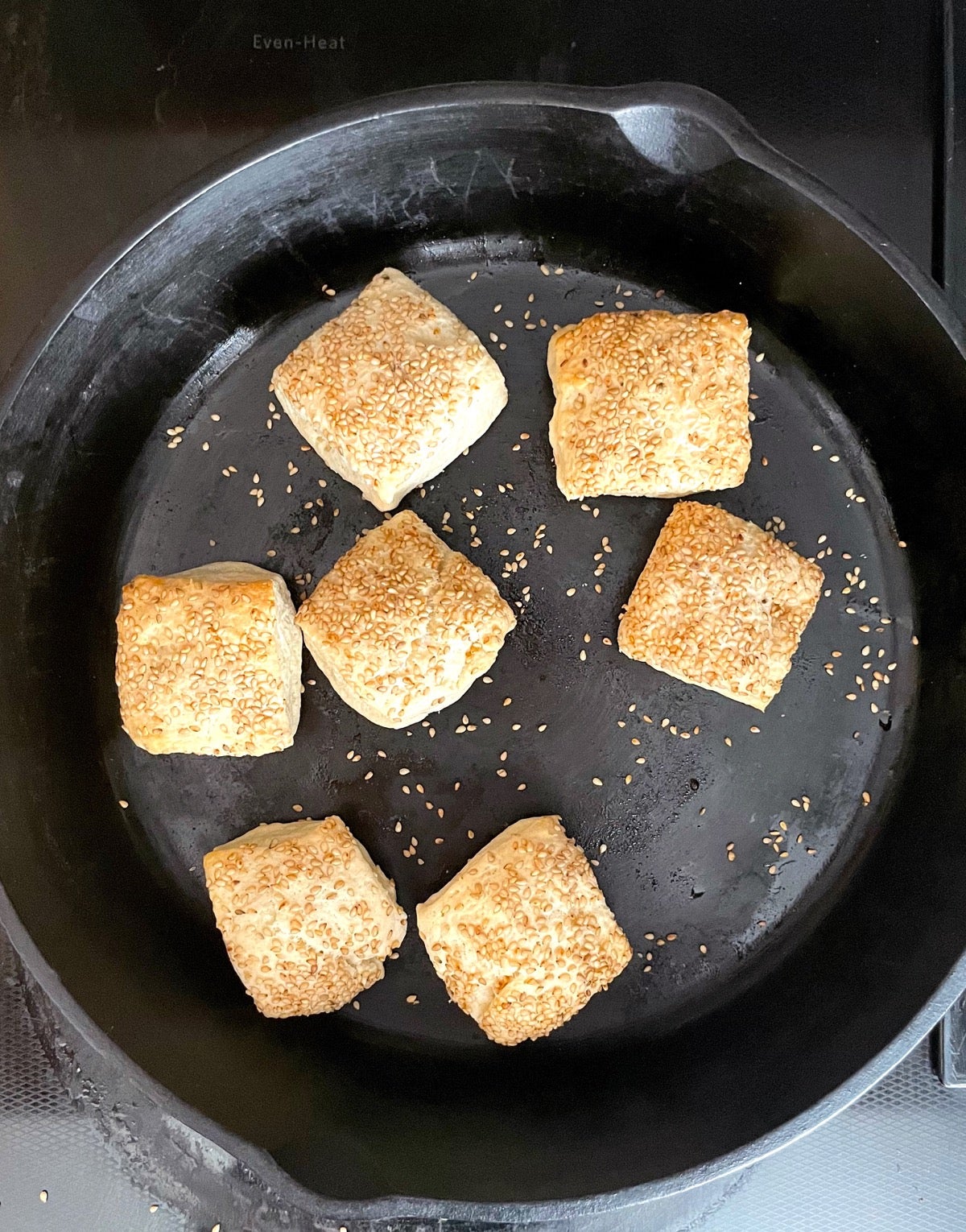 Flavor boosts
Made without any add-ins or topping, these biscuits are quite basic. I always doctor mine up, usually by adding a few tablespoons of cheese powder and some seeds on top. Want to take your plain biscuits up a notch? Here's how:
Whisk 12g to 18g (2 to 3 tablespoons) cheese powder into the dry ingredients before adding the butter. Cheese adds its own umami/fermentation-type flavor, and pairs nicely with sourdough. (Can you add freshly grated cheese? It'll be delicious but, fair warning, it'll leave your biscuits speckled.)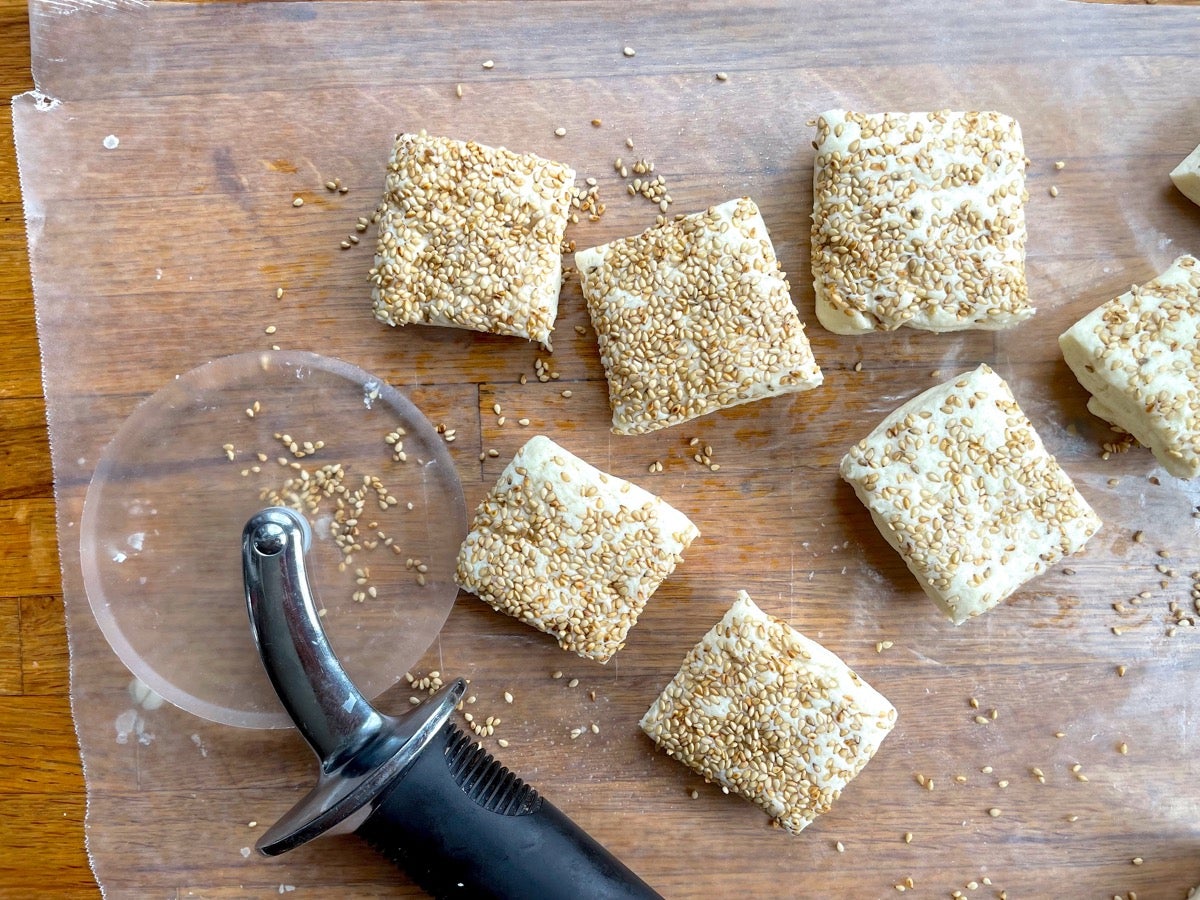 Pat your dough onto a bed of seeds or other toppings (e.g., Everything Bagel Topping). Cut the dough, then turn the biscuits seed-side up to bake.
Add the spices or herbs of your choice: The amount will depend on what you're adding, and how strong you like your flavors. As a general rule, start with 1/2 teaspoon spice (e.g., chili powder, garam masala) or 1 teaspoon dried herbs (rubbed sage, herbes de Provence).
Knead chopped vegetables or aromatics into the dough: fresh cilantro leaves, thinly sliced scallions, chives, or red bell peppers, oil-cured olives or sun-dried tomatoes — all will add bright color and flavor to your sourdough biscuits.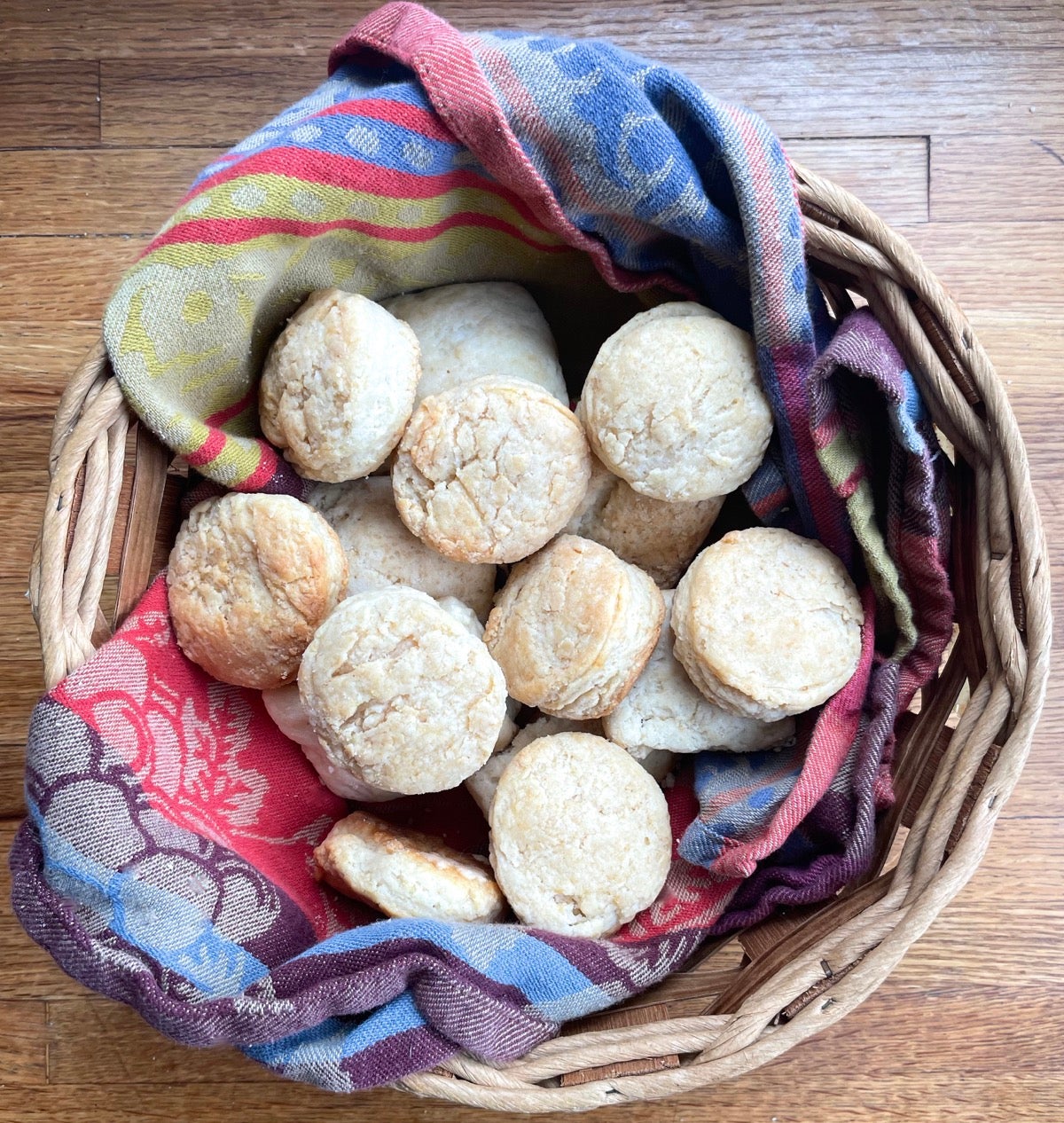 One final note: If you're looking for something printable, simply screenshot the recipe above and use it as a reference, until you've got it down pat. If I can embrace baker's percentages and memorize 1-2-3-4 (milk/butter/sourdough discard/all-purpose flour, plus baking powder and salt) — I think you can, too! 
Want to learn some easy ways to make breakfast better with unfed (discard) sourdough starter? Check out our Classic Sourdough Pancakes and Waffles, Sourdough Crumpets, and Sourdough English Muffins.
Jump to Comments