Cookbook author Hetal Vasavada of Milk & Cardamom is constantly baking up colorful treats, and below, she shares how to turn your pasta dough into a multi-colored masterpiece. 
* * *
When you think of edible art, you might think of cookies, cakes, and more. But pasta can also be an unexpected canvas for your creativity.
There are thousands of ways to express your culinary artistry through pasta, and one of the most fun methods is to color the dough with natural ingredients like beets, spinach, turmeric, and more. These ingredients won't add much flavor to the pasta, but they provide lots of vibrant color. (Keep in mind the colors of the pasta may lighten slightly when you cook it.)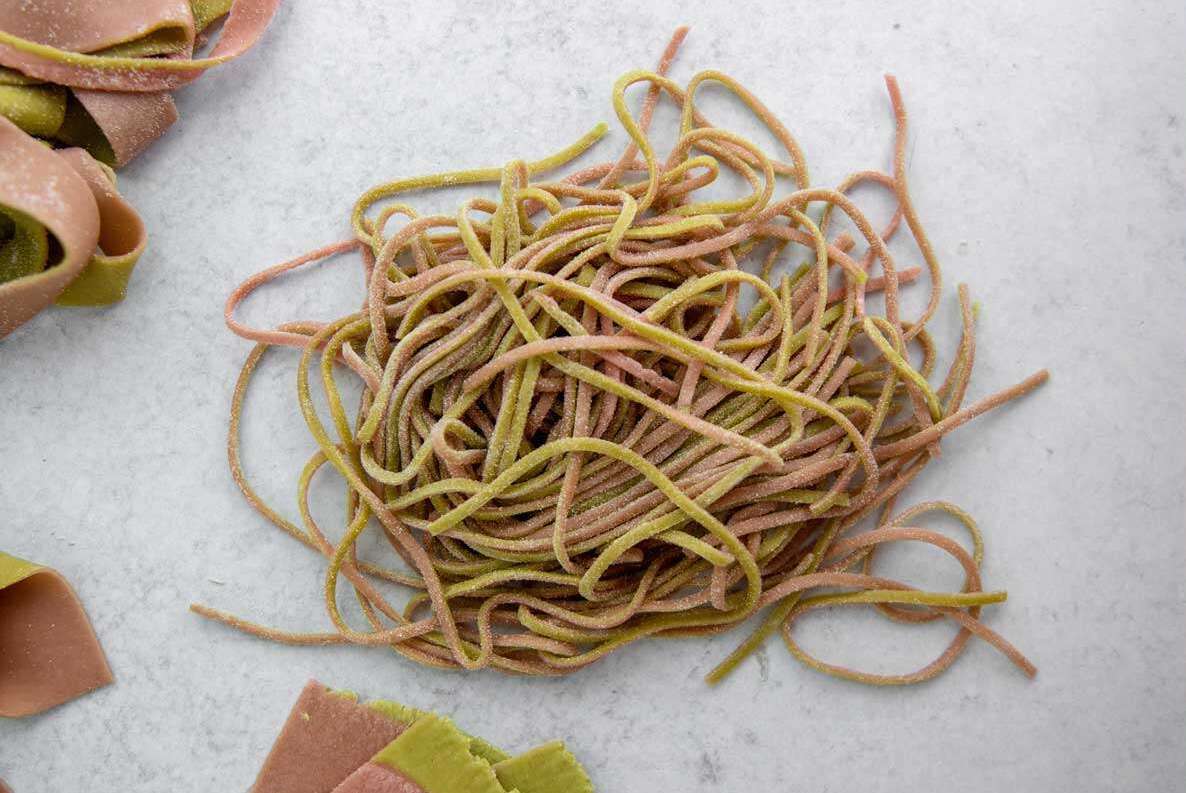 You can add color to just about any pasta recipe by blending natural ingredients into the dough's liquid, whether it's water or eggs. I used this Golden Durum Pasta recipe, which calls for eggs. 
To make two-toned pasta, split the Golden Durum Pasta recipe in half by dividing the durum flour, pastry flour, and salt into two separate bowls and whisking well.
Next, pick two colors of pasta and the associated ingredients from the chart below. (I used beets and spinach in the photos shown here.) The ingredient amounts listed below apply to half the Golden Durum Pasta recipe, since you're splitting the pasta dough in half before coloring it.
| Color | Ingredient |
| --- | --- |
| Pink/red | 1 steamed beet |
| Green | 1 cup baby spinach |
| Yellow | 1 tablespoon turmeric powder |
| Blue | 1 tablespoon spirulina powder |
| Black | 1 to 2 tablespoons activated charcoal or 1/4 cup squid ink |
| Orange | 1/2 cup steamed carrots |
In a blender or mini food processor, place 2 eggs and the add-in you've chosen from the table above. Blend or process until completely smooth; this will yield even color across the pasta.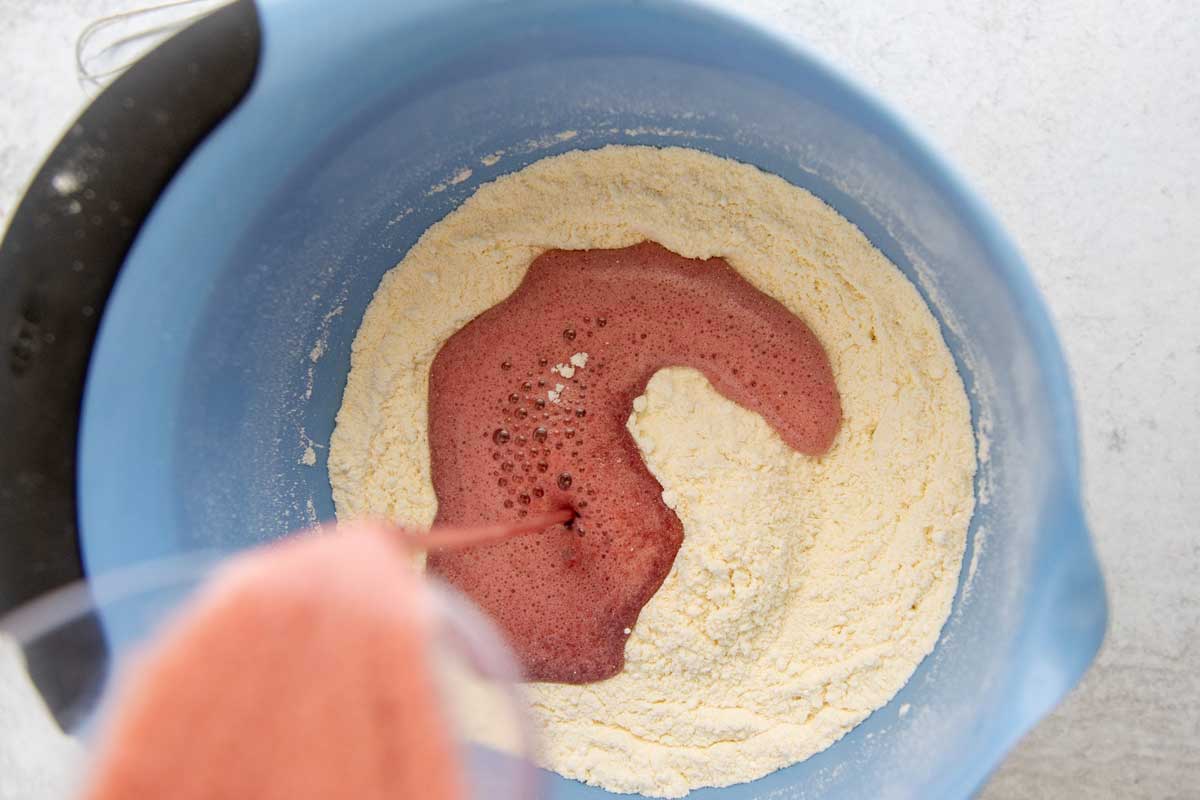 Strain the liquid into a bowl with the whisked dry ingredients. Straining is optional; if you don't strain the liquid, however, your pasta may be speckled with larger pieces of spinach, beet, carrot, etc.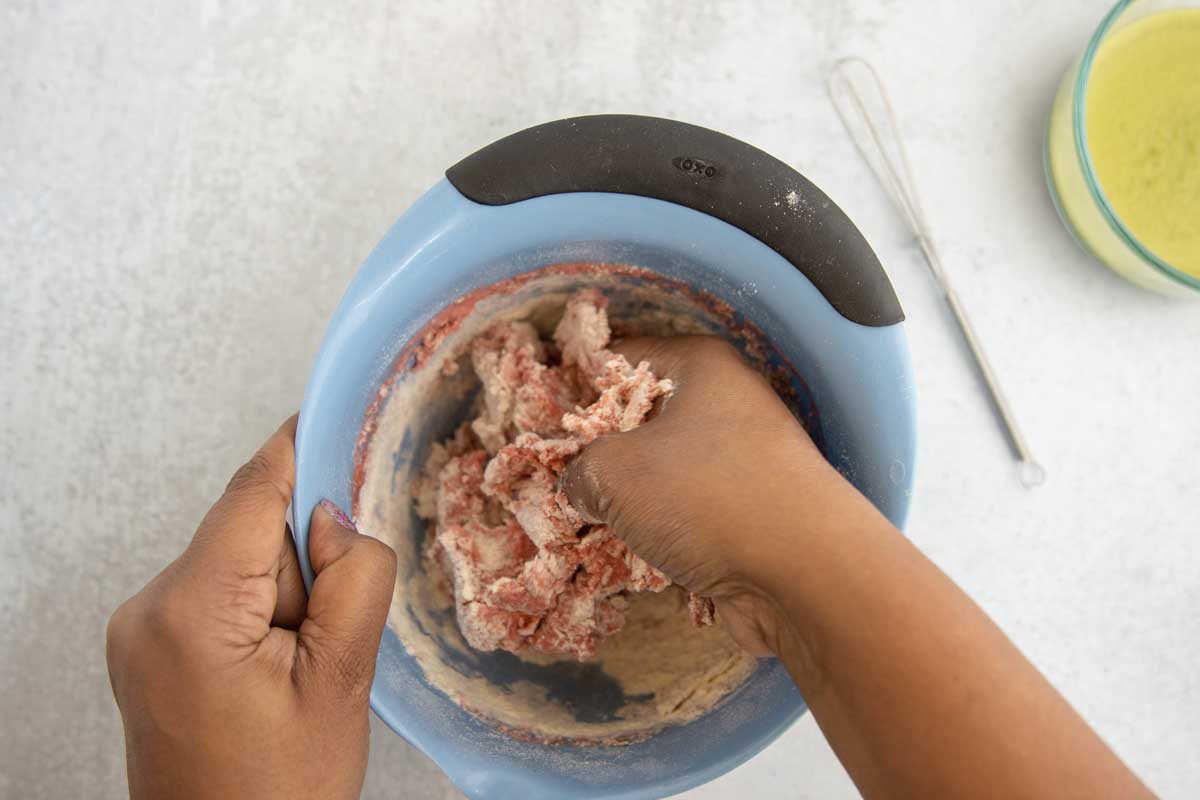 Knead the dough for 5 to 8 minutes, adding ice-cold water as needed to bring the dough together. The dough will be slightly dry, but it will hydrate as it rests.
Shape the dough into a disk and wrap airtight, or place in a tightly lidded container. Repeat with your second choice of color and the remaining bowl of dry ingredients.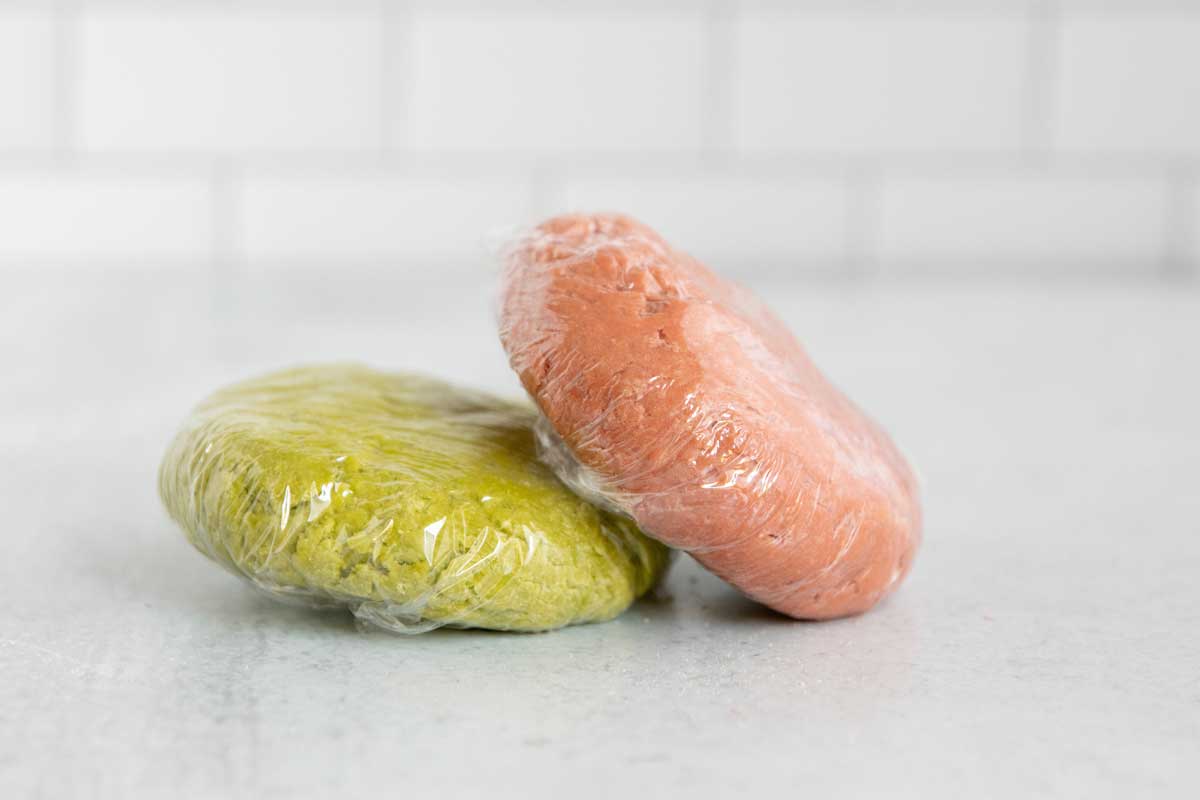 Rest the wrapped dough on the counter for at least 1 hour. You can also make the dough ahead of time and refrigerate it overnight.
Once the dough has rested, cut each disk into quarters. Working with one wedge of dough at a time, use a pasta machine or rolling pin to roll the dough 1/8" thick. (If you're using a pasta machine, roll the dough out to setting 4.) Make sure to cover the rest of the dough while you work so it doesn't dry out.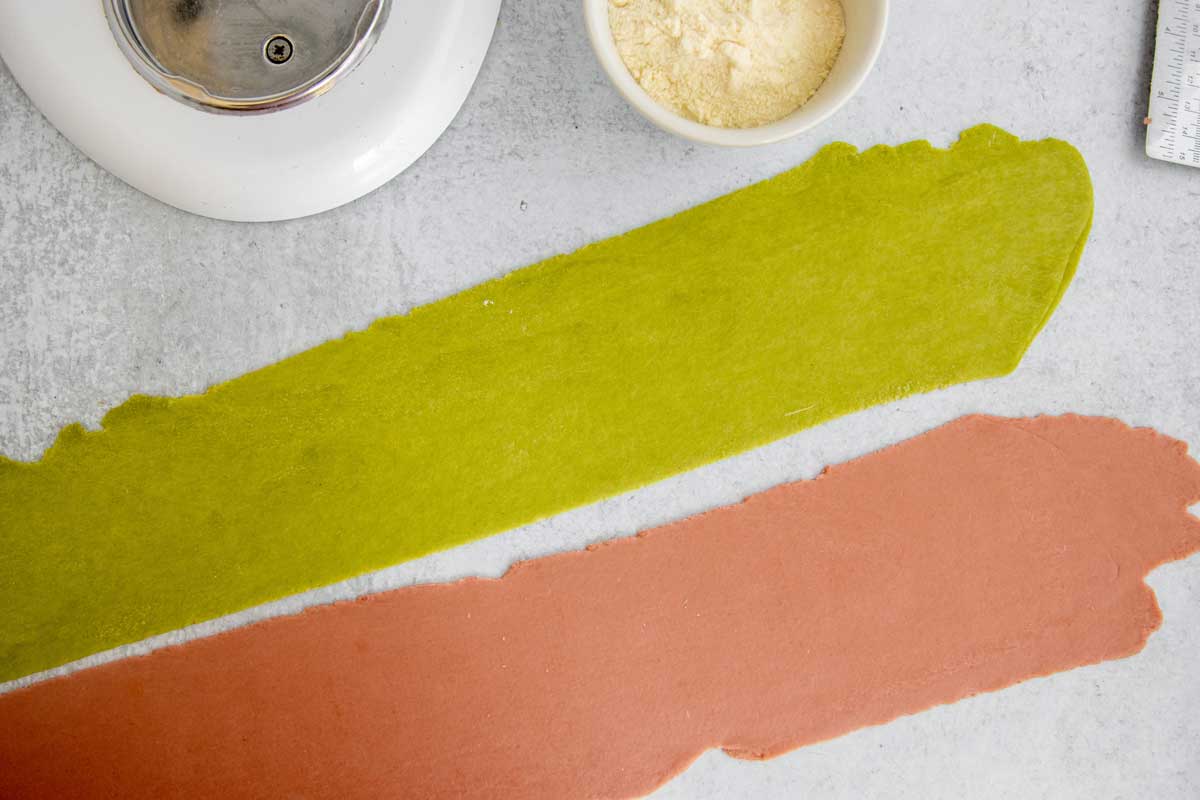 Repeat this step with the second color of dough. If you find the rolled-out dough is too long to handle or fit on the table, you can cut it in half.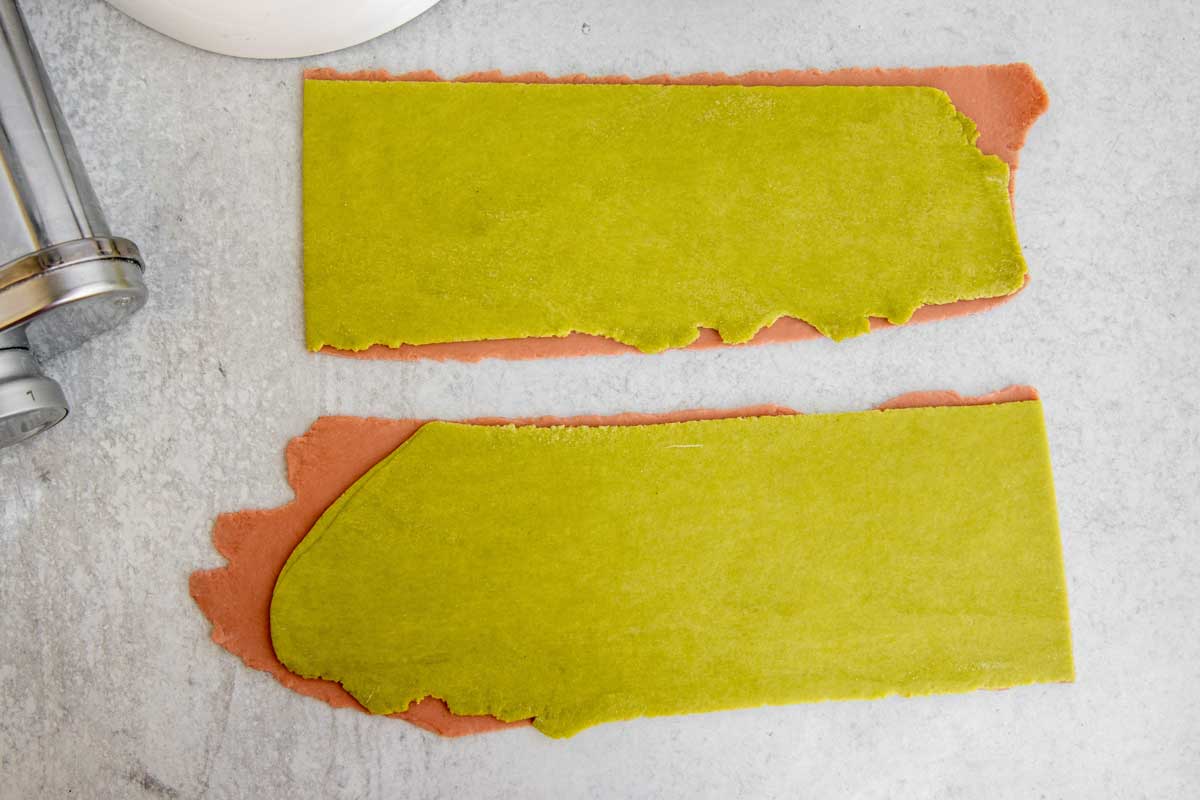 Stack the two different colored sheets of dough together, then roll the piece of stacked dough through setting 5 on the pasta machine two or three times. (Alternately, roll by hand until about 1/16" thick if you don't have a pasta machine.) Dust with durum flour and cover the rolled-out sheets of pasta while rolling out the rest of the dough.
You now have sheets of two-toned pasta that can be cut into shapes or turned into additional patterns.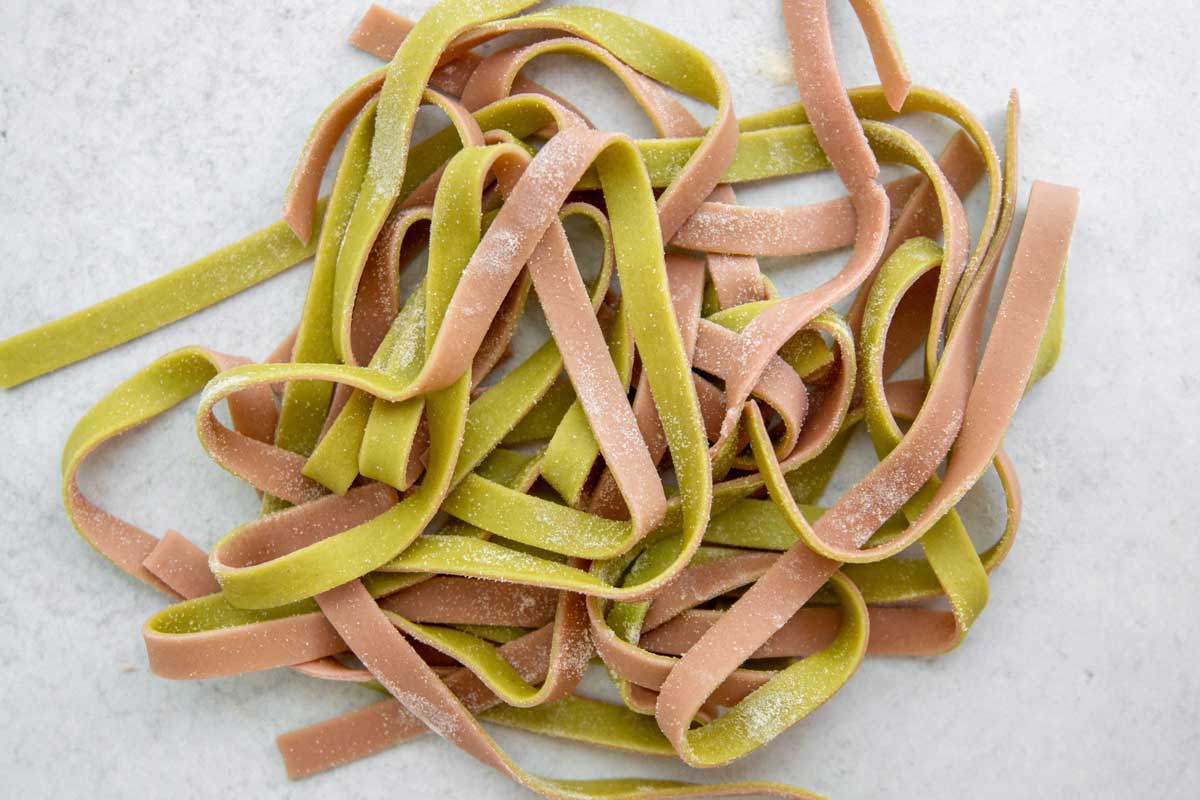 More two-toned pasta designs
You can get extra-creative with this coloring technique by making polka dots, stripes, or marbled pasta. 
To make polka dot pasta: Starting with the sheets of two-toned pasta, use a piping tip or small cookie cutter to cut out circles. Flip the cutout pieces so that the opposite color is facing up and place them onto a separate sheet of pasta. Roll the pasta out in setting 4. Keep in mind that the circles will tend to stretch into an oval shape as the sheet goes through the pasta machine. To keep them more circular, gently roll the dough with a rolling pin to 1/8" thick instead. 
To make striped pasta: Cut a sheet of two-toned pasta into long, thin strips to make fettuccine (about 1/4" wide). Place the fettuccine onto a separate sheet of pasta in alternating colors, lining them up next to each other. Roll the pasta out with a rolling pin or pasta machine to your desired thickness. 
To make marbled pasta: Take two wedges of pasta dough — each a different color — and knead them together for 1 minute. Roll the dough through a pasta roller; it will marble as you roll and fold the pasta.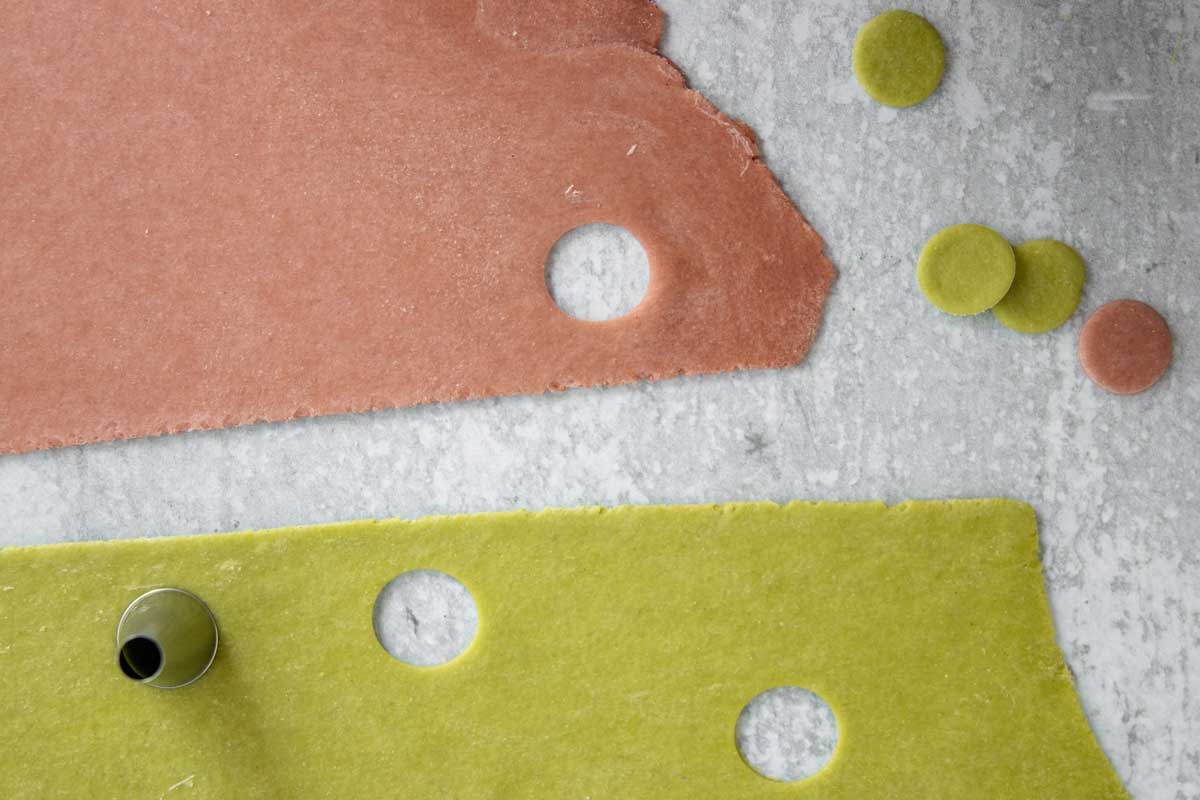 How to make different pasta shapes 
Once colored and patterned, your pasta can be formed into a variety of shapes and sizes. Here's how to make some of the most common styles: 
| Shape | Technique |
| --- | --- |
| Fettuccine, spaghetti, pappardelle | Flour the sheets of pasta and fold in half. Use a knife or pasta cutter to cut the pasta 1" wide for pappardelle, 1/4" for fettuccine, or 1/8" for spaghetti. |
| Lasagna | Roll the pasta sheets to setting 3. Cut into 3" x 13" strips.  |
| Ravioli | Roll the sheets to setting 2. Place teaspoons of your choice of filling 2" to 3" apart on one sheet of pasta. Brush the area around the filling with egg wash and cover with a second sheet of pasta. Use your fingers to seal the fillings and cut into squares using a crimper or knife. |
| Bowtie | Cut the sheets into 2" squares. Fold each square into an accordion and use chopsticks to pinch the center together.  |
| Garganelli | Cut the pasta sheets into 2" squares. Fold each square diagonally over your finger and pinch to seal.  |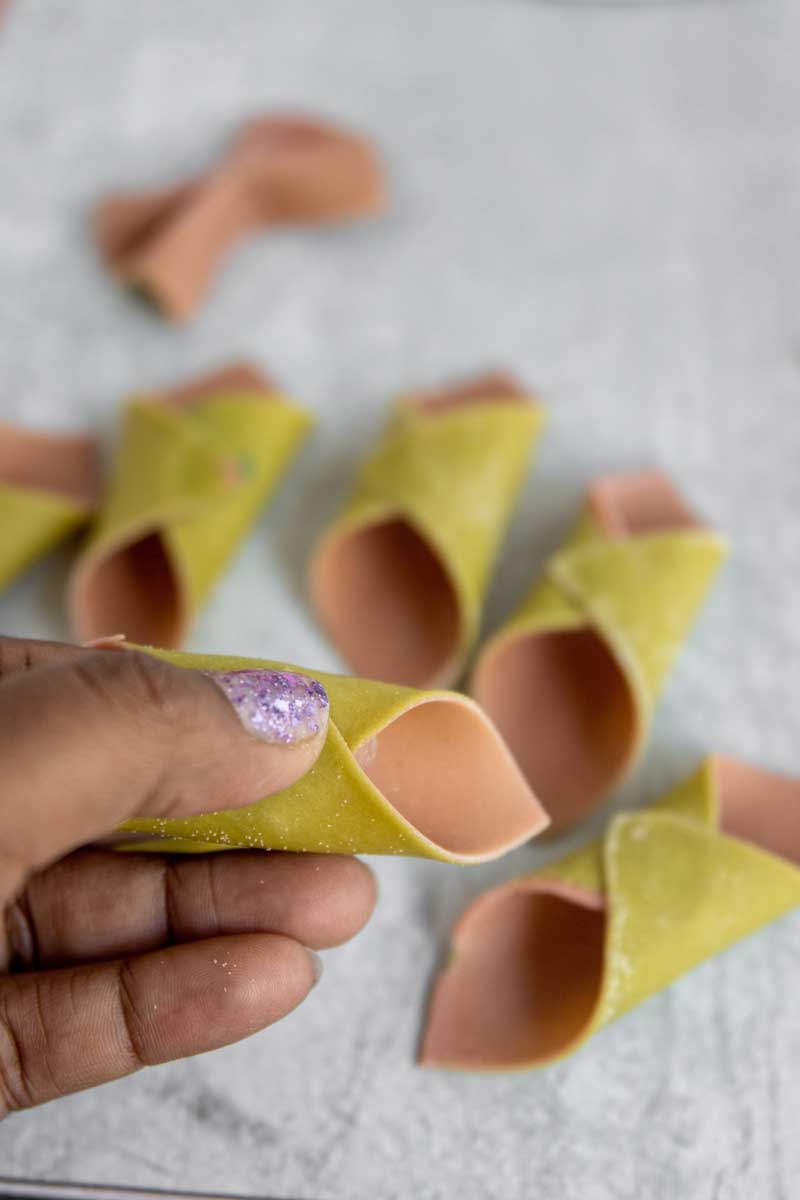 After you shape your pasta, be sure to toss it gently with a liberal amount of durum or semolina flour. You can dry the pasta or cook it immediately.
Then use this pasta to make a gorgeous spring or summer pasta dish with seasonal veggies and herbs for a bright, light meal!
Jump to Comments