We love rye flour, but we're not the only ones! Today, James Beard-nominated baker and cookbook author Melissa Weller joins us to talk Rye Puff Pastry and share three tasty ways to bake with it. 
* * *
Puff pastry is a laminated pastry; in other words, it's a block of dough composed of many layers of dough and butter, which gets its height and lightness solely from folding the dough and butter layers. It's traditionally made with wheat flour and butter, and it undergoes five or six laminating folds; these folds are necessary to create layers without over-handling (since the more you handle a wheat flour-based dough, the more the gluten will develop and the potentially tougher the pastry will be). But as wonderful as puff pastry is, I always find the folding process time-consuming and tedious, especially as the gluten develops.
So when I'm short on time, I turn to this very satisfying alternative: Rye Puff Pastry. Cubes of butter are partially mixed into a dough that's half rye flour and half all-purpose flour. The dough immediately receives three to four folds. (Because rye flour doesn't have as much gluten-developing potential as wheat flour, you don't need as many folds.) Refrigerate it for an hour and then it's ready to use — so easy!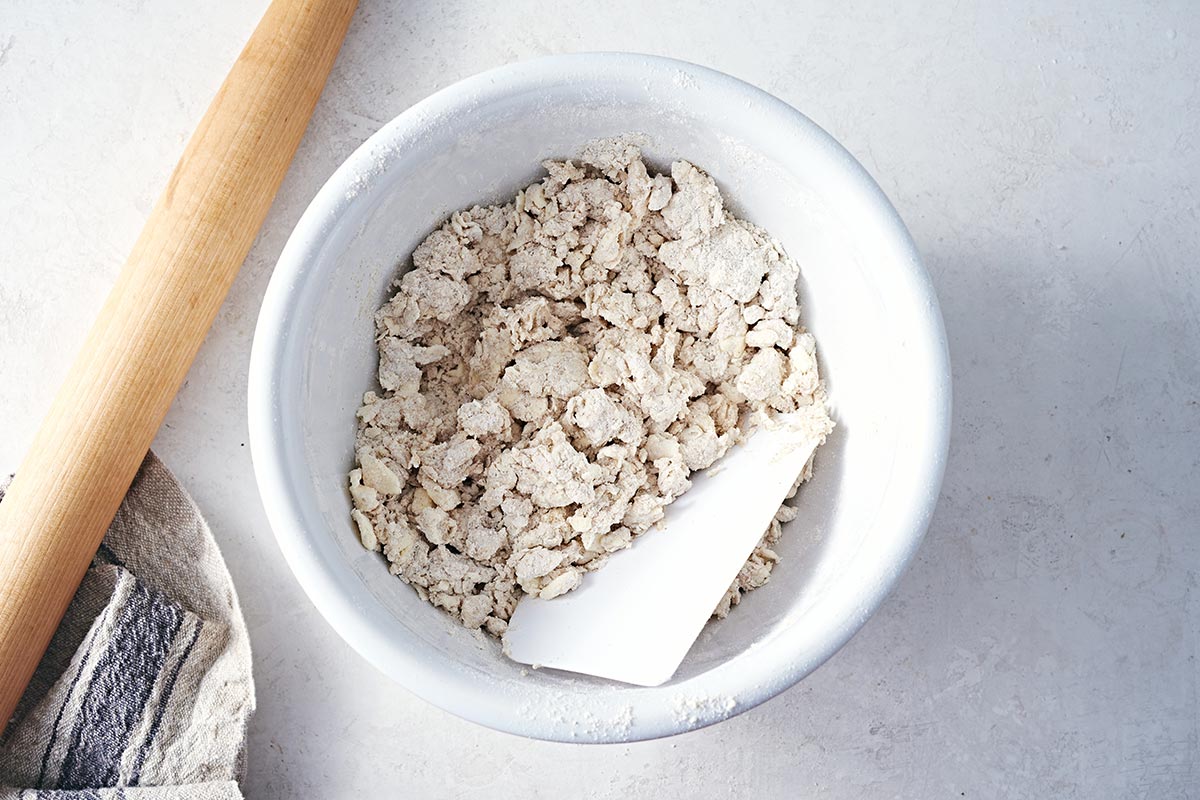 Why rye pastry?
Rye is a hardy grain (much hardier than wheat) and grows in harsher, colder climates. And it doesn't need as much water to grow. Because of this, its flavor is cooler, earthier, and darker than wheat. Rye's distinct taste pairs well with flavors like pears, cherries, plums, chocolate, and coffee, and on the savory side it goes nicely with onions, potatoes, and alpine cheeses.
Thanks to Organic Medium Rye Flour, this rye puff pastry has the favorable characteristics of rye, such as its deep flavor, while also benefiting from the gluten in the wheat flour for a dough that's easy to handle.
Rye Puff Pastry can be used in any recipe that calls for regular puff pastry, but to truly showcase its unique flavor profile, I created three fun recipes to put it to use.
Each of the recipes below starts with one prepared batch of Rye Puff Pastry, chilled and ready to use. While making the baked goods below (or other recipes with rye puff), you may want to take your puff pastry out of the fridge about 10 to 15 minutes before rolling it out, to soften until it's bendy but still cool.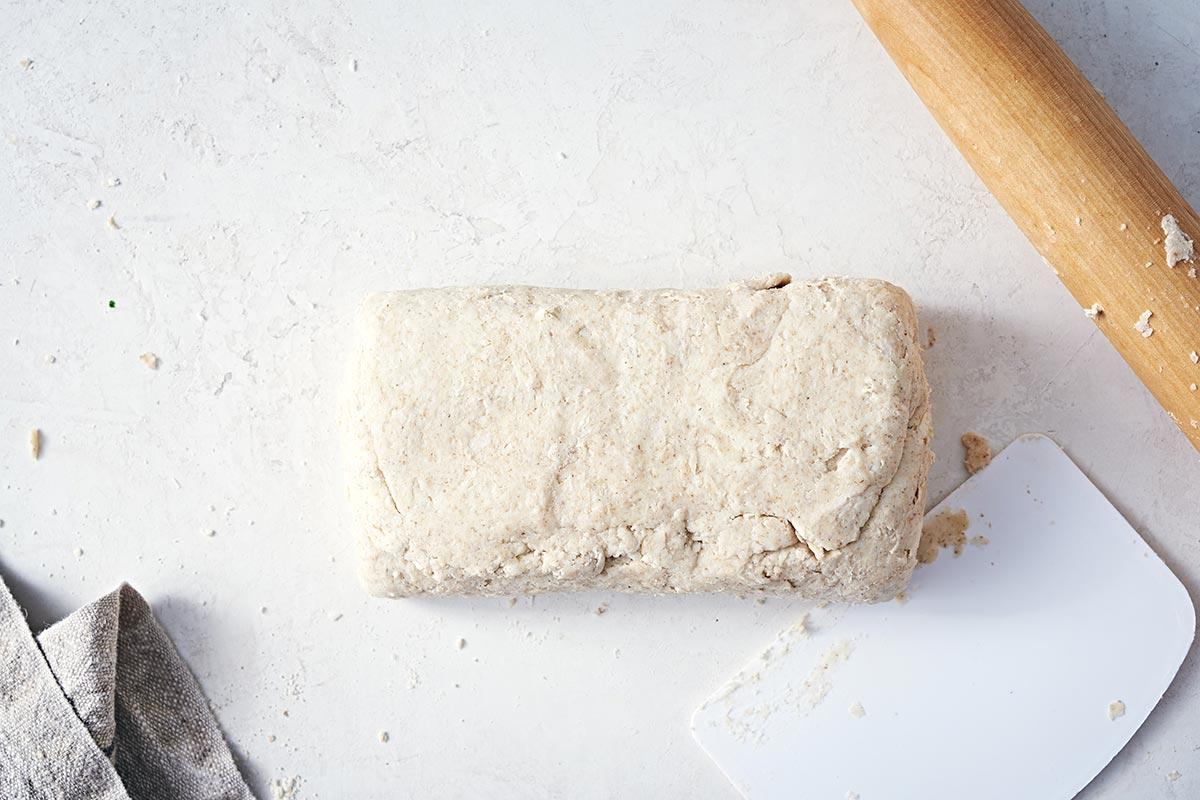 Rye palmiers
First, an easy palmier recipe. The rye puff gets rolled out in sugar, folded, sliced, and baked. But for a twist, the baked palmiers are dipped in bittersweet chocolate. The chocolate plays off the flavor of rye, and the pastries look as beautiful as they taste.
How to make: Place the Rye Puff Pastry on a work surface you've lightly dusted with sugar. Dust the top of the dough with more sugar and roll out to a 12" square. Trim the edges, then sprinkle the surface of the dough with more sugar.
Fold the top and bottom edges 1 1/2" in toward the center of the dough. Repeat folding the top and bottom edges in so that they meet in the center. Fold the top edge down to meet the bottom edge. There are now eight layers. Refrigerate the pastry for 20 minutes. Meanwhile, preheat the oven to 450°F.  
Remove the pastry from the refrigerator. Slice the palmiers 3/8" wide, then place cut-side up on parchment-lined baking sheets. Bake the palmiers for 6 minutes, flip them over, then bake for an additional 5 minutes, until both sides are lightly caramelized.
Once cooled, dip each palmier halfway into tempered bittersweet chocolate (you'll need around 1 1/2 cups/255g chopped chocolate). Place on a rack to cool, then serve at room temperature. 
Rye turnovers with pear and caramel
For a creative twist on a fruit turnover, the rye puff is rolled out and cut into squares. Baked pears with caramel are dolloped onto the squares, then the squares are folded over and baked. Other fruit fillings can replace pears as the season dictates; sour cherries would also be lovely.
How to make: Prepare a batch of Caramel Sauce. (Store-bought also works if you'd like to save time.)
Peel, core, and slice 2 pears. Toss with a splash of lemon juice, 2 tablespoons (25g) sugar, 1/4 teaspoon cinnamon, 1 tablespoon flour, and a pinch of salt. Add to a pie pan, cover with foil, then bake in a 350°F oven for 10 to 15 minutes, until the pears are soft. Let cool. (Keep the oven on!)
Roll the Rye Puff Pastry into a 10" x 15" square. Trim the edges. Divide the dough in half lengthwise and then divide the two halves into thirds, yielding six squares.
Divide the pear filling evenly among the pastry squares and spoon 1 teaspoon of caramel on top of each pear mound. Fold the corner of each edge of a turnover down diagonally to meet the opposite corner, making a triangle-shaped turnover. Seal the edges with your fingers and place the turnover on a parchment-lined baking sheet. Chill in the fridge for 20 minutes.
Score the turnovers, cutting all the way through to the filling, then lightly brush with an egg wash. Bake for 25 minutes.
Savory rye tart
Lastly, something savory: Tartiflette, a traditional French alpine dish of potatoes, cheese, onions, and bacon turned into a rye-based tart. You'll simply roll out the dough and top it with a delicious combination of hearty toppings before baking. It's a perfect lunch with or without a green salad on the side.
This tart method also works with other toppings you might like to try, both sweet and savory. It's a fantastic opportunity to be creative. 
How to make: Toss 12 ounces (339g) Yukon gold potatoes (or other small, yellow-fleshed potatoes) with oil and roast in a 450ºF oven for 30 to 45 minutes, until soft. Let cool, then slice into 1/4" to 1/2"-thick pieces. Keep the oven on.
Place 4 ounces (113g) bacon, sliced into batons, in a skillet and cook over medium-high heat until the bacon just begins to crisp along its edges. Turn the heat down to medium and transfer the bacon to a paper towel-lined plate.
Place 1 medium onion, peeled and diced, and 2 cloves garlic, peeled and sliced, into the skillet with bacon fat. Cook for about 5 minutes to soften. Transfer the mixture to a small bowl, season with salt, and set aside.
Roll the Rye Puff Pastry into a 10" x 12" rectangle. Trim the edges and carefully transfer the pastry to a parchment-lined baking sheet. Poke the pastry all over with the tines of a fork.
Spread 3 tablespoons (45g) crème fraiche over the surface of the pastry, leaving about 1" bare along each side. Place the slices of potato evenly atop the crème and sprinkle with the bacon and onion mixture. Top with 4 ounces (113g) sliced Brie, followed by 2 ounces (56 grams) grated Gruyère cheese.
Bake for 20 to 25 minutes, rotating halfway through the baking time. Bake until the cheeses have melted and the pastry is an amber brown.
Rye opens up a whole new world of pastry
This Rye Puff Pastry recipe should become a go-to in your baking repertoire. It's quick and simple, and the rye flour actually makes the rolling and folding of the dough quite easy since rye has very little gluten.
And perhaps the best part: it's versatile. Sweet or savory, it's fun to create a variety of flavor pairings to go with the rye! Use the above recipes as inspiration to come up with your own favorite flavor combinations, or try swapping Rye Puff Pastry for traditional pastry in other recipes for a whole new baking experience.
Looking for more ways to use Rye Puff Pastry? See this recipe for Flaky Apple Tart (Tarte Fine aux Pommes), full of rich caramel flavor and tart apple alongside the nutty flavor of rye. 
Photos by Liz Neily
Jump to Comments