Here at King Arthur, we're big fans of rye flour. So much so, in fact, that we once spent a whole month celebrating it. We love the nutty flavor, tender texture, and overall versatility it brings to baked goods. Honestly, it's just a delight to bake with.
So when Claire Saffitz shared the Thrice-Baked Rye Cookies recipe from her cookbook Dessert Person with us, we were especially pumped. Not only does this recipe showcase some of the best rye has to offer — a crisp, buttery texture and hauntingly complex flavor — but it also incorporates two especially innovative baking techniques. (Claire says they're "two of the best nuggets of baking knowledge I've ever acquired.")
Tip 1: Hard-boil your egg yolks
The first technique is to use hard-boiled egg yolks in the dough. The cooked yolks are pressed through a sieve, creating tiny little flecks that intersperse throughout the dry ingredients. Their presence throughout the dough helps prevent the formation of the gluten network; since gluten development is what leads to chewiness in a baked good, inhibiting it guarantees the opposite: "a dissolve-in-your-mouth consistency," as Claire describes.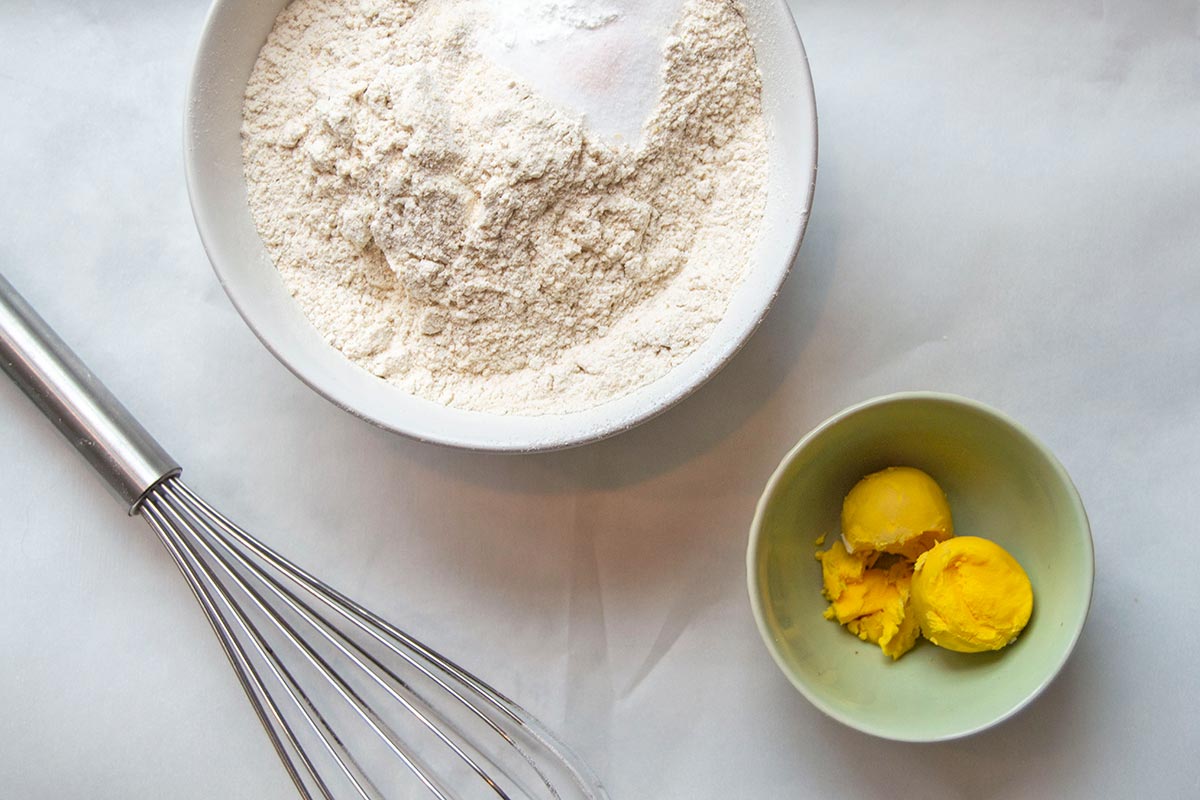 Tip 2: Toast your flour 
The second tip is to give your flour a solo trip to the oven before you mix your dough. This step has two benefits: it adds an extra layer of nutty, toasted flavor to the flour (which takes rye flour in particular from whoa to WHOA) and also inhibits gluten formation by affecting the starches and gluten molecules in the wheat flour, promoting tenderness even further. 
And then, of course, there's the rye flour itself. With less gluten than wheat flour, as well as a pleasantly assertive taste, this grain brings its own dose of tenderness and flavor to the recipe. Combined with the toasted flour and sieved egg yolk, these cookies bake up with a delicate, crisp texture — like shortbread or sablés — and ultra-enticing flavor. 
As Claire told us, "These cookies combine a number of different textures — light, crispy, tender — all in one earthy, sweet bite. It's an unconventional recipe that makes for an unconventional but delicious cookie."
Let's take a look at how these unique cookies come together. Plus, we'll try using some different types of rye flour to see how they compare in these cookies. 
Here's what you'll need:
*Claire calls for European-style butter, which has a slightly higher fat content and thus yields cookies with a somewhat sandier texture. That said, American-style butter is just fine here.
Baker's tip: You can easily prepare the hard-boiled egg yolks and toasted flour a day or two ahead to save some time making this recipe. 
Start by toasting your flours on a baking sheet in a preheated 425ºF oven for about 8 to 12 minutes, stirring every 5 minutes or so. They'll smell fragrant and brown a bit; they may even smoke slightly. Remove from the oven and let them cool before making the dough.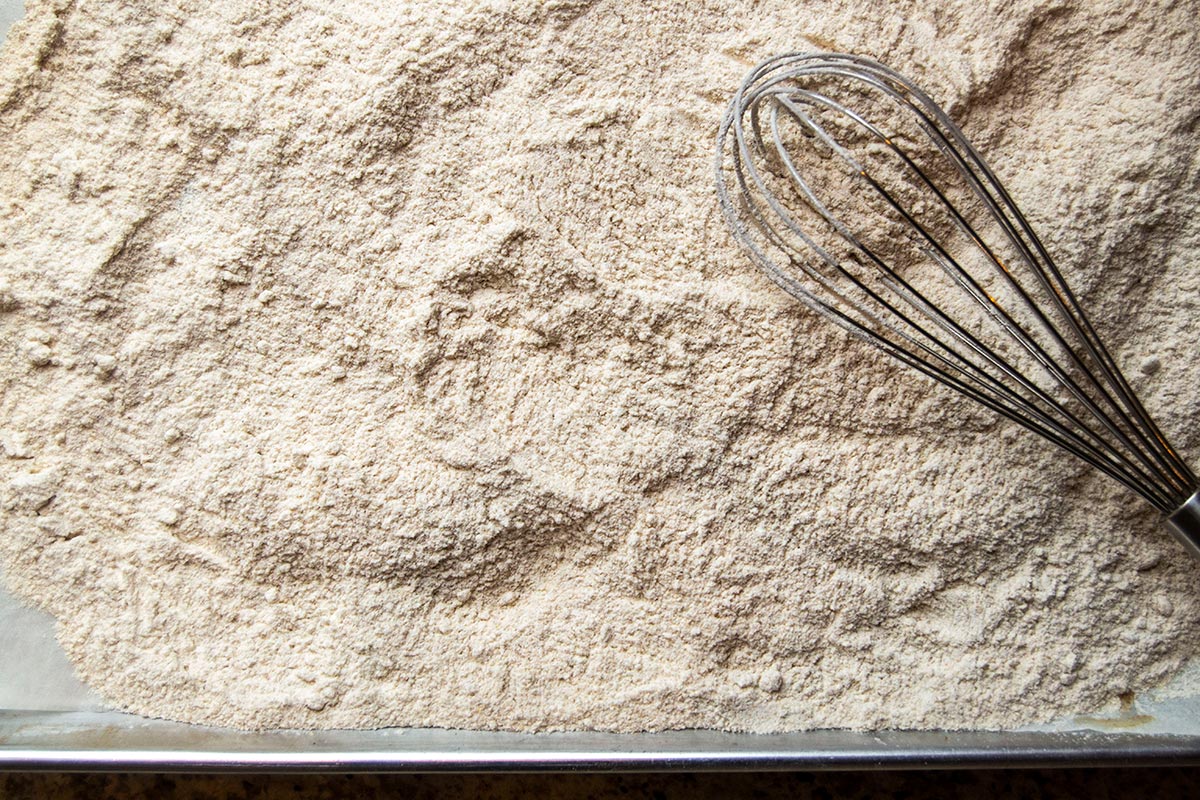 In a medium bowl, sift or whisk together the flours with the salt and baking powder. Now the egg yolks: use the back of a spoon to mash the yolks through a fine-mesh sieve into the flour mixture. 
Using a large bowl and spatula, smooth out the butter with a few strokes. Add the sugar and vanilla, then beat the mixture with the spatula until it's light and fluffy; this should take about a minute. You can also use a sturdy spoon or an electric mixer here if desired. 
Fold in the flour mixture to make a cohesive dough.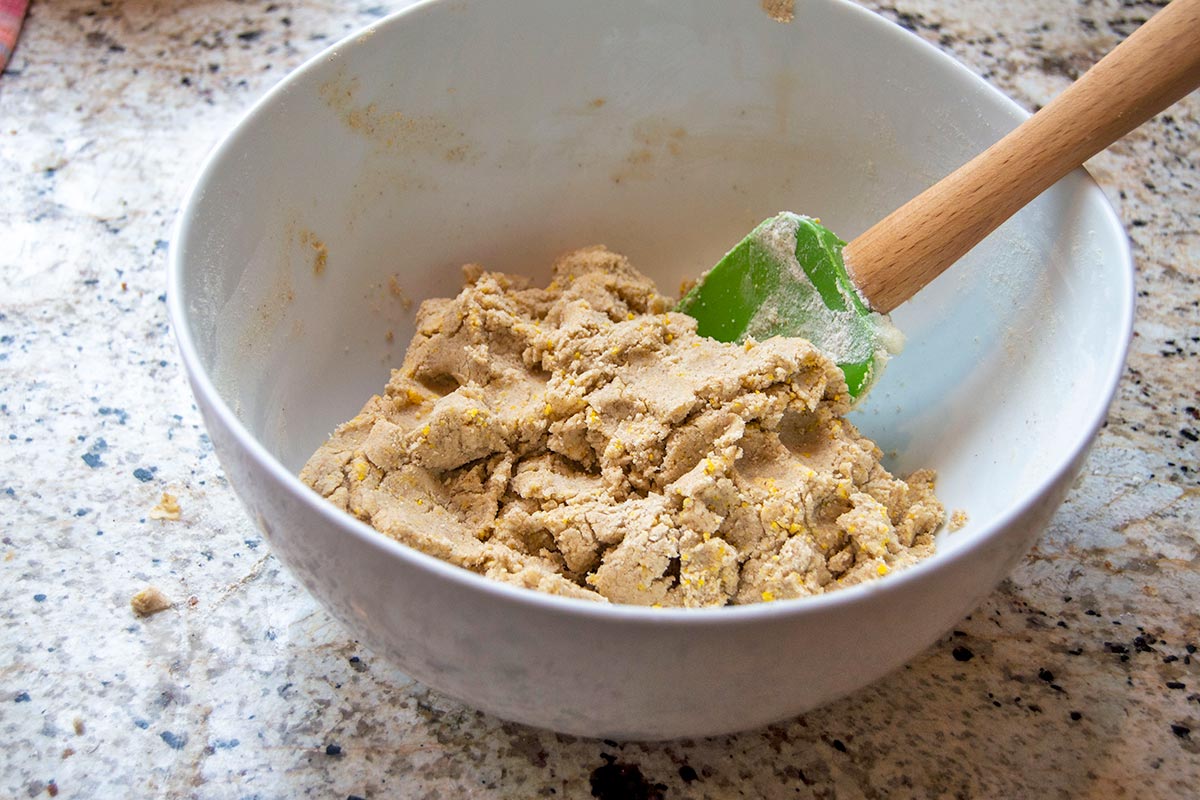 Shape the dough into a 7" to 8" square, then wrap tightly in plastic and refrigerate until firm, about 1 hour (or up to three days).
When you're ready to bake, preheat the oven to 350ºF. Place the dough between two pieces of parchment, and roll until it's 3/8" thick and approximately 8 1/2" x 9" in size. You may want to let the chilled dough sit on the counter to warm up for five or so minutes to make it easier to roll. 
Brush the surface of the dough with a thin layer of the beaten egg, then sprinkle with Demerara sugar (or another coarse sugar like Sparkling Sugar). Cut the dough into 1" to 1 1/2" diamonds or rectangles. (I find a pizza wheel particularly effective here; a sharp paring knife is another good choice.). Don't separate the cookies, but rather leave them as is after cutting.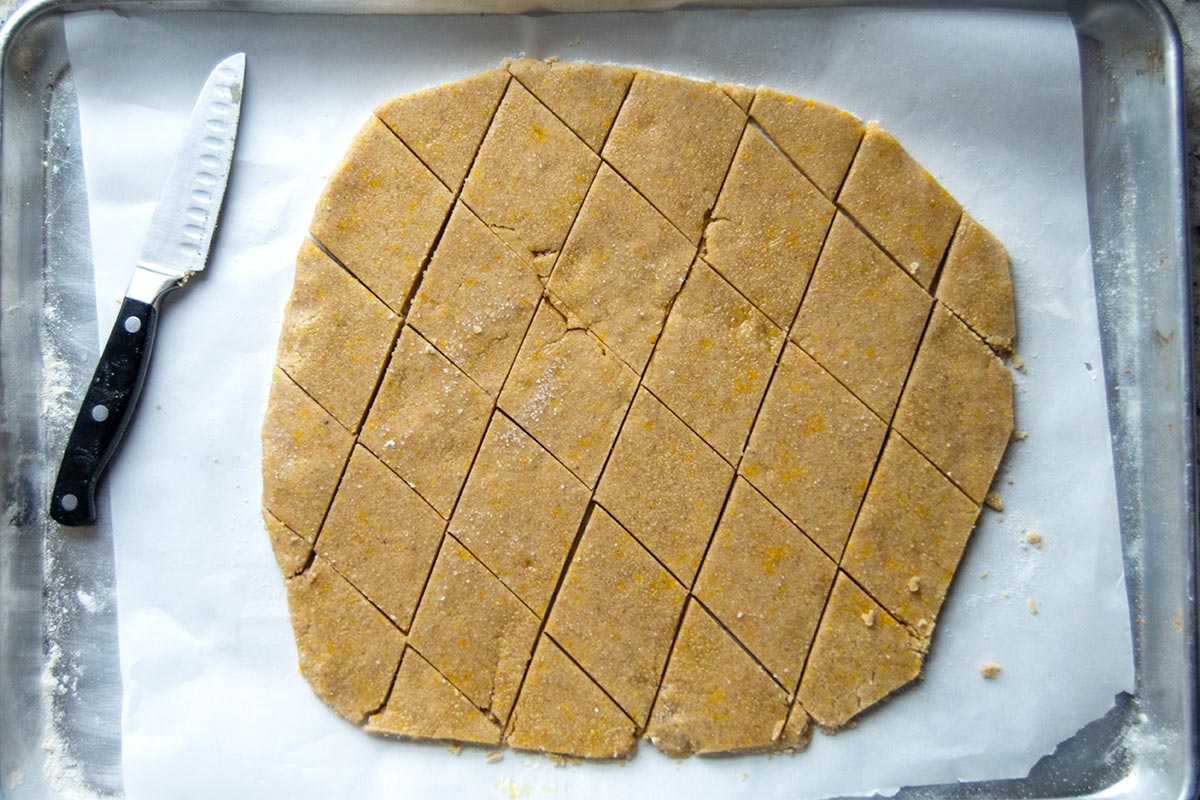 Transfer the parchment to a baking sheet and bake for 18 to 22 minutes, until puffed and browning around the edges.
Cut the cookies again but don't separate them just yet. Let cool, then carefully separate them, placing half on another baking sheet spaced apart (or keep them on one sheet, if you can leave ample room between them). Bake both pans of cookies until they're evenly browned all over, 10 to 12 minutes. You'll want to rotate the pans halfway through baking to ensure even browning.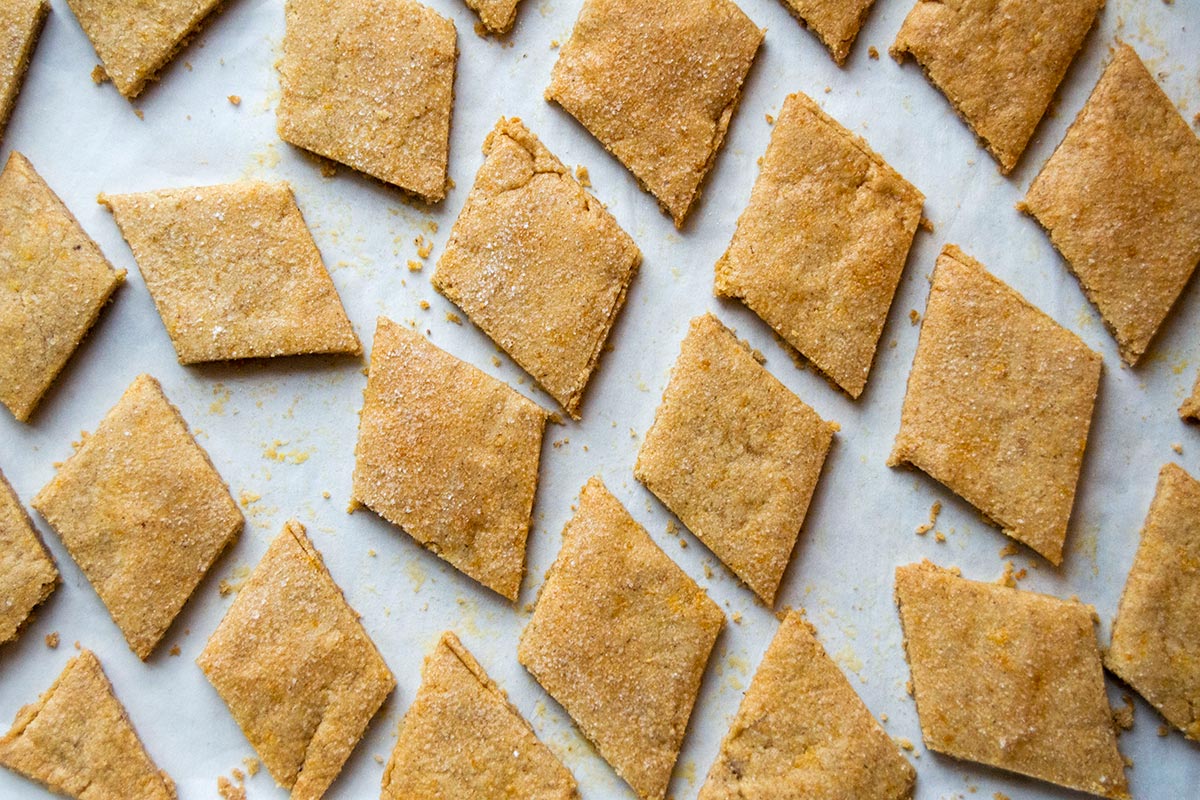 As the cookies cool on the baking sheet, they'll go from slightly soft to crispy and crunchy. Divine!
A rye flour showdown
Claire's original recipe in Dessert Person calls for just "rye flour," of which there are many different varieties. In the recipe on our site, we list medium rye, which has a robust rye flavor without being quite as assertive as darker ryes.
But that doesn't mean that's your only option here. I wanted to see how three different types of rye flour — white rye, medium rye, and pumpernickel (whole grain rye) — would each perform in these cookies and compare the different results.
Psst … if you want a full breakdown on the differences between all these rye flours, read our post, Types of rye flour.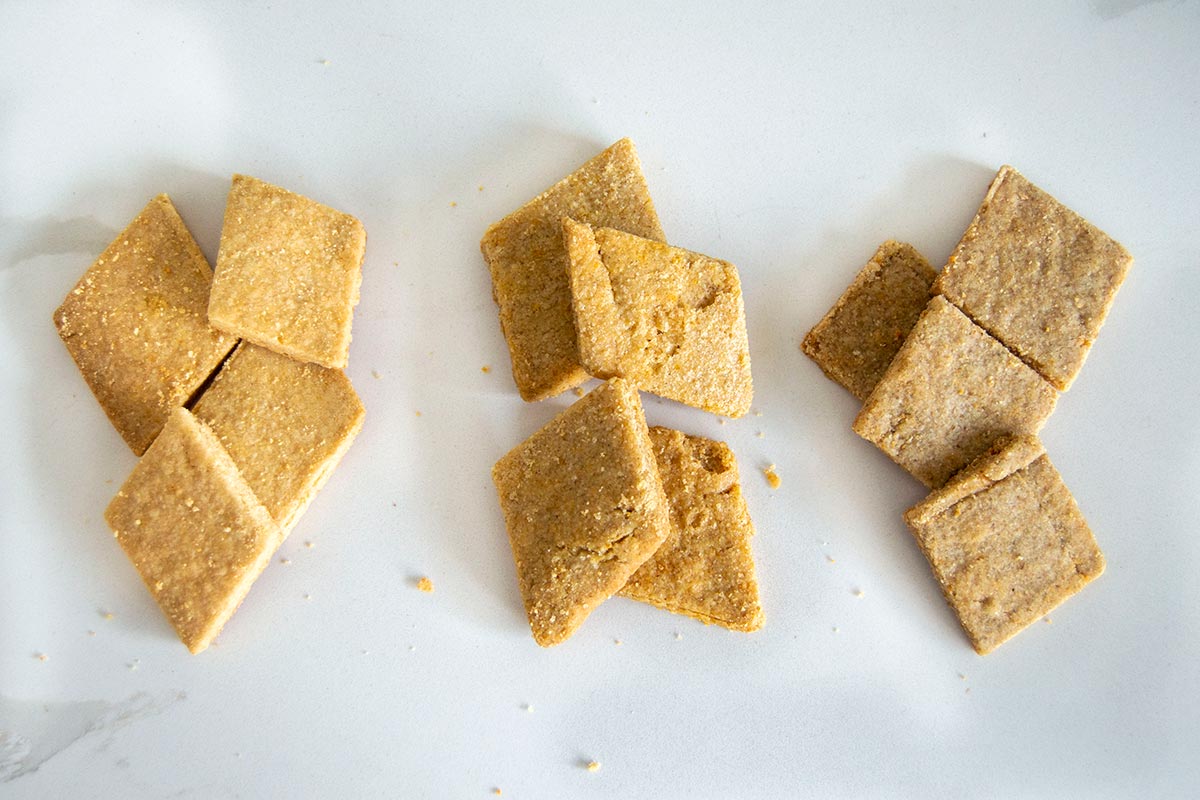 First up: appearance. One of the key differences between these three rye flours is color (white rye is as pale as all-purpose flour, while pumpernickel is dark enough to take on a slightly purple hue), and that variation is visible in these cookies. The cookies made with white rye came out pale and golden, while the medium rye cookies had a somewhat tanned hue, and the pumpernickel cookies a warm brown.  
Now for taste: all three of these cookies were very flavorful, with a warm, nutty taste thanks to the toasted flour. The distinct rye flavor was most apparent in the pumpernickel version, which had the kind of earthiness you might expect from whole wheat baking. The medium rye cookies had a slightly more subtle rye flavor: one that was less prominent, though still unmistakable. And finally, the white rye cookie were nutty from the toasted flour, but had more of a "kiss of rye;" ultimately, they were fairly similar to what you'd expect from all-purpose flour.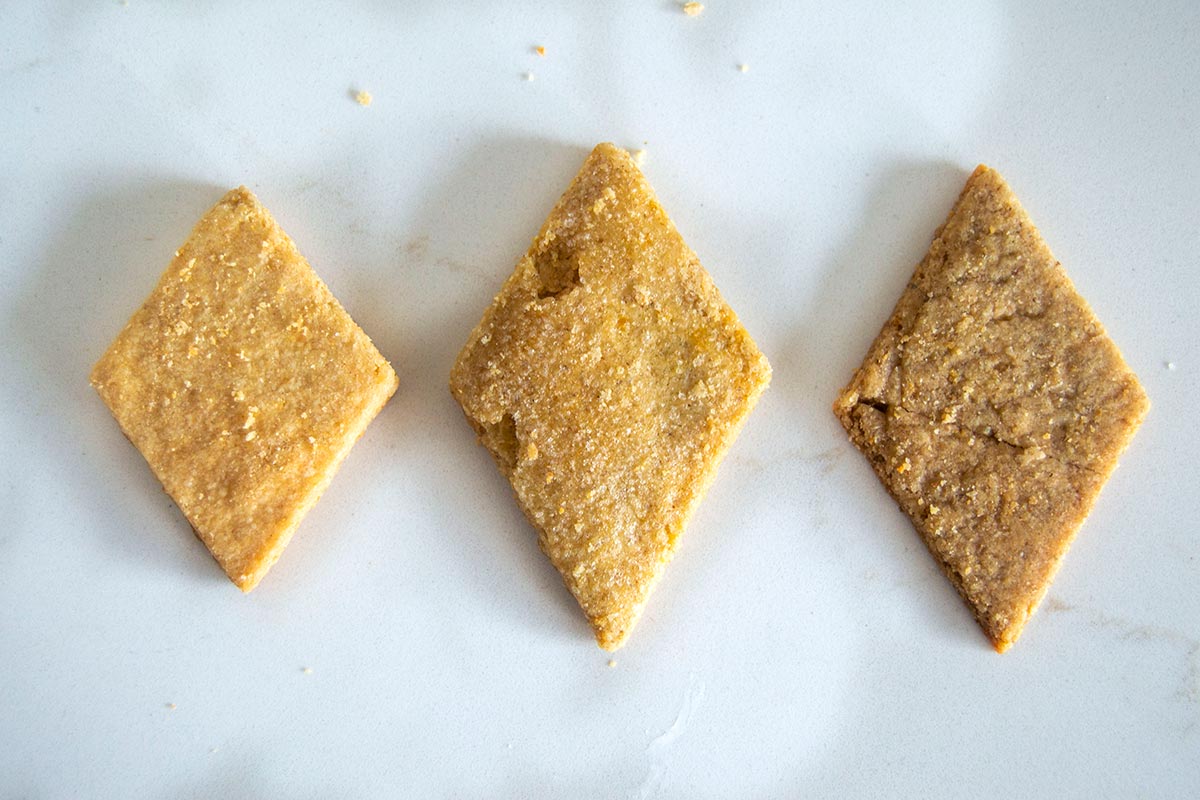 And finally the texture: all fairly similar! These cookies were tender and crunchy, thanks to both the rye flour and the additional recipe quirks outlined above. In a different style of baked good — say, scones or muffins — differences in texture might be more evident, with the pumpernickel adding a bit more heft while the white and medium ryes would be light and fluffy. 
Three cheers for these thrice-baked cookies
Regardless of which rye flour you decide to try out here — white, medium, or pumpernickel — you'll be rewarded with crunchy, tender, bold cookies that immediately declare themselves on the palate. Their intriguing texture will have you continuously returning to the cookie jar for "just one more." That means they go quickly, so you'd better start heating your water to boil eggs for another batch.
For more recipes that showcase the sweet side of rye, see our full recipe collection.  
Jump to Comments