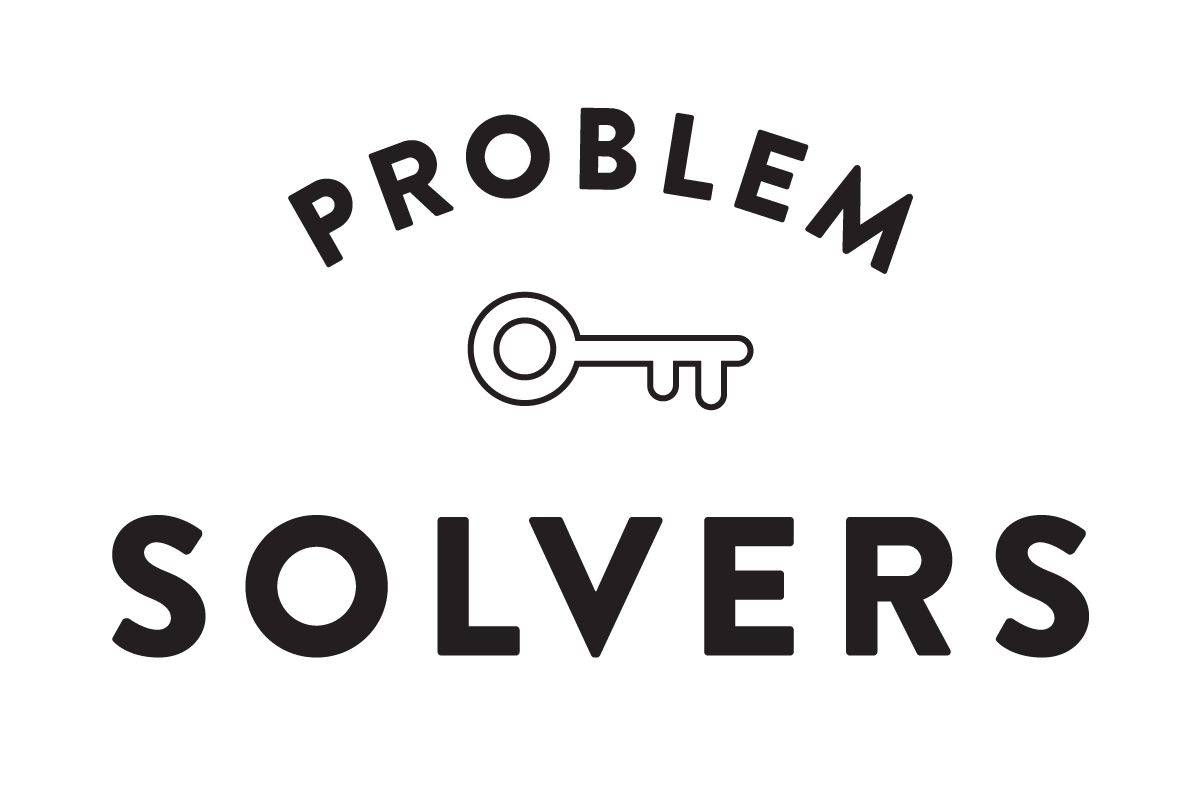 In baking, the tools of the trade can sometimes make all the difference. We've asked bakers and employee-owners across King Arthur to point us toward their favorite baking tools, and in Problem Solvers, blogger Rossi is sharing the nifty utensils and equipment they can't live without. 
* * *
When I finally got my first bag of our new '00' pizza flour, I immediately set out to bake some Neapolitan-Style Pizza. I mixed my dough and shaped my pizza and took so much care to ensure a classic Neapolitan-style shape: thin interior, thick exterior crust.
Except, then it came time to transfer the pizza to my oven. Without a baker's peel, all my careful work nearly fell apart as I tried to slip my pizza onto a preheated baking stone by juggling a cutting board and parchment paper.
It didn't hit me until I was already eating my slightly misshapen (but still delicious) pizza: I should have used my giant spatula.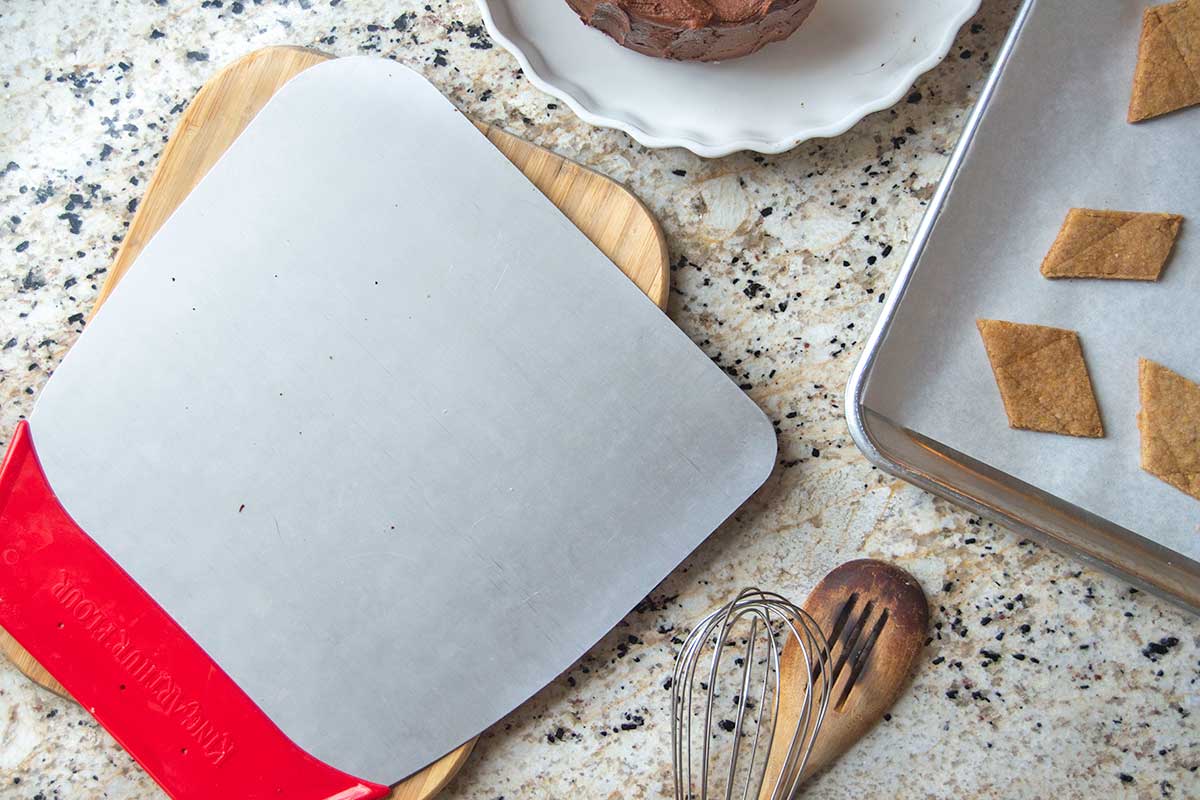 Are you familiar with our giant spatula? Something about the name is perfect: that's exactly what it is, just a big old flexible metal spatula way larger than anything else of the sort. And though at first glance it might seem a bit intimidating — just how am I supposed to use this large flat piece of aluminum? — you'll quickly learn that it can be one of the most handy and versatile tools in your kitchen.
Some bakers here at King Arthur even refer to their giant spatula as a third hand.  
Longtime King Arthur baker Sue Gray (who leads our research and development) recommends it as one of her must-have kitchen tools: "When the spatula was briefly dropped as an item several years ago because the manufacturer was no longer going to make it, I bought the last 10 we had in inventory so I would never be without one. I gave most of them away over the years, but I kept two for myself."
Lucky for Sue (and all of us!) the giant spatula is here to stay.
So why do Sue and the rest of us King Arthur bakers love this tool so much? Let us count the ways:
1) It's an excellent mini baker's peel
Baking up some personal pizza pies? As elaborated above, the giant spatula is an effective stand-in if you don't have a peel. You can easily slip it under your shaped pizza, then slide it right off onto a preheated pizza stone or baking steel.
And when the pizza is done baking, the spatula can help you jiggle it right back out of the oven too.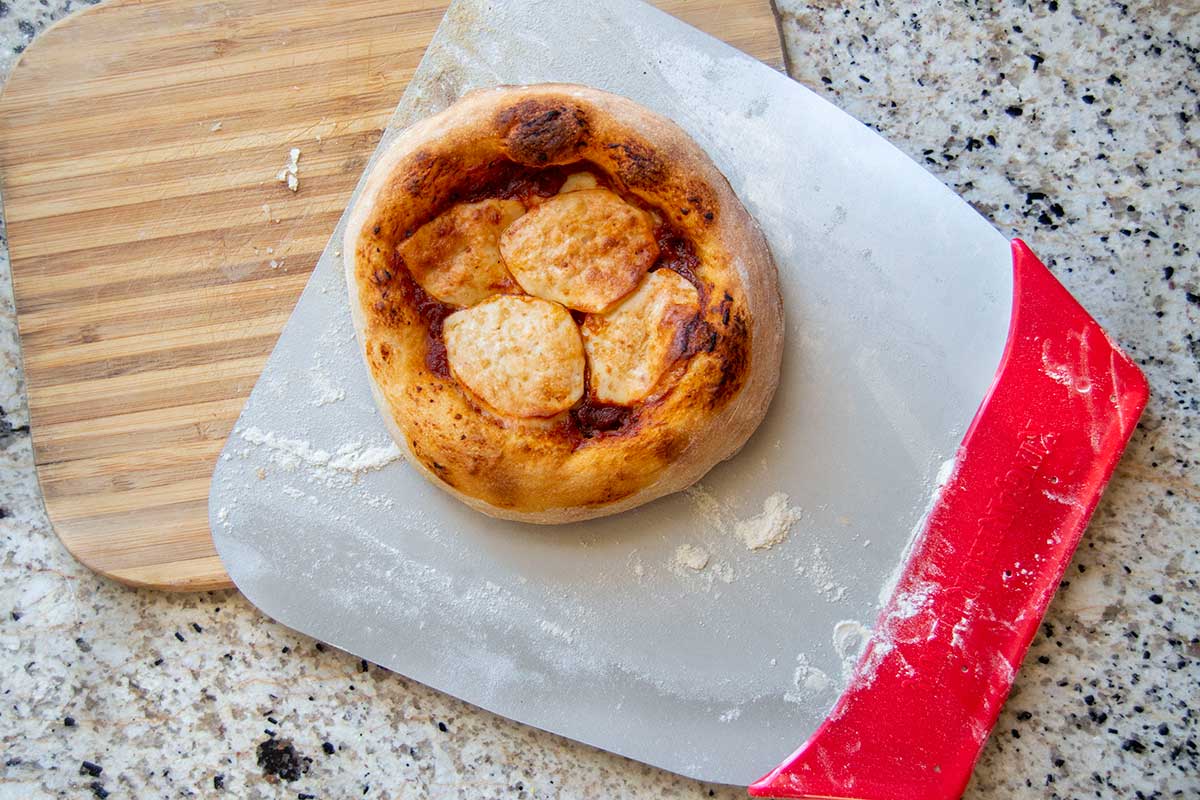 Just be prepared: The spatula is large enough to hold pizzas up to about 12" wide. Anything bigger than that, though, and it might prove too small for the task.
"I love this giant spatula and use it for numerous uses. It is almost like having two sets of hands when transferring pie crusts, pizza dough, bread onto a hot stone, cleaning up my rolling mat and cutting boards ... uses are endless!" – Dianne from Oklahoma
2) It makes bread easier to move, too
Whether you're flipping a shaped loaf into a Dutch oven or transferring it to a preheated baking steel, the giant spatula comes in handy with bread baking.
After taking the time to shape your bread dough ~just so~ and then delicately scoring, this spatula makes it easy to move that loaf into the oven without overhandling or degassing.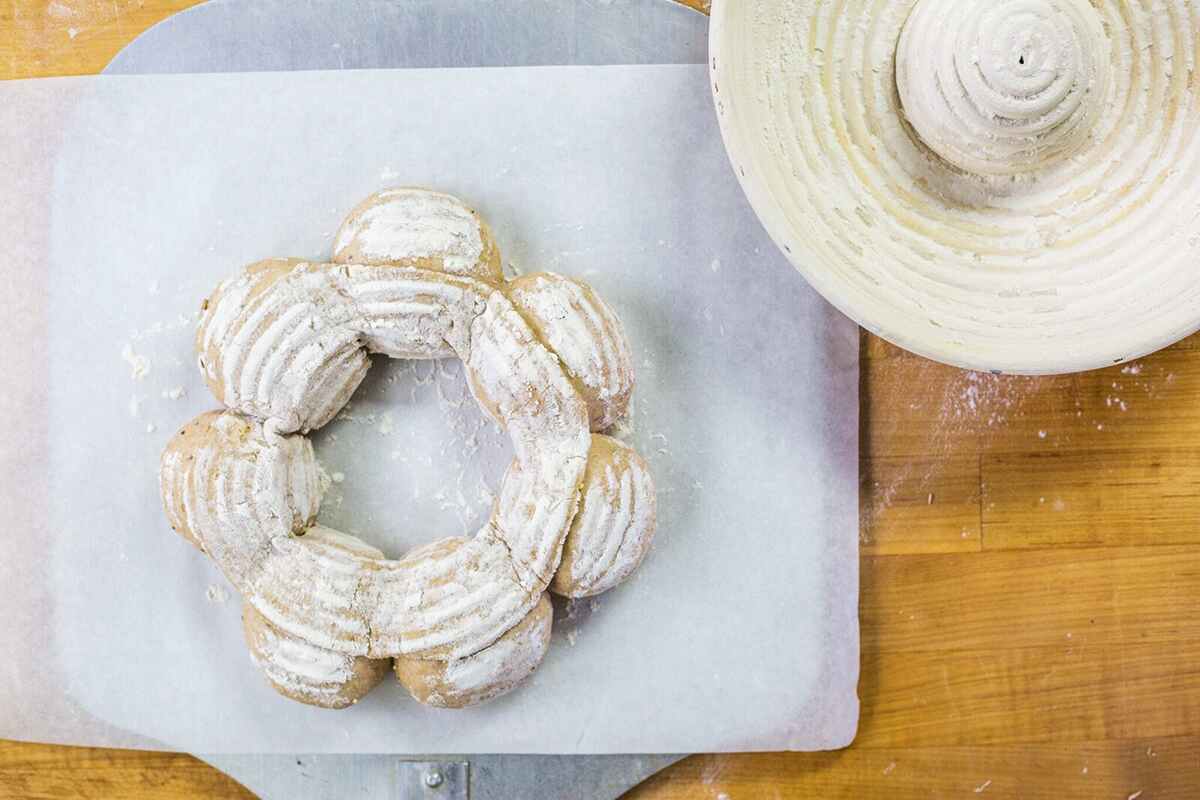 This isn't just for artisan boules or baguettes, either. I've found it incredibly useful for moving braided loaves or other breads that are intricately shaped, like a wreath (especially if you've forgotten to braid the dough directly on a baking sheet and now find yourself having to move a foot-long braid without bungling your work). In those instances, the giant spatula is a lifesaver.
"This is so handy, not just to move cake layers, but for lifting delicate pastry items or risen bread. It's good for getting veggies or nuts from cutting board to pan or bowl. Glad I bought it." — Harry from upstate New York
3) Keep dough from sticking 
Have you ever started rolling out dough — say, pie crust, scones, cookies, etc. — only to realize you didn't use enough flour on your work surface, and now everything is starting to stick?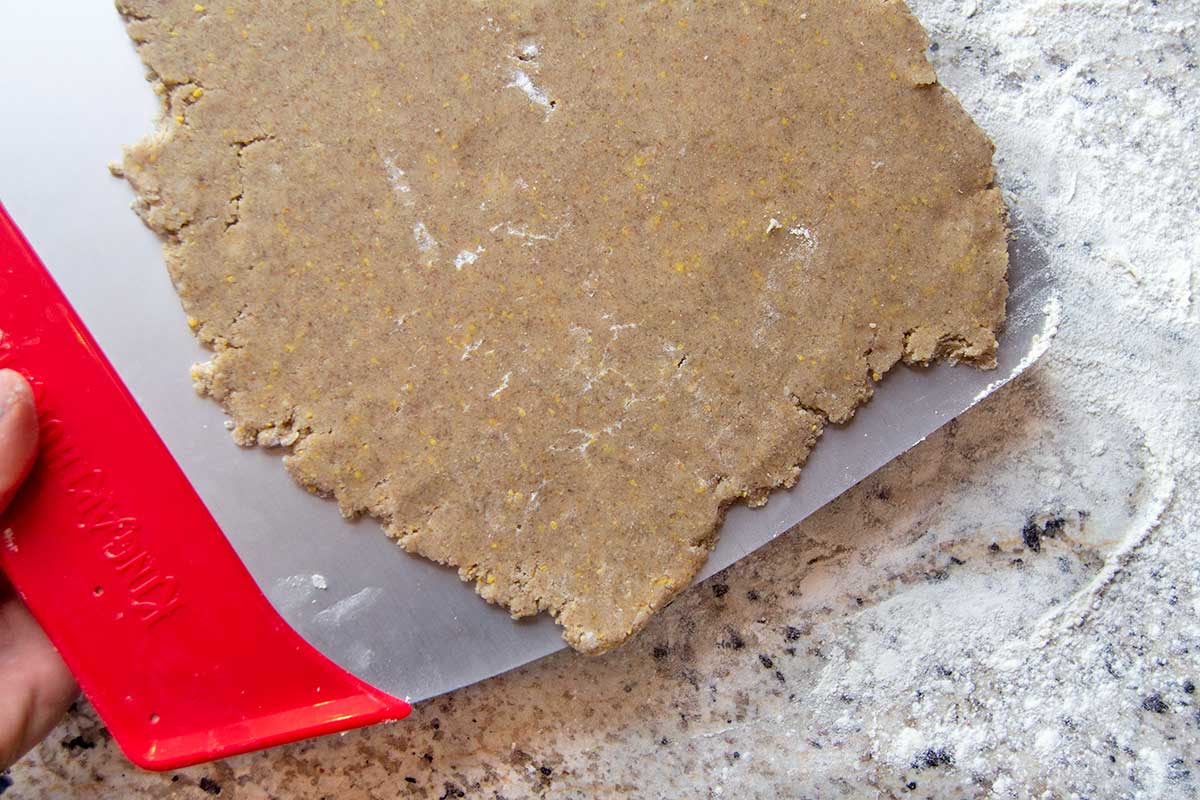 Rather than gently lifting the dough corner by corner to try to squeeze some additional flour in there, or simply crossing your fingers and hoping for the best, you can use the giant spatula to carefully scoop your dough up in one piece, toss down some more flour, the set the dough back down to resume rolling without worry.
"Scones & other wet doughs & pie crusts tend to stick to the granite counter unless you use tons of flour on the counter. This giant spatula gets them off more easily. Also good for baked cookies." — Joy from Utah
4) Preparing pie crust is a breeze
It's a tale as old as time: you've carefully mixed and rolled out a pie crust, dutifully flouring everything in sight so it doesn't stick. But now it's time to transfer that tender — and floppy — crust to a pan, and you want to make sure everything stays intact to bake up a lovely pie. What's the best way to move that crust?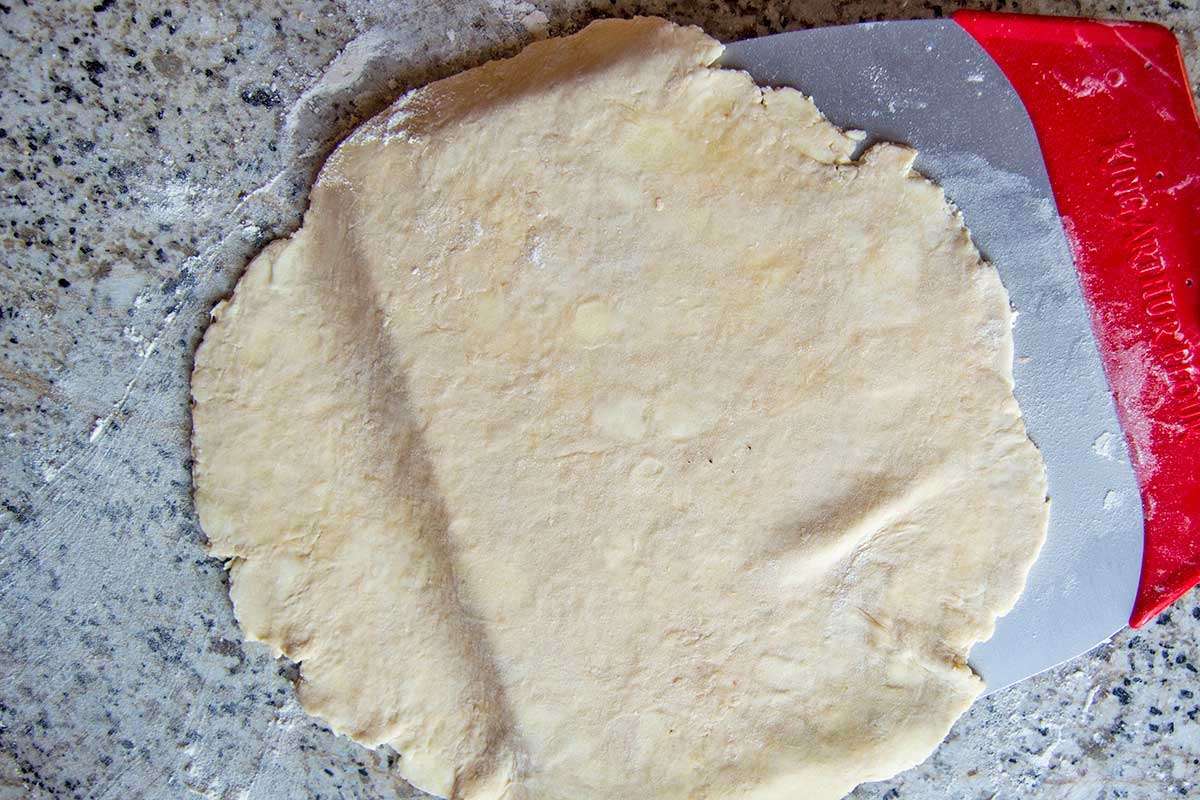 With a giant spatula, of course. The spatula is large enough to carry your crust from countertop to pie pan without worrying about rips or tears along the way. The path to pie just got a little bit easier.
"I was a little hesitant in ordering this but decided to go ahead & give it a try. I am so happy I did. This spatula makes moving pie dough from my mat to the pie plate so easy. Love it!" — Debra from Arizona
5) Move cookies and crackers in one go
If you're baking a bunch of small cookies or crackers, this giant spatula can make the process much simpler and more efficient. First of all, it's useful for getting unbaked dough onto a baking sheet. Say you're baking up a batch of Sourdough Crackers and cut the dough into lots of little squares on your countertop or a cutting board. Instead of picking them up individually to place on a baking sheet, use the giant spatula to move large batches at a time. The same goes for roll-out cookie dough.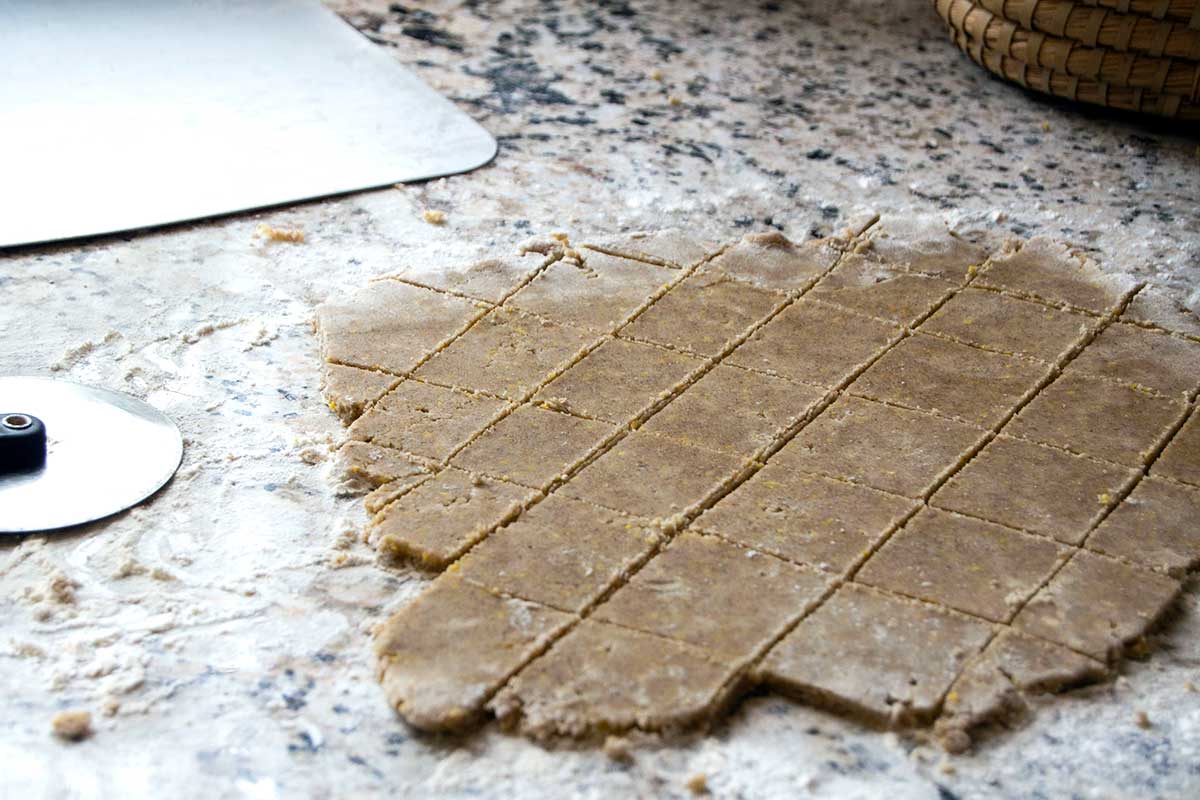 And after baking, once you have a full pan (or more) of baked crackers and cookies, you can easily lift them onto a cooling rack or serving plate using the spatula as well.
"I have been using this Giant Spatula for everything from transferring cookies from the pan to the cooling rack to transferring rolled out pie crusts to the pie plate. it makes all of these tasks so much faster and easier. I would highly recommend getting one!" — Allison from California
6) Handle cake layers stress-free
One of the things that stresses me out the most in life is moving cake layers. The thought of sliding a cake out of the pan or transferring it to a cake stand, only to have my beautiful cake break into pieces from clumsy handling, keeps me up at night.
The giant spatula, thank goodness, alleviates some of that stress. It can be used to help get a cake onto a rack to cool — flip the cake from the pan onto the spatula, then from the spatula onto a rack — as well as transferring cooled cake layers for stacking and decorating.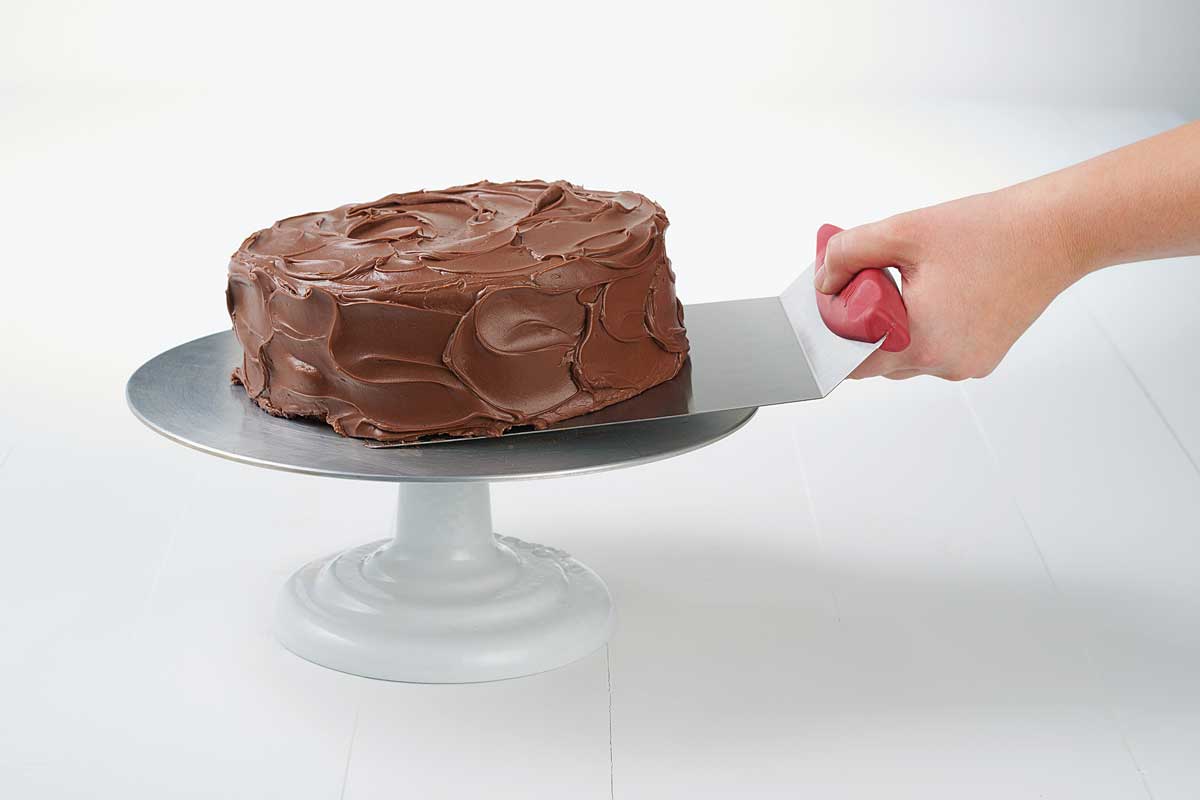 I still get some anxiety over handling cake layers, but the giant spatula definitely helps me feel more confident.
"I use this for so many items that I don't know how I managed without it. It works like a charm and makes baking so much easier, esp. the transfer of baked goods." — Naomi
7) Flipping pancakes on a griddle
Layer cakes aren't the only kind of cake this tool is good for! Because of its size, it's also great for flipping pancakes on a griddle. No more holding your breath and praying breakfast stays intact every time you fry up an extra-large pancake on your way to a towering short stack.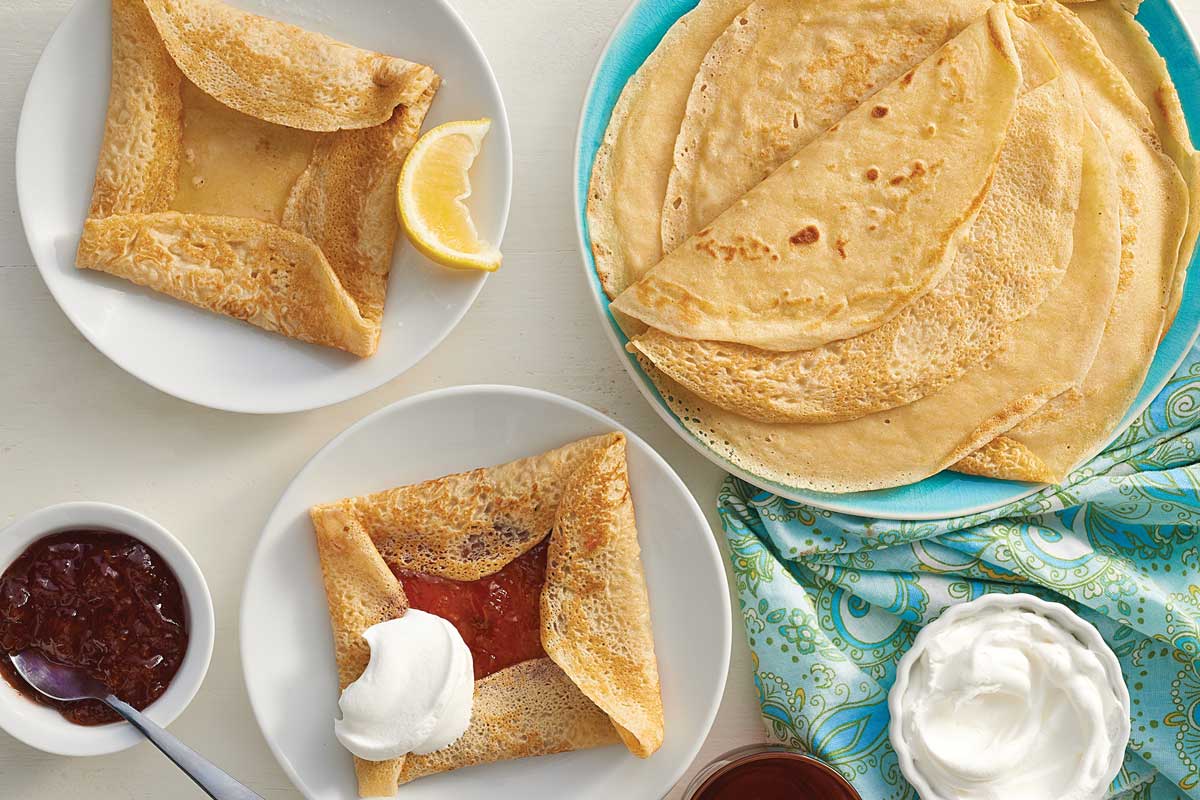 Note: This is mainly useful if you're baking on a griddle, rather than a frying pan, as the flat surface of the griddle allows ample room to maneuver the spatula.
"Easy to clean; just hand wash and set aside to air dry ... no problems! Find myself reaching for this spatula many times; like stacking hot, fresh crepes as I'm making them. Highly recommend this product! Lightweight, perfect size to store ... not too big." — Laura from Texas
A go-to kitchen helper
Hopefully your eyes have been opened to all the helpful possibilities the giant spatula offers. Give it a try, and you'll discover it solves baking problems you might not have even known you had.
(One last tip: Just remember, this spatula is hand-wash only!)
Is this a tool you use in your kitchen already? We'd love to hear how you put it to work in the comments, below. 
Cover photo by Kristin Teig
Jump to Comments