How to bake keto-friendly bread
Soft slices worth savoring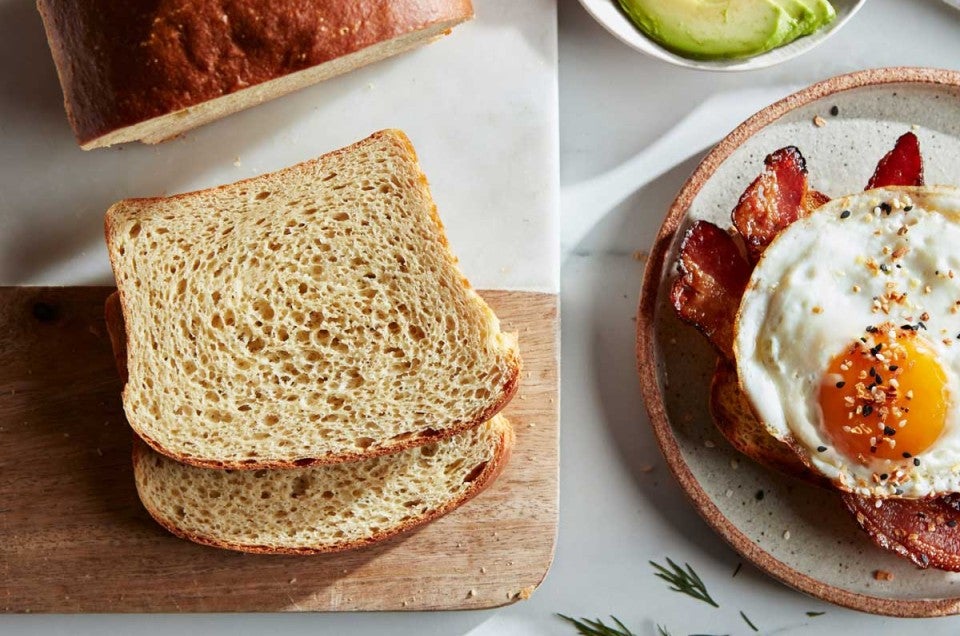 No one needs any reminder about how great bread is. And beyond just being, well, basically the best, it's essential for so many things: a crisp piece of toast smothered in butter and jam, a turkey sandwich piled high with the fixins', a classic PB&J … 
So if you're following a keto or low-carb diet, why say goodbye to eating bread when — guess what! — you don't have to?
Thanks to our Keto Wheat Flour and the tireless work of the King Arthur test kitchen, we have a Keto-Friendly Bread recipe that comes just about as close as you can get to a conventional sandwich loaf while still being keto-friendly. Let's dive into how to pull it off. 
It all starts with Keto Wheat Flour
In order to get that classic wheat bread texture and taste with a total net carb count low enough to be keto-friendly, you'll need to turn to a special flour. Specifically, Keto Wheat Flour. A wheat-based flour with just 4g net carbs per serving, it provides all of the gluten necessary to recreate classic sandwich bread, without any of the excess carbs.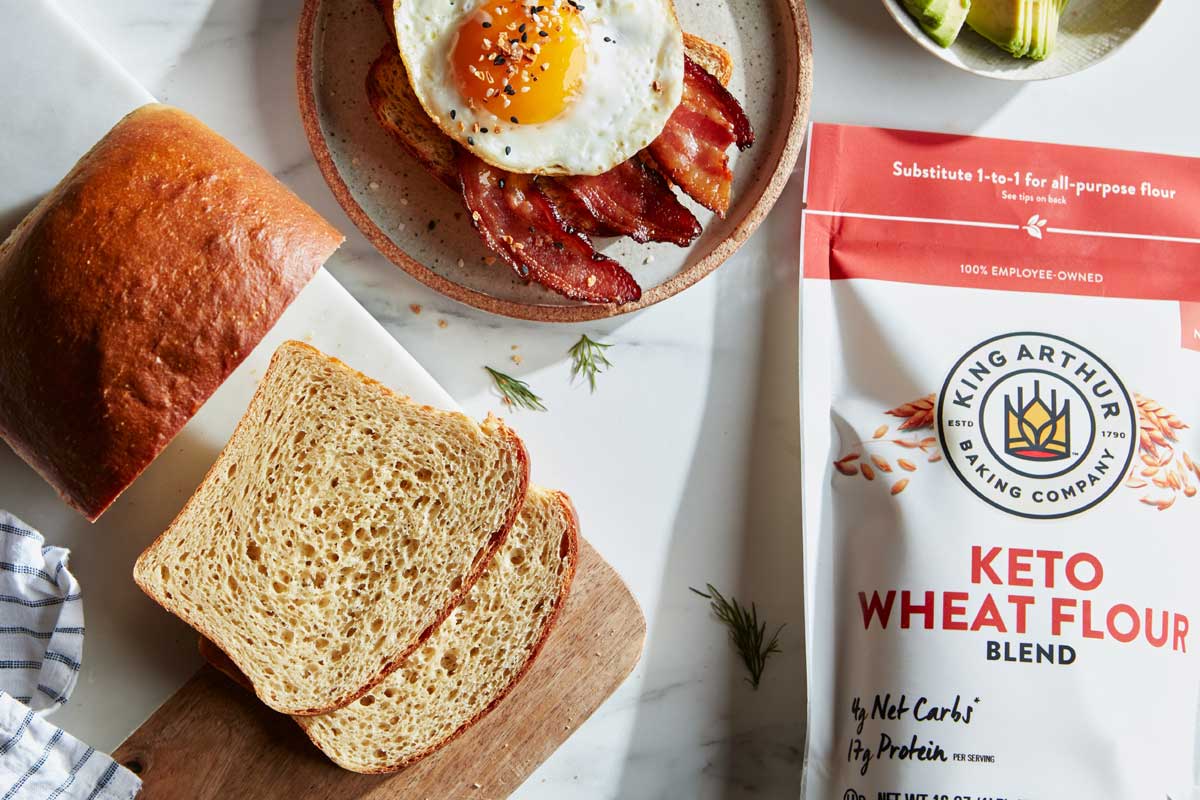 Wondering about the "wheat" in Keto Wheat Flour? Though many who follow a keto diet don't eat wheat due to its high carb content, there's nothing that specifically prohibits wheat on the keto diet. Therefore, it's certainly OK to eat wheat-based products, as long as the net carb total remains low.  
(That said, if you're not eating gluten, try our recipe for Easy Keto-Friendly Bread, which is made with almond flour and coconut flour.) 
For more details on this flour, you can check out our previous blog post, Introducing Keto Wheat Flour. While you can buy it on our website or Amazon, you may also find it at your local grocery store including Publix, Albertson's, Hannaford, Price Chopper, and Weis. If you can't find it, ask that they carry it!
How to make our Keto-Friendly Bread 
This recipe for Keto-Friendly Bread follows the basic sandwich bread template you may be familiar with: knead, rise, shape, rise, bake. Then devour. Follow along and let's see how it goes. 
First, the ingredients:
3 1/2 cups (420g) King Arthur Keto Wheat Flour
1 1/2 cups (340g) water, cool
1 teaspoon white vinegar
1 1/2 teaspoons instant yeast
1 1/4 teaspoons salt
2 tablespoons (28g) butter, softened
Combine all the ingredients in a large bowl and mix to form a cohesive dough. Knead until the dough is smooth and bouncy. 
I recommend kneading in a stand mixer, if you're able to; the high gluten content of Keto Wheat Flour makes a fairly strong dough, and the extra horsepower is welcome toward the end of kneading. That said, I made the batch photographed here by kneading with my hands and was still able to get the job done just fine.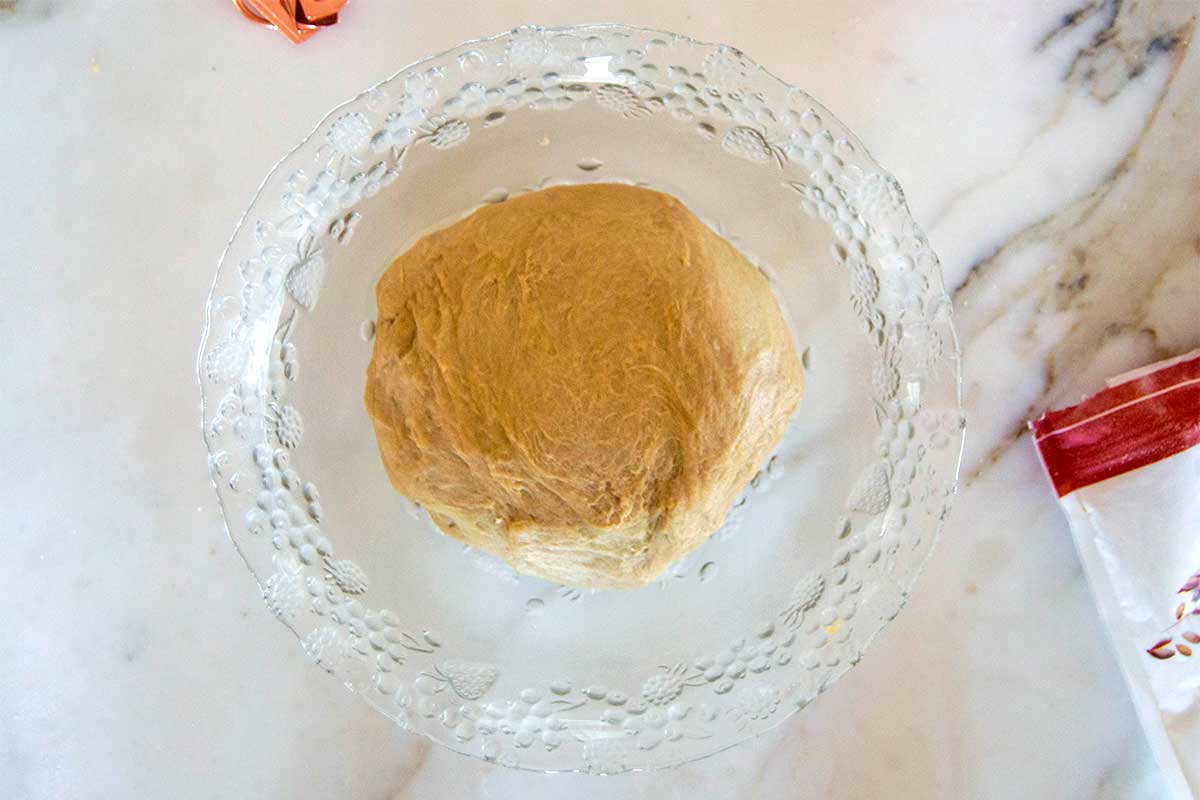 In addition, notice the use of the word "bouncy" to describe the kneaded dough. Because of that gluten content and dough strength, this dough really is springy. It also may take a little less time to knead than other bread doughs. 
Let the dough rise
Cover your dough and let it rise for 15 minutes. That's right — just a quarter of an hour. This short bulk fermentation is also why the recipe includes 1 teaspoon white vinegar. The vinegar adds a little background tang that's hard to achieve with keto flour and the short fermentation time. 
Lightly grease a 9" x 5" loaf pan. (I'm using silicone here, but any material will work.) Shape the dough into a 9" log (watch this video on how to shape a sandwich loaf if you need more details) and place it into the prepared pan. Cover the pan loosely with a lightly greased piece of plastic wrap or a reusable cover, then let rise for 1 1/2 to 2 hours, until it crowns about 1" over the rim of the pan.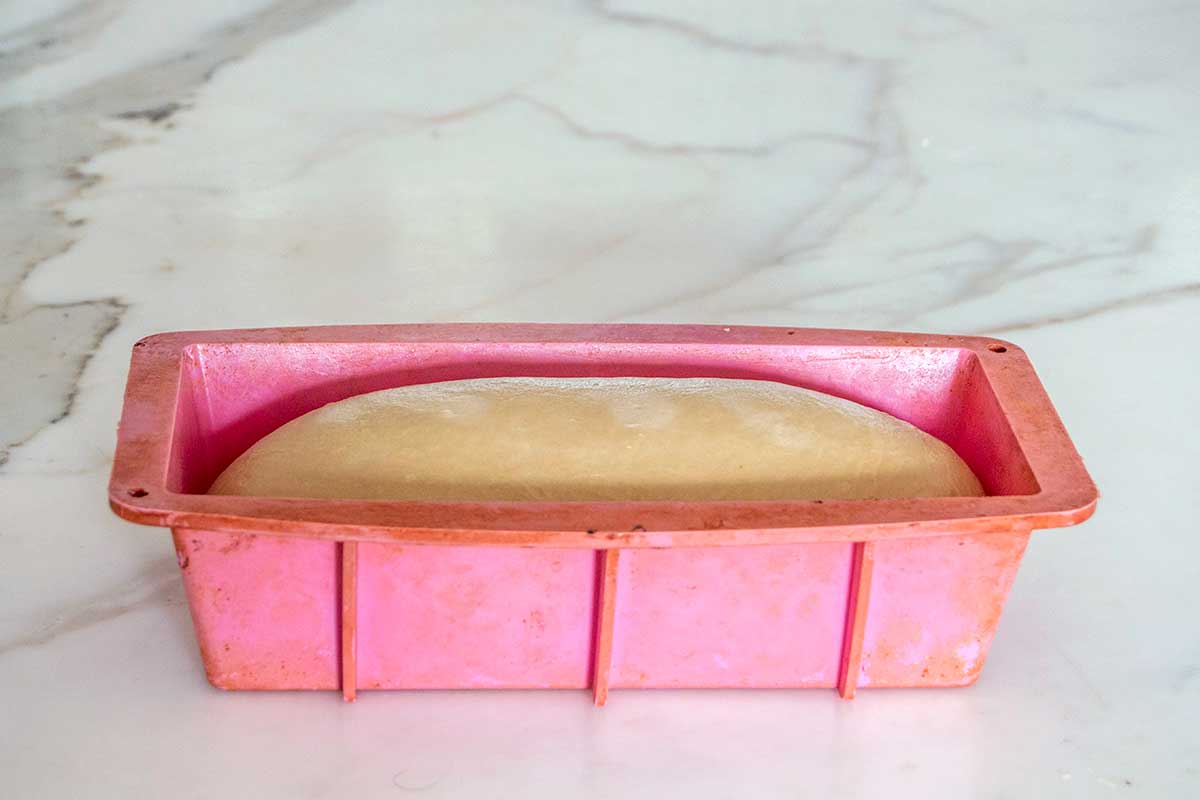 Sometimes I place the shaped loaf in the refrigerator overnight, then let the dough come to room temperature and finish rising before baking in the morning. Works like a charm. 
Ready to bake 
Toward the end of the rising time, preheat the oven to 350°F.
Bake the bread for 30 to 35 minutes, until it's mahogany brown. If you have a digital thermometer, it should read 190°F when inserted in the center of the loaf. 
Remove the bread from the oven, turn it out onto a rack, and allow it to cool completely before slicing.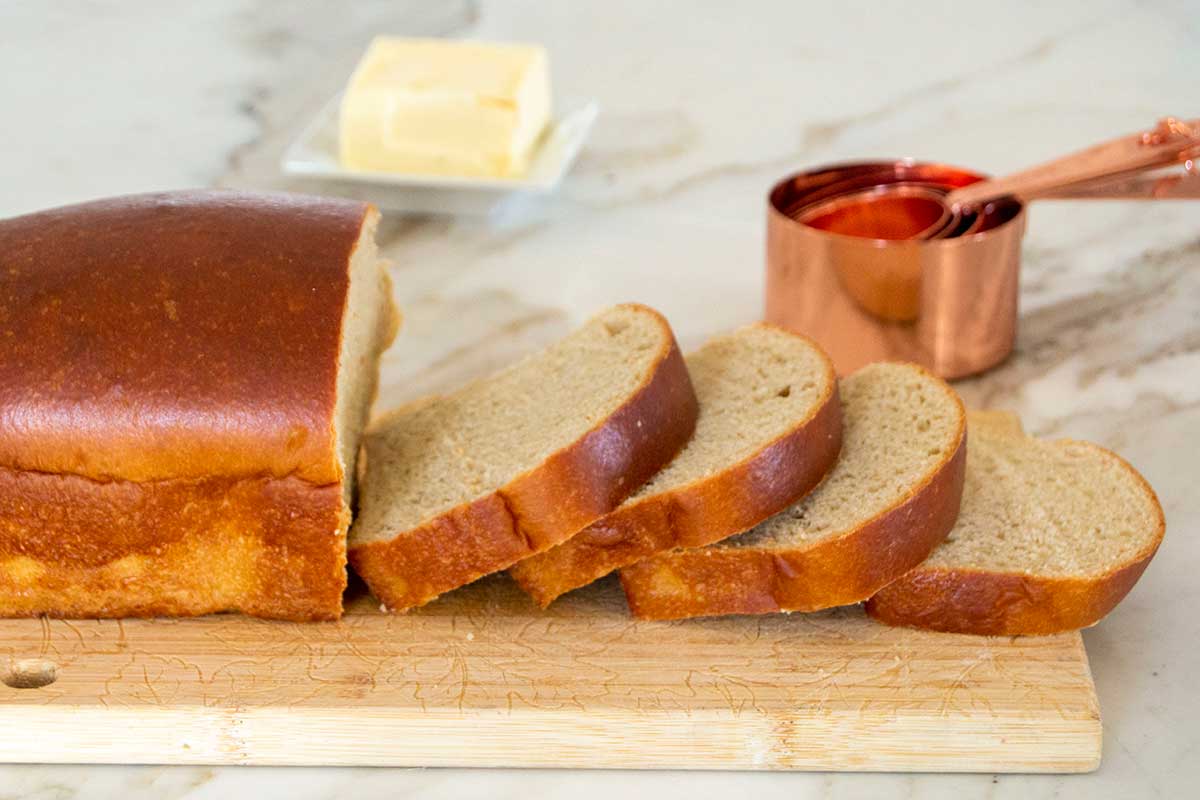 A note on storing: This bread will last for a couple of days at room temperature if well wrapped. However, it has a shorter shelf life than conventional bread, so if you're not eating it within a few days, cut it into slices and store in the freezer.
Reviewing the finished bread 
So, the ultimate question: how does this Keto-Friendly Bread compare to the loaves you've been eating since childhood?
Texture: Overall, pretty darn similar! Keto Wheat Flour is wheat-based (it says so right there in the name) and thus has the gluten necessary for the soft, chewy texture you're looking for in yeast baking like this. With an even grain and nicely browned crust, it's basically indistinguishable from a typical sandwich loaf. 
Flavor: If anything, this bread tastes even more "wheat-y" than conventional bread. The earthy flavor comes through strongly, and I've found it complements traditional sandwich toppings like deli meat and cheeses quite nicely. White bread, this is not — the malty taste is more like a flavorful loaf made with whole wheat flour. 
Baking bread, the keto way 
Developing a keto-friendly flour that would work well in yeast recipes was one of our primary goals when introducing Keto Wheat Flour. With this handy bag in your pantry, you can recreate a classic sandwich loaf extremely low in net carbs, making it a go-to part of any keto diet. 
And not just sandwich bread, either. If you're interested in making more keto-friendly yeast recipes, you can try Keto-Friendly Rolls, Keto-Friendly Cinnamon Star Bread, Keto-Friendly Pizza Crust, and Keto-Friendly Cinnamon Rolls. You'll find their taste and texture remarkably similar to their non-keto counterparts. 
If you're following a keto diet (or baking for someone who is!) see our full Keto-Friendly Recipe Collection for ideas and inspiration to get started.
Cover photo by Rick Holbrook
Jump to Comments