A guide to paleo baking
Kiss those grains goodbye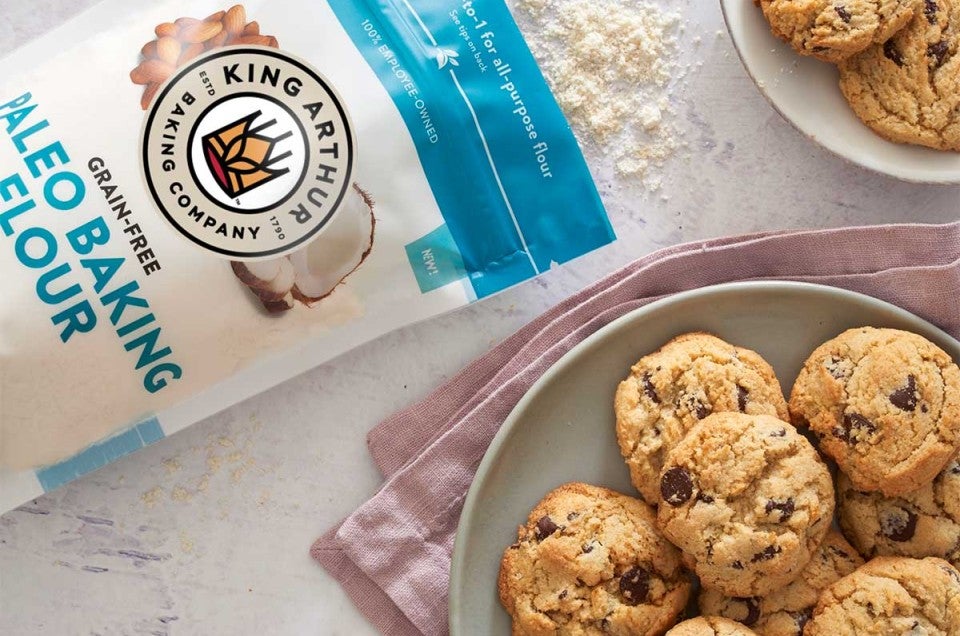 If you've decided to embrace the paleo diet, you might have resigned yourself to bidding a fond farewell to baking. But stop right there! 
It's absolutely possible to stick to a paleo or grain-free diet and still enjoy your favorite baked treats. With some key ingredients, helpful tips, and special recipes, you can continue to bake and eat plenty of tasty desserts, snacks, and meals — all of them paleo-friendly. 
What is paleo baking?
In general, the paleo diet focuses on consuming whole foods — the kind of ingredients our hunter-gatherer ancestors would have eaten thousands of years ago. Exact guidelines vary, but for the most part that means no dairy, refined sugar, or grains (including wheat).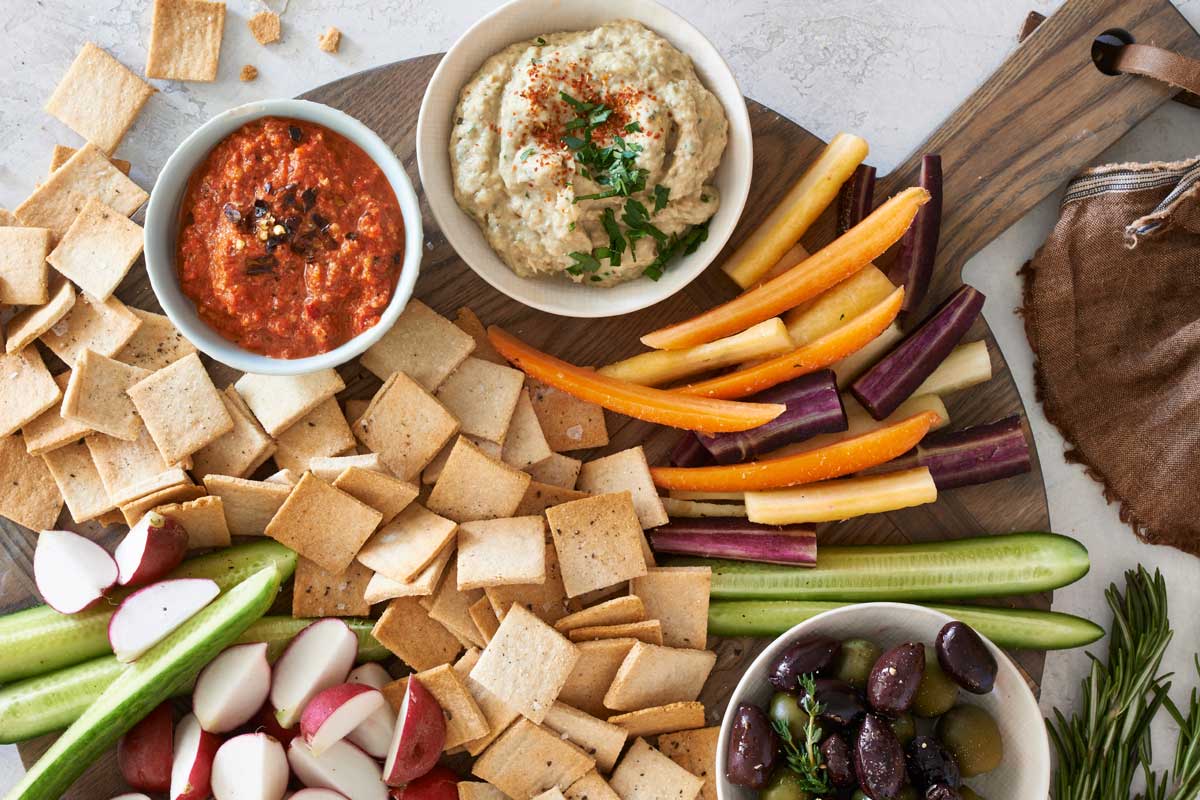 Thus, recipes are deemed suitable (or not) for the paleo diet based on their ingredients. Understandably, a lot of conventional baking ingredients (like flour, sugar, butter, etc.) don't align with the paleo diet, so paleo-friendly recipes are adjusted to be made with only whole foods. 
As you begin paleo baking, think of this as an opportunity to introduce new ingredients, flavors, and textures to your baking routine!
Ingredients for successful paleo baking
Because paleo is a grain-free diet, the flour options in baking are limited. Adieu all-purpose flour! So long spelt! Bye rye! 
So to make paleo and grain-free baking as easy as possible, we've introduced a special flour blend ...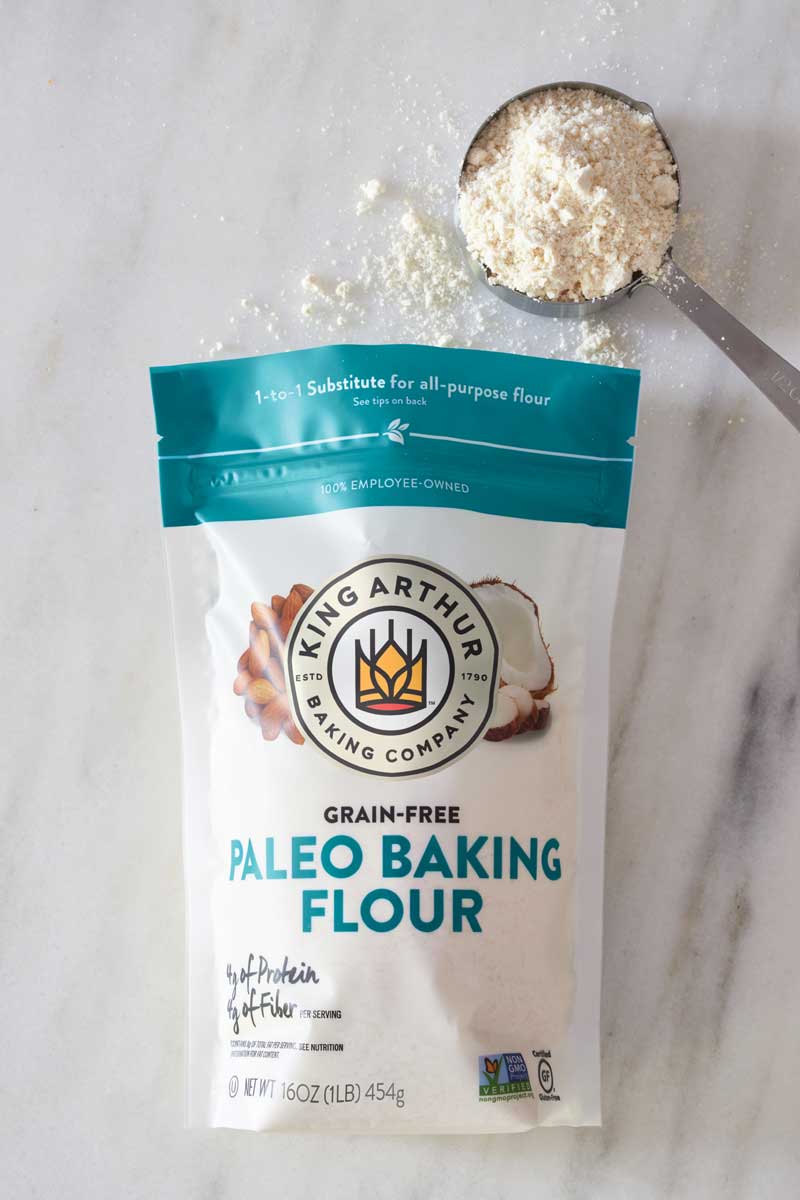 Paleo Baking Flour: Formulated by bakers specifically for baking, Paleo Baking Flour can be substituted to turn any non-yeasted recipe grain-free, as well as used in certain paleo-friendly recipes (some examples of these are below!). Try swapping as a 1-for-1 replacement for all-purpose flour by volume in conventional recipes. 
It's made from three ingredients: almonds, cassava, and coconut, a combination that provides just the right balance for baking. The fats in almond flour keep baked goods moist, tender, and fresh for longer. Meanwhile, cassava flour adds viscosity, which lets eggs and leaveners do their job keeping baked goods light. Finally, coconut flour helps thicken batters and doughs with more fiber and moisture.
But it's not just flour you have to think about, either …

Paleo baking powder: Surprisingly, baking powder typically isn't paleo-friendly, as it frequently contains cornstarch. You'll need to make sure to use a corn-free baking powder to stir into your batters, and the easiest way to do so is to simply make your own! Follow our brief recipe for Paleo Baking Powder, which is a cinch to mix together and will last in the pantry for up to six months. 
Beyond flour and leavening, let's talk about fats. Since the paleo diet doesn't include dairy, butter is a no-go. Instead, two baking fat options we like to turn to include:
Palm shortening: With grains prohibited on the paleo diet, shortening and oil derived from corn, soy, canola, or other common options are excluded. As a result, palm oil and palm shortening are the remaining options we've found that are widely available and perform well in baking, especially as a replacement for butter. As with other ingredients, we hope bakers will choose palm-derived options that leave a small environmental footprint. Two brands we've used and enjoy are Spectrum and Nutiva.
Coconut oil: This can be used interchangeably for any oils or fats that aren't paleo-friendly (canola, soy, etc.). For a slightly tropical, coconut-y aroma, use unrefined (or virgin) coconut oil. For a neutral taste, go with refined coconut oil. Use room temperature ingredients when baking with coconut oil, as it can seize up and solidify when exposed to cold. 
The paleo diet also excludes refined sugars, incorporating natural sweeteners instead — honey, maple syrup, molasses, or date sugar are a few examples. The two we use most frequently in our recipes are: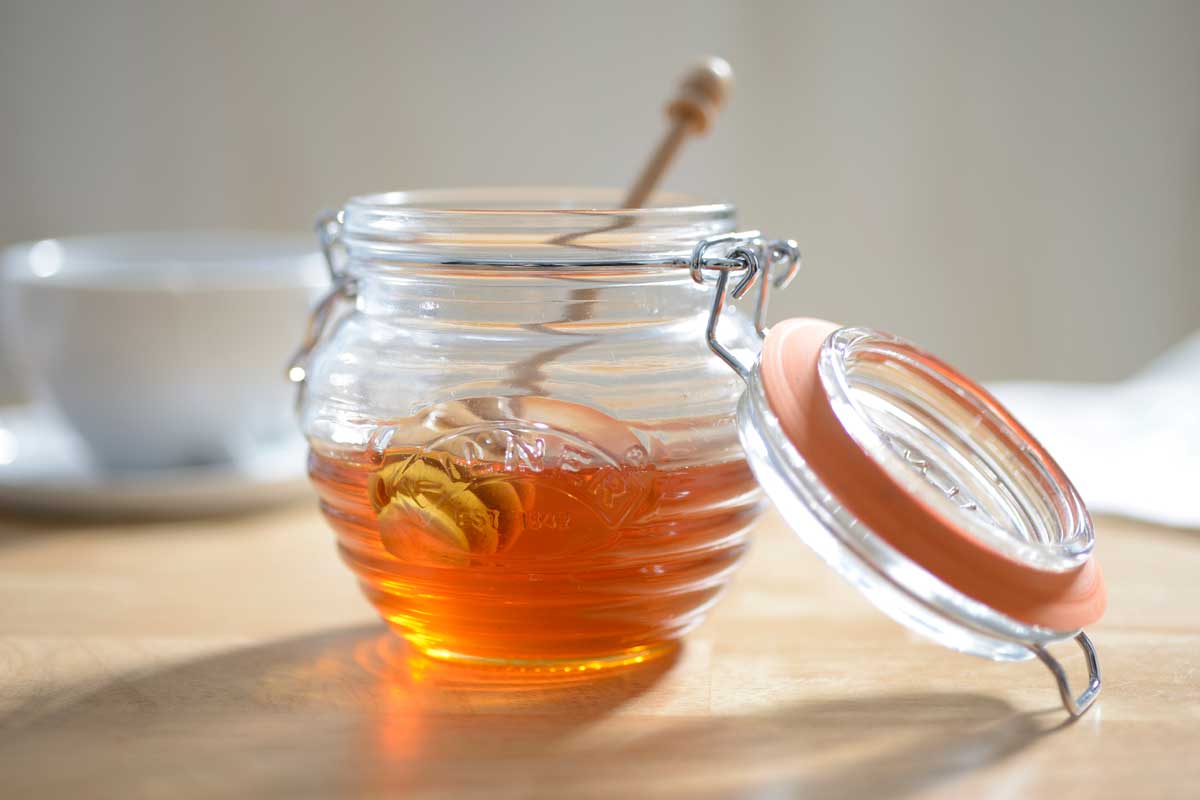 Honey: Adds a floral though not overwhelming taste and plenty of sweetness. Similar to honey, golden agave syrup is another useful paleo-friendly sweetener. See our post on baking with liquid sweeteners for more details on using these in baked goods. 
Coconut sugar: A dry, granulated sugar derived from coconut blossoms, this is an excellent option to replace the granulated white sugar used in conventional baking. It has a dark color and rich, caramel-like taste. 
Tips for paleo baking 
For the most successful grain-free and paleo-friendly baking, keep these tips in mind:
Don't substitute different grain-free flours for each other (e.g., don't use almond flour in a recipe that calls for Paleo Baking Flour), as they each work differently in baking. 
Batters and doughs may look different than what you're used to because of alternative ingredients (for instance, coconut sugar will make batter look darker because of its rich brown color) so pay attention to visual cues listed in the recipe, which will help guide you.
Steer away from yeast baking, as you won't get dough strength or development from grain-free flours like Paleo Baking Flour or coconut flour due to the lack of gluten. 
Cookie dough and other high-fat, low-hydration doughs or batters made with Paleo Baking Flour will be slightly more tender, and possibly slightly thicker, than what you're used to. Gently flattening before baking helps.
Pancakes made with Paleo Baking Flour will be thicker than their conventional counterpart, with a more tender, cake-like interior. They'll also likely absorb more butter and syrup.
When substituting Paleo Baking Flour for wheat-based flour in a recipe, baked goods may take slightly longer to bake. Typically, the maximum wheat flour baking time (e.g., a recipe says to bake for 20 to 25 minutes) is the minimum Paleo Baking Flour time (25 minutes or a bit longer). 
Because paleo baked goods are typically lower in sugar than traditional treats, and sometimes lower in fat as well, they usually have a shorter shelf life than you may be used to. Either eat within the first few days (yum!) or pack up and freeze for future enjoyment. 
Paleo recipes to get started 
Rather than substituting multiple ingredients to try to turn a conventional recipe paleo-friendly, it's easiest to start with a recipe specifically developed for the paleo diet. We have plenty of options available on our recipe site, and below are a few of our favorites.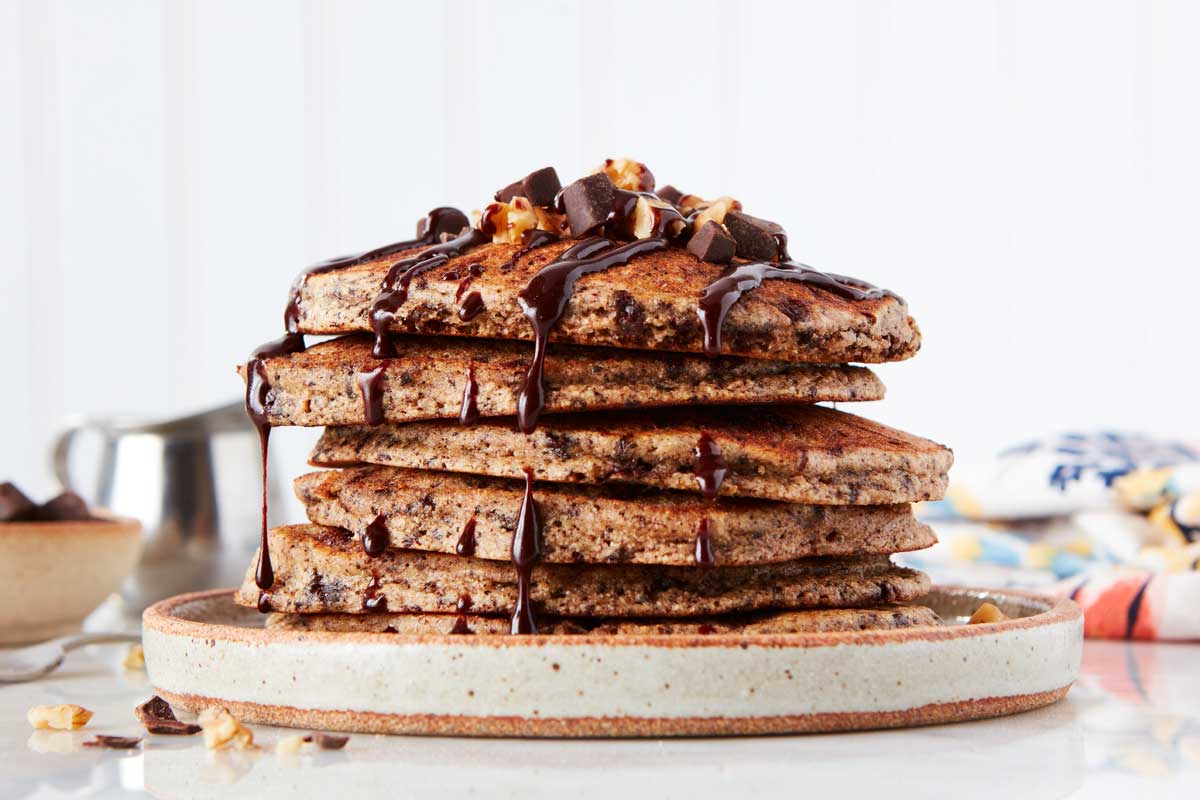 With a tender, cake-like texture, these pancakes are a welcome addition to the breakfast table. If you really want to take things to the next level, turn them into a chocolatey indulgence by adding coarsely chopped paleo-friendly Hu Chocolate Gems and topping with chocolate syrup made with maple syrup and Hu Chocolate. For instructions on how to prepare, see the "Tips" section at the bottom of the recipe page.
A tender crust made with Paleo Baking Flour is the vessel for a robust filling of sausage and spinach. Depending on your flavor preferences or just the contents of your fridge, you can customize the egg-based filling with alternate meats and vegetables. Tuck this recipe in your back pocket for those nights when you just can't think of any dinner inspiration. 

A blank canvas for plenty of vegetable and meat toppings, this paleo pizza crust is delightfully chewy, with crisply browned edges. It can also be used to make a simple and tasty flatbread — see the "Tips" section at the bottom of the recipe page for full details.
This sweet, sticky cake is an enticing contrast in textures. Crunchy almonds coated with oozing honey top a dense, tender cake made with Paleo Baking Flour. Enjoy it as a decadent breakfast or a pick-me-up afternoon treat.
If you like crispy, chewy chocolate chip cookies, then you'll surely enjoy this recipe. Go heavy on the paleo chocolate chips for an assertive hit of chocolate in every bite, or scale back to enjoy the mildly nutty cookie, which has a complex sweetness thanks to coconut sugar.
Baking paleo is possible 
Just because you're not eating grains or other common baking ingredients doesn't mean you can't enjoy whipping up tasty treats. With a handy ingredient like Paleo Baking Flour and plenty of specially developed recipes to guide you, grain-free and paleo-friendly baking is easily achievable in your kitchen. 
If you're following a paleo diet (or baking for someone who is!) see our full Paleo-Friendly Favorites Recipe Collection for ideas and inspiration to get started.
Photos by John Sherman unless otherwise noted 
Jump to Comments