Cozy cold weather pizza toppings
Autumn- and winter-inspired takes on our Recipe of the Year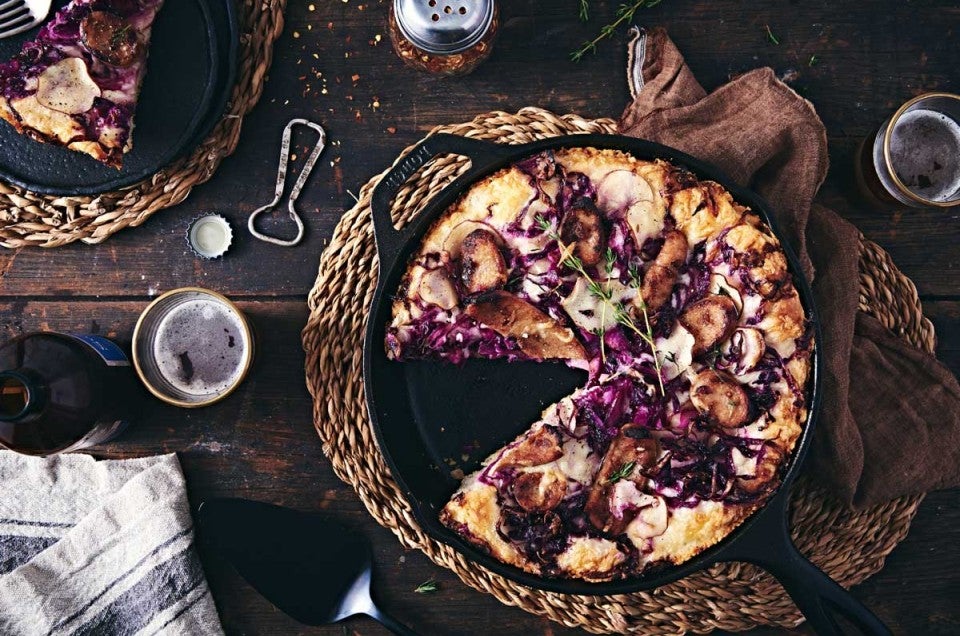 One of the bright spots of life, in our humble opinion, is pizza. And lately when we say pizza, we specifically mean our 2020 Recipe of the Year: Crispy Cheesy Pan Pizza.
We've been talking about it for months — showing you saucing tips, the best cheese to use, how to make it gluten-free, and even ways to turn it into dessert. We previously shared a number of delicious seasonal variations to take you from January through summer; now that we're in the depths of autumn, heading toward winter, we're showing you three more ways to adapt the recipe to a different season.
The original recipe features classic pizza toppings: mozzarella and tomato sauce. It also includes guidance on how to finish the pizza with herbs or hard cheeses like Parmesan, but nothing more. 
And that's where the fun begins!
One of the reasons why we chose this particular recipe as our Recipe of the Year is how easy it is to customize.
Crispy Cheesy Pan Pizza is a fantastic canvas for all sorts of ingredients — you can make it your own in so many ways.
You can vary the cheese. You can add vegetables or fruit. You can switch up the sauce. Think Alfredo! Pesto! Romesco! Barbecue sauce! Tapenade! You could cover it with olives or caramelized onions or pepperoni.
As the weather shifts, we embrace a new slew of ingredients: winter squashes and apples and potatoes and cabbage. And since pizza is such a cozy, substantial dinner — ideal for comforting meals on dark nights — we have three delicious versions to make the most of winter produce. Try them all and find your favorite!

October: Delicata squash, spinach, and roasted red pepper
Don't think for a moment that squash doesn't belong on pizza — it definitely does. This seasonal spin was dreamed up by food stylist and photographer Liz Neily to celebrate the bounty of fall flavors. Whenever you're roasting some fall vegetables, set aside a cup or so to add to your next pizza. (Future you says thanks!) Here, delicata squash is used for its sweet flavor and tender, edible skin.
To make it: Clean a delicata squash and cut it in half. Remove the seeds from the interior and compost. Slice each half in 1/4"- to 1/2"-thick pieces. Toss with olive oil, and season with salt and pepper to taste. Roast the squash in a 450°F oven for 10 to 15 minutes, until cooked and lightly caramelized.
Sauté 1 cup (28g) fresh spinach in 2 tablespoons (28g) butter. Add a clove of chopped garlic and cook until the spinach is wilted.
Top the pizza dough with dollops of roasted red pepper sauce (store-bought or make your own) on top of your cheese of choice. Don't forget to reserve a scant cup of cheese for the top. Add the spinach, squash, and remaining cheese. Bake that beauty of a pizza!
Garnish the piping hot pizza with grated Parmesan cheese and chopped fresh basil.

November: Crispy potatoes, cabbage, sausage, thyme, and fontina
When the days grow shorter, we start to crave heartier meals. Inspired by some of the sturdy and nourishing foods we look forward to in winter — cabbage and potatoes — we created this savory pizza that hits all the high notes: sweet, salty, acidic, crispy, and gooey. Fragrant with thyme, it has plenty of umami from the sausage and melted fontina.
To make it: Drizzle extra-virgin olive oil over your risen pizza dough. Very thinly slice enough red potatoes to cover the surface of the dough, and grate 1 cup (113g) fontina cheese. Sauté 1 cup (71g) sliced red cabbage with 2 tablespoons (26g) brown sugar, 1 tablespoon vinegar, a pinch of salt, and 1/3 cup (76g) water until soft (about 8 to 10 minutes over medium-low heat). Spread the cabbage over the pizza dough, then top with the grated cheese and a layer of the potatoes. Top with sliced cooked sausage and sprinkle with 2 teaspoons of chopped fresh thyme.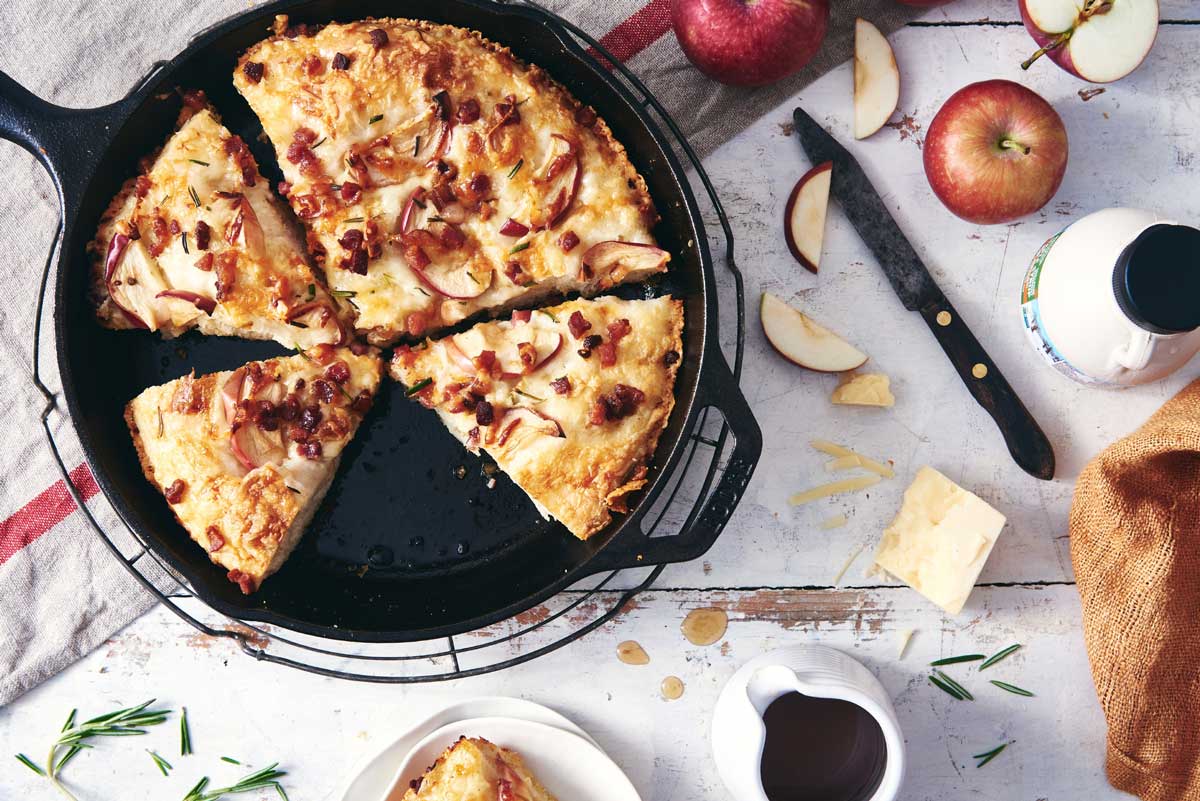 December: Apple, pancetta, maple syrup, and aged cheddar
Around the holidays, we turn to sweeter baking — cookies and cakes and sweet breads. This sumptuous take on our Crispy Cheesy Pan Pizza nods to that with a drizzle of maple syrup and thinly sliced apples. A handful of crispy pancetta and oozy, melty cheddar cheese balance out the sweetness, tipping the pizza firmly into savory territory.
To make it: Thinly slice a medium apple (you can peel it or leave it unpeeled). In a medium skillet, cook diced pancetta until crispy (about 5 minutes, stirring occasionally). Transfer the pancetta to a plate. Grate about 1 cup (113g) of aged cheddar. Spread the grated cheese in an even layer over your pizza dough, then top with the sliced apples and pancetta. Drizzle 2 tablespoons (19g) maple syrup over the top and bake.
Cozy up with pizza this season 
You're likely starting the slow transition away from summer produce and into autumnal ingredients, and we hope these inspire you to get baking! What seasonal twists on our Crispy Cheesy Pan Pizza will you be making this winter? Tell us in the comments!
Thanks to Liz Neily for her recipe inspiration, food styling, and photographs of these truly beautiful pizzas.