Make room for sweet pizza
Our Recipe of the Year gets dressed up for brunch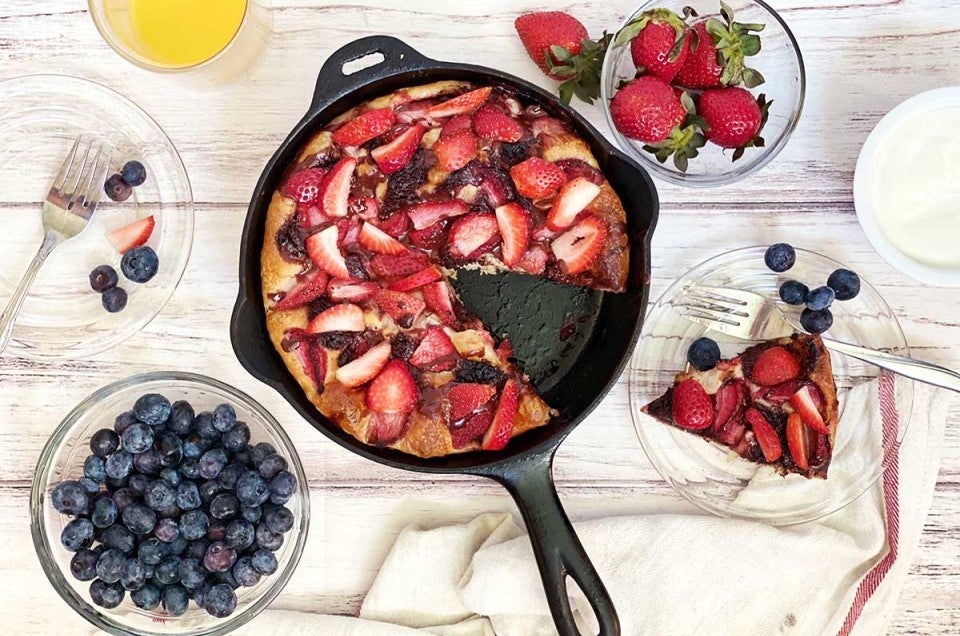 I have a confession. I'm harboring a serious sweet tooth. I'd choose maple syrup-drenched pancakes over an omelet for breakfast any day. Those of you with sugar cravings of your own will agree that it's about time we married our sensational five-star Recipe of the Year Crispy Cheesy Pan Pizza with some unconventional (but delicious!) sweet ingredients. The pairing turns this recipe into a dish that's ideal for breakfast, dessert, or even better: brunch!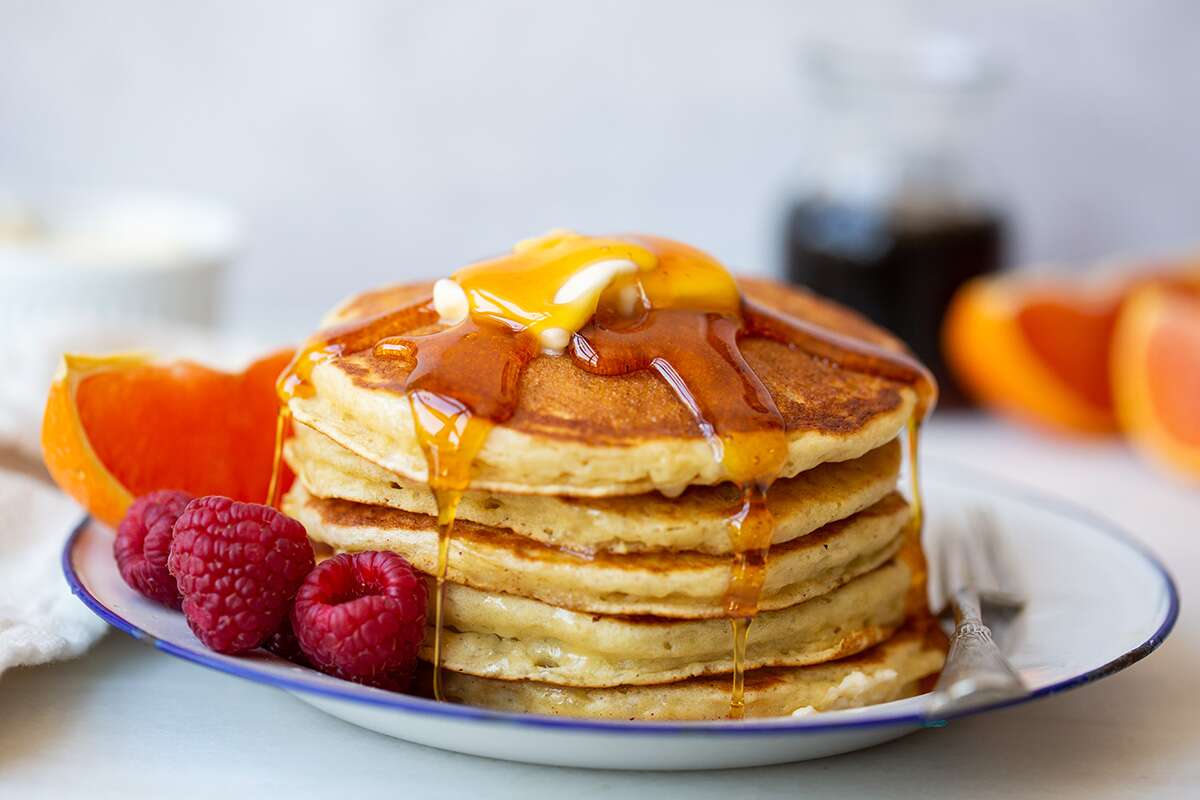 Our Crispy Cheesy Pan Pizza recipe has been showcased in a range of ways this year. We've celebrated seasonal topping combinations that make pizza fresh and distinctive; explored a whole host of cheeses to find which delivers the best melting and crisping effects; and even dabbled in sauces beyond tomato. Now it's time to take things to a new level: sweet pizza. 
These fresh takes on pizza are a special treat perfect for a long, lazy summertime brunch.
You'll learn a handy "formula" (don't get scared, it's really just guidelines) for making your own sweet pizza. Plus you'll see a collection of our own creative combinations. They're pizzas that give a nod to those of us who appreciate the sweeter side of life!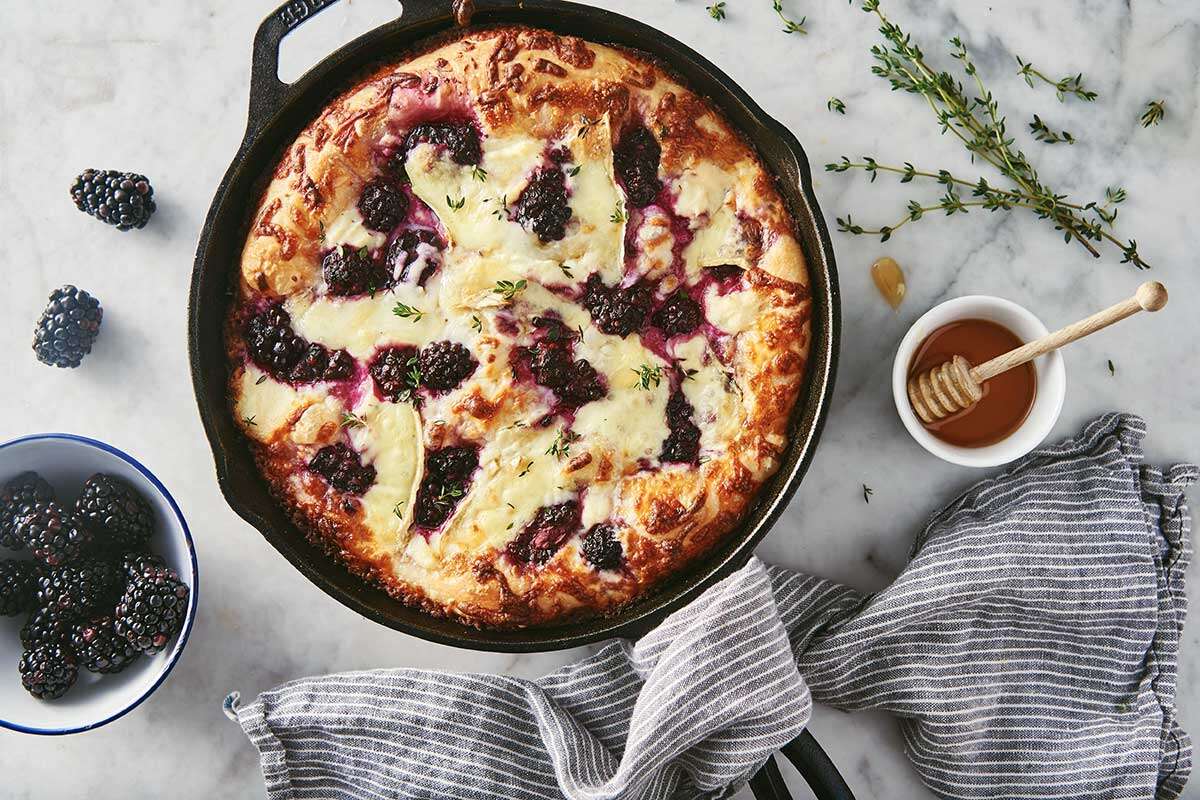 The sweet pizza formula
The magic all starts with a dynamite recipe for the dough. This is the foundation of your brunch pizza masterpiece, so choose your recipe wisely. 
Us? We'll be using the aforementioned Crispy Cheesy Pan Pizza, our knockout 2020 Recipe of the Year. The thick, pillowy crust gives this dish a sweet focaccia vibe, which is right at home on a brunch table. Feel free to use your favorite pizza dough recipe — you could even use our Gluten-Free Pan Pizza recipe if you wish.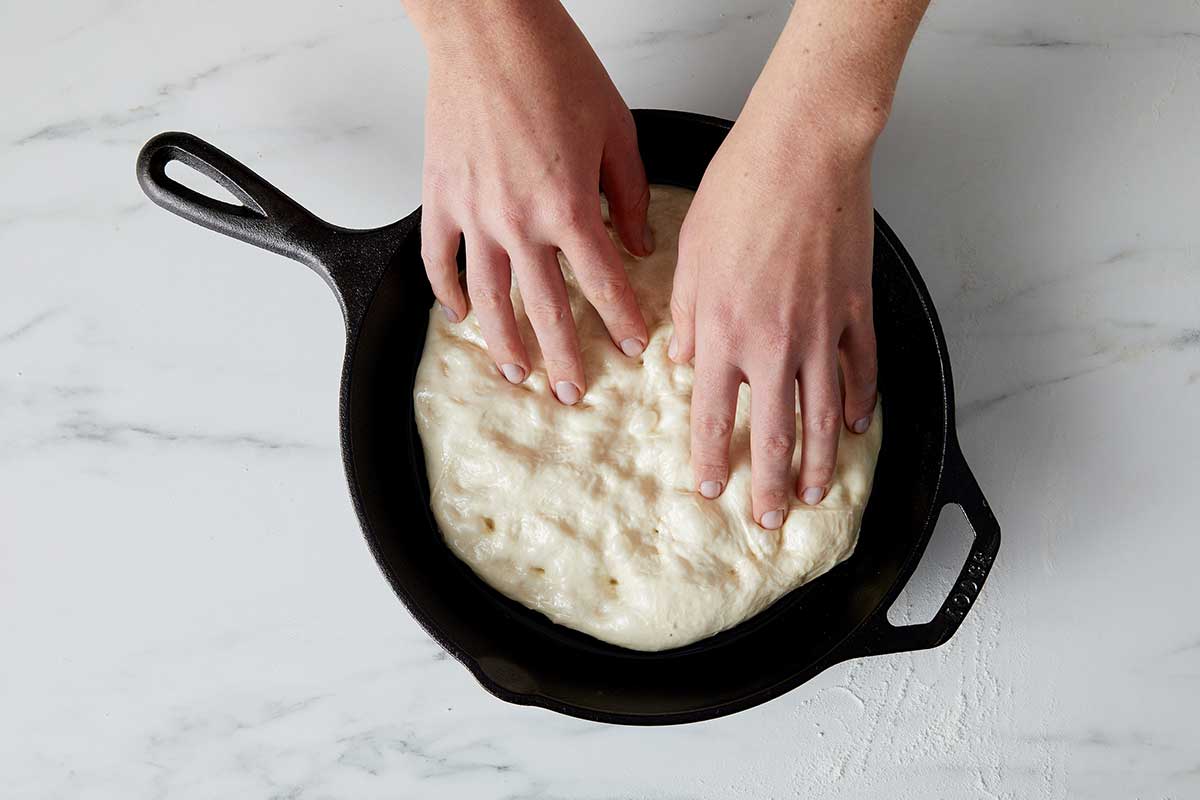 Once you've decided on your dough, it's time to think about toppings. To ensure your pizza is well-balanced, fully flavored, and not overly sweet, take these elements into consideration:
Sauce: Get creative! Since we're going sweet, use ingredients like brown butter, ricotta mixed with honey, and even nut butter as a base.
Primary flavor: What topping is going to be the star of your brunch pizza show? Think about color, texture, and how the ingredient will change as the pizza bakes.
Secondary flavor: This is the supporting ingredient that makes the pizza pop — the accent, if you will. Perhaps it's something acidic to cut the sweetness, like lemon zest on top of a fruit pizza or a drizzle of balsamic reduction on a macerated-strawberry pizza. 
Final garnish: Is there anything fresh and colorful that could go on top of your pizza right before serving? Torn mint leaves? A spoonful of crème anglaise? 
We used this perfect pizza formula to come up with five sweet, brunch-worthy topping combinations. Consider them inspiration for your own pizza.
Nailing the bake time
For all of the tantalizing options below, prepare our Crispy Cheesy Pan Pizza (or your favorite pizza dough) through to the point of topping. Add your toppings (take inspiration from the stellar combinations below!), then bake the pizza at 450°F for about 18 to 20 minutes, or until the bottom is golden brown.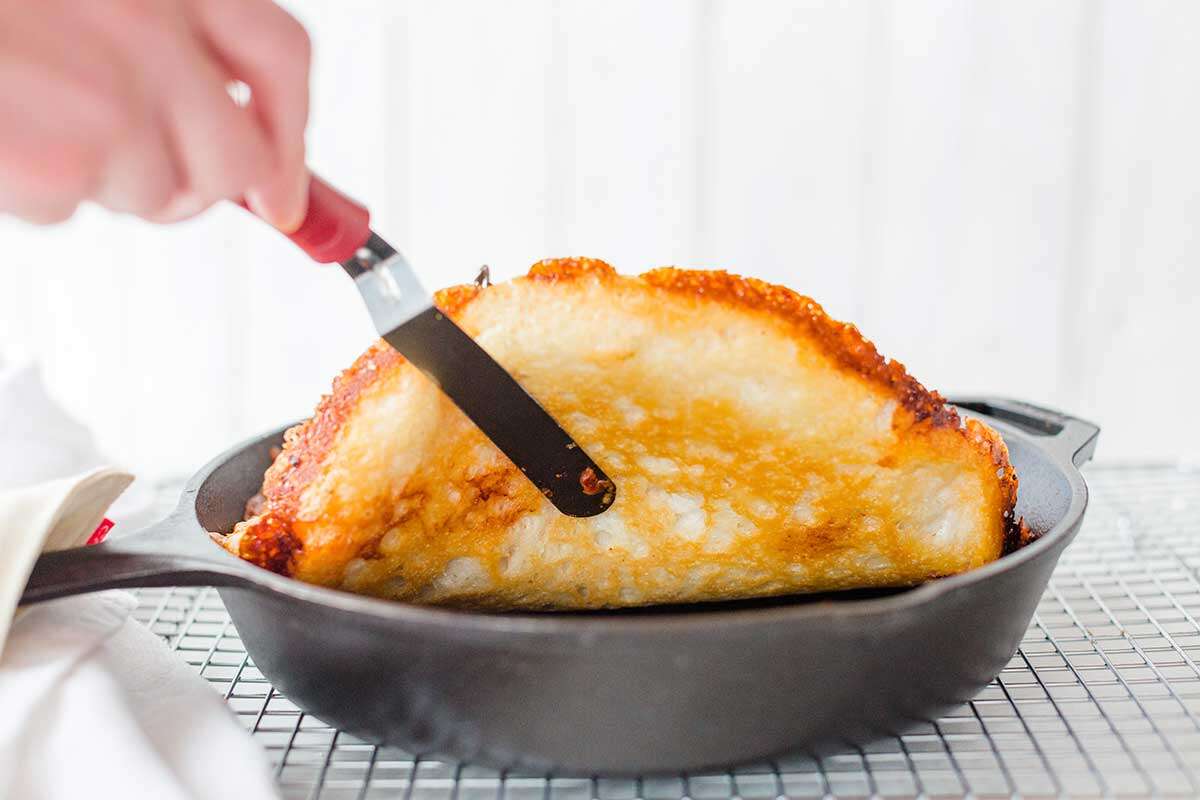 Let's check out these sweet pizza pies!
Apple of my pie
If you've ever enjoyed a slice of pie for breakfast, you'll understand why this apple pie-inspired pizza is right at home on a brunch table. It's a combination of scrumptious flavors including nutty brown butter, warm cinnamon, and juicy apples.
Sauce: Brown butter
Primary flavor: Apples
Secondary flavor: Cinnamon
Final garnish: Lemon zest
How to make it: Start by browning 8 tablespoons (113g) of butter. You'll only need 3 tablespoons for topping the pizza, but it's easiest to brown this volume of butter and there are so many amazing ways to use up the rest! (Check out our brown butter tutorial for details.)
Slice 1 to 2 apples thinly — I like to keep the peels on for a pop of color. Toss the apples with cinnamon-sugar (I use 1/4 cup/49g sugar plus 1 1/2 teaspoons of cinnamon) and the juice of half a lemon. 
Once the dough in the pan is fully risen, drizzle 2 tablespoons of brown butter over the dough, layer on the cinnamon sugar-coated apples, and top with the final tablespoon of brown butter. Bake until it looks mouthwatering and the butter is bubbling around the edges. (It might start to smoke if you leave it in too long, so don't overbake!)
Garnish with fresh lemon zest when the pizza comes out of the oven, if you wish.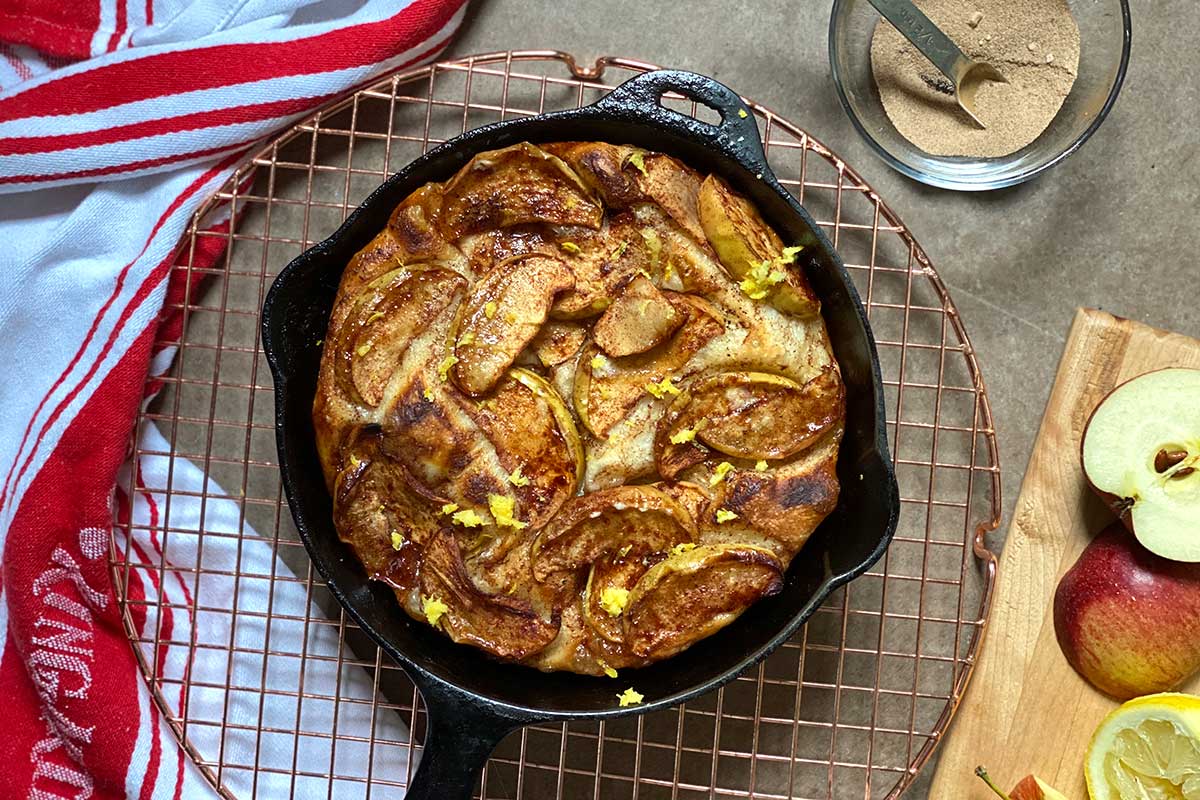 Nutty banana
Bananas get all dressed up for this brunch pizza, which is reminiscent of the beloved Southern dessert, Bananas Foster. Brown sugar, butter, sautéed bananas, and nut butter? YUM. You'll never look at a banana the same way again. 
Sauce: Brown sugar + butter
Primary flavor: Banana
Secondary flavor: Nut butter
Final garnish: Chocolate chips
How to make it: Melt 2 tablespoons (28g) of butter in a sauté pan with 1/4 cup (52g) of brown sugar. Slice 2 medium bananas into rounds and add them to the pan. Cook until the bananas are coated in the sugar mixture and have started to soften. (You can add a splash of rum to the pan at this point if you're feeling adventurous — just be careful of any flames!)
While the bananas are cooking, make a simple nutty sauce. Thin out your favorite nut or seed butter with warm milk until it's a pourable consistency. (I used 2 tablespoons of sunflower butter mixed with 2 tablespoons of milk.) 
When the dough is ready for the oven, add the bananas and bake for about 18 to 20 minutes. The bananas will caramelize and smell amazing. Once the pizza is out of the oven, drizzle it while still warm with the nut butter sauce.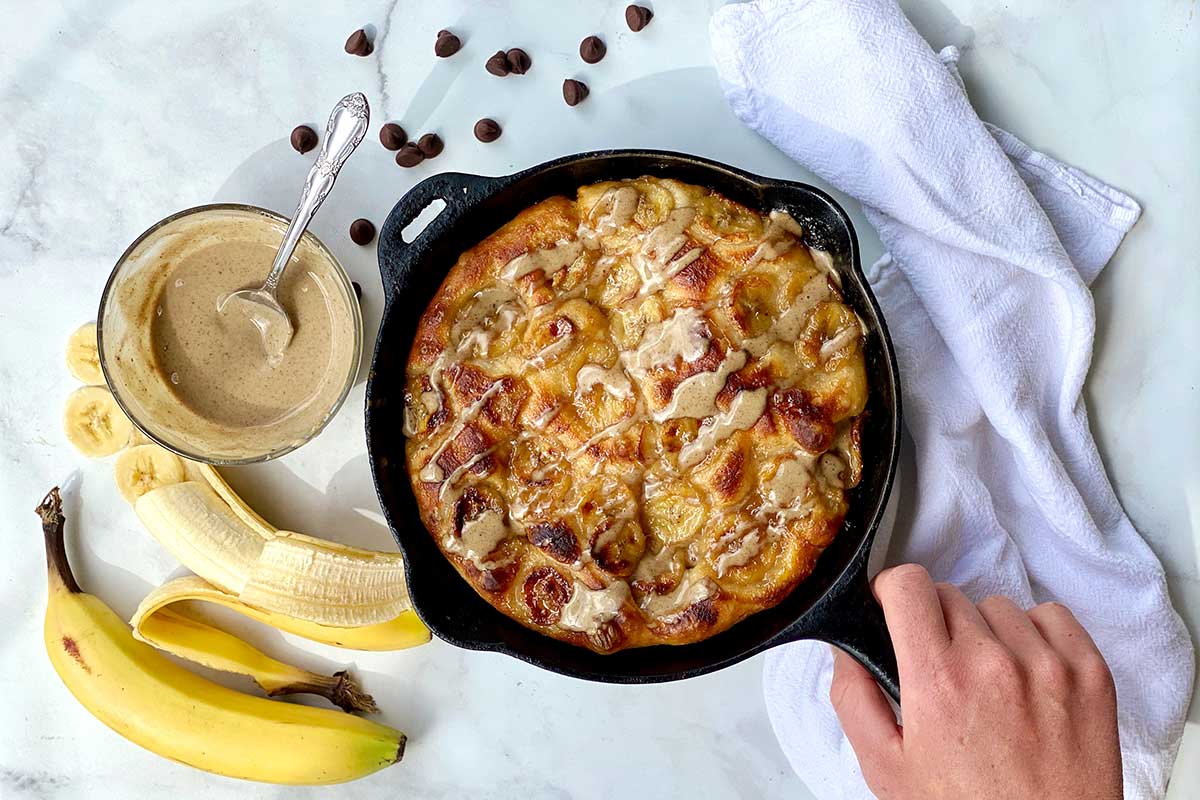 Garnish with chocolate chips if you're really feeling the sweet vibes, or in true Bananas Foster fashion, put a scoop of vanilla ice cream atop each slice!
Very berry good
Nothing goes better together than berries and cream, especially in the middle of summer. This pizza leans into that classic combination and begs to be served alongside a glass of something bubbly.
Sauce: Mascarpone + orange juice
Primary flavor: Raspberries + blackberries
Secondary flavor: Orange
Final garnish: Fresh mint leaves
How to make it: Place 1 1/2 cups of washed, fresh raspberries and blackberries into a large bowl with 1 to 2 tablespoons of sugar, depending on the sweetness of your berries. Add about a tablespoon of orange juice (or orange liqueur, if you're feeling fancy) to the berries. Gently toss it all together and set aside while you prepare the creamy base. 
The "sauce" for this brunch pizza is lightly sweetened mascarpone — if you can't find mascarpone, use cream cheese instead. Mix 1/3 cup (75g) of room temperature mascarpone with about 2 teaspoons of orange juice so that it becomes easily spreadable.
Dollop the mascarpone mixture evenly over the top of the dough in spoonfuls and add the macerated berries on top.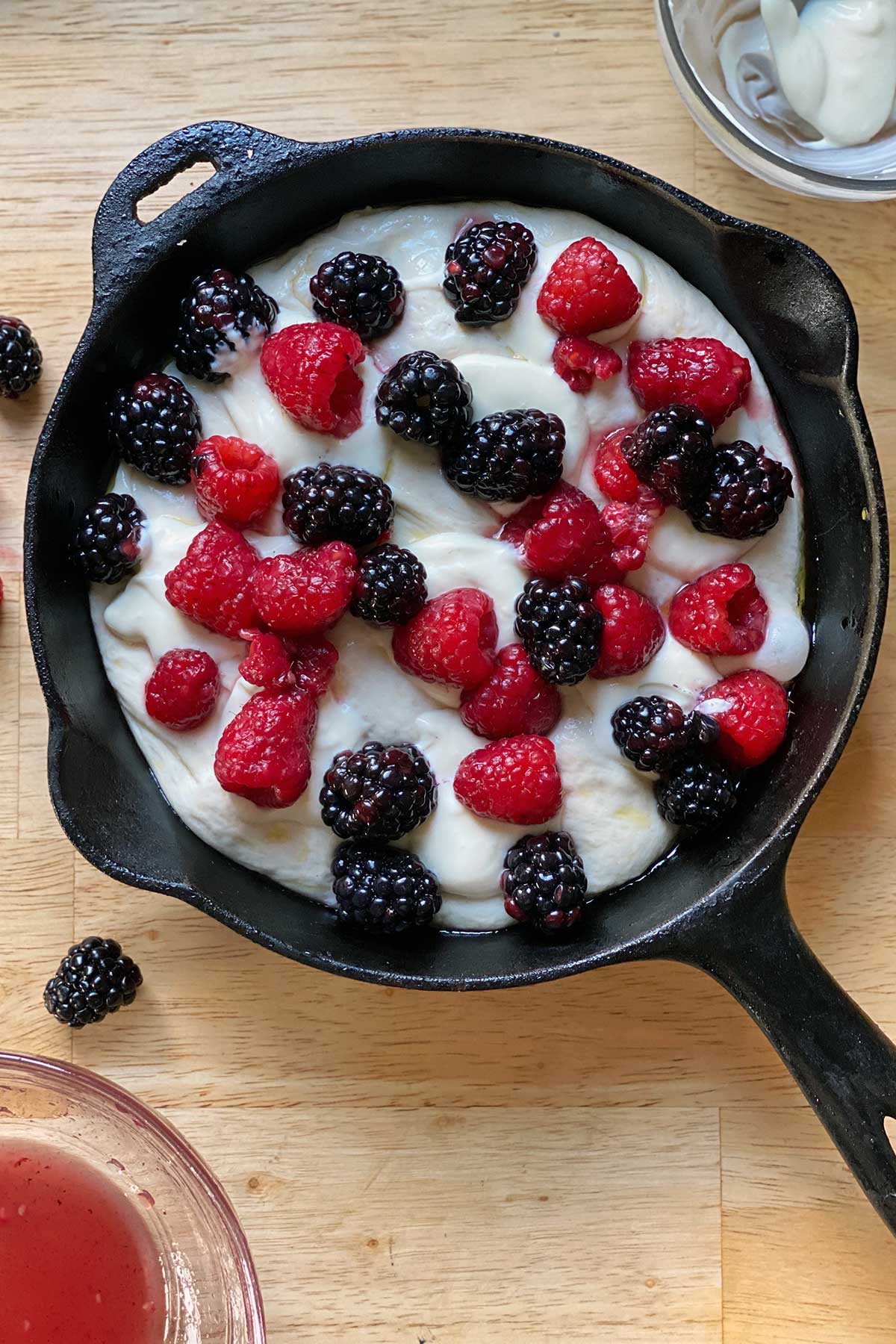 Once the pizza is out of the oven, you can drizzle the berry syrup on top if you've taken the time to make it, or simply garnish with torn fresh mint leaves for a pop of color and freshness.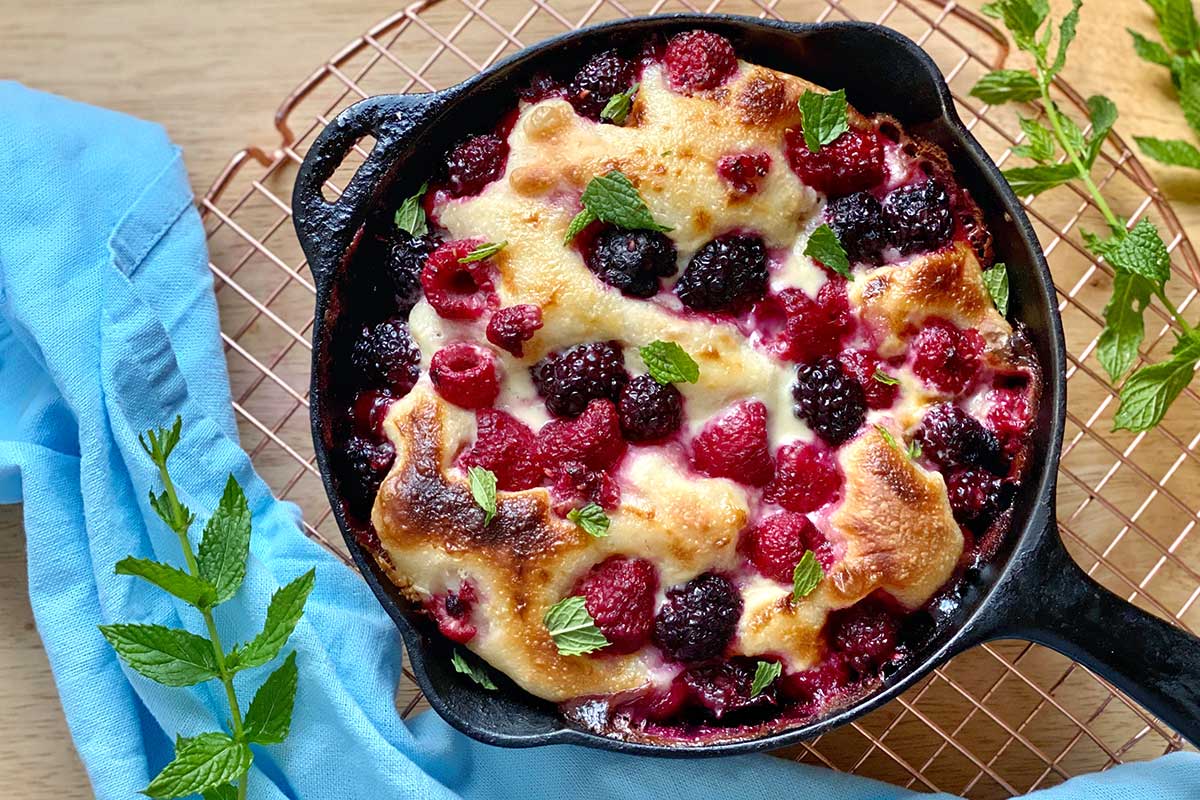 Perfect peach pizza
Honey-sweetened ricotta is one of the most delicious, versatile spreads. It goes on toast, oatmeal, apple wedges, and yes, brunch pizza! Slices of peach (or other stone fruits) plus a handful of fresh blueberries make this pizza scream summer.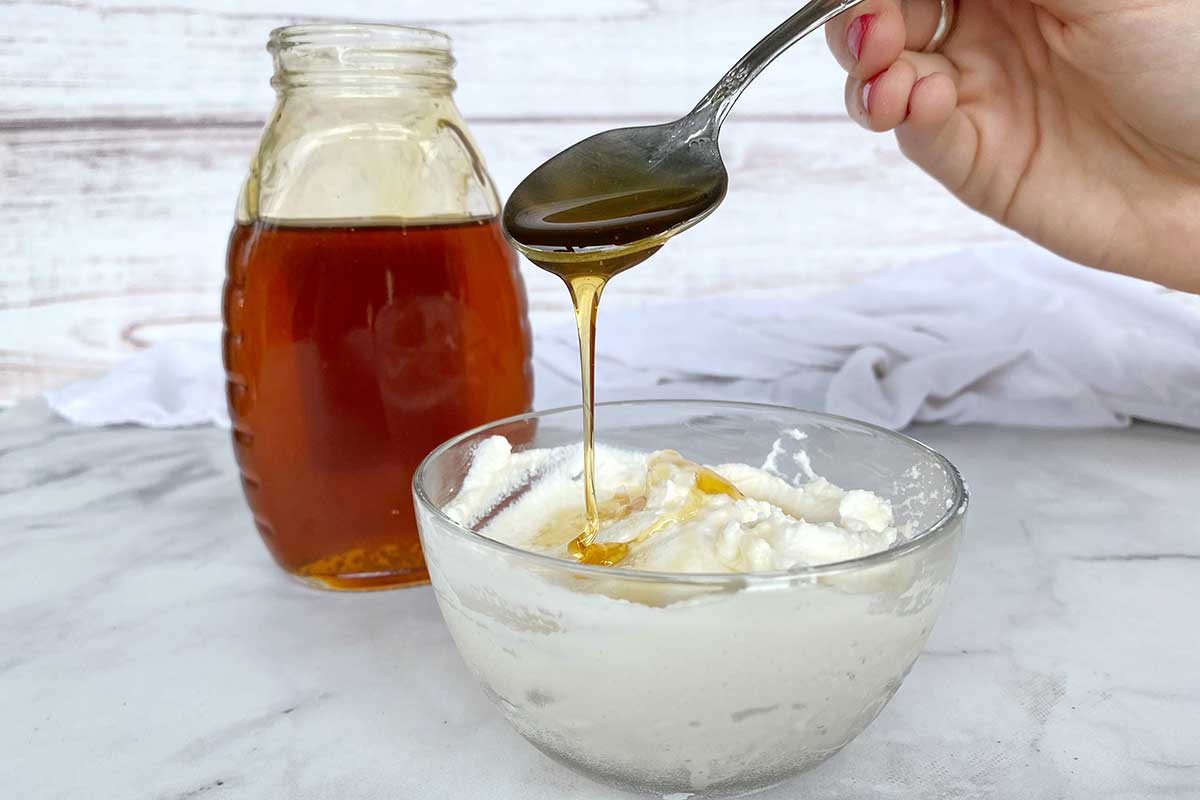 Sauce: Ricotta + honey
Primary flavor: Peaches (or other stone fruits)
Secondary flavor: Blueberries
Final garnish: Sliced almonds
How to make it: Mix 1/3 cup (75g) ricotta with about 2 teaspoons of honey. (You can sweeten it to taste, adding more or less honey as needed.) Dollop the honey-sweetened ricotta on top of the risen dough by the spoonful, then layer peach slices on top. (You'll probably only need one large peach or two smaller pieces of stone fruit, such as plums or apricots, based on how prominently you want to feature the fruit in this dish.)
Once the slices of peach are in place, scatter about 1/3 cup (57g) of fresh blueberries on top. They'll soften and become jammy as the pizza bakes.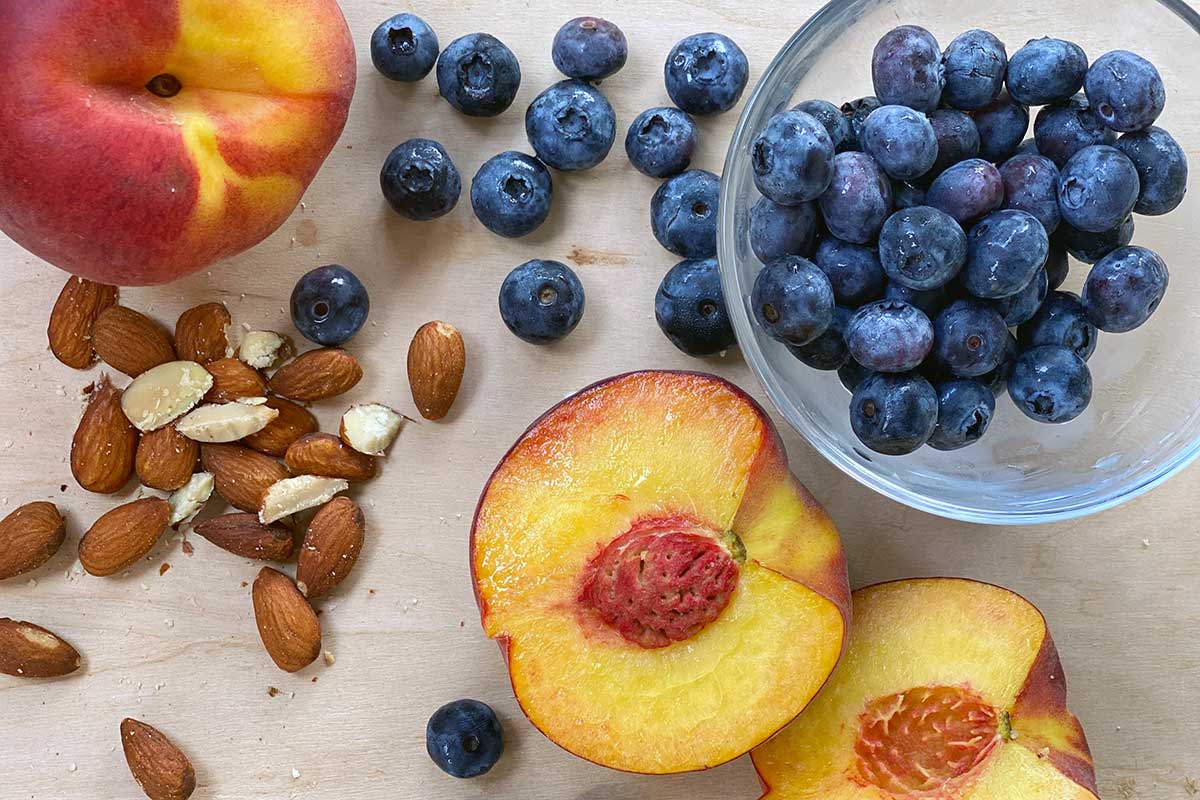 As a final garnish, add sliced almonds on top of all the deliciousness — either halfway through baking if you want the almonds to get toasty, or after the pizza is baked if you want to embrace the raw taste.
Love at first bite
Time for the mouthwatering finale, folks! If you're hosting an outdoor brunch, even just a close-knit group, make it feel special by ending with dessert. Three words: chocolate, strawberries, cream. 
Sauce: Chocolate + cream (chocolate ganache)
Primary flavor: Dark chocolate
Secondary flavor: Strawberries
Final garnish: More chocolate and/or whipped cream
How to make it: Start by making a simple chocolate ganache. Heat 1/3 cup (75g) of heavy cream until it reaches a simmer. Pour it over a generous 1/2 cup (100g) of chopped chocolate. Let the hot cream melt the chocolate for a few minutes, and then stir until combined. Let your ganache cool slightly while you prepare the strawberries.
Wash, hull, and quarter about 1 1/2 cups (250g) of fresh strawberries. (If you start with a quart, you'll have more than enough for this pizza, plus some extras for snacking.)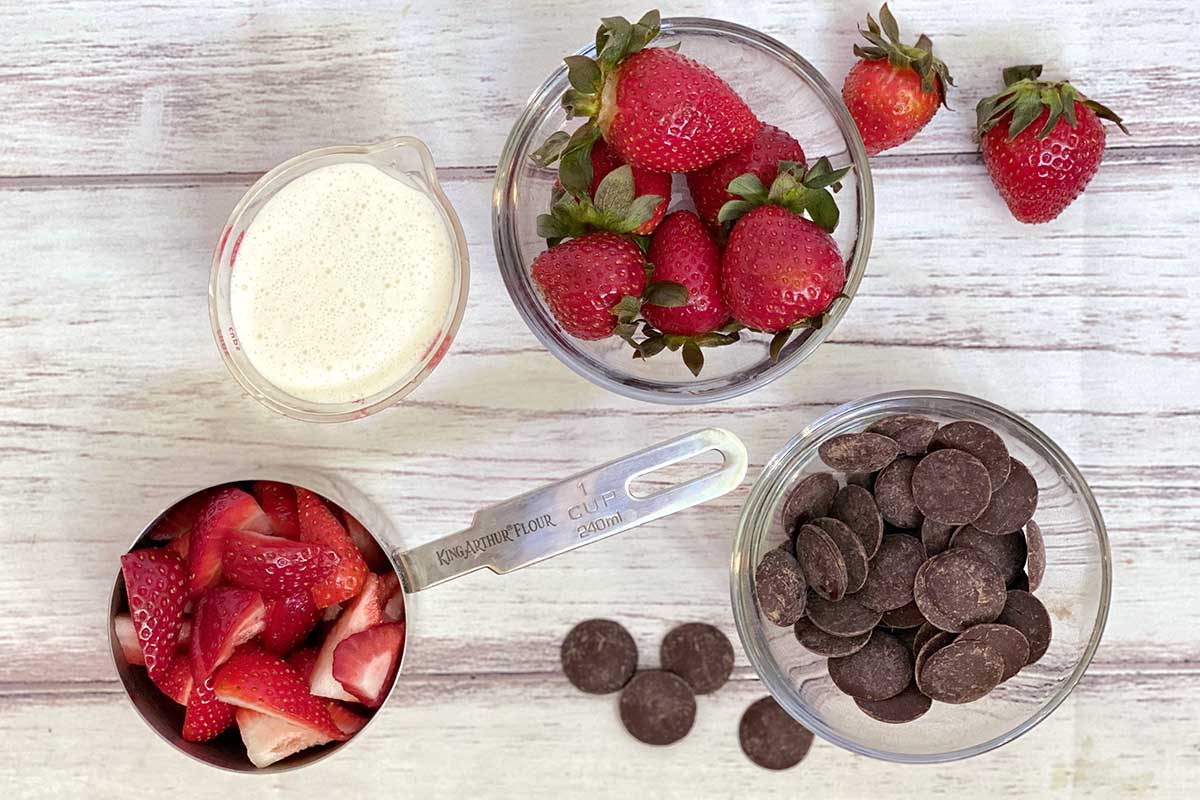 When the dough has fully risen in the pan, dollop about half of the cooled ganache on top. Then scatter the strawberries over the ganache, placing them almost all the way to the edge. Bake the pizza until the strawberries look roasted and the crust is golden brown.
Let the pizza cool slightly, then drizzle the remaining chocolate ganache on top before serving.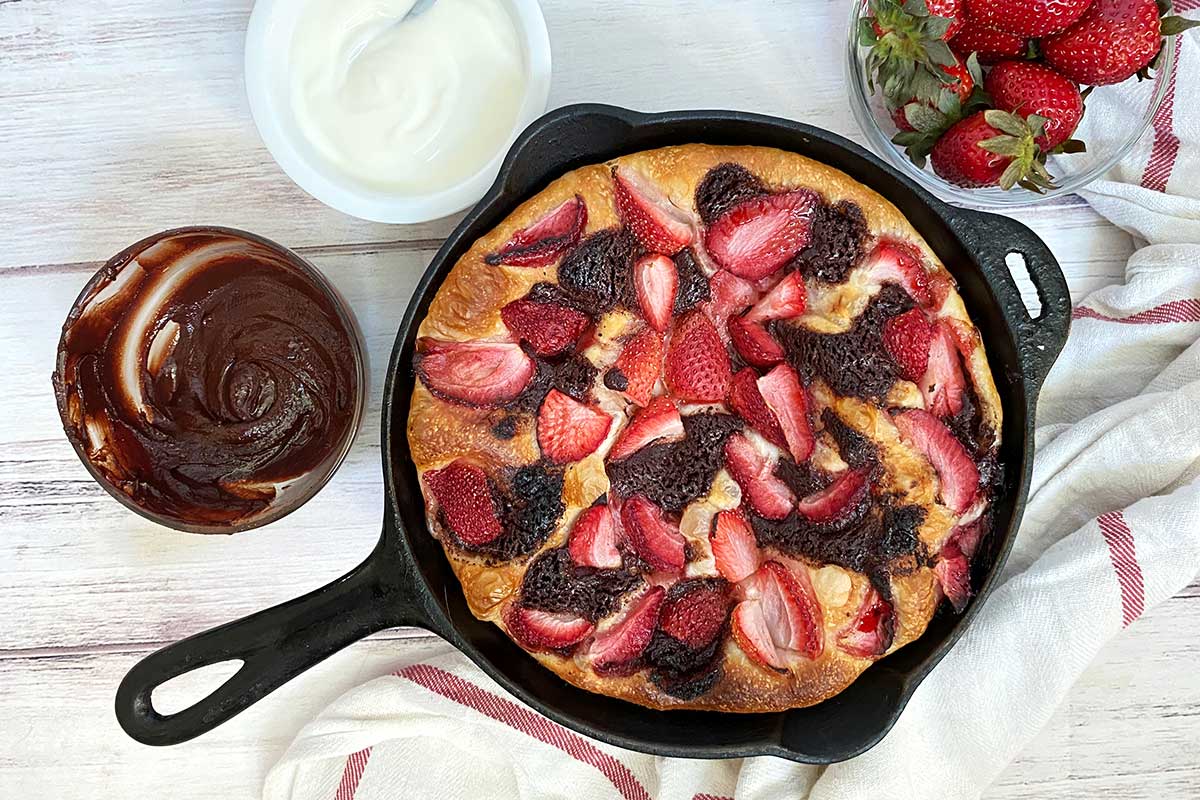 As a next-level touch, whip up about 3/4 cup (170g) of heavy cream with a half teaspoon of vanilla and 3 tablespoons (21g) of confectioners' sugar. Place a gorgeous dollop of homemade whipped cream on top of each slice of dessert pizza, and just wait for everyone to tell you it's love at first bite.
The sweet side of pizza
Now that we've explored the sweet side of pizza, it's safe to say that this beloved food most certainly has a place at the breakfast or brunch table. 
Whether you're looking to switch up your normal breakfast routine, surprise the kids with an unexpected weekday treat, or put on a midsummer brunch feast, consider including sweet pizza on the menu.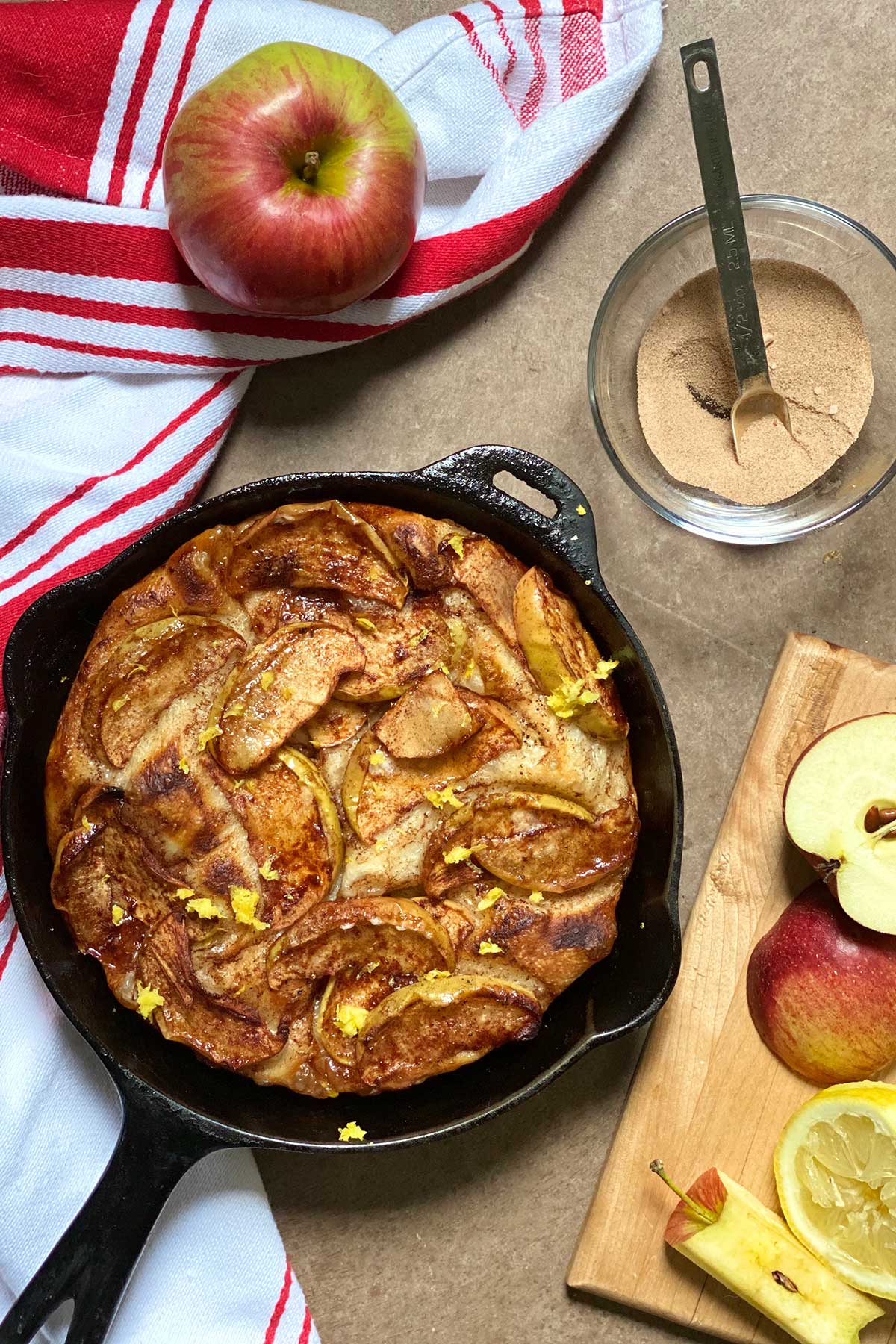 Remember that baking is an opportunity to be whimsical, light-hearted, and simply make people smile. I promise you'll receive lots of grins when you place one of these brunch pizzas on the table.
Let us know how else you're rethinking traditional dishes and experimenting with new flavor profiles in the comments below.