Pizza for every season
Topping inspiration for your favorite pizza
These seasonal takes on our Recipe of the Year, Crispy Cheesy Pan Pizza, are recipe revelations from food stylist and photographer Liz Neily. She came up with these pizza topping combinations, using each one to celebrate the fresh and seasonal produce throughout the year. Thanks to Liz for sharing these recipes, techniques, and food styling for these truly beautiful pizzas.
Simply topped pizza can be beautiful and delicious. Take our Crispy Cheesy Pan Pizza, the 2020 Recipe of the Year ⁠— it's winning over thick-crust pizza skeptics left and right, even with its simple toppings of tomato sauce and cheese. But there's a time when pizza should have even more flavor and personality. Think beyond pepperoni or bell peppers — we're talking spicy sauces, heart-shaped vegetables, and even french fries!
We're going to elevate this pizza recipe to new heights by adding ingredients that are fresh and flavorful.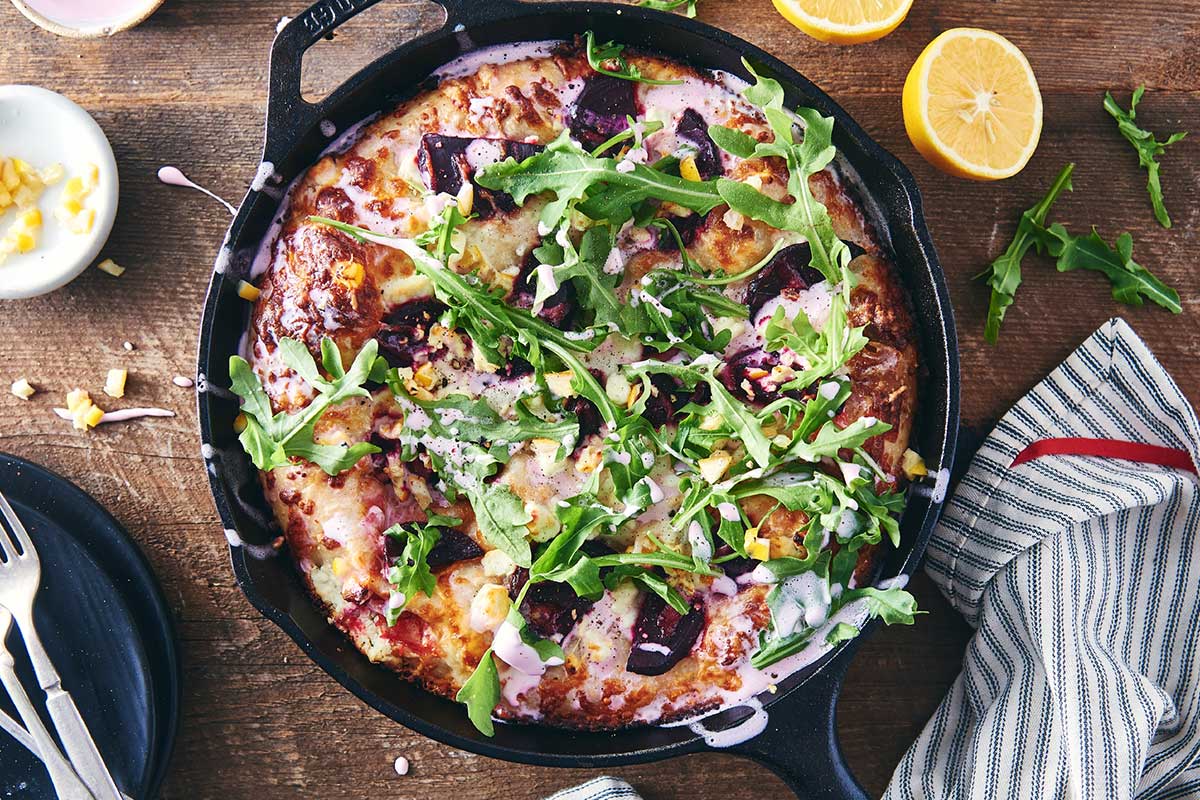 Inspiration by month
In the spirit of keeping things seasonal, we'll reveal a unique topping combination each month of the year (based on what's in season here in New England). The pizzas will be featured on our Facebook and Instagram pages, so be sure to follow along. As they're highlighted on social media, we'll add instructions to this blog post so you can bake the pizzas at home.
Keep your eyes on this post ⁠— it'll grow as the year continues and we bake more Crispy Cheesy Pan Pizza. Now let's unlock the treasure trove of pizza inspiration!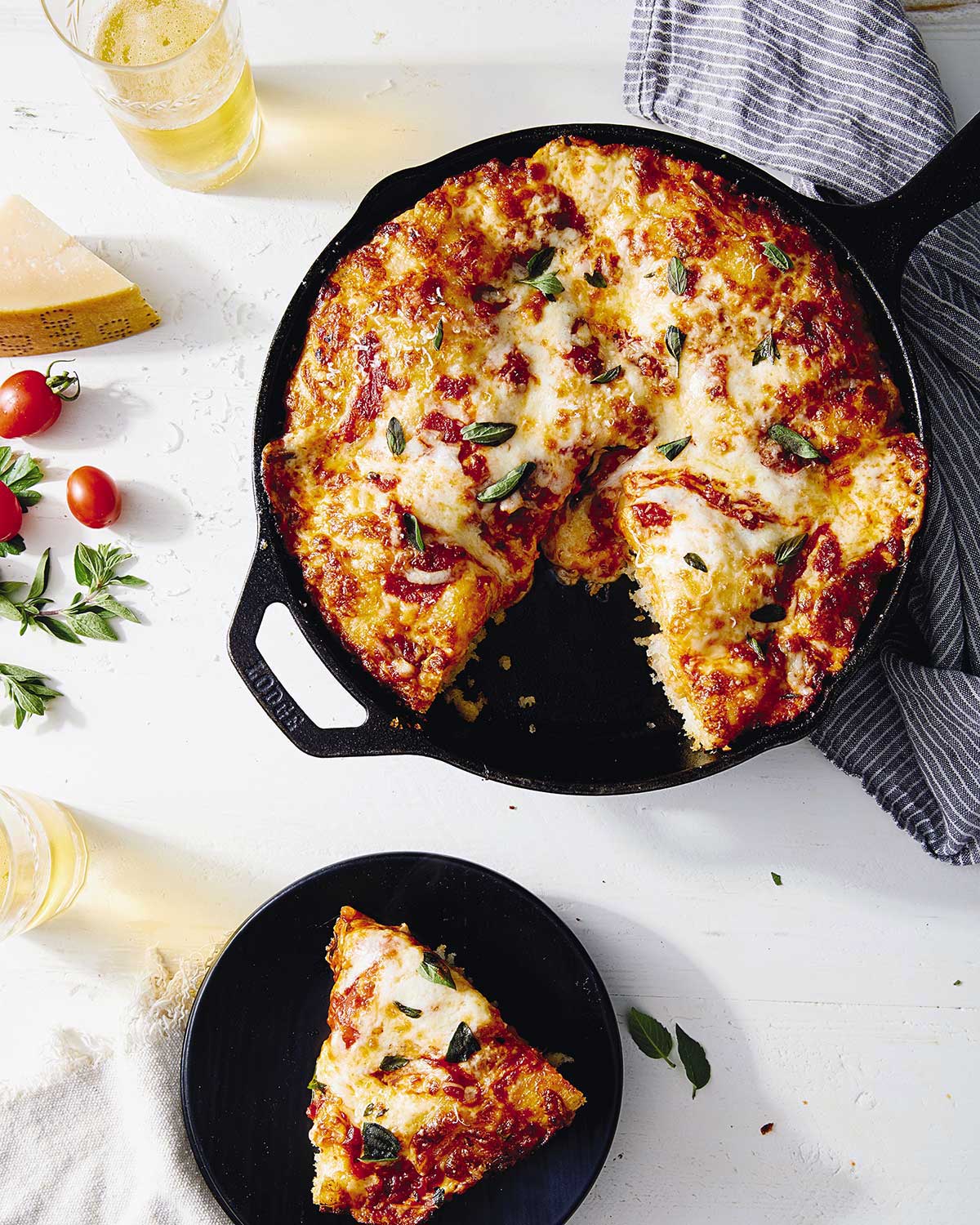 Start with the base
Each of the seasonal pizza variations is made according to our original Crispy Cheesy Pan Pizza directions through the point of adding the first layer of mozzarella cheese. (This step ensures the pizza will have its namesake crispy edges.)
Unless there's a note about a specific kind of cheese to use, assume the final layer of cheese will be mozzarella. There aren't specific quantities of ingredients listed for each of the seasonal pizzas because the amount to use varies with personal preference. Let your taste buds be the guide when it comes to judging quantity.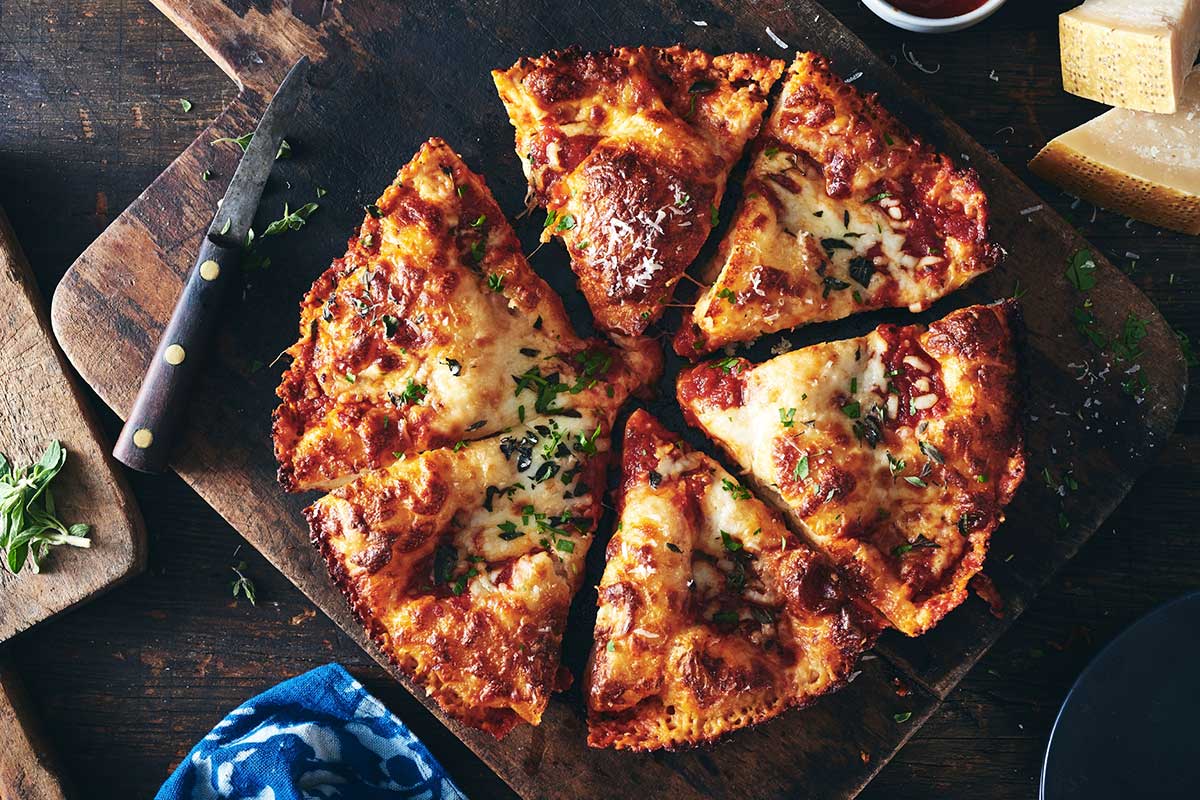 Feel free to let your imagination run wild and apply these ingredient combinations to your favorite pizza crust — simply put a layer of grated cheese down first, then add your sauce, the suggested toppings, and a final sprinkle of cheese. Trust us on this one; the layering is key.
Time to check out our first topping variation!
January: Radicchio, Fennel, and Sausage
This combination of toppings is just what you need during the dark, cold months of winter. (At least that's what we New Englanders face each January.) Fennel's sharp flavor cuts through the richness of the cheese, and the pomegranate seeds add a pop of color and sweetness.
To make it: Thinly slice fennel and cut the radicchio into wedges. Toss with a drizzle of olive oil and salt and pepper to taste. Roast the fennel and radicchio at 400°F for about 10 minutes, until the radicchio is soft and the fennel is fragrant.
If your sausage comes in a casing, remove it before sautéing for about 5 minutes until lightly browned. (You can also leave the sausage in the casing and slice into rounds, if you prefer.) Sauté until cooked, then drain the fat.
Top the pizza dough with the roasted fennel, radicchio, and sausage. Sprinkle the remaining cheese on top and bake until done. Immediately after the pizza comes out of the oven, garnish with pomegranate seeds and fennel fronds.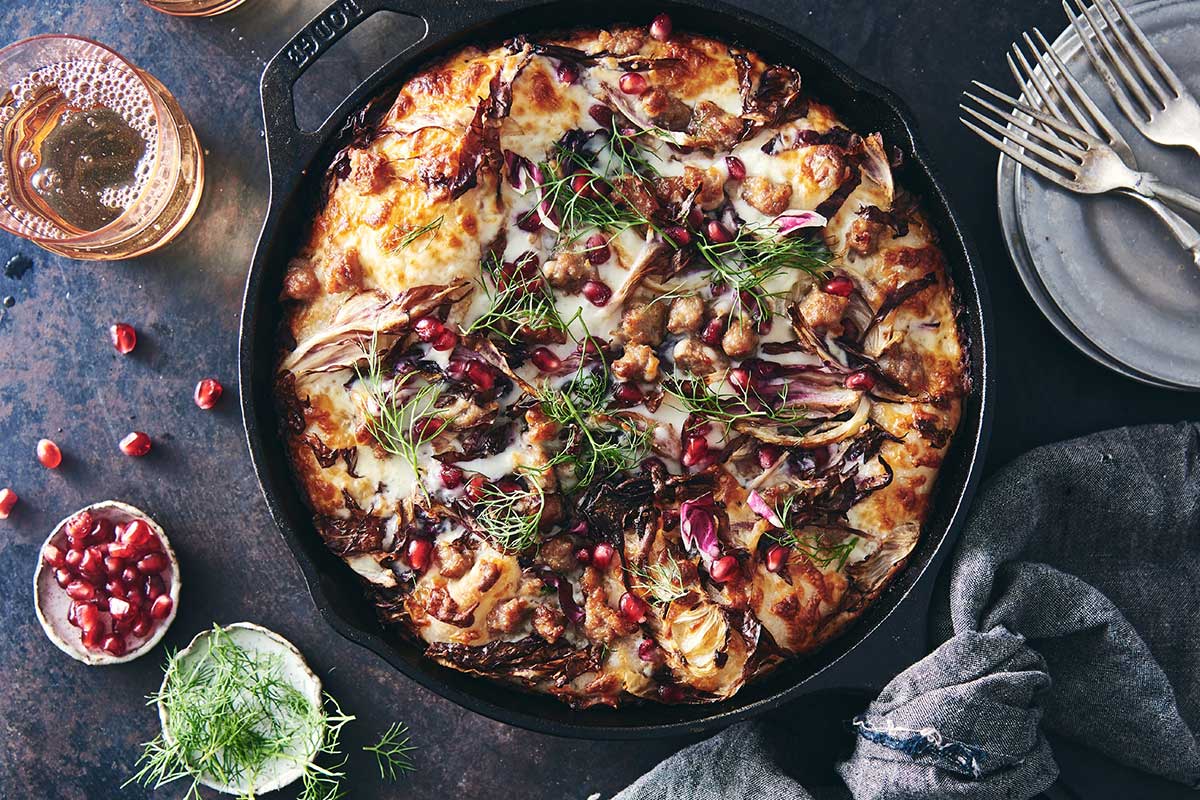 Now that's a pizza that'll warm you from the inside out!
February: Heart "beet" with goat cheese, Meyer lemon, and arugula
If making someone homemade pizza doesn't already say "I love you" enough, top the pizza with this combination of goat cheese, citrus, greens, and heart-shaped beets to make a statement of love! It'll make whomever you serve it to swoon.
To make it: Roast beets in a 400°F oven until fork-tender. Remove the skin from the beets and slice thinly (about 1/8" thick). If you want to go the extra mile, use a heart-shaped cookie cutter to transform the beet slices into vibrant, edible hearts. (You can also leave them as rounds if you prefer; the pizza will still taste fantastic.)
Wash a Meyer lemon and cut it into thin slices across its equator. Cut each slice into quarters.
When the pizza dough is ready for the oven, place the beets on top and scatter the lemon wedges about evenly. Generously top with goat cheese.
After it's done baking, garnish with greens (we like arugula), followed by a drizzle of good quality olive oil and salt and pepper to taste.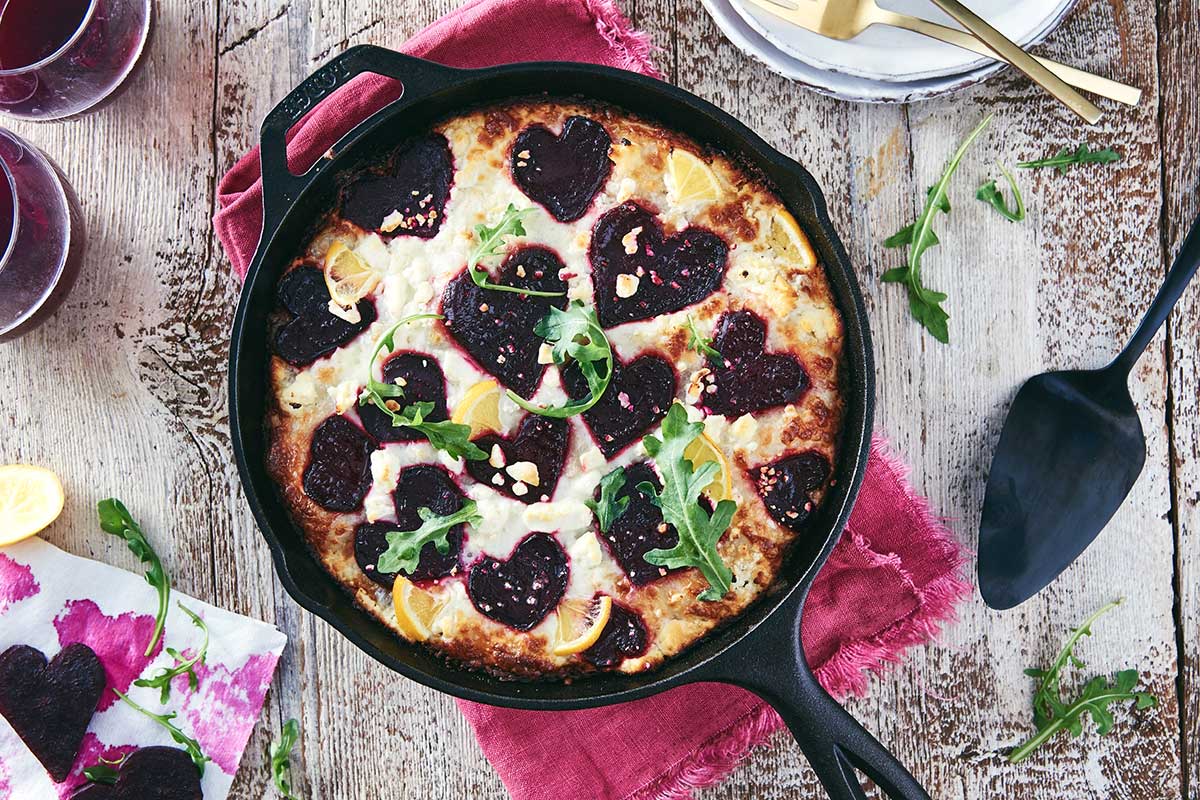 Warning: Consuming this pizza may cause the feeling of falling in love.
March: "March Madness" chili fries
This seasonal topping combines the things sports fans love most: pizza, french fries, chili, and cheese (topped off with ranch dressing, of course). Serve it while watching a big game — or not, perhaps if the season was canceled. The flavors will knock your socks off regardless.
To make it: Slice one or two washed russet potatoes into 1/4"-thick sticks. (This kind of cut is called a julienne.) Toss the sliced potatoes with olive oil, 2 teaspoons of chili powder, and salt and pepper to taste. Bake in a 450°F oven for 15 to 20 minutes, until tender and just starting to brown.
Not into making your own french fries? Skip the whole potatoes and instead use about a cup of your favorite frozen french fries. Toss the frozen fries with 2 teaspoons of chili powder and cook according to the package instructions.
Add the cooked french fries to the cheese-topped pizza dough before it goes into the oven. Add a few dashes of your favorite hot sauce if you like things spicy.
When the pizza comes out of the oven, drizzle with ranch dressing (if that sounds appealing to you). Finish the pizza by sprinkling fresh parsley and more chili powder on top.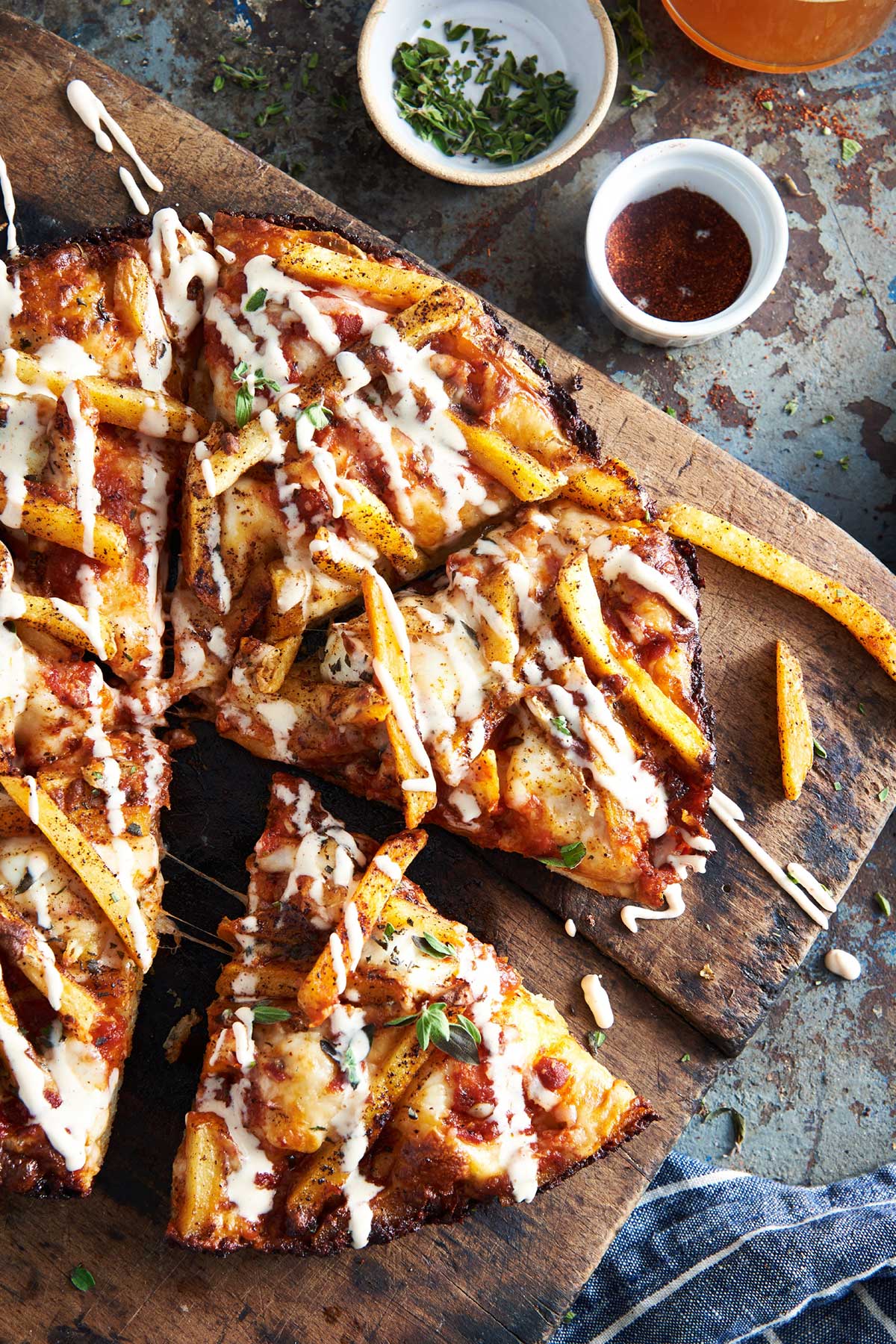 Even if your team doesn't come out on top, this pizza will win over the crowd.
April: Breakfast pizza with "green eggs and ham"
If you've read Dr. Seuss's books, you're already smiling. This breakfast pizza pays homage to the author who liked to twist words, make rhymes, and dream up fanciful dishes like green eggs and ham (for Sam, I am).
To make it: Sprinkle the cheese of your choice on top of the fully-risen pizza dough. Dollop prepared pesto on top, followed by pieces of torn prosciutto. (This is our fancy ham.)
Use the back of a spoon to make two or three small depressions in the dough about 3" wide. Crack an egg into each depression, and top with another scant cup of cheese before baking.
When the cheese is golden brown and the eggs have set, remove the pizza from the oven. Garnish with chopped fresh scallions — one of the most flavorful "greens"!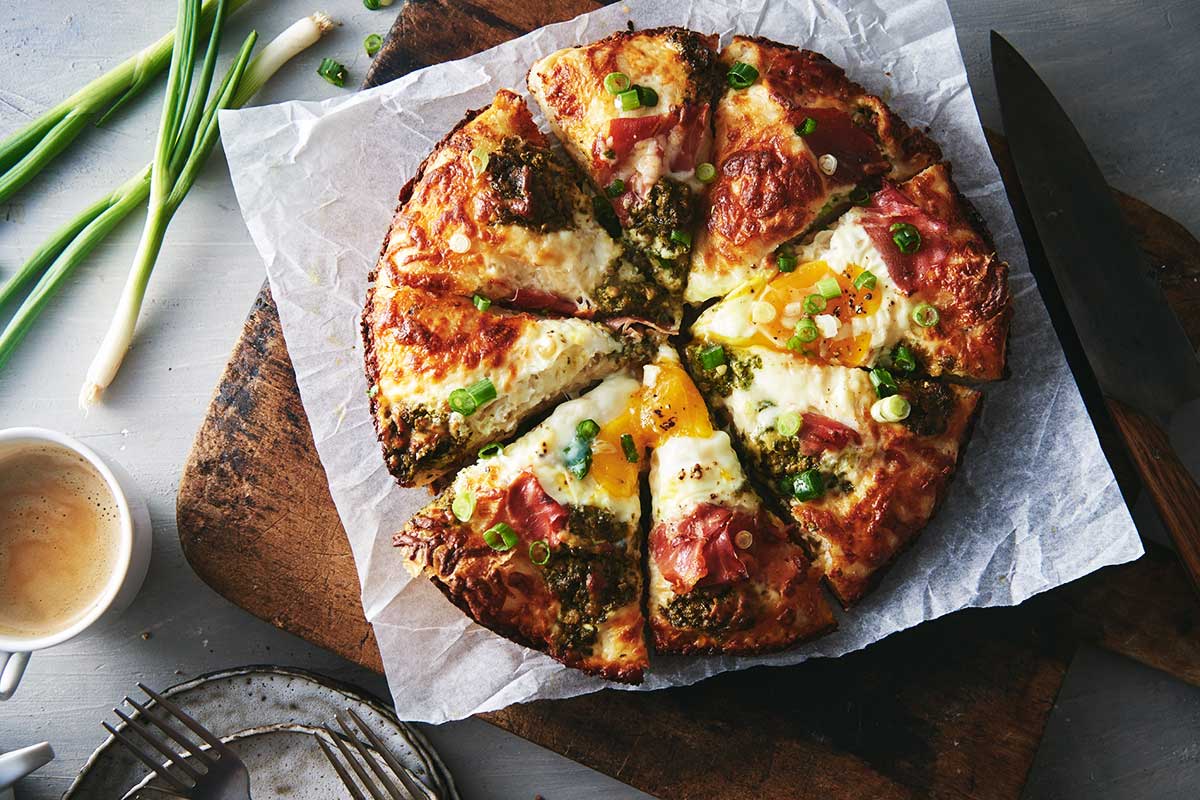 Serve this pizza for breakfast, lunch, or dinner. It's best enjoyed with a rhyme.
May: Wild mushrooms, Fontina, and pea shoots
Celebrate the first signs of the spring harvest with this seasonal combination of pea shoots and mushrooms. Use wild mushrooms if you wish — you can find them at local co-ops or farm stands. (Take appropriate caution if using foraged mushrooms, which can be poisonous.)
To make it: Clean and thinly slice your mushrooms of choice. Sauté them in a few pats of butter with finely diced shallots. Season with salt and pepper while they're cooking.
Cover the risen dough with shredded Fontina cheese, reserving a scant cup for the top. Add the cooked mushroom mixture and sprinkle the remaining cheese on top. Bake until the cheese looks crispy and delicious.
Toss clean pea shoots with a flavorful oil (we like walnut or truffle oil), and sprinkle with salt and pepper to taste. While the pizza is still hot, garnish it with the pea shoots.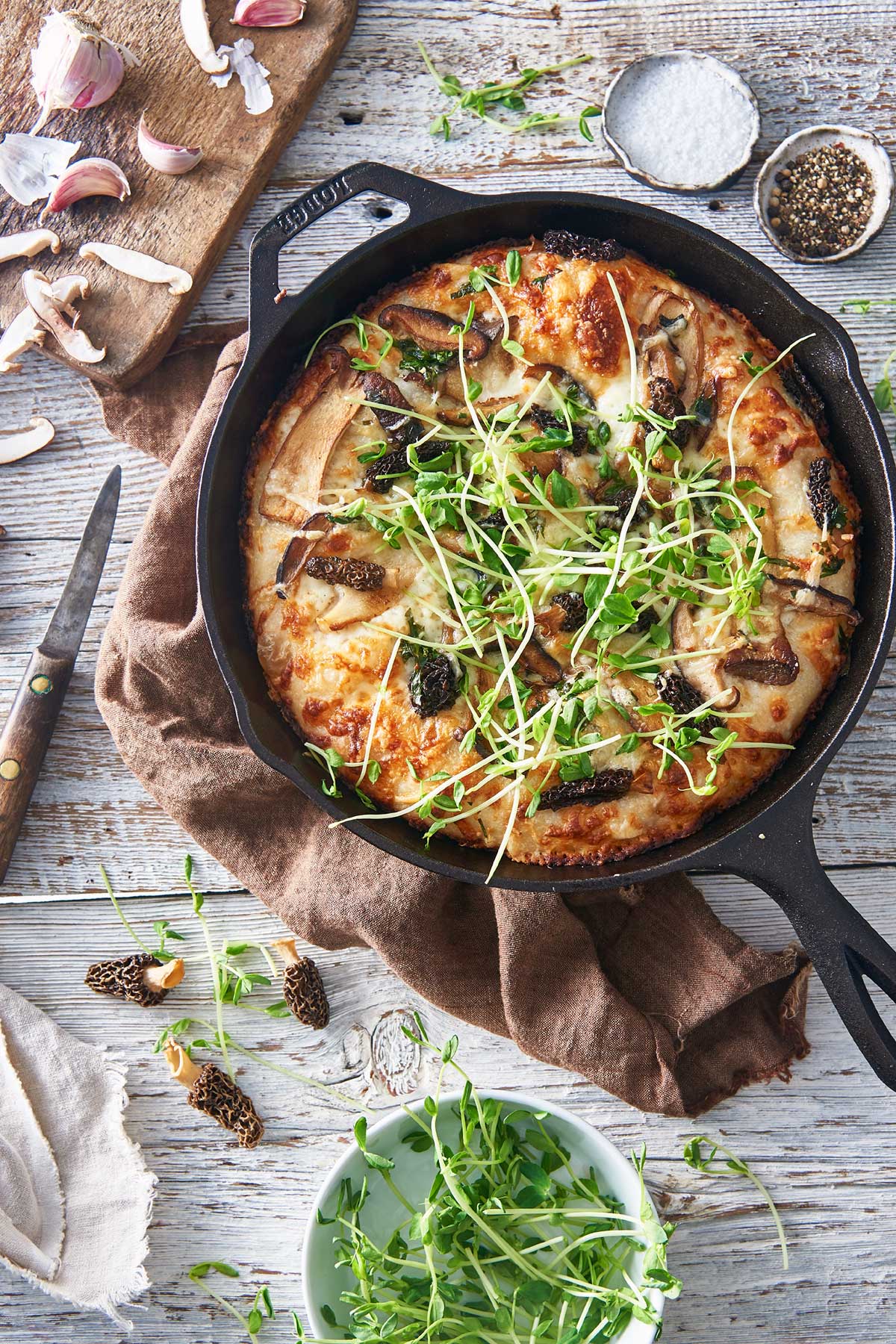 Go as wild as you like with this combination — it's sublime.
June: Asparagus, leek, and shallot with burrata
If you've never heard of burrata before, your cheese world is about to be expanded. It's a combination of the most palate-pleasing, creamy cheeses: a soft, ricotta-like curd on the inside, and stretchy mozzarella cheese on the outside. This + spring aromatics = an amazing pizza experience.
To make it: Use a mandolin or vegetable peeler to cut the asparagus into ribbons. (In the spring, asparagus is often quite thick and benefits from this style of preparation.) Thinly slice the shallots and combine with the asparagus ribbons. Toss them with olive oil, salt, and pepper to taste.
Clean a small leek (or half of a large leek) and thinly slice it. Sauté the leek strips in a few pats of butter with salt and pepper until they're tender and your kitchen smells delightful.
Top the pizza dough with mozzarella and scatter the asparagus, shallots, and leeks across the top. Sprinkle a bit more cheese on top of the vegetables before baking.
When the pizza comes out of the oven, tear the balls of burrata into pieces and place over the finished pizza.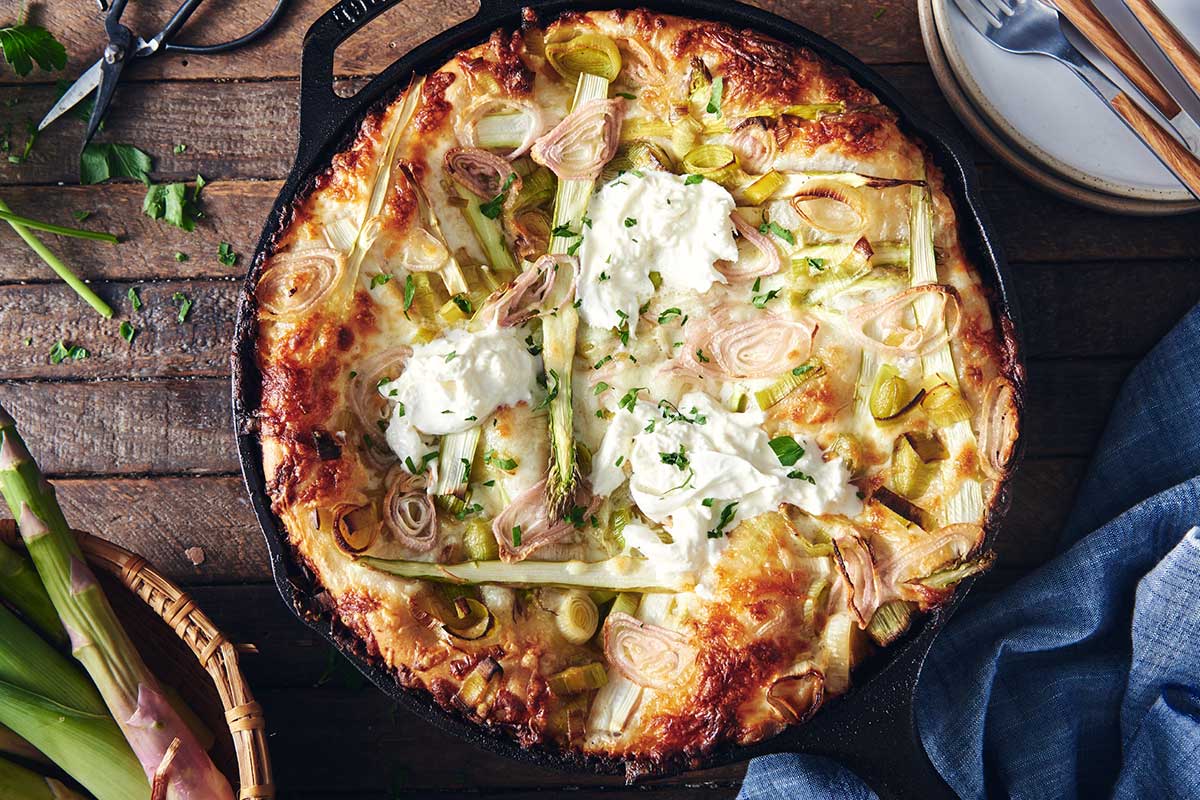 A garnish of fresh parsley will make this pizza look like it belongs on the cover of a gourmet magazine.
Summer: Blackberries, Brie, honey-ricotta, and thyme
This combination of fruit, cheese, honey, and herbs straddles the line between sweet and savory. It's the perfect dish to serve for brunch, or you can go heavy on the honey and call it dessert!
To make it: Combine 1/2 cup (113g) of ricotta cheese with 1 tablespoon of honey and 1 teaspoon of whole thyme leaves. (Make sure they're fresh for best results.)
Slice the Brie into thin strips. (If it's too soft to cut cleanly, chill it for 20 minutes before slicing.) Mash about half a pint of blackberries in a small bowl with the back of a spoon to release their juices.
Top the unbaked pizza with mashed berries followed by dollops of the honey-ricotta mixture. Add fresh, whole berries and Brie slices on top. Bake the pizza until gorgeous and golden. Garnish it with a drizzle of honey and a sprinkle of fresh thyme leaves.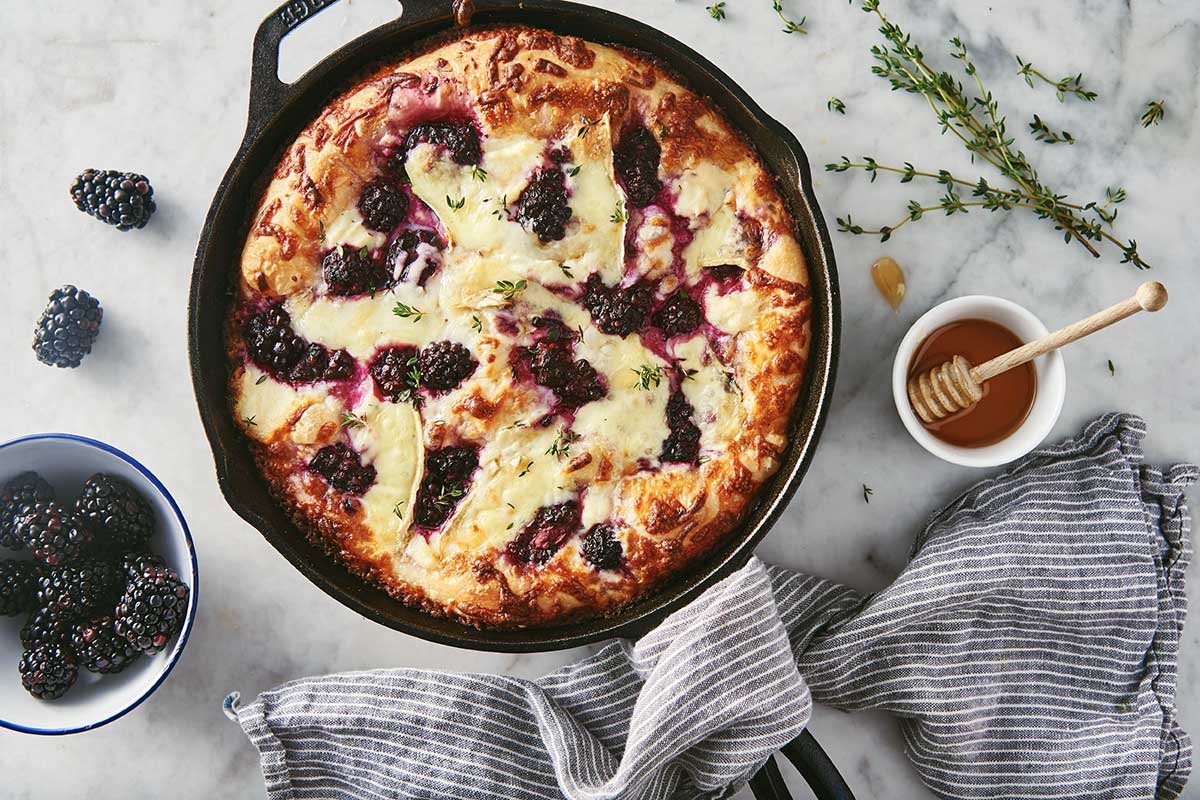 You may not know if you're eating something primarily sweet or savory, but you will know it's something special.
Every season is pizza season
Crispy Cheesy Pan Pizza is our 2020 Recipe of the Year for a handful of reasons, and chief among them is the fact that pizza is something we crave all year long. We've turned to the ingredients that are fresh and in season to inspire the flavor profiles for pizza throughout the year. Bottom line: Use what's available to you locally to create your next pizza — ingredients are almost always best when they're fresh.
If you haven't already baked and reviewed our Crispy Cheesy Pan Pizza, we hope you'll head on over to the recipe page to check it out right now. If you're a gluten-free baker, apply these seasonal pizza toppings to our Gluten-Free Pan Pizza recipe.
What are you waiting for?! Collect some seasonal ingredients, and get baking. There's pizza happiness in store.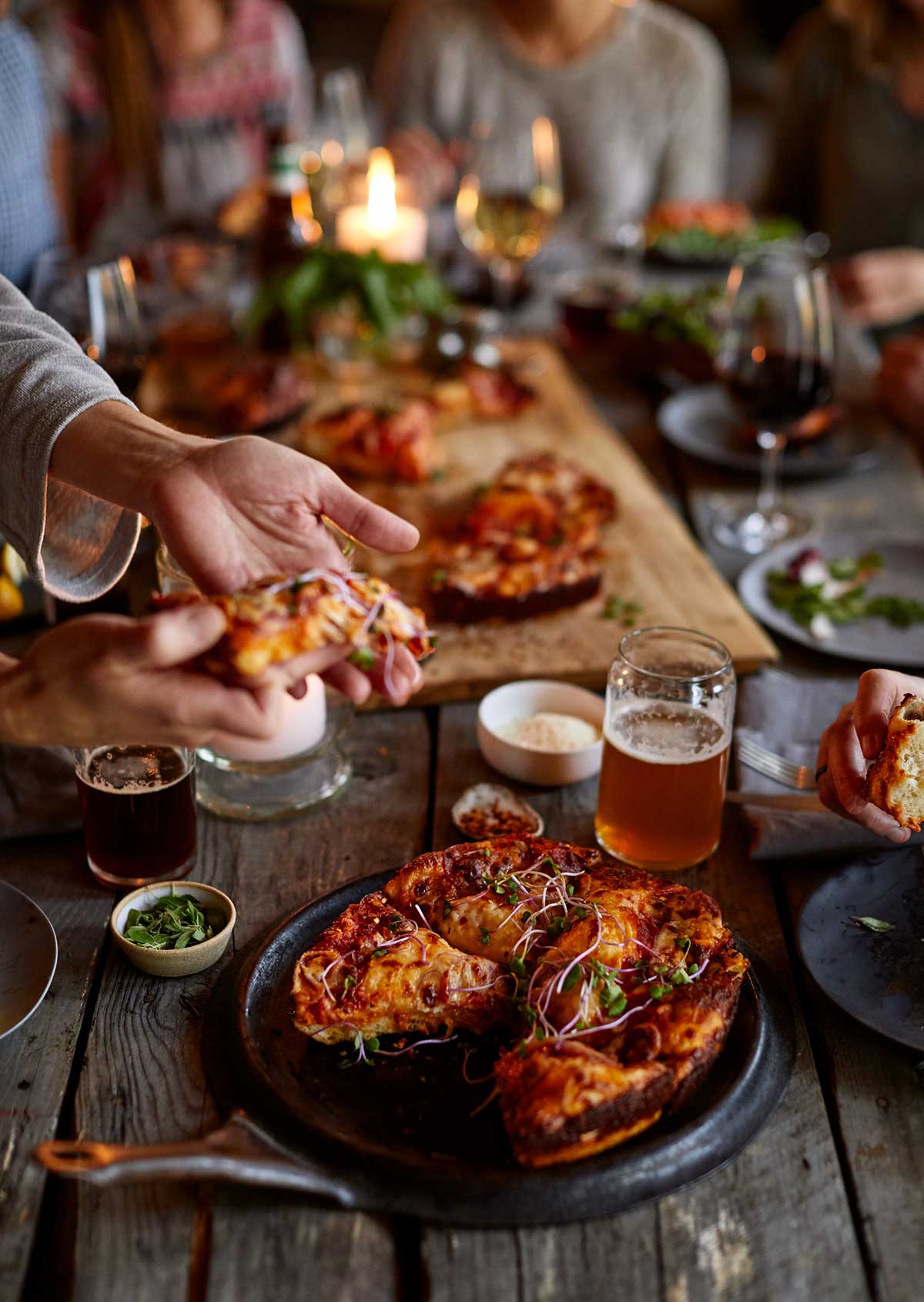 What are some of your favorite seasonal pizza topping combinations? Let us know in the comments below.
Thanks to Liz Neily for the food styling and photographs for this post. 
Jump to Comments