You've decided: "Enough with the takeout! This weekend we're having homemade pizza." You make your favorite cool-rise dough, one that develops flavor overnight in the refrigerator. You slow-simmer a batch of your aunt's secret tomato sauce. At last, you're ready to put your pizza together, so you get out the mozzarella cheese … but wait. Is mozzarella really the best cheese for pizza? Or can other varieties offer mozzarella's signature meltability, but with a richer, more complex flavor?
Let's find out.
One of life's sublime experiences is grabbing a triangle of hot pizza and seeing melted cheese stretch itself into aromatic strands as your hand moves from pan to mouth.
Mozzarella, America's favorite pizza cheese, is all about the ooey-gooey textural experience; but how does it stack up, flavor-wise?
The block of mozzarella you'd typically use is pretty plain if you ask me. Sure, it's got some of the milky/tangy flavor of cheese in general, but all in all, it's fairly neutral. Which isn't necessarily a bad thing: paired with spicy sausage or hot peppers, mozzarella is the perfect foil.
But what about a pizza topped with the gentle flavors of mushroom and bell pepper, or black olives and onions? Wouldn't it be nice to beef things up with a more interesting cheese — all without sacrificing meltability (and its sibling, stretchability)?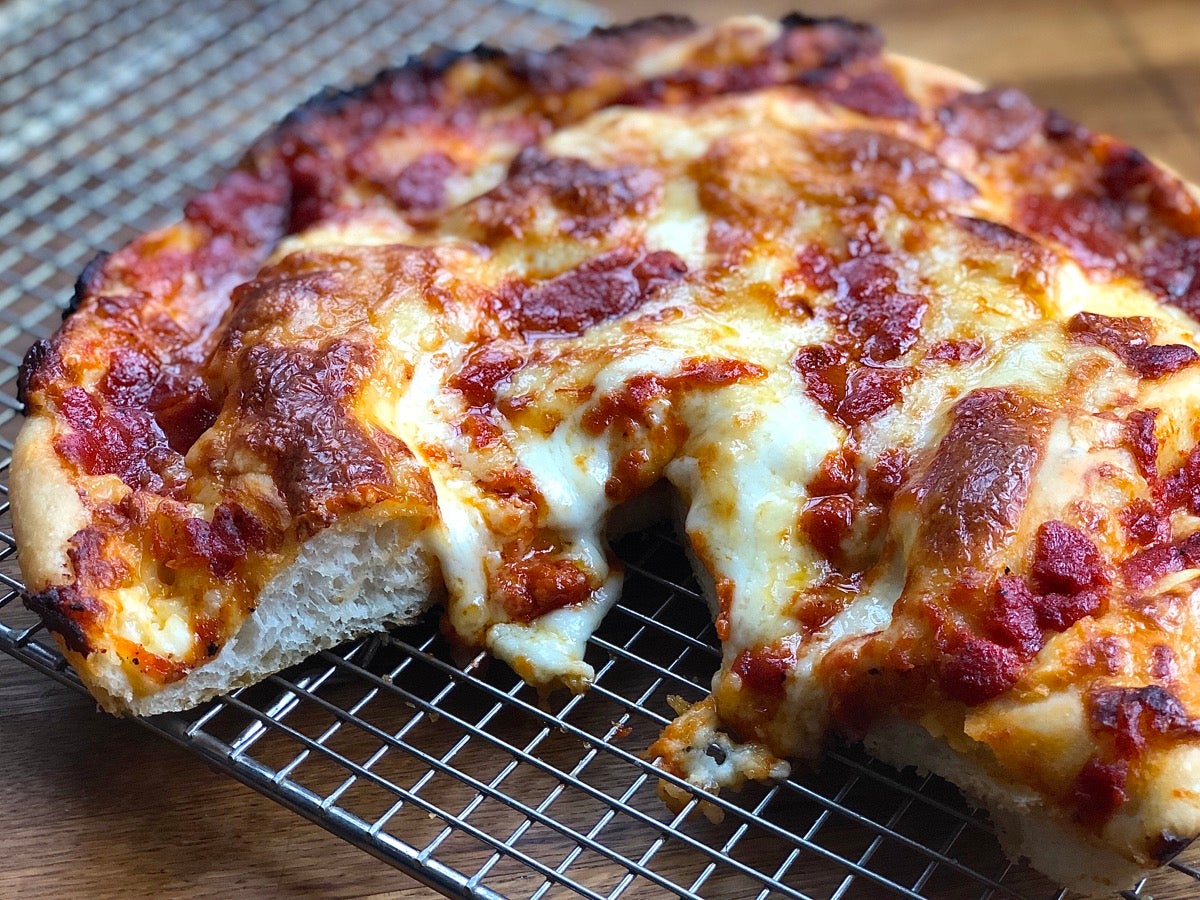 Consider meltability
In general, the harder and more aged the cheese, the less willing it is to melt atop your pizza. Soft Jack cheese melts in a matter of minutes; two-year-old Parmesan, barely at all. I've chosen to test "young" (minimally aged) cheeses with a low melting point since I assume most of you wouldn't care for pizza topped with lumps of semi-melted cheese.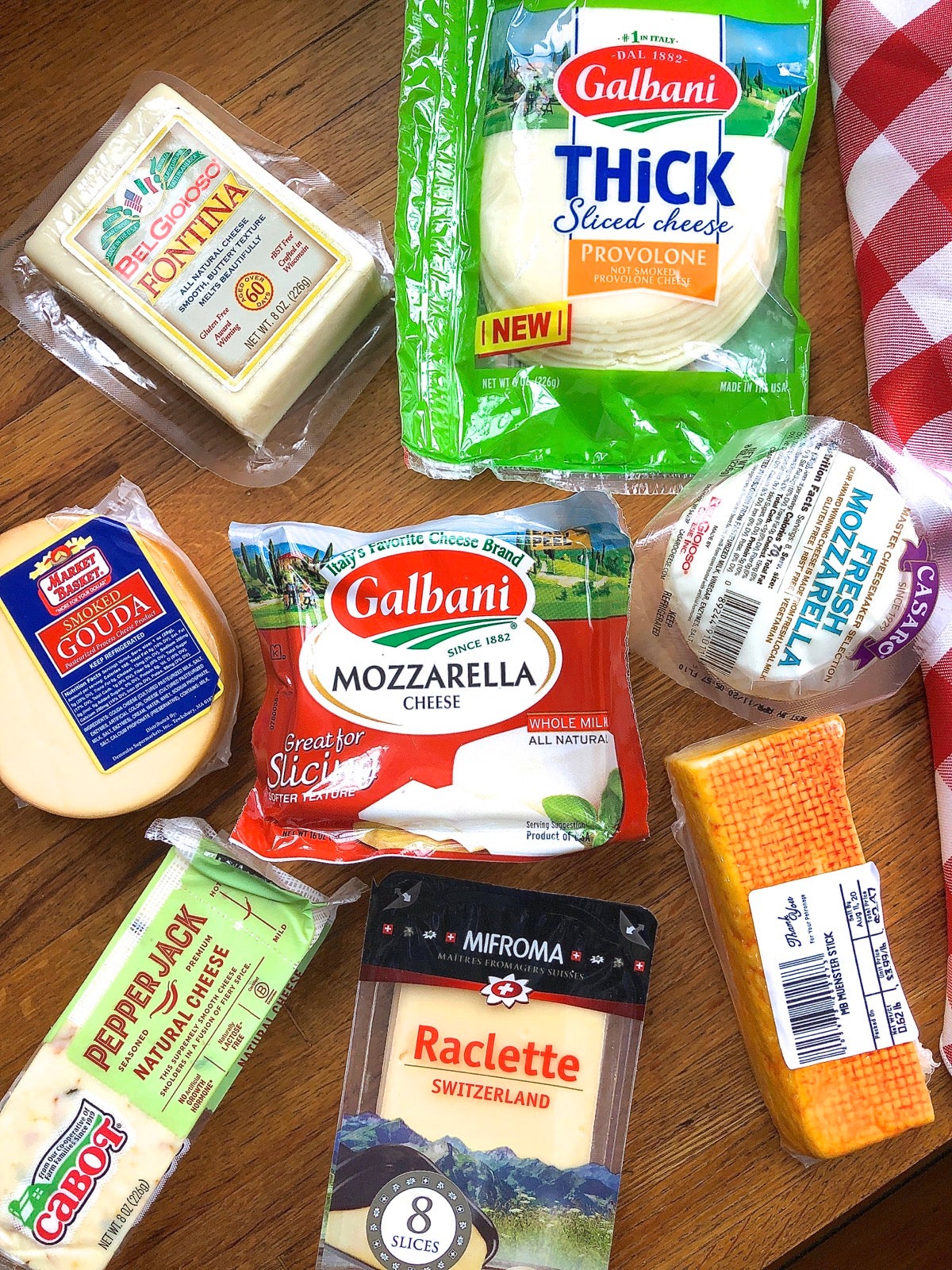 A bit of research yields the following list of cheeses with good meltability: cheddar, fontina, Gouda, Jack, mozzarella (both fresh milk and standard), Muenster, provolone, and Swiss raclette (or just regular Swiss cheese).
In addition, I'll test my own homemade blend of Parmesan, Asiago, and sharp cheddar, which I've pretreated to increase its meltability; more on that later.
There are other cheeses that melt nicely atop pizza; Wisconsin brick cheese springs immediately to mind. But I'm choosing to stick with those easily obtainable at your local supermarket. Also, while Velveeta and processed American cheese are supremely meltable, I've ruled them out simply because I'm looking for cheeses with a bit more character.
What about stretchability?
We've established that most cheeses will melt when baked atop pizza. But which will not only melt but stretch into those gooey, messy strands that can make pizza eating such a delightfully challenging endeavor?
Let's gather some traditional (and not so traditional) pizza cheeses and put them to the test.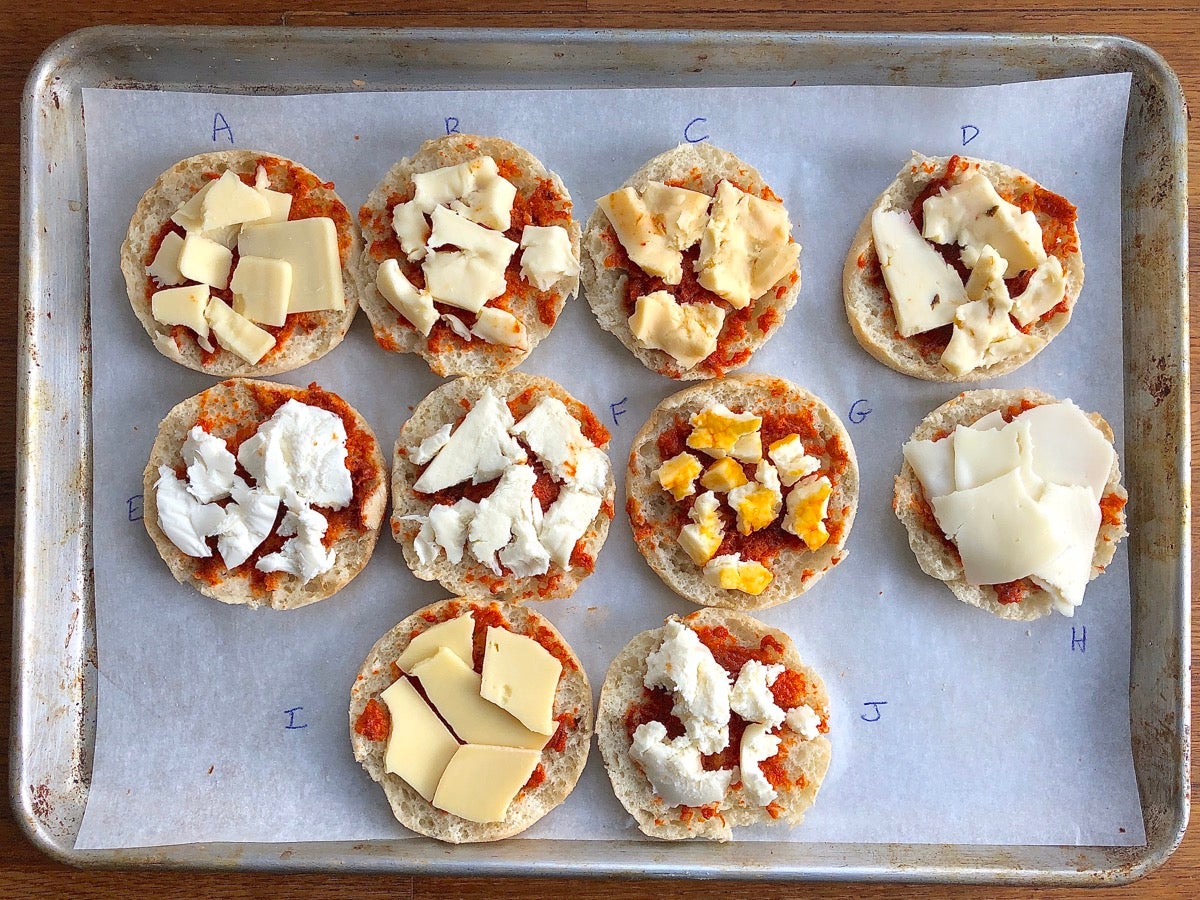 How the test works
Rather than bake and top 10 pizzas, I'll take a quicker road and simply use split English muffins as my pizza crust base. I brush each of 10 muffin halves with tomato sauce, then top with cheese. In order to replicate the amount of cheese you might find on a typical slice of pizza, I've done some math with our Crispy Cheesy Pan Pizza recipe, and each muffin half gets 21g (3/4 of an ounce, about 3 tablespoons) of cheese.
I bake the "pizzas" for 15 minutes, checking them every 5 minutes for cheese-melting progress. After 15 minutes I remove the pizzas from the oven and sample each one for both flavor and the melty-stretchy cheese experience.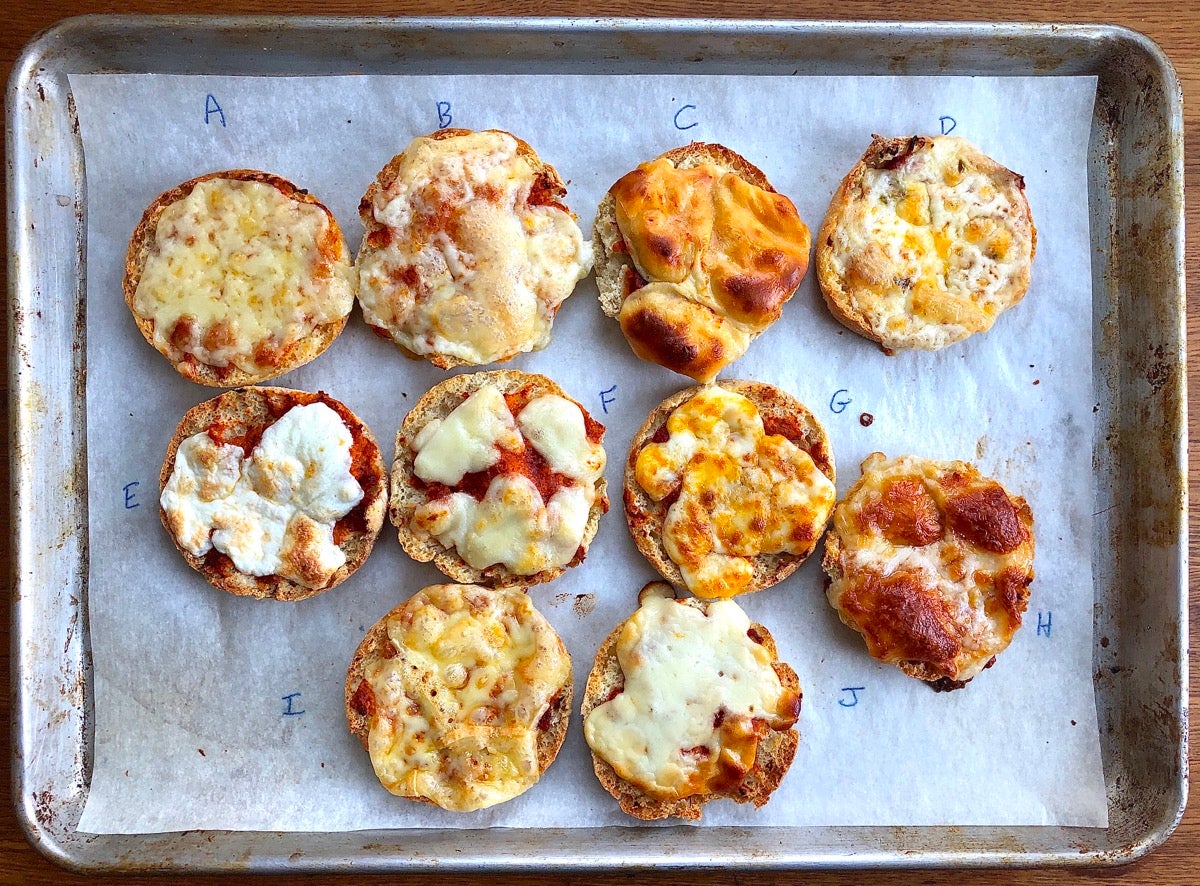 As expected, all of these cheeses melt beautifully. The first five exhibit excellent to average stretchability. The second five "puddle" as they melt and, while comfortingly soft, don't stretch into strands.
Fresh milk mozzarella (packaged in plastic, not brine): Fresh, rich, milky flavor. My taste-testers (husband and son) rank this cheese #1, noting "it makes the pizza taste artisan."
Low-moisture whole-milk mozzarella: Salty/tangy flavor, almost like salted butter.
Provolone: According to testers, the flavor is that of a "classic run-of the-mill pizzeria pizza."  
Fontina: Mild flavor overall, with a hint of cheddar-y sharpness.
Muenster: Milder flavor than cheddar, but more assertive than mozzarella; a little big tangy.
Cheddar: Sharp, nutty, rich flavor. Holds up wells as it cools, remaining soft and pliable.
Smoked Gouda: Mild, somewhat buttery flavor overlaid with smoke and a hint of sweetness.
Pepper Jack: Mild cheddar-like flavor with a nice degree of heat.
Raclette: A "barnyard" cheese, almost stinky to begin with; but as it bakes the flavor mellows nicely.  
Homemade Asiago/cheddar/Parmesan blend: Salty and a bit sweet; the Parmesan really comes through after baking.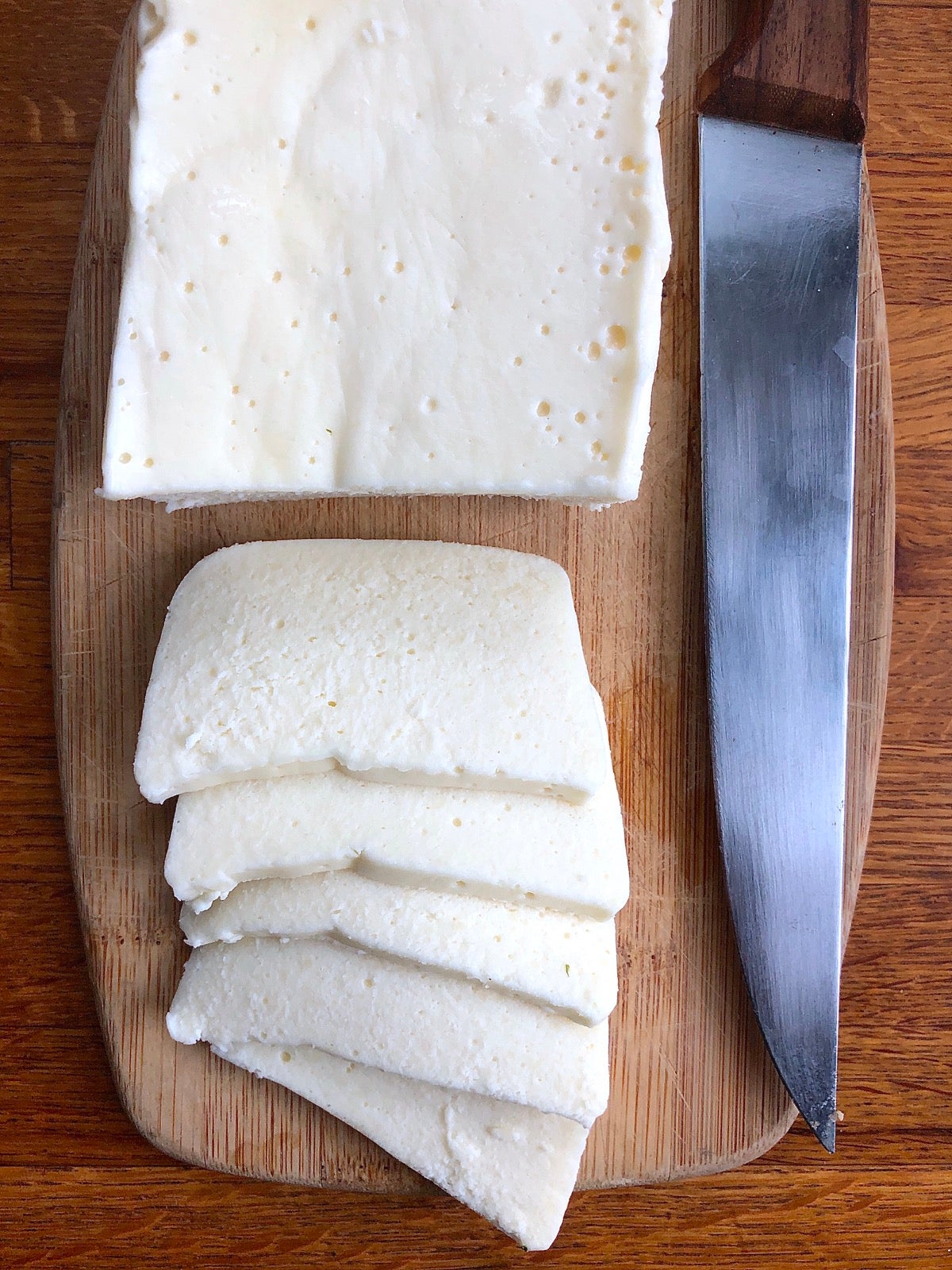 Turn hard aged cheese into a soft, sliceable block
As noted earlier, the more aged the cheese, the more reluctant it is to melt. But with a little help, even the crumbliest Parm or driest Romano can be made both meltable and sliceable.
Want to transform your own favorite aged cheeses into a meltable, pizza-perfect topping? See how in our blog post, The secret ingredient chefs won't admit using.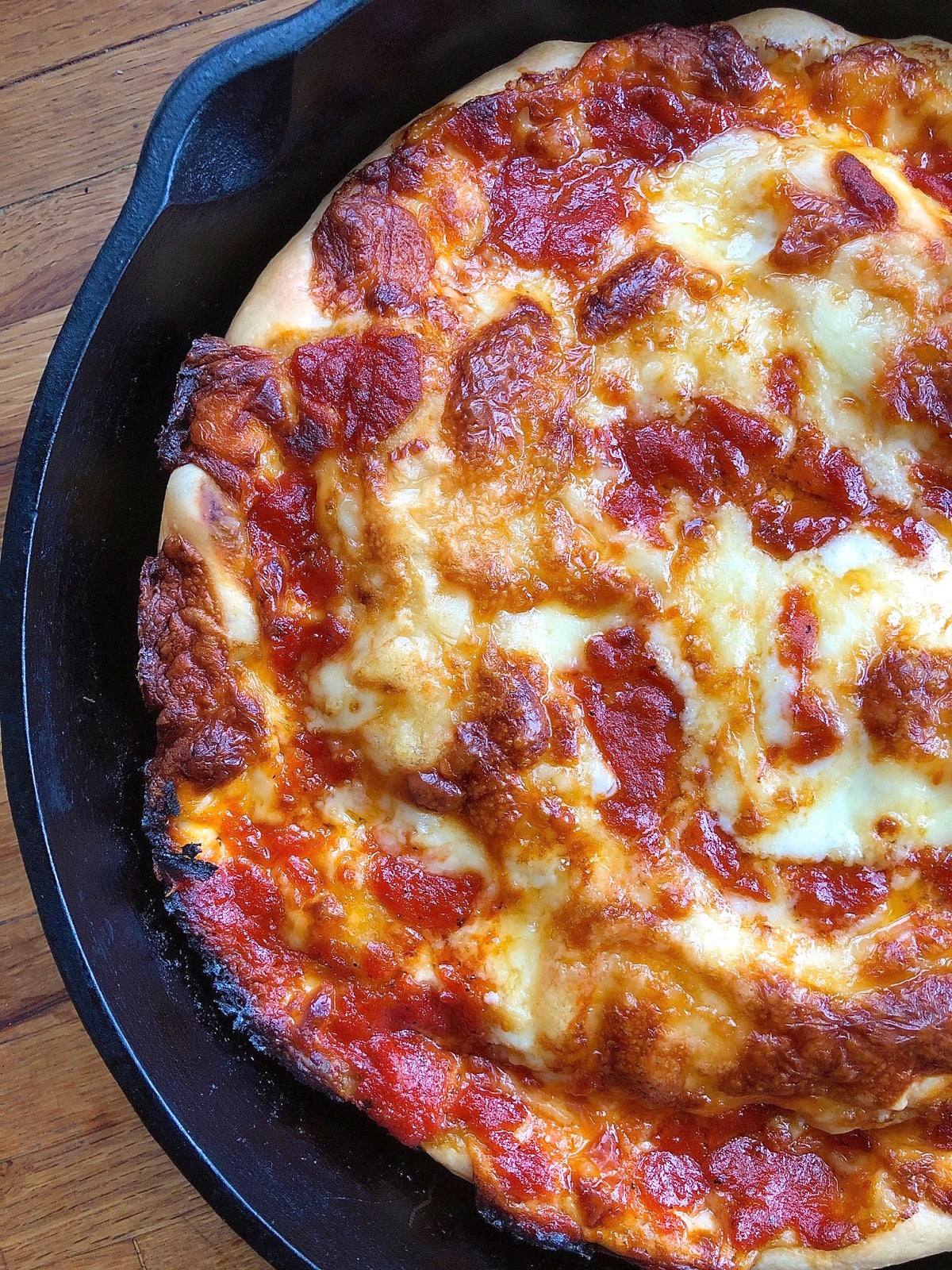 Conclusions
How serious are you about stretchability? If the aforementioned strands of melting cheese can make or break your pizza experience, then you'd best stick to mozzarella as your main cheese squeeze, with provolone a solid runner-up. A combo of mozzarella and provolone offers both stretch and flavor; in fact, many pizzerias use just this blend.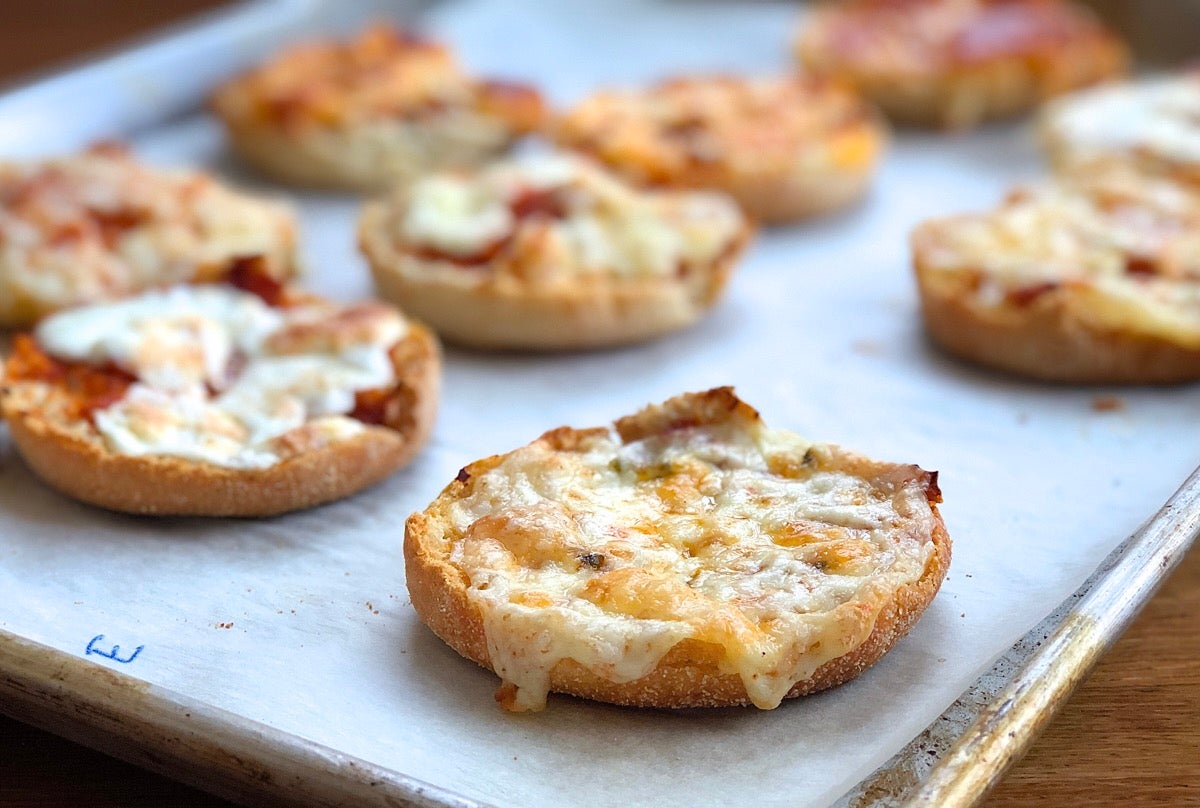 If stretch isn't important but you still favor an ooey-gooey melted cheese experience, any of the other tested cheeses should suit you just fine. Cheddar, fontina, Muenster, Gouda, etc. — consider their flavors, and pair them with whatever other toppings you'll use.
Remember, you don't have to limit yourself to one variety of cheese. My preference is fresh mozzarella for its mellow richness and supreme stretchability paired with sharp cheddar for its assertive flavor, and perhaps a bit of provolone thrown in for that signature pizzeria taste.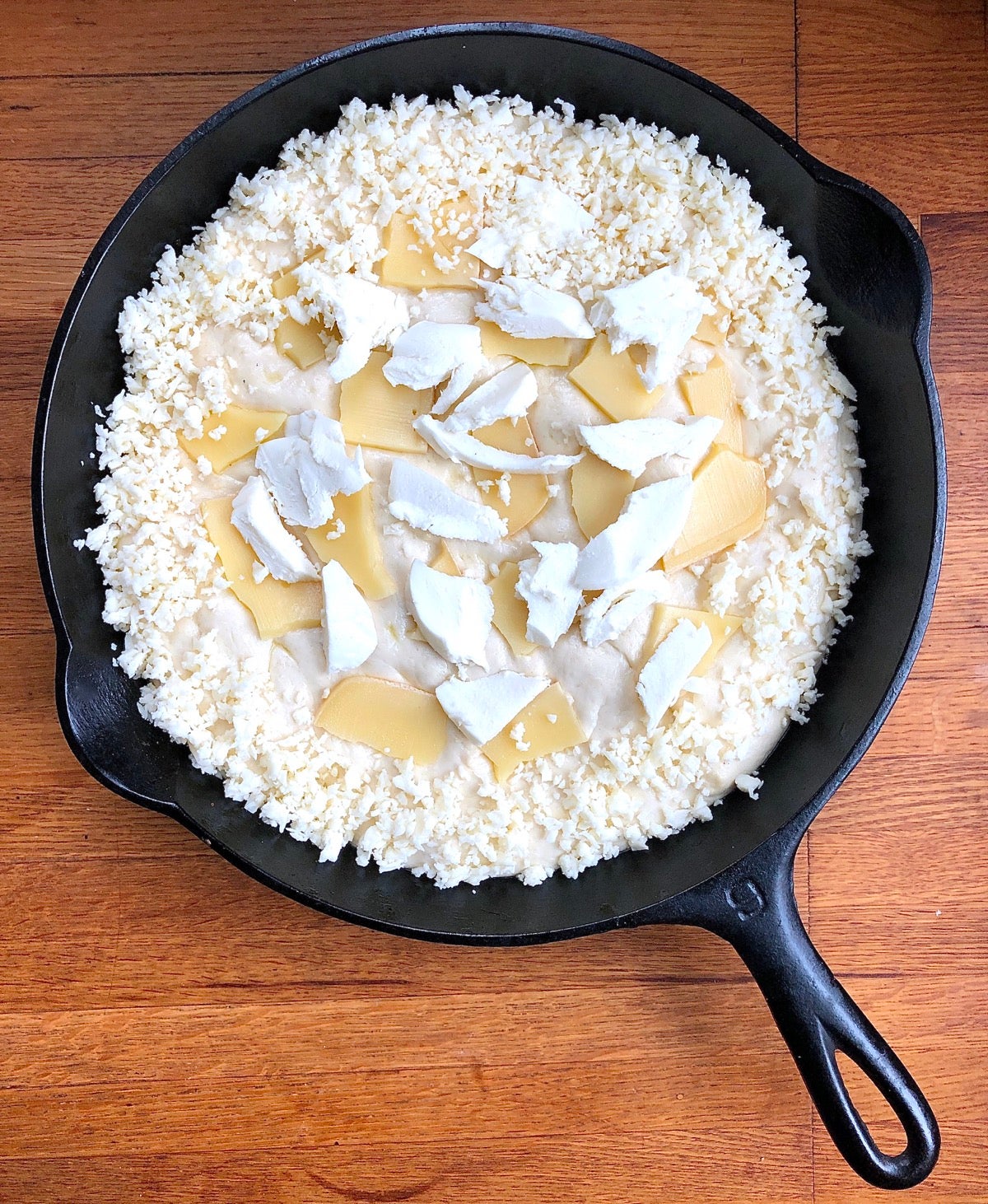 Shred your own — please!
At last, you're ready to put your pizza together so you rip open a plastic package of shredded mozzarella cheese … NOOOOOOOO! After all the love and care you've put into its crust and sauce, surely your pizza deserves better than the powdered cellulose and mold inhibitor you'll find in that bag of pre-shredded cheese!
Pre-shredded cheese neither tastes as good nor melts as well as block cheese that you shred yourself. If you absolutely can't shred your own (believe me, I get it), then it's best to buy a block of mozzarella and simply cube, slice, or rip it into pieces. Your pizza will thank you.
Next time you bake pizza and are considering toppings, remember: mozzarella is a fine choice, but it's not your only option. With a little imagination around the cheese aisle, I'll bet you can make your homemade pizza even more delicious than it already is!
Now that you've got the cheese covered, check out our Tips for saucing your favorite pizza to complete the full pizza experience! 
Jump to Comments