The secret to super-flaky pie crust
Two pivotal ingredients and a special twist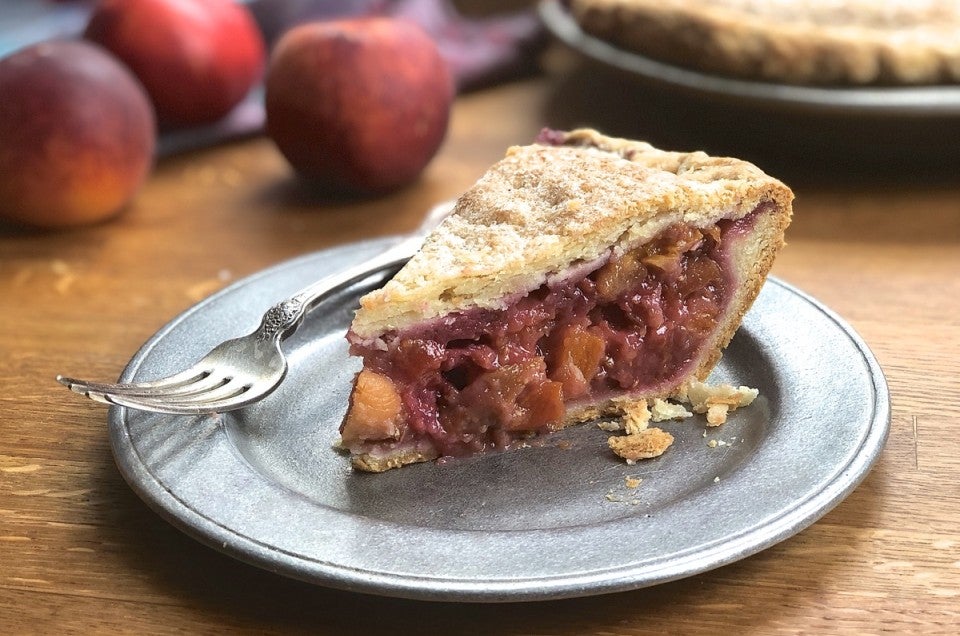 You know those golden shards of crust that shower onto the plate or table when you cut (or bite) into something particularly crisp? Think baguette, croissants ... or pie crust. Super-flaky pie crust crackles under the pressure of your fork, yielding reluctantly before finally giving way — leaving behind delicate crumbs of golden pastry. If no one's looking, you pick them up and furtively lick them off your fingertips; who can resist?
It's impossible to find this signature texture in a packaged pie crust from your supermarket's freezer case. Handy though it is, store-bought pie crust simply can't rival a well-done homemade crust.
So what's the secret to homemade super-flaky pie crust? Actually, it's not a pie crust recipe at all. It's puff pastry (a.k.a. laminated dough), the pastry that gives those aforementioned croissants their signature tender, flaky texture.
Wait, don't panic! I won't force-march you through the time and effort involved in tackling the original version of this classic. We're going to make a much simpler pastry with (surprisingly) most of the same attributes.
Super-flaky pie crust: a simpler puff pastry 
A traditional puff pastry recipe mixes flour, salt, butter, and water, adds a series of rollouts, folds, and turns, and yields a croissant or other pastry marked by multiple flaky layers.
Puff pastry will indeed create a super-flaky pie crust; but it's also a time-consuming and exacting process. Instead, we'll make a variation on "rough puff" — a type of pastry seen frequently on The Great British Baking Show.
Rough puff relies on the same ingredients as classic puff pastry, but eliminates the shaping and flattening of the butter and many of the turns. Fast and Easy Puff Pastry, our version of rough puff, adds one ingredient (baking powder) to the rough puff formula and substitutes sour cream for its water.
The ingredients
Flour and salt are a given in any pie crust, so let's move right on to a crust's key variable: fat. The more butter in pie crust (compared to vegetable shortening or lard), the flakier it'll be.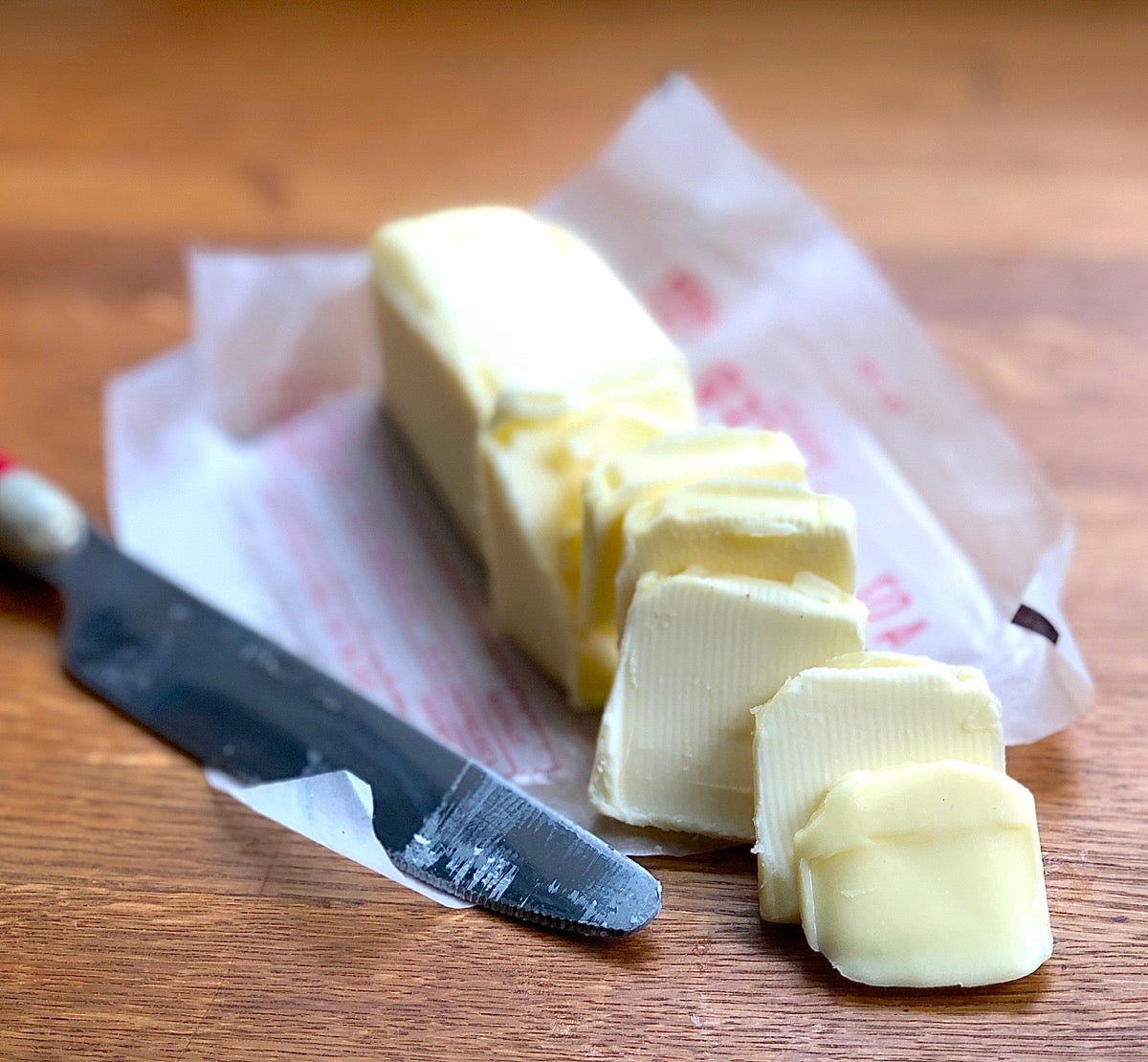 Really? Yes: we did the tests. While butter, shortening, or lard make equally light and tender crusts, an all-butter crust will be flakier due to butter's higher water content: as the crust bakes the butter melts and its water turns to steam, creating thin, crisp layers (flakes).
Now, what do baking powder and sour cream bring to our rough puff variant? The addition of baking powder lightens the pastry, enhancing its layers, and the substitution of sour cream for water increases tenderness and improves flavor.
Super-flaky pie crust: the technique
Classic puff dough gets its flaky layers through a series of "turns:" a slab of butter is enveloped in dough, then the whole is rolled, folded, and turned multiple times, each turn resulting in more layers.
We're not going there. Our simpler pastry works the butter into the flour as you would with traditional pie dough, adds sour cream to bring everything together, then uses two simple turns to create layers — not as many as in a classic puff, but certainly more than if you simply rolled out the dough right away.
With summer here, I'm hankering after a good fruit pie; let's see how well this Fast and Easy Puff Pastry works with the filling from our Anytime Peach Pie.
2 cups (241g) King Arthur Unbleached All-Purpose Flour
1/2 teaspoon salt*
1/2 teaspoon baking powder
1 cup (16 tablespoons, 227g) cold unsalted butter,* cut in pats
1/2 cup (113g) sour cream
*If you use salted butter, reduce the amount of salt to 1/4 teaspoon.
Whisk together the flour, salt, and baking powder. Add the butter, working it in to make a coarse/crumbly mixture. Leave most of the butter in large, pea-sized pieces. Stir in the sour cream; the dough won't be cohesive.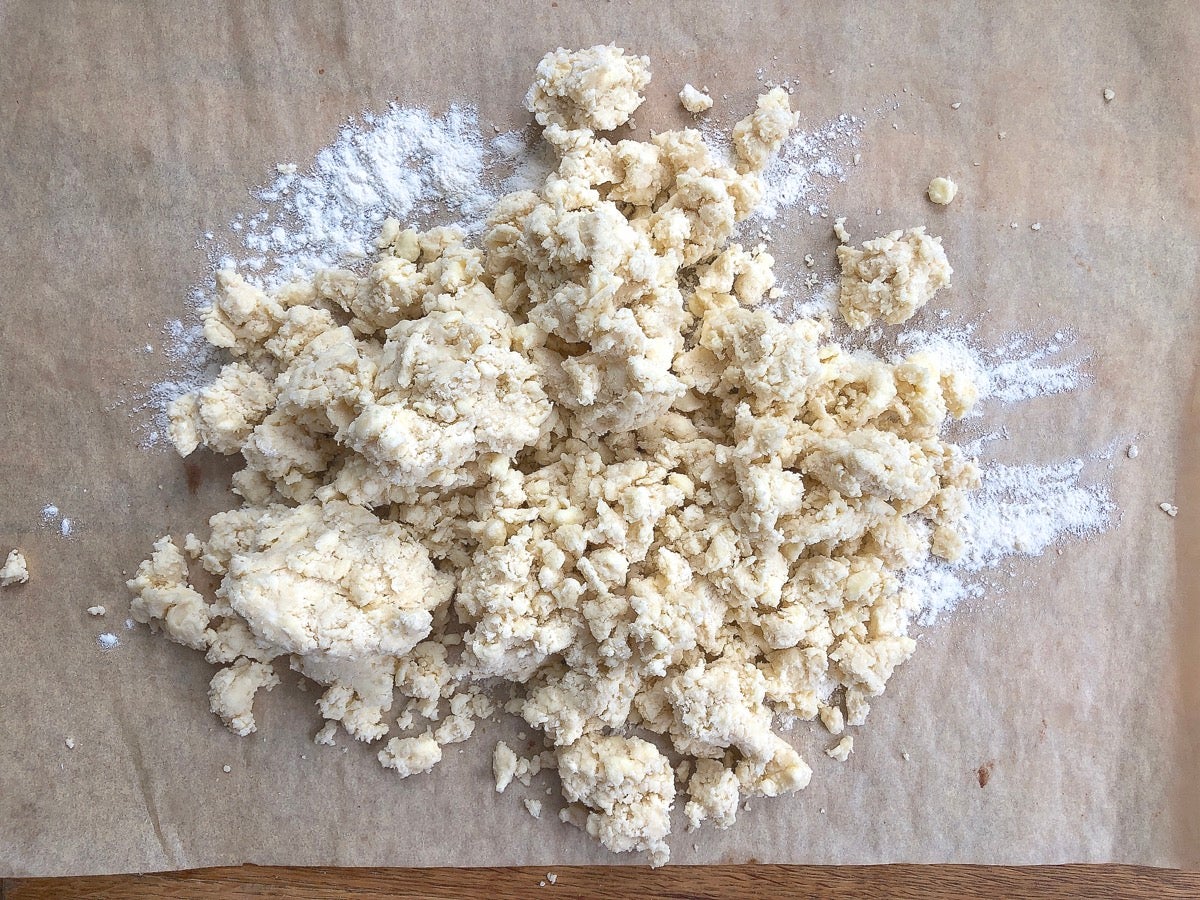 Use a spatula or bowl scraper to turn the crumbly mixture out onto a floured work surface or piece of parchment.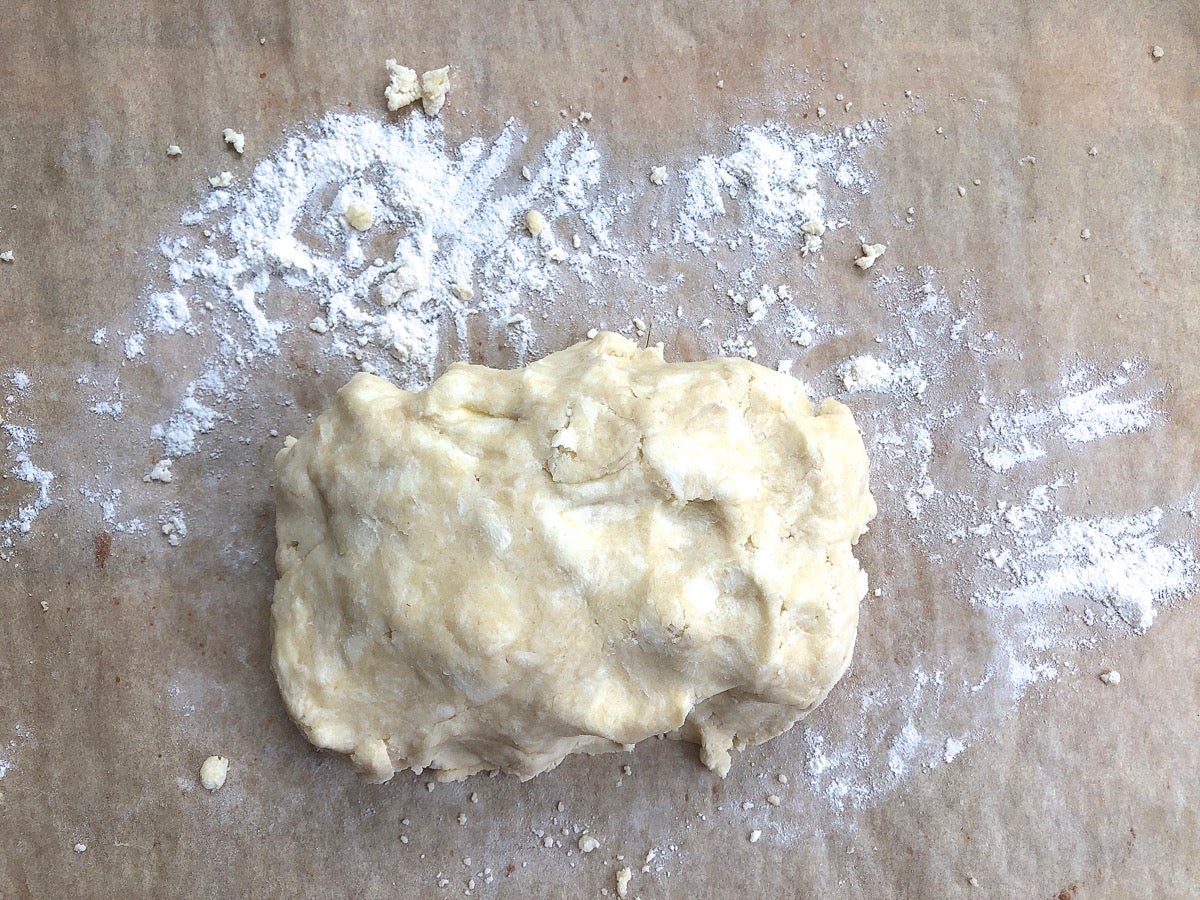 Bring everything together with a few quick kneads, and pat the dough into a rough log.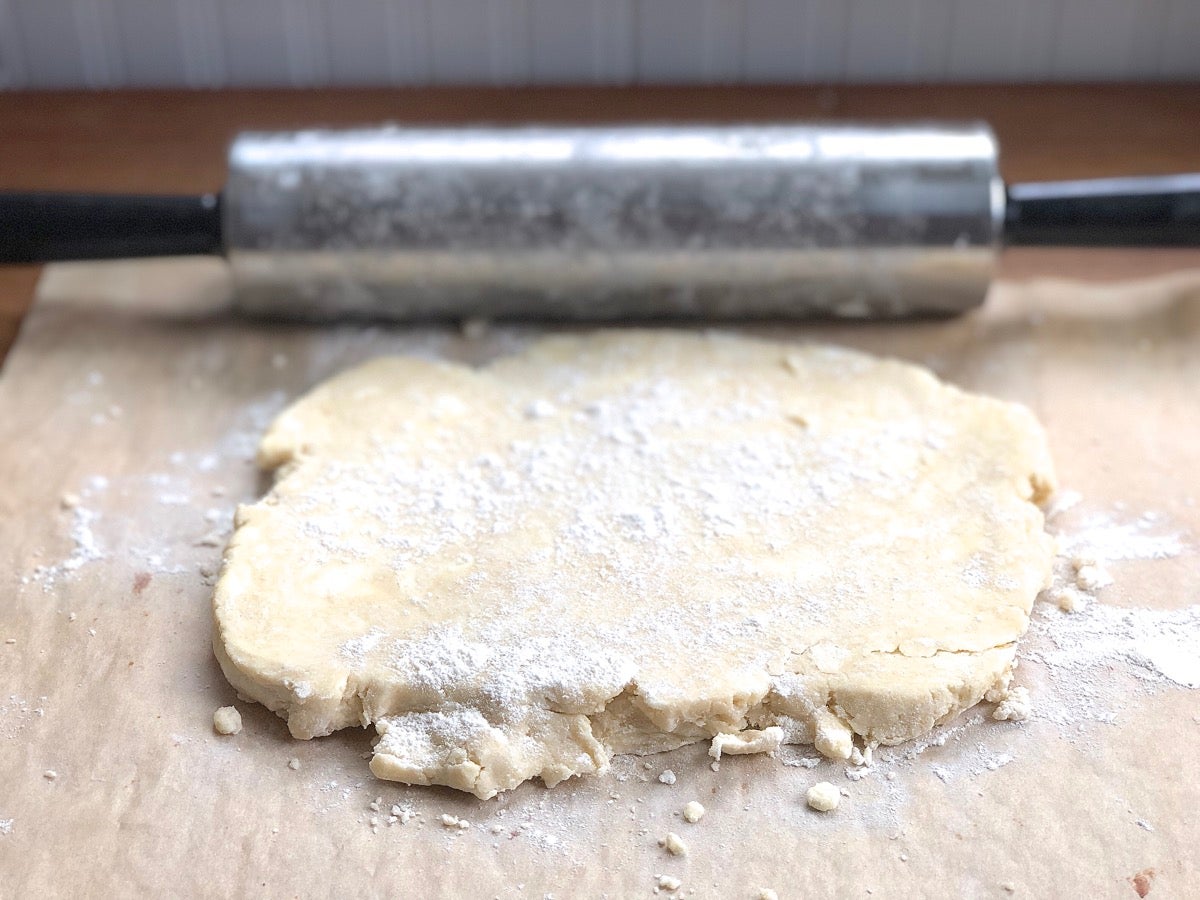 Roll the log into an 8" x 10" rectangle. Don't worry about any uneven edges; precision isn't your goal here.
Dust both sides of the dough with flour.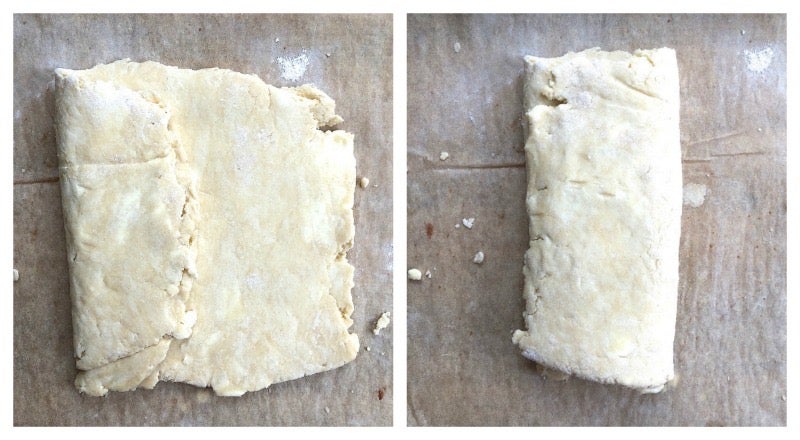 Starting with a shorter end, fold it in three like a business letter.
Flip the dough over, give it a 90° turn on your work surface, and roll it into an 8" x 10" rectangle again.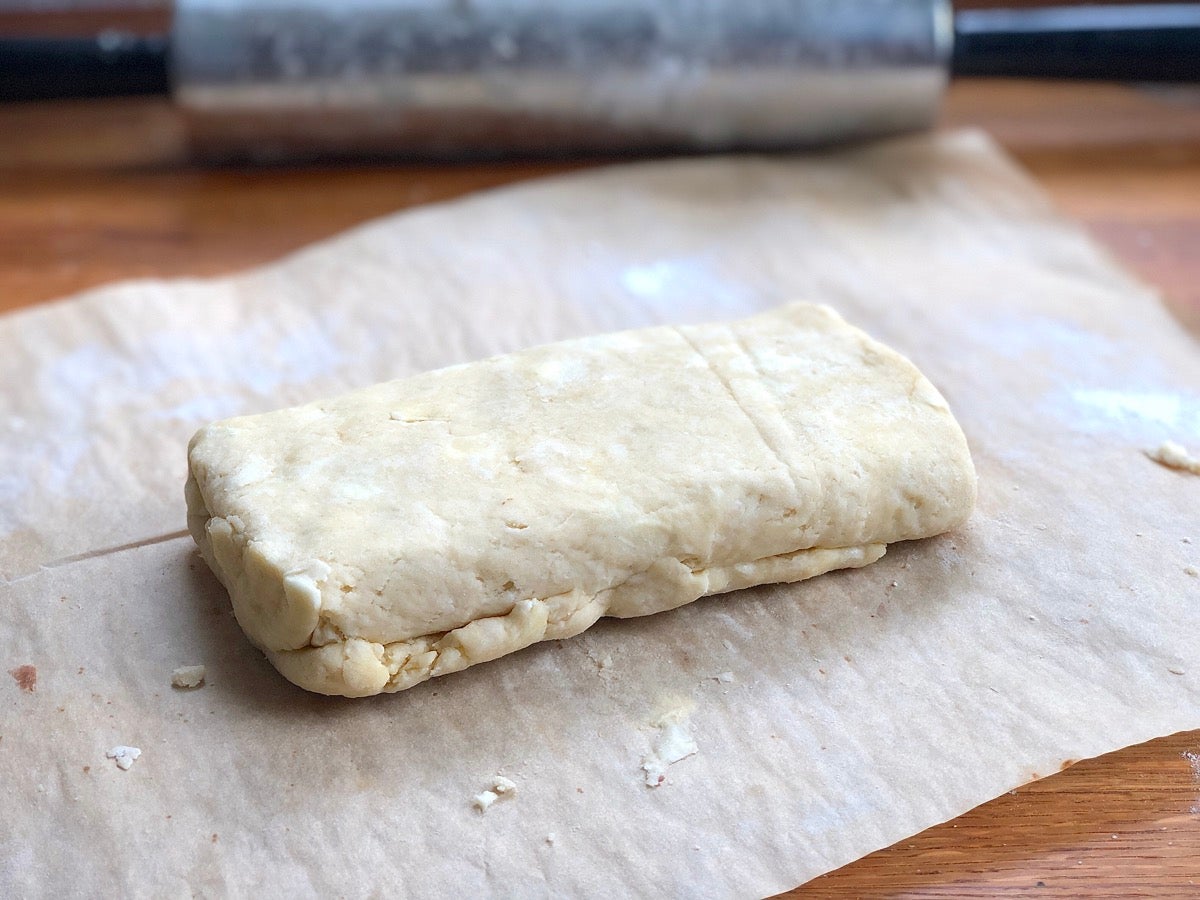 Fold the dough like a business letter. That's it for the folds and turns; you're done.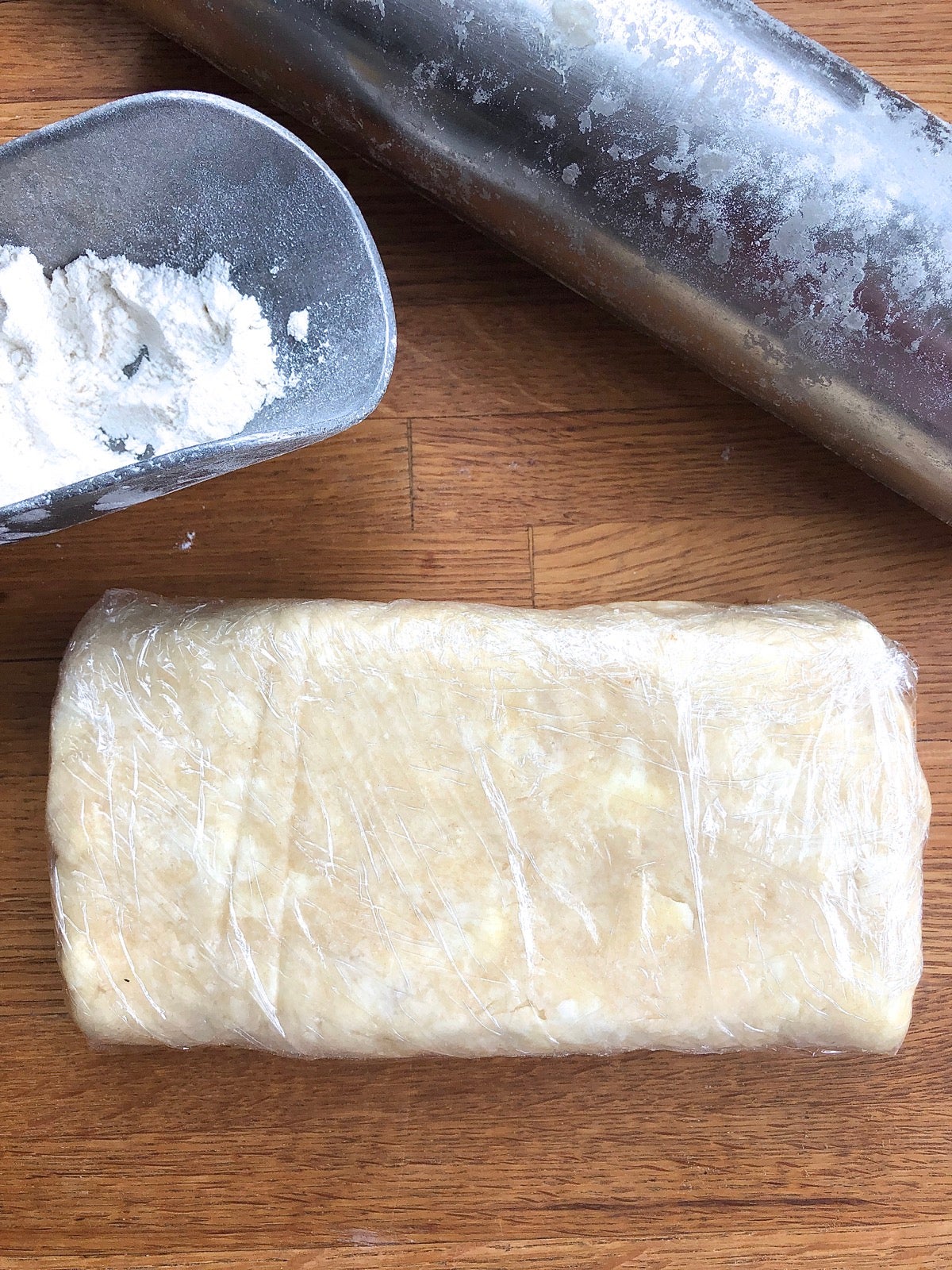 Wrap the dough in plastic (or your favorite reusable wrap), and chill it for at least 30 minutes before using.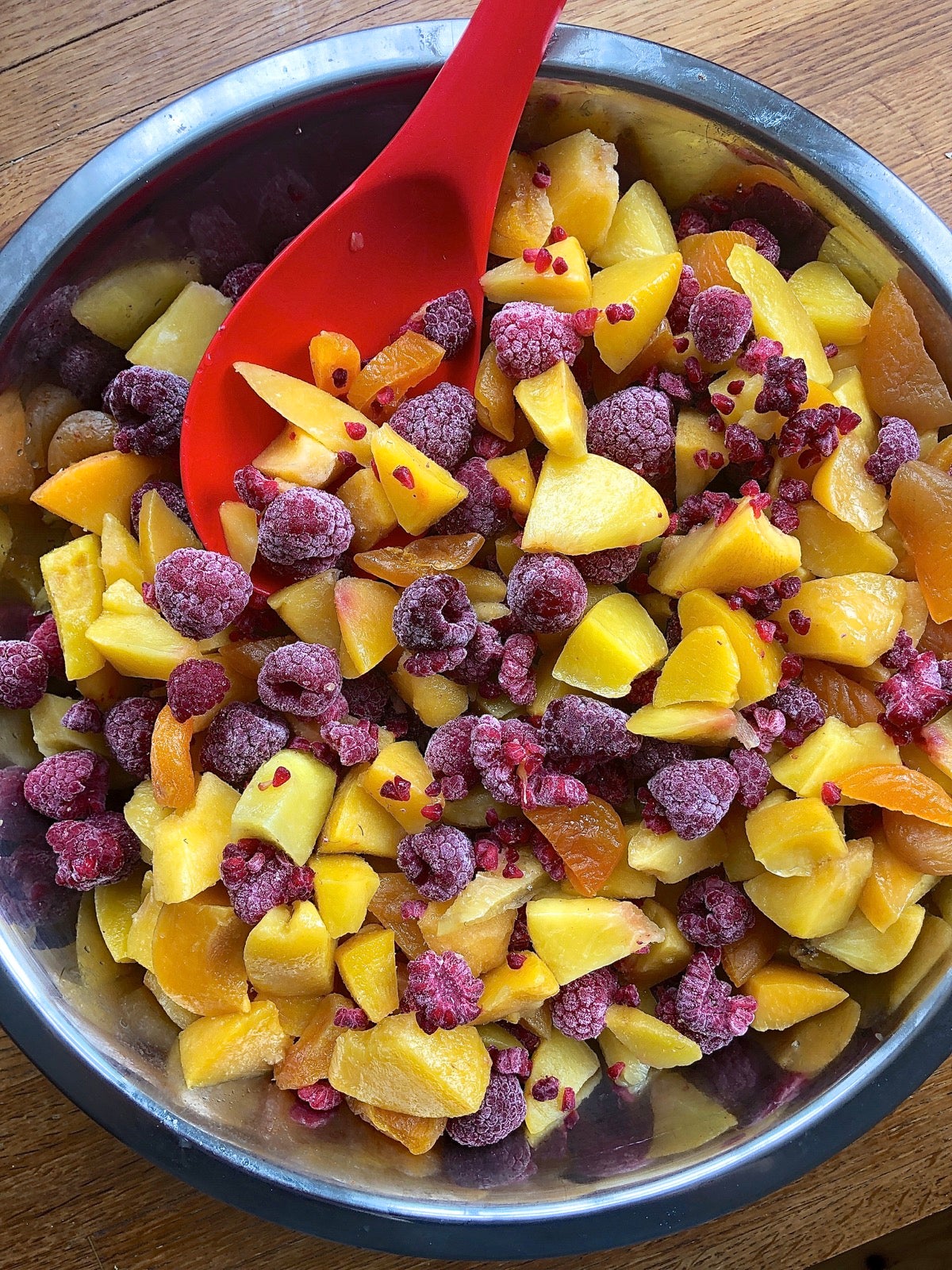 Make your filling
Meanwhile, get your filling ready. I'm making the raspberry-enhanced version of our Anytime Peach Pie. "Anytime?" It's good year-round since you can absolutely use frozen peaches (and raspberries) in place of fresh if you like.
What about the dried apricots? They add both flavor and pleasing texture to the filling. Here's what you need:
about 3 cups chopped fresh peaches, peeled or not; or one 16-ounce bag (454g) frozen peach slices, partially thawed and chopped
one 12- to 16-ounce bag (340g to 454g) frozen raspberries (no need to thaw)
1 cup (142g) chopped dried apricots
3/4 cup (149g) sugar
6 tablespoons (71g) Pie Filling Enhancer or 3/4 cup (85g) King Arthur Unbleached All-Purpose Flour
1 teaspoon vanilla extract
1/8 teaspoon almond extract, optional
1/8 teaspoon salt
3 tablespoons (43g) fresh lemon juice
2 tablespoons (28g) butter, melted
Mix everything together; the raspberries will thaw, coloring the filling bright red. If you've used frozen fruit and want to reduce the pie's baking time, take the optional step of heating the cold filling until it's warmed up a bit. Do this in a saucepan set over a burner, or in the microwave. There's no need to bring the filling to a boil; you simply want to take the chill off.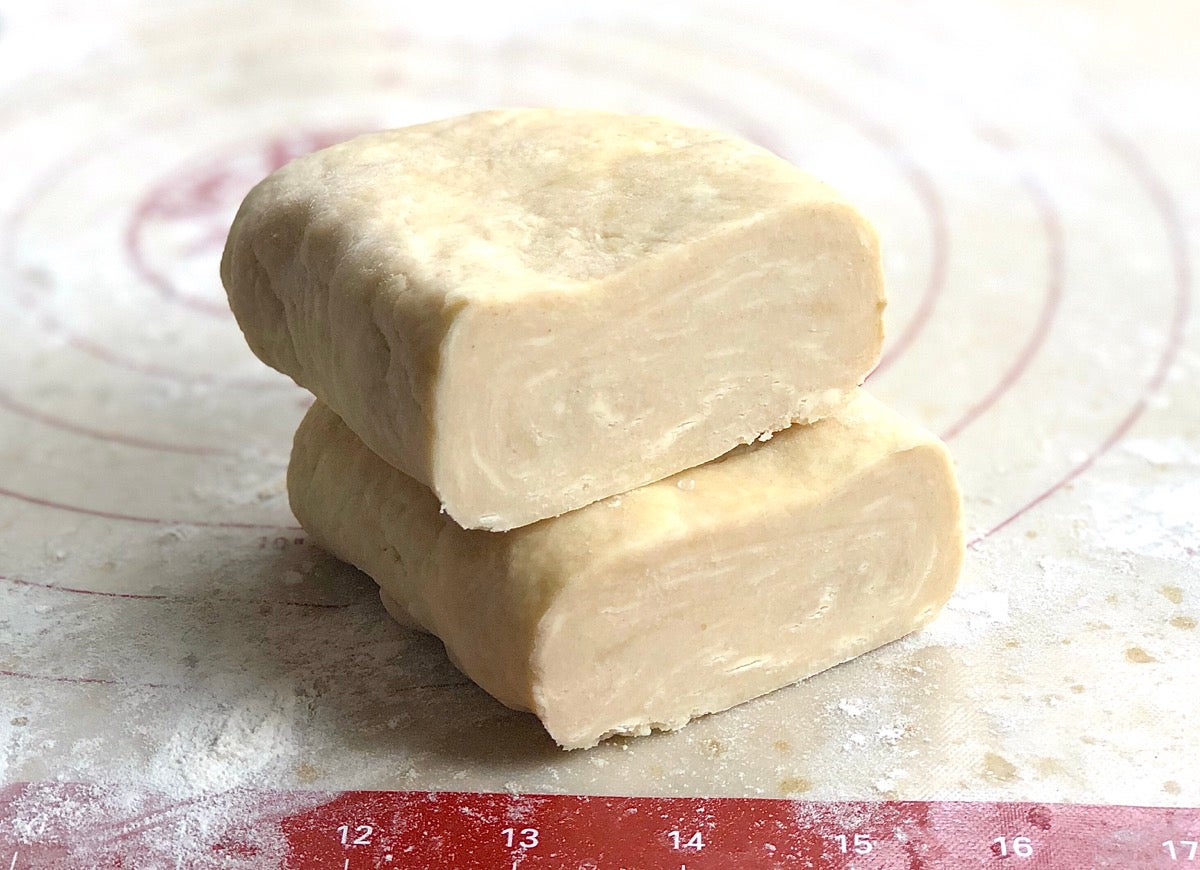 Assemble the pie
First step: start preheating the oven to 425°F. You want it good and hot when the pie goes in, so the butter in the crust melts and produces steam quickly.
Take your pastry out of the refrigerator. Cut it in half.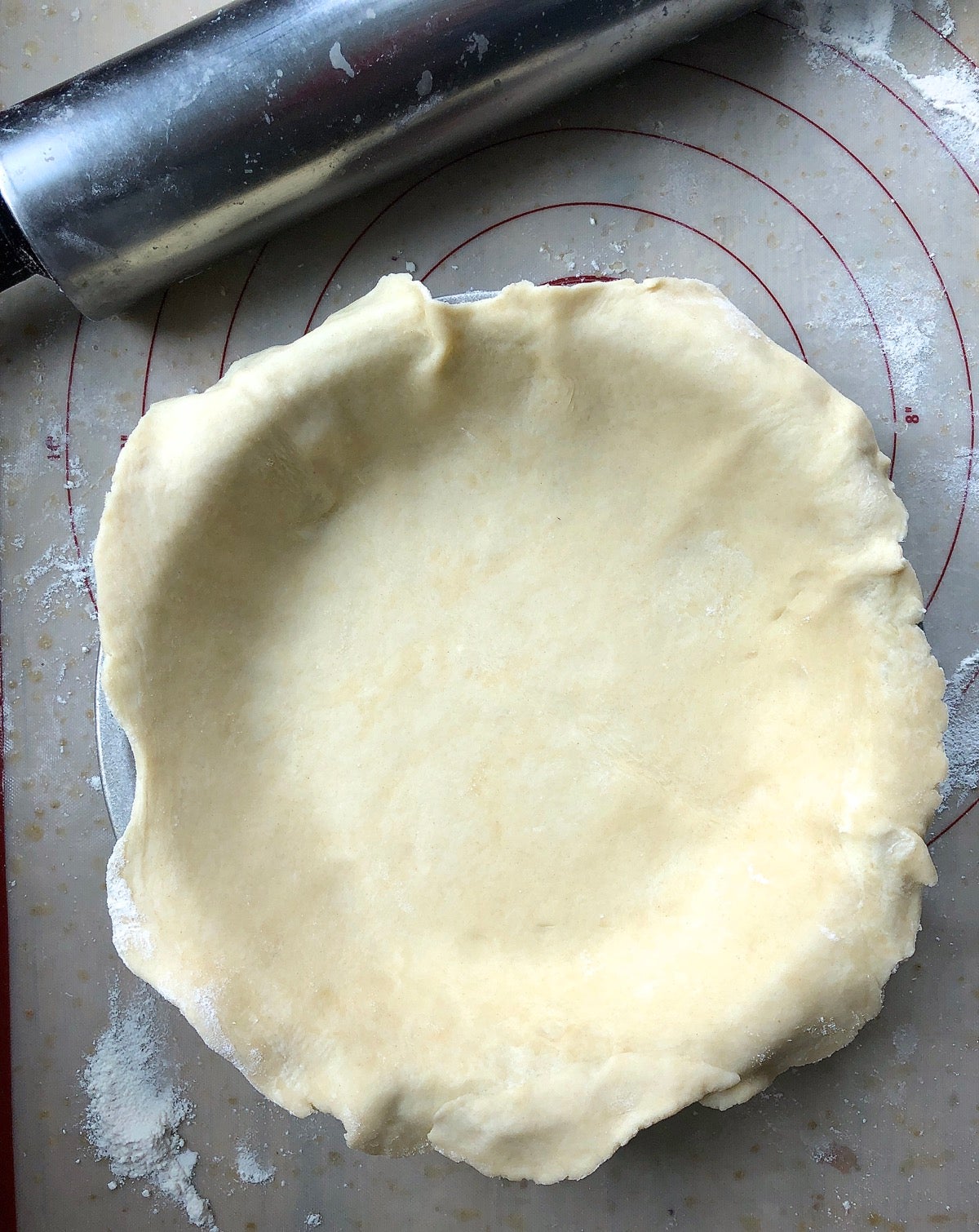 Roll one piece of the crust (the larger piece, if you haven't divided in half) into a 13" circle, and lay it in a 9" pie pan.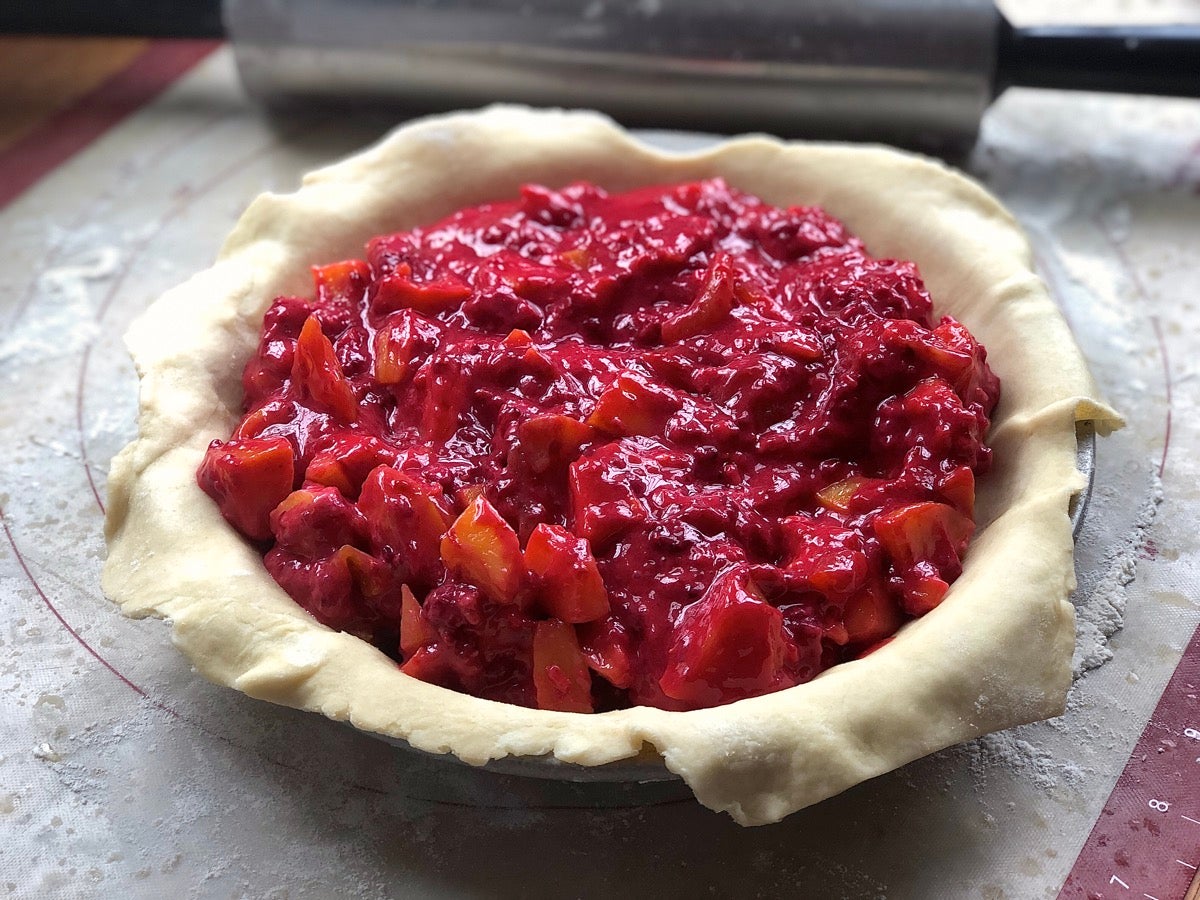 Spoon the filling into the crust.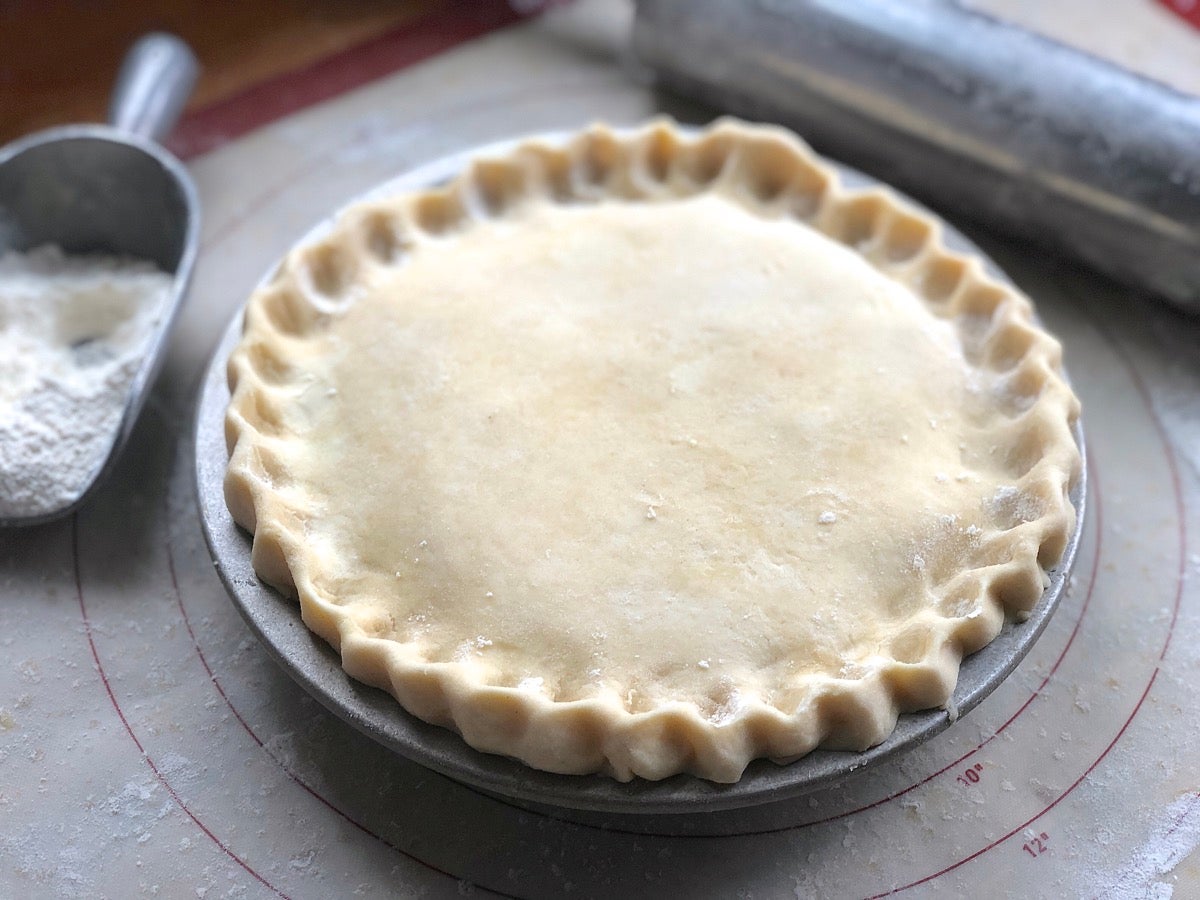 Roll the remaining crust into a 9" circle, and lay it atop the filling. Bring the bottom crust up and over the top, and press the two together. Crimp however you like.
Now, here's one downside to an all-butter crust. Butter's melting point is lower than that of shortening, and thus it melts more quickly when the pie's in the oven. So an all-butter crust won't hold a sharp crimp as well as one made with all shortening, or a butter-shortening combination.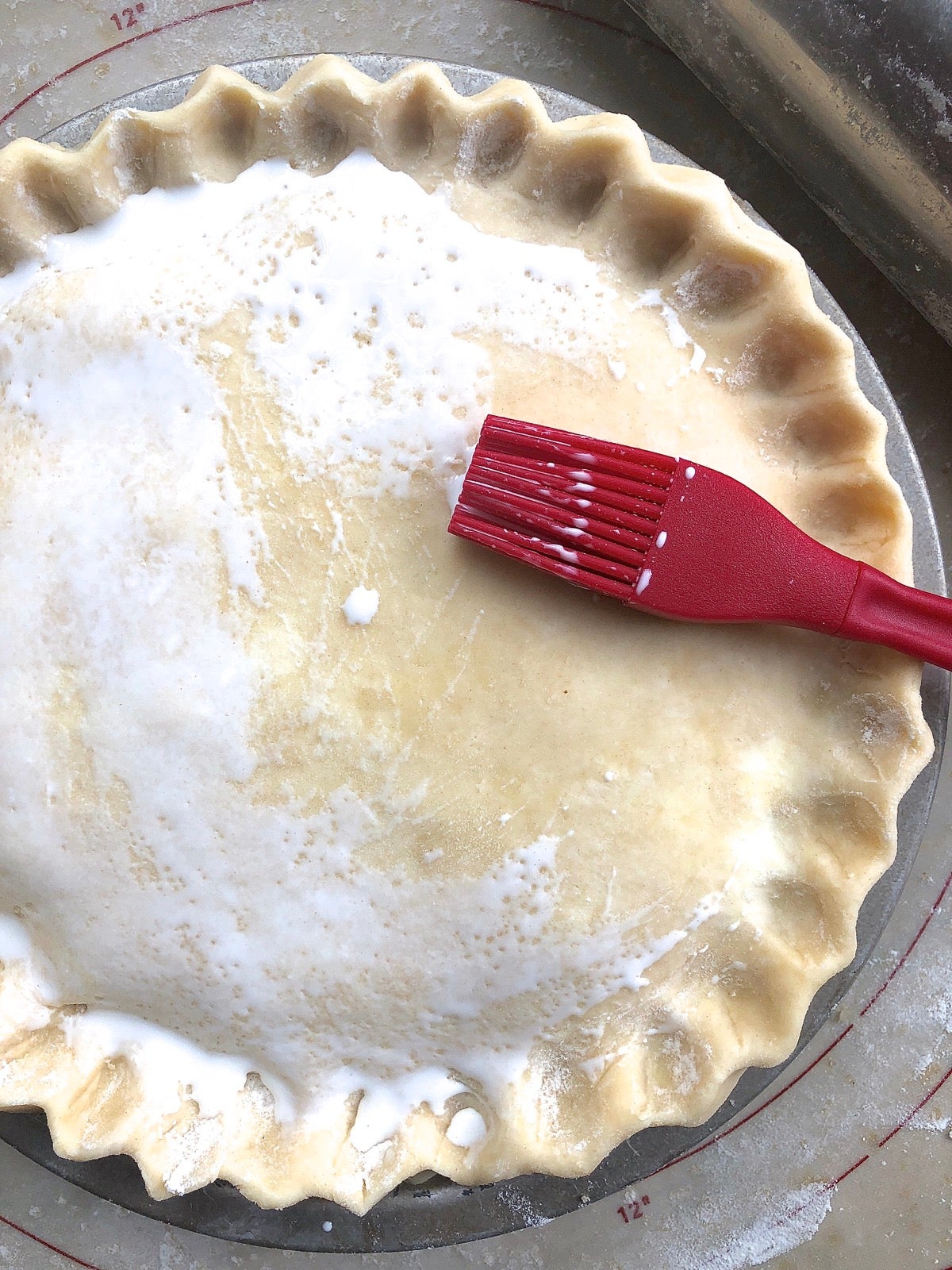 For added color and flavor, brush the crust with milk and sprinkle with coarse sparkling sugar, if desired.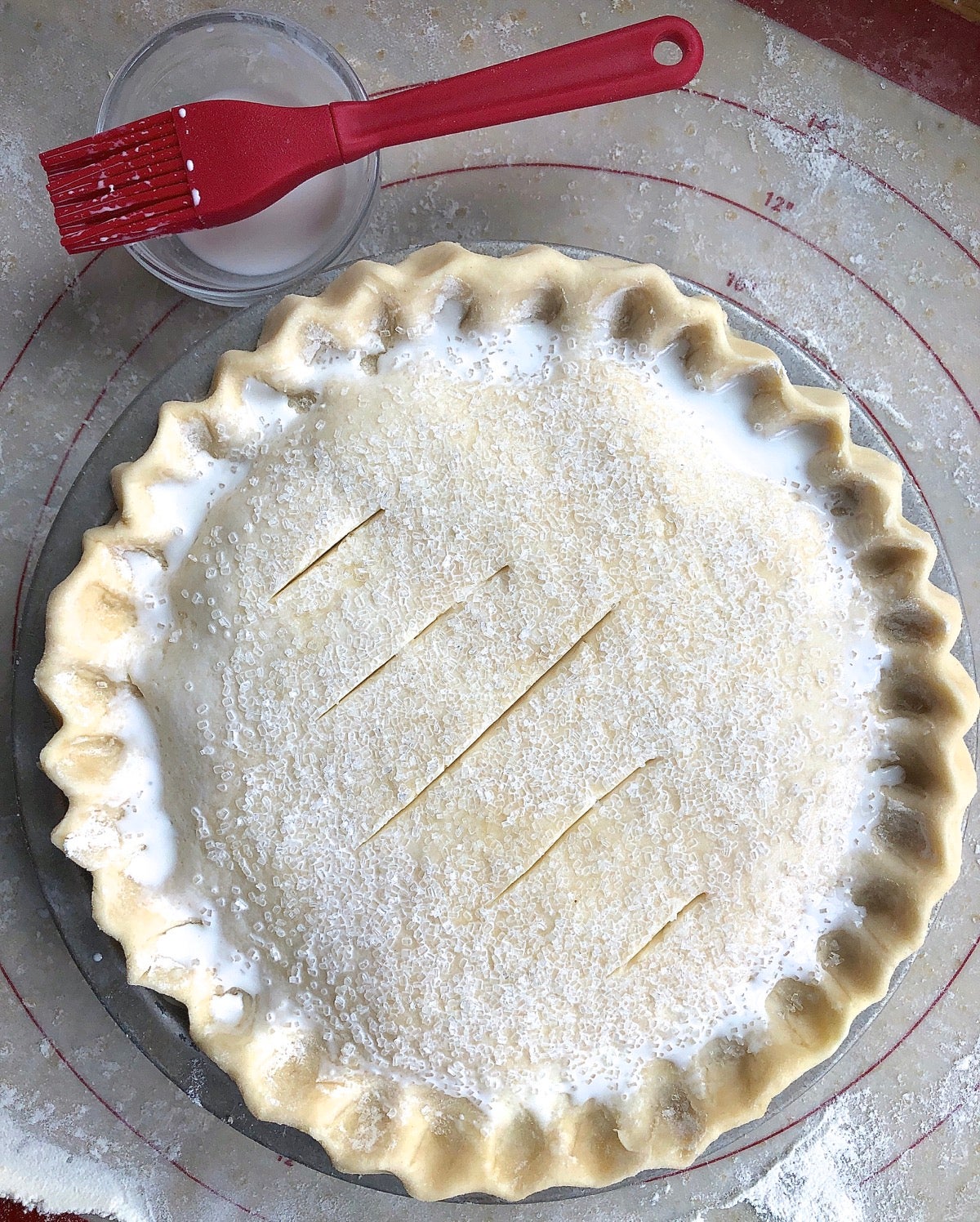 Cut several slits in the top of the crust to allow steam from the filling to escape. For easiest handling, place the pie on a baking sheet. For protection against filling spills, first line the baking sheet with parchment; trust me, you'll be glad you took this extra step.
Bake the pie
Bake the pie for 15 minutes. Reduce the oven heat to 350°F and bake for an additional 30 minutes, until the edge of the crust is brown. Cover the edge with a pie crust shield or with strips of aluminum foil to prevent over-browning.
Continue to bake the pie until the top crust is browned and the filling is bubbly; you should be able to see the filling bubbling through the slits, or out a fissure at the edge. For best thickening, be sure to let the filling bubble for at least 5 minutes. This will take an additional 20 to 40 minutes or so, depending on how cold your filling was to begin with.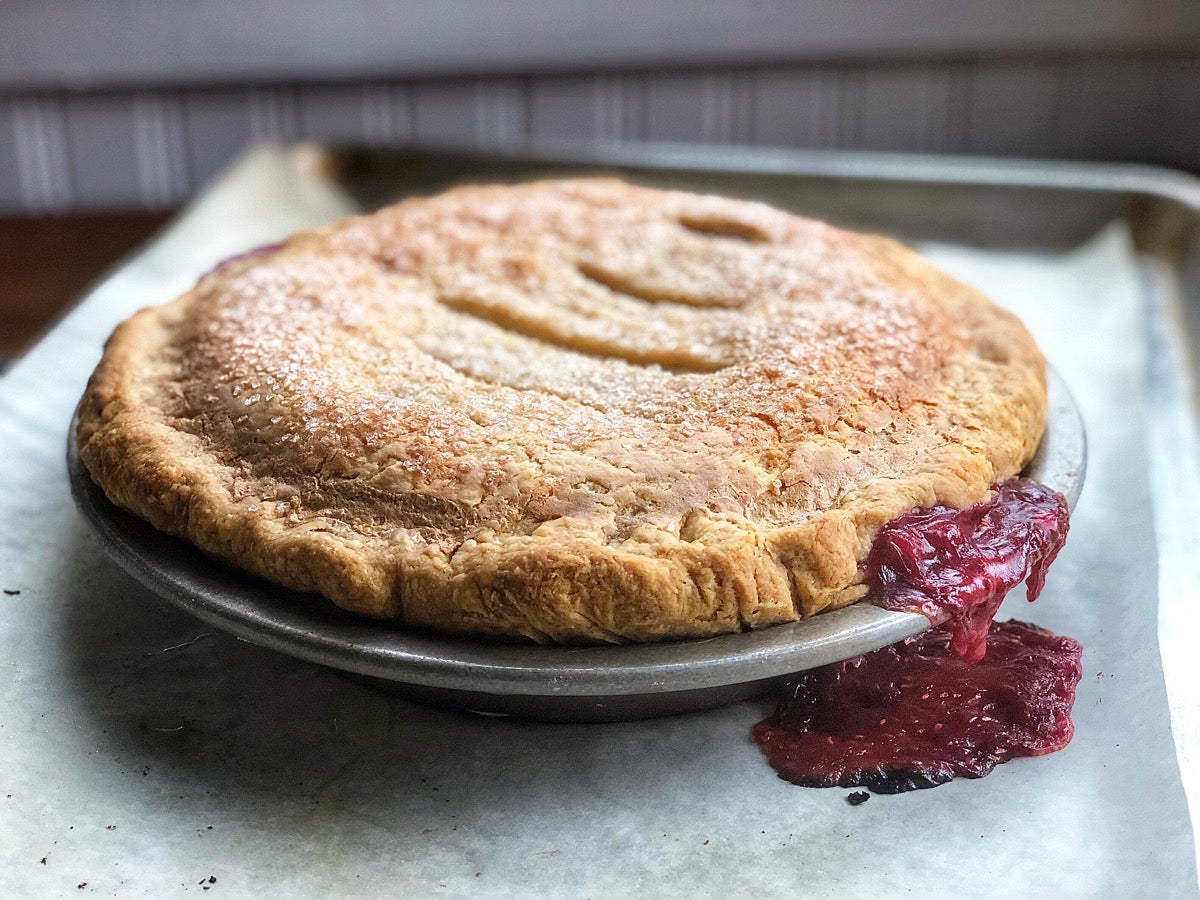 Remove the pie from the oven, and let it cool.
Here's your first clue that you've used a different type of pastry: the crust will be taller and puffier than usual. You'll also notice that it's pretty much lost its crimp around the edge. Oh, well ... Taste and texture trump beauty any day in my book!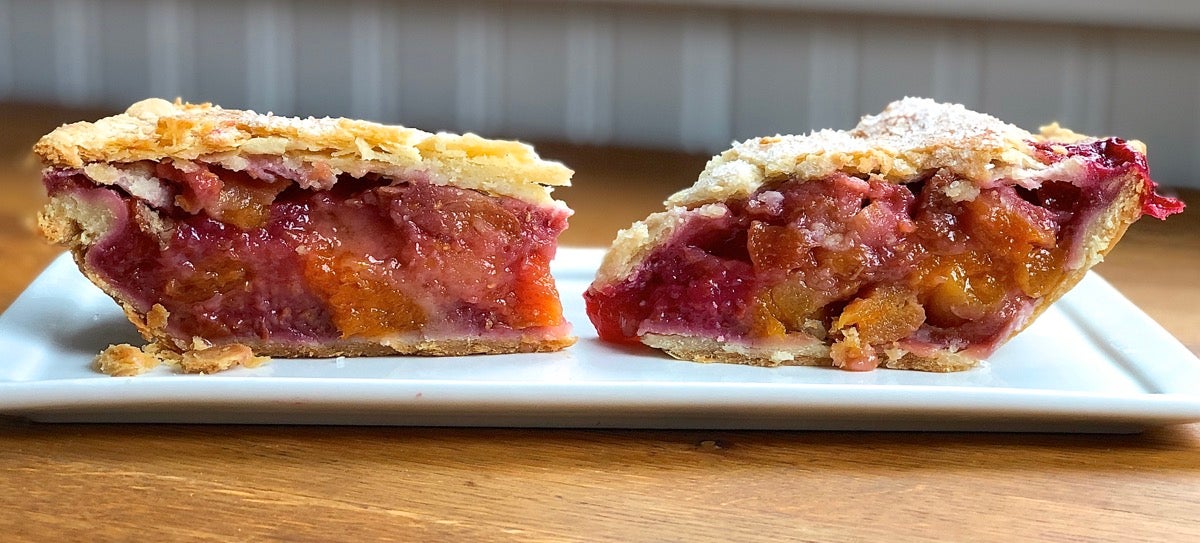 Here's pie made with Fast and Easy Puff Pastry on the left; and a typical shortening and butter crust on the right. Notice the enhanced flakiness of the top crust made with puff pastry.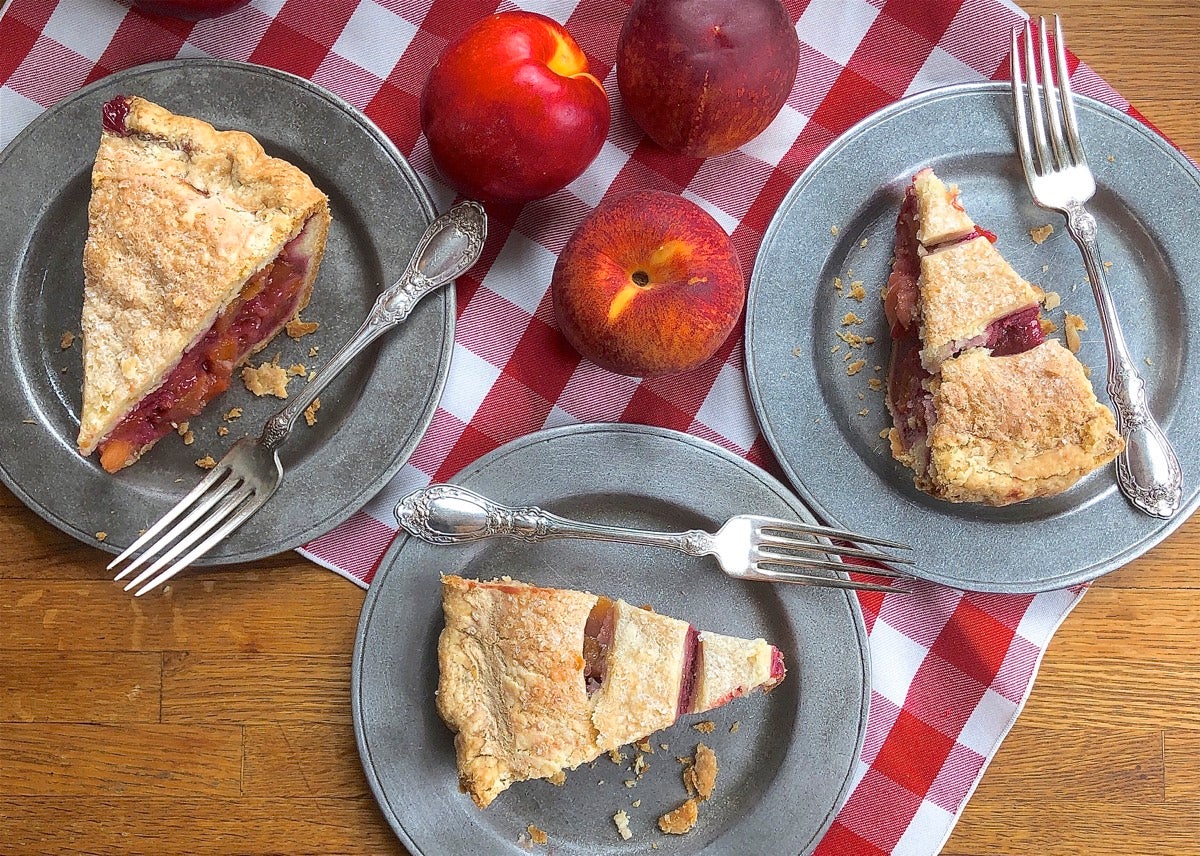 The verdict: success!
Does Fast and Easy Puff Pastry make good pie crust? Yes, absolutely — and I wish you could reach into this picture and take a bite right now! The crust is buttery and tender. And while its flakiness isn't super-apparent on the bottom beneath the filling, the top crust is ready to shatter into shards with each forkful. Super-flaky pie crust? Nailed it.
Hungry for more? Check out some of our additional pie crust posts:
How to Make the Best Pie Crust
Fancy Pie Crust
Fun Ways to Crimp Pie Crust
Make and Freeze Pie Crust